We always love to visit places we've heard about but never been before.  We especially love finding the unknown side of a city or area…. like Daytona Beach.  The first thing that comes to mind when you hear Daytona is either NASCAR racing or spring break, but there's much more when you're exploring the area and there are all kinds of family friendly activities in Daytona Beach.
We're all about exploring the smaller towns and getting into nature, so the things to do in Daytona Beach and the surrounding towns really make for a fun trip, either on a weekend or when we have family visiting. Daytona is also a great start or end to a North Florida road trip, so you should plan it right now!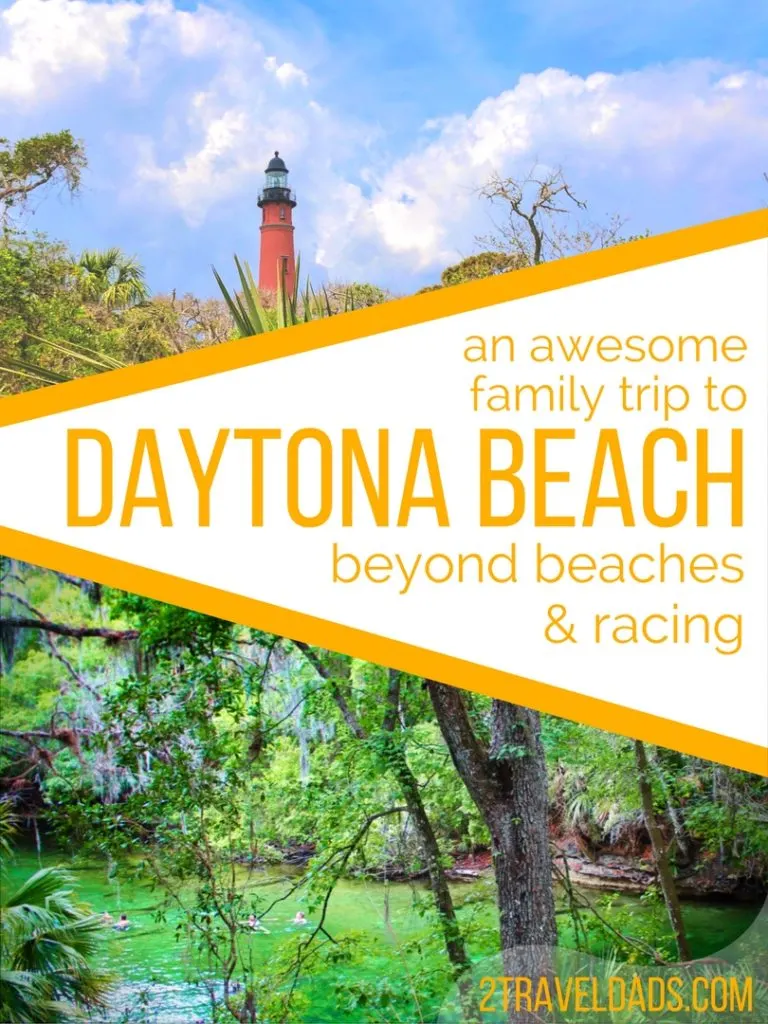 How to Get to Daytona Beach
I wish every layover happened in the Daytona Beach International Airport (DAB).  Yes, it's a tiny airport but it's beautiful, clean, not crowded and so easy.  With only a few airlines flying via DAB, it's so chill.  Also, depending on the season and day of the week DAB flights are fairly inexpensive, which is a bonus when you're talking about family travel. Most flights connect in either Atlanta (ATL), Dallas (DFW) or Charlotte (CLT).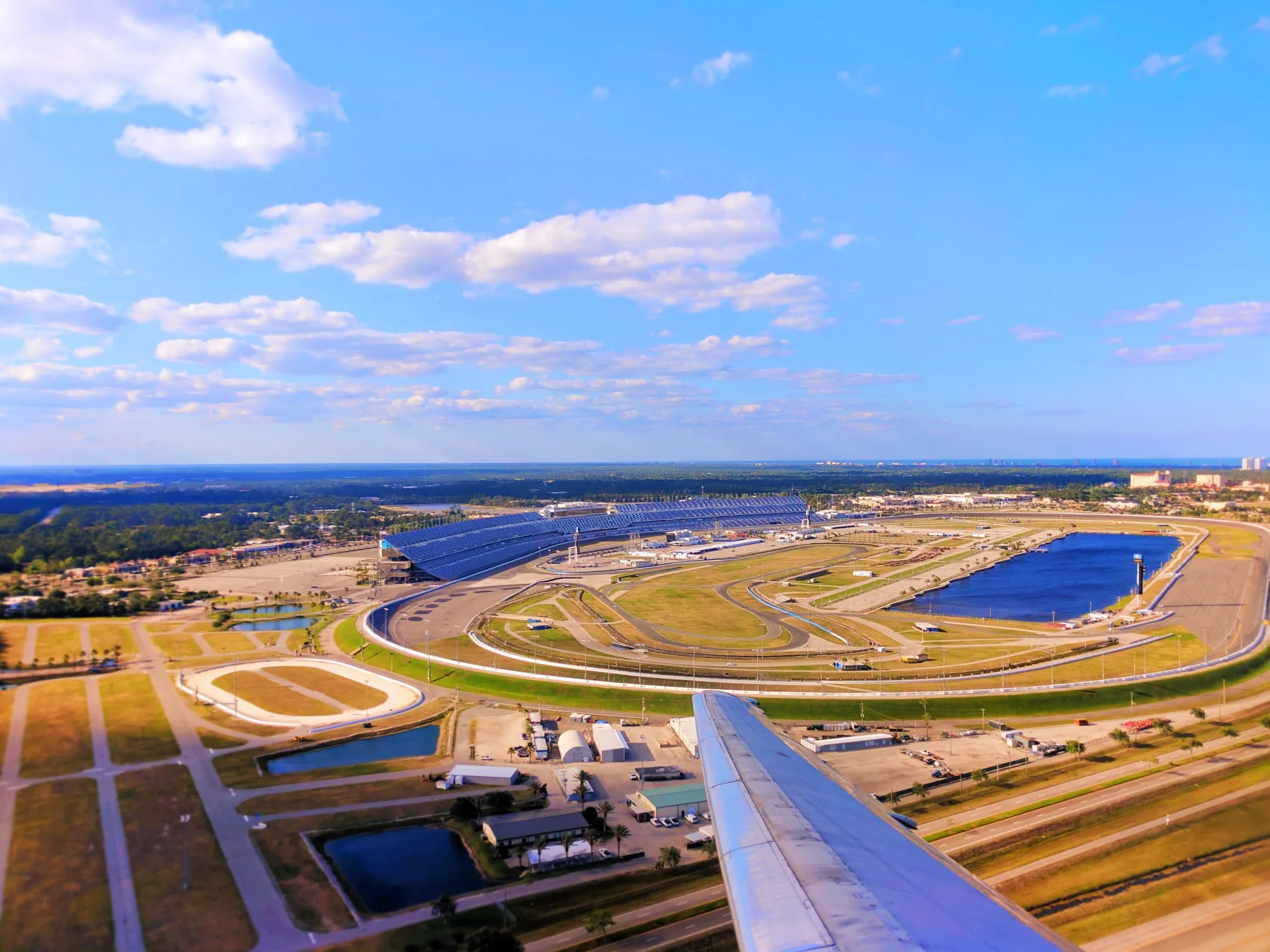 If you're driving, Daytona Beach lays a third of the way down Florida's Atlantic Coast.  You can pair a trip to Daytona with a vacation to St Augustine, but it can also easily be added onto an Disney World trip or be its own thing.
Note:  although a small airport DAB has plenty of rental car options, including companies that will allow one-way rentals, to or from DAB.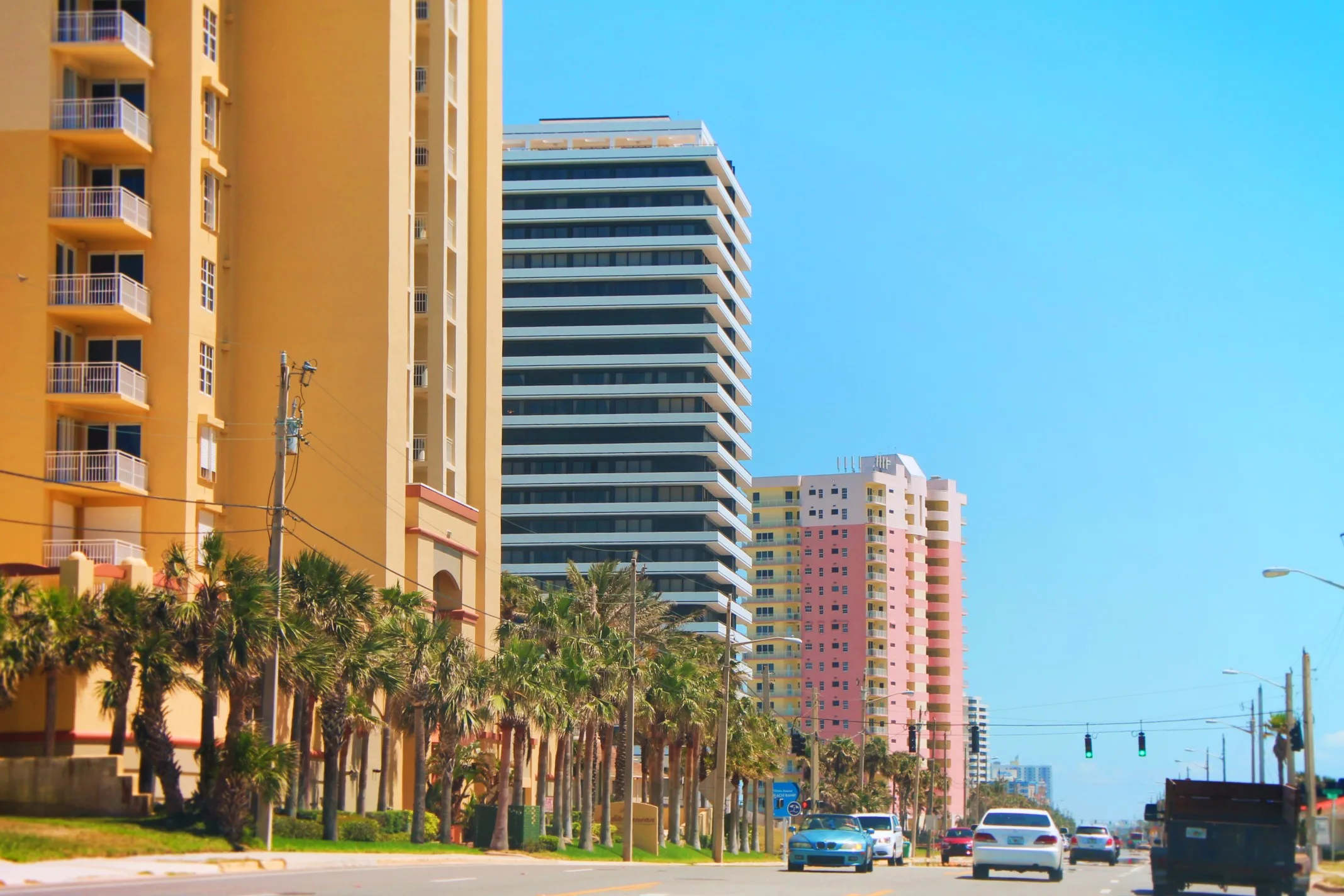 Things To Do at Daytona Beach
We love beach days and we've done them all over Florida, from the Florida Gulf Coast to the Florida Keys. Things to do in Daytona Beach are very different from other beach towns. Here vehicles are allowed to drive on the beach almost everywhere and there are even designated lanes of traffic.
Tip:  if you want to do beach time with kids, plan it at LOW TIDE so that there is more space for them, as when the tide comes in the play space in minimized and it's not very safe for children due to the cars.
Having Beach Days in Daytona
Of course you're going to have beach days here! Spending time on the sand and in the waves is THE BEST thing to do in Daytona Beach. With public beaches the entire way from Gamble Rogers State Park at the north end of Volusia County to Ponce Inlet at the south, you'll find 28 miles of uninterrupted beach. Truth be told, the beach is actually continuous from the Matanzas Inlet all the way to the Ponce Inlet; that's 48 miles!
All beaches are public access as long as you're staying on the sand. If you go onto a structure, including a private boardwalk or retaining wall, that ISN'T public, but the sandy space all is. The key to enjoying the beach in Daytona, is being prepared for a hot sunny day and respecting those who LIVE at the beach. Whether you enter at one of the county-maintained access points or you find a designated access point from Highway A1A, you need to respect people's private property.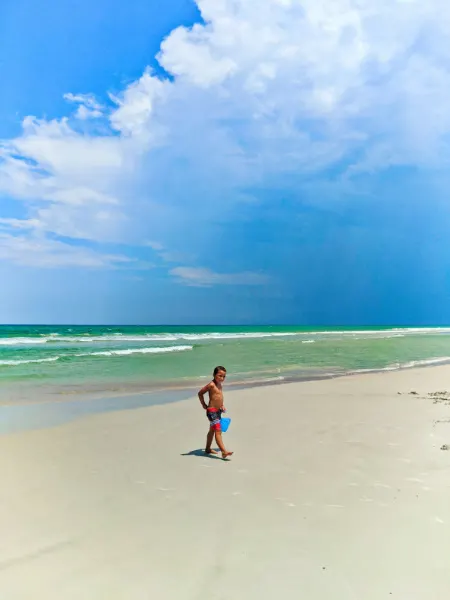 Beach Access in Daytona and Ponce Inlet
Here are the best places to access the beach in Daytona, from Daytona Beach proper all the way down to Ponce Inlet. As is the case in any beach town, you'll need to be aware of parking rules and respect people's private property, but most of these access points have public parking readily available.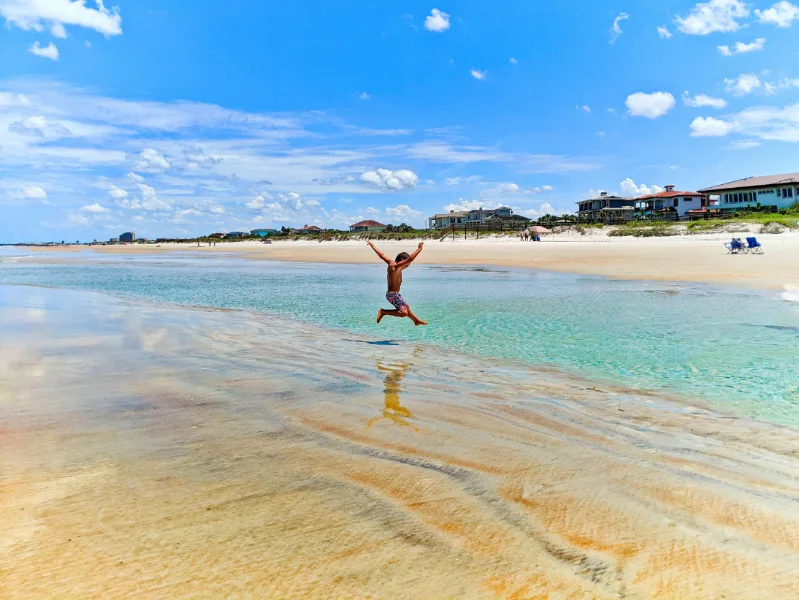 Riding Bikes on Daytona Beach
One of the things to do in Daytona Beach we really enjoy is riding beach bikes ON the sand.  We've rented bikes in Victoria BC and in Georgia's Golden Isles (on both St Simons and Jekyll Island), but don't usually venture directly onto the beach with them.  It's a totally different way to experience it (and now we do it at our home beach of Butler Beach too!).
Renting beach bikes in Daytona, we got them through Blue Coast Shop and were outfitted with trailers for towing kids, helmets (optional for adults), bike locks and storage bags. Our bikes had big fat tires meant for riding on sand.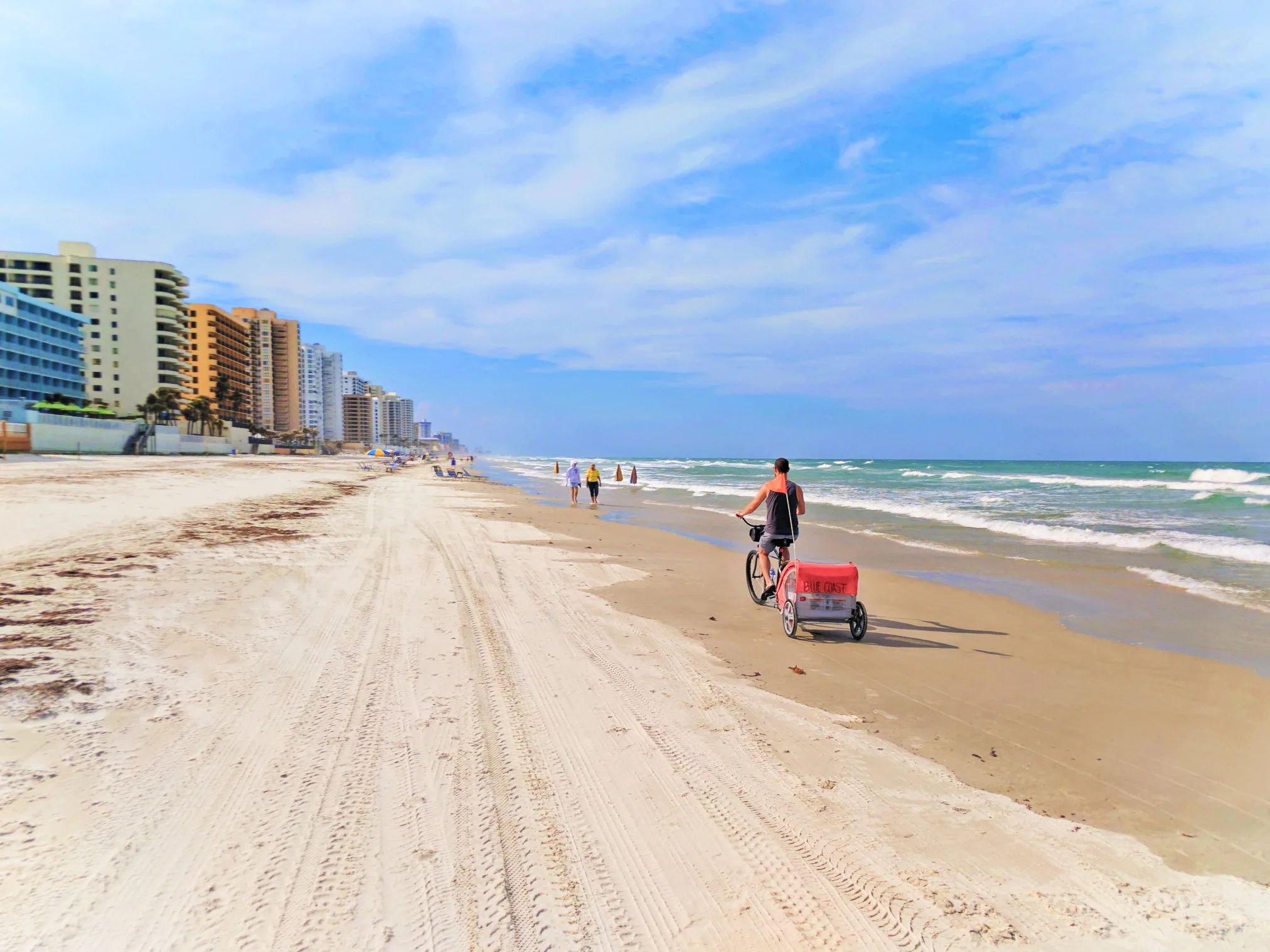 Biking on the beach is not as easy as biking on pavement in a city, such as Seattle's bike paths, or mountain bike trails.  On the beach you need to keep up your pace and really pay attention to where you're riding.  There are pockets of soft sand that'll make you tilt or over-correct if you're not paying attention, or there are hard pressed bumps from cars being on the beach.  And then if you're riding just off the tide line you might just have to ride through the edge of a wave if you're not careful.  It's really a mixed bag.  Totally fun thing to do in Daytona, and it's a workout to remember. You'll love it!
Tip:  if you want to snap pictures while riding, use a GoPro with a strap. Shore birds will fly alongside you and it's the coolest shot if you can capture it!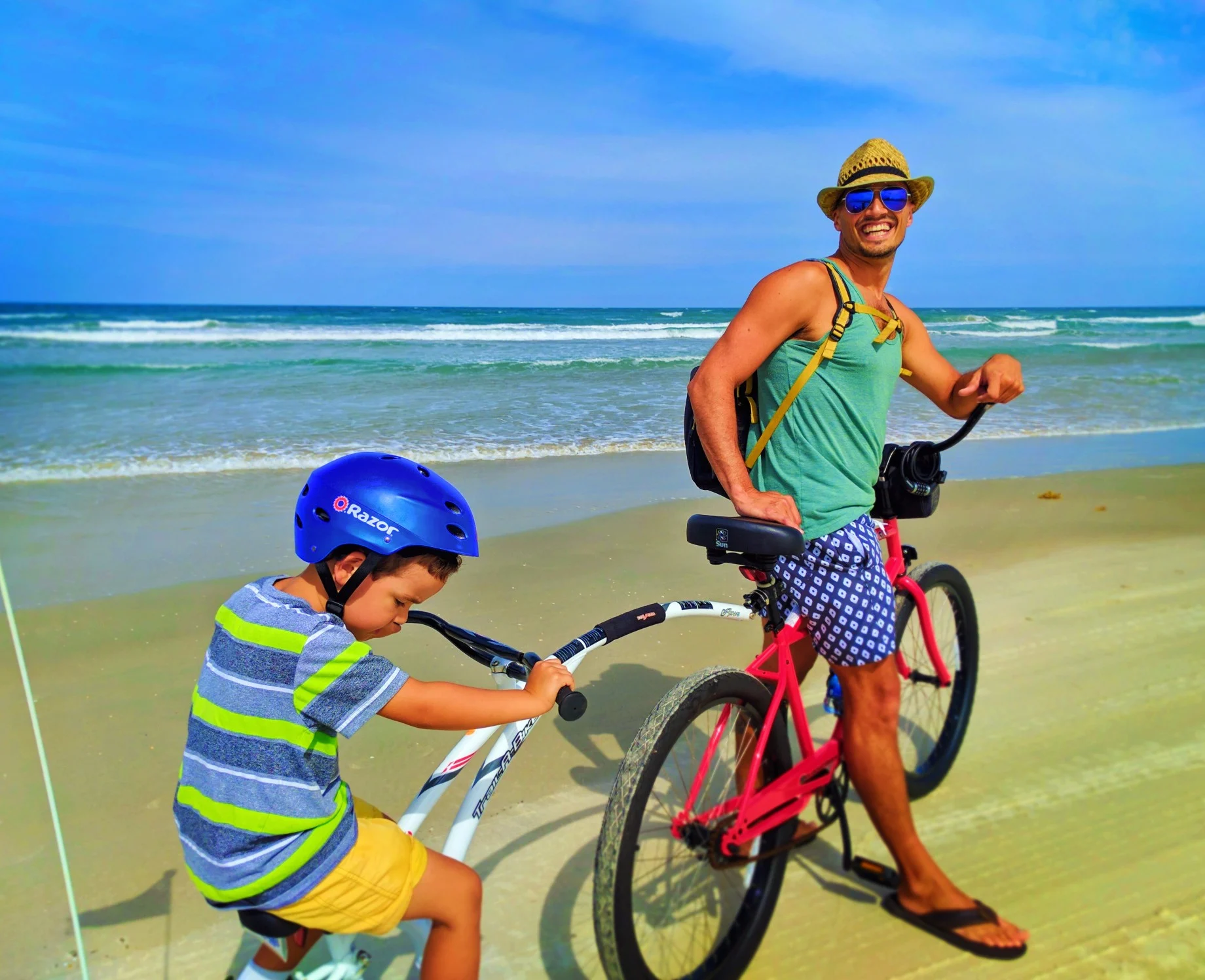 Science Things To Do in Daytona Beach
Since we get to travel so much our kids get to experience all kinds of nature and beauty and we're so thankful for that.  With it though, we also like to work in educational stuff as much as possible and there are the perfect activities in the Daytona Beach area for that!  
MOAS Children's Museum and Planetarium
The Daytona Beach Museum of Arts and Sciences is quite the place.  With collections of historical artifacts, Americana/memorabilia, some beautiful art galleries, a children's museum and a planetarium, you could spend hours here.  It's actually a great place to go if you've been spending a little too much time in the sun and need a break.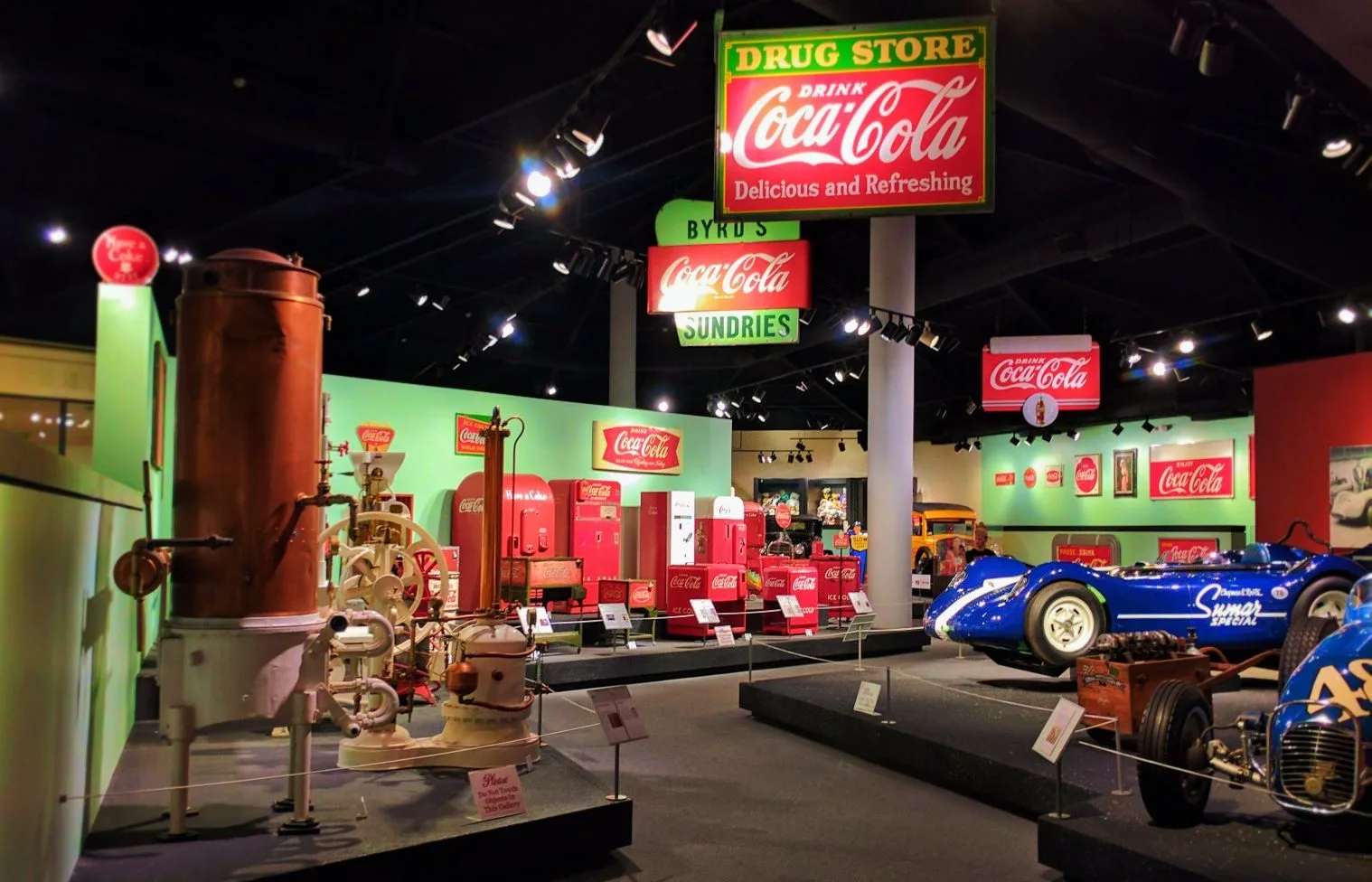 If you know me in real life or just have been following our blog for awhile you know that children's museums are an anxiety attack waiting to happen for me sometimes.  The Denver Children's Museum was great and overwhelming, but the one here in Daytona was ideal.  It wasn't too big and it wasn't overly crowded.  The kids had a blast!  Most of our time was spent doing the cause and effect activities, but our youngest, Elliott, loved the black-light room where he could build a skeleton.  It was ridiculously silly.
The Planetarium at MOAS is also really cool.  We haven't been during a full on space exploration presentation, but got to see a laser show instead.  The kids loved watching the laser story of Orion's Belt and the mythology behind it. Totally random fun thing to do in Daytona Beach.
Tip:  check the MOAS website for a full planetarium schedule including special space events.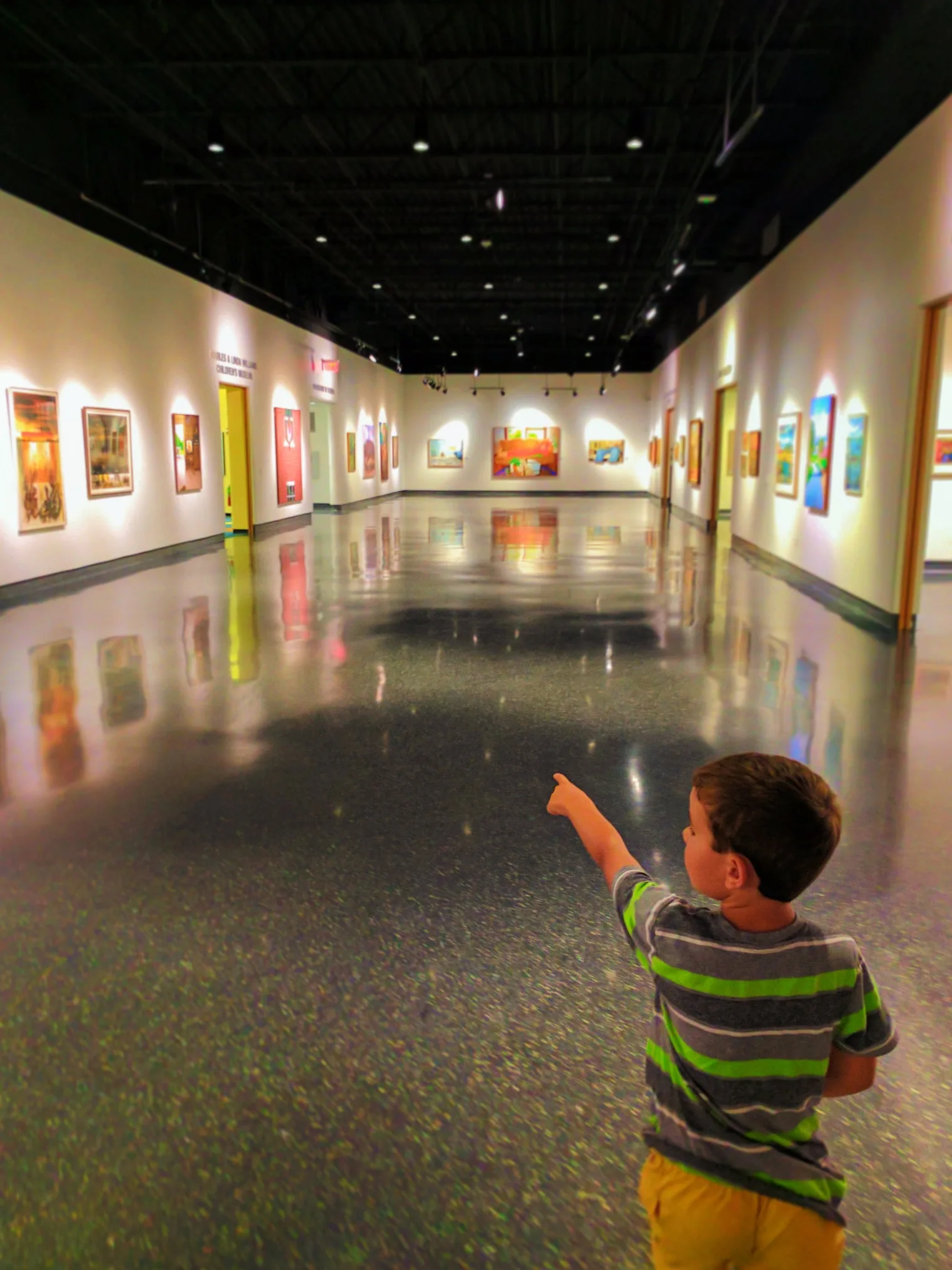 Ponce Inlet Marine Science Center and Turtle Hospital
We've always had really awesome local aquariums wherever we've lived, so you might say that we're aquarium aficionados.  What makes the Ponce Inlet Marine Science Center so great is the bottomless education available at every display.  From learning about pollution in the oceans to touching stingrays and hearing about each one's individual personality, it is a treat.  There were lots of staff available for questions and hands-on opportunities.
Fun story:  we asked about local bird watching, specifically looking for roseate spoonbills and the most awesome lady gave us info, maps, and even had us pop back to her office to check for local tips online.  She and everyone else was ready and willing to play teacher and tour guide.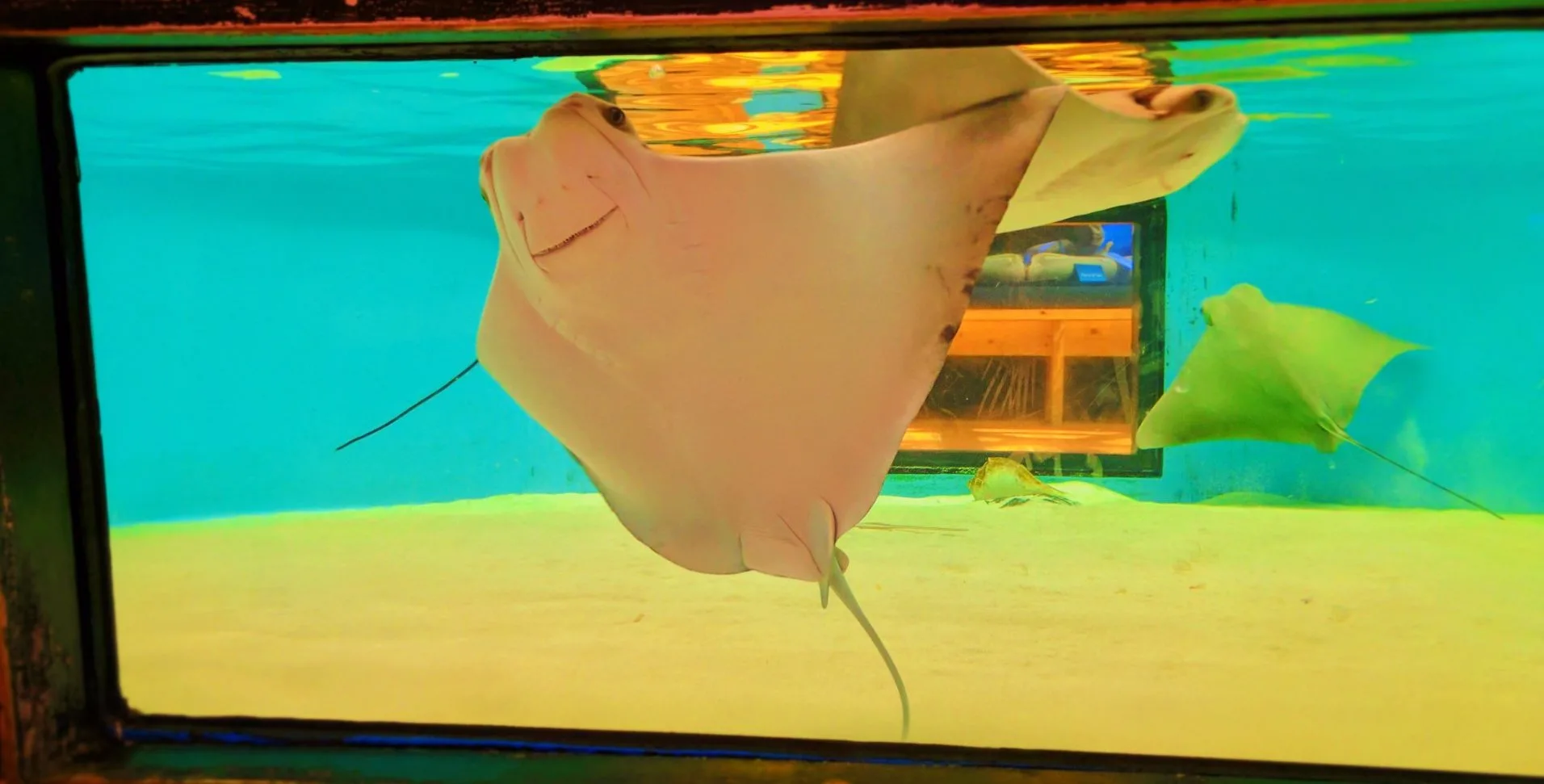 Turtle Recovery and Conservation
We love when an attraction type place is actually there for a purpose and not just entertainment.  The Ponce Inlet Marine Science Center is just that.  In addition to learning about the local environment and interacting with the sea life you'll see just offshore, they also have a Sea Turtle Hospital ICU Ward.  Here they treat and nurse injured sea turtles of all kinds and sizes.  While this isn't necessarily the "attraction" of the Ponce Inlet Marine Science Center it was the best part for us.  Veterinarians watch over the many turtles treating their wounds and conditions with great care.
Bonus Florida Stop: if you're doing a Florida Keys road trip, visit the Marathon Turtle Hospital for an even larger turtle recovery unit!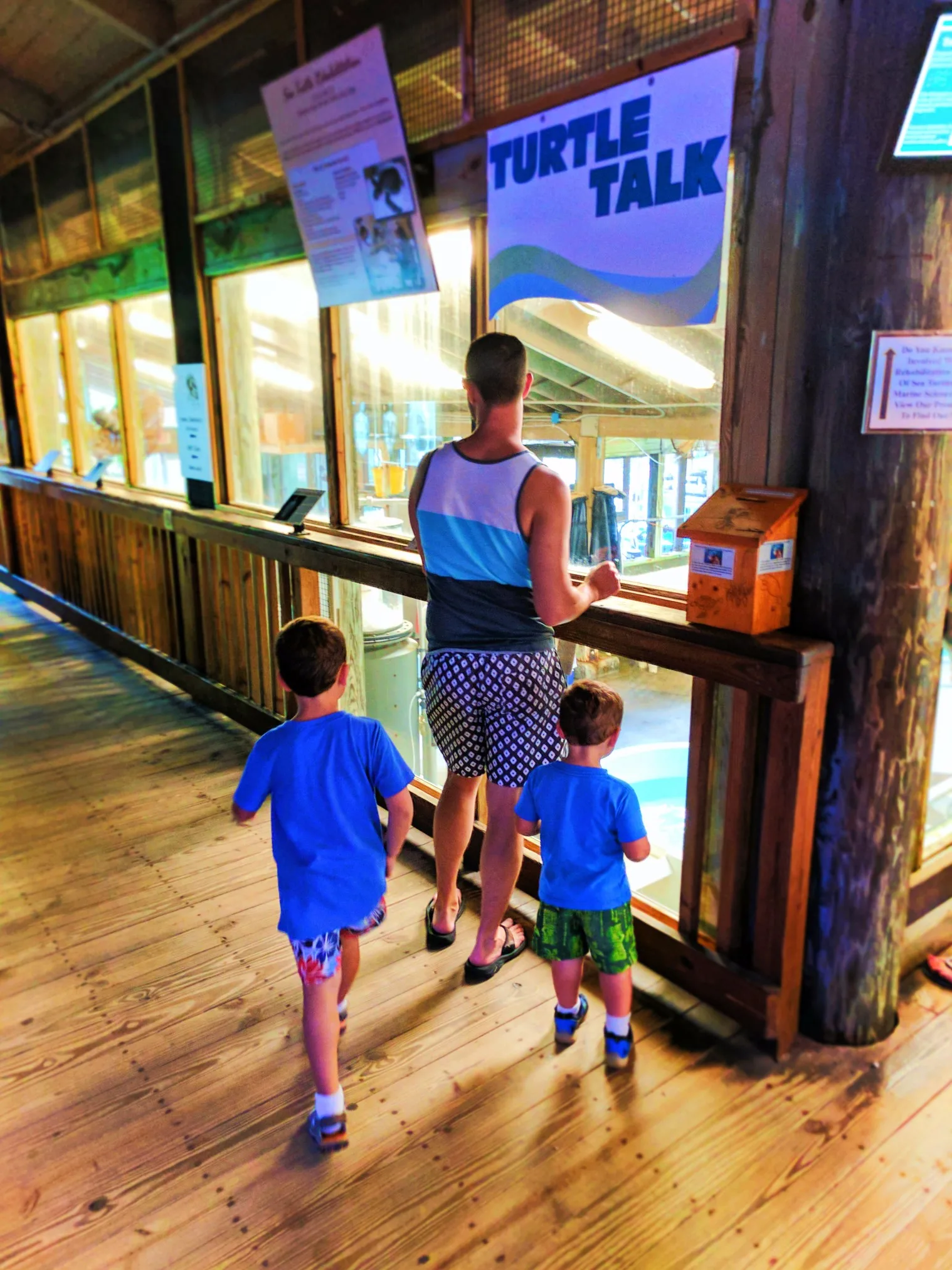 There is also a bird sanctuary and recovery center here in Daytona Beach / Ponce Inlet.  This was a great surprise for us, with recovering pelicans, owls, hawks, and even a pair of bald eagles.  There is a good portion of the complex that isn't accessible to the public as it's the hospital section, but we could hear the birds squawking as they were being treated.  Such a wonderful group of people taking care of Florida's wildlife.
Tip:  if you're traveling northward there is another cool operation in Georgia's Golden Isles:  the Georgia Sea Turtle Center on Jekyll Island.  Their operation is a bit bigger, serving sea turtles and more.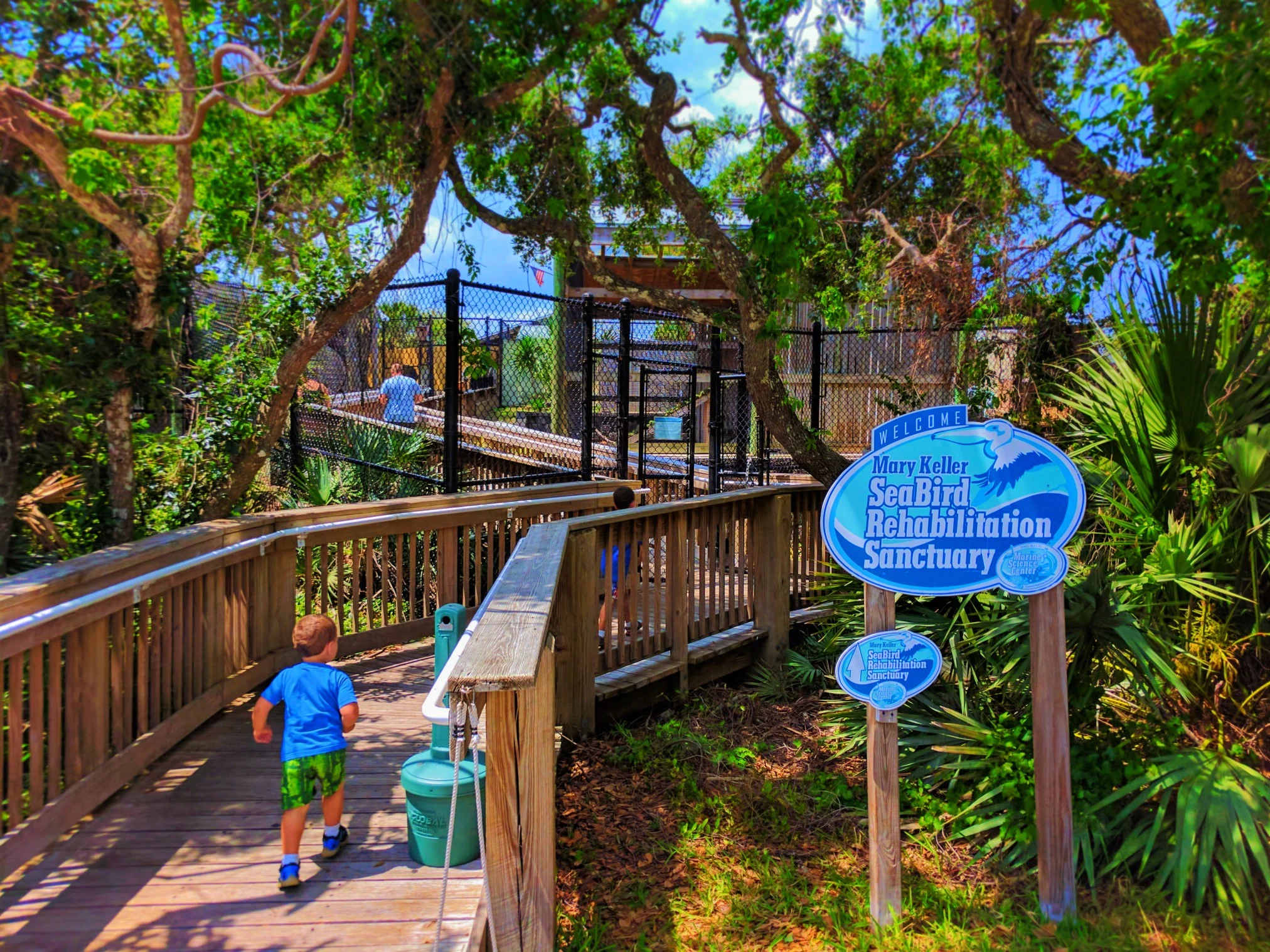 Bioluminescent Kayaking Near Daytona Beach
Just south of Daytona Beach, about an hour's drive, you'll find the Merritt Island National Wildlife Refuge. In the daytime it an amazing place to see manatees and birdwatch. When night falls during summer months, the waters start to glow. Bioluminescent plankton let off blue light when disturbed and it's amazing to be a part of.
You can book a tour to go out after sunset or be your own guide if you're experienced with night paddling and have gotten familiar with kayaking area beforehand. Bioluminescent kayaking at Merritt Island is phenomenal!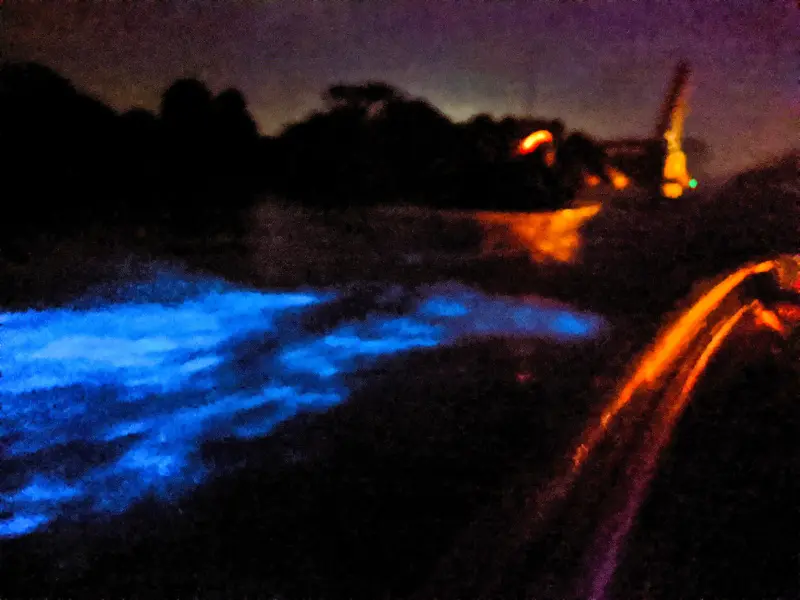 History Things To Do in Daytona Beach
Before arriving in the Daytona Beach area we knew very little about the area…except for its NASCARness. Daytona was actually settled in 1870 and has some great pockets of culture and cool sights. There are some cool historic things to do in Daytona Beach and the surrounding area.
Climb the Ponce Inlet Lighthouse
We climb every lighthouse we come across.  We had an adorable one in our old neighborhood in the Puget Sound region, the Point No Point Light (it's so tiny!), so we would feed our need for nautical fun every few weeks with a visit.  The Daytona Beach area has one that's much much cooler:  the Ponce Inlet Lighthouse.  At 175 feet tall and built in 1887 it's quite the sight.  The area surrounding the tower, once keepers quarters and utility buildings, is actually a collection of small museums all about lighthouses and the area's seafaring past.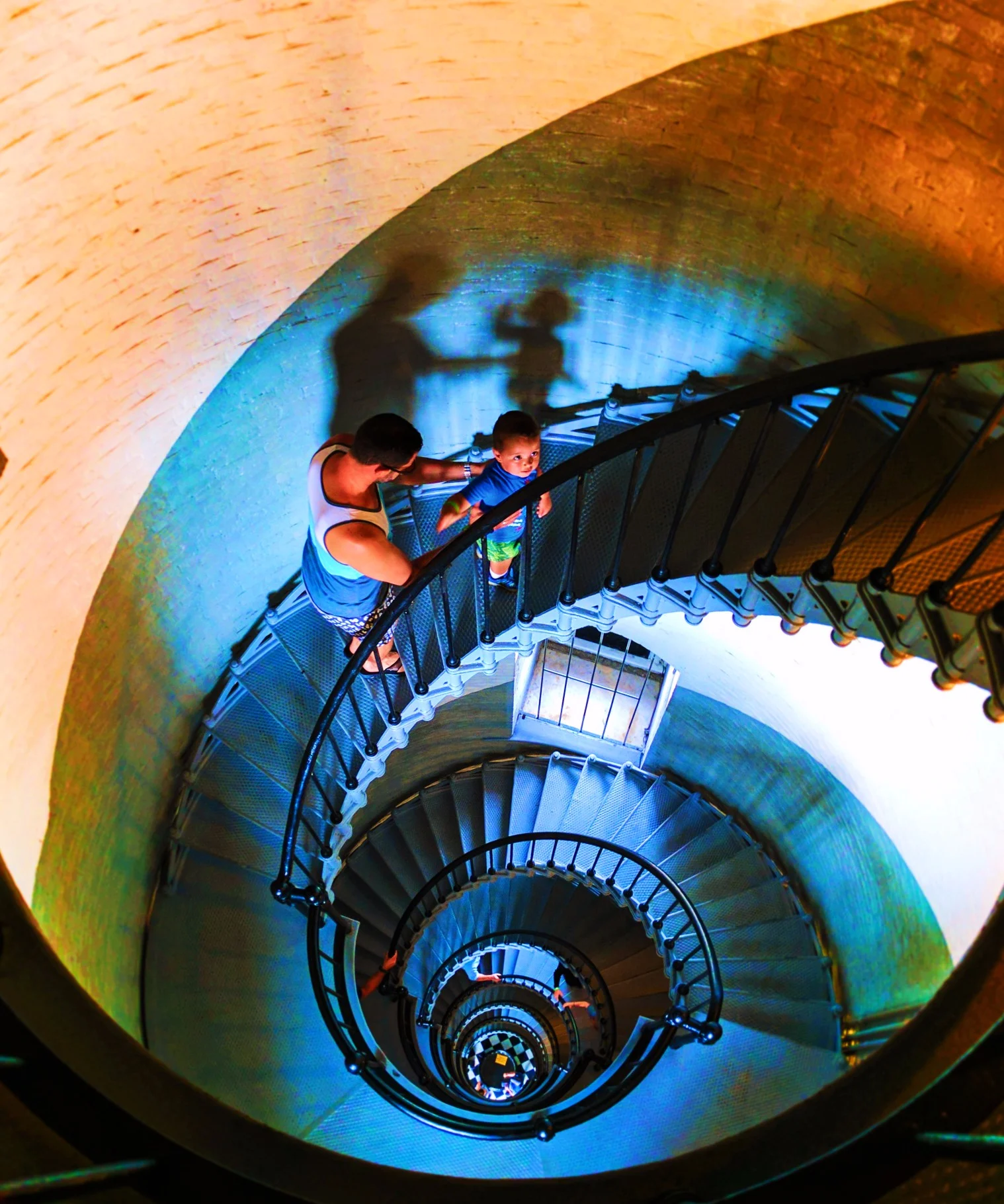 Tip:  if you're traveling with little kids, this is a great place to visit as there are no height restrictions to climbing the 203 steps.  The St Augustine Lighthouse has 219 steps but has a height restriction of 44 inches tall, so not all kids can climb.  The only restriction to the Ponce Inlet Lighthouse is that all climbers must do it on their own; they cannot be carried.
Once at the top, be sure to look down. I know that sounds crazy, but the view and the actual view downward are amazing. Climbing the lighthouse is one of the best things to do in Daytona Beach and is a night way to get a different perspective of the area.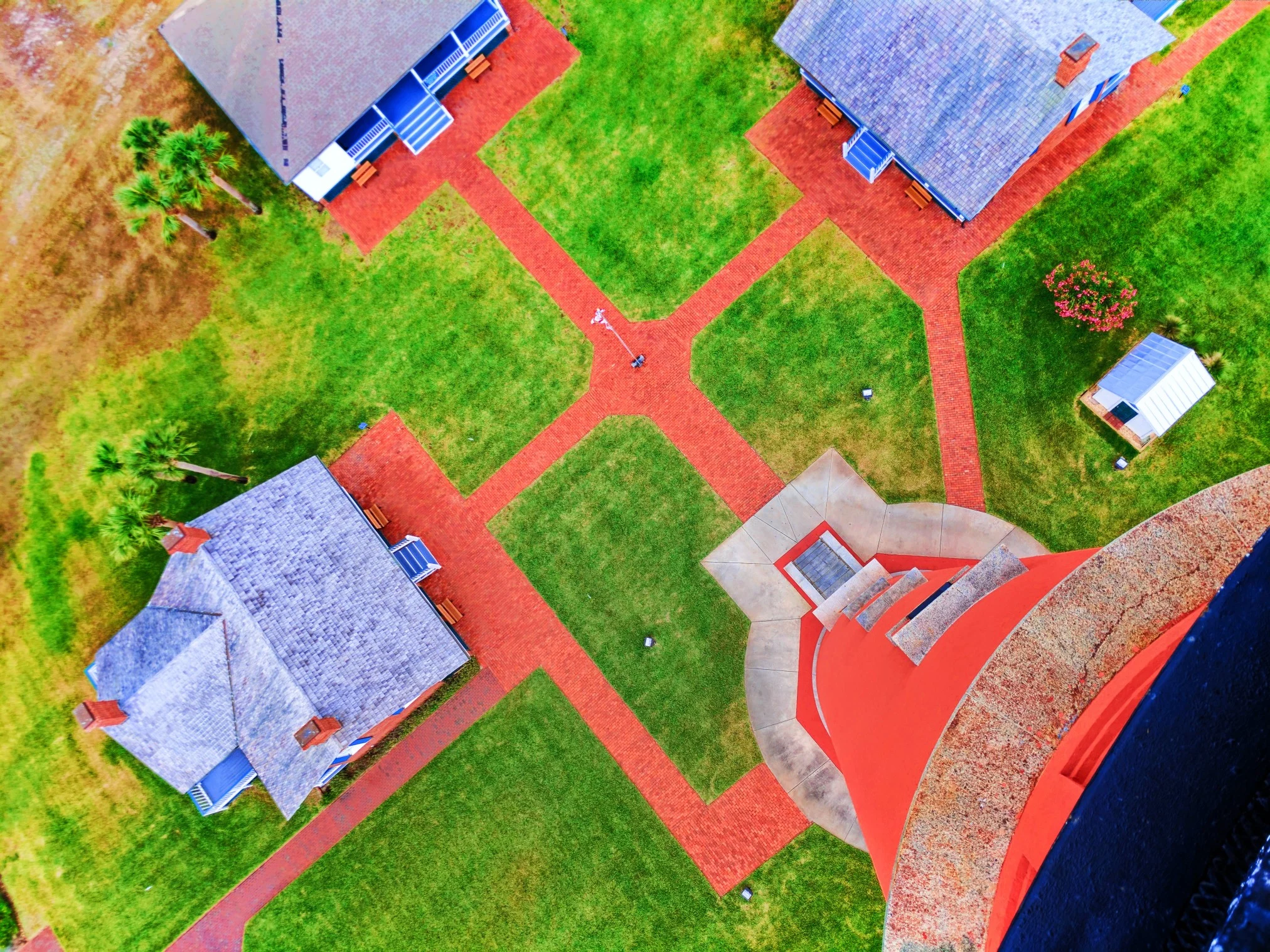 Visit DeLand Historic District, Inland from Daytona
This spot is a bit out of the way, but if you're venturing inland it's a great area to stop for lunch and maybe go for a stroll.  The town of DeLand is exactly what you picture when you think of a turn-of-the-century town.  It's got perfect sidewalks lined with trees, squares and greenspace, and Stetson University right in the middle of the historic district.  We stopped in for sushi and a short stroll.  It was a night and day difference from Daytona Beach where we'd been for the last few days.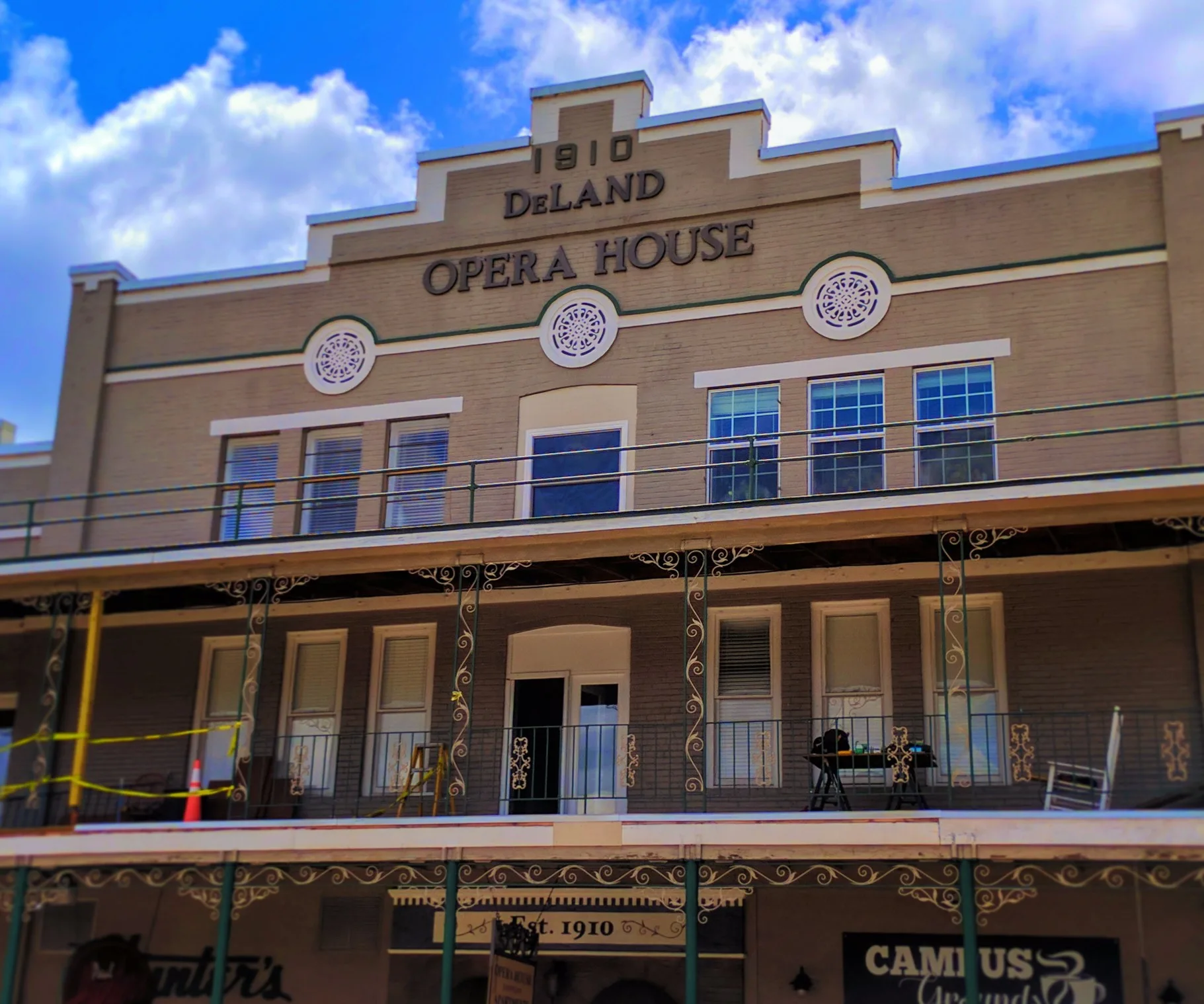 Things To Do in Daytona Beach's Back Country
When we did our epic Florida Gulf Coast road trip we got to head inland and explore some of the natural springs.  Florida has over 1000 springs and they're all different and beautiful.  We visited two while on our Daytona Beach trip.
De Leon Springs State Park
Best breakfast ever.  What?  At a state park?  Yep, totally true.  Within DeLeon Springs State Park is the Old Spanish Sugarmill Restaurant.  Um, it was meant for us and we've since been back many time, including taking family who visits us there.  The tables have their own griddles in the middle and you pay per person for different types of pancake batter that you cook yourselves.  It's the coolest and the kids had a blast.  The Old Spanish Sugarmill has been in operation since 1961 and I hope it outlives us.  The staff was so nice and truthfully, we were wishing we'd discovered it on day 1 in Daytona.
Tip:  if you have somebody with allergies, there are enough moms and gramas working at the Old Spanish Sugarmill that you need only mention a tiny concern and they're on top of it! We were able to have a great time in a completely egg-allergy safe environment.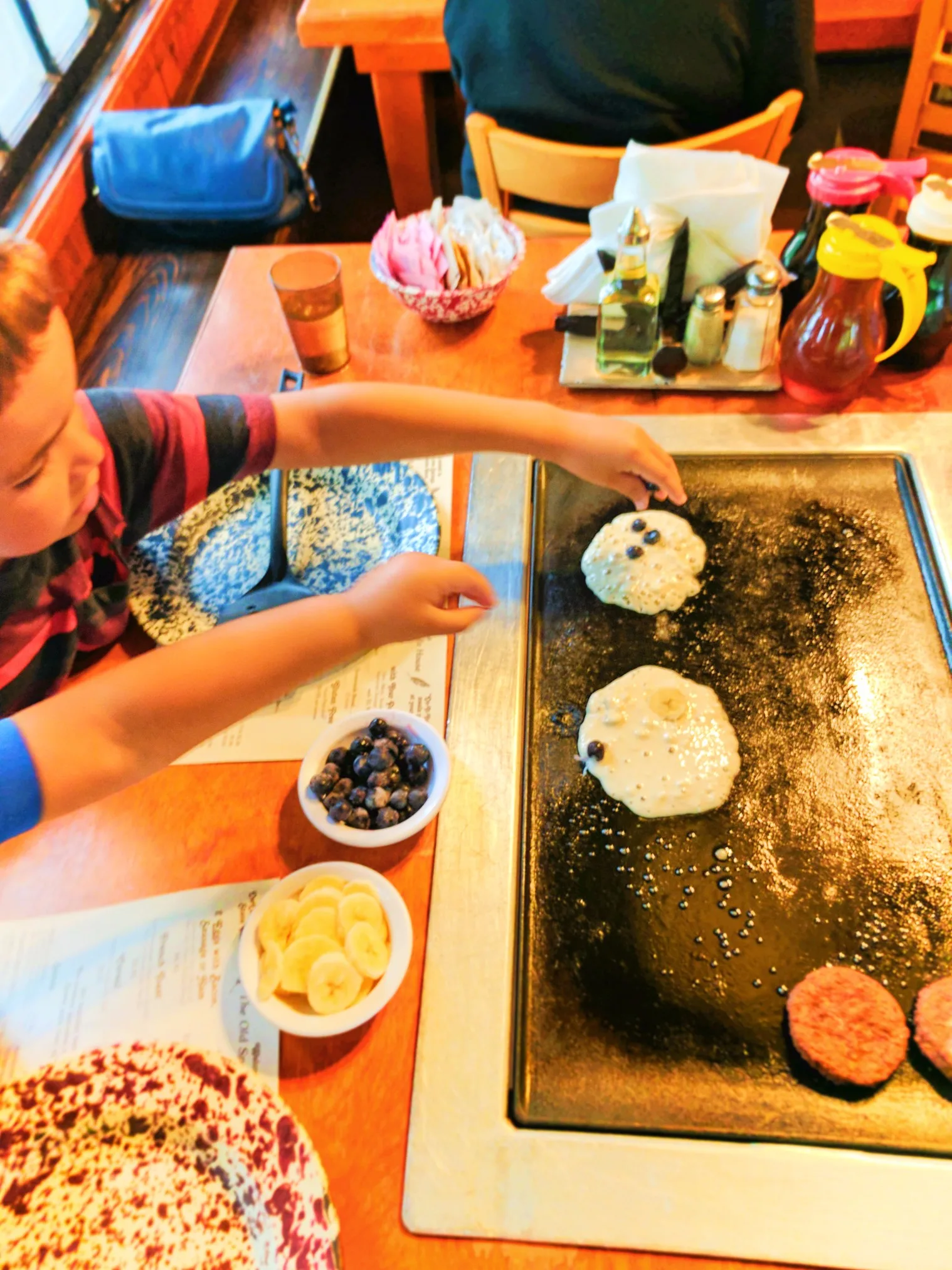 Beyond the fun restaurant there's more. De Leon Springs State Park is the home of the Fountain of Youth.  Wait… Wasn't the Fountain of Youth in St Augustine?  Yes, there's one there too.
The beautiful head springs found in De Leon Springs State Park also lay claim to being the famous bubbling source our youth, also known as Bimini.  It was a sought after legend for the longest time but Juan Ponce decided this particular spring is indeed it… or the St Augustine site is it…  It's beautiful, either way, and I swam in it.  Now you won't see me age in our pictures going forward.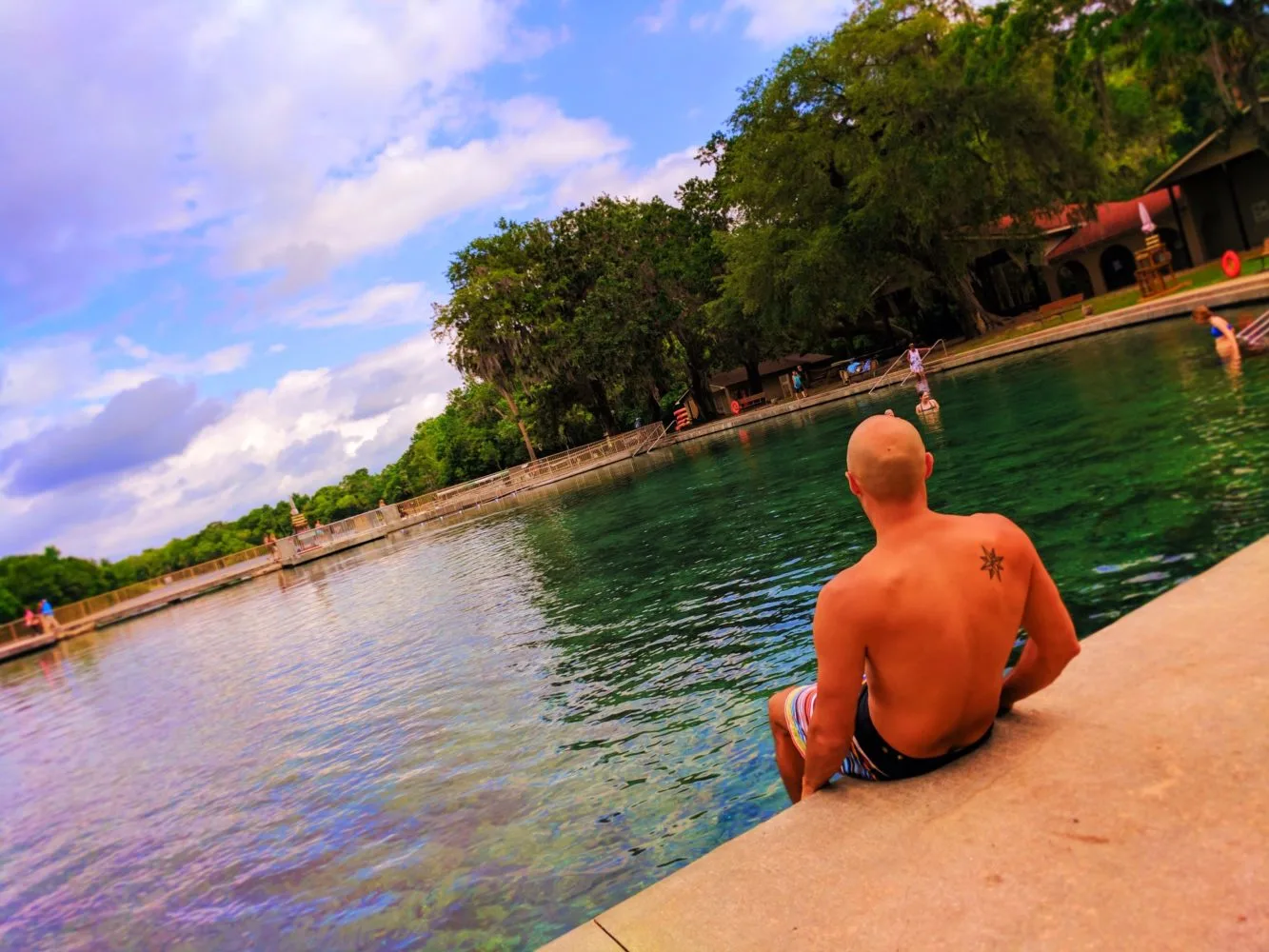 Once you've dipped in the Fountain of Youth, you should head down river on an ecotour to learn more about the spring and the marshlands surrounding it.  We had a very chill naturalist lead us down river, spotting all kinds of birds and cypress trees, as well as alligators and even a manatee.  The kids really enjoyed the abundance of wildlife on our ecotour.
Note:  if you're not familiar with the term, an ecotour is a tour where you're introduced to and learn about the ecosystem of the area, so it's not just sightseeing; an ecotour's purpose is to teach and inspire conservation of the delicate natural world.
You can also kayak here, renting or bringing your own. There are some wonderful Florida State Parks for kayaking and this is one of them. Lots of wildlife and an easy flowing river make it perfect for every level of kayaker.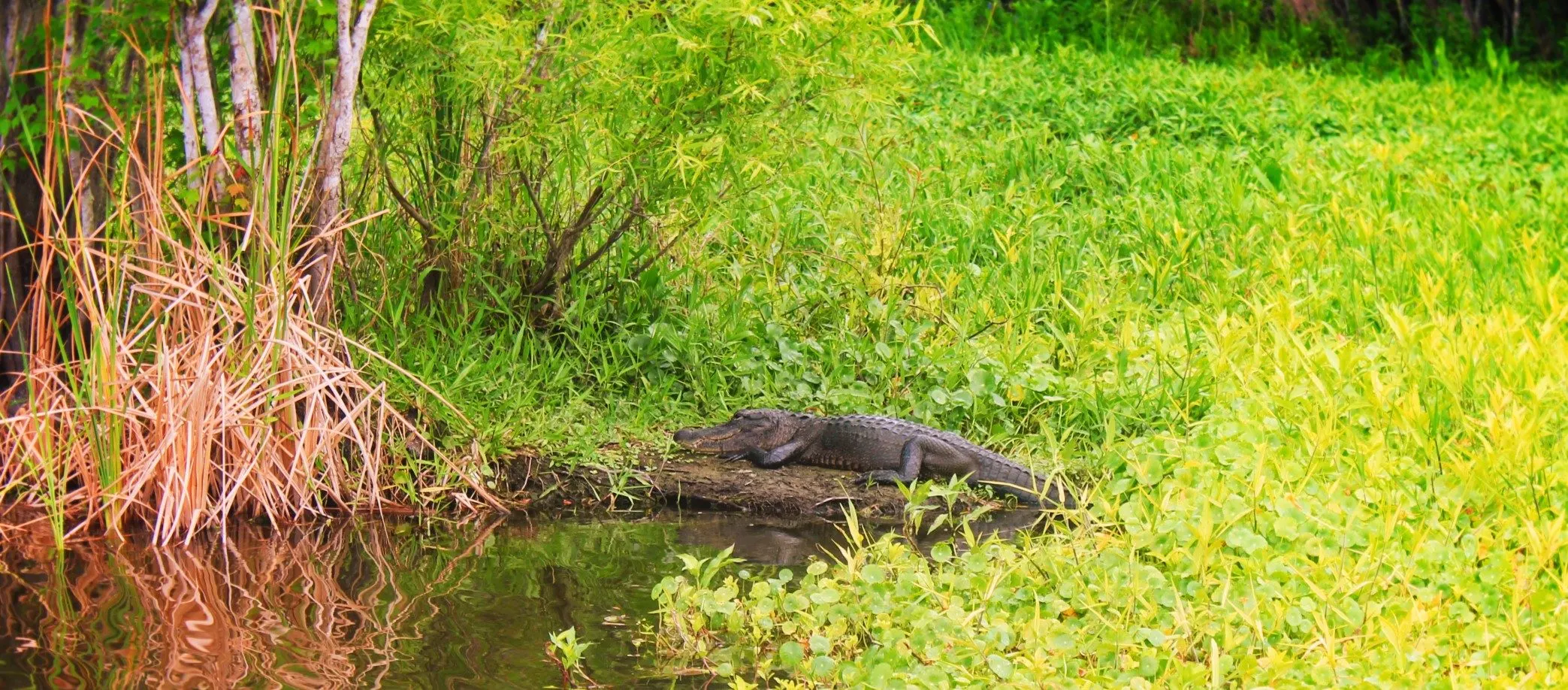 Tomoka State Park near Daytona Beach
After doing several other kayak and ecotour expeditions we were ready to explore Tomoka State Park on our own.  We rented kayaks from the Tomoka Outpost within the state park and headed out.  The kids are pros at water safety so jumping in a kayak is NBD (no big deal)… but when the warning from the state park comes with "be aware of alligators and sharks in the brackish water…" we're a little more cautious.  We talked to the kids about staying calm and keeping their hands out of the water and then set sail.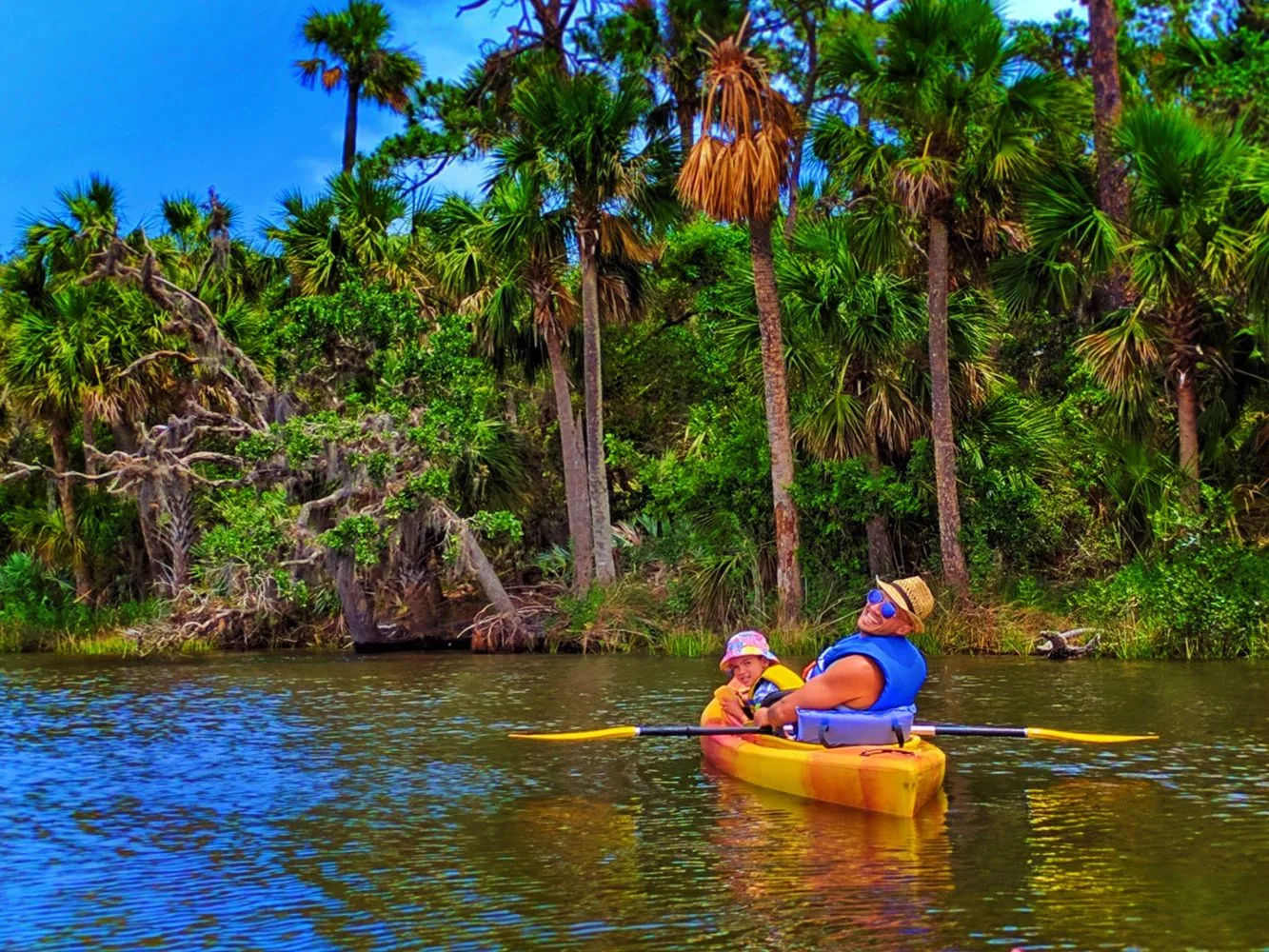 Renting kayaks at Tomoka State Park was really easy, and since we headed up river we had a very safe experience.  It's easy to turn up each little channel and wander through the grass islands in your kayak, so having a continuous flow back out to the Innercoastal Waterway is nice as it keeps you going the right way and you cannot get lost.  This is super awesome when you're kayaking with kids because they want you to paddle up all of the most narrow waterways available.
Tip:  don't forget your extra water on the kayak trail, as it's hot and in the middle of the grass islands there is very little wind to cool you off.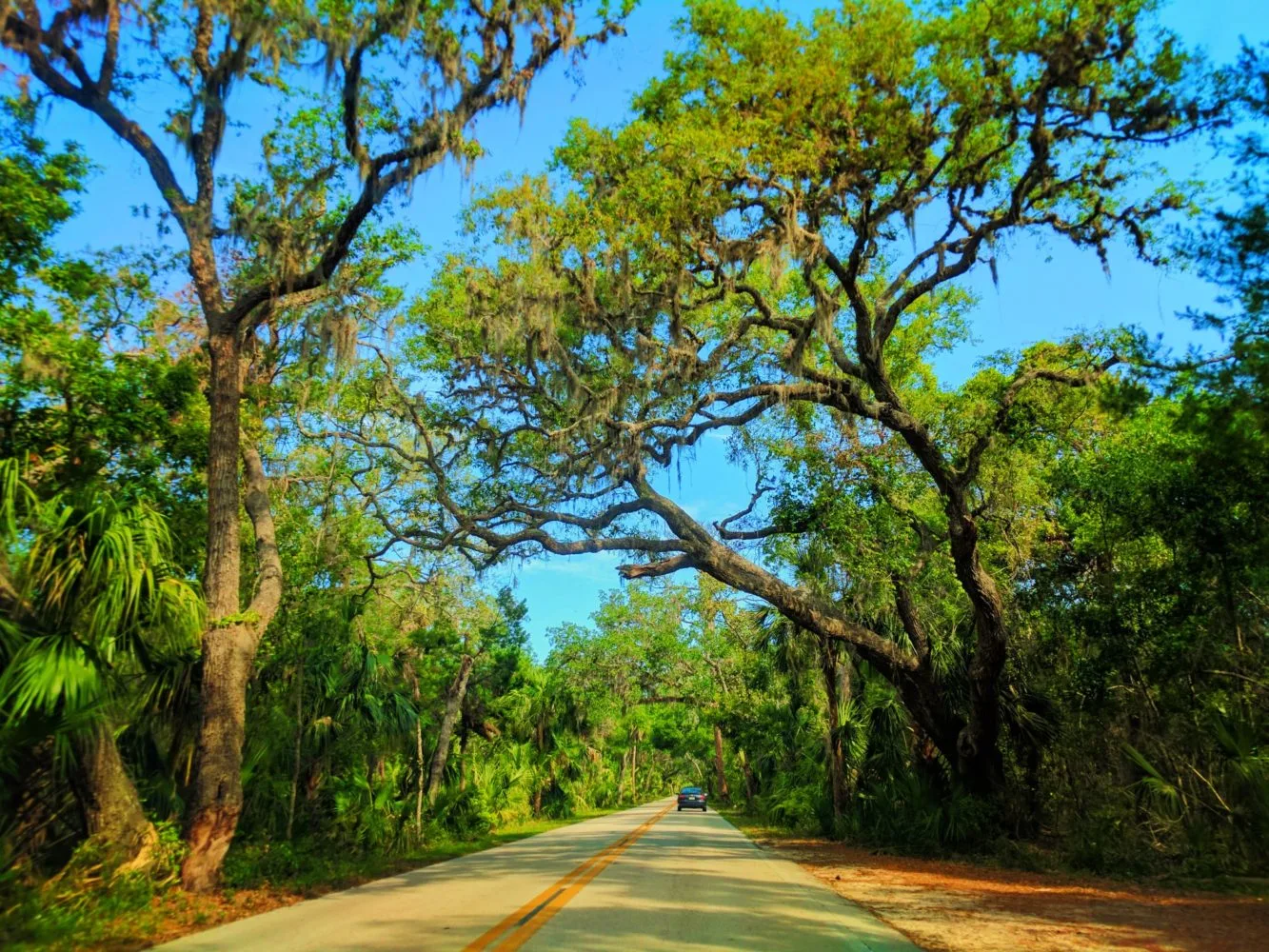 Manatees at Blue Springs State Park
Our final adventurous thing to do in Daytona Beach takes you out to Blue Spring State Park… so we save our best for last.  Much like Rainbow Springs State Park on the Gulf side, Blue Springs is beautiful beyond words.  We were directed here by some other folks on our ecotour in De Leon Springs State Park and I'm so glad we listened. It's since become one of our favorite paddling destinations in North Florida.
We parked in the main parking area and started hiking upriver.  I say hiking, but it is all on boardwalks.  As if the Spanish moss swaying in the trees above us wasn't enough, we started our jaunt along the river and were completely sucked into the gorgeous water.  There was viewing platform after viewing platform as we wandered up river, and during the winter months it's full of manatees… and then we got to get in!!!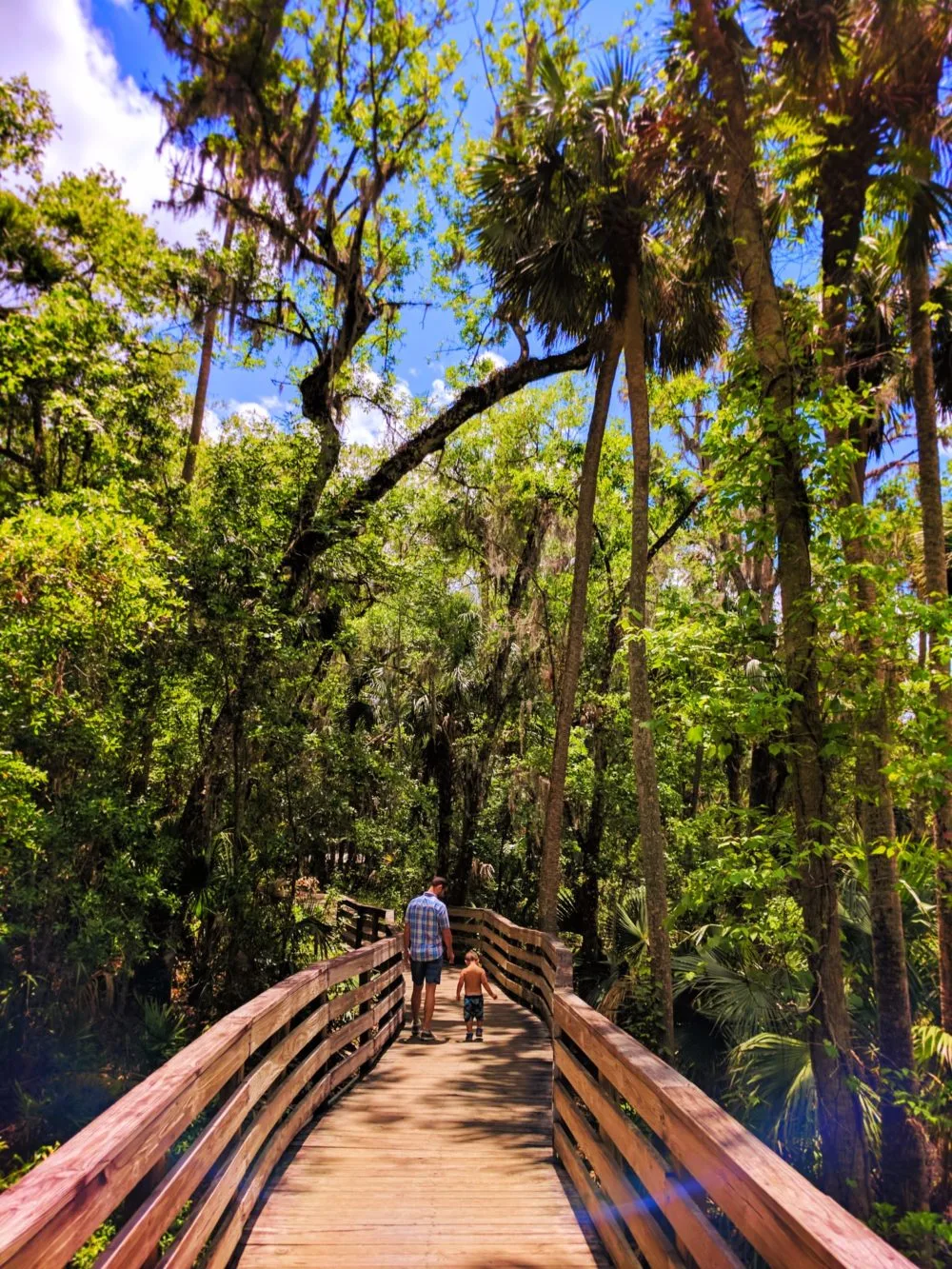 Oliver, our oldest, and I got in first. It's funny to look back at that moment knowing that now it's our go-to spring for swimming. If you want to float down the run, get in at the platform closest to the headspring. If you just want to hang out and splash, get in at the westernmost (the first) platform.
After walking past the tube rental station (that's right!) you'll find a great spot for everyone to get into the river and enjoy the crystal clear water.  Closer to the head springs of Blue Spring there weren't any of the huge Florida Gar fish (harmless), so the kids swim and have fun without fear.  
Tip:  if you can plan it out, there are great camping facilities at Blue Springs State Park.  You can have a fun Daytona Beach vacation and then move inland to immerse in nature.  Just a thought…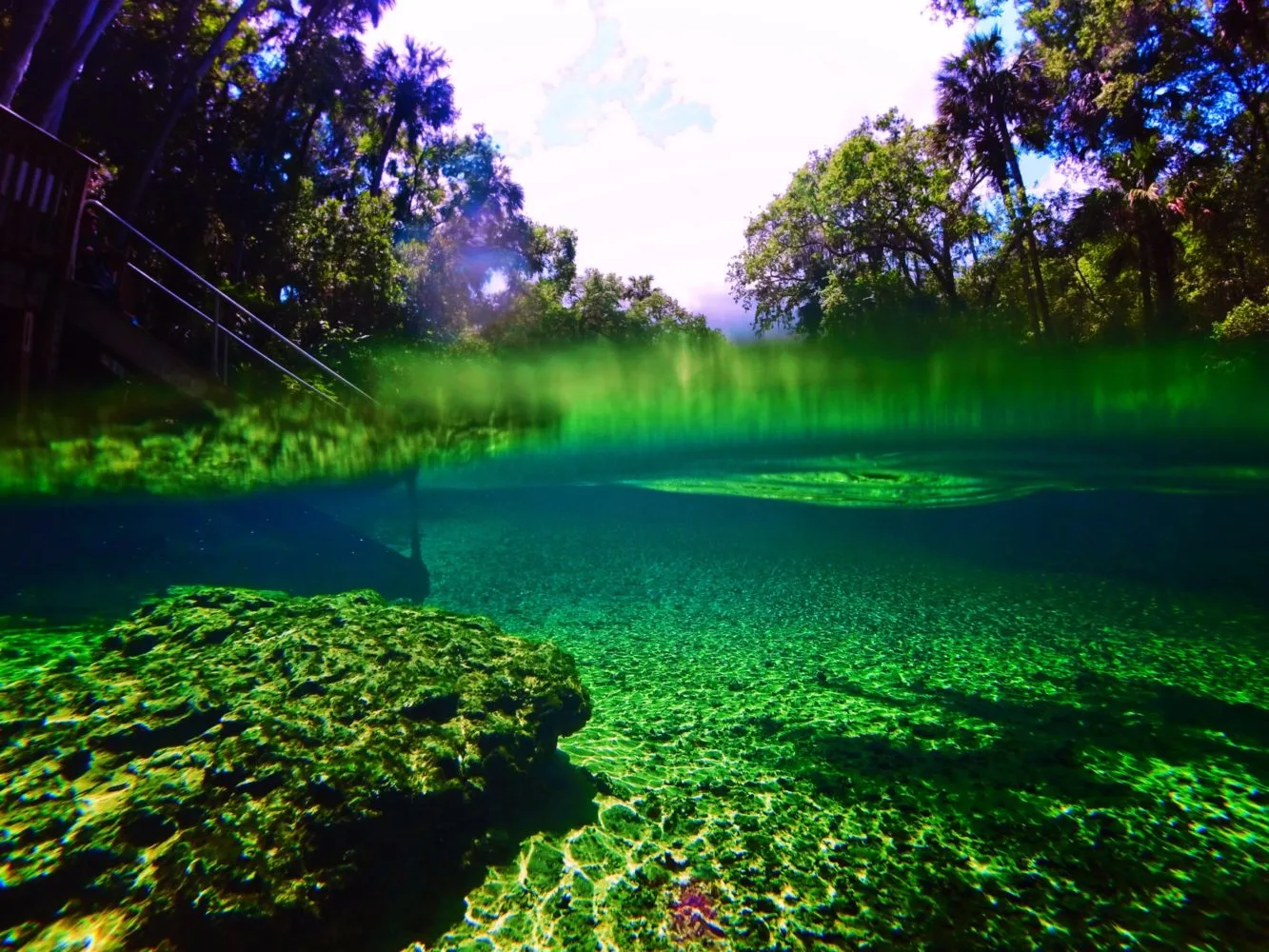 Four days in the Daytona Beach area is just about right, but you could easily spend one or two more. We're so glad to call this part of Florida home. We love the towns and the beauty that waits just a bit away from the beach.  The sights and things to do in Daytona Beach and around are so much fun. I know you'll happily return for another North Florida trip!
Want to pin this for planning a Daytona Beach family trip? Go for it!!!