Staying at the Coconut Beach Resort in Key West is the relaxing Florida Keys trip we all need at some point. We've stayed many places in the Keys and having a week at the Coconut Beach Resort has been a favorite, and to date, the most chill accommodations we've had in the Keys. They hosted us and ensured we had a memorable stay, despite having been to Key West so many times.
By now you know that we love doing the road trip through the Florida Keys and that it's becoming a twice yearly habit for us. With that, we've really gotten good and enjoying the Florida Keys on a budget, finding interesting ways to experience them in different styles, and we've found our fill of key lime pie in the Florida Keys. And now we're ready to share a unique property that's in a great location and offers a different take on staying in Key West: Coconut Beach Resort.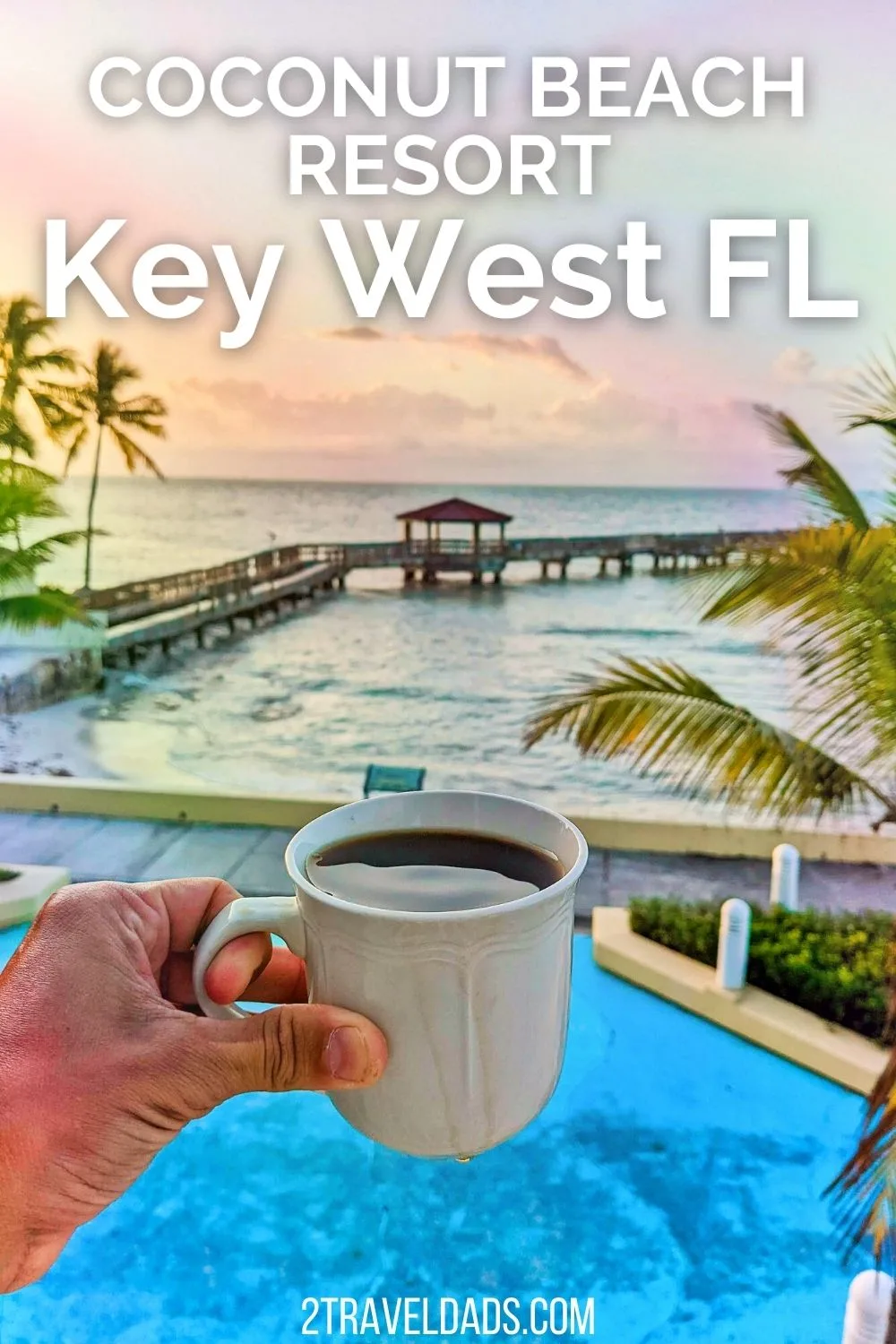 All About the Coconut Beach Resort in Key West
With nearly endless places to stay in Key West, it's tough to figure out just what you want to book. Should you book for location or the room style? Should you book your Key West hotel because it's really trendy or historic? The Coconut Beach Resort hits all of these elements. It's in a great location with fantastic room setups, it's well appointed and Jimmy Buffet even resided here for a time (historic!).
Follow Coconut Beach Resort on Instagram for daily pics of this beautiful place!
The location is fantastic being at the end of Duval Street (just a block or two off) and right by the Southernmost Point. It's just off the Hop-On-Hop-Off trolley line, and there's also an easy, traffic-free route out of town from the Coconut Beach Resort. If you do or don't like walking, you'll find that the hotel is walkable to all kinds of VERY nearby sights, meaning it's less than 10 minutes to both the Southernmost Point and the Key West Butterfly and Nature Conservatory.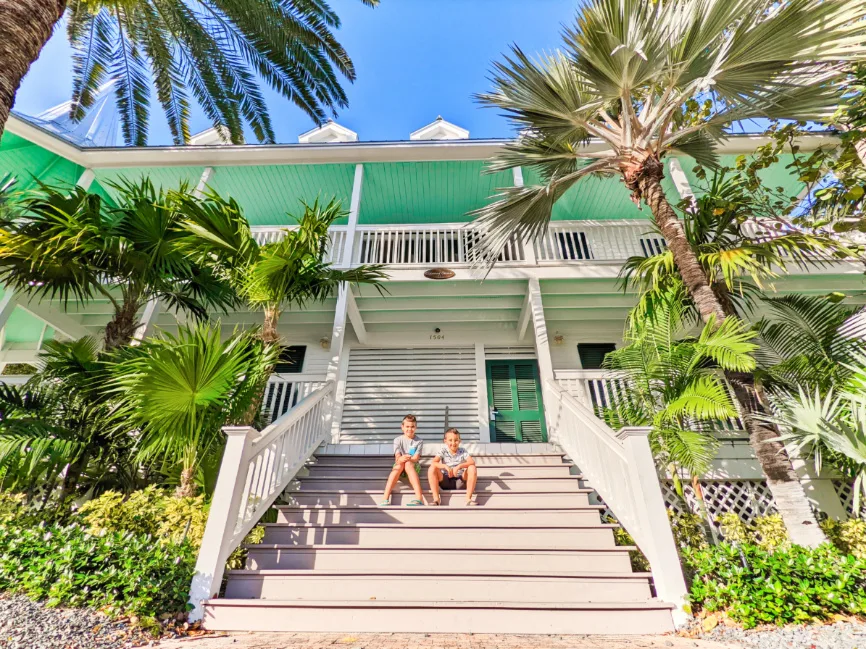 What Are the Accommodation Options at Coconut Beach Resort?
The options for rooms at the Coconut Beach Resort Key West are all spacious, so ultimately you'll have plenty of room for relaxing, daily living, or just returning to the room at night. There are one and two bedroom suites, and then king studios. All rooms have balcony access, as all four buildings are lined with continuous balconies for taking in the Key West views.
The king studios have a kitchenette, bathroom, and bedroom space with a sitting area. The one bedroom suites have a bedroom, bathroom, full kitchen with dining area, and a living room with a pullout sofa bed. The two bedroom suites combine these two room types to create a huge apartment with a gorgeous view and huge balcony.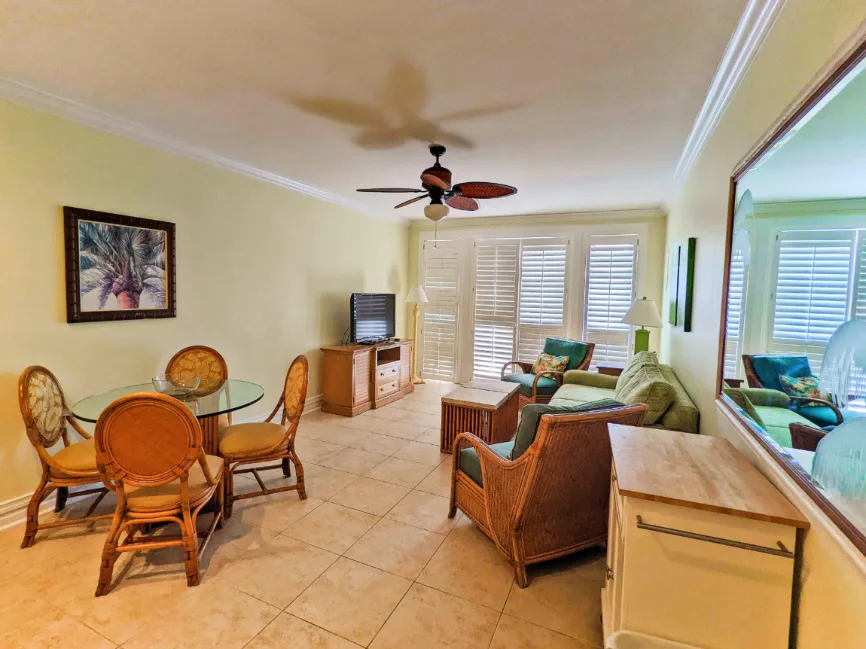 Details for Staying at Coconut Beach Resort Key West
Something unique about booking a stay at the Coconut Beach Resort is that it's both a resort hotel that you can book OR guests may stay as part of a timeshare. Originally, the property operated as a timeshare and still does for many guests, but in recent years they've opened booking to the public.
Unlike partial timeshare properties like the villas at Hawks Cay Resort in the Middle Keys, Coconut Beach Resort in Key West is fully maintained, including decorated, by the resort's management (Spotswood). This means that things are updated and maintained equally, vs décor and maintenance happening on the timeline of an individual owner. We much prefer that sort of management when there's a timeshare split.
Check out our article about timeshare travel for more info about booking vacations via ownership.
Because of the partial timeshare nature of the Coconut Beach Resort, when you check in, you'll get a packet of information about the property which includes owner information such as owner happy hour, informational meetings and general timeshare related stuff. This is not a pitch to get you to buy and there is ZERO element of timeshare pitching during your stay, but it's just informative for those who are long-time visitors or borrowing timeshare time from family and friends.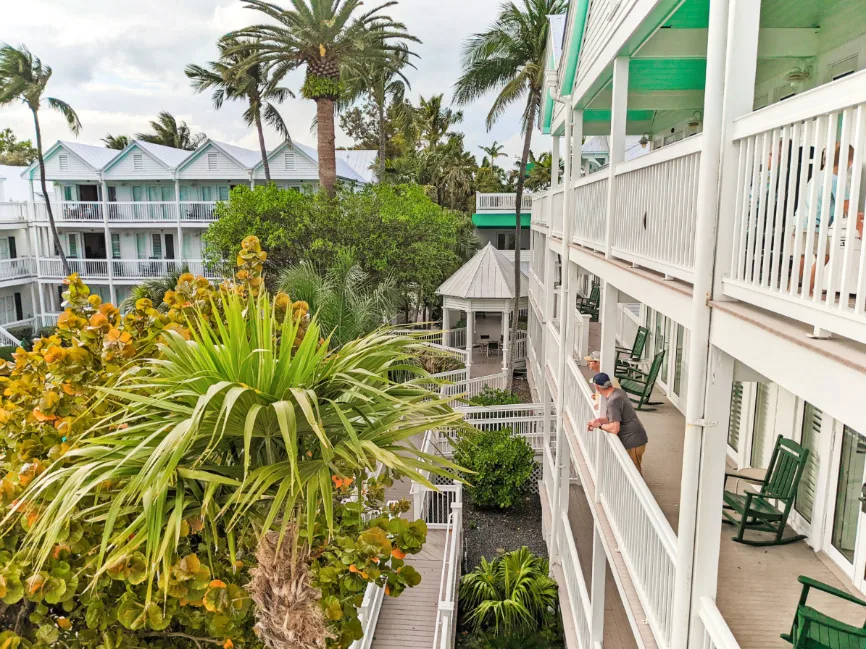 Top Pick for Accommodations: Two Bedroom Suite
Of course we'll always want a large room, but we don't always choose the biggest option as our top recommendation. At the Coconut Beach Resort Key West we absolutely pick the largest option because it's such a great place to relax as a family. We visited as the four of us with grampa and grama, so loved having a two bedroom suite to accommodate us all.
We took full advantage of the space, including making meals in our room, staying up late after the kids went to bed, and coming back to the room to relax mid-day. All the dishes and cookware we needed were supplied, and we even brought dinner down to the patio to have beachside meals. Such a fantastic setup at the Coconut Beach Resort!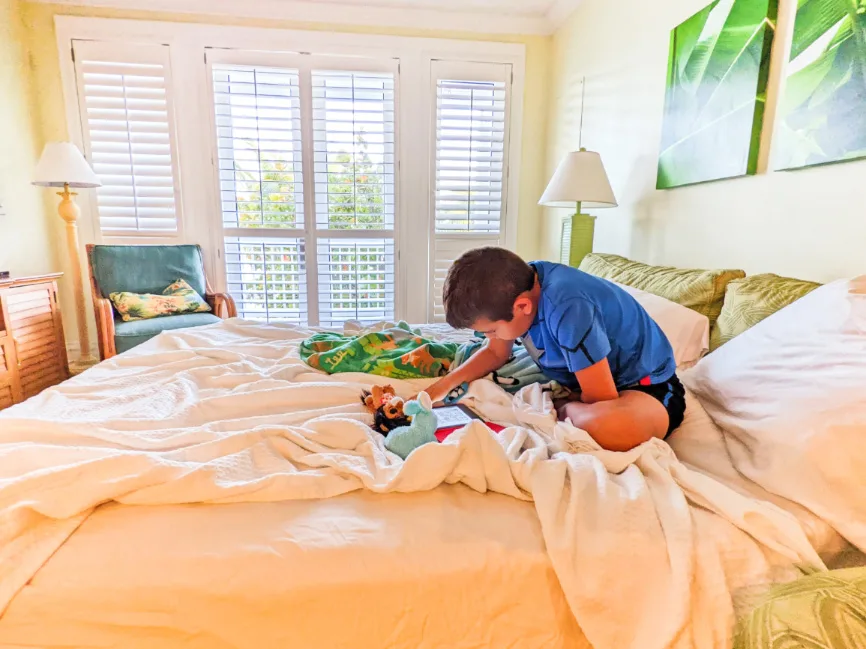 Guest Amenities at the Hotel
While the Coconut Beach Resort is a resort as in a place that supports not having to go anywhere once you're there, it doesn't have ever amenity that say, as Disney resort like Coronado Springs or Animal Kingdom Lodge has. But it has much more Key West appropriate amenities. Since the Coconut Beach Resort is just that, beachfront, there are ample lounge chairs by the water and around the pool. There are umbrellas and tables, and even outdoor dining space.
We loved having an outdoor kitchen space available, and we weren't the only ones. There are two very nice grills built into the outdoor kitchen, with plenty of prep area. Fix up a nice dinner and then serve it up beachside at sunset. We used a dining table one night and sat around the bar counter another night. Elements like this is what made the Coconut Beach Resort great for our family (and extended family!).
Another great amenity is the rocking chair collection. Placed all around the balconies, there are countless rocking chairs available for guests to enjoy their sunrise coffee or their sunset margarita. We took advantage of these for nightly cribbage games too.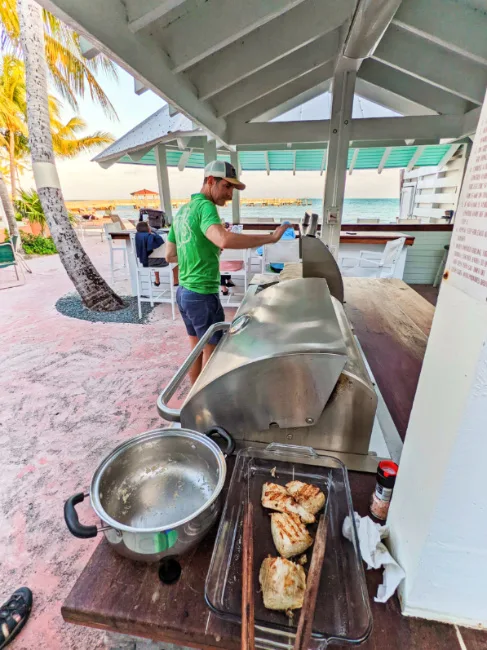 Pools at the Coconut Beach Resort
I think the best feature of the Coconut Beach Resort is the large beachfront swimming pool. Shaped like a kidney bean with a waterfall flowing into it, the pool is heated and even has a legit deep end. There is plenty of space to enjoy the pool during the busiest hours, and there is ample seating all around.
Not far from the swimming pool is the resort hot tub. Elevated higher than the pool area, this circular spa area has a great, nearly unobstructed view of the ocean. Waves crash at the nearby stairs while you enjoy a sunset soak. It's perfect.
There are pool towels provided in the rooms, and pool noodles provided at the swimming area. If you need towels swapped out, you can ask the front desk, or for longer stays, they have scheduled housekeeping and towel swap days.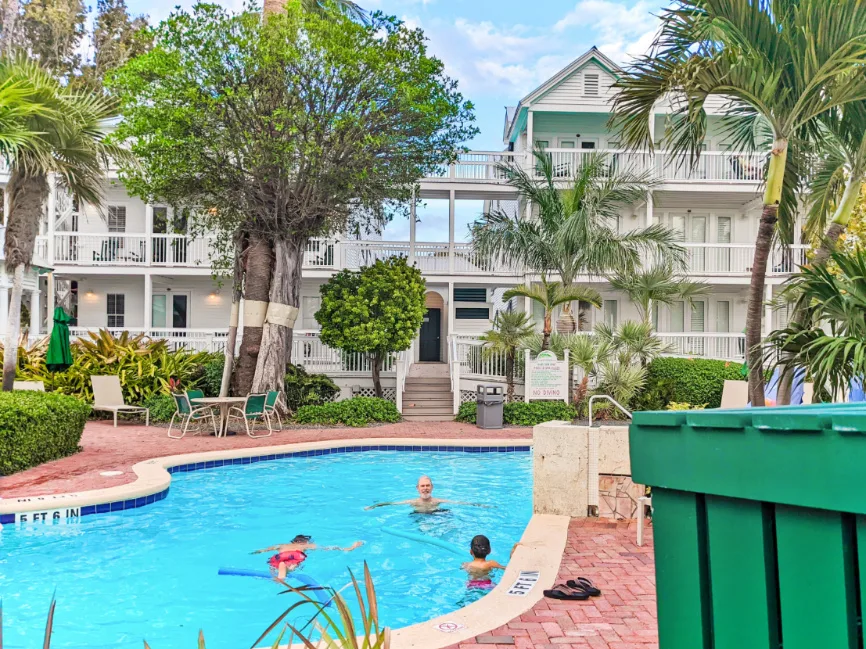 Beach Access from the Resort
In all of the articles we've written about the Florida Keys, we've never proclaimed "There are SO MANY beaches in the Keys!! They're amazing!" There are indeed a few nice beaches, but they are few and far between, because that's just not the nature of the Florida Keys. There are two beach access points at the Coconut Beach Resort Key West, so that's a really unique bonus.
Directly down from the hot tub area you can walk onto a small beach. At low tide there is sand and fossilized coral rocks, but at high tide the waves lap at the beach stairs. Just a half block away from the hotel you'll find the Key West Dog Beach. This is also a small beach, but with a bit more sand and a bit of a park. Just a bit further to the east is Higgs Beach and Park, which has more beach space, a play area, a really cool pier and the West Martello Tower and Garden.
None are spectacular stretches of sand like the Daytona beaches or other North Florida road trip beach stops, but they are a great way to take a plunge in Key West and they are very convenient if you're staying at the Coconut Beach Resort. You're not taking a Key West vacation for beach days, but for the food, fun and history of the city.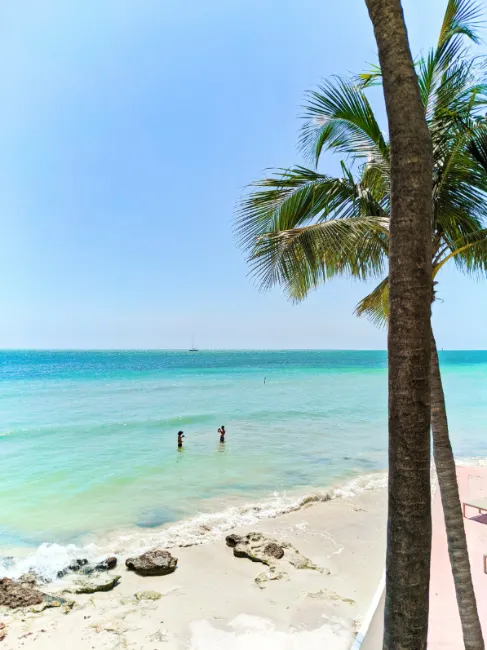 Fitness and Running Route from Coconut Beach Resort
There is no fitness center or spa on property, but there is ample opportunity to be active when you're at the Coconut Beach Resort. Being on the southern side of Key West, there are several great routes for running around the island and on the southside. And whether you bring your own or rent bikes, you can ride on these same routes for make sure you keep active on what may be one of the most relaxing vacations in the Florida Keys.
Note: when it comes to safety, pretend like nobody is watching for you when you're running or biking around Key West. With beautiful homes and gardens everywhere, it's easy to be distracted when you're driving, so just assume that everyone in Key West is a distracted driver.
Here are two great running or biking routes to both see some cool Key West Sights, and to get a good workout. FYI, there are no hills, cuz Florida…
Nearby Dining in the Southernmost Point Neighborhood
Key West is absolutely loaded with great restaurants, and the Southernmost neighborhood is full of them. The Coconut Beach Resort itself doesn't have a restaurant, as it's a condo style hotel with kitchens and outdoor cooking space. There are lots of options within minutes' walk from the hotel.
Here are some great picks that are within a fifteen minute walk of the Coconut Beach Resort: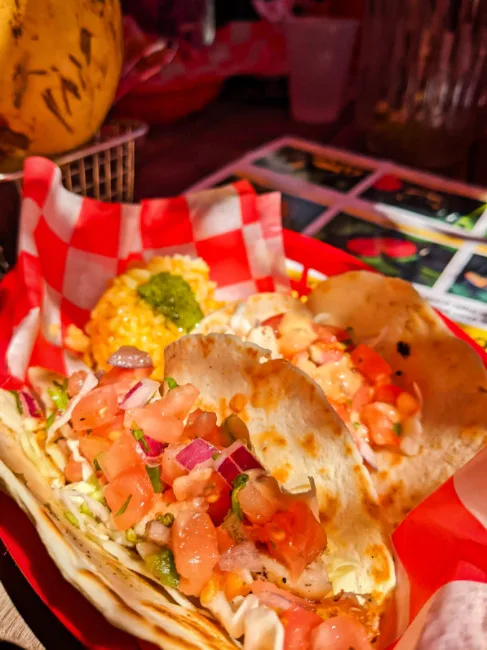 El Siboney: Top Pick for Dinner
We always will gravitate to Cuban food, and El Siboney is one of our favorites that we'll happily return to over and over. Where we live in St Augustine, we have a Cuban restaurant right by our house that we visit at least once a week, and El Siboney would be it's tough rival if they were in the same neighborhood.
While everything we've had at El Siboney has been flavorful and well prepared, our favorite item is actually the maduros (pan fried plantains). They are tender, crispy, caramelly and perfect. Even though this is just a side dish, it says a lot about the restaurant as maduros are not usually a highlight for us. Love this place!
Check out of Florida Keys on a Budget article for even more great, family friendly dining picks!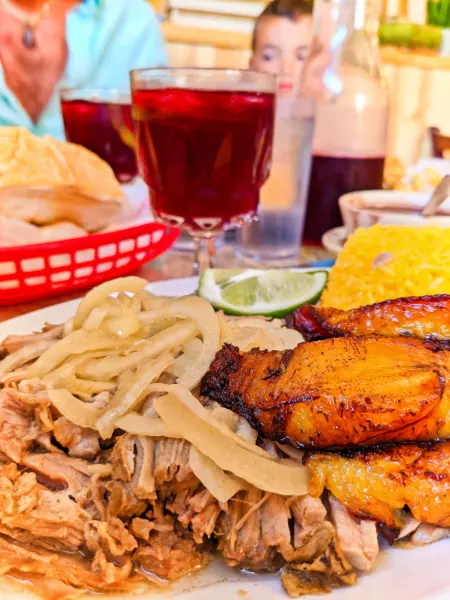 Caroline's Cafe: Family Friendly Lunch Spot
When you're staying at the Coconut Beach Resort, you're really close to nearly everything in the main tourist area and quiet neighborhoods of Key West alike. Duval Street is famous for being the party street of Key West, but it's also a street full of wonderful restaurants. A block over on Whitehead you'll find the start of Highway 1, the Hemmingway House, Key West Lighthouse and more, so having lunch in the middle of it all is a must. Caroline's Café is perfect due to its location, atmosphere, price point and quality.
You'll gawk at the fish sandwiches, but what's really wonderful is the key lime pie. We have taken a lot of time over the years to compile our list of favorite Key Lime Pie and Cocktails in the Florida Keys, and Caroline's Café makes the list both for the pie AND a cocktail. The Key Lime Mojito is spot on for keeping the local lime at the forefront of the drink, while the key lime pie is basically a perfect cheesecake-like pie. Super good.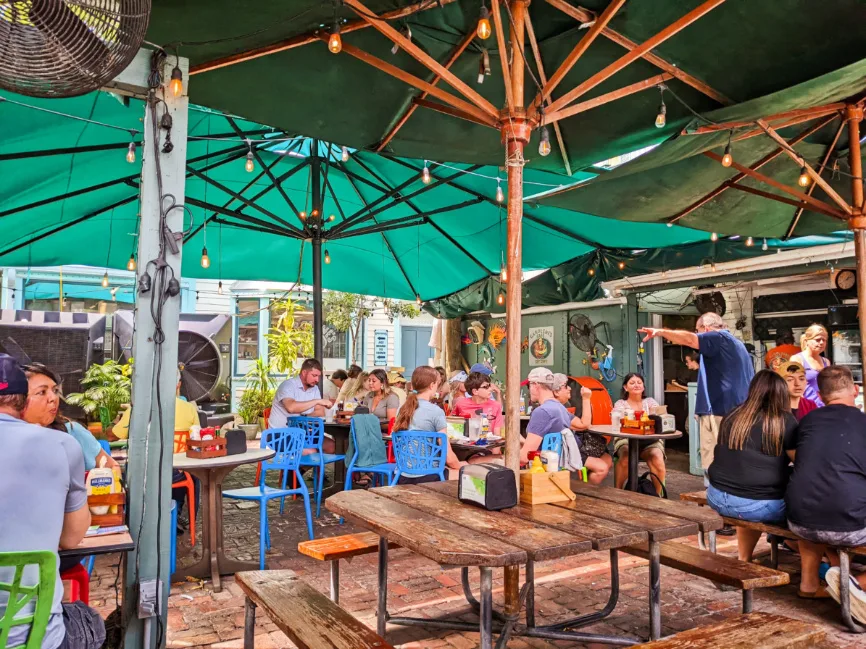 Grocery and Liquor Stores near the Resort
Since we do a combination of dining out and cooking within our resort hotel unit, we are sure to keep our kitchen stocked with snacks and meal prep supplies. And that goes for cocktail supplies too. Luckily, the Coconut Beach Resort is located at the EDGE of the busier part of Key West, so getting to the grocery store isn't a hassle any time of day.
The nearest grocery store is either Winn Dixie or Publix, both of which are about 8 minutes driving and both have a liquor store in the plaza. There are small neighborhood grocery markets as well, but if you need to do a full shop, we recommend hitting up the larger grocery stores.
If you have no intention of cooking while you're enjoying your Key West vacation time, you can pop over a block to get cocktail fixings and snacks at the Tipsy Rooster (4 minute walk).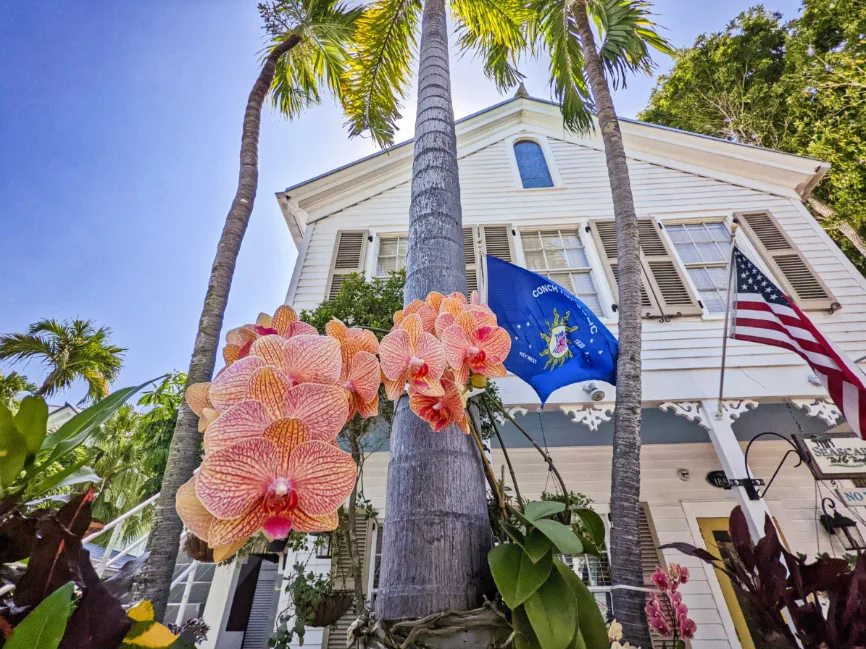 Where is the Coconut Beach Resort?
As I said, the Coconut Beach Resort is located on the south side of the island of Key West. It's in the Southernmost Point neighborhood directly on the beach. Other nearby hotels include the Casa Marina Hotel (Waldorf Astoria), the Southernmost House B&B, and the Reach Key West. This part of Key West is lovely because it's walking distance to most activities and attractions while still being in a quiet part of the island. You just hear the waves and the neighborhood roosters.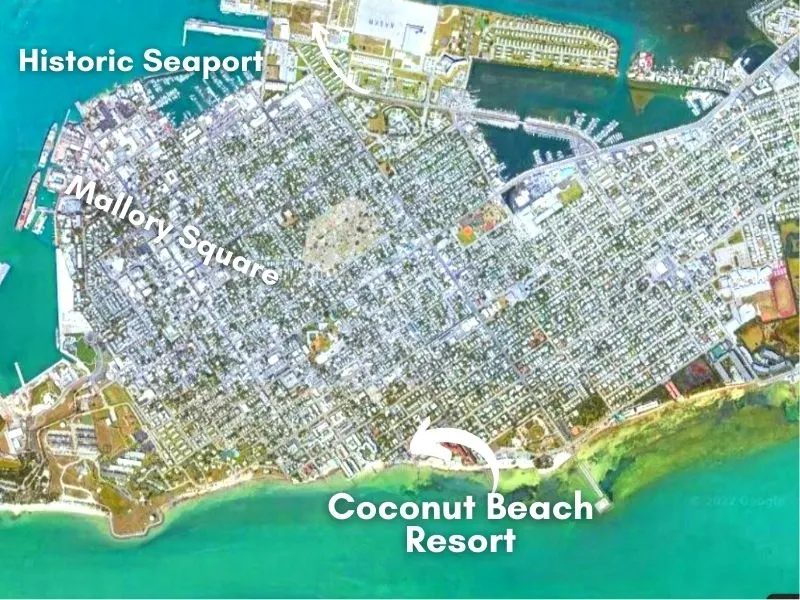 Transportation To and From the Cruise Terminal or Airport
Key West has a whole fleet of pink taxis, as well as ride-share apps. Getting around is very easy if you don't have a car. Since the Key West International Airport (EYW) is also on the south side of the island, it only takes about 10 minutes to get to the Coconut Beach Resort from there.
The Key West Cruise terminal is also very nearby, at an easy 10 minute drive. You really can't beat the location of the Coconut Beach Resort for ease of access.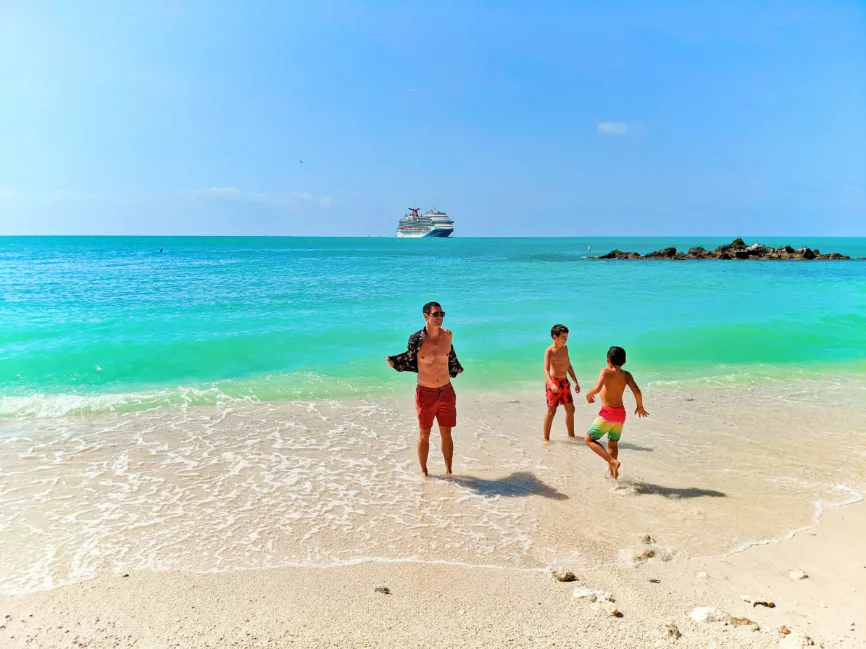 Can I Walk from the Coconut Beach Resort to Mallory Square?
One of the most iconic areas of Key West is Mallory Square, which is where there is a nightly toast to the sunset (Sunset Celebration). It's a mile and a half walk, which breezes by since there is to much to look at as you're walking. It takes about a half hour to walk to Mallory Square from the Resort. Knowing that, you can easily estimate how long walking to anywhere else takes.
And since we're on the topic, here are a few other walking distances you might care about: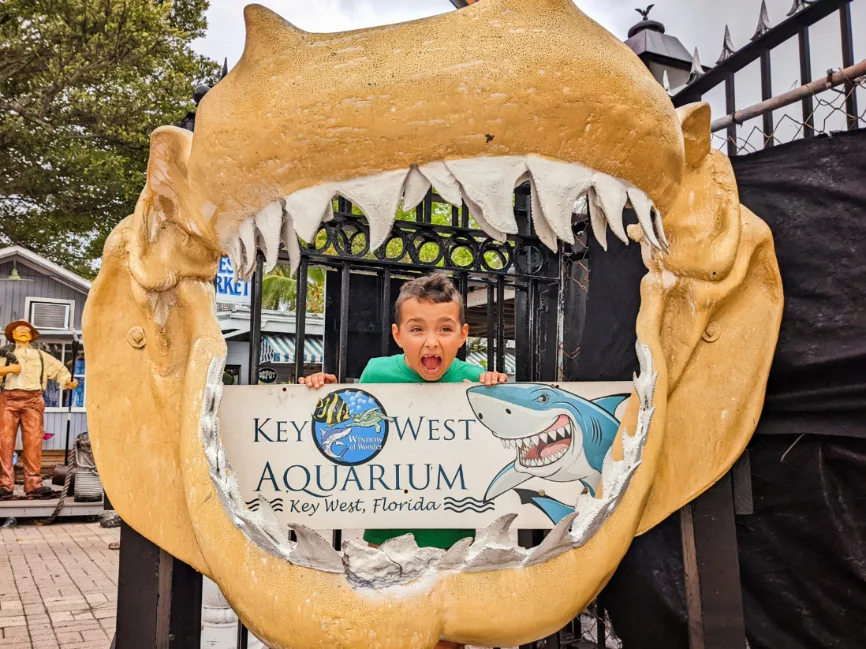 Parking Details at the Coconut Beach Resort
Parking at the Coconut Beach Resort is easy if you do have a car with you (really though, you don't need it). There are parking garages under the resort buildings, so you can park very near your accommodations. You'll get a parking pass to display upon check-in, so don't forget to display it.
The clearance into the parking garages is very low, so if you have tall vehicle or a rooftop carrier of some sort, be cautious. There is a fair amount of street parking right around the Coconut Beach Resort, so if you cannot successfully park on property, you should still be okay nearby. Pay attention to any posted signs noting parking restrictions.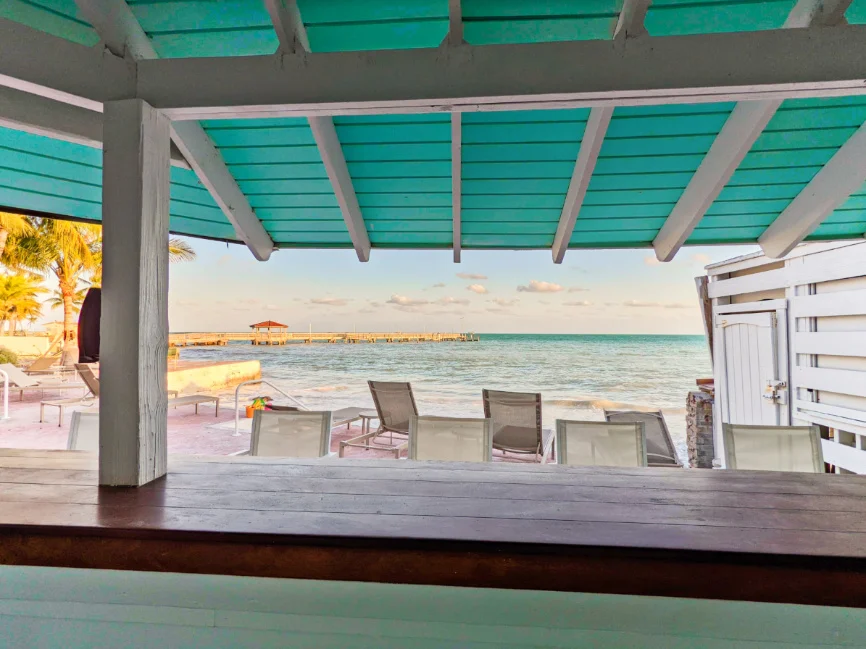 Ten Fun Things to do near the Coconut Beach Resort Key West
We could babble all day about what to do in Key West, but these are our top picks for things to do near the Coconut Beach Resort that you can walk to or drive within minutes.
Sunset from the Edward Knight Pier
Visit the flamingos at the Key West Butterfly and Nature Conservatory
Enjoy the gardens and art at the Audubon House and Tropical Gardens
Climb the Key West Lighthouse
Have a beach day at Fort Zachary Taylor State Park
Do the self-guided tour up to the widow's walk at the Curry Mansion
Visit the West Martello Tower and Garden
Get the totally tourist photo at the Southernmost Point
Do a Conch Train Tour all around Key West
Enjoy Drag Brunch at Mangoes Key West (12-3p on Sundays)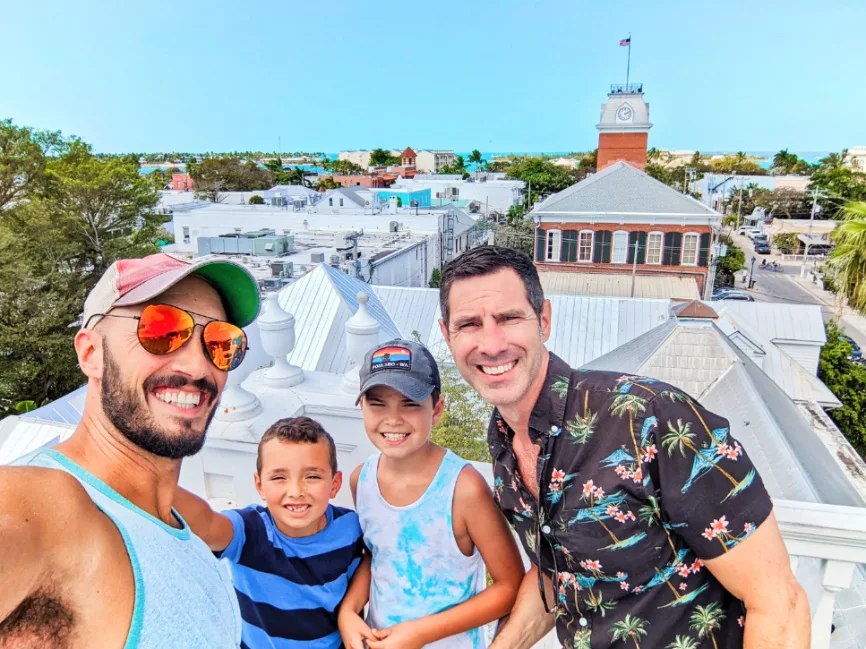 Clearly we enjoy Key West and loved our time at the Coconut Beach Resort. It's the ideal place to relax and have a truly unique Florida Keys vacation with family of all ages. We would happily return any day for any length of time for another stay.
Need more Florida Keys inspiration? Check out more of our articles about our favorite finds in the Keys over the years:
Other hotel reviews in the Keys offering very different sorts of accommodations and staying experiences:
If you have any questions or need help planning your own Key West trip, please leave a comment or send us a note. We're happy to help you out!