So how do you get to enjoy the beautiful, sandy beaches of Daytona Beach? Easy! Volusia County and the respective towns do a great job of making sure that the public has access to the beach any time of year. Whether you want to walk across a boardwalk, drive on with your car, or just park and bring your cooler and umbrella, there are lots of options.
If you're doing a North Florida road trip or adding a trip to Daytona Beach to your Disney World or Universal Orlando vacation, you'll need to know how to get onto the beach. With so many beachfront hotels and condos, it might look tricky to find your perfect slice of beach. Don't worry, we've got you covered.
Heading to Saint Augustine on you visit? Check out all of the St Augustine Beach Access Points!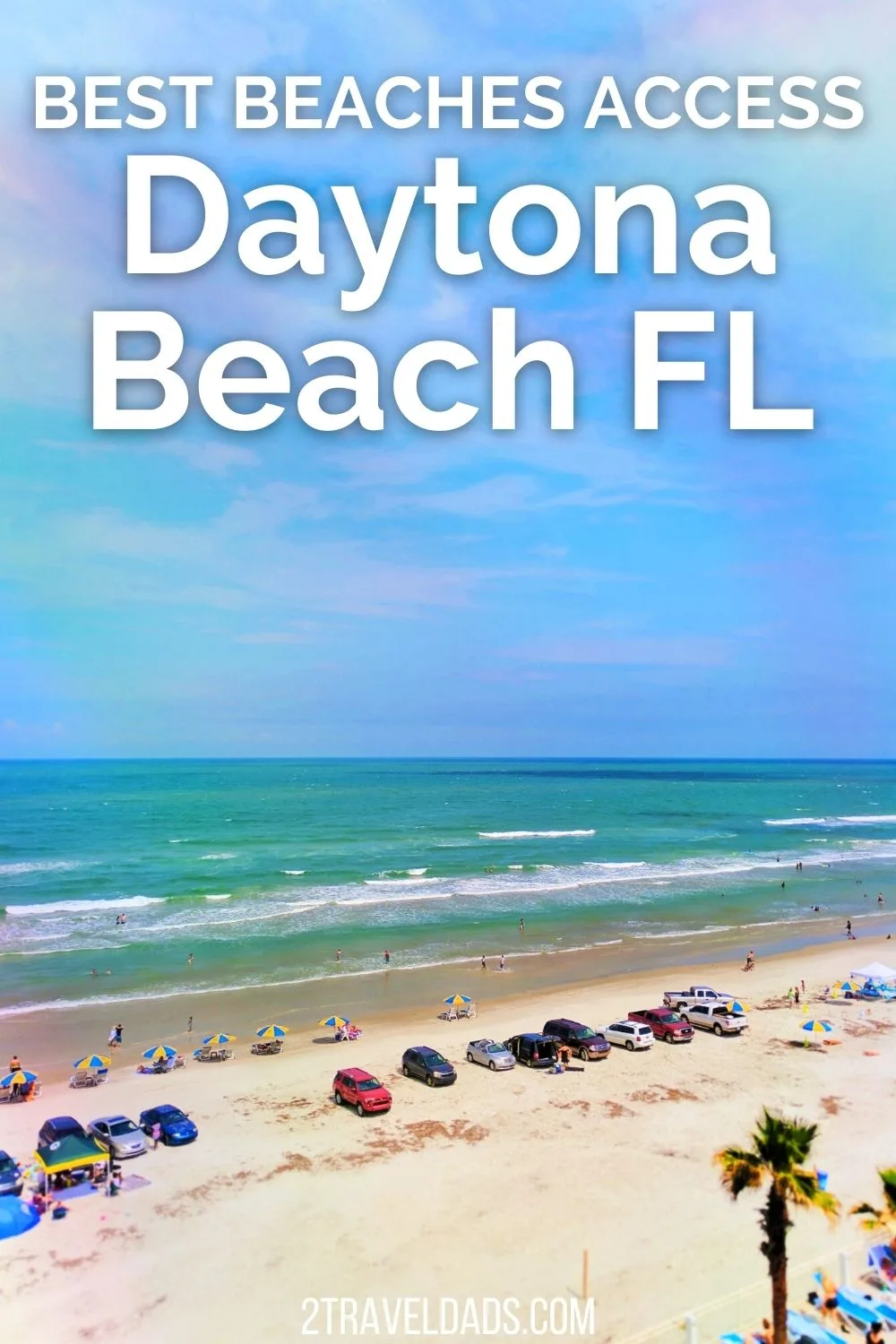 List of Daytona Beach Access Points
Starting at the north end, where Ormond Beach becomes Daytona Beach, here are the best access points, with parking or walking path noted.
Seminole Ave – Parking
Across from Beachside Johnny's – walk on
Rockefeller Drive – Parking
River Beach Drive – walk on
Cardinal Drive Beach Park – Parking
Romano Beachfront Park – Parking
Harvard Drive – drive on access
Boylston Ave – Parking
Hartford Ave – drive on access
Seaview Ave – walk on access
University Blvd – Parking
Hard Rock Beach, south of hotel – Parking
Glenview Blvd – Parking
Daytona Boardwalk – Parking
World's Most Famous Beach – drive on access
505 S Atlantic, north and south of here – Parking
Silver Beach – Parking
Botefuhr Ave – drive on access
Sunrise Blvd – Parking
Florida Shores Blvd, Frank Rendon Park – Parking
El Portal Beach – drive on access
Fornari Park – Parking
Dunlawton Blvd – drive on access
Dahlia Ave Park – Parking
Phyllis Ave – Parking
Emilia Ave – drive on access
Wilbur Beach at Heron St – Parking
Toronita Ave Beach Park – Parking
Curlew Ave Boardwalk – walk on access only
Major St Boardwalk – Parking
Carriage St Boardwalk – walk on access only
Ponce Preserve – Parking, trails AND beach access
Winterhaven Park – Parking
Oceanview Ave – Parking
Glenview Ave Boardwalk – walk on access only
Calumet Ave Boardwalk – walk on access only
Inlet Harbor Rd – Parking
Beach St – drive on access
Ponce Inlet Park – paid access and parking
Lighthouse Point Park – THIS IS THE ONLY DOG FRIENDLY BEACH in Daytona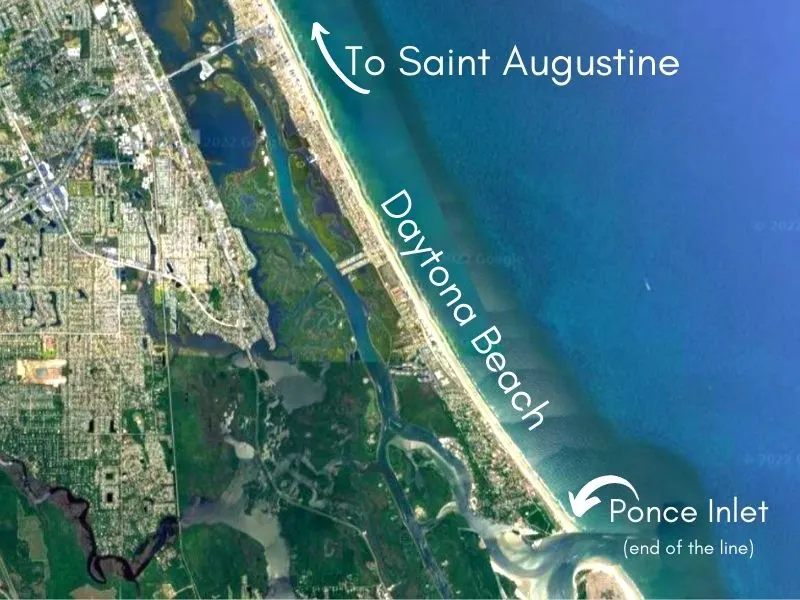 Daytona Beach Access Rules
Like with any beach access, you'll want to be respectful of private property. There are a lot of homes and condos along the beaches of Daytona, but ALL stretches of beach are public. You can enjoy all 28 miles of beach in Volusia County with no worries… HAVING SAID THAT:
Do not go onto private BEACHFRONT property – you can be on the sand, but not private spaces including privately owned boardwalks, retaining walls, structured seating areas or landscaped property.
Driving on the the beach is okay with a permit or paid access – only drive the direction noted on the signs and ONLY in the traffic lanes
Watch for beach pedestrians – weather you're driving on Daytona Beach or riding your bike, there are a lot of pedestrians to be safe around
Do not walk in the dunes – along much of the beaches of Daytona Beach and Ponce Inlet there are sand dunes covered in vegetation. Only cross the dunes on designated trails or boardwalks to protect the habitat.
DO NOT LITTER – leave the beach better than you found it
Do not dig and abandon holes in the sand MAY through OCTOBER – this is sea turtle nesting season and the beaches of Daytona, Ponce Inlet and all the way up to Tybee Island in Savannah are all nesting areas for a variety of sea turtle populations.
Beach fires are not allowed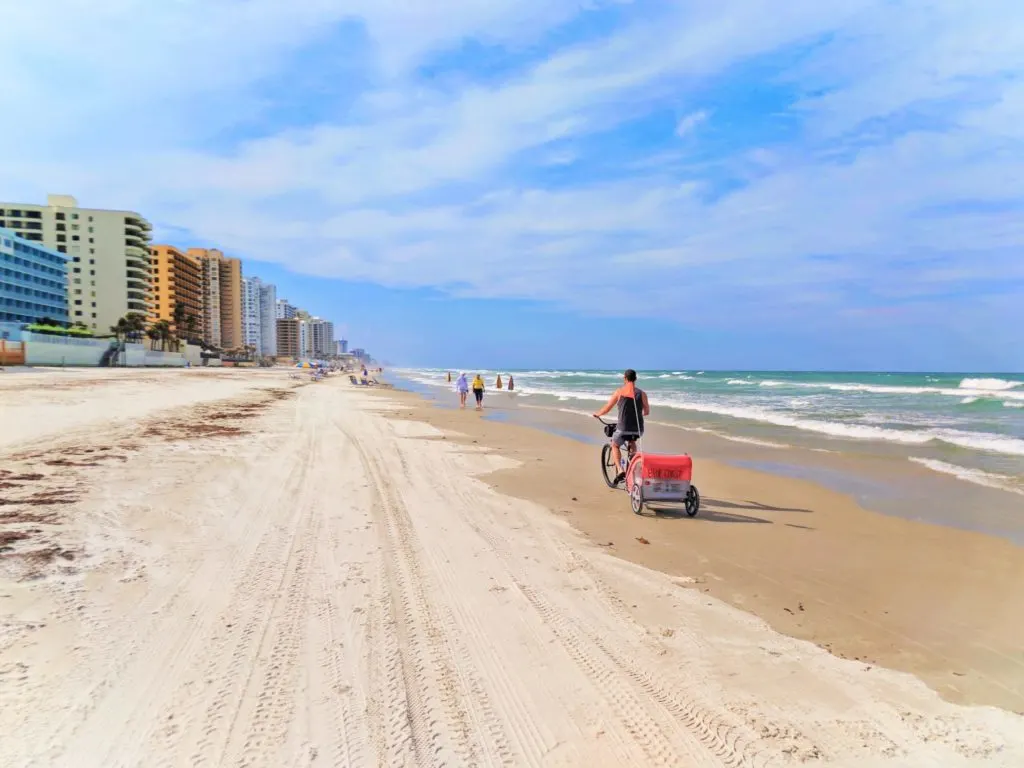 Are there Dog-Friendly Beaches in Daytona?
Unfortunately, there is only one dog friendly beach in Daytona. Volusia County doesn't allow dogs on almost all of the beach space except for Lighthouse Point Park beach and then Smyrna Dunes Beach across the Ponce Inlet.
If you're in the area and looking for dog-friendly beaches near Daytona, head up to Flagler County or St Johns County. Dogs are allowed on most beaches, included off-leash in St Johns County. Butler Beach and Crescent Beach have great parking areas at the beach and dogs are allowed.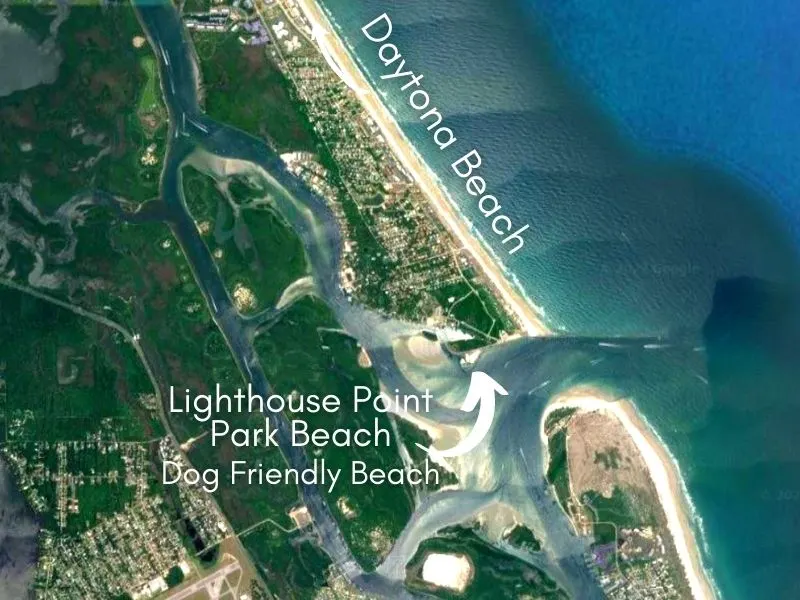 Favorite Beaches around Daytona Beach
Of course the beach directly in Daytona Beach that everyone goes to is fun, but it's also crowded. We recommend picking a Daytona beach access point from the list above, either at the very top of the list (north side) or near the end of the list (south end). We have found the beaches of Daytona Beach Shores and Ponce Inlet to be our favorites.
You'll see that as you head south the beach gets wider. The beaches of Ormond Beach to the north have fewer people and less parking, but they're gorgeous with much more peachy colored sand and more shells.
As you get closer to Ponce Inlet, the beaches widen, there are boardwalks across the dunes, and because there isn't a ton of parking, there are smaller crowds year round.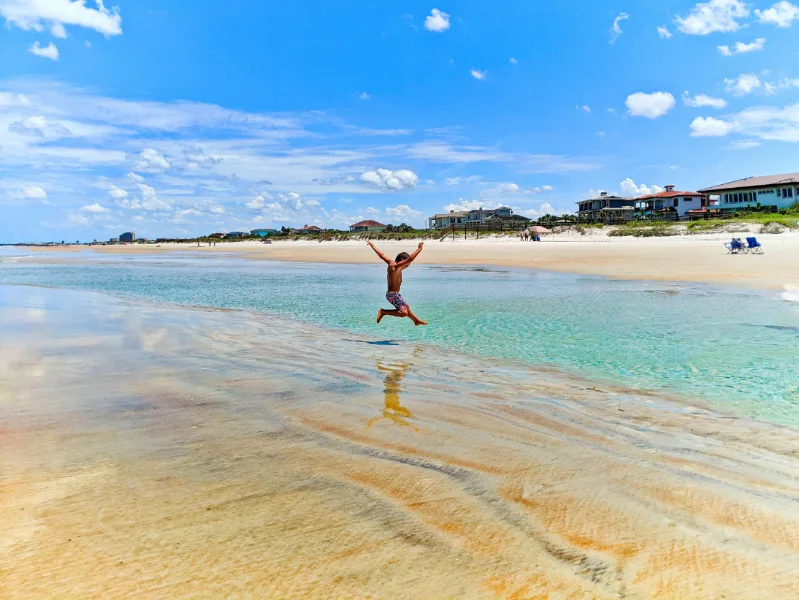 More Fun Daytona Beach Area Activities
There's more to Daytona Beach than getting onto the sand. Here are some great suggestions for fun things to do in the Daytona area. Add these to a Daytona Beach vacation or as other day trips from Orlando.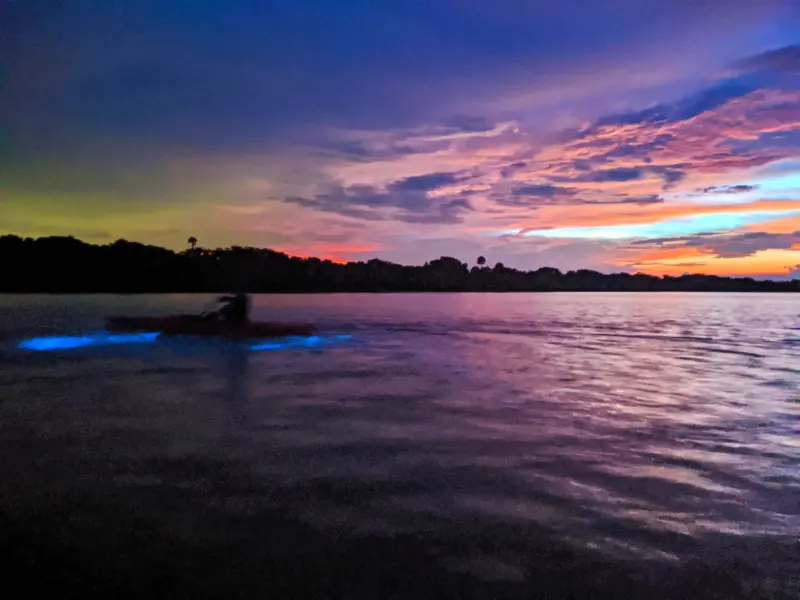 I hope this is helpful. You'll love spending time on the sand in Daytona Beach. You'll find that it's NOT all spring break shenanigans like you might think, and that some of the prettiest beaches in Florida are actually right here!
If you have questions about beach access in Daytona Beach, Flagler or St Johns Counties, please leave a comment or send us a note. We're happy to help others have amazing Florida beach days!