The Hoodoo Moab Hotel is one of the nicest hotels we've stayed at outside of a National Park. Located very near the entrance to Arches National Park, it's got everything a nice hotel should and adds a classy, artsy element to a stay in Moab. A part of Hilton's Curio Collection, the Hoodoo Moab is a unique, luxurious stay to spruce up your Utah National Parks road trip.
When I first said that we were staying at the Hoodoo Moab several friends responded with "OMG! I stayed there and loved it!" And now I see why that's the reaction it gets. Clearly, we enjoyed our time at the Hoodoo, but here are all the details why.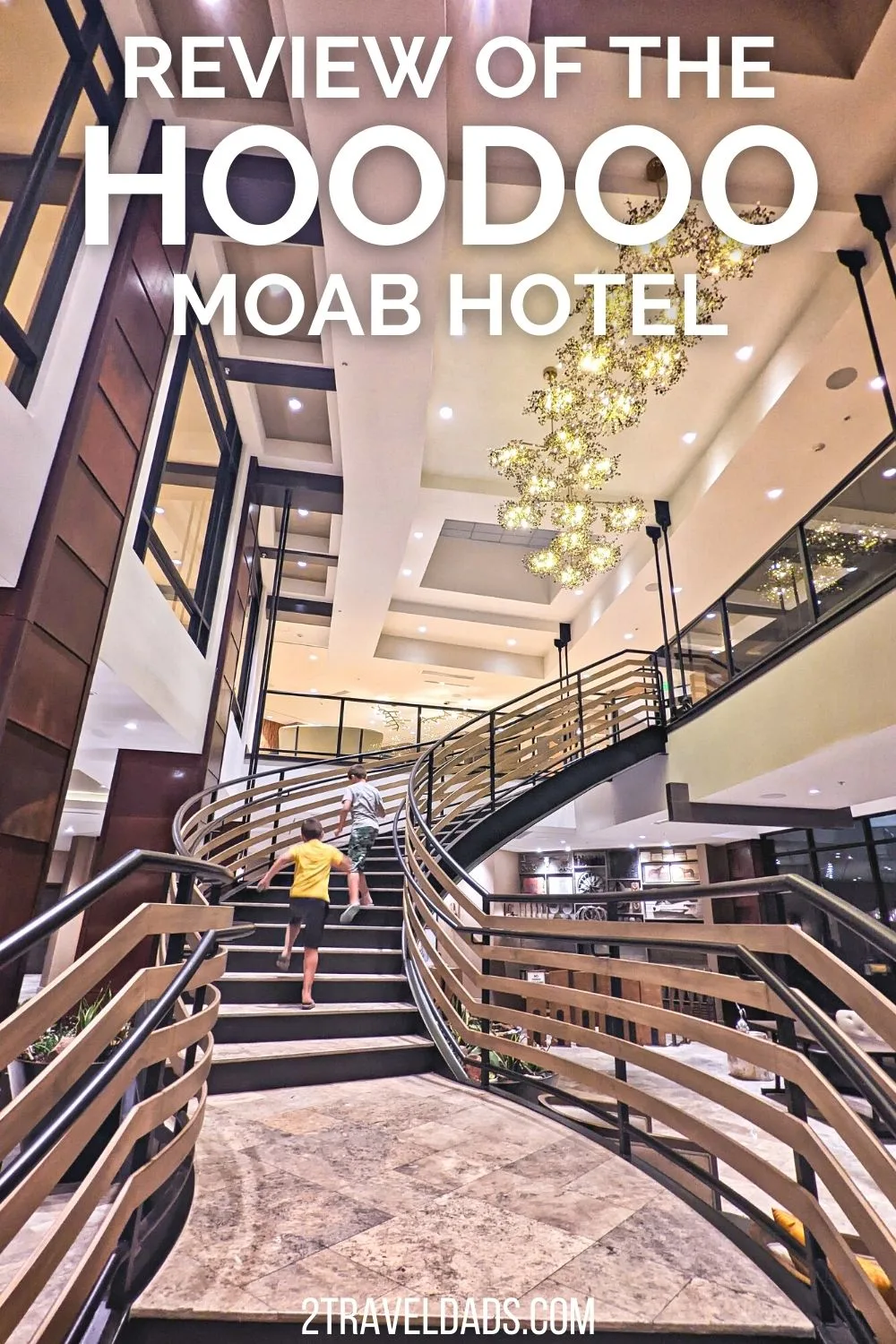 Staying at the Hoodoo Moab Hotel
While it's not actually an all-inclusive property, the Hoodoo Moab Hotel absolutely could be. I would happily hang out by the pool looking at the red cliffs of Moab all day for several days. The property is beautiful inside and out with lots of space for relaxing or hanging out with family and friends. Indoors, there are lounge spaces throughout the corridors and lobby. There are quiet working spaces, but also very nice event spaces for group meetings and such.
Outdoors, the Hoodoo is beautifully manicured. The main relaxing space outside is around the pool area, but not just pool chairs. There are benches, shady areas and a fire patio. As one of the hotels guests traveling with the Rocky Mountaineer to Utah stay at, the upscale atmosphere matches that of America's luxury train.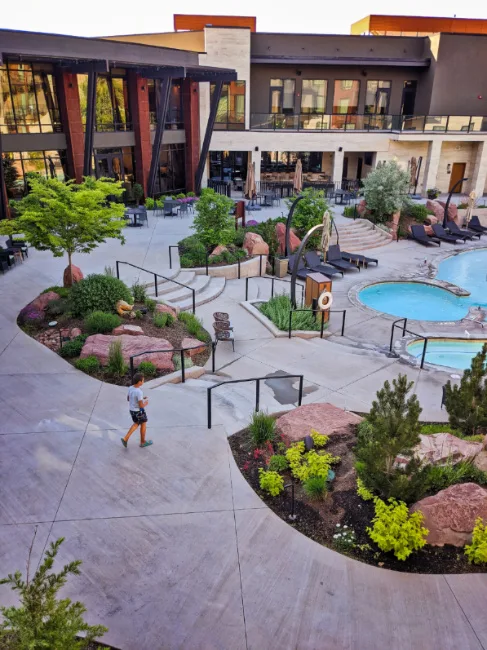 Room Options at Curio Collection Hoodoo
When it comes to the rooms at the Hoodoo Moab, they are very bright and earthy while also very modern. A great example of Hilton's Curio Collection brand. Elements of the eastern Utah geology and history are visible throughout the décor. The available room types include:
King or Two Queen room
King or Two Queen, One Bedroom Suite
Hearing impaired and accessible rooms are widely available
The Hoodoo Moab also makes a point of not just offering connecting rooms, but offering CONFIRMED connecting rooms. Having worked in hotels, this is a big offering and can be complex to manage, but it's awesome that they do offer it.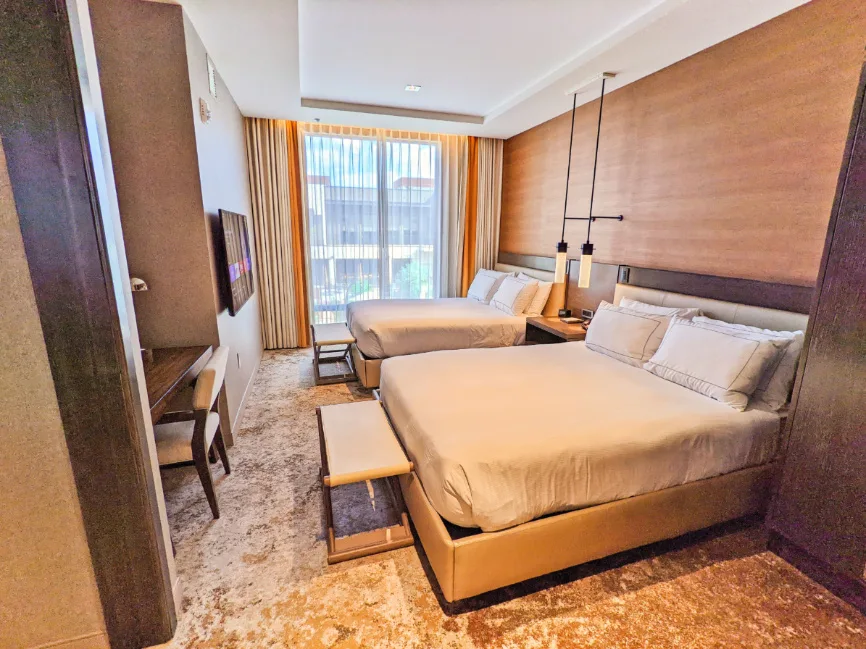 Top Pick: Two Queen One Bedroom Suite
If you've read through other hotel reviews we've written, you know that having enough space to function as a family, including separate space for after the kids go to bed is so important to us. The Two Queen One Bedroom Suite is wonderful. With an enormous bathroom, separate toilet space, the bedroom, a living room with a pullout sofa bed, and a large balcony/deck, it's more than enough space for our family of four.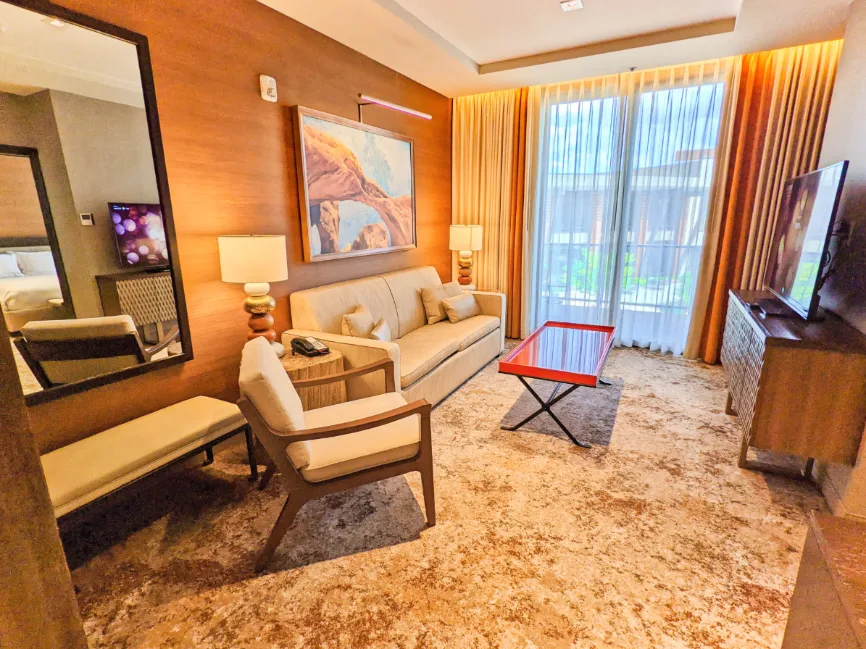 Check in / Check Out at the Hoodoo Moab
While it's always nice to check-in in person and get the low down on the hotel and everything to do directly nearby, if you're not in the mood, you can get checked in via the Hilton app and use it for keyless entry even. This is also a great way to confirm that your stay gets tracked within the Hilton Honors program and that you get your welcome amenity/credit based on your loyalty level. For us checking into the Hoodoo Moab it meant that we had $30 food and beverage credit per night ($15/adult).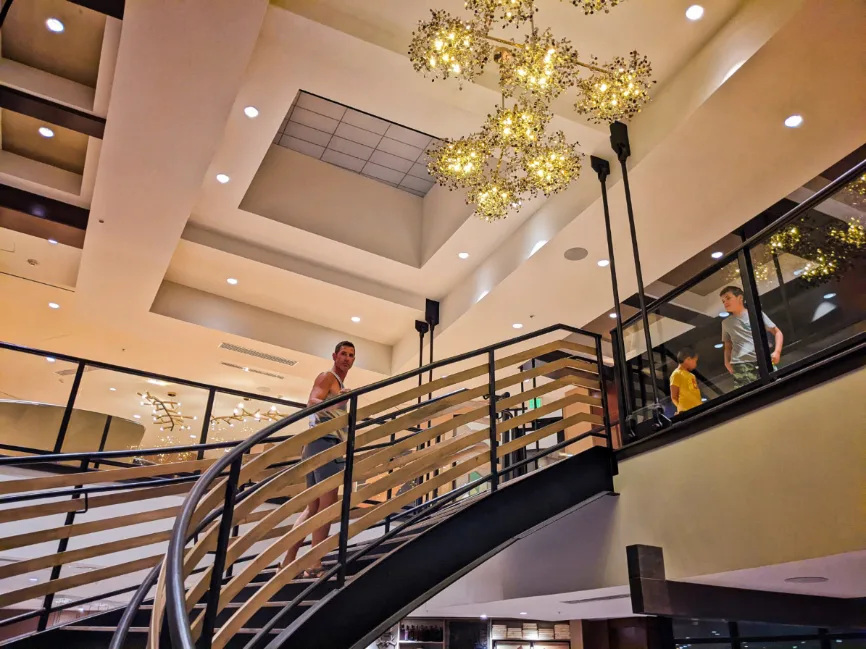 Is the Hoodoo Moab Hotel Pet-friendly?
We saw so many people traveling with their dogs through Utah, but not all hotels are pet-friendly, and that includes this one. Dogs are not allowed at the Hoodoo Moab Hotel. While service animals are allowed by law, other pets are not.
Hoodoo Moab Amenities
While the Hoodoo Moab isn't as comprehensive of a resort hotel as the Animal Kingdom Lodge at Disney World, the Hawks Cay Resort in the Keys, or the Grand Californian Hotel and Spa at Disneyland, it's got the amenities and spaces to make a stay here just perfect to break up the ruggedness of eastern Utah.
Pools Onsite
There is one major swimming pool at the Hoodoo Moab Hotel, but it's pretty amazing. A spacious blob shaped pool, it has a separate kid splashing space with fountains, a luxurious relaxation zone with a waterfall, an epic whirlpool swimming area, and a very large hot tub overlooking it all. 
We found the pools here to be perfect for getting a break from the kids while still being able to supervise them AND relax. I love how this property is both high end and very family friendly.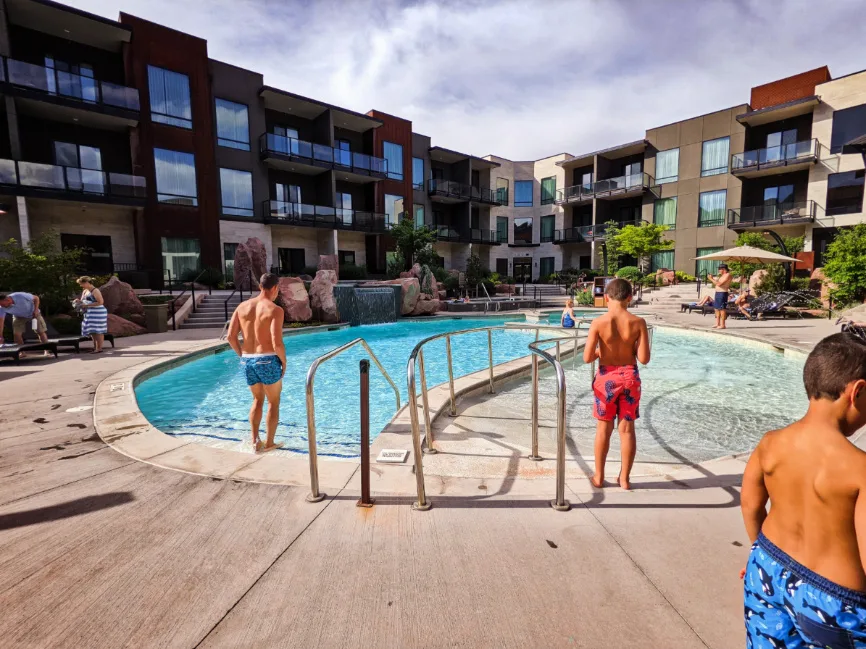 Fitness Center and Spa
Yes! There is indeed a spa at the Hoodoo Moab Hotel! While it's not as lavish and comprehensive as the spa at the Naples Grande Beach Resort on the Paradise Coast of FL, it's very nice and is ideal to fresh up between National Park days.
Dining at Josie Wyatt's at the Hoodoo
There is one restaurant onsite at the Hoodoo: Josie Wyatt's. It's open for all three meals, and has a bar attached. There is both indoor and outdoor seating, and they have enough space to be able to accommodate large groups.
The menu is what I would call "upscale American" meaning that it's a melding of American restaurant standards, but done very nicely. Quality burgers to beautifully cooked salmon, house made mac 'n cheese to cocktails, it's a solid hotel restaurant that feels like an independent dining spot. PS: they even do cocktail art. Love it!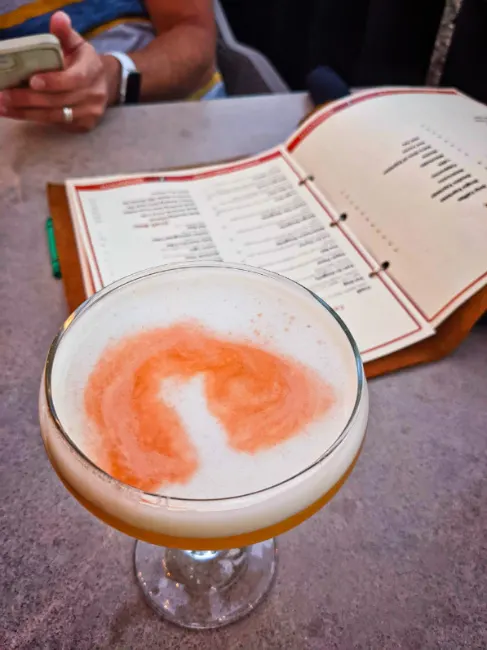 Pool Bar
While there isn't a bar specifically for the pool, the one attached to Josie Wyatt's also provides service to the pool patio. Opening up to the pool space and also having dining space, it's a nice spot for a drink or to enjoy an open-air snack.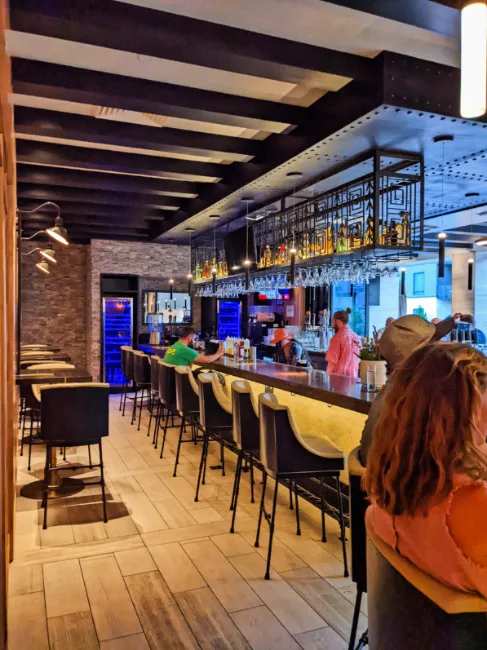 Stores on Site at the Hoodoo
You aren't going to be purchasing a collection of China dishes featuring the hotel or Arches National Park from the store in the hotel, but if you need snacks or small supplies, you can get them at the sundry shop. Since the Hoodoo Moab is located downtown, you don't have to go far for souvenirs, actual groceries or outdoor gear and supplies for your adventures into the National Parks.
Where is the Hoodoo Moab Hotel?
The town of Moab is located about four hours from Salt Lake City or about 7 hours from Las Vegas and the Valley of Fire. If you're planning a road trip through lesser known Utah, you'll most likely be passing through Moab at some point, and despite the town having notoriety for its landscape and Arches NP, there's much more to this part of Utah to discover.
You can also actually fly into Moab, to Canyonlands Regional Airport (CNY) from Denver (DEN) or Salt Lake City (SLC). If you're doing the Utah National Parks road trip you'll be getting to Moab either to begin your trip or after coming from Capitol Reef National Park. We've also done it where we go from staying in Moab to checking into the Capitol Reef Resort just outside the National Park. There are lots of ways to plan your travel.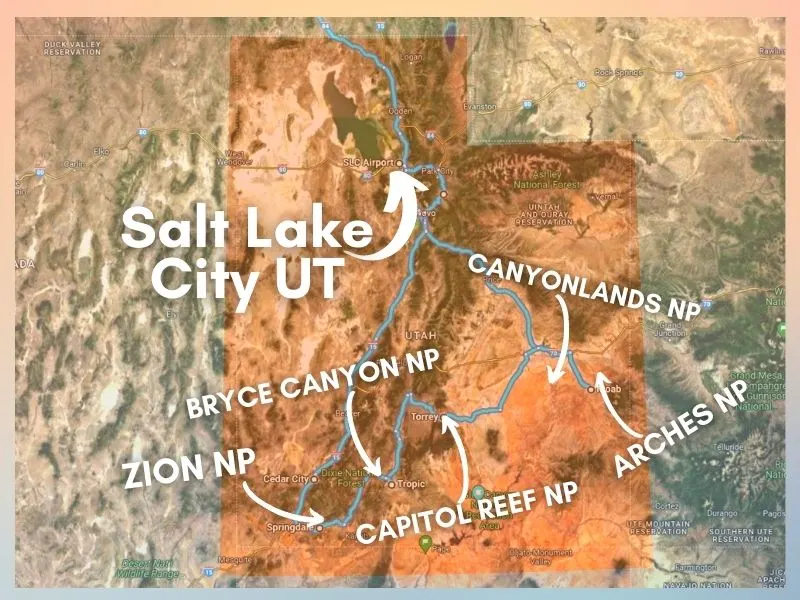 Can I Walk from the Hoodoo Moab to downtown?
Yes! The Hoodoo Moab Hotel is just one block off the main road that goes through downtown Moab. The food truck park is directly across the street, the colorful MOAB mural is one block away, and countless restaurants and shops are all minutes' walk from the hotel too.
If you're into biking, you can easily bike from the Hoodoo Moab to the entrance of Arches National Park. It's about a half hour ride and includes a port of the Moab Canyon Pathway, a gorgeous and well maintained 12.7 mile bike trail separate of the highway through Grand County. This doesn't link up with the Aquarius Trail System via an off-highway path, but you could add biking to Moab as part of the most epic Utah biking adventure!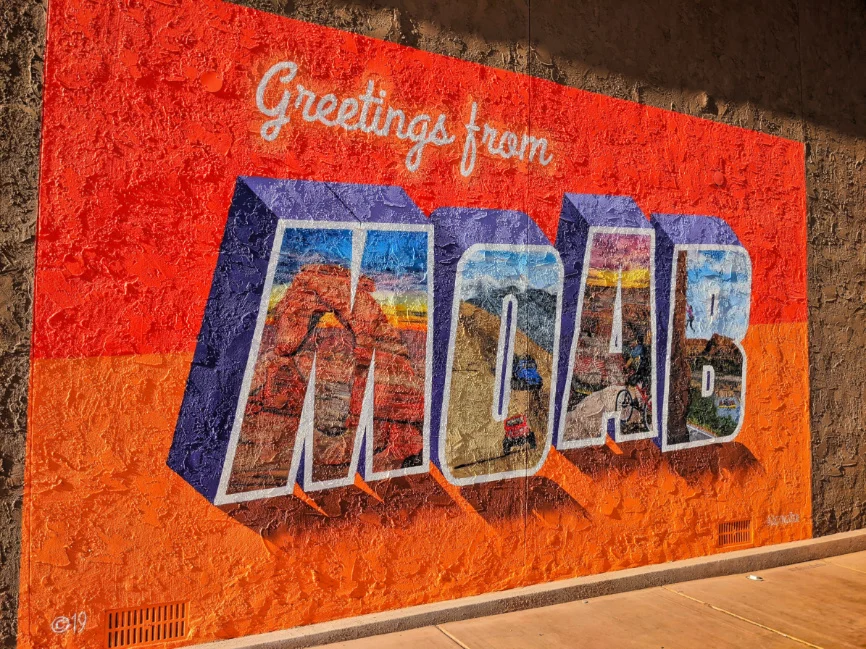 Parking Details at the Hotel
Parking is free at the Hoodoo Moab Hotel. There is ample self-parking all around the buildings, and with multiple keyed access points to the hotel, you don't have to worry about parking far from your room or having to go through the lobby every time you return to the hotel. There is NO valet parking available, FYI. It's not a huge place though, so that shouldn't be a problem for 99% of guests.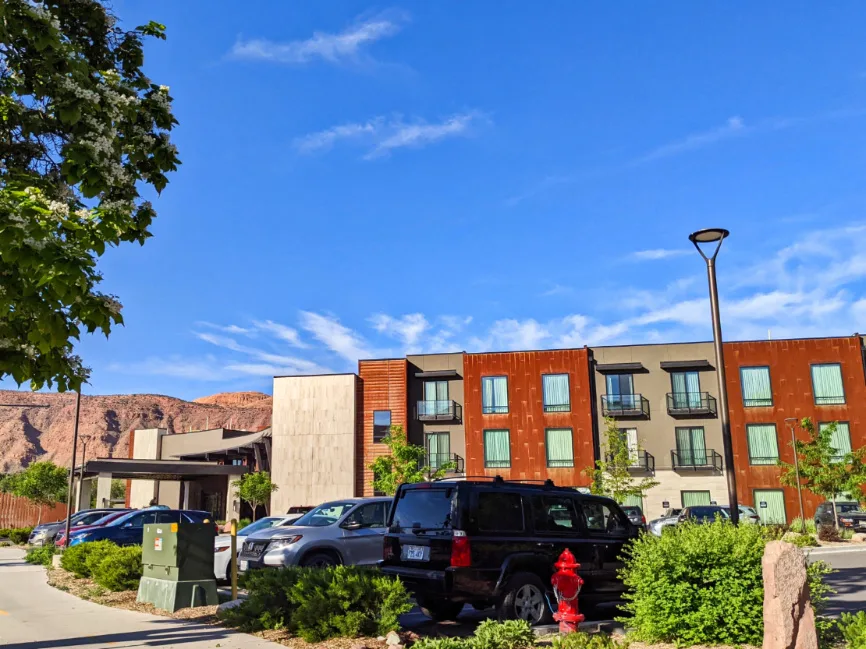 Ten Fun Things to do in the Moab Area
Whether you've been doing the full circle tour of Utah or you just want to come to Moab and see its amazing sights, you'll enjoy the many things to do in Moab and the nearby National Parks. Here are our top picks to add to your Moab travel plan:
Enjoy Arches National Park at sunset and NIGHT
Explore Canyonlands National Park – Island in the Sky District
Hike the West Rim Trail at Dead Horse Point State Park
Look for dinosaur tracks at Mill Canyon Trail
Do a day trip to Goblin Valley State Park
Hike the kid-friendly slot canyons of Little Wild Horse Canyon
Head south to the Needles District of Canyonlands National Park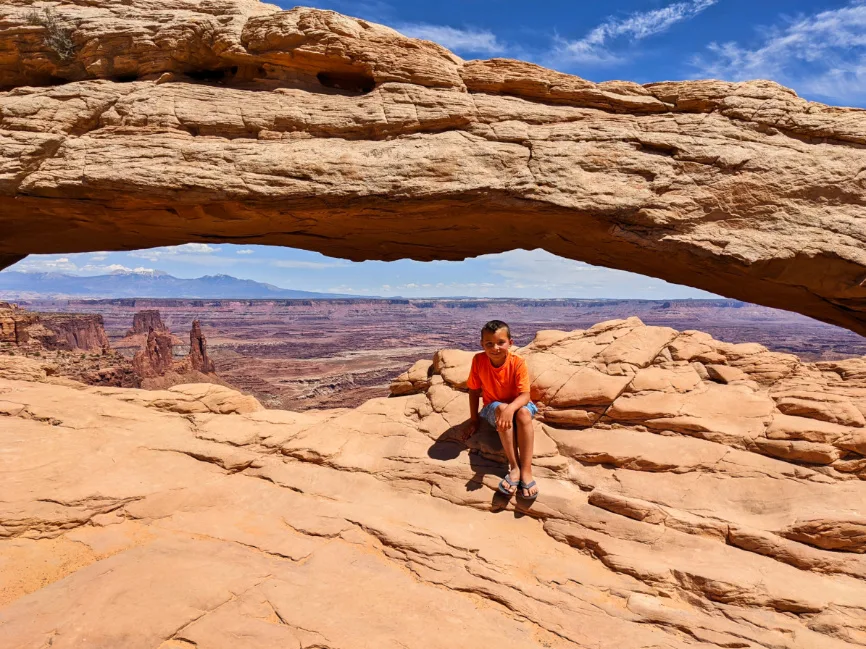 How excited are you to go to Arches and Canyonlands National Parks and stay at the Hoodoo Moab Hotel?! I bet you're stoked! We can't wait to return, maybe in winter, and we know that we'll again have excellent service, a comfortable room and a magical Moab experience.
If you have any questions or need help planning an awesome Utah road trip, please leave a comment or send us a note. We're always happy to assist and even give feedback on peoples travel plans and itineraries.