The Capitol Reef Resort in Torrey, Utah is the perfect place to stay near Capitol Reef National Park. While it's not an official National Park Lodge like the Wuksachi Lodge at Sequoia National Park or the Paradise Inn at Mount Rainier National Park the Capitol Reef Resort is as close as you'll find here in Central Utah.
Have you heard of Capitol Reef National Park? It's one of the less visited Utah National Parks, and in comparison to Bryce Canyon National Park or Zion National Park, it's rather quiet with just a fraction of the tourists. The canyons are striking, the hikes are fun, and the sights are beautiful. The Capitol Reef Resort reflects this.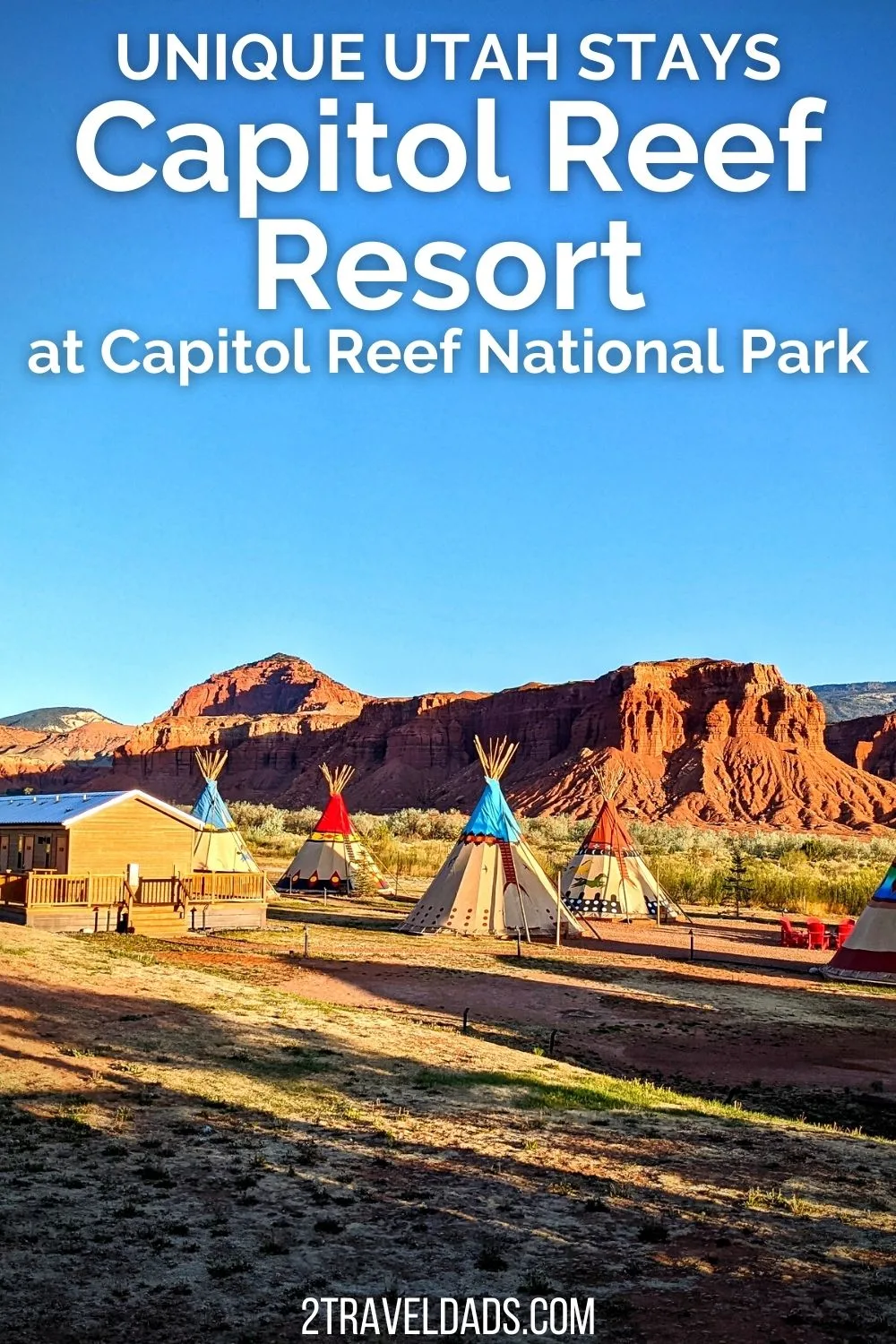 Staying at the Capitol Reef Resort, in Torrey UT
We're all about finding unique accommodations and when they are near National Parks we love them even more. The Capitol Reef Resort has a wide variety of accommodations, which makes it easy to match up with your travel budget. Almost every room has a sweeping view of the red rock buttes and canyons surrounding the town, and at night the stars are awesome. Such wonderful and fun accommodations, part of a great unique Utah road trip!
Since Capitol Reef National Park has several access points, Torrey is the logical place to stay to be able to access the main Gorge area, Cathedral Valley and the southern roads into the park. Spend the day hiking and then come back to the resort to enjoy the hot tub and campfire.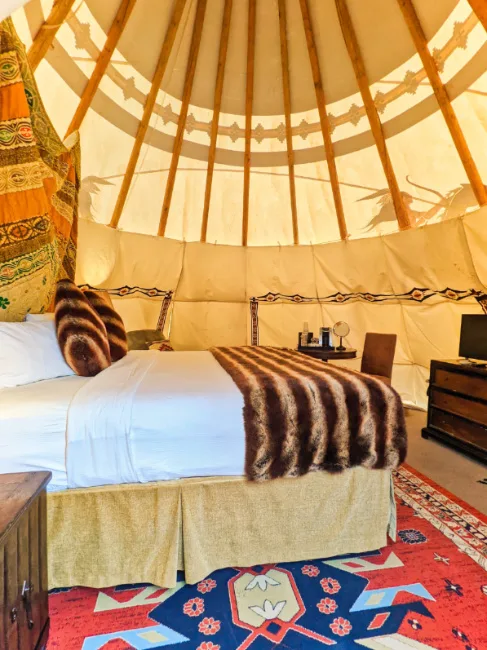 What Are the Accommodation Options at the Capitol Reef Resort?
Want to stay in a standard hotel/lodge room? Sure. How about a cabin? That's available. Or how about staying in a Conestoga wagon? Yep. The Capitol Reef Resort actually has some of the most unique accommodations we've seen near a National Park. Take your pick from the following:
Hotel room / lodge room – King or Two Queens
One bedroom cabin – King w/ pullout or Two Queens, with deck
Two bedroom cabin – with kitchen / dining area and deck
Conestoga wagon – King bed with 2 sets of bunk beds
Teepee – king bed with sitting area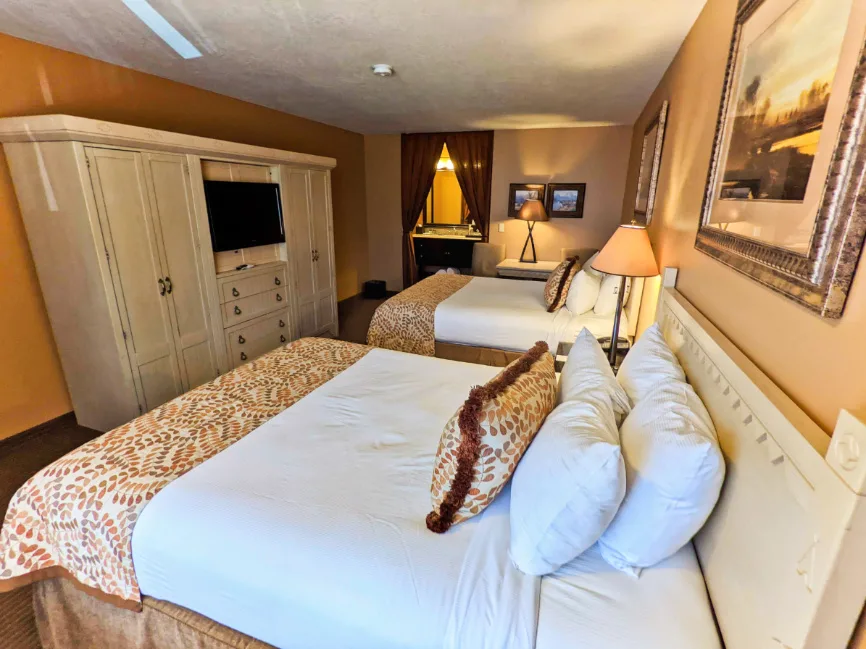 While the Capitol Reef Resort is open year-round, the Conestoga wagons and teepees are only available to stay in from mid-May through October. If you're in a wagon or teepee, there isn't a bathroom attached to your accommodations, but each unit has its own dedicated bathroom facility very close to their camp/lodging spot.
Note: while the lobby of the Capitol Reef Resort is not fancy and doesn't give the best first impression upon arrival, the rooms, cabins and unique accommodations are actually very nice and very well maintained.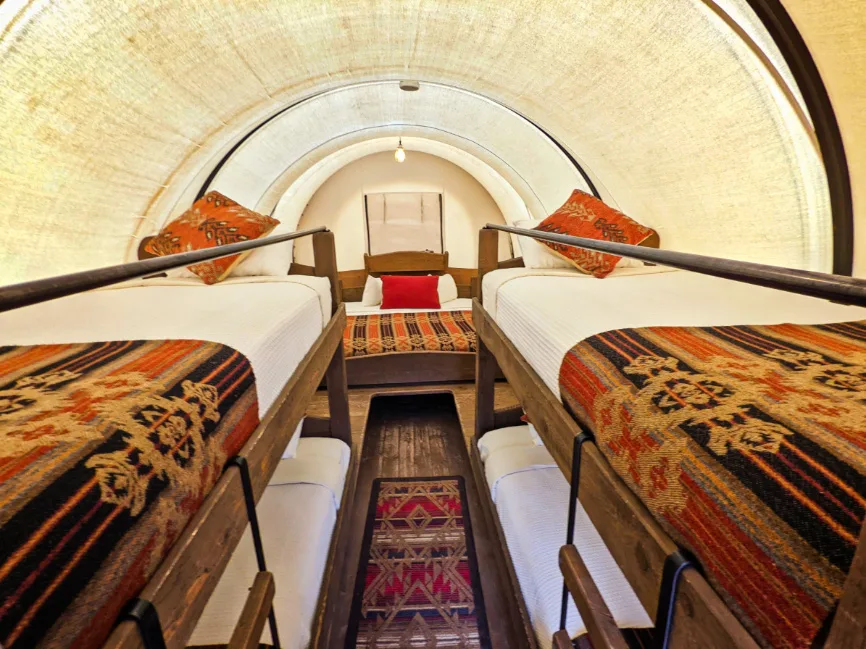 Top Pick: One Bedroom Cabin
We really enjoyed staying in a one bedroom cabin and found it to be plenty of space for our family of four. We also have had a standard two queen room in the hotel portion, but really prefer the cabin for its unique feel, spacious interior and private deck. There are Adirondack chairs for relaxing, and all the cabins are near a fire circle.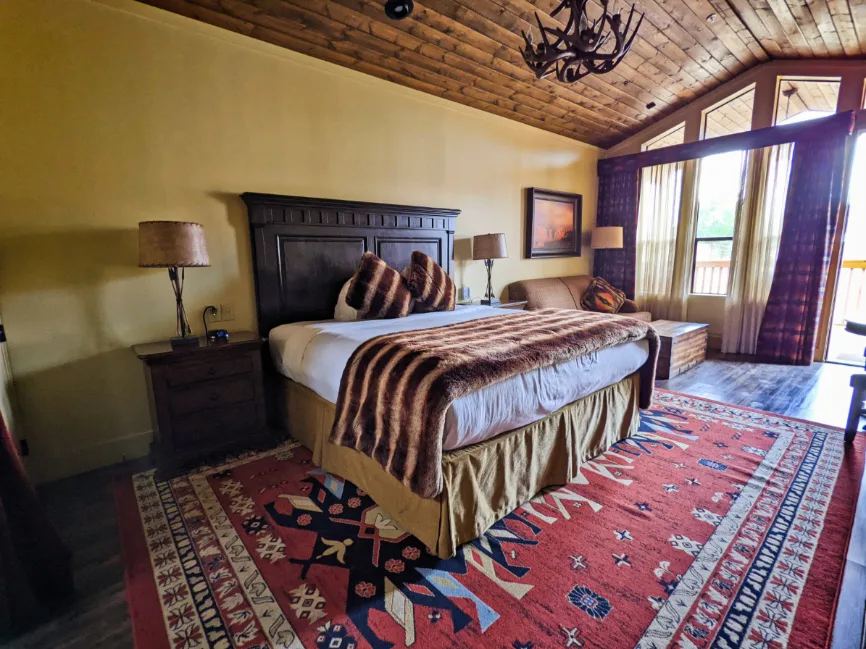 Capitol Reef Resort Amenities
While the Capitol Reef Resort is not a five star property with a spa and concierge and all that, it's still is rather nice and is fully set up for relaxation, not just being a place to lay your head each night. On-property activities and amenities definitely support the "resort" in its title. You'll love it.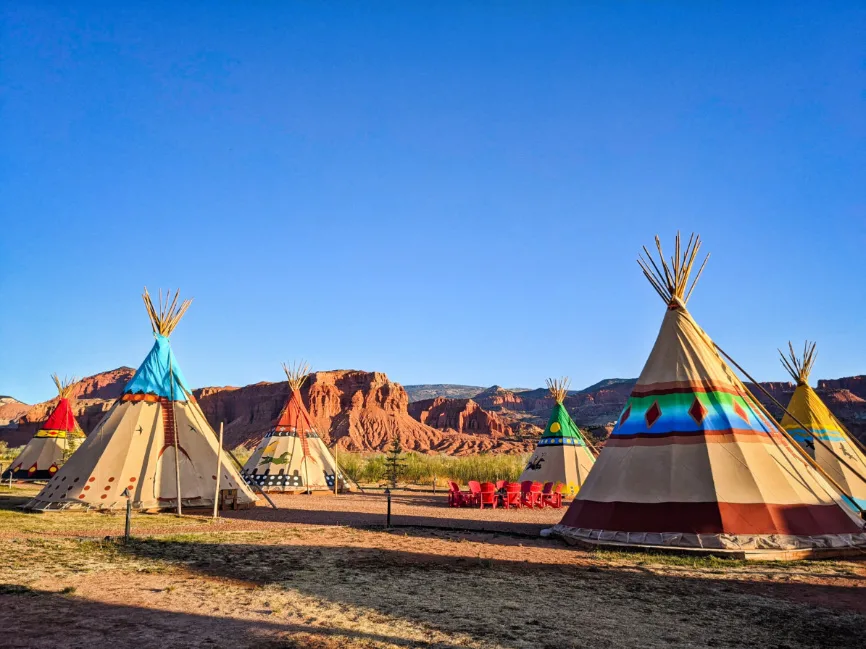 Pool at the Capitol Reef Resort
There is one large swimming pool with lounge chairs at the resort. It's not heated, except by the sun. We visited in May and it was plenty warm for swimming. The swimming pool area is surrounded by a glass enclosure to break the wind that sweeps through the valley in the afternoons, keeping it nice and warm when it's breezy and yet still preserving the view.
There is a large hot tub as well, directly adjacent to the swimming pool. Towels are available outside in the towel cupboard.
While the pool and hot tub area could use a facelift (as of Spring 2022), they are well maintained and clean. Utah weather can be tough on outdoor spaces, but the Capitol Reef Resort does pretty well managing it.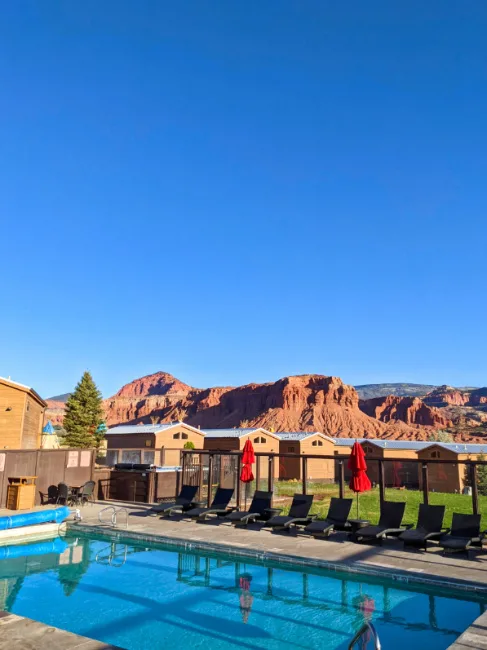 Campfires at Capitol Reef Resort
There are many fire circles around the property at the Capitol Reef Resort. In the middle of the Conestoga wagon circles, the teepee circles and near the cabins and lodge rooms. They are propane firepits so they are easily managed and contained for year-round use. Each firepit is surrounded by Adirondack chairs, perfect for relaxing with an evening beverage by the fire.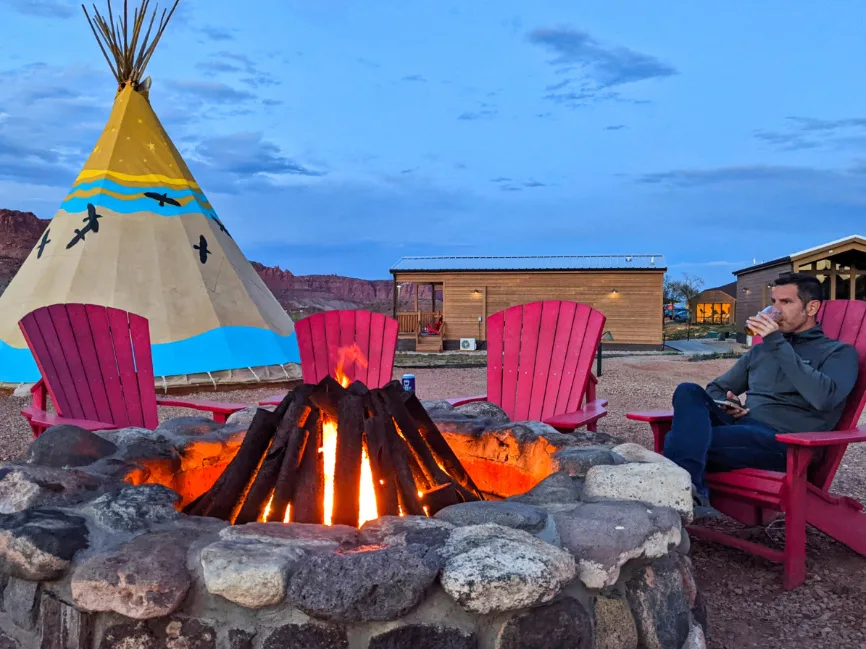 Fitness Center On-property
There is a fitness center on the property, and I have to say: if I was a runner and enjoyed being on a treadmill, this would be my favorite gym space. The cardio equipment looks out across the valley, with views of the colorful cliffs. There is plenty of space in the fitness center for floor work, lifting weights (dumbbells up to 50 lbs) and yoga. It's very well maintained and clean. A great example of the type of fitness center we love to find at resorts.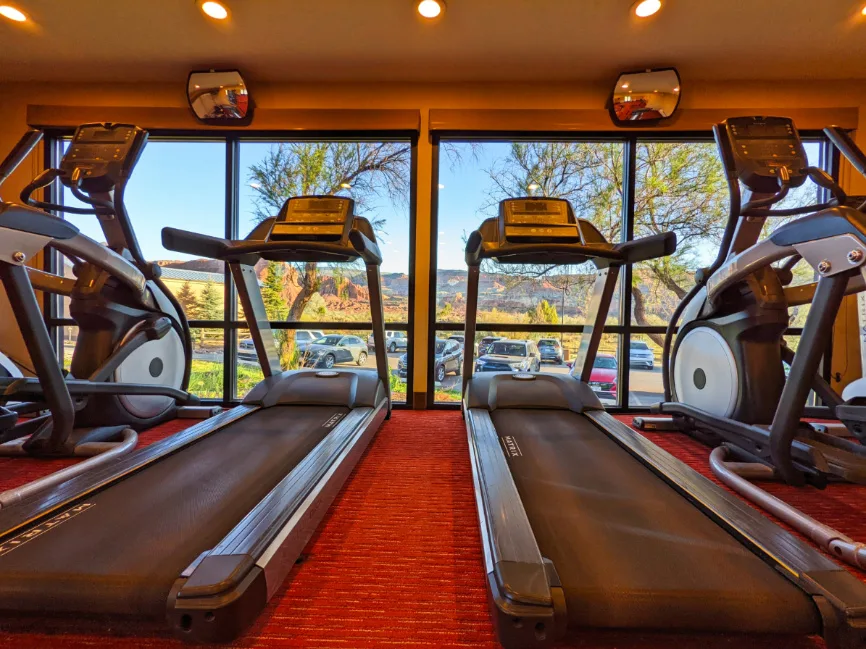 Dining at the Pioneer Kitchen
There is a restaurant onsite at the Capitol Reef Resort: the Pioneer Kitchen. They are open for breakfast, lunch and dinner, offering American West standards. The breakfast options are great, and well prepared. The French toast was actually fantastic, and there were lots of omelet / eggs options.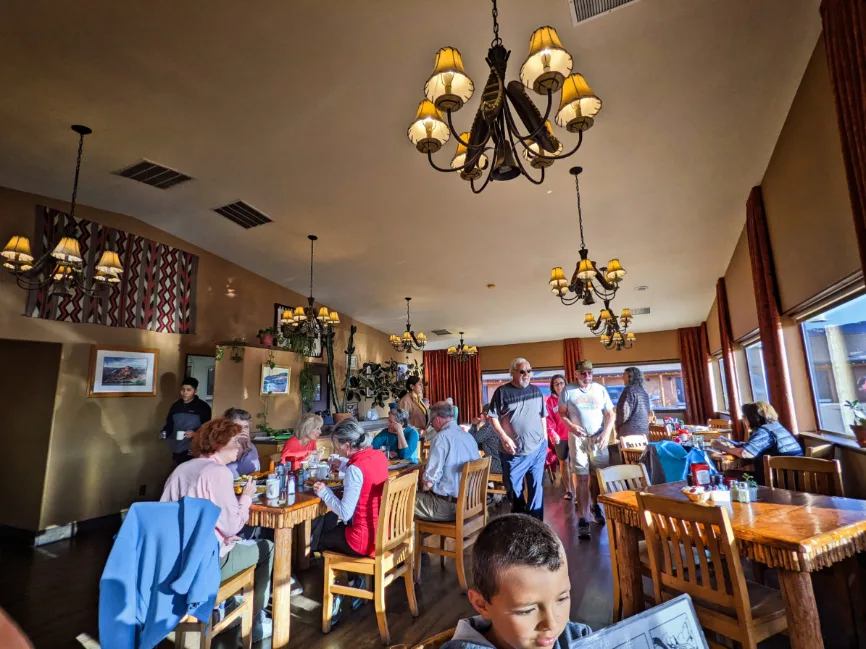 More Dining in Torrey, Utah
There are actually quite a few restaurants in Torrey, as it's a pretty good sized town. It's similar to West Glacier at Glacier National Park in terms of size and offerings to support visitors to the National Park. We enjoyed the Rim Rock Patio for pizza, tamales and more. The Rim Rock Dining Room is also nearby, with much more upscale dining and views of Capitol Reef National Park.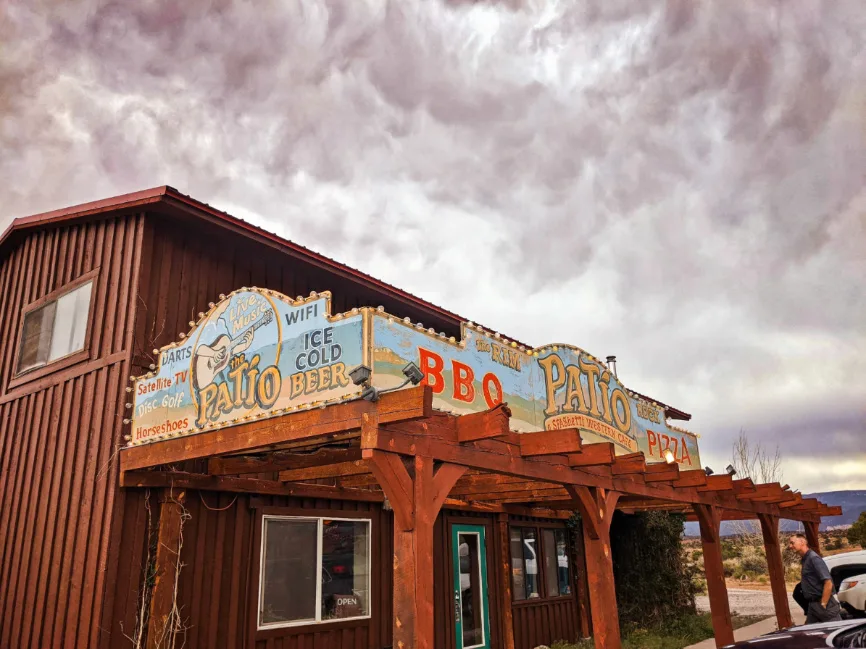 Services on Site at Capitol Reef Resort
There is a small souvenir shop or sundry store, just off the lobby. Here you'll find basic needs and snacks, including S'mores kits to use at the fire pits. You'll also find a wide variety of Capitol Reef National Park shirts, hats and other souvenirs.
You'll also find information about Wilderness Ridge Adventures here. This tour company is located directly next door to the Capitol Reef Resort and does a variety of tours and activities. Riding horses, llamas, going on wilderness adventures and more all all bookable here.
Tour ideas: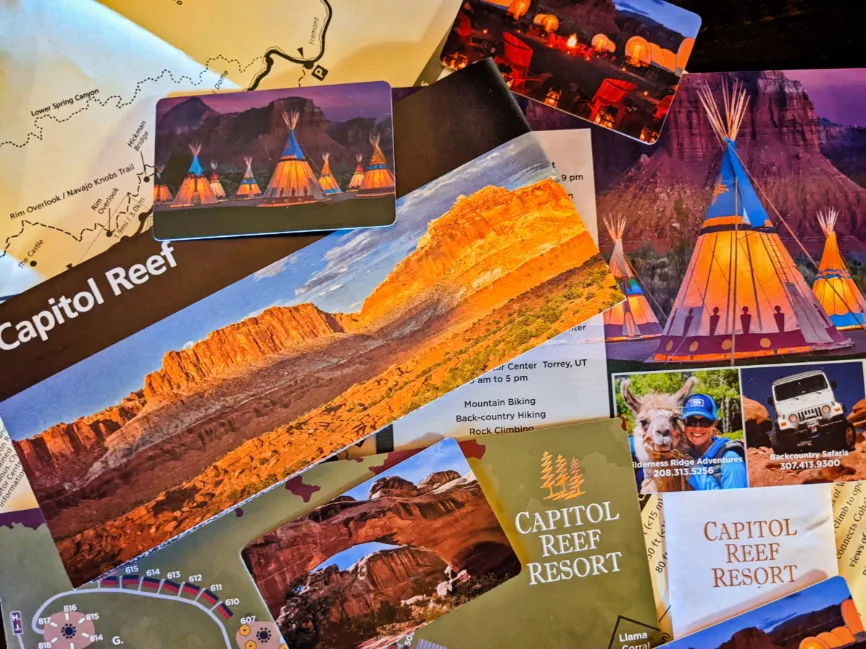 Where is the Capitol Reef Resort?
Let's start by figuring out where Capitol Reef National Park is located. In Central Utah, about 3.5 hours from Salt Lake City, you'll find the town of Torrey, Utah. Another 2.5 hours to the east you'll come to Moab and Arches National Park. From here, Zion National Park and Springdale, Utah are about 3.5 hours to the south.
The Capitol Reef Resort is located just outside the National Park, only about 10-15 minutes from the Visitor Center. It's the prime location for accessing the main Scenic Drive portion of the Park, or for having a home base to explore the remote Cathedral Valley to the north.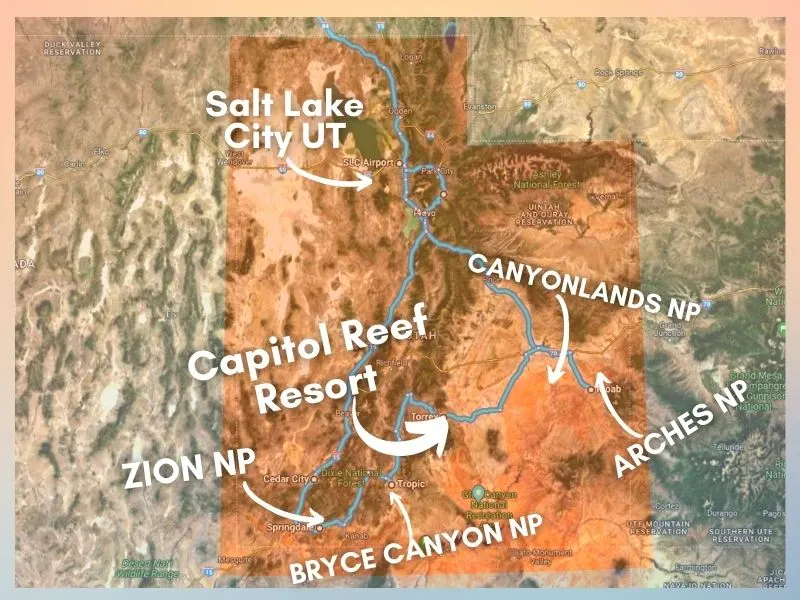 Transportation To and From Salt Lake City or Las Vegas
You need to drive here to the Capitol Reef Resort. There isn't a nearby train station and the nearest airport is in Cedar City, Utah. So yeah, getting to Capitol Reef just needs to be a part of a Utah National Parks road trip. Driving distance from the closest airports: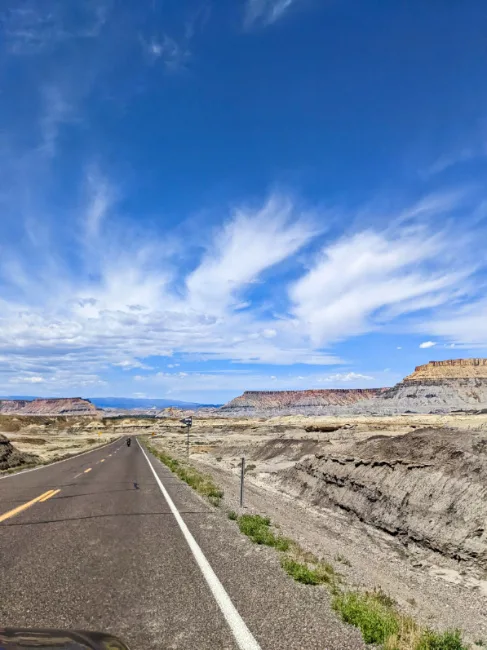 Ten Fun Things to do near the Capitol Reef Resort
We really enjoy Capitol Reef National Park, and when you're staying at the resort, this will no doubt be your main plan for how to spend your time. Here are our top picks for things to do within Capitol Reef National Park and in the town of Torrey, Utah:
Enjoy the actual resort – campfires, pool and sunsets from the porch
Horseback riding in the Torrey Valley
Hike the Goosenecks and Sunset Point Trails in Capitol Reef National Park
Check out the Capitol Reef NPS visitor center
Hike the 2.2 mile round trip Hickman Bridge Trail for a cool canyon and natural bridge
Drive up to Cathedral Valley (only drive when NOT rainy)
See the petroglyphs in the Fremont Canyon
Pick fruit in one of the Fruita Orchards in Capitol Reef NPS (seasonal)
Complete the Capitol Reef Scenic Drive deep into the National Park canyons and gorges
Do an adventure to the southern portion of the National Park, enjoying hiking and viewpoints as you go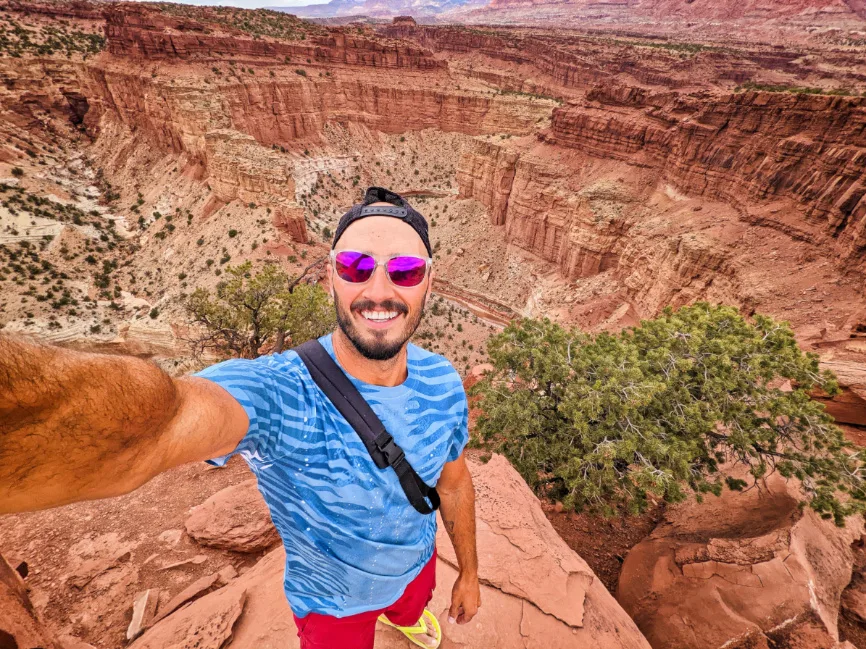 You might also like:
I hope you're excited to visit Capitol Reef National Park and have a really unique stay at the Resort. We love the remoteness of it all and the less crowded Park. If you have any questions about visiting either the National Park or staying at the Capitol Reef Resort, please leave a comment or send us a note. Happy traveling!