We've been looking forward to this road trip for a LONG TIME. Like, I can't even tell you how long. We are finally exploring more of the Southwest with the kids: Las Vegas and the Utah National Parks. Being from the Pacific Northwest, we're used to cold, wet climates with lush rainforests and snow capped mountains. And saltwater on all sides of us. Our road trip from Las Vegas to Bryce Canyon National Park is going to be such a contrast to our daily life.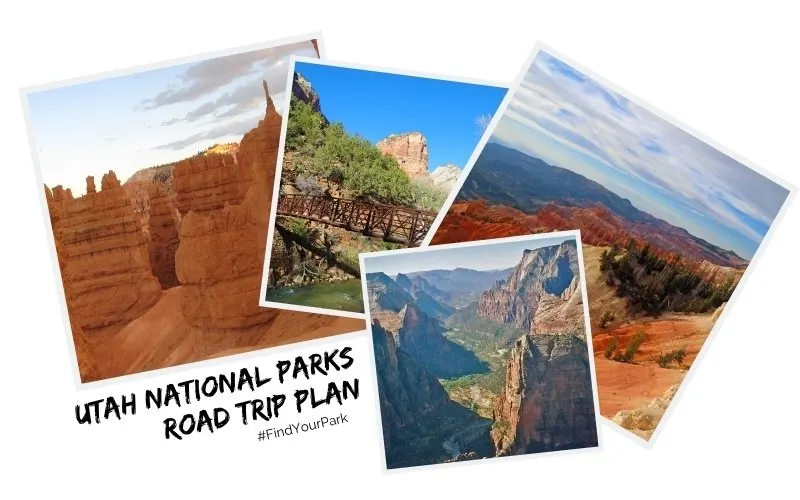 We've partnered with Best Western Hotels & Resorts to come up with an awesome spring break travel plan that includes fun, nature and family-friendly hotels in the Southwest. Our southwest road trip is all about exploring the unique nature of Utah while getting plenty of time relaxing together and recharging, you know, like you're supposed to do on vacation. Yes, our itinerary will keep us busy, but we know how to strike a good balance of fun and calm. A road trip from Vegas to Bryce Canyon National Park will be just that: balanced and beautiful.
Packing for a Southwest road trip
I know, you think "road trip" and all that comes to mind for packing are car snacks and highways bingo. There's more to it than that though! For us packing for a road trip, whether we're flying to our destination and renting a car (like this trip) or if we're starting from home, includes sun protection, our reusables, and more.
We know that in the mountains and high desert that the weather can be unpredictable, so we're accounting for that. Also, to stay on budget, we're bringing our own booster/car seats on the airplane so we don't have to rent them on location. To be prepared and cost effective, you need to do some planning.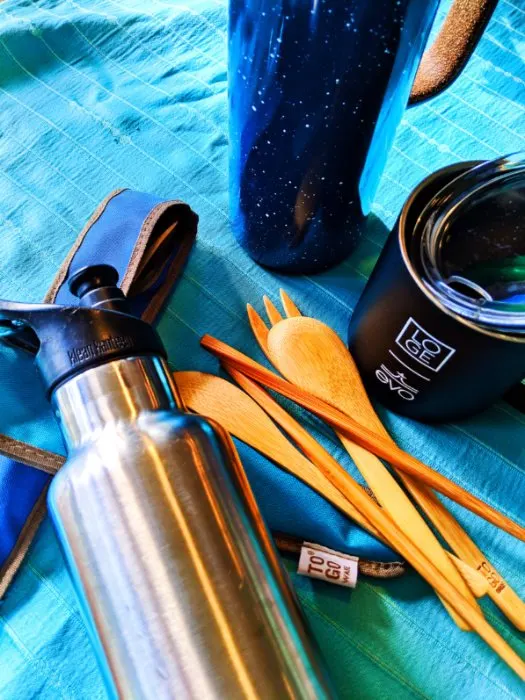 Our family packing list:
hiking boots
small binoculars
first aid kit
metal waterbottles for all
reusable coffee cups
sun protection – hats, sunglasses, mild organic sunscreen
booster or car seats
Kid-friendly packing list:
lightweight jacket
1-2 stuffies per child
backup pair of shoes
activity book or coloring book w/ crayons
tablet loaded with learning games or short shows
It's easy to think that visiting new and exciting places on a road trip would provide enough entertainment and joy that you can just fly by the seat of your pants and not need to bring entertainment or backup supplies, but really you do. The reason we always have such fun on road trips despite the mishaps and tired kids is because we are properly prepared.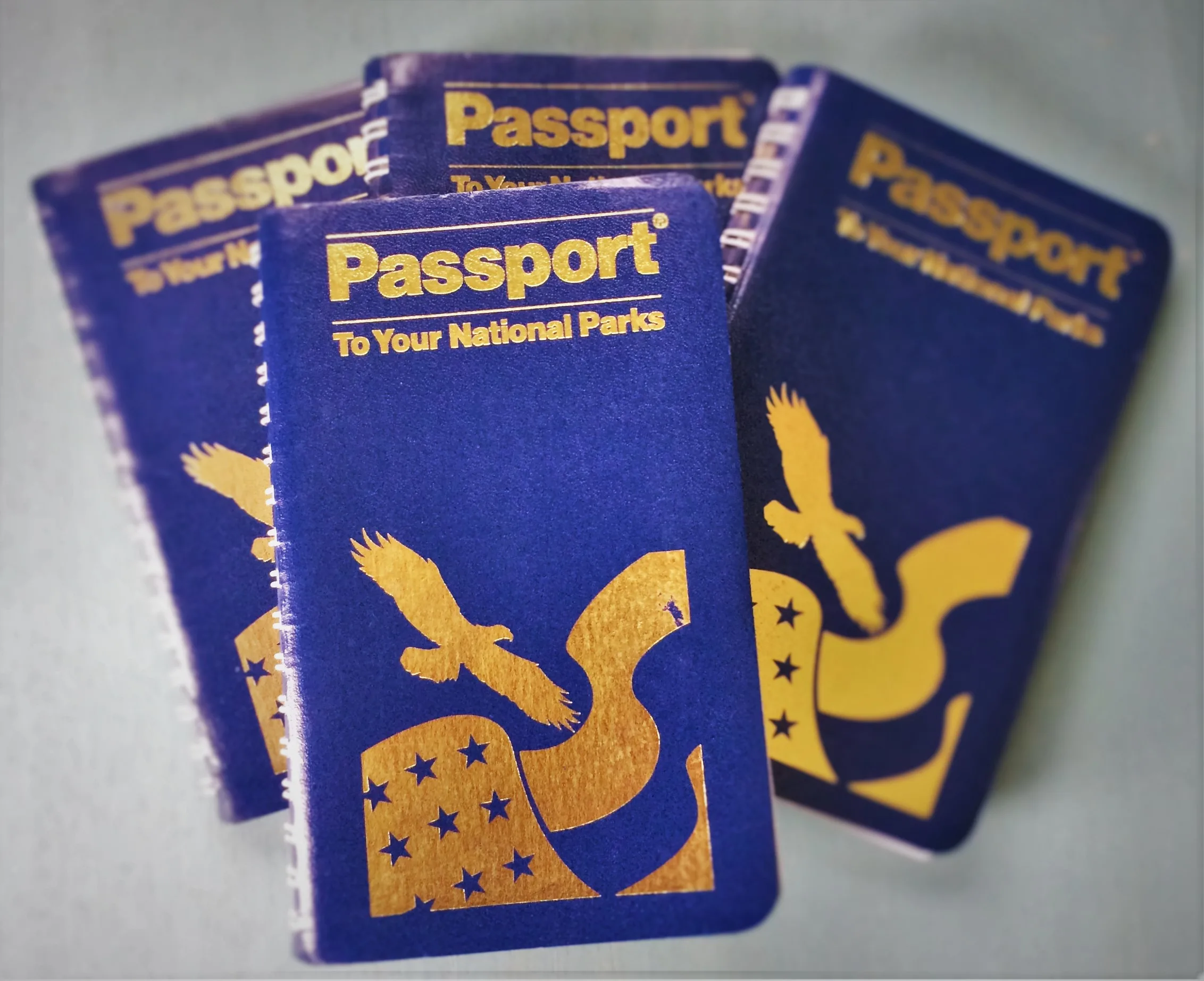 Where to fly into for a Utah National Parks road trip
When we knew we were doing a Southwest / Utah National Parks road trip, we did a lot of research and flight scouring before we decided on our route and airport. There were actually a surprising number of options depending on schedule, cost and route. Below are the airports you can fly into for a Utah National Parks road trip. Be sure to note the FIRST STOP (closest National Park) or DRIVE TIME to what you are planning for your southwest road trip itinerary.
Note: the drive time for each NP is noted TO/FROM the airport, not between stops
| | | | | |
| --- | --- | --- | --- | --- |
| Airport | 1st stop | 2nd stop | 3rd stop | 4th stop |
| LAS – Las Vegas | Zion NP – 2:40 | Bryce Canyon NP – 4:15 | Capitol Reef NP – 5:20 | Arches NP – 6:50 |
| SLC – Salt Lake City | Capitol Reef NP – 3:30 | Arches NP – 3:50 | Canyonlands NP – 4:05 | Bryce Canyon NP – 4:15 |
| CDC – Cedar City Regional | Zion NP – 1:00 | Bryce Canyon NP – 1:30 | Capitol Reef NP – 2:40 | Arches NP – 4:15 |
| SGU – St George UT | Zion NP – 55 min | Bryce Canyon NP – 2:30 | Capitol Reef NP – 3:40 | Arches NP – 5:15 |
| DEN – Denver | Black Canyon NP – 5:15 | Arches NP – 6:00 | Canyonlands NP – 6:15 | Capitol Reef NP – 7:00 |
We chose to fly from Seattle (SEA) to Las Vegas (LAS) because the flights were $200+ per person less than any of the Utah airports. Also, the drive time from LAS to Zion National Park was the best of the MAJOR airports. We also considered CDC and SGU for our flights because they both are closer to Zion and Bryce Canyon National Parks, but considering the layovers and complete travel time, including driving, we save ourselves 4+ hours of travel and a lot of money by flying into Las Vegas.
Note: when you're booking a flight to a remote destination, consider the overall travel time to get to your final airport. If you have multiple legs of flying with long lay overs, you may save several hours overall by flying to a larger airport and then driving. This applies to Utah National Parks, Glacier National Park, Yellowstone and others.
Las Vegas to Zion National Park Stops
We planned our Vegas to Bryce Canyon road trip route and stops based on the best hiking and interesting sights along the way. We're avid National Park goers, so when the opportunity to exploring a few of Utah's National Parks came up, we had to jump at the chance. Our southwest road trip plan includes more than National Parks though, so enjoy the mix of history, culture and nature! Google Maps link here! (for mobile use)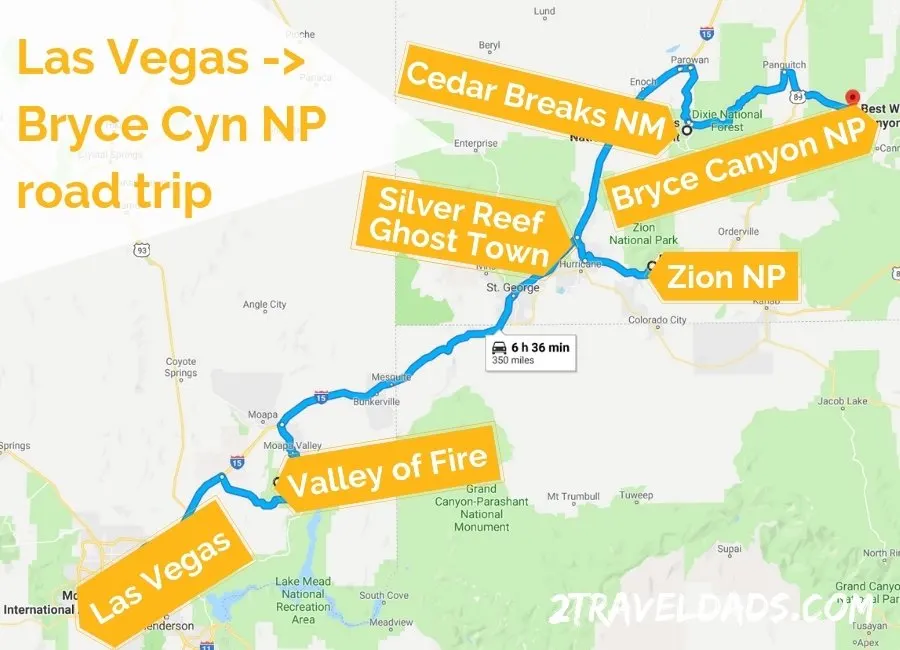 First Stop: Las Vegas Neon Museum
What an awesome way to start our Southwest road trip!! The Neon Museum Las Vegas is both a boneyard and a catalog of Las Vegas history. Since the first card room with flashing lights went up until today, countless hotels and casinos have been built and taken down in Las Vegas. Here, visitors can learn about the history of Vegas and walk among its fallen giants. The most recent addition is awesome: the Hard Rock Hotel guitar. Super cool!
The Neon Museum is great with kids. They were fascinated with the structures, the colors, the stories, and the deterioration. As we explored and hunted for letters, characters and other fun finds, they were immersed in the treasure hunt. This was the perfect way to begin our southwest road trip.
Note: due to the size of the Neon Museum and in light of keeping the experience top notch for all visitors, you do need to reserve your tickets in advance. They have different visit packages, including tours and glowing times. To be sure you can visit, book your tickets in plenty of advance.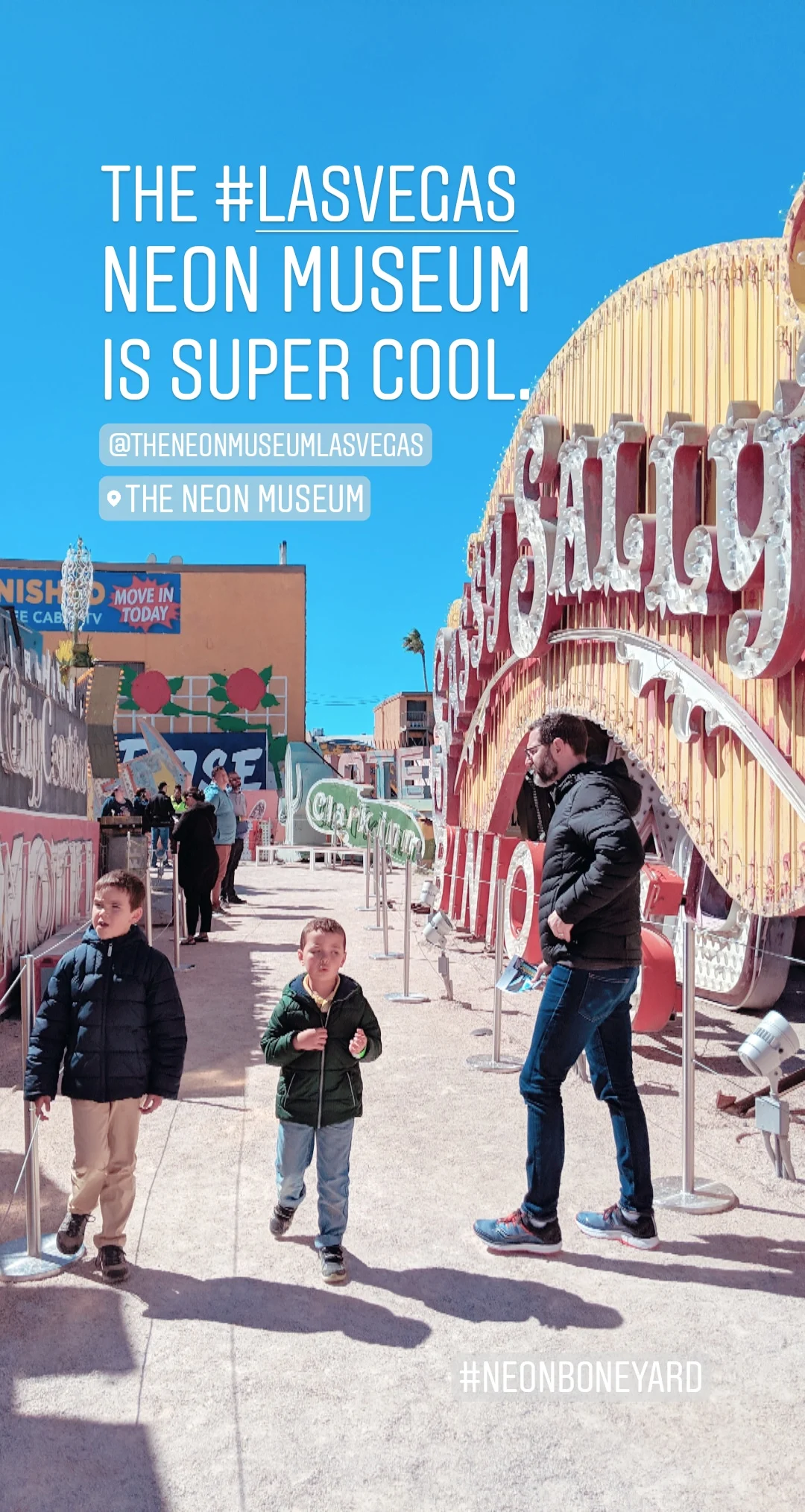 Hiking at Valley of Fire State Park
We first fell in love with Valley of Fire State Park via Instagram. You know how they say that people use Instagram these days to actually choose where they'll go on vacation… well, we gave into it too. Valley of Fire State Park is home to some incredible rock formations and desert landscapes, and it's just beyond the borders of Las Vegas, just a 40 minute drive.
Highlights of Valley of Fire State Park include the most ridiculously amazing red sandstone formations, a great visitors center with snakes and all, wildlife all over, and countless petroglyphs. The hiking trails were plenty and the sights were incredible for both kids and adults. Our favorite sites were the Beehives and the Mouse Trap canyon. Really unique and beautiful. Perfect half day or full day plan on your southwest road trip.
Tip: always come prepared with lots of water and snacks, as there are minimal refreshments available in the park. Also, pay attention to the heat index warnings around the park and DO NOT spend too much time in the sun or canyons when it's scorching out.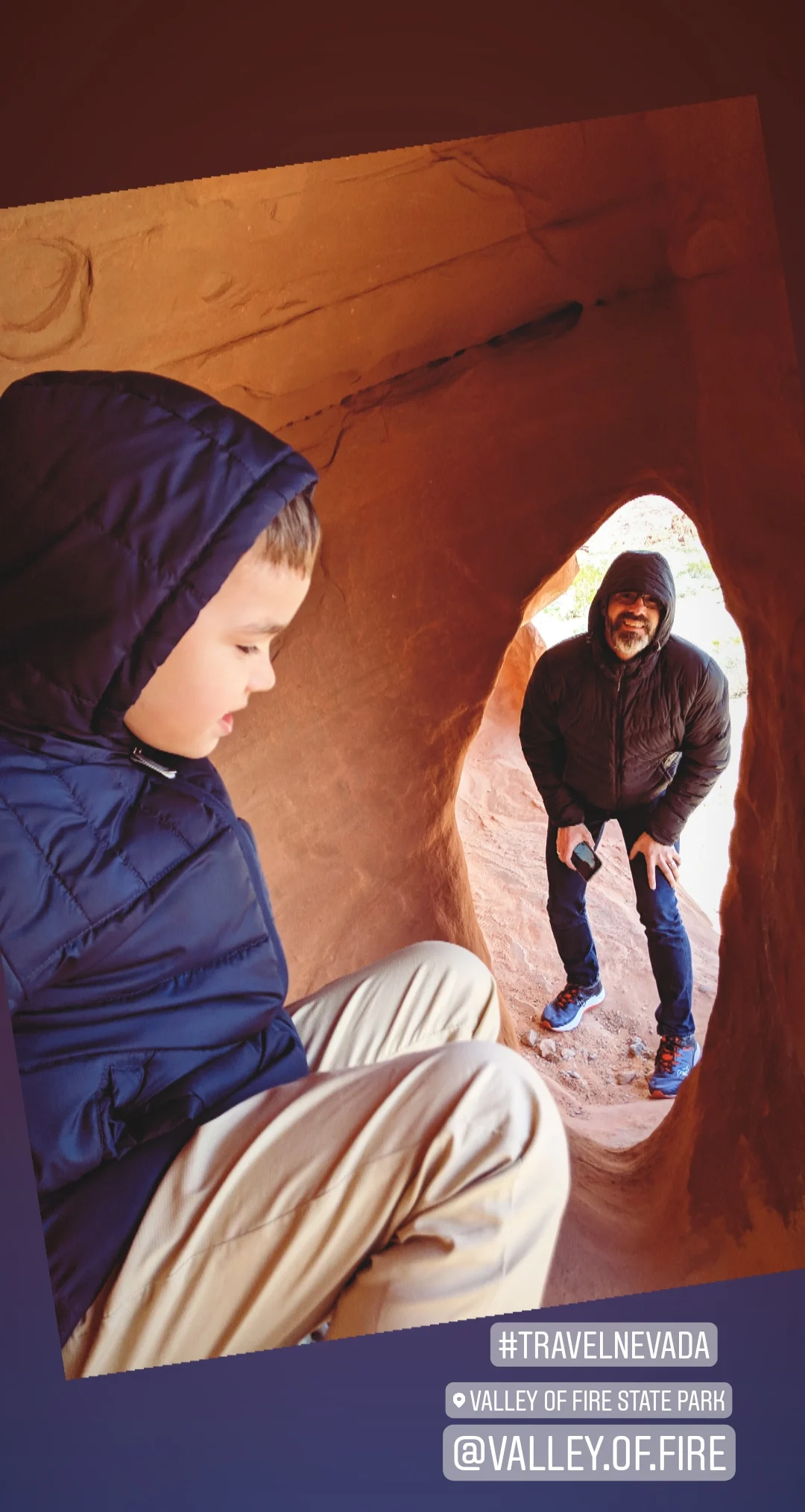 Bonus stop: Silver Reef Ghost Town
This is an easy addition to your southwest road trip. The Silver Reef ghost town was a mining town built around a silver strike in the 1800s. It since shut down, the people left and the desert has tried to take it back for its own. You can visit on your own any time, but if you'd like to to the exhibits and museums, you need to double check operating hours. They close the museums/exhibits several days per week, and it's odd.
Exploring Zion National Park
Zion National Park is one of the most visited National Park sites. Centered around the Virgin River and Zion Canyon, it's full of hiking trails and rock climbing routes. It's been on our family bucket list forever. Zion NP is split into several sections, so hopefully we can visit the main canyon as well as the Kolob Canyons in the lesser known part of the park. With so many sights and so much beauty, it's a must for a Utah National Parks road trip.
Check out our full Family Guide to Zion National Park for all the details and ideas!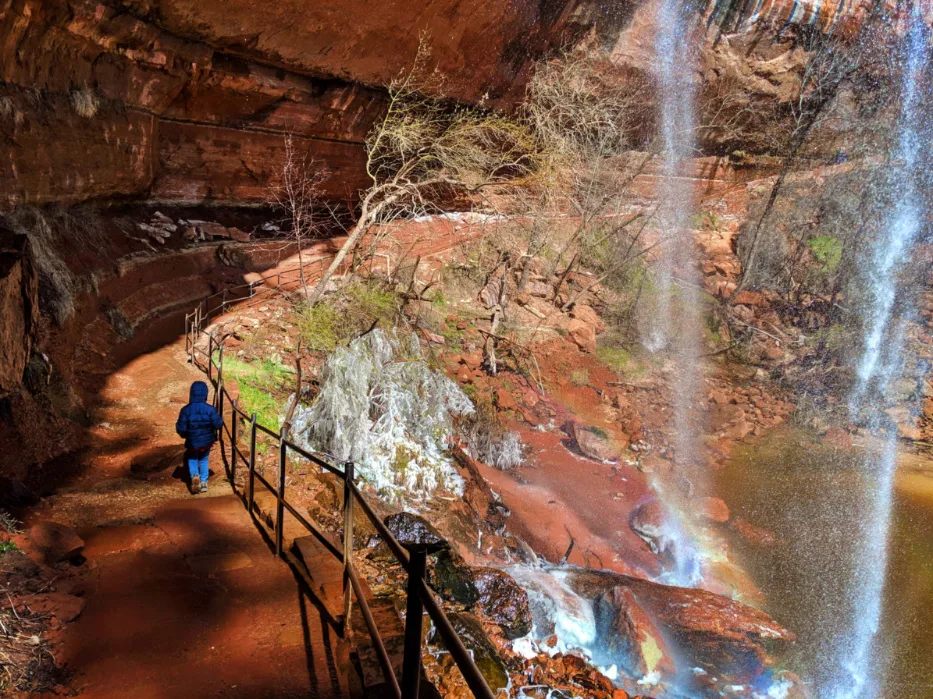 Staying at Best Western Plus Zion Canyon
Since we partnered up with Best Western Hotels & Resorts, we will be staying just outside of Zion National Park a the Best Western Plus Zion Canyon Inn & Suites. With plenty of space, nice accommodations and great options for relaxing between busy hiking days, it's perfect for our family road trip through the Southwest. We were initially in a double queen room with a separate living area, which would've been perfect, but since they had the availability and we have winning smiles, they let us use the adjoining king room as well. We love having lots of hotel space, and this setup is beyond what we need.
Tip: we have a whole article about where to stay and dine at Zion National Park, including picnic spots and non-hotel accommodations.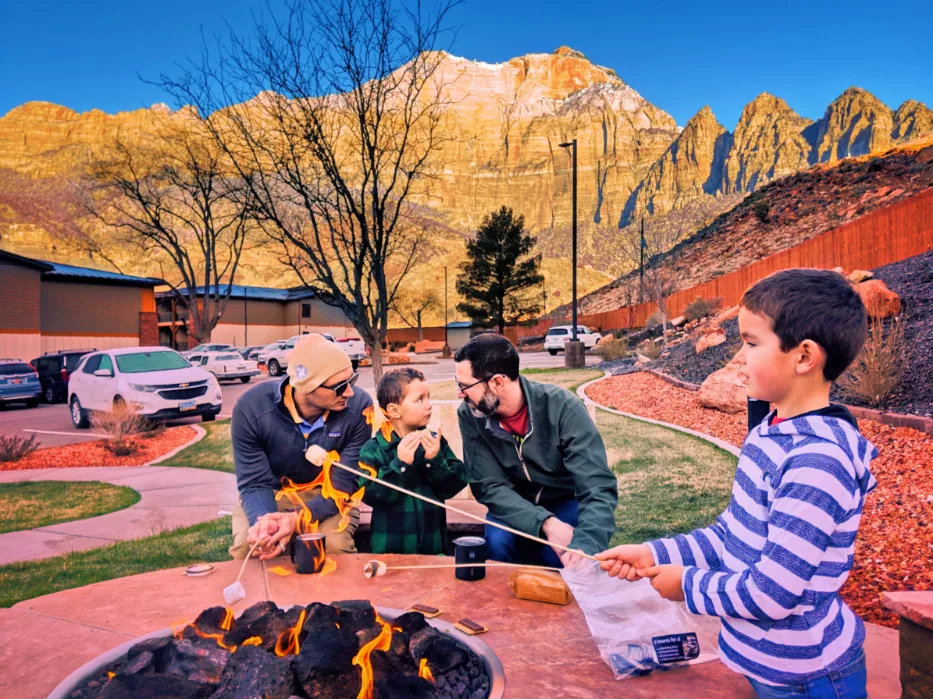 The staff is ready and able to help with anything, from hotel needs to information about visiting Zion National Park. While at the BW Plus Zion Canyon Inn & Suites, we're enjoying the comfy rooms, daily breakfast, HEATED pool and hot tub and outdoor fire pits. Really, if this is what we could experience on every road trip, we'd be on the go every day.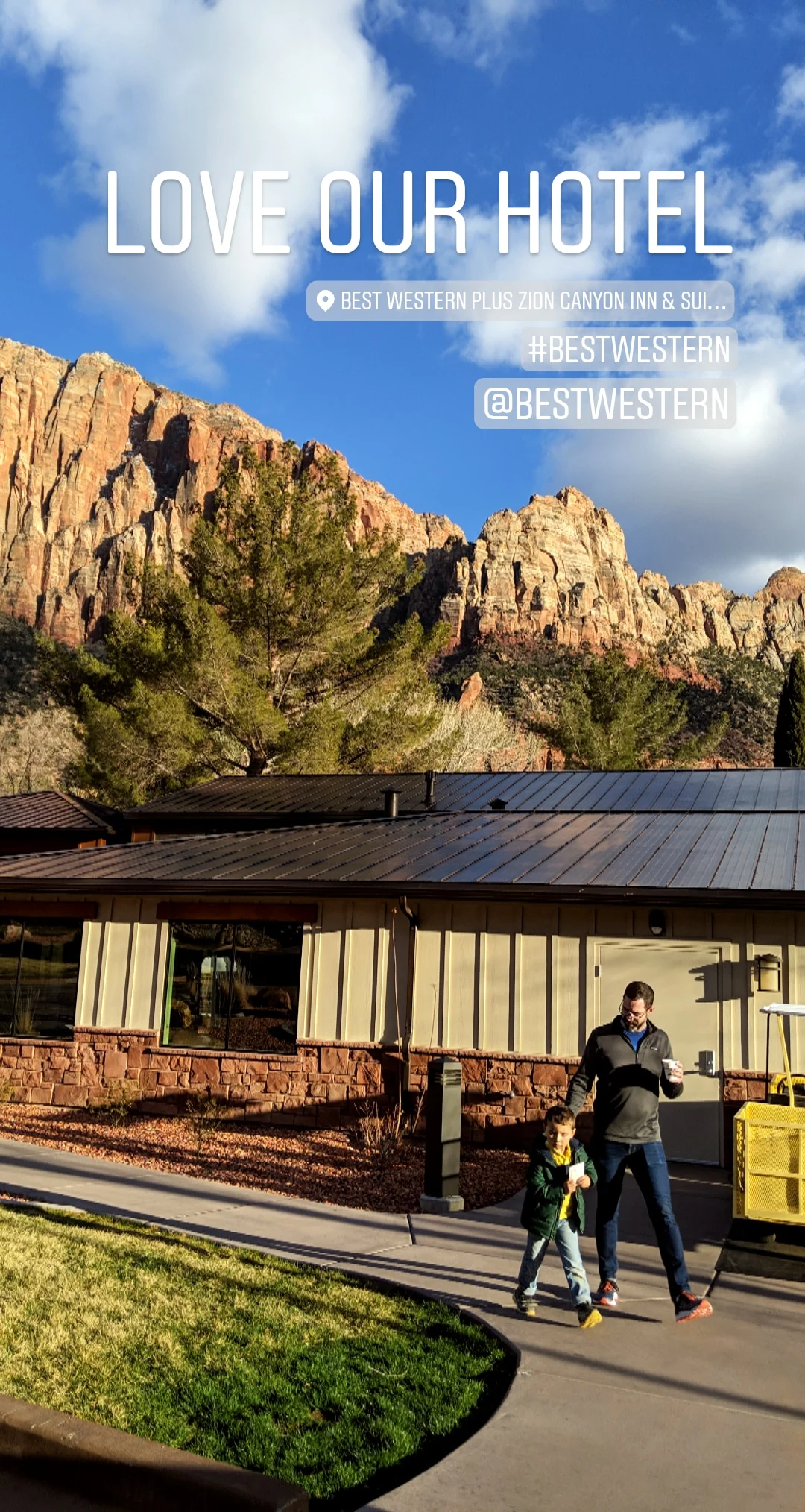 Hiking in Zion National Park
Since we're visiting Zion National Park in the off season, hopefully we won't experience too many hikers on the trails. There has been a lot of weather damage this year, but there are plenty of great, fun hikes available. Zion National Park is beautiful, whatever the weather, and with the blue skies we had it really was amazing.
If you're unfamiliar, you cannot drive deep into the main Zion Canyon, so you must take the free shuttle provided by the National Park (reservations required in summer). It's super easy to use and shuttles run every few minutes, so you're never stranded.
Tip: check out our guide to hiking in Zion National Park with kids for best suggestions!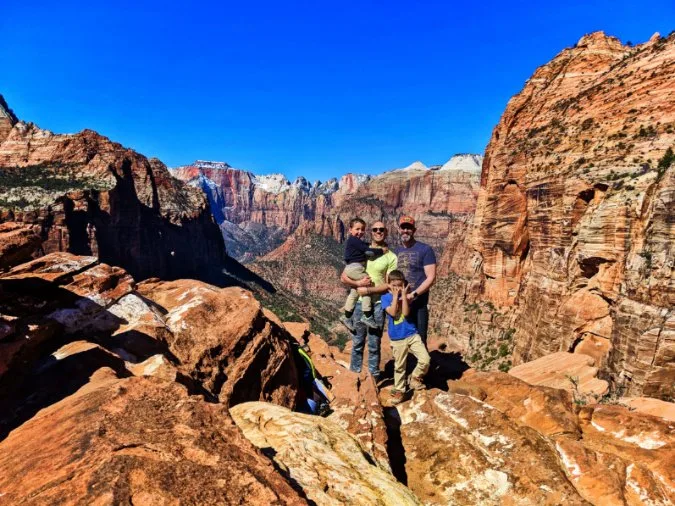 We chose three primary hikes in Zion Canyon: Emerald Pools (lower), Riverwalk, and the Weeping Wall. All three of these hike are VERY kid friendly and even easily strollerable. Visiting in the spring, we were able to spy all kinds of waterfalls and the Virgin River was running at a rather high level, which made our hikes even more beautiful than you might expect.
The highlight was actually the Weeping Wall hike. A very short hike to one of the gorgeous, colorful cliffs, it takes you along the lush side of Zion National Park as well as behind a waterfall. We loved the experience and the kids though it was really cool. Waterfalls are always a nice sight on a southwest road trip, for sure.
Tip: plan your hikes in Zion National Park based on what side of the valley the sun will be shining on. In the morning, hike on the west side of the valley, and in the afternoon, hike on the east side. This makes for great lighting and in winter and spring, warmer hiking conditions.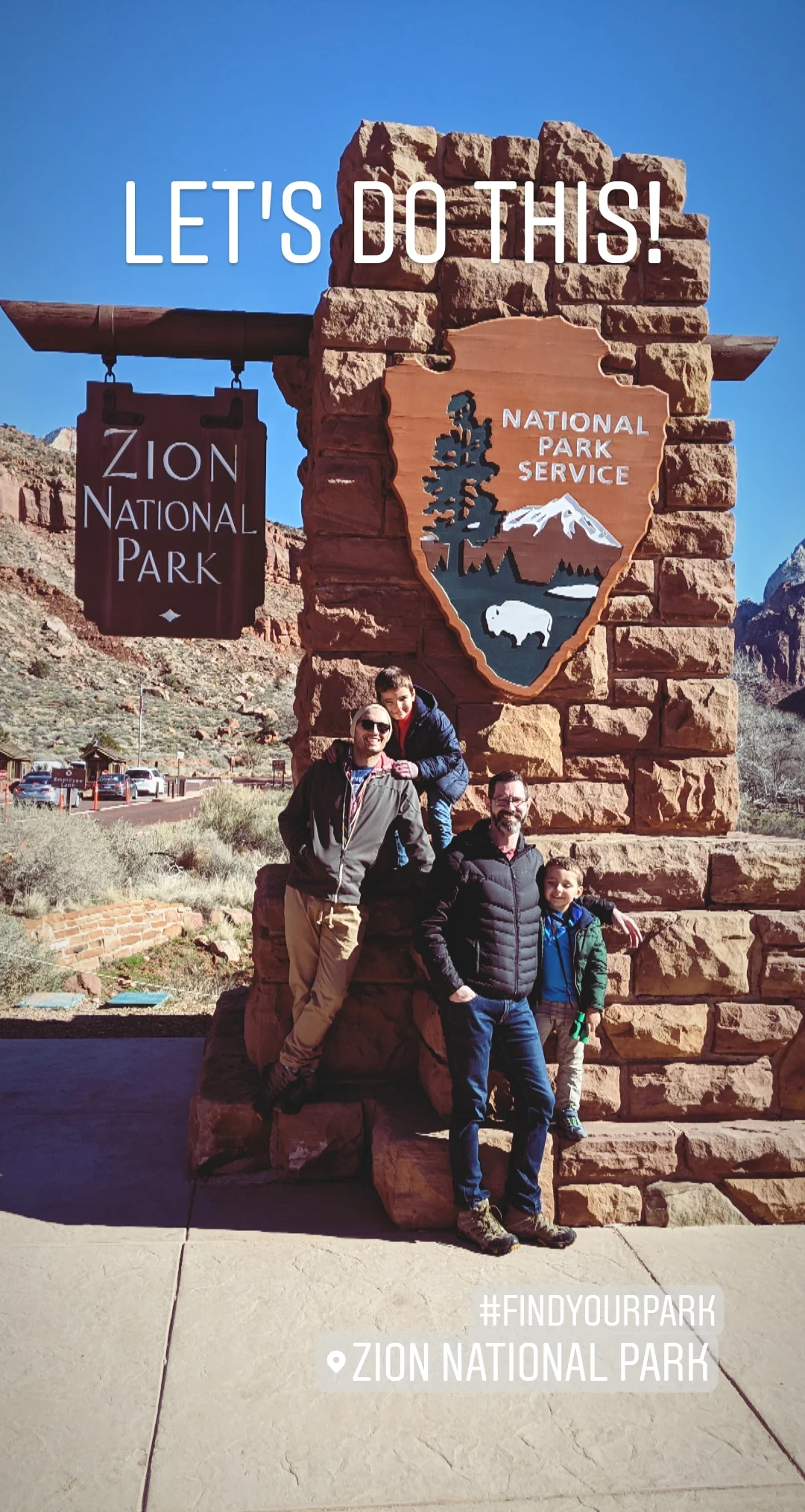 Day trip to Cedar Breaks National Monument
The last time I visited Cedar Breaks National Monument on a road trip it was in the middle of an epic thunderstorm. Cedar Breaks NM is an enormous natural amphitheater filled with hoodoos and crevices. It's meant for echoing thunderstorms. I kind of hope we get one when we visit next time! We didn't get to visit on this most recent Utah National Parks road trip due to an impromptu snow storm closing the park. Next time though. (Coming May 2022!)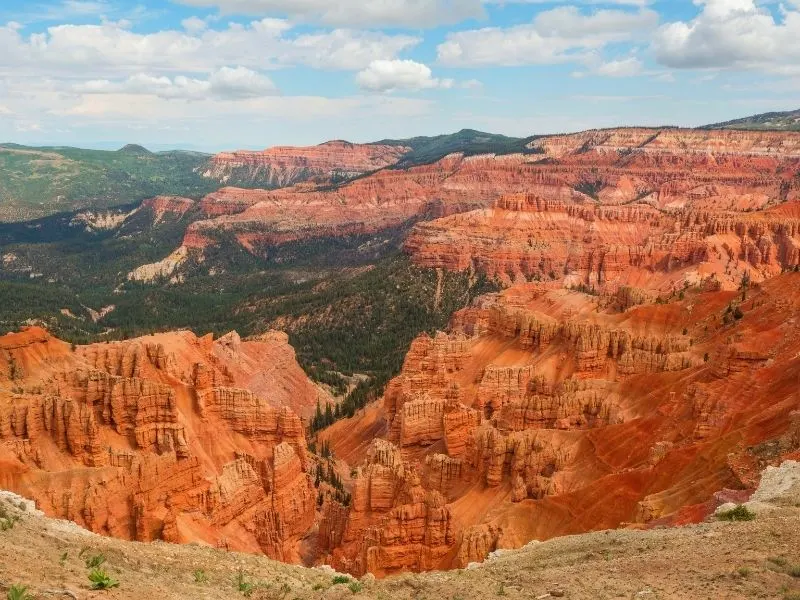 Visiting Bryce Canyon National Park
Leading up to our exciting Utah National Parks road trip, we watched the weather very carefully. Bryce Canyon NP is known for getting snow, both dustings and storms, well into spring, and this year has been no exception. Bryce Canyon is so unique because of the combination of hoodoos (wind-worn sandstone towers) and arches. Its dramatic, other worldly landscape is one of a kind.
Tip: check out our guide to Bryce Canyon National Park in any season for year round ideas, including shuttle details and hikes.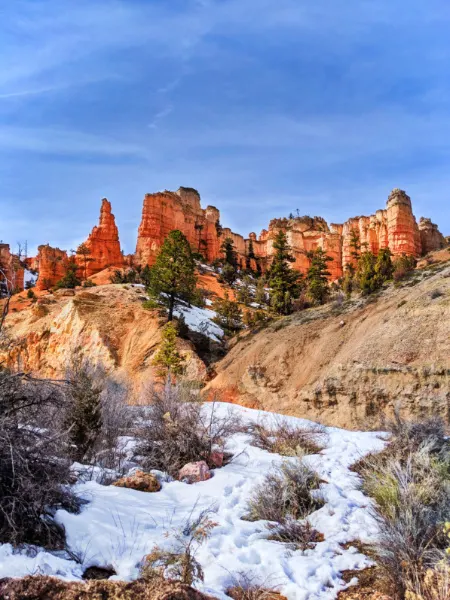 Staying at Bryce Canyon National Park
Our second hotel for our Utah National Parks road trip is the Best Western Plus Bryce Canyon Grand Hotel. A beautiful property very close to the National Park entrance, it is perfect for exploring during the day and unwinding at night. The kids are loved hot tub time, because you know, they're hotel pool connoisseurs and having a HUGE room makes relaxing at the end of the day really easy.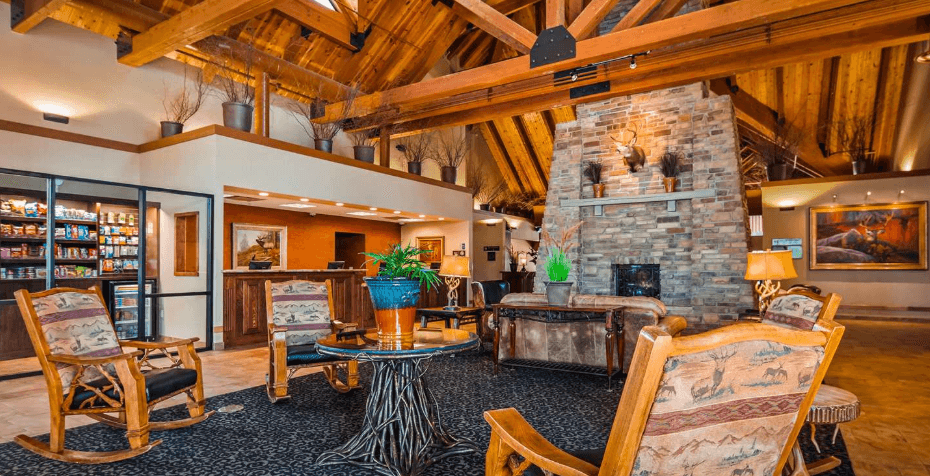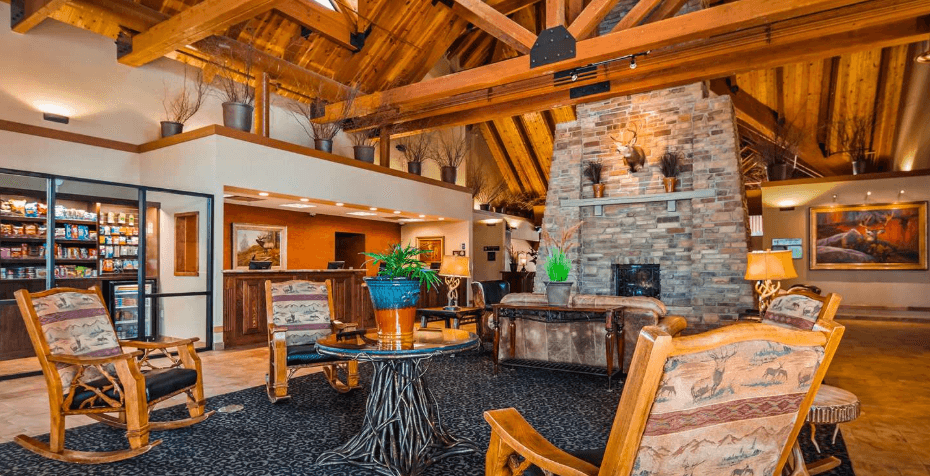 Here's a big hotel tip to make the whole family happy: when you're hotel room has a pull out sofa bed, use it. Our room at the Best Western Bryce Canyon Grand Hotel had two queen beds and pull out sofa, there are only four of us. Since the kids would be sharing a bed anyways and they such sound sleepers, we had them share the sofa bed and each of us adults got a queen size bed to ourselves. The added comfort of sleeping space had us ALL waking up recharged and ready for the day.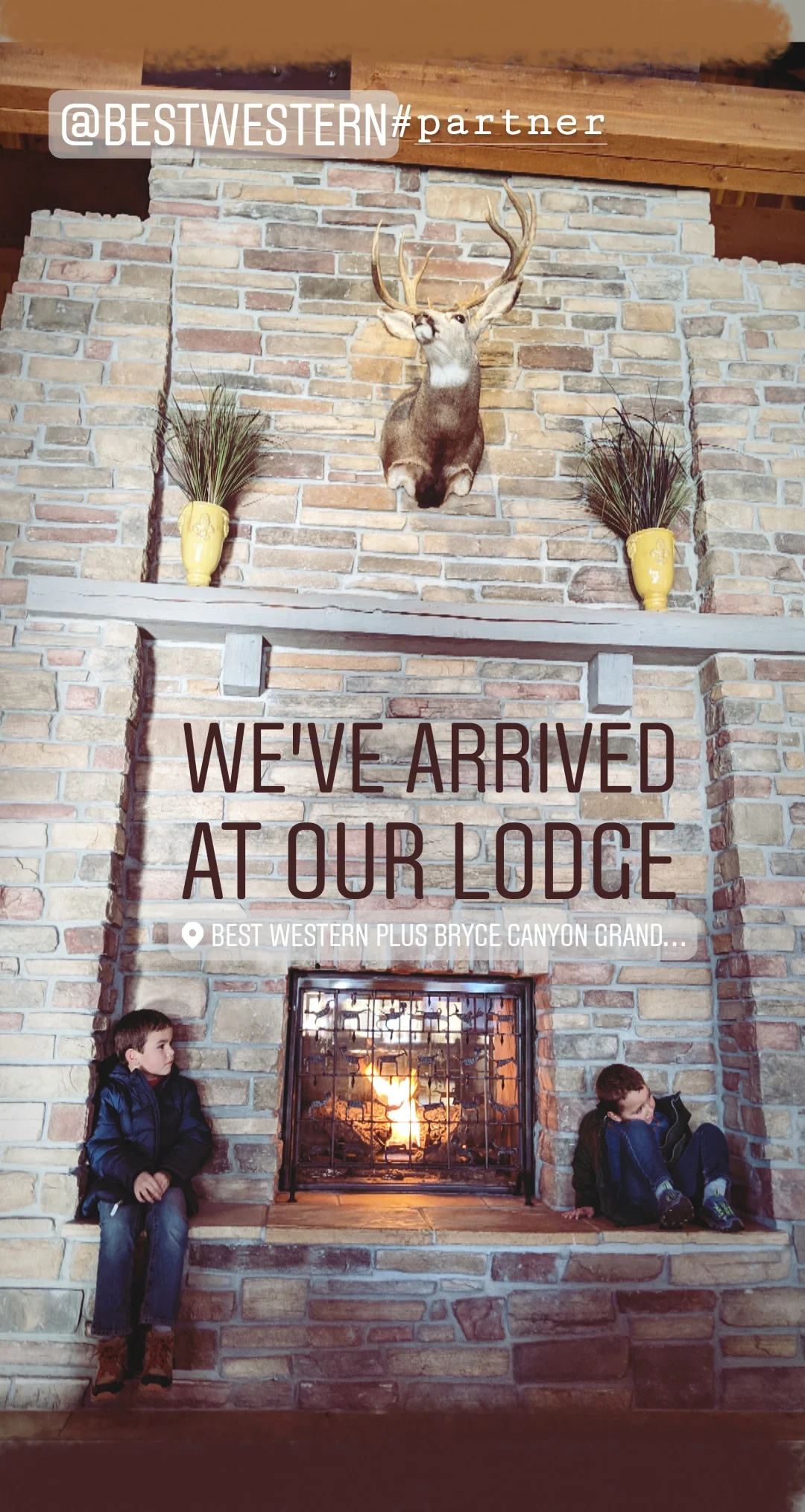 Hiking in Bryce Canyon
We've got a pretty good itinerary for family friendly hikes in Bryce Canyon National Park, but as I said before, weather can be an issue. We did encounter frozen, closed trails, but got to enjoy the scenic views across the canyon, as well as to hike down into some of the lesser well know trails. Each viewpoint was gorgeous with, Sunset Point being the favorite. Each viewpoint has trails along the rim, and each is connected. During bad/freezing weather, the connecting trails are closed, but they plow so you can still access them from the road.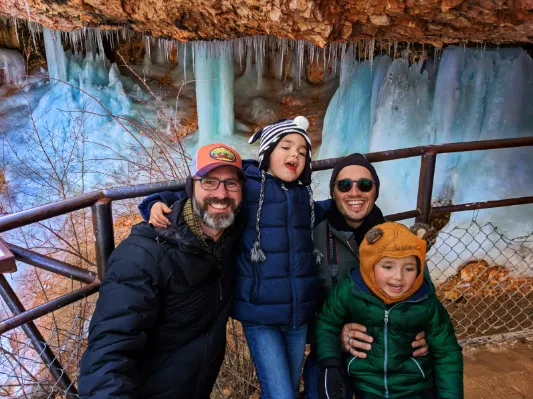 We were able to do the Moss Cave hike on the eastern side of the park. It was incredible!! The hike was easy with the kids and provided some jaw dropping sights. We got to check out a sandstone cave, a frozen waterfall ice palace, and even get behind a waterfall as we hiked on a frozen stream bed. It was colorful, fun, and exactly what we wanted to experience in Bryce Canyon National Park. The perfect Utah road trip hike!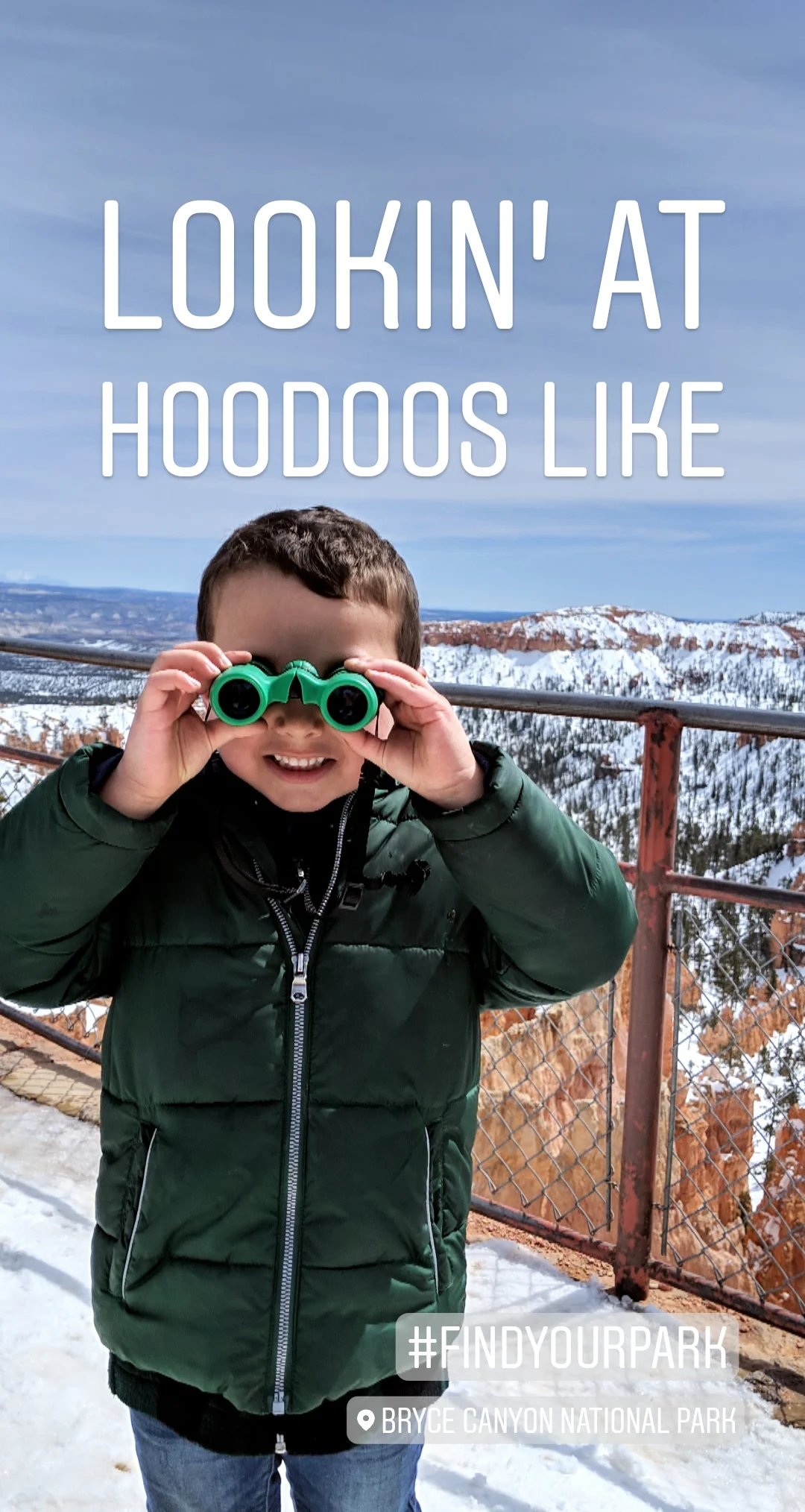 Hoover Dam – potential add on
If time allowed, we intended to stop at the Hoover Dam, at the border of Arizona and Nevada. We couldn't committ to it because we get sidetracked by other amazing desert sights, but it's on our radar for a future trip. There are some great alternate routes for a fun Southwest road trip that go through Page AZ and the Grand Canyon and so much more.
Tip: check out our friend Park Ranger John for his suggestions in nearly every National Park and site! He's an awesome guy who's done nearly everything you can think of!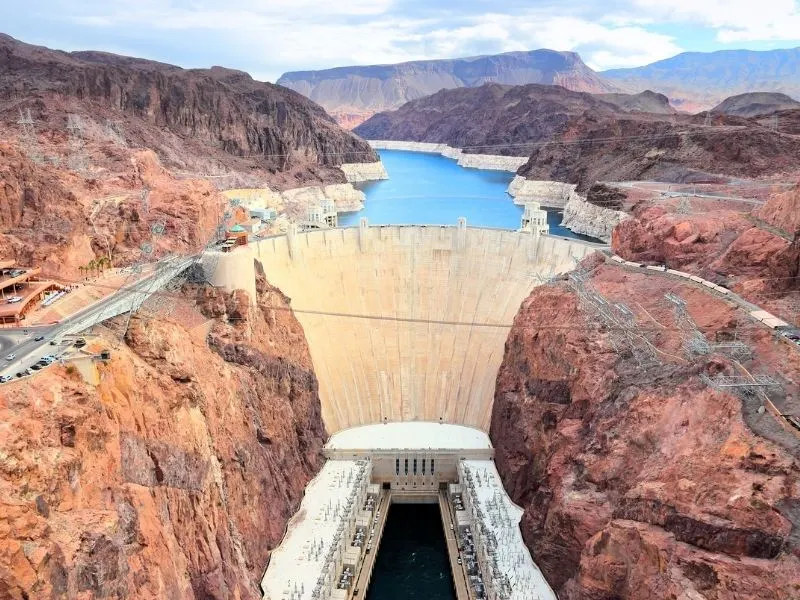 More Great Utah Geology Sites to See
We loved visiting Kodachrome Basin State Park just east of Bryce Canyon, where the drive itself is epic, but then there are lots of hikes in the park and picnic areas too. Shakespeare Arch was a favorite hike in Kodachrome for us.
Devils Garden in Grand Staircase Escalante National Monument is another really cool and very unusual stop. Here you can climb rock formations, go through small tunnels and caves and just enjoy the wildness of rural Utah. The colors are phenomenal and this is a perfect day trip from Bryce Canyon with kids!
Check out our guide to Utah State Parks and BLM Sites for tips!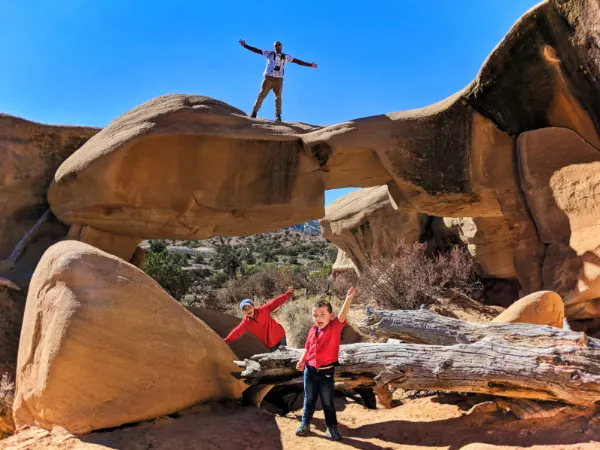 As we do more and more Utah National Parks road trips in the future, we'll no doubt find more awesome sights and hikes to share.
If you have any suggestions that we just cannot miss, please leave a comment or send us a note! Also, please follow along on Instagram and Facebook as we share live the highlights of the days and amazing things we learn as we explore the Utah National Parks with the kids.
Want to pin this for your own Utah National Parks road trip planning? Go for it!!!