There are many ways to approach a West Coast or National Parks road trip. Seriously, you can do the Pacific Coast Highway from the Olympic Peninsula of Washington all of the way down the Oregon Coast through California to Tijuana, Mexico, or you can shoot down the I-5 corridor, making intentional stops within an hour or two off the freeway. You could even just wing it and pop all over the place.
Road trips are an amazing family travel experience and not to be missed. We've got many great options on our site, but for now let's plan a West Coast National Parks road trip, including our favorite National Parks in California, Oregon and Washington.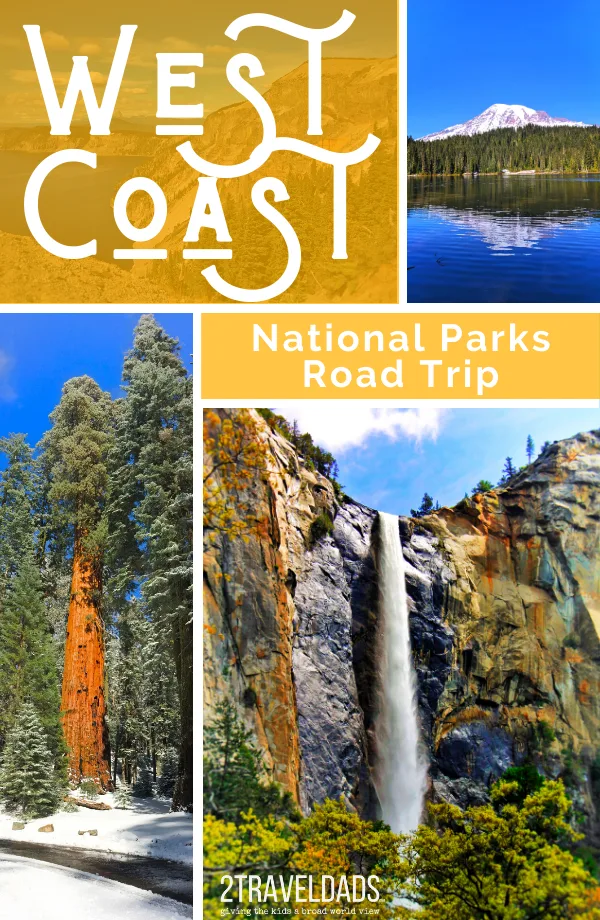 We're not going to cover every National Park, but we'll share with you the top National Parks in the mountains that we've visited and feel cannot be missed, starting in California and ending in Washington. This is the essential west coast National Parks road trip itinerary that covers 12-17 days worth of travel… but you can always adjust down or do more! And don't forget to bring your National Parks Passport, because you're going to need it!
Note: at the end of our itinerary we've got a fun infographic to remind you of our ideal National Park road trip plan. You can download it or Pin it for later!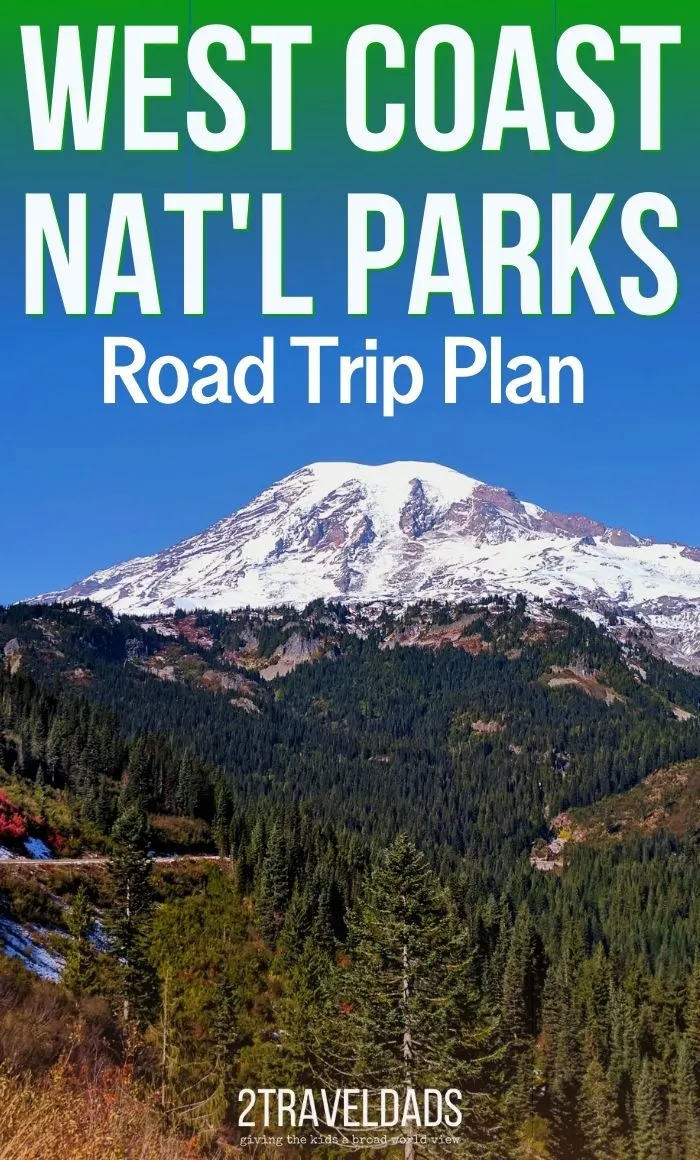 West Coast National Parks itinerary
You can do this road trip through the west coast National Parks starting either in California or Washington. If you choose to start in California, begin by flying into Los Angeles or Palm Springs. Do some sightseeing in LA and then some hiking in Palm Springs, then begin the official road trip.
Note: if you're doing a west cost RV road trip, be sure to book your campsites in advance! It's tricky to get same-day reservations in the west coast National Parks.
Joshua Tree National Park – 1 day
Let's start in one of the most unusual landscapes in California: Joshua Tree National Park. It's not just a grove of the bizarre Joshua Trees, but it's full of hiking spots, bouldering, super blooms, cactus fields and even palm oases. You could spend two days here touring, or just make it a day trip from Palm Springs.
Highlights to not miss if you're just doing one day include:
Cholla cactus garden – not an actual garden, but a naturally occurring grove
Split Rock for bouldering
Cap Rock for an easy nature trail with incredible Joshua Trees and desert life
Joshua Tree National Park is awesome and you'll be so glad you started here!
Allotted time in Joshua Tree: up to 2 days, 1 is plenty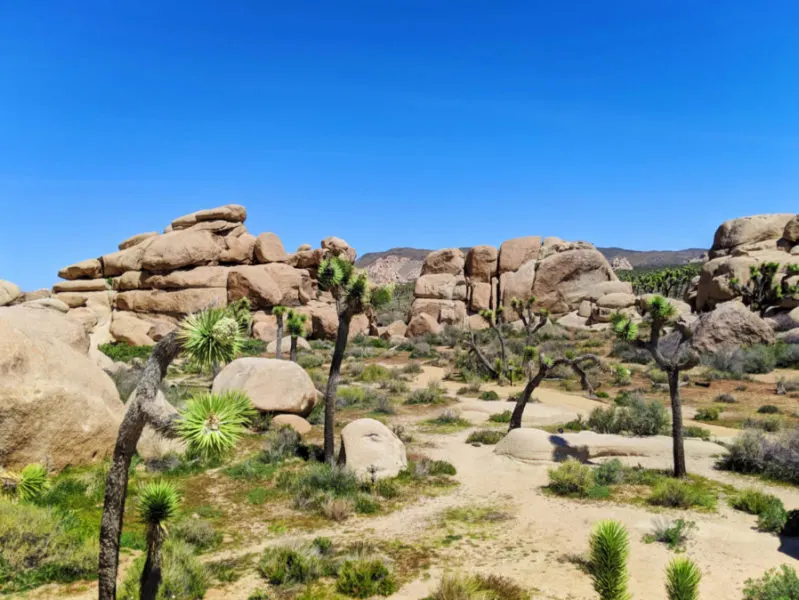 Where to stay at Joshua Tree National Park
We recommending staying in Palm Springs if you're not camping. The city is really fun and there are lots of things to do. Hiking Palm Springs' Indian Canyons is another must-do activity, so staying in town is an easy way to add that to your epic National Park road trip plan.
If you want to camp within Joshua Tree National Park, there are several options within the park. Reservations are recommended, but if you cannot get one and want to camp, there are options in the Coachella Valley (south side) or Morongo Valley (north side). Also, there are some INCREDIBLE Southern California glamping options around Joshua Tree if you're interested.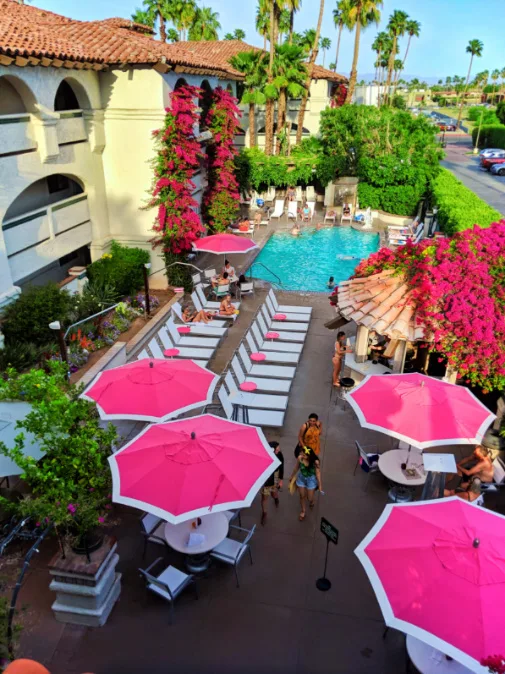 Sequoia National Park – 2 or 3 days
Somehow in all of our travels and through visiting so many National Parks it took us years to visit Sequoia National Park. Once we finally made it there, it was incredible. True, our visit was dotted with weird experiences, including putting snow chains on the car when it had been 80 degrees a few days prior, but it was beautiful. There's ample hiking and really great Visitors Centers.
The steep cliffs you drive along, the red sequoia trunks against the greenery (or snow) and the breathtaking forests that make you feel so small. Sequoia will probably be your favorite stop during your west coast National Park road trip.
Highlight: the General Sherman Tree hike – the hike down through the grove is really breathtaking, and can be as easy or as lengthy as you like. The enormity of the trees and the colors are unreal. It's an amazing way to begin a west coast National Parks road trip.
Allotted time in Sequoia: 2-3 days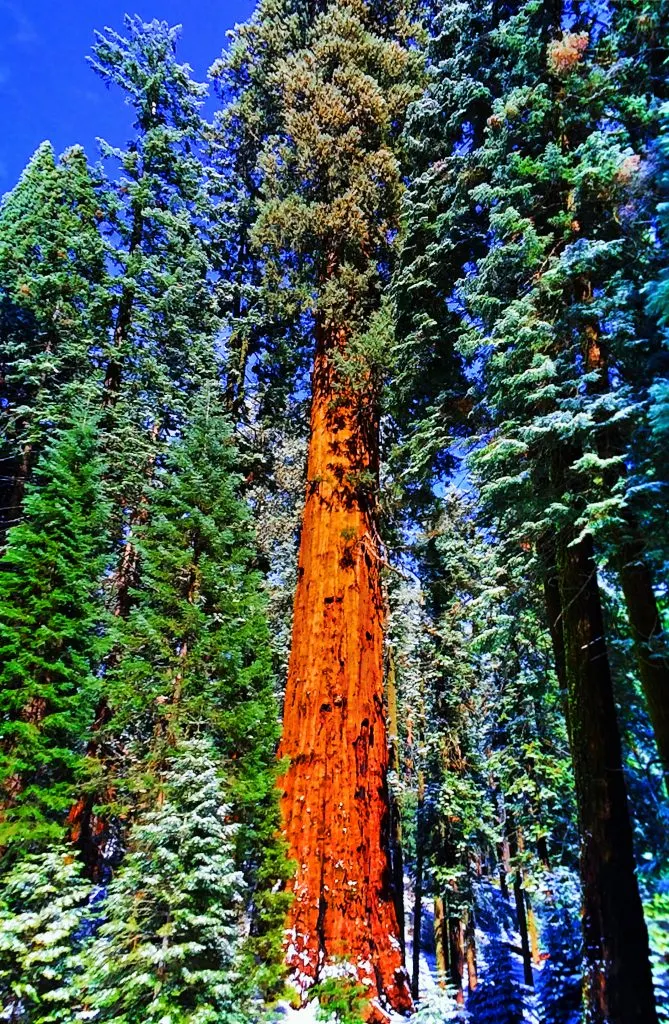 Where to stay in Sequoia National Park
Since we were there mid-spring and stayed at the Wuksachi Lodge, we got to enjoy a cozy hotel within Sequoia National Park while the snow fell… and then melted with the crazy heat. It was a great option for family travel.
Had we been there in the summer, there were several campgrounds that looked nice; we love to be in the trees when we're camping. Next time, we'll try to camp at Lodgepole, Cold Springs or Buckeye Flat campgrounds. Book the Wuksachi Lodge here!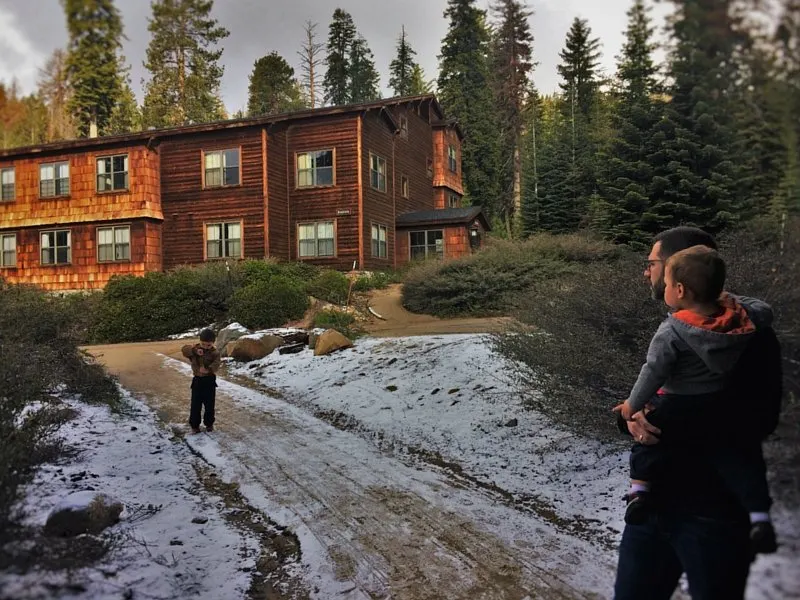 Kings Canyon National Park – 1 or 2 days
I can't wait to go back to Kings Canyon National Park. This is the place for hiking through one of the most beautiful valleys in California. For the full Kings Canyon experience with sunshine, wildflowers AND snow, hit the park at the end of April. Do the west coast National Park road trip a little later in the year and the roads to the most remote reaches of the park will be open and the weather is (usually) awesome.
We loved exploring the Grant Grove and getting really up close and personal with the giant sequoias, including walking through hollowed out fallen logs. Picnics out in the valley are the perfect family activity. It's a really cool National Park.
Highlight: exploring the Grant Grove of Sequoia trees is perfect with kids. Here you can actually get inside of fallen trees and amidst burned out trunks.
Allotted time in Kings Canyon: 2 days or less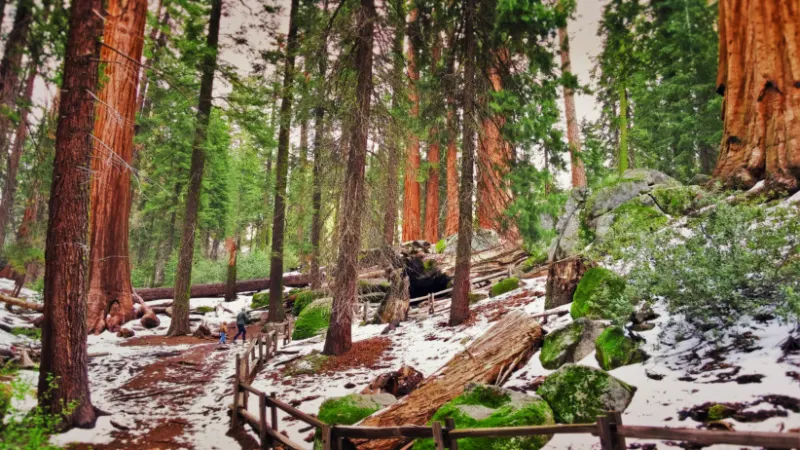 Where to stay in Kings Canyon National Park
The John Muir Lodge was home for our short stay in the park. We appreciated having plenty of space in the rustic lobby and out in the rocking chairs for the kids. It was also great being close to Grant Village, which is where the Visitors Center and a few camping options are located.
As long as you're visiting in the summer, all camping should be open. Adding a lodge stay to a west coast National Parks road trip, either here or another park, is a nice way to break up the journey. Book the John Muir Lodge here!
Tip: Sequoia and Kings Canyon National Parks are way up there in elevation. You should expect cold nights, even in the summer, so be smart about packing. Peek at our article about camping in Yellowstone for ideas to make camping at high elevations a success.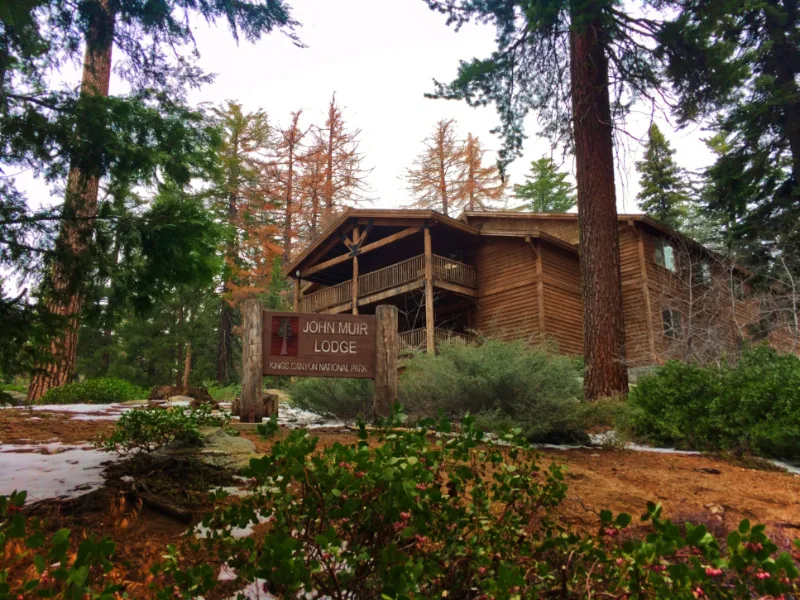 Yosemite National Park – 3 or 4 days
Even though Yellowstone was the first National Park (Sequoia was second), Yosemite was the first collection of Federally protected lands in the United States. Yosemite National Park is unlike any other place we've been. The granite cliffs, valley floor and ample waterfalls make every turn in the Park more amazing than the last, and make it integral to a west coast National Parks trip. Since we were here with the kids this time, we didn't do too intense of hiking, but have some suggestions:
Nevada Falls and Half Dome – really incredible views and hiking in the Sierra forest, access to the back of Half Dome – medium w/o kids

Tunnel View to Glacier Point – intense

Bridal Veil Falls – easiest mini-hike ever and really cool with kids

Yosemite Falls – easy approach and easy hike if you'd like to get to the top of the Lower Falls

Hetch Hetchy / Wapama Falls – easy hike w/o kids, difficult w/ kids due to sun exposure and rock steps. Amazing though.
We had plenty of fun picnicking and doing the Yosemite Valley Tram Tour, as well as just enjoying the sights, such as Tunnel View. Even with all the people, you'll have an amazing time. And if you're avoiding the crowds, spend a day at Hetch Hetchy and hike to waterfalls and striking views.
Highlight: Hetch Hetchy. Even though every stop in Yosemite is iconic, spending time in Hetch Hetchy is amazing. 1/10 the amount of people and 2X the beauty.
Allotted time in Yosemite: 3-4 days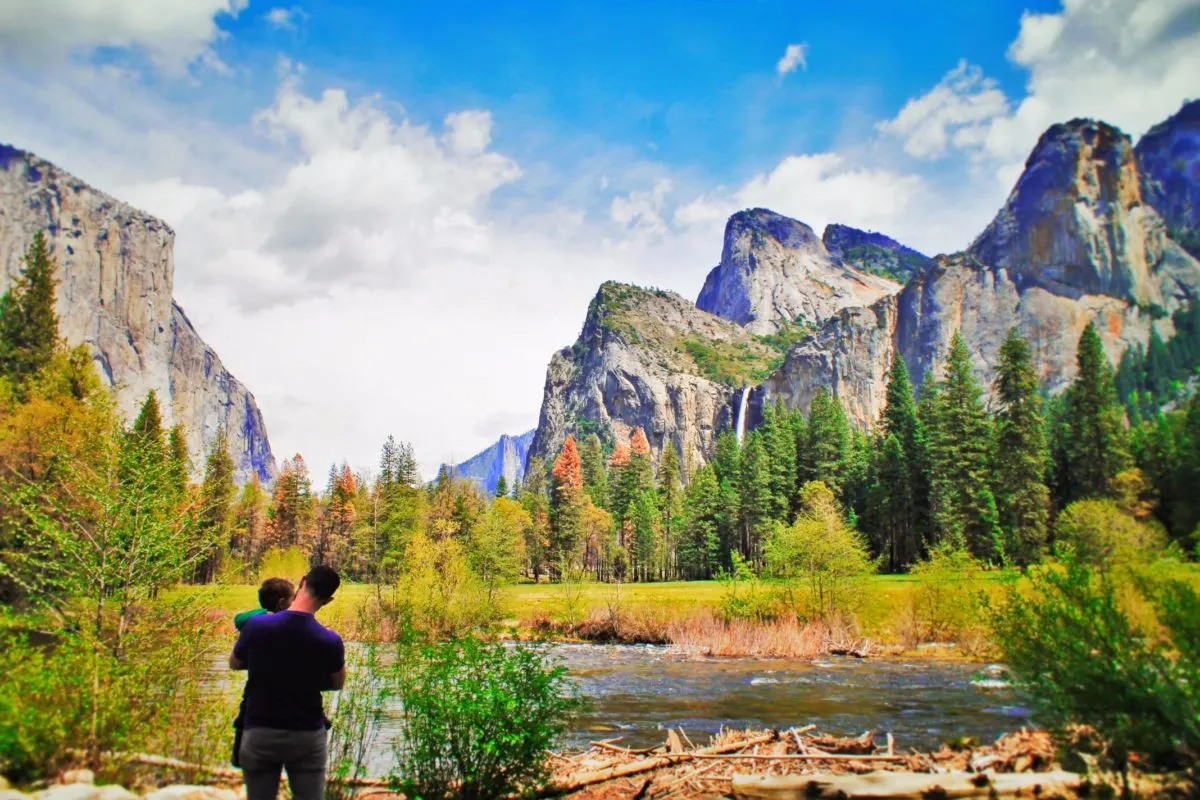 Where to stay at Yosemite
Within Yosemite National Park there are several awesome camping options. We've camped at Upper and Lower Pines campgrounds and both are fine, but both are also quite open and rather crowded. We have seen bears in both areas. Oh, and there are several great lodge choices too, both inside and outside the Park. We can attest to the ones outside…
Tip: camping or not, take a look at our wildlife safety article for some tips and guidelines for wildlife viewing and precautions in National Parks.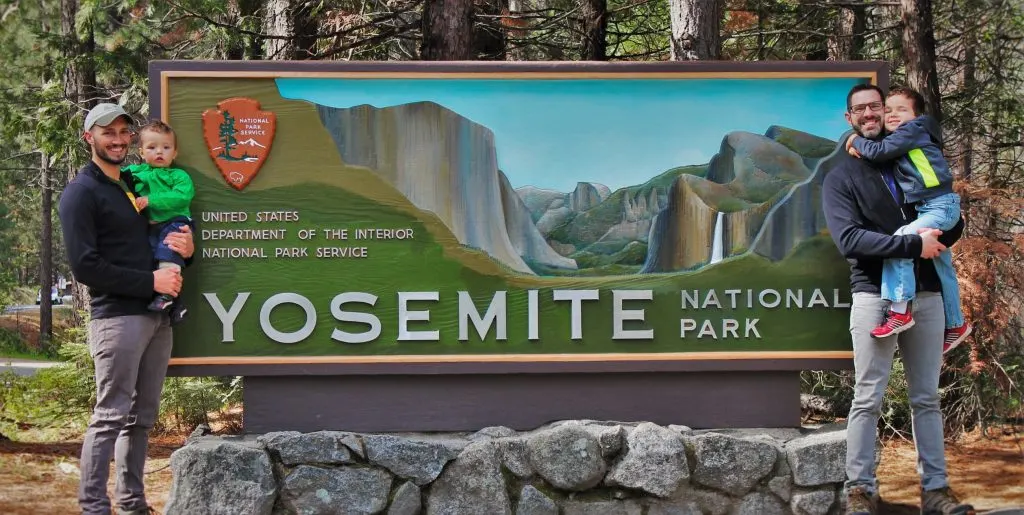 Tenaya Lodge
At the southwestern end of Yosemite National Park is the Tenaya Lodge. Unlike its sister lodges in Sequoia and Kings Canyon National Parks, the Tenaya Lodge is located outside of the Park and is REALLY GRAND. It's a beautiful property with pools, lots of dining options and tons of on-property activities.
This is a great place to stay if you're planning on doing other activities in the Sierra Nevadas and also want to visit Yosemite National Park. It's 45 minutes+ to the Yosemite Valley, but there are lots of hiking options between there and the Tenaya Lodge, and on the grounds of the Tenaya Lodge you'll find more fun and relaxation than you probably expect. It's a bit pricey, but it's beautiful and breaks up the wilderness time. Book the Tenaya Lodge here!
Evergreen Lodge
We are in love with the Evergreen Lodge. Like we said in our article about the Evergreen Lodge at Yosemite, it's very clear that the lodge and entire property was built with family in mind. It's got everything from zip lines and a pool to walking trails and game rooms. We would love to return here with our extended family, as it's an incredible property that's just perfect for family travel.
The Evergreen Lodge is extremely close the the Hetch Hetchy entrance to Yosemite National Park. It's a perfect home base if your goals are sightseeing, hiking or relaxing. Book the Evergreen Lodge here!
Note: the Evergreen Lodge has wonderful family cabins that are perfect if you're traveling with kids.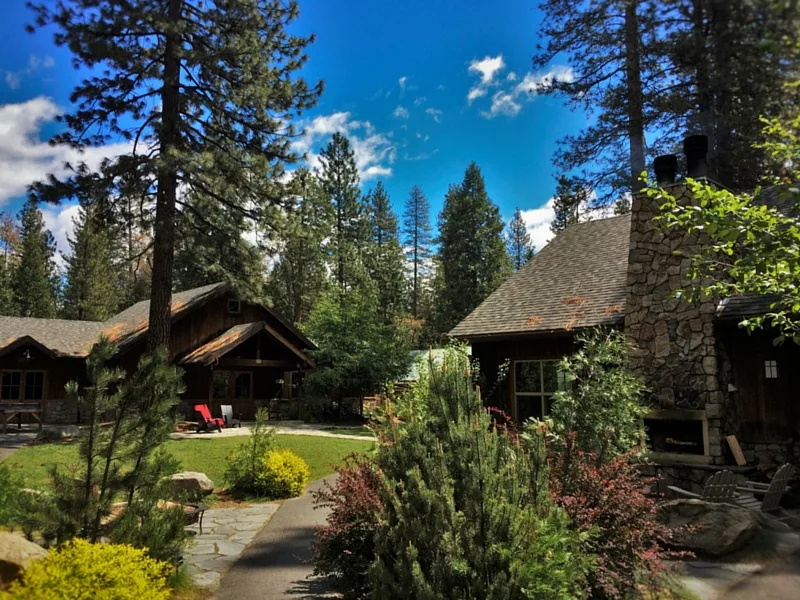 Oregon Caves National Monument – 1 day
I know, it's not a National Park, but it's really special and fun. Located not too far from I-5, which you'll be driving on anyways, Oregon Caves National Monument is a must visit. There are hiking trails all around the preserve, but the highlight is the actual cave tour.
The tour is leg by a ranger and goes through the intricate cavern system. It's a smaller cave system than Lewis and Clark Caverns in Montana, but is still really cool. From fossils to stories of prohibition era parties in the caves, it's a one-of-a-kind National Park road trip stop.
Allotted time: 1 day, you don't need more unless you're camping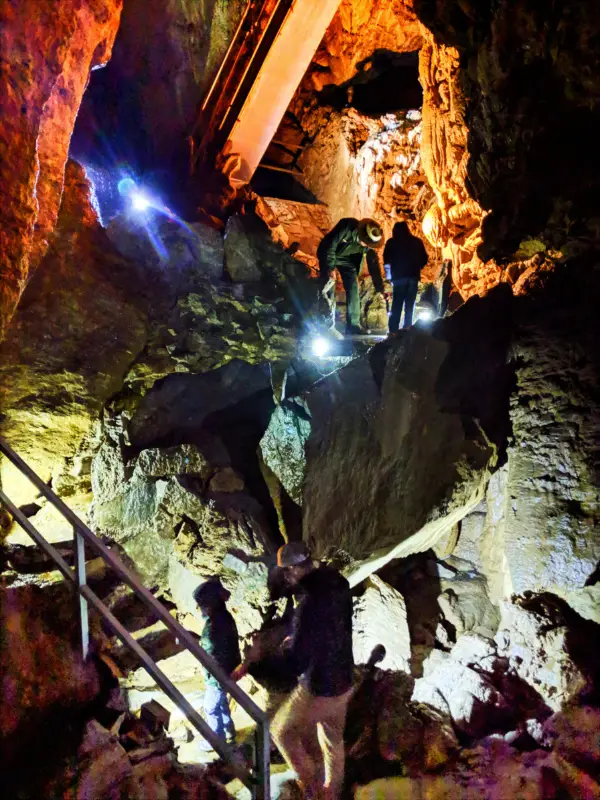 Where to Stay at Oregon Caves National Monument: the Chateau
There is the most remarkable National Park lodge at Oregon Caves. The Oregon Caves Chateau is an immense log cabin castle in the forest. Just as historic and unique as the cave, the rooms are rustic and quiet. There is both a restaurant and a vintage diner within the chateau, so check in and relax!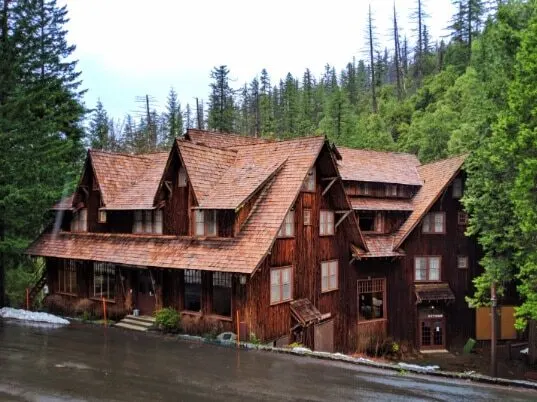 Crater Lake National Park – 2 days
Crater Lake National Park in Oregon is really cool and unique. It's similar to Lake Tahoe in that you can drive the loop and it's amazing blue, but Crater Lake is very different. Being formed from an extinct volcano, the sights and activities are very unique.
Being the deepest lake in the United States, it's no wonder it's so blue. The Rim Drive will take you fully around Crater Lake, and as you go you'll find ample hiking and picnic opportunities. And there is an island in the lake, Wizard Island, which you can visit via boat tour.
Crater Lake National Park camping is also a great way to make time in the park memorable (seasonally available).
Highlight: early morning (view from east rim) and dusk (view from west rim) photography. Amazing!
Allotted time: 2 days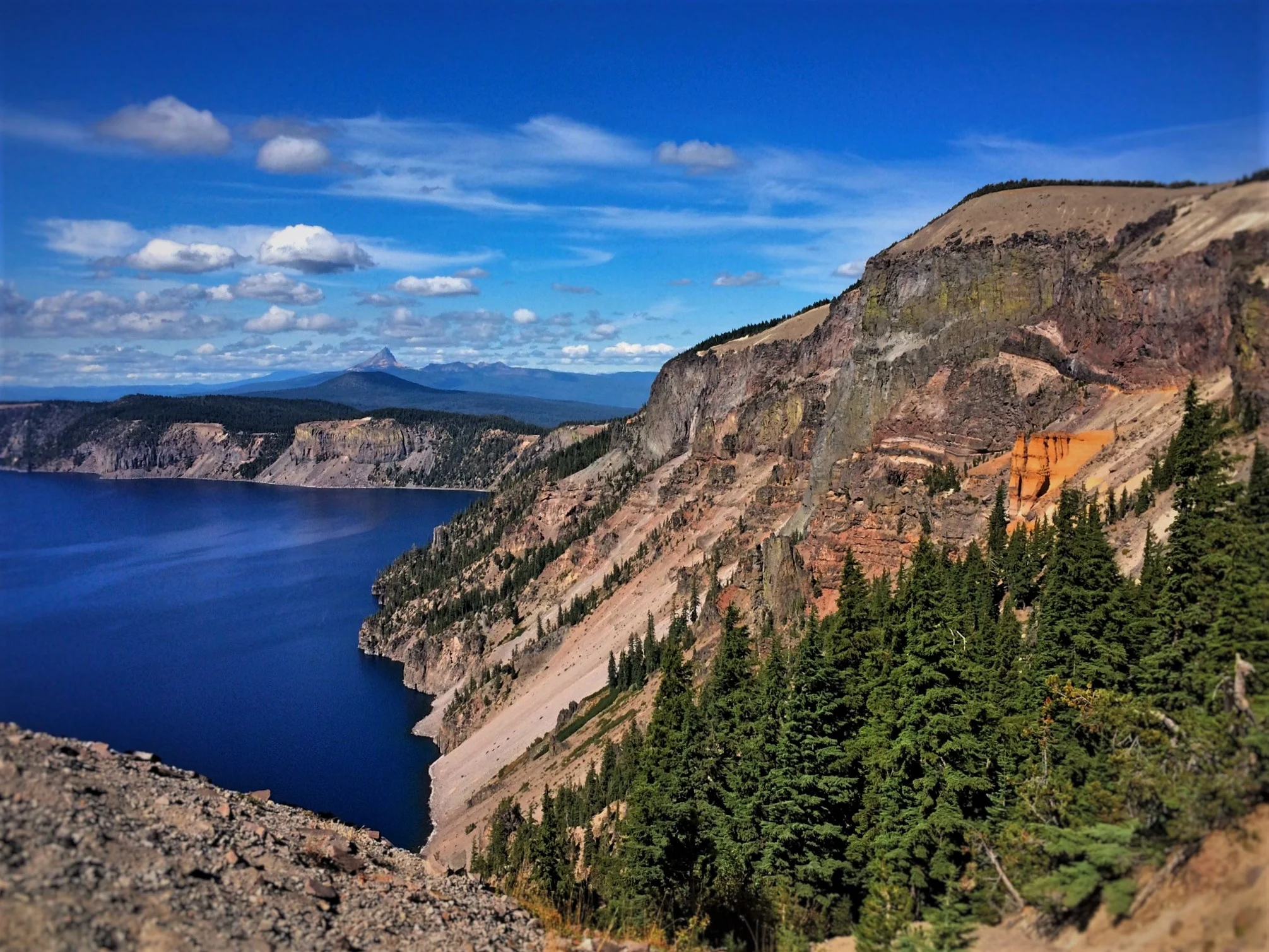 Where to stay at Crater Lake
Crater Lake National Park offers camping, cabins and a National Park Lodge. We recommend the camping route, which we'd love to do there. Depending on the type of campground you're looking for or what side of the lake you're planning to spend the majority of your time on. The main campgrounds are in the south end of the park, but backcountry permit camping is available in other areas. So many options!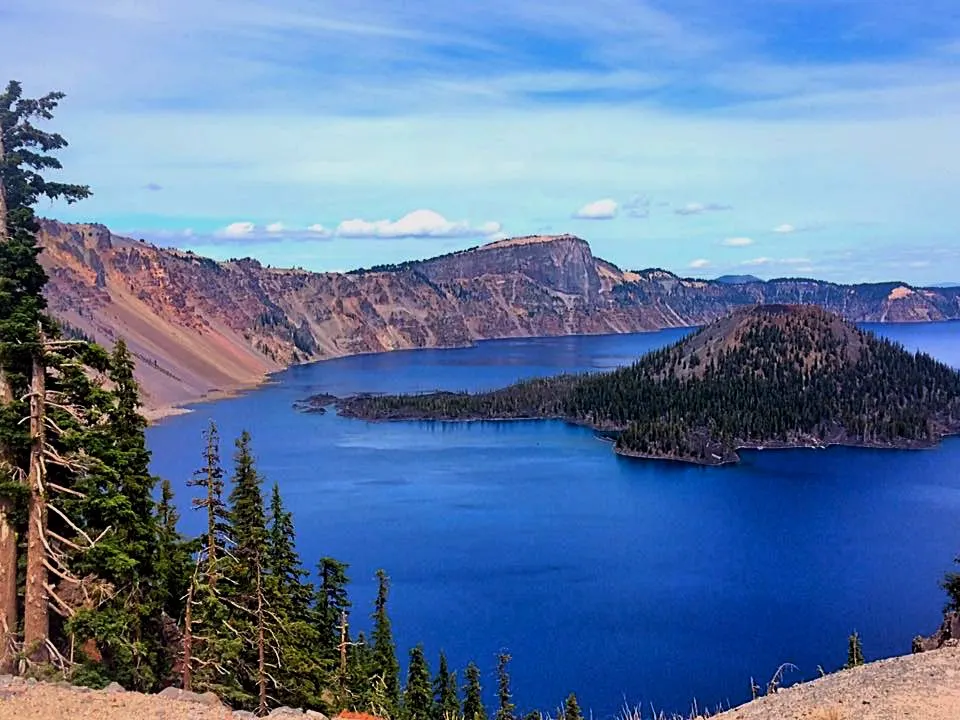 Mount Rainier National Park – 2 or 3 days
Gosh, we could say so much about Mount Rainier National Park, but we'll keep it to this: go for a day or a week and you'll have an amazing time. Check out our articles about the waterfalls of Mt Rainier National Park as well as our guide for easy hiking with kids for some ideas. It's really easy to make a home base on either the north or south side of the mountain and then switch to the other side.
Mount Rainier is all about hiking though, so if you're looking to spend a few days just relaxing, this may not be the stop for you. True, you can do some great porch sitting at either of the National Park lodges, but for the waterfalls and amazing views, you've got to do some hiking.
Highlights: the Grove of the Patriarchs and Silver Falls are our two favorite hikes, and both have fewer visitors than Paradise. They're located very near each other on the southeastern side of the park.
Note: the south side of Mt Rainier National Park is the busiest, but it's also the most developed with the most notable sights. The north side is much more remote with fewer tourists. It's 90% hardcore hikers.
Allotted time: 2-3 days per side, or just 3 days on the south side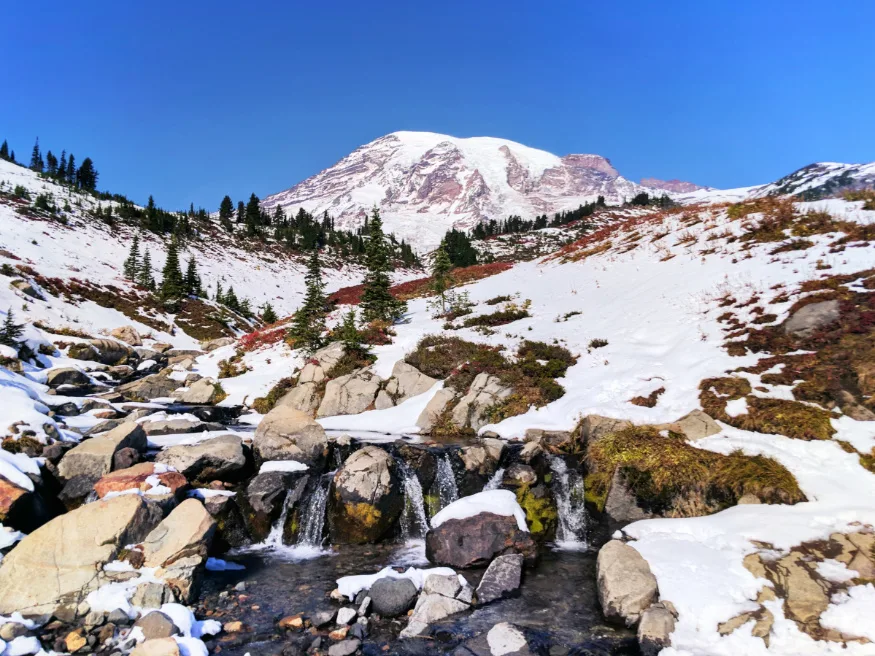 Where to stay at Mt Rainier National Park
We've camped at the Cougar Rock campground for the majority of our visits. It's in a great location on the south side of Mt Rainier National Park, has a variety of site types and it's close to most of our favorite hikes. Ohanapecosh is the other campground we'd recommend. It's very different with more deciduous trees and much flatter area around the river and Grove of the Patriarchs.
If you're going for the National Park Lodge type of accommodations, there's either the National Park Inn in Longmire or the Paradise Inn up on the mountain. The Paradise Inn is amazing with the most wonderful, alpenstyle interiors. And the bison meatloaf in the dining room is to die for. Both have the perfect amount of rustic charm, much like the Chateau at the Oregon Caves, but the Paradise Inn is much more grand and closer to the hiking action that the south side of Mt Rainier has to offer.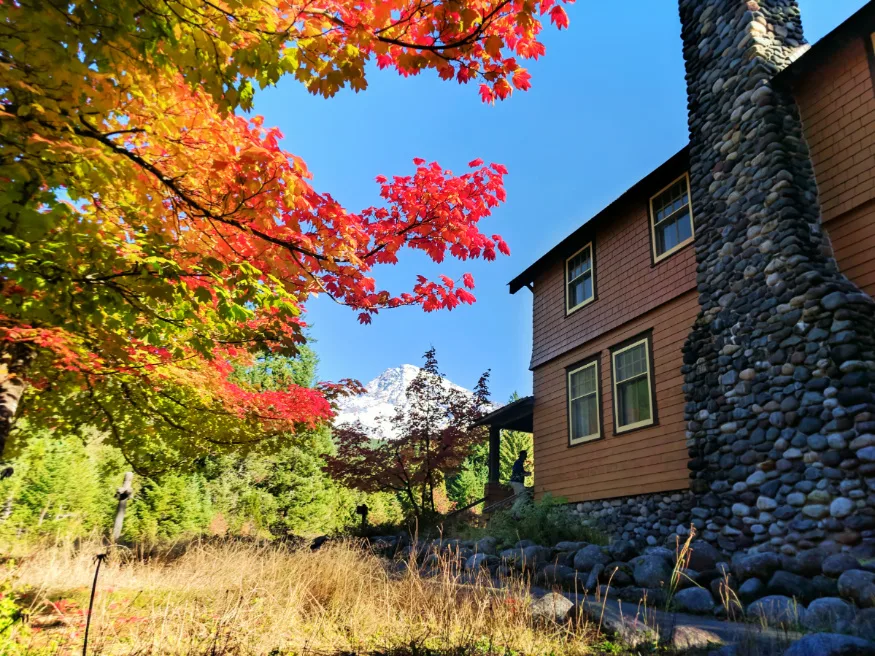 Olympic National Park – 3 days
Both Chris and I grew up on the Olympic Peninsula, so we know Olympic National Park incredibly well. If you're visiting as part of a west coast National Parks road trip, you'll want to visit several sites. We recommend hitting all three of the ecosystems within Olympic NP: alpine hiking, exploring the rainforest, and enjoying the beaches of the Pacific Ocean.
You'll find that due to Olympic National Park being focused on a central mountain range, you cannot drive through the park. You'll instead circle the park on Highway 101. We have a great Olympic Peninsula road trip plan if you need it…
The best hiking is found at Hurricane Ridge, with sweeping views of the region all the way to Canada. The best rainforest is found on the west side at the Hoh Rainforest. The best beach is Ruby Beach: perfect sand, ample wildlife, and epic rock formations. The most gorgeous waterfall in Olympic National Park is Sol Duc falls, and since it's between the two main areas it's an easy addition to the road trip.
Highlight: visiting the Hoh and Quinault rainforests in the fall when the colors are changing. The rainforests provide some of the best fall foliage in National Parks.
Allotted time: 3 days, as you'll want to explore one or two of the small towns bordering Olympic National Park, such as Port Townsend or Port Ludlow.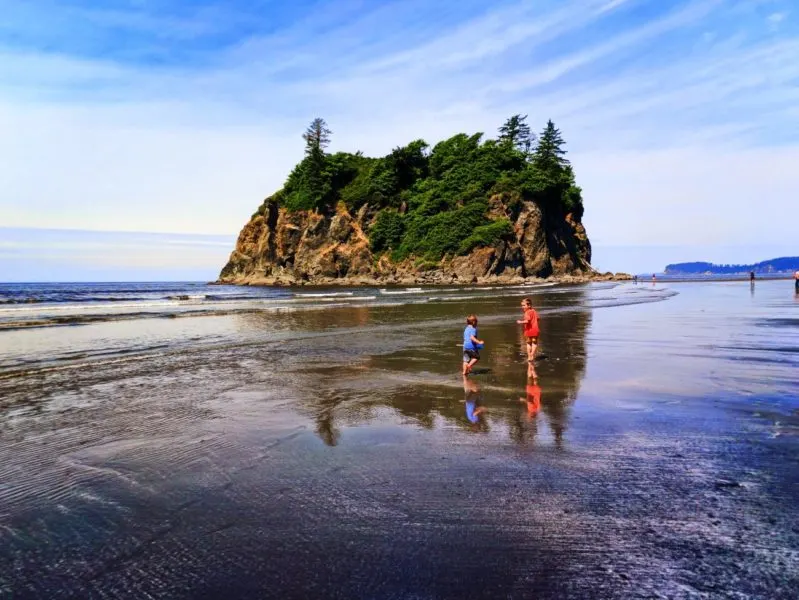 Where to stay at Olympic National Park
Since we are locals, we ALWAYS choose to camp at Olympic National Park. If you've packed for it, camping is the way to go. West coast National Parks are made for camping. Olympic National Park has many camping areas. Heart O' the Hills is perfect for hiking at Hurricane Ridge and exploring Port Angeles. Camping at Kalaloch is ideal for visiting the Hoh Rainforest, Ruby Beach and the other beaches of the Olympic Peninsula.
You can find unique B&Bs in Sequim and Port Angeles (we love the Domaine Madeleine Bed and Breakfast!)There are also several lodges surrounding the Park, but you must make reservations far in advance. Book the Kalaloch Lodge here!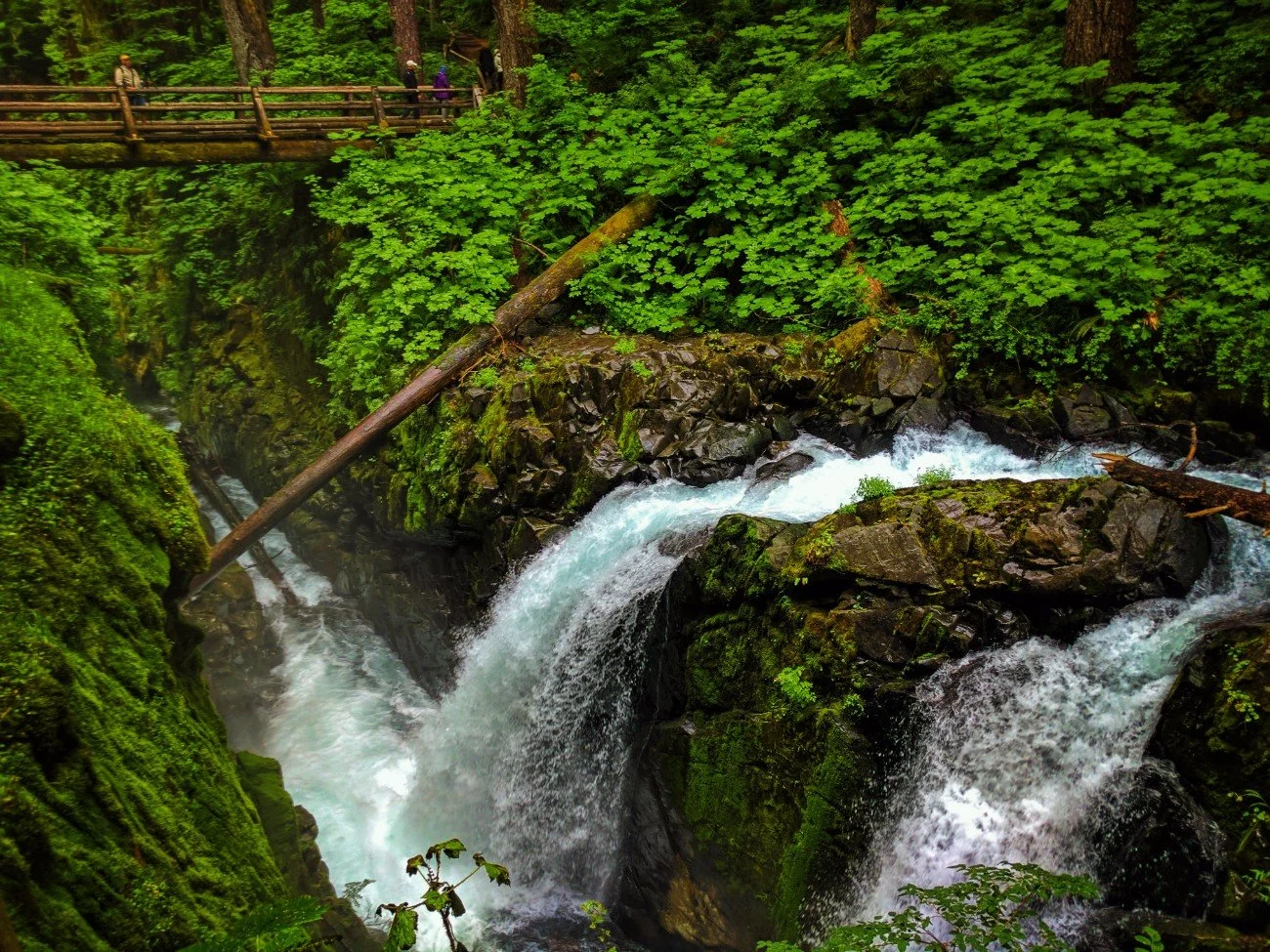 Other west coast National Parks to visit
Beyond the ones in our mountain National Park road trip itinerary above, you can add several more amazing National Parks (and some awesome state parks too). Easy add-ons include:
Devils Postpile National Monument (CA)
Lassen Volcanic National Park (CA)
Shasta-Trinity National Recreation Area (CA)
North Cascades National Park (WA)
Like we said, our basic mountain National Park road trip itinerary is ideally done in 12-17 days. Everybody has time restraints though, and depending on the time of year, less time may be needed. If you're interested in doing a a road trip through the West Coast parks and historic towns and lighthouses, check out our other NPS coastal road trip itinerary article. It's all doable as one huge trip, but in the light of family travel and not wearing anybody too thin, splitting the trip up is ideal to be able to get enough time in each National Park.
Pin this itinerary!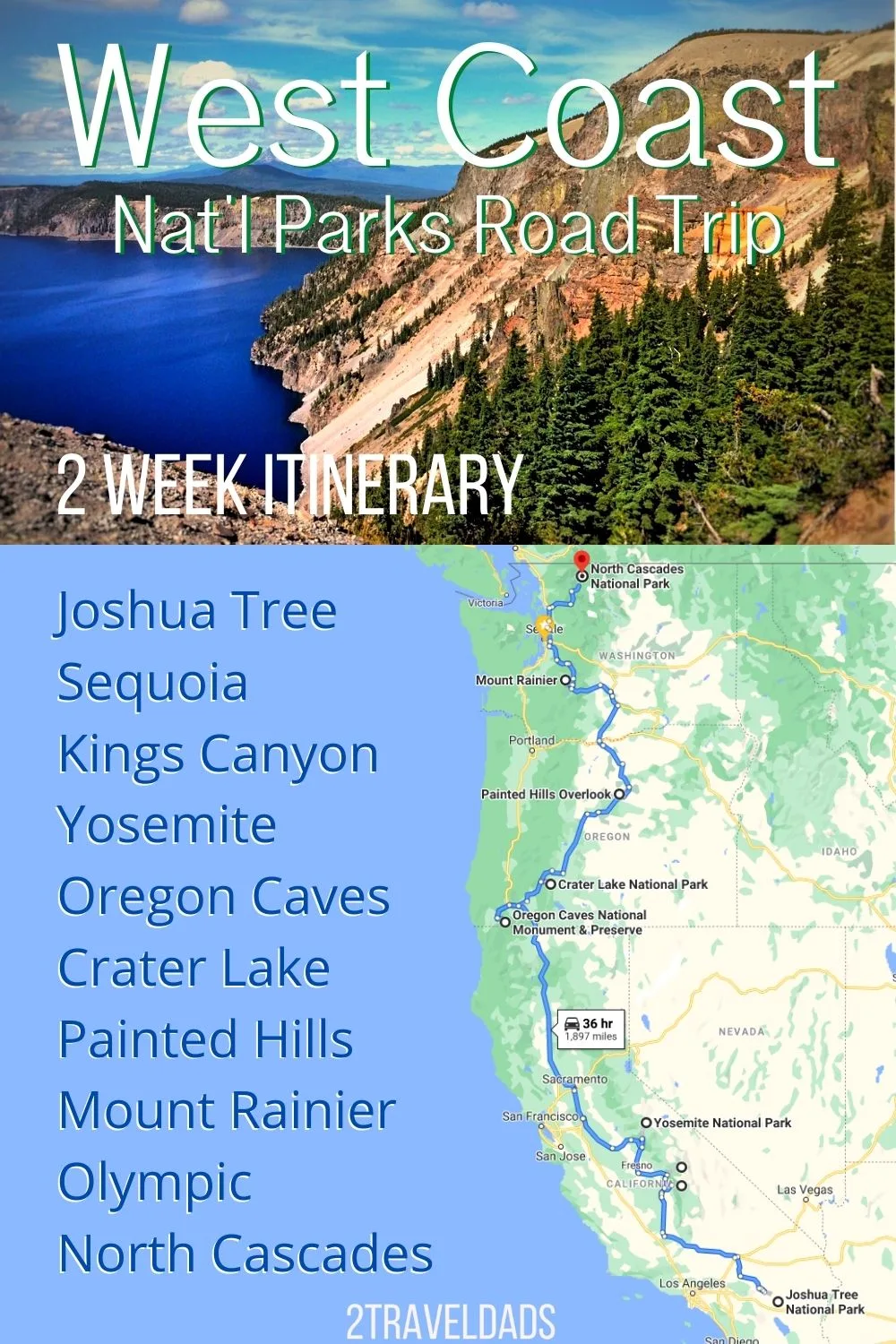 Download or Pin this fun infographic for later!