Such a variety of accommodations in this world.  We've seen them all and stayed in half of them.  On our epic road trip through the National Parks of Northern California, we got to experience some wonderful places.  The Evergreen Lodge at Yosemite National Park is so different from the other spots we stayed.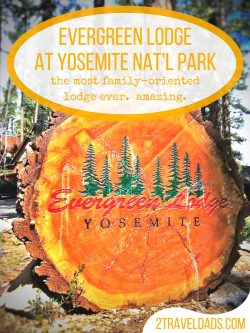 We loved the Wuksachi Lodge in Sequoia National Park for its rustic, woodsy feel and environment.  We could've used an extra day or two at the Tenaya Lodge because it was so nice and comfortable.  And then we drove from the south end of Yosemite National Park to the northwest and checked into the Evergreen Lodge.
So, it's a funny story how our trip went and it was pretty stressful, hopping from one place to another but having fun the whole time, or going from hot, hot sun to putting chains on the car, or just seeing so many amazing things like big trees and amazing views.  All of this is tiring though and really puts a strain on the kids.  Enter Evergreen Lodge…
A family's first impression
When we first arrived at the Evergreen Lodge at Yosemite National Park, we'd just had a long drive with minimal stops as we went from the south end of the Park to the north.  Tunnel View gave us our best leg-stretch but we quickly moved on.  Once at the Evergreen Lodge… our accommodations weren't ready yet, but that was totally okay!  We were content to just hang out in the woods and explore the property.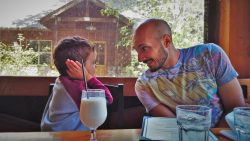 We got a great lunch at the Tavern and ate in the open air dining patio out back.  Once we finished off our elk chili and chicken tenders (because kids love fried chicken) we started to explore the grounds.  It's tough to communicate fully how great of a blessing and relief it was to immediately find a rec building and game room.  After giving the boys an opportunity to just play and have fun without a time restriction, we knew we were going to have an awesome stay at the Evergreen Lodge at Yosemite.
Tip:  even though you're never guaranteed to get into your room at a hotel until a certain time, it's okay to get there early and unwind a bit, and who knows, maybe you'll get keys early too.
Evergreen Lodge play time
The Evergreen Lodge was clearly built with families in mind, but also is great for couples.  Personally, I'd love to have a writing retreat to the Evergreen Lodge and just relax and write for days and days, but anyways, playtime areas.  Check out the map of the property to understand what all we're talking about here.
Tuolumne Playroom
This was our first stop after lunch and it was awesome.  Full of bean bag chairs and couches, it was great to plop and let the kids go crazy.  The Tuolumne playroom was stocked with toys and games as well as a little slide and foam building blocks.  And then there were table games too.  The kids got to experience pool and shuffleboard for the first time.  It was awesome.
So, we found the playroom and the awesome public spaces, but then there was so much more to explore.  When we first arrived I was given a map of the Evergreen Lodge so I could kind of understand what was available to do on property, but it wasn't until we came across the first play area that I really understood how amazing of a resort it is.
Play areas and being a kid
There are four different play areas and random cool things to do across the property.  The biggest play area was our favorite and we took full advantage of the slide, wooden fort/big toy, swings, zipline, rope web…  It was amazing.  Our other favorite spot was still under construction, but we were able to use the ropes course and zipline there too.
Tip:  doing a playground zipline as an adult is much different from when you're a kid.  Let's just say that on my first try I jarred my body a bit too much and should've thought twice.
After we'd been at the Evergreen Lodge for a day we discovered the other awesome play area by where we were staying, which had mega-chess, a rope obstacle/climber, and Oliver's favorite game ever, corn-hole.  Between all of these great play areas there was more to explore, including bocce ball and tightrope walking.  
Fun beyond playgrounds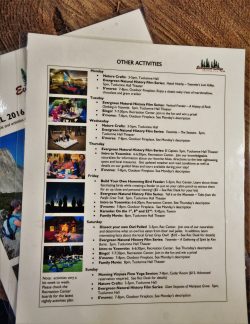 And then if you needed activities, the Evergreen Lodge also has a recreation center and coordinator to help you plan adventures into Yosemite National Park or even hikes outside of the main Yosemite area.  And kids activities and crafts!!  The Evergreen Lodge was clearly built by and now run by people that are focused on creating amazing family travel experiences.  (Sorry if this is just a blathering gush of love, but we truly were wowed)
Another "activity" we enjoyed was sunset.  For realsies.  Evergreen Lodge has a platform built at the edge of a hill that allows an unobstructed view across the valley to the mountains in the west.  Really, it's a beautiful location and the kids enjoyed rearranging all of the furniture.
Oh yes, and there in a beautiful pool and hot tub area with a lounge and even a place to get tasty beverages.  The atmosphere everywhere, and especially around the pool, is all about fun and relaxation.  Even not talking about where we stayed yet, we're totally ready to check right back into the Evergreen Lodge at Yosemite.
Accommodations at the Evergreen Lodge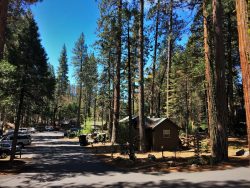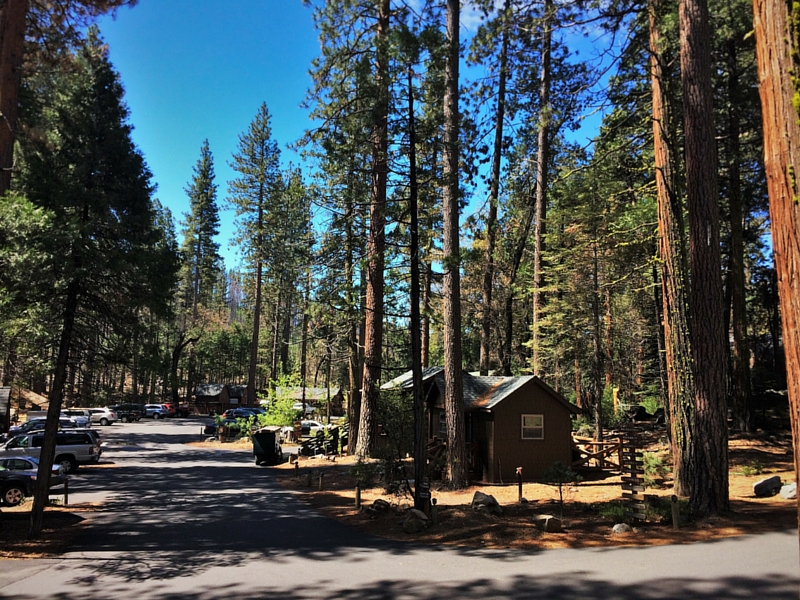 Initially we were booked into a family cabin at the Evergreen Lodge at Yosemite, but to accommodate other guests we got shifted to some different arrangements.  The family cabins are so awesome and next time we'll for sure be in one.
Family Cabins
The family cabins are perfect because they have separate rooms for adults and kids, but they're joined by a living area.  Something we've learned about family travel is that whenever it's possible, we need to have a space to dwell and be active once the kids go to bed.  The family cabins are perfect for that, especially since there is so much space and such clear definition between areas.  Also, they've got little porches or outdoor space so when the kids go to bed, it's easy to still enjoy the incredible environment where the Evergreen Lodge is located.
The John Muir House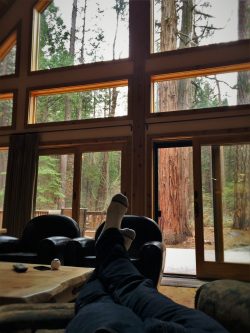 Do you ever arrive at a hotel or resort and your jaw drops and you are just like "Um, OMG.  Wow, awesome.  We get to live here for a few days?!?!"  Yeah, that was us.  Since we were going to be in the area for a several days and we were a party of four, they gave un an incredible upgrade into the John Muir House.
The John Muir House at the Evergreen Lodge is typically used for large groups or family reunions, but we were happy to call it home.  At about 2500 square feet with three bedrooms and a loft, we were set for space.  It was beyond amazing and relaxing.  We got to have a full kitchen and both indoor and outdoor dining areas.  The living room was stocked with games and books, the bedrooms were quiet and comfortable.  Really, it was perfect for us.
In addition to the kids each having their own bedrooms and us getting to enjoy a stone fireplace that ran floor to ceiling, we enjoyed some super special amenities at the John Muir House.  We took full advantage of our own fire pit and deck.  We spotted deer just outside our door and chatted with our own pet stellar blue jays. We relaxed in our hot tub under the stars… and in the middle of the afternoon.  Getting to experience these extra amenities and being able to freely move from fun outside to relaxing or bedtime inside made our stay top notch.  And now we're thinking of getting the larger Taylor family together to share that same experience.
Tip:  if you've got time and you're at a beautiful place that keeps your group of travelers captivated, there's nothing wrong with enjoying a lodge or resort.  For us, we budgeted time being active in Yosemite National Park and just chillin' on property at the Evergreen Lodge.
Location of Evergreen Lodge at Yosemite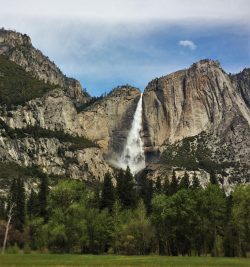 The Evergreen Lodge is AT Yosemite National Park, it's not within the boundaries of the Park, but it is in a great location.  There are a few ways to enter Yosemite and the Evergreen Lodge is smack dab between two of them.  It's ten minutes to the Hetch Hetchy entrance and fifteen minutes to the northwestern entrance.  It's pretty much ideal for a variety of Yosemite National Park experiences.
Tip:  use the recreation staff to get ideas for how to maximize your time in the park, or even join one of their schedule outings.  They spend a lot of time both with and without guests in the Park and are there to be a resource for you.  In our article about the King and Prince Resort we call out using the concierge as a tool for both booking and knowledge.  Do it.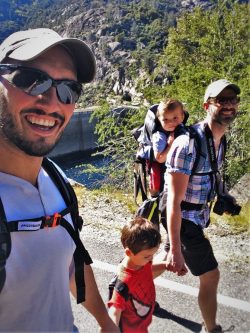 Since we were at Yosemite National Park while it was still spring and still the off-season, parts of the Park weren't open yet, such as Tioga Pass, but the Evergreen Lodge is located in a spot perfect for accessing most of the Park, including places we didn't get to venture this time.  The best surprise to us was the proximity to the Hetch Hetchy area.  
Until this trip we'd not heard of it and were eager to explore once the recreation staff told us about it.  It turned out to be a virtually people-free version of the Yosemite Valley, but with an enormous lake running down the middle of it due to a dam.  We loved our long hike there and got to experience a variety of waterfalls.  Really an amazing place, and thankfully really close to the Evergreen Lodge because we were dead tired after our hike.
Tip:  if you're not actually staying at the Evergreen Lodge, you should still make the trek to Hetch Hetchy, because it's breathtaking and you'll be floored by the pure air, blue water and incredibly epic granite landscape.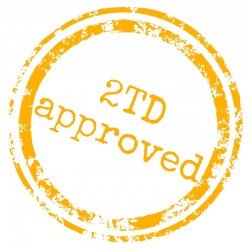 We were so thankful to get a full four days relaxing in the woods.  The Evergreen Lodge at Yosemite was different than any other lodge or hotel we visited on our #2TDgoparks2016 trip.  We'll happily return, especially to the John Muir House, and will confidently recommend and upsell the Evergreen Lodge to our closest friends.
Yes, they hosted us and created an amazing atmosphere for our family travel adventure, but our opinions are totally our own and we completely stand by them and will shout them from the top of Half Dome:  "We love the Evergreen Lodge!!"