National Park Lodges are special places, and the Wuksachi Lodge at Sequoia National Park certainly is. While there are some lodges in the parks that aren't exciting or maybe need a renovation, the Wuksachi is lovely and up to date. Perfectly located near some of the major sights and hikes of Sequoia National Park, the Wuksachi is a shoe-in for being one of our favorite lodges.
We've got the scoop on what to expect when you stay at the Wuksachi Lodge, ideas for activities around Sequoia National Park, and our top picks for more cool sites when you're on a California National Parks road trip. If you have any questions or additional suggestions, please leave a comment or send us a note.
Already know you want to stay at the Wuksachi Lodge? Book it here!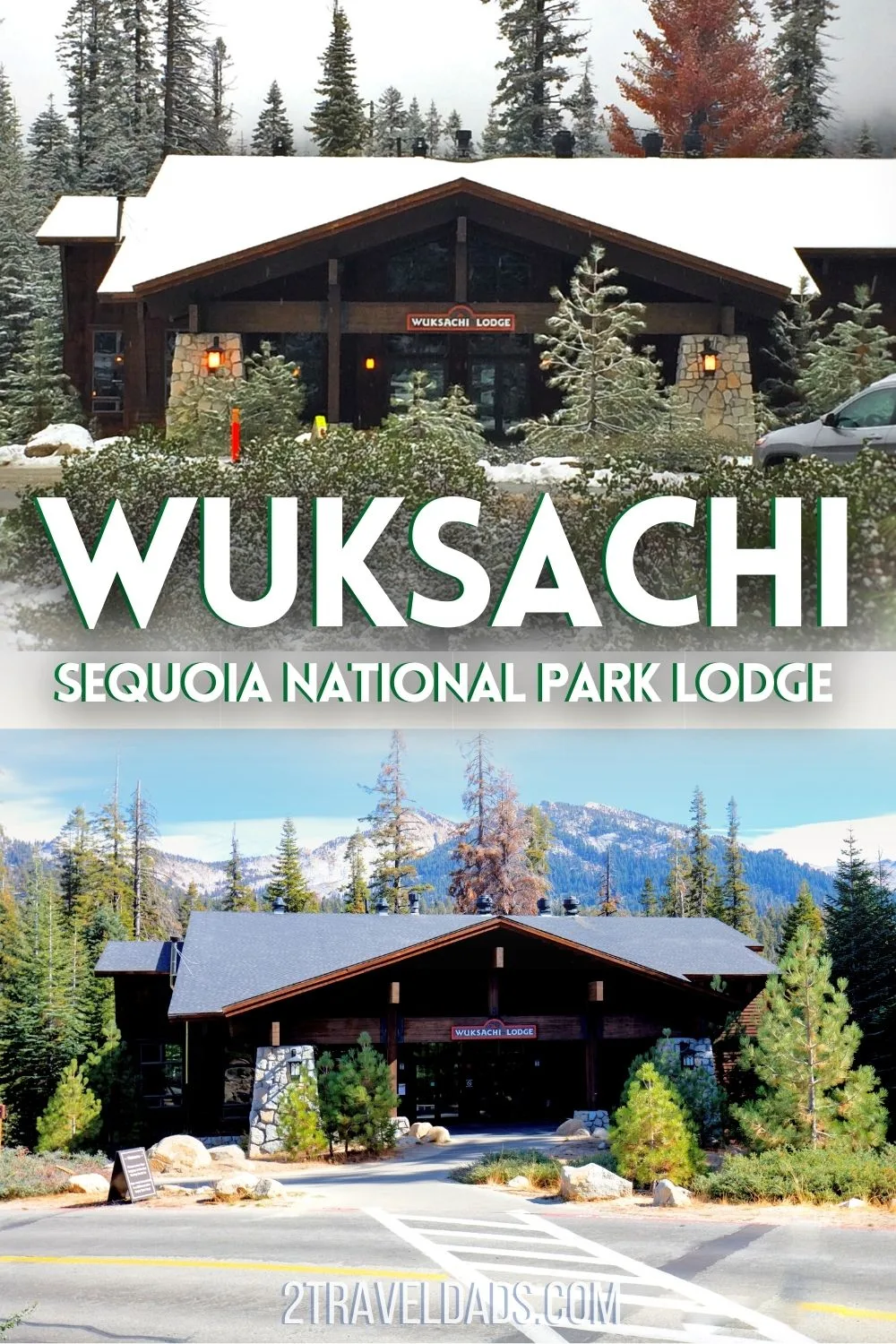 Why Stay in a National Park Lodge?
So, we usually camp when we go to National Parks, but every now and then we go fancy like lodges. Why lodges? Two reasons: we are doing the trip in the spring or fall when the weather is totally unpredictable OR we are going to be very mobile on our road trip and don't want to pack up camp constantly. If you're bouncing around the mountain National Park of the West Coast, lodges are great to make it easier and less stressful.
The Wuksachi Lodge is located fairly close to several of the main attractions of Sequoia National Park, most notably the General Sherman tree. It was really nice to have a lodge to return to after a day exploring the woods, especially when there was… snow. That's right, we totally got snowed on and had to bundle up and put chains on the car and everything, but more on that in a different article.
So, having given a bit of foreshadowing, here's why the Wuksachi Lodge made our Sequoia National Park visit awesome and actually doable in the freezing cold spring weather.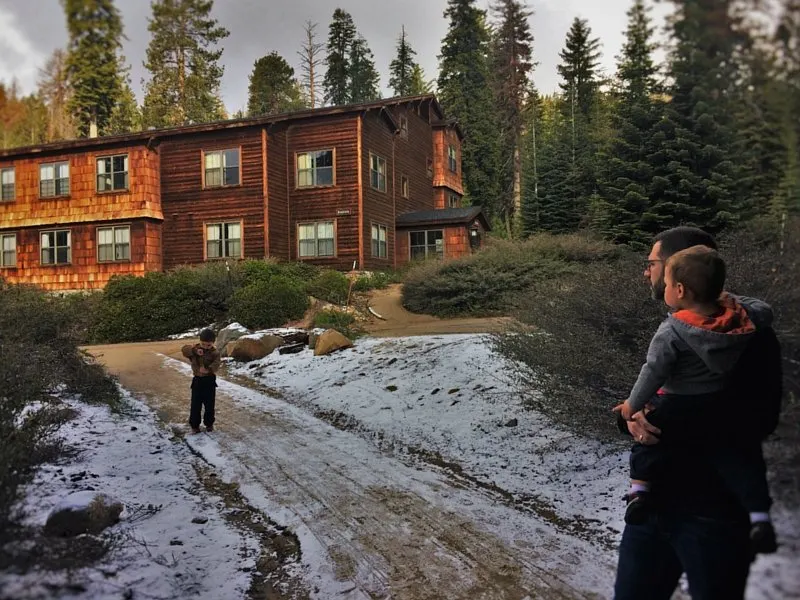 Room Types at the Wuksachi Lodge
Unique to most National Park lodges, the rooms at the Wuksachi Lodge are actually very spacious. Thank goodness for a big room when you're traveling with kids. The layout provided ample space for our king bed, a crib/pack n play, and to open the pullout sofa for our oldest… and there was still room to play. Until you've traveled with two kids you may not fully understand or appreciate the need for open floor space for playing.
The other thing that was helpful with the layout of the room was having a desk that was usable but not so huge that it was an obstacle. Again, until you've had to rearrange a whole hotel room to be able to function, that might not seem like a big deal. We work while we travel, so usable desk space is imperative.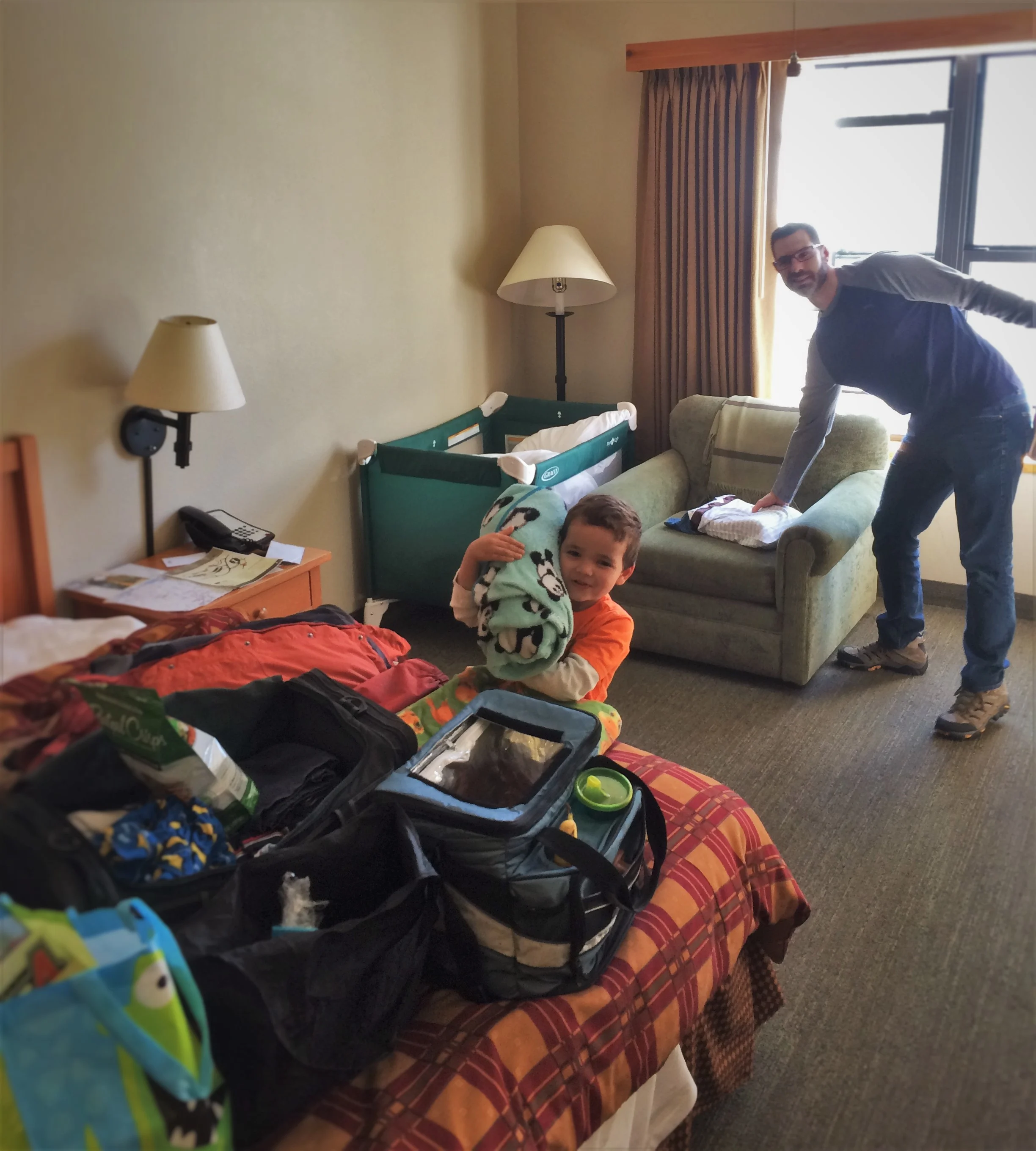 There are only three options for room types at the Wuksachi Lodge:
Two Queen Room
One King Room
Superior King Room (the best option if you can book it)
Having limited room options is very normal for National Park lodges. At Hawaii Volcanoes National Park the different in rooms is literally just the view. At the Many Glacier Hotel, it's the view or bed type… The lodges make for fun stays, but they're rarely the peak of luxury.
Even though we were on vacation, there is still a bit of work that must be done. The wifi signal in our room, while not strong and speedy, was consistent and allowed for solid connections most of the time. Truthfully, we typically have low expectations of being able to connect to the internet when we're so remote, so having working Wi-Fi was awesome.
Tip: if you will have to do any work while you're traveling, try to do it when the kids have gone to sleep. I made the mistake of waiting to do something until the morning and we almost missed breakfast. Don't make that mistake.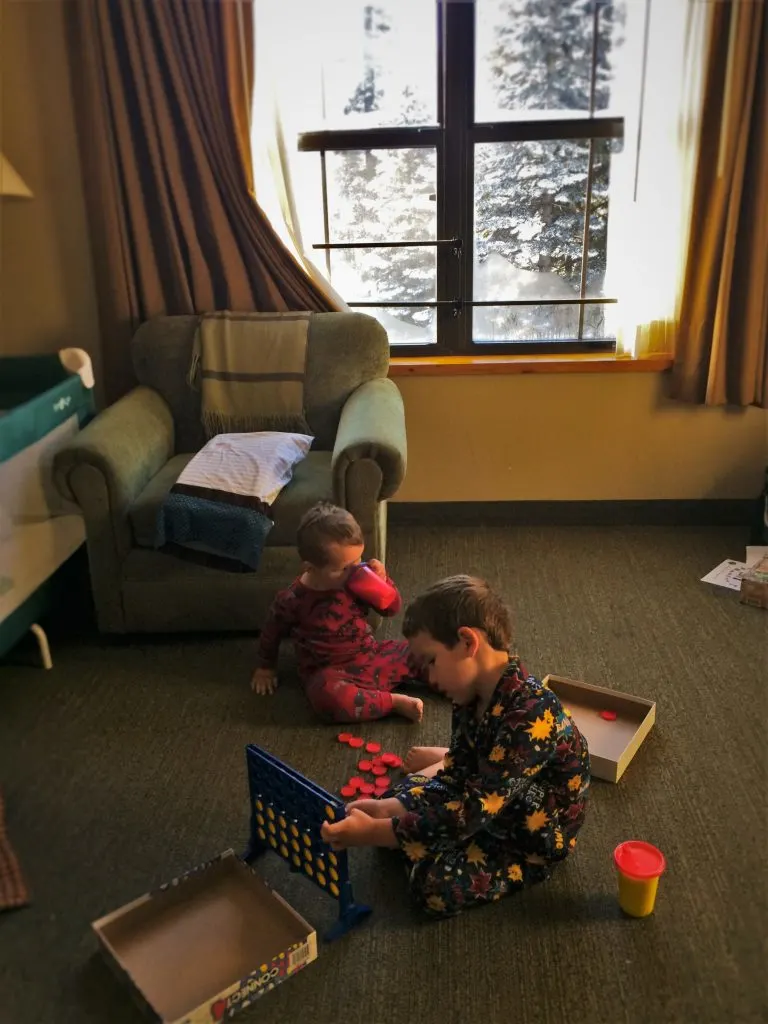 Getting Around the Wuksachi Lodge
The main building of the Wuksachi Lodge is a beautiful structure nicely settled on a slope looking down into the forest with sequoias dotting your view. There's a great living room setup with a wood stove keeping it toasty. I imagine that in the summer time it's not burning, but in our faux winter it was a welcome sight. The dining room, The Peaks, is also located in the main lodge building.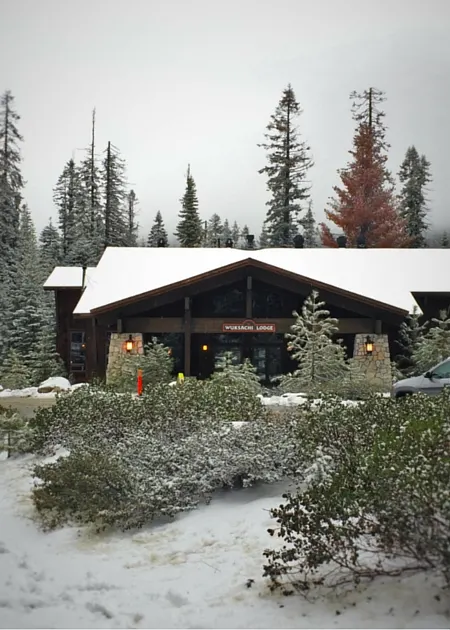 The rooms are located in three separate lodge buildings up the hill from the main Wuksachi Lodge. We stayed in the… wait for it… Sequoia building. Being situated up on the hill was great for having a beautiful view of the surrounding mountains and sequoia trees. Really, the Wuksachi Lodge's selling point is that everywhere you look as you stroll the grounds or look out your window, your view is just gorgeous.
FYI: all parking is in a lot below the lodge buildings, so you do need to walk up some landscaped stairs or the accessible ramp to get to your room. If you've got luggage, totally accept help from the bell staff, as you'll notice that the air truly is thinner at this elevation. To quote Queen Elsa: "up here in the cold, thin air I finally can breath…" Yeah no. We're in shape and walking up the steps to our room left us winded as we carried luggage and kids.
Tip: There's no shame in accepting help with luggage when you're traveling. Tips are appreciated, but if you don't have cash and need the help, still accept it.
Already know you want to stay at the Wuksachi Lodge? Book it here!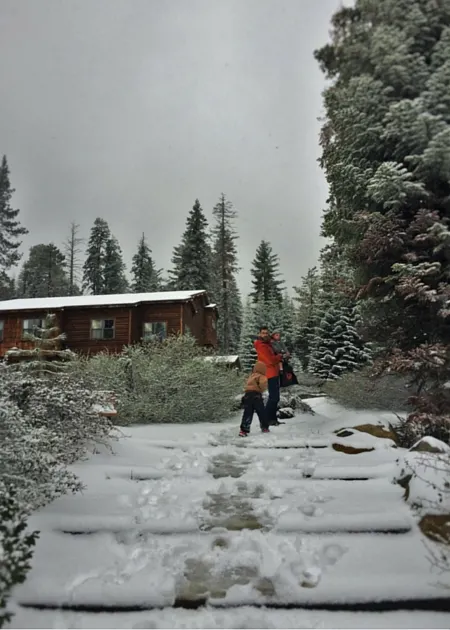 Dining at the Wuksachi Lodge
We'll be upfront about this: the breakfast in The Peaks restaurant is the strongest meal. They have a great breakfast system set up with a wide variety of fruits, pastries and proteins available. The kids were able to devour endless melon salad and cereal while Chris and I had custom made omelets with French toast and the best apple breakfast pastry we've ever had.
Tip: at the coffee/juice station to-go cups and lids were provided. This is a great way to ensure you get all of the coffee you need for a long, cold morning in Sequoia National Park.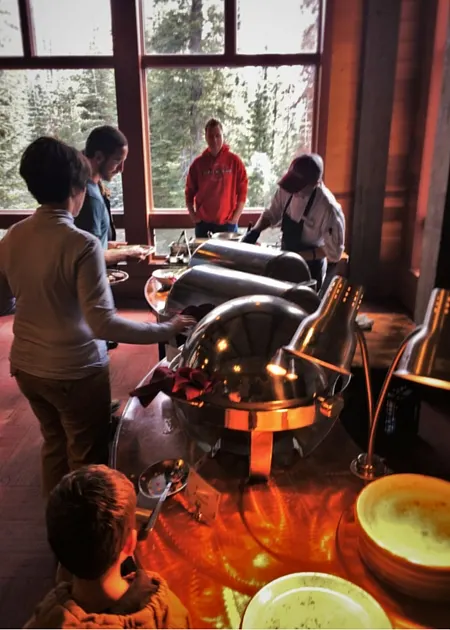 Dinner at The Peaks was an interesting mix of cuisines. We had shrimp tacos, French onion soup, grilled cheese and breaded snapper. Nothing wowed us, but we appreciated the variety of the menu.
Another way we dined at the Wuksachi Lodge was by ordering through the bar to bring back to our room. The full menu is available so why not? They put together a nice spread for us and we got to have a totally free-form dinner with relaxed kids up in our room. After a long day of hiking and snow, it was just what we needed.
Tip: if you're with tired kids, in-room dining is a fine option. If there's not specifically room service, see what the restaurant or bar on property can do. Usually, it's easy and a no-hassle way to have a pretty chill dinner.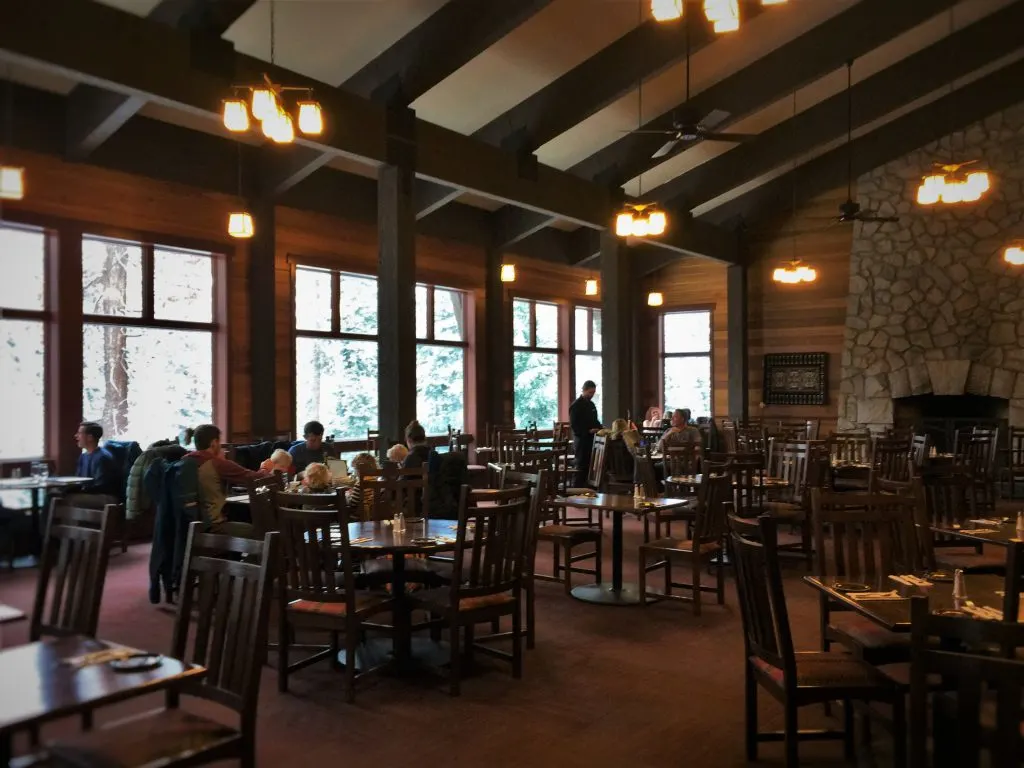 Service at the Wuksachi Lodge
We didn't require a lot from the staff at the Wuksachi Lodge, but they were clear to say that they were available to us. We had great interactions with everybody in The Peaks restaurant though. Our servers were all very polite and genuine. The omelets chefs each day were so kind and ready to share tips and stories while they cooked. The hostess of the restaurant was really wonderful and so engaging with the kids.
Note: the best way to make a great impression on family travelers, be interested in the kids and thoughtful about the overall experience with kids particularly in mind.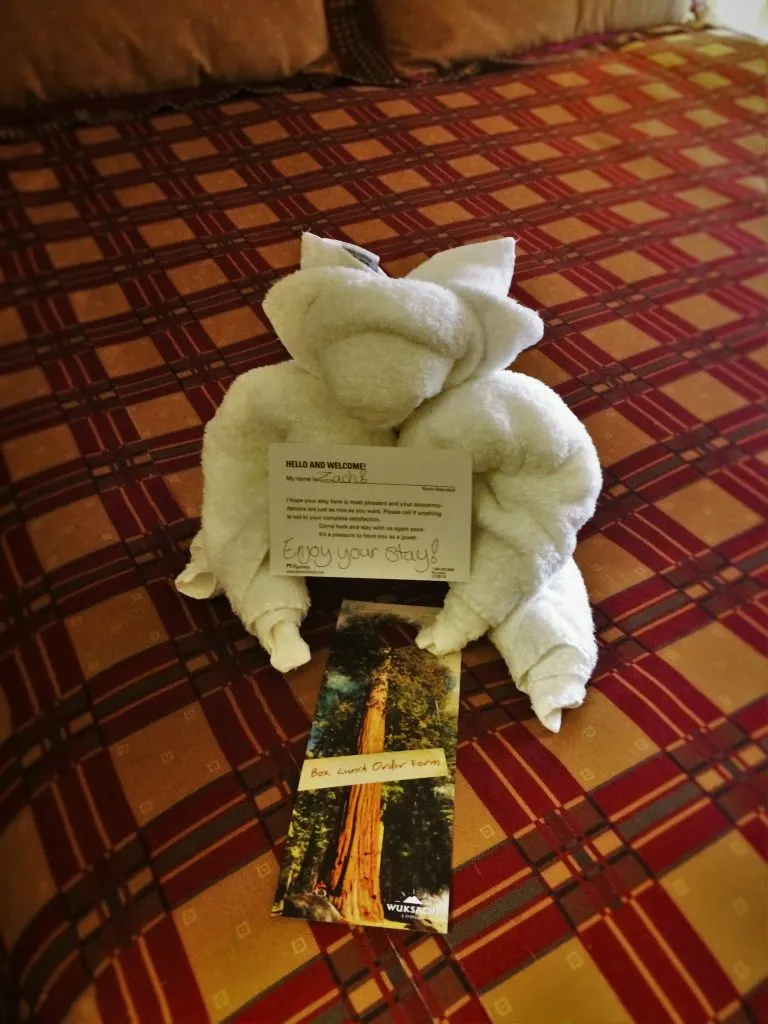 Already know you want to stay at the Wuksachi Lodge? Book it here!
Where is the Wuksachi Lodge at Sequoia NP
Like we said, the Wuksachi Lodge is close to some of the prime attractions of Sequoia National Park. About 7 minutes from the lodge is the Lodgepole Village. This is a great spot to know about because it has a fairly comprehensive grocery store, which also sells warm clothes (if you didn't pack correctly). There are also showers (for campers) and a cafeteria type restaurant to grab snacks and meals. There is also a Visitors Center at Lodgepole, but it's closed in the winter, so don't be upset if you're visiting Sequoia National Park in the off-season and there's nobody around.
Beyond Lodgepole, about 10 minutes, is the General Sherman tree and the most impressive grove of Sequoias (and a true California landmark!). There's an amazing trail to take you down into the grove and smaller hikes off of it through the Congress Grove and all around the General Sherman tree. And if you drive two minutes past the main parking, there is a wheelchair accessible parking area that'll get you right to the General Sherman tree (the other trail is NOT accessible).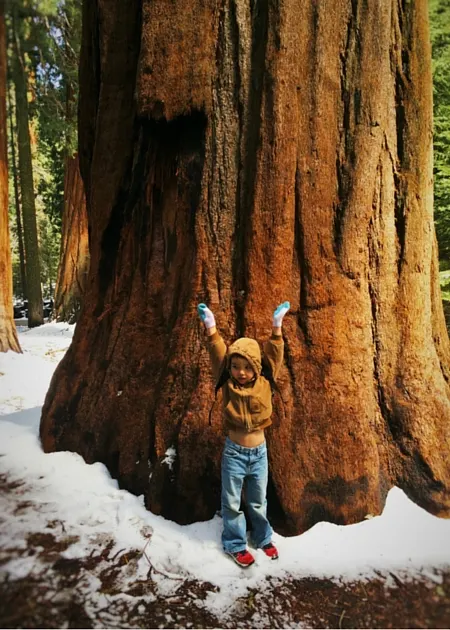 The Giant Forest is the next stop, which does include an awesome Visitors Center and museum. And then the hikes that go out of there are just impressive because, well, sequoias are everywhere and you walk around gawking in awe. Seriously, it was all amazing.
Tip: always talk to hotel/lodge staff about what they're favorite things to do in the area are. There will always be the obvious choices, but sometimes you'll get an inside scoop or tips. We talked with one of the chefs who told us to go hiking in the groves despite the snow because the sequoias will be even more striking and beautiful, and she was right!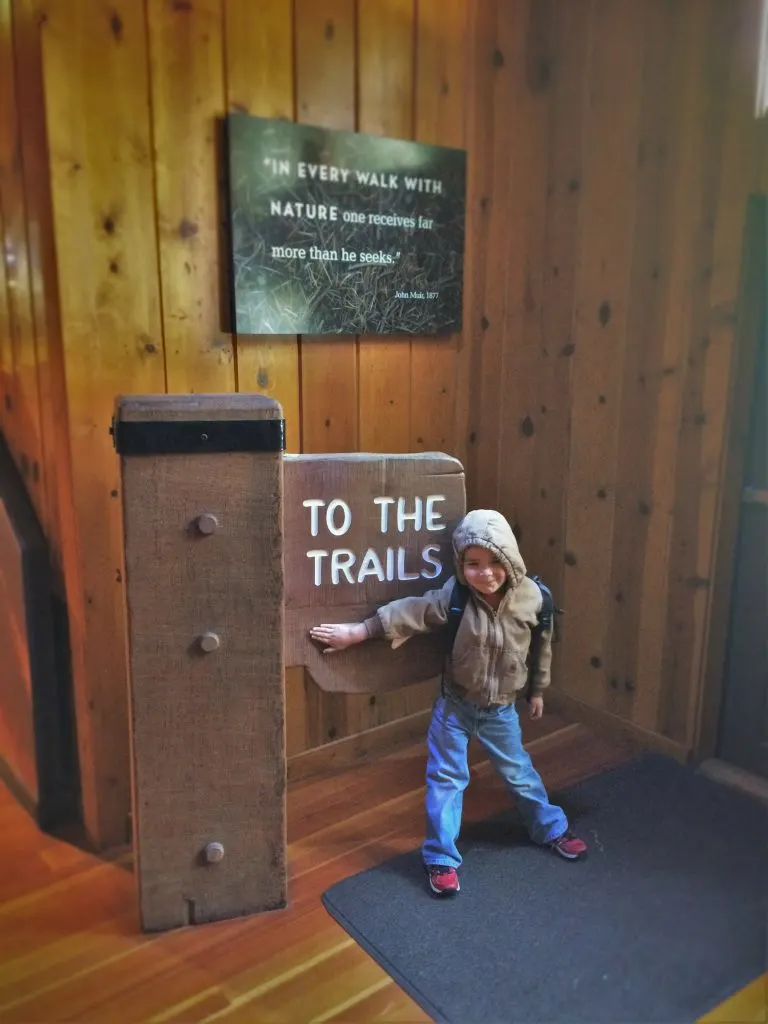 Getting to Sequoia National Park
Doing a road trip around the California National Parks is really fun, but if you're not based on the West Coast, starting it can be tricky. I love flying to the start of a road trip instead of adding several extra days just to get to the starting point. The closest major airport to Sequoia National Park is Fresno Yosemite International Airport (FAT).
Driving from Fresno, it's about an hour and a half to the park. If you're coming from San Francisco, the drive to Sequoia and Kings Canyon is just over four hours. From Los Angeles, it takes three and a half to four hours of driving. Sequoia National Park is really out there.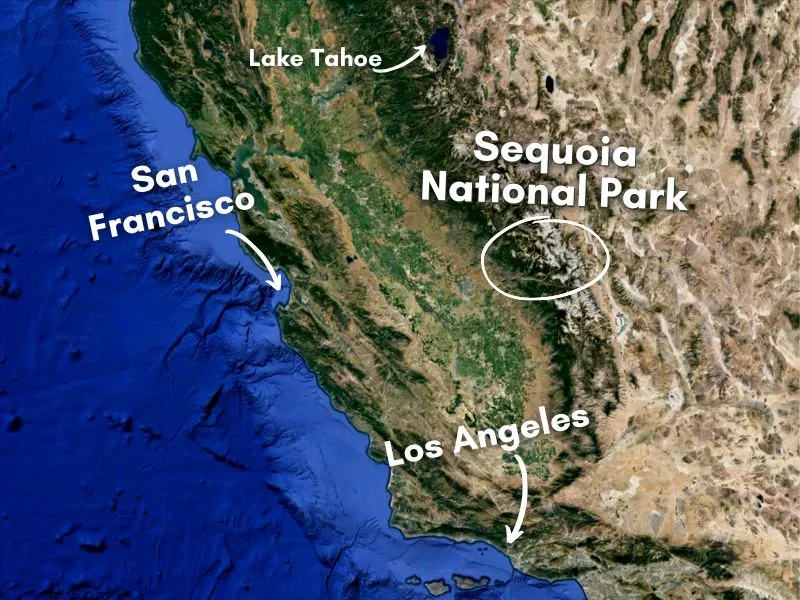 The Wuksachi Lodge was a good first time experience for us visiting Sequoia National Park and a great lodge for our first National Park Lodge experience. It was great to be welcomed to experience the Sierras in the spring, as it got us to try a few new things… like out of season travel and hoteling in the Parks instead of camping.
Check out our articles about Sequoia National Park, Kings Canyon National Park, Yosemite National Park and Joshua Tree National Park for more ideas for planning a really fun, unique California Road Trip.
If you have any questions or additional ideas, please feel free to leave a comment or send us a note. We love to hear from readers and hope you all have a great time traveling!