There will never be enough time to do all the road trips we want to, but through research and experience we try to share only the best of what we love. This Awesome California National Parks road trip will take you through the mountains and along some of the coast. Iconic sights and off the beaten path hikes make this road trip unforgettable.
This specific California National Parks road trip is ideal to do in 10 days or more. If you are strapped for time, cut the trip in half and plan to do the mountains portion separate of the Bay Area and California coast.
Jump to 10 Day California National Parks Road Trip plan!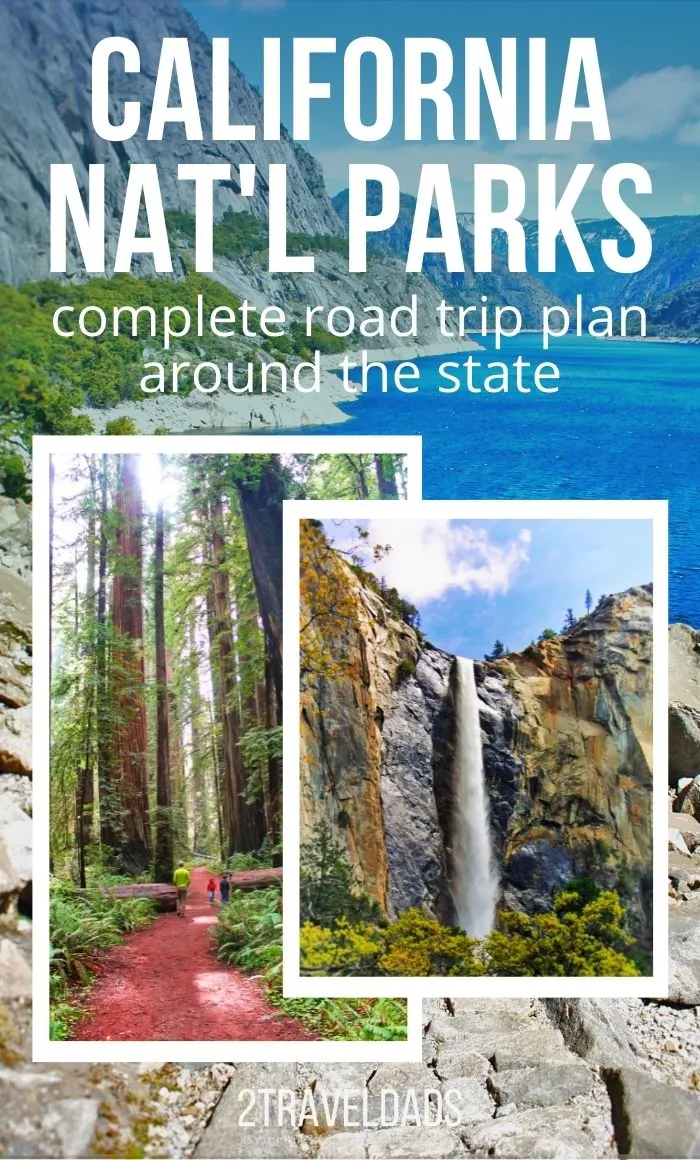 Within the below road trip plan you'll find links to our favorite tours or sights, suggested guides for different types of experiences and we've built in search boxes to easily book hotels or vacation rentals along the way. Vacation rentals are great if you want to cook your own meals on vacation and save money or if you have strict dietary requirements.
When you're doing a road trip like this it's easy to just have one night in each destination, but if you can swing the time, you'll never regret having two nights in most places. That will give you time to explore more deeply and enjoy extra hikes!
Check out our complete California Travel Guide!
What to Expect on a California National Parks Road Trip
You may have heard about our epic towering trees road trip that we did through California. It was full of beautiful National Park sites and unique learning experiences. Well, this IS THAT TRIP!
This is the 10 day California National Parks road trip that really brings you the best of nature and the California culture. Everything is planned for you here so this road trip is really easy and will keep the stress to a minimum.
Get my book, The Road Trip Survival Guide!
You should expect to have a few long drives throughout the road trip plan, but always with worthwhile stops between destinations. You should also plan for a variety of weather events. California is typically sunny and warm in summer, but when you hit the coast, it's anyone's guess what the weather will do.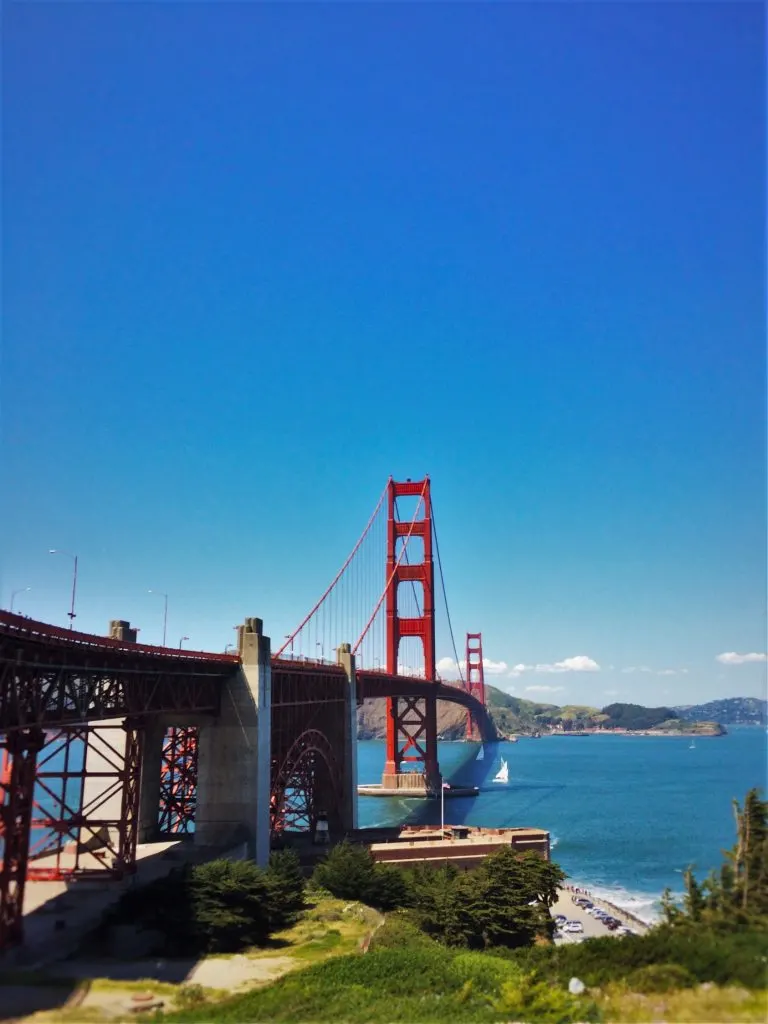 When to do the CA Parks Road Trip
The best time of year to do a California National Parks road trip is either late spring or early fall. You'd think summer would be great, but truth be told that's when EVERYBODY and their grandma tries to visit all the National Parks. If you can plan your road trip for the beginning of May through the beginning of June, you'll get the best weather AND the smallest crowds.
Note: I wrote the Road Trip Survival Guide as a way to help people plan road trips like this – avoiding crowds and enjoying the road trip experience, including in the off-season.
For fall road trips in California consider common public school schedules when you're planning. A majority of schools in the state go back to school in August, so when September rolls around the crowds have really begun to subside. True, popular places like Yosemite will continue to be rather busy into winter, but must less so than peak summer tourists.
Tip: California is one of the best places to enjoy fall colors, both in National Parks and wine country. If you can loop the state in October, you'll be in awe of the leaves.
If you choose to do a winter California National Parks road trip be sure to pack chains for you car and be prepared to face a fair number of road closures or limited access. Mount Lassen, Yosemite, Kings Canyon and Sequoia National Parks all get a healthy helping of snow starting in fall.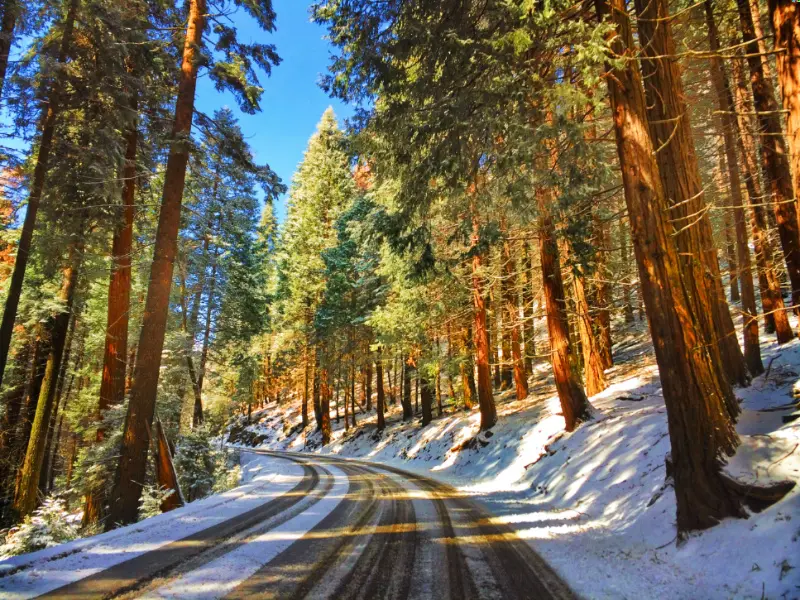 Where to Start a California NPS Road Trip
Where you begin your California National Parks road trip depends on where you live. If you are a California resident, you may need to reorder this itinerary to make more sense for you, but if you're flying from out of state, you can follow our road trip plan and hit the National Parks in this order quite easily.
Use our Road Trip Planning Tool to make this travel plan just right for you

(and help you budget it too!)
National Park Road Trip from Los Angeles or San Diego
You'll see on the 10 day California National Parks road trip itinerary that we begin by heading out of the Bay Area. If you're starting in Southern California, you can still do the road trip in the given order. If you'd like to do it in reverse order, it is easy to add Joshua Tree National Park or Death Valley National Park to the plan. These can also be added to the end of the itinerary.
If the desert isn't a part of your ideal road trip plan, just head directly up either the 101 (El Camino Real and the California missions), the 1 (Pacific Coast Highway, rugged and beautiful) or the 5 (the boring but fast interstate). Whichever route you choose to start, have fun but don't get too distracted because you have lots of awesome things to do on the California National Parks road trip ahead!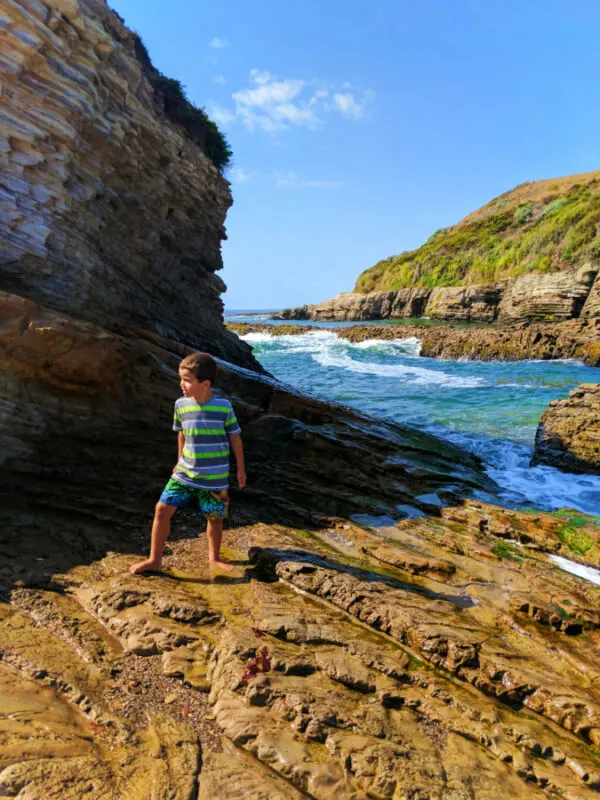 Road Trip out of the San Francisco Bay Area
Starting a road trip out of the San Francisco Bay Area is the easiest when it comes to convenience and adding extra days to you trip. With three airports all with direct flights from nearly anywhere in the USA or Canada, finding flight deals into the Bay Area is a breeze.
When it comes to additional day to add to your trip, spending time in San Francisco or the coast out by Santa Cruz and Half Moon Bay is always a good idea. And you can't forget Napa / Sonoma for a few extra days too. We loved our stay at the Bodega Bay Lodge on the Sonoma Coast and would add that to a road trip again in a heartbeat.
Another easy addition to the trip if you're starting in San Francisco is doing a jaunt down to Monterey or Pinnacles National Park. Both are fairly close to the Bay Area and worth the extra day or two.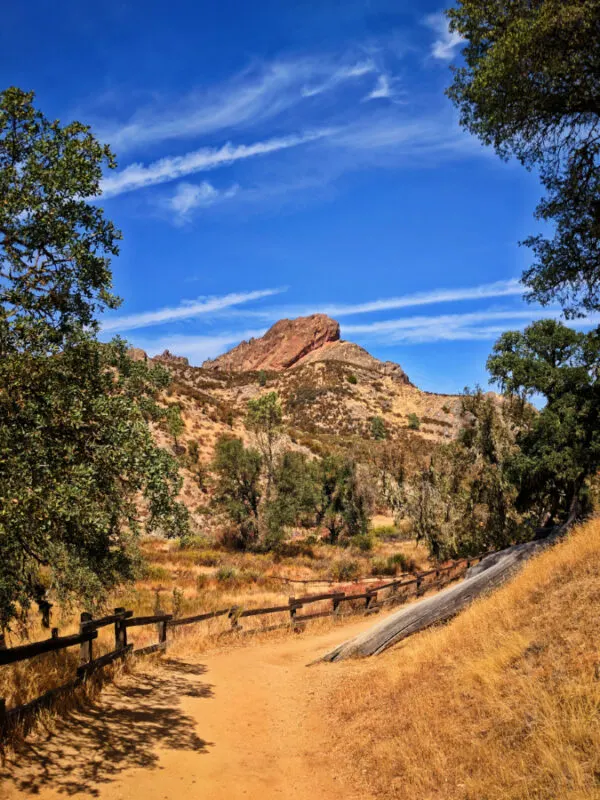 Driving to California from Out of State
California is bordered by Oregon, Nevada and Arizona, so if you are driving to Cali from anywhere else in the USA, you have lots of awesome options for either fun stops or extra days to plan on the road trip.
If you're coming from the north, there are some wonderful Oregon road trip stops, including Crater Lake National Park or Oregon Caves National Monument. Or you could drive along the ocean doing the complete Oregon Coast road trip!
If you're crossing through Nevada, in the northwest portion you'll find Lake Tahoe and Carson City (love love love Carson City!). Driving through Las Vegas? Enjoy the crazy colorful rocks and petroglyphs of Valley of Fire State Park.
For those coming from the east and driving through Arizona, I-10 will take you through Phoenix and Tempe where there are lots of fun places to visit, including the amazing Desert Botanical Gardens. The northern Arizona route is fun too with stops in Sedona and Grand Canyon National Park. And did you know that there are some beautiful, remarkable places to kayak in Arizona?
For the, hands down, most epic National Park road trip you could possibly imagine, add the California loop onto the end of a massive road trip that includes the Utah National Parks, as well as Yellowstone National Park and Glacier country. Wow! What a trip that would be!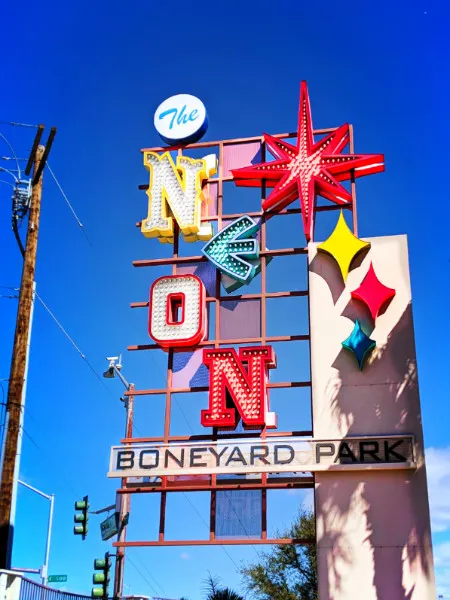 Things to Do on a California National Parks Road Trip
So, here are the details of all the amazing stops to make on this road trip. While the focus is visiting California National Parks, there are several wonderful state parks and unique things to do along the route.
Jump to 10 Day California National Parks Road Trip plan!
San Francisco to Begin
Who doesn't love San Francisco? I think that SF is a great place to start your California National Parks road trip because the city itself is wonderfully historic and walking around it will get you primed for hiking. San Francisco's many hills, like Telegraph Hill, and valleys make it a fun, unique city to explore.
The food scene, touristy spots like Pier 39, and wonderful cultural hubs like the Castro or Haight-Ashbury make it a California must visit. Since this is the start/end of the road trip plan, you can easily spend a few days in San Francisco to make the most of your trip.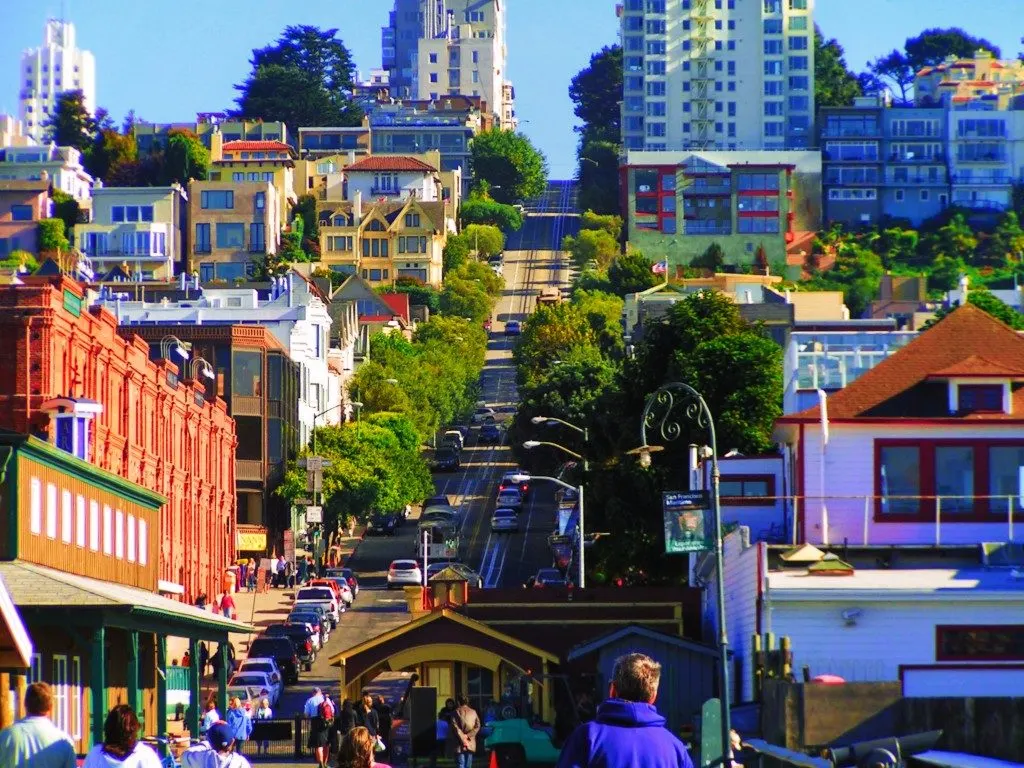 Golden Gate Recreation Area
A bonus of visiting San Francisco to start your road trip is checking off several National Park site, including the Golden Gate Recreation Area. This awesome National Park Service collection ranges from the Presidio (waterfront by Cow Hollow) to the Sutro Baths on the Pacific, to the Golden Gate Bridge itself.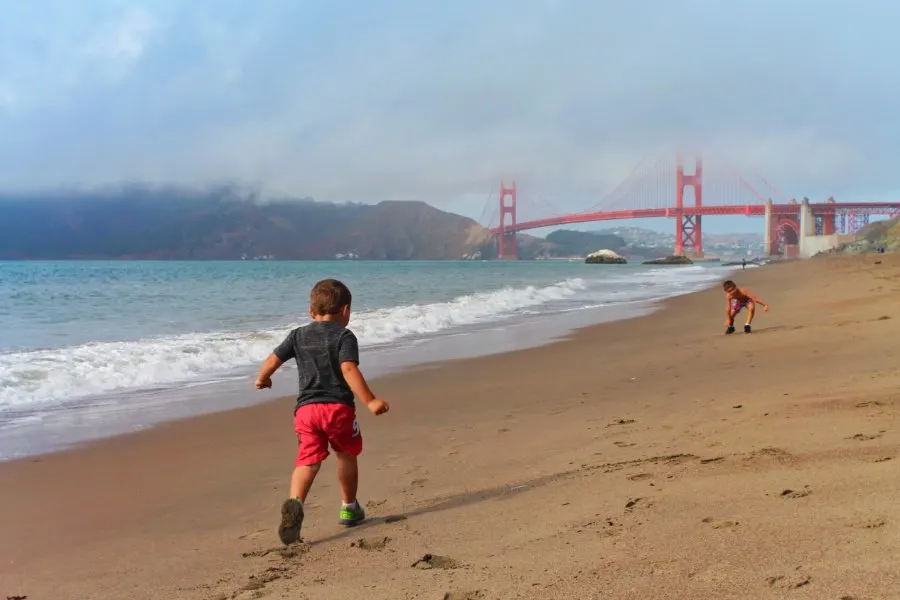 Check out our guide to the Bay Area National Parks for more sites to visit!
Muir Woods National Monument
We love visiting Muir Woods National Monument and doing the many easy hikes. This is your first taste of the famous California Redwoods and you won't be disappointed. Get there early for the best lighting in the woods and the smallest crowds.
What makes Muir Woods so special for me is that when I was a kid I was obsessed with Star Wars, which was filmed in the area. Getting to visit Muir Woods National Monument for the first time was like walking in the steps of Luke Skywalker and I will never forget it.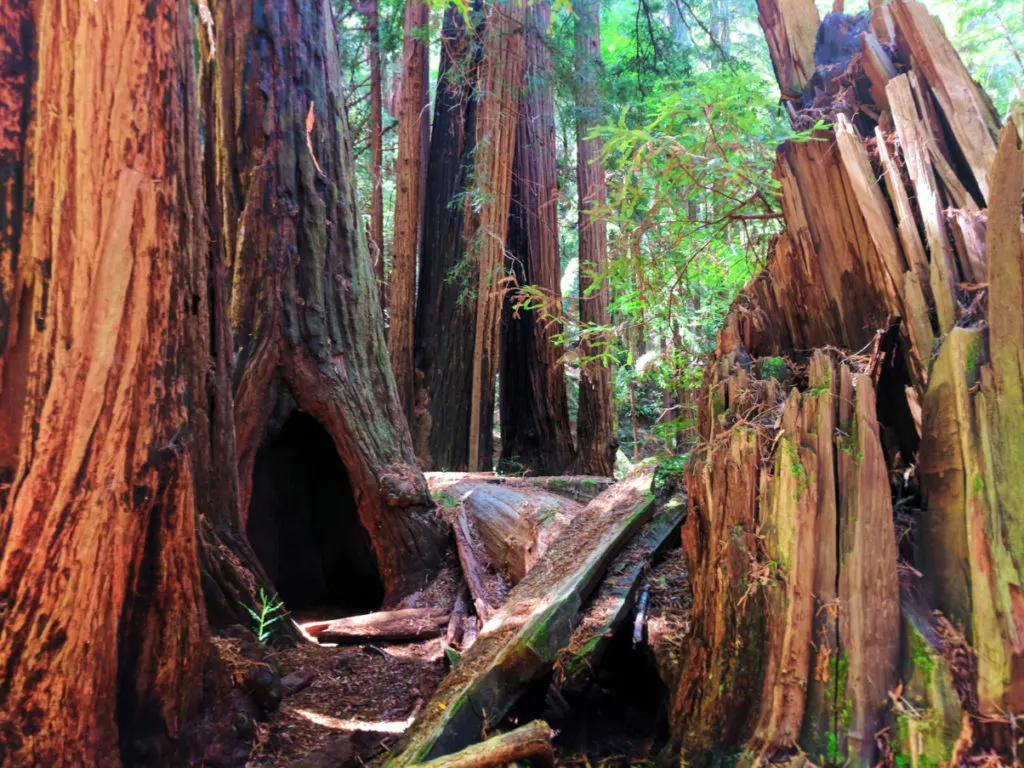 Healdsburg for Wine Country
You really could stop in several different towns to explore wine country, but Healdsburg is fun and easy along our California National Park road trip route. Visit for an afternoon or plan to do an overnight, but stop into Healdsburg for both high class and family friendly winery visits. Alexander Valley Vineyards or Preston Farm and Winery are two great options.
Tip: Sonoma and Napa valleys are wonderful to visit for some of the best fall colors in California. And if you plan it right you might even be able to be there for Crush!
Victorian Eureka
I love Eureka, but every time we visit it's a cloudy, overcast day or week. Every. Single. Time. It's a beautiful town though.
Eureka boomed during the lumber age of Northern California so the money pouring into the town created some beautiful neighborhoods and mansions. Our favorite spot to stay in Eureka is the Carter House Inns, as it's a collection of hotel suites in several beautifully maintained Victorian buildings. Love it!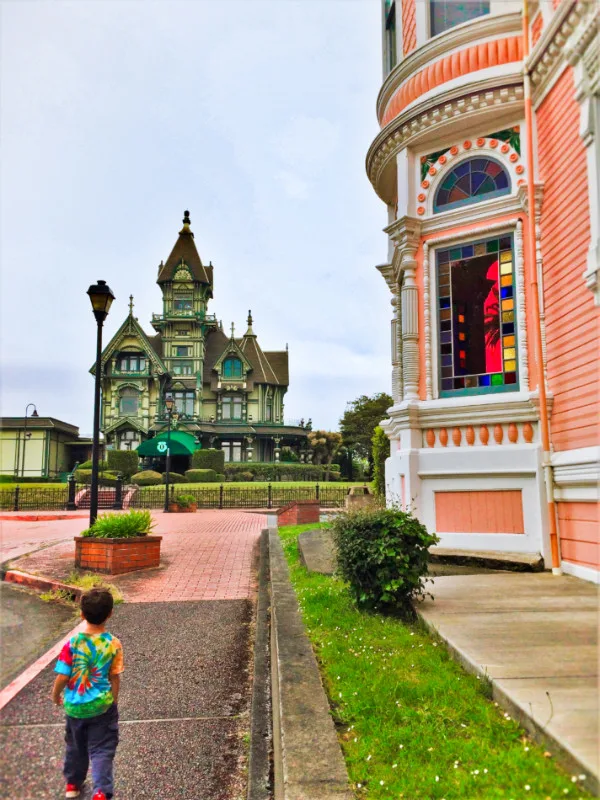 Redwoods National Park
Something you need to know about Redwoods National Park is that it's also a state park system. The Redwoods make for some of the best stops on a California National Parks road trip. Redwoods National and State Parks include beautiful hiking trails through some of the biggest trees on earth, beaches with amazing dark sand, and quiet forest glens.
We particularly love the Jediddiah Smith Redwoods and Lady Bird Johnson Grove areas. We like making these stops because the trails are unique and you get the best of the redwoods in a short jaunt.
As you explore redwood country, you'll see there are actually a bunch of drive-thru trees of redwood tree tunnels. They usually have an additional fee, but they're fun for the novelty of it.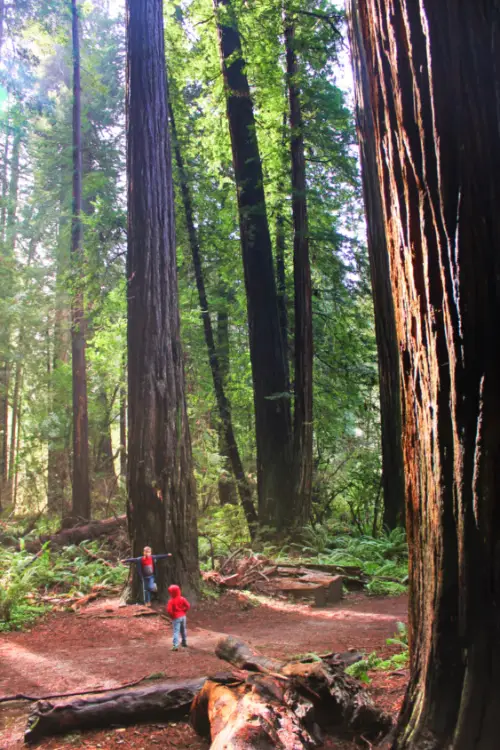 Mount Lassen Volcanic National Park
Mount Lassen Volcanic National Park has seen a burst in popularity since I was a kid, and it really is one of the best things to do in Northern California. It's an unusual National Parks road trip stop in that it's an actual active volcano. Even though it's not necessarily going to blow tomorrow, the geothermal activity all around Mount Lassen is unique to National Park sites (except Yellowstone's geysers and springs).
At Mount Lassen Volcanic National Park, check out the Sulphur Works, Boiling Lake, and other hydrothermal areas. Watch for some of the prettiest California waterfalls around here too! There are lots of great hikes on the south side of the mountain, so take a day or two for your visit and get the full Mount Lassen experience.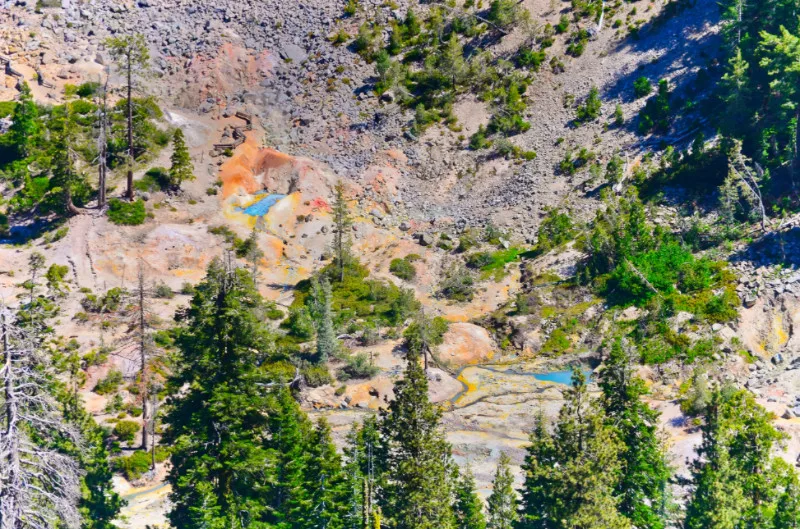 Reno and Lake Tahoe
Because visiting Mount Lassen brings you so close to Lake Tahoe, you have to visit. I know that it's not one of the California National Parks but there are state parks all around the lake and you'll feel regret if you skip over it. Having done both the California and Nevada sides of Lake Tahoe, I can say that I prefer the Nevada side.
Visiting Reno-Tahoe on its own is a wonderful trip (awesome Reno-Tahoe itinerary here!) but just hitting some of the beautiful viewpoints and exploring a bit of Carson City and silver country as you head south is super easy. Carson City is the capital of Nevada, is historic, and is full of great outdoors adventures.
When you're back to the eastern shore of Lake Tahoe, be sure to stop at Sand Harbor State Park for both beautiful turquoise clear waters and even beach time. If you brought your own paddling gear, be sure to do some kayaking out of Sand Harbor.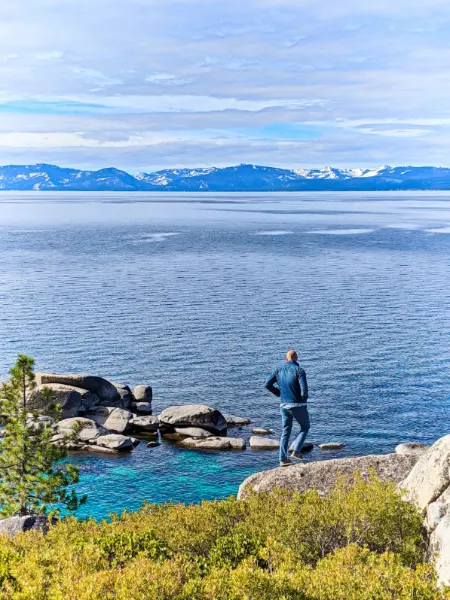 South Lake Tahoe
As you loop down the eastern shore of Lake Tahoe you'll come to South Lake Tahoe, which is a ski destination and is full of casinos. I recommend breezing through to your next destination if you can, but there are some unique stops to enjoy too, like the riverboat cruise out of Zephyr Cove.
There are some fun tourist activities in summer in South Lake Tahoe, particularly if you're into mountain biking or boating. These typically require you to bring your own equipment, but at least with biking you can usually do a tour for the more mellow trails if you didn't bring mountain bikes.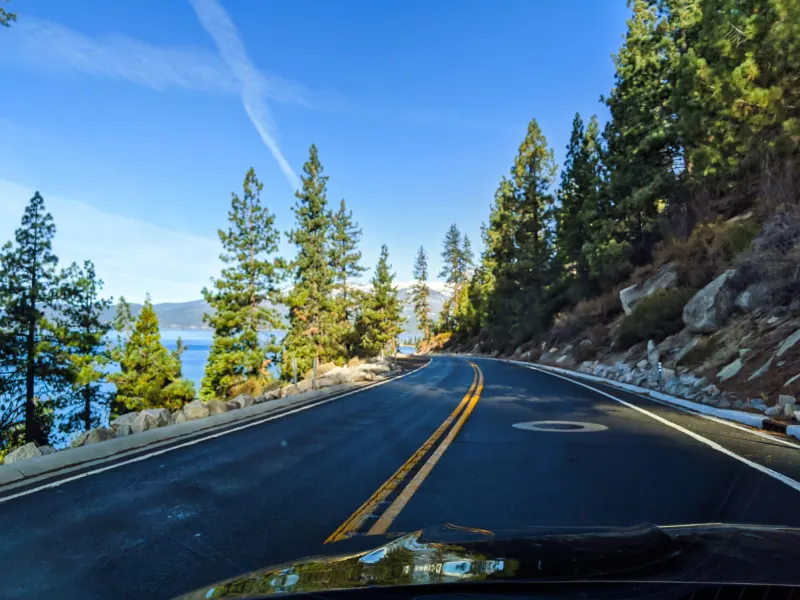 Mono Lake, Mammoth Lakes and Crowley Lake
This is such a cool, special part of the California National Parks road trip. Before you get to Yosemite, you have to pass by a fair number of lakes in the Sierras. They are all different and you'll find some really unusual geology along the way.
Starting with Mono Lake you'll find some unique monoliths out in the lake and along parts of the shore. Mono Lake Tufa State Nature Reserve is a great place to geek out over weird old calcium formations.
From here head an hour south to the Crowley Lake Stone Columns, which are another strange geologic feature. The columns along the lake were a mystery for a long time and now they're just really cool and beautiful to check out. This is some of the weirdest geology around Mammoth and the Eastern Sierras.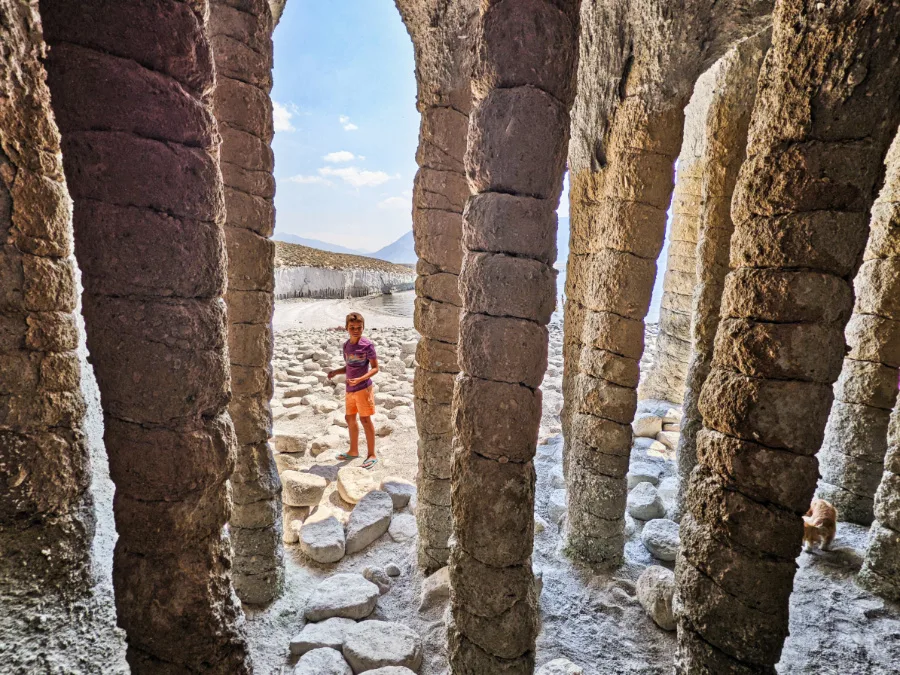 Lastly, Mammoth Lakes is typically known for being a great place for skiing, but in the summer, it's a hiking and paddling destination. Lake Mary, Lake Mamie, and Twin Lakes make for wonderful kayaking or SUP spots. There are lots of viewpoints and fun restaurants, so enjoy your time here before heading into Yosemite National Park. If you happen to be doing your road trip in winter, Mammoth Lakes is a popular ski and snow play destination, so visit Mammoth Lakes to get your winter fix!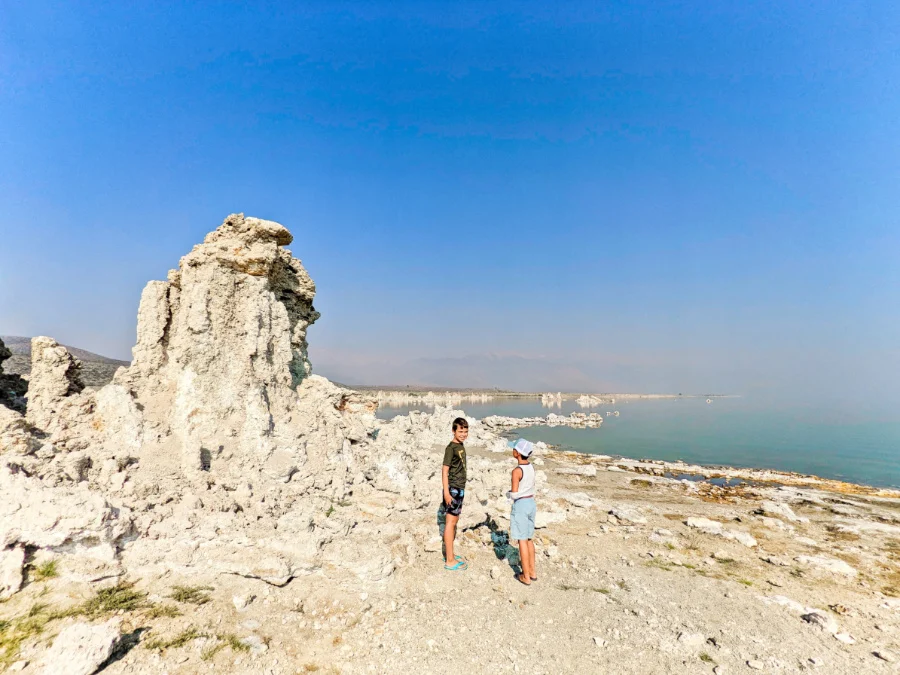 Yosemite National Park
I will never forget the first time I visited Yosemite National Park. In the first ten minutes within the park boundary I saw a black bear. Over the years I've enjoyed climbing Half Dome, hiking to countless waterfalls and relaxing on the valley floor. Visiting Yosemite with kids is great because there are so many kid friendly sights and hikes. That's what makes it one of the best National Parks in California!
Tuolumne Pass, Meadows and Grove
You'll see so many things in the Yosemite area with the name Tuolumne. Meaning "cluster of stone wigwams" it perfectly captures the essence of the region. Tuolumne Pass and meadows are the first part of Yosemite National Park that you'll pass through when coming from Mono Lake.
I love this part of the park because it's so quiet with very few visitors. As you drive through the pass, there are streams and small waterfalls along the valley hillsides, and the exposed granite patches are just beautiful.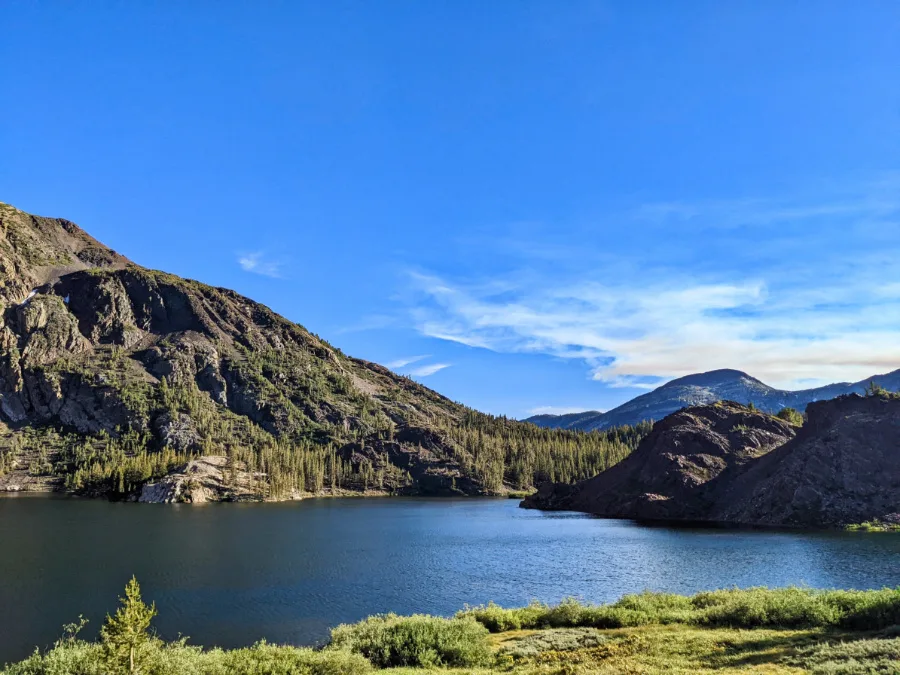 Hetch Hetchy Valley
Visiting the Hetch Hethy Valley is so cool… and most people totally skip over it. Located far from the main Yosemite Valley, there is a damn at the Hetch Hetchy that flooding the whole valley, so hiking along the lake is a unique thing to do in the park.
At the end of the lake trail is one of the most beautiful waterfalls in Yosemite National Park: Wapama Falls. After one of the prettiest hikes you'll do at any point during the California National Parks road trip, you're rewarded with rainbows and mist as you get up close to Wapama Falls.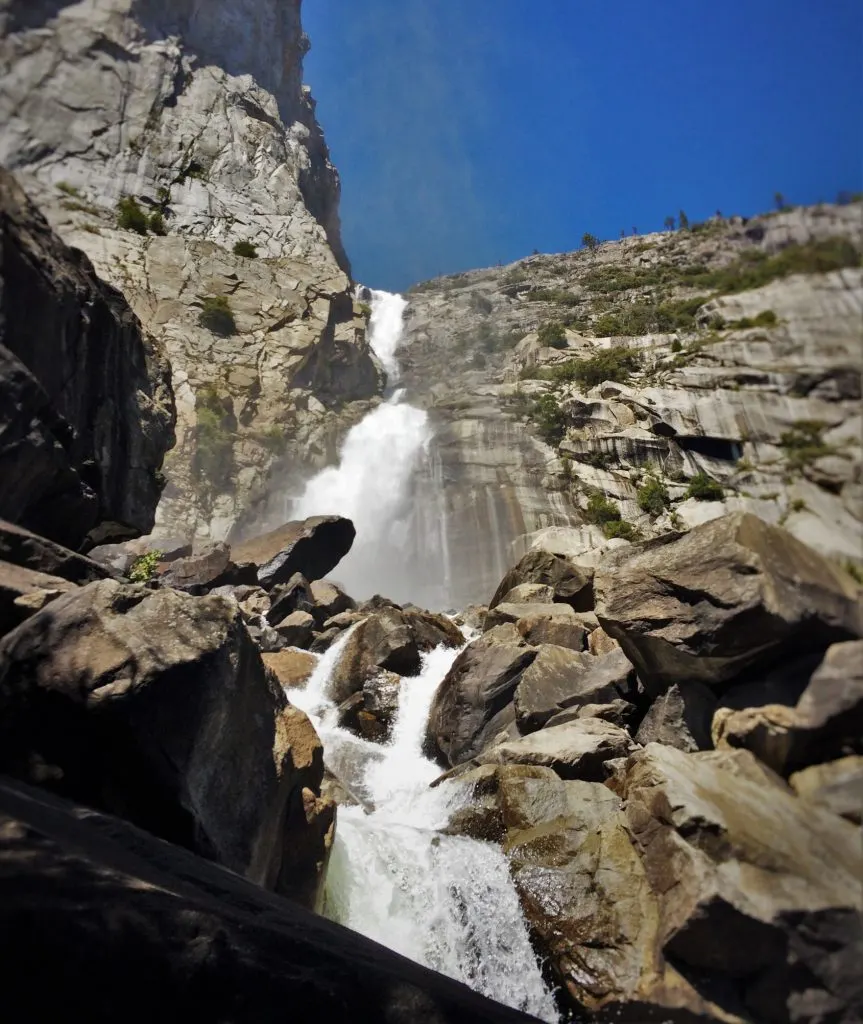 The Yosemite Valley
You can easily tour the Yosemite Valley on your own, making stops at the waterfalls and historic structures. If you like though, the Yosemite Valley Tram Tour is actually pretty great, and is perfect with small kids. Whichever way you choose to explore, the Valley is worth visiting, even on a crowded day.
Be sure to make stops along the way as you go through Yosemite National Park. Tunnel View in Yosemite is both a great easy stop and a hiking departure point. Pull over here before leaving the park for a great last experience in one of the best California National Parks.
Tip: if the Glacier Point Road is open, drive it and be wowed even more!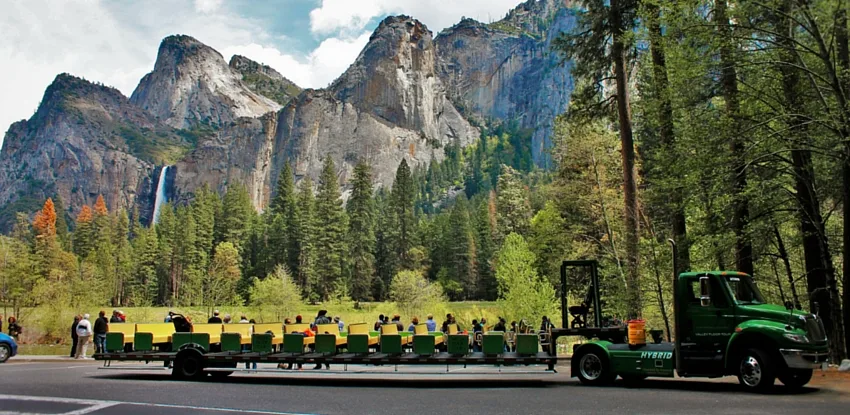 Kings Canyon National Park
Kings Canyon National Park is really cool and tends to be overlooked. Sweeping views, giant sequoia trees and great picnic spots make it a fun, easy stop on your road trip route. The John Muir Lodge within the park is conveniently located at Grant Village so it's not far from some of the main sights of the park.
Begin at the Grant Grove to experience sequoias up close, including walking through the Fallen Patriarch (giant hollow tree tunnel). Then move onto the Zumwalt Meadows where an easy hike will take you into the valley and you'll be surrounded by Kings Canyon's granite mountains.
It's really easy to experience the best of the park by driving the Kings Canyon Scenic Byway. You'll get nearly a complete tour and it's all absolutely beautiful!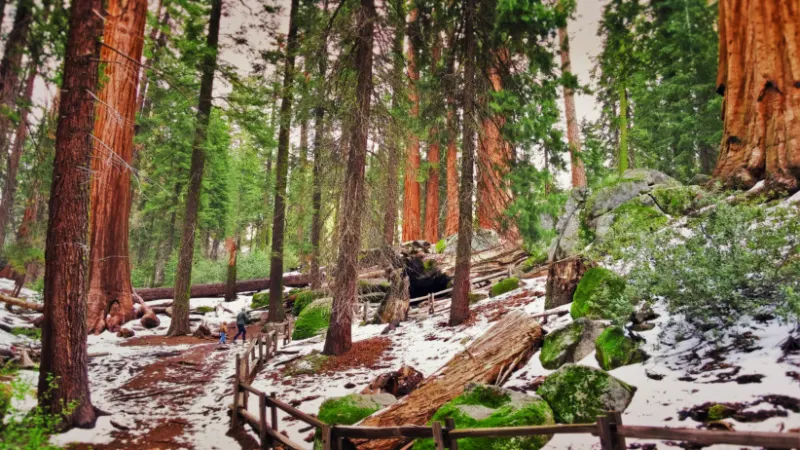 Sequoia National Park
Sequoia National Park is the last official stop on our 10 day California National Parks road trip. I love Sequoia. Whether you're staying at the Wuksachi Lodge in the park or maybe you're camping, there are ample hiking opportunities nearby.
Visiting the General Sherman Tree and grove, the Giant Forest and the Crystal Cave will take a day. Add stops like Medicine Rock, Mineral King hiking or even visiting Mount Whitney just beyond the park to make it a final hurrah and make the most of your time in the Sierras.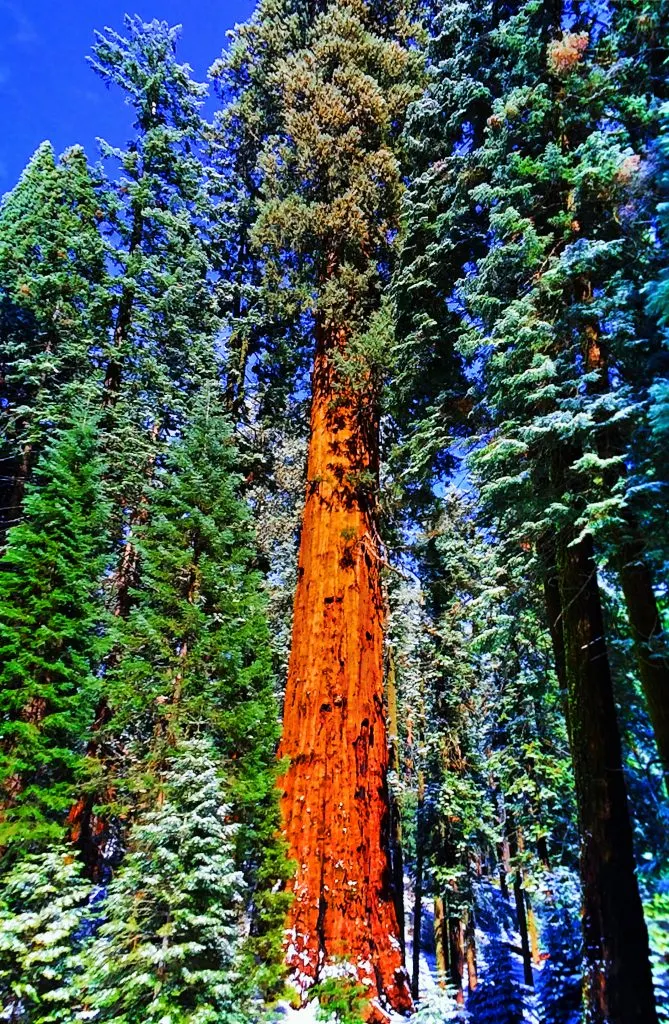 10 Day California National Parks Road Trip Plan
Start: Fly into San Francisco Bay Area (SFO, OAK, SJC) – spend the night in the Bay Area.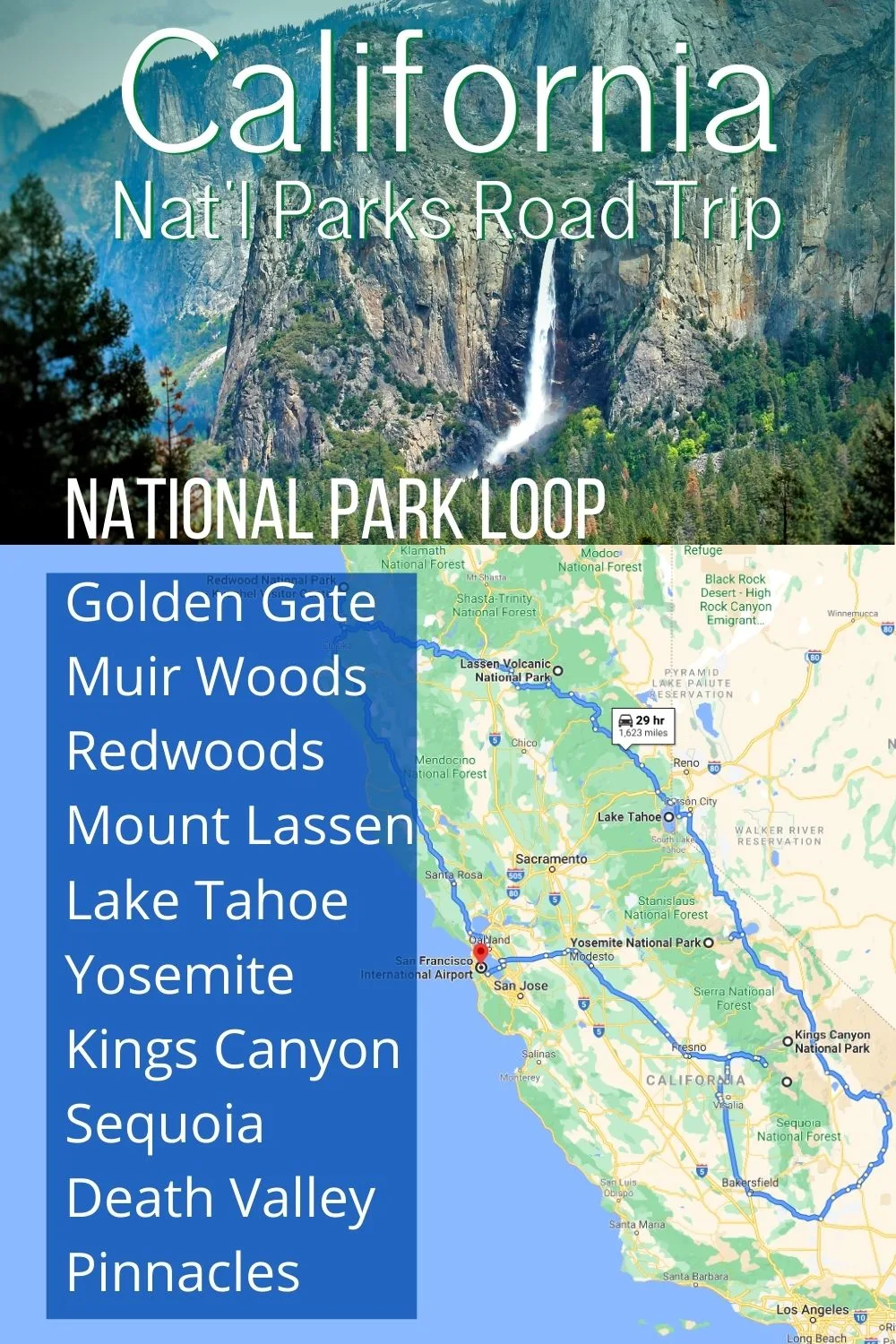 Day 1: San Francisco to Wine Country
Leave San Francisco early by crossing the Golden Gate Bridge to Marin County. Your first stop is at Muir Woods National Monument, aka the Forest Moon of Endor, for a hike among the redwoods. Continue north through wine country stopping in Healdsburg for wine tasting and a meal. Continue through wine country to Ukiah. Stay here to relax and explore, or drive onto Eureka.
Sleep in: Ukiah or Eureka (2 hours further)
Search for hotels in Eureka HERE or Ukiah HERE
Day 2: Eureka and Redwoods National Park
Spend the morning exploring a bit of Victorian Eureka, the gateway to the redwoods, and then head north to the Lady Bird Johnson Grove in Redwoods National Park. Enjoy some beach time, drive through a redwood tree or two, and then head back to Eureka for the night. The food scene in Eureka is surprisingly vibrant, like in a large metropolitan city, so be sure to enjoy a nice meal.
Sleep in: Eureka
Day 3: Lassen National Volcanic National Park
Driving to Mount Lassen Volcanic National Park is a gorgeous adventure. Make stops along the way to enjoy the rivers and grab lunch and snacks for later when you drive through Redding. Arrive at Mount Lassen around lunch time to check out the Sulphur Works, Boiling Lake, and other hydrothermal areas.
Sleep in: Mineral, Chester or drive to Reno (+2 hrs)
Search for lodging in Mineral HERE or Reno HERE
Day 4: the Best of Lake Tahoe
Yes, we've left California )but just temporarily). From Reno you're heading to Lake Tahoe, where you can either take the eastern or western route. On the east, make a stop at Sand Harbor or Secret Cove, or on the west explore D.L. Bliss State park. Both offer some of the most clear waters in Lake Tahoe and are dotted with the iconic boulders near the shore. Grab lunch in South Lake Tahoe before you continue onto Mono Lake. Enjoy the sights of the salt water lake and it's bizarre geologic wonders.
Sleep in: Mono or Lee Vining
Search for lodging in Mono or Lee Vining
Day 5: Unknown Yosemite National Park
Today is one of two days in Yosemite! Beginning with a hike at the Tuolumne Meadows, enjoy a side of Yosemite National Park most visitors don't even know exists. From here head to the Hetch Hetchy Valley, stopping at the Rainbow Pool or hiking to the Tuolumne Grove (sequoias) along the way. Enjoy the easy (but long) hike along the Hetch Hetchy Reservoir with towering granite cliffs and monoliths all around.
Sleep in: Groveland
Search for hotels in Groveland / West Yosemite
Day 6: Famous Yosemite Sights
Start your day early so you can beat the crowds. Today is all about the Yosemite Valley. By making stops at Bridal Veil, Lower Yosemite Falls, and the Ansel Adams Gallery you'll get the best of the park. For a challenging but unforgettable hike, do the Half Dome trail stopping at Vernal and Nevada Falls. Pre-registering for a permit is required to go to the top of Half Dome. When you're done in the Valley, head south out of the park, stopping at Tunnel View and the Merced Grove before you leave.
Sleep in: Oakhurst
Search for lodging in Oakhurst / South Yosemite
Day 7: Explore Kings Canyon National Park
Kings Canyon National Park is your next stop. Begin at the Grant Grove to experience sequoias up close, including walking through the Fallen Patriarch (giant hollow tree tunnel). Then move onto the Zumwalt Meadows where an easy hike will take you into the valley and you'll be surrounded by Kings Canyon's granite mountains. Sleep in: Sequoia National Park
Search for lodging in Sequoia NP or Three Rivers
Day 8: Best of Sequoia National Park
Sequoia National Park is fun and fascinating. Start with a stroll through the General Sherman Tree area, followed by the loop through the Giant Forest. Make a reservation for a cave tour so you can explore the Crystal Cave. Finish the day by climbing up Morro Rock for sunset.
Sleep in: Sequoia National Park
Day 9: Sequoia NPS and Beyond
Explore just a bit more of Sequoia National Park before you leave. Start with the Tokopah Falls hike out of the Lodgepole area. Then visit the tunnel log, Hospital Rocks, and head out to your departure city.
Sleep in: Fresno or your departure city
Search for hotels in Fresno
Bonus Days to Enjoy on the California National Parks Road Trip
There are more hikes in all of these National Parks that are truly unique and exciting. Add a day at any of them to dig deeper into each park. And if you're staying at one of the many lodges or ranches outside of the parks, having time to relax and explore the National Forests outside of the parks is always a good idea.
Depart: Fly out of Fresno (FAT) or out of your initial Bay Area airport