I wrote the Road Trip Survival Guide after having a year where we did 9 road trips… and then did the most epic road trip of all: relocating across the country. With so many miles under my belt in such a short time and with a lifetime of road trips to also pull from, writing the Road Trip Survival Guide just made sense.
Get the Road Trip Survival Guide today!
This is my second book, the first being the Ultimate Travel Journal for Kids, which was so very different to create. I wrote my first book so kids like ours could engage their minds with the adventures they're on. I've written The Road Trip Survival Guide so adults, and especially parents, can plan and create awesome, engaging road trip adventures!
What's Inside the Road Trip Survival Guide
I'm not going to share all the details of what you'll find in the the Road Trip Survival Guide, but I'll give you some hints and tips, and then you'll just have to get my book for the full scoop. 😉
What I will say is that it was so much fun to write and I'm thrilled with the final product. A lady I have mad respect for, the incredible Samantha Brown of Samantha Brown's Places to Love was so kind as to write the foreword for my book, so thank you to her for saying nice things about me and supporting us and this project.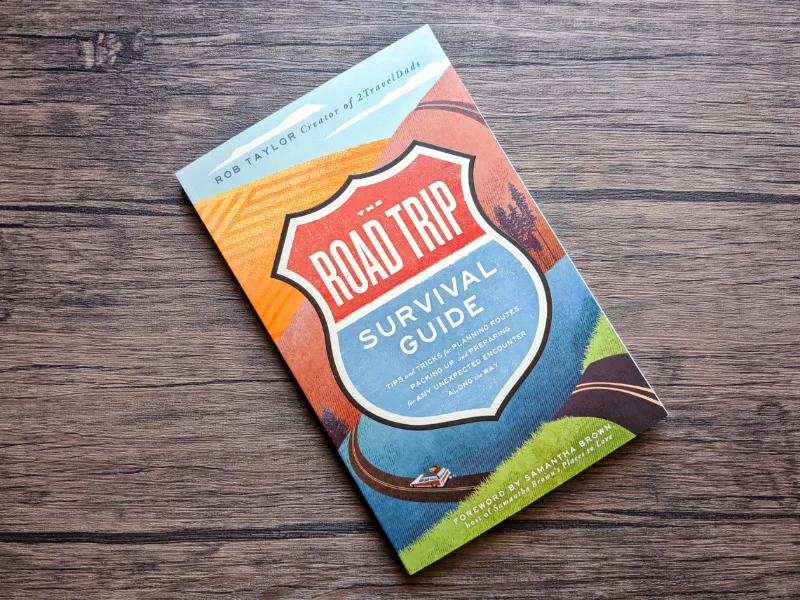 Planning a Road Trip TODAY
The biggest hurdles people face with planning road trips is choosing a destination and setting dates. It's so easy to talk about the trips you want to take (even we have a bucket list we blab about and don't do) but then never actually plan them. The first piece of the Road Trip Survival Guide is all about planning and making it happen.
Choosing What's Important for a Road Trip
A road trip can be anything from exploring locally or traveling 3,000 miles from point A to point B. But what you do in between the points is what makes for exciting travel opportunities.
I think it's important to start by considering the value of worthwhile sites and attractions. Endless highways and interstates serve the purpose of making travel-time fly by. It's the interesting things off road that really make a road trip worthwhile.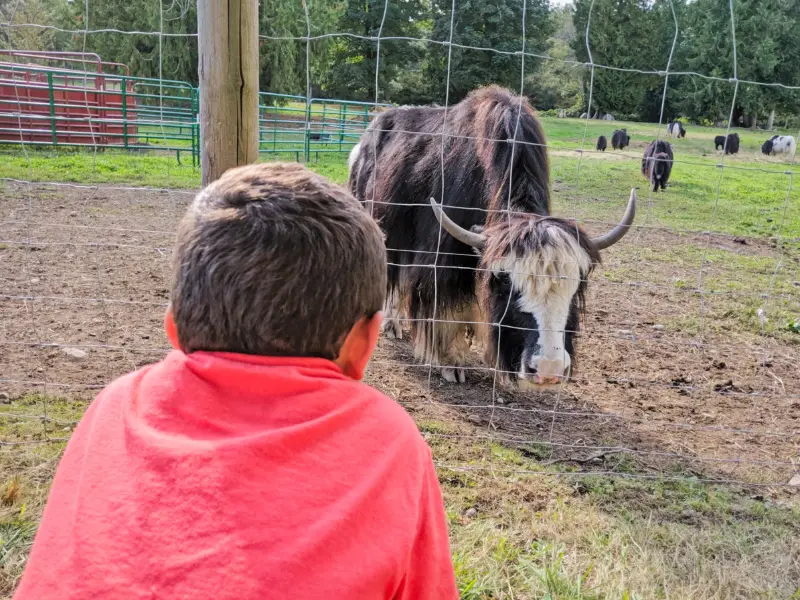 Road Trip Research Tips 
How do WE plan a road trip? What resources do WE use to set up our travel plans and itineraries? In the Road Trip Survival Guide I get into all that. Between leveraging awesome travel blogs (like ours) to helpful websites and social channels, I share what tools I find to be the most valuable for planning awesome trips.
Allocating Time for Road Trip Vacations
Doesn't calendaring sound like such a corporate word? I mean, it is, but it very much applies to designing a road trip plan and successfully enjoying yourself to the max as well. When I talk about calendaring, I don't mean planning everything down to the minute for a trip. Instead, it is  more about understanding and establishing important times and dates.
Getting to take a vacation and enjoying the process of traveling is such a treat. You could try to rush it all and cram in everything, or you can budget your time so you aren't returning to real life even more burned out than when you left. You just have to be smart about calendaring!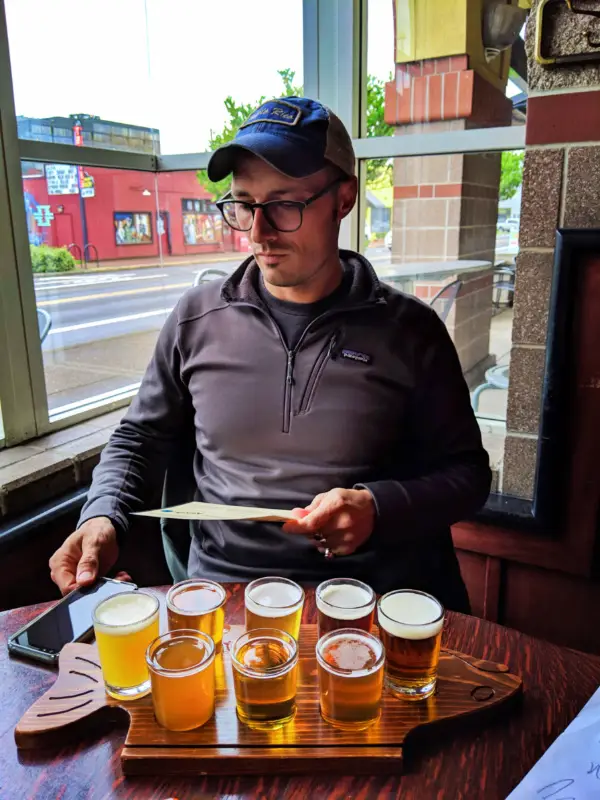 Themes and Flying to Road Trips
Planning a road trip with a theme in mind is a great way to drive your itinerary and ensure you're seeking out unusual opportunities. I find that when we travel with a theme it helps us to enjoy our trips more because we have built in conversations comparing the experience we've had along the way. And education? Yes! Themed trips with kids are amazing learning tools.
And consider that you don't have to leave from your own driveway to do a road trip. The Road Trip Survival Guide has lots of ideas and information for planning road trips and even packing for them when you are in a new place with a rental car. "Road trip" doesn't mean that you are staying local, so open your mind to new routes and possibilities.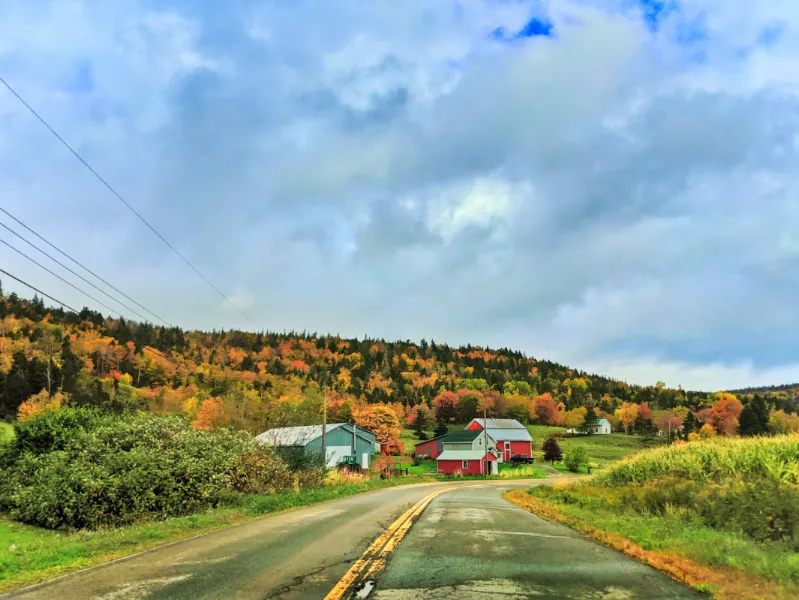 Packing for a Road Trip
While it would be great to be able to just hop in the car and go (which I guess you could very well do), it's always nice to be well equipped for both fun and comfort. I don't mean that you need to have all the comforts of home with you, but you should definitely be well prepared.
And let's face it: traveling with some conveniences makes a long trip more smooth and enjoyable. I've broken this section down into two groups of road trip essentials: conveniences and organization.
Don't forget snacks and food! I've included some favorite road trip snack plans and recipes to help bring healthy, satisfying snacks on the road. Meal planning, both for picnics and dining out is also included in my tips and tricks.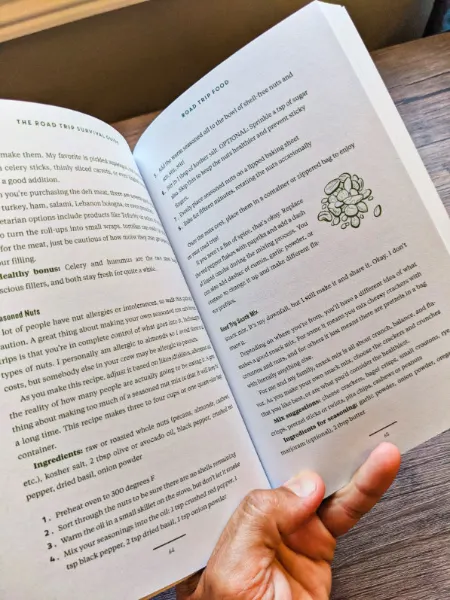 Minimalist Mindset: Simple Packing Lists and Tips
Let's make this simple (because you have enough complications in life, and putting together a successful trip is enough work!). Packing lists: everybody has them, nobody uses them. But that changes right now.
It can be frustrating to be on the road and realize you forgot your favorite flip flops or that you didn't actually pack a jacket (I've done that more than once). While packing may be a no-brainer, it never hurts to use a well thought out list as a safety net.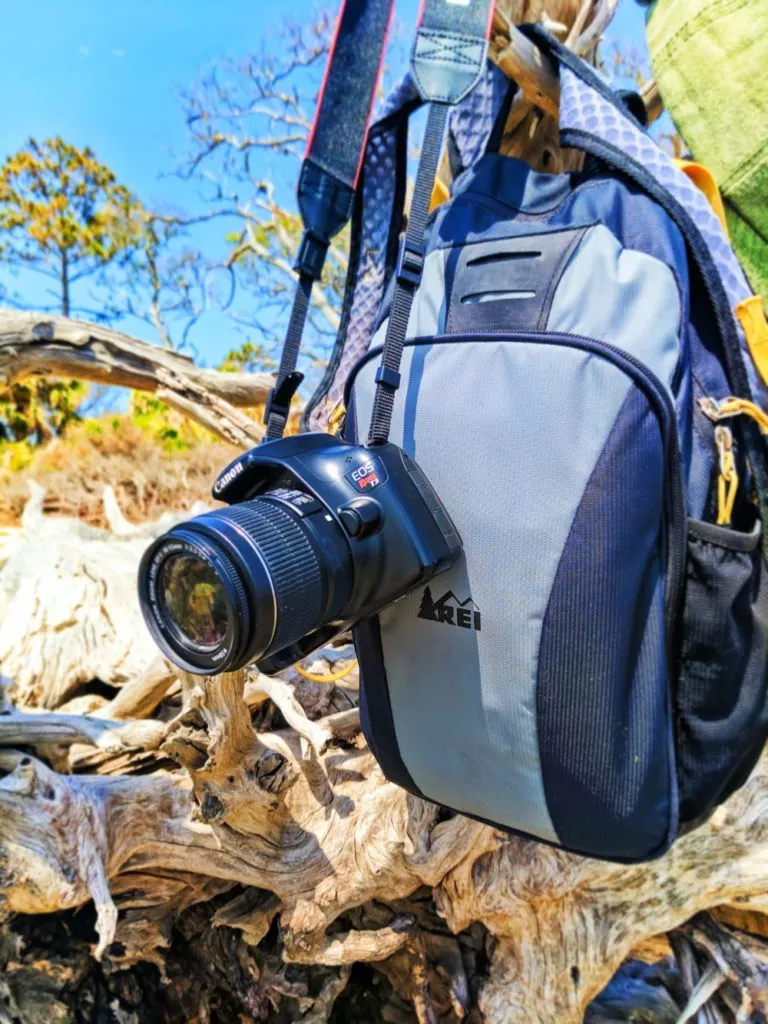 Favorite Must-pack Road Trip Gear 
I'm a sucker for making life easier, and that includes adding conveniences to long car trips with kids. I'm not going to tell you how to manage your family, but learn from my experience when I say that cold snacks and useful gadgets make for a lovely trip.
The Road Trip Survival Guide is loaded with simple, useful gear tips that will make hitting the road easy and keep the family happier than you though was possible while stuck in the car.
Easy Car Organization Tips
There's a lot to be said about celebrating the people who are good at getting/staying organized. I wish that was me all of the time, but to be honest, it's not. I have my systems in place that help me clear up my disorganization in my daily life, but there are times when I fail. BUT… not when it comes to organizing the car for road trips.
Between diagrams and simple steps to maintain a clean an organized car for the duration of a road trip, you'll find it all!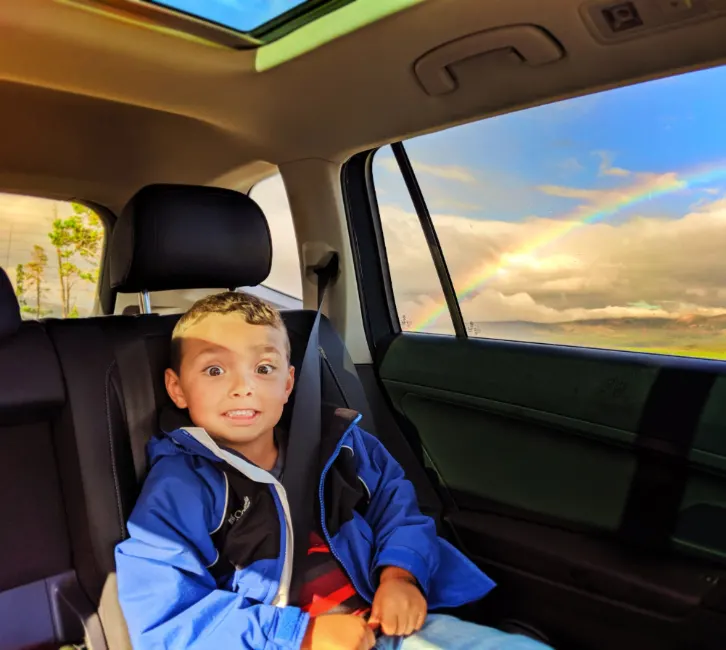 Safety on the Road
So, you've decided to head out on a road trip! Road trips are such a great way to explore so many amazing places before getting to your destination. But with excitement comes a slough of potential problems that you need to be ready for.
Now, I don't want to scare you, but so many things can happen on the road. After countless road trips, both starting at home or with a rental car, we're always sure that vehicle safety is addressed before we even leave.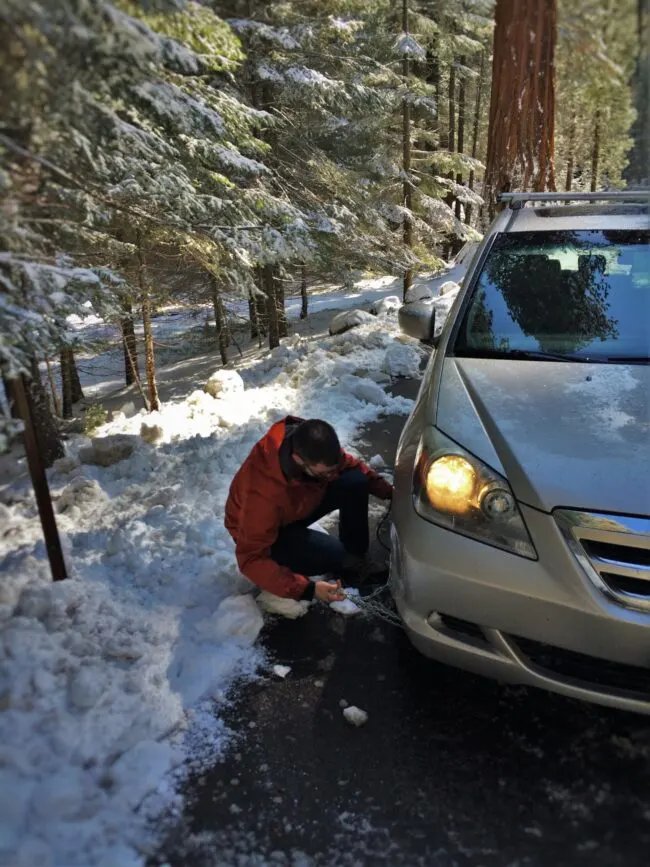 Understand Road Conditions and Closures 
I think we can agree that a large number of road trips happen in the summer. You know what else happens a lot in the summer? Road construction. And a lot of people travel for the holidays too, such as Thanksgiving or Christmas. And that's usually when snow starts to fall. 
Before your departure day, and during your road trip as well, it's important to do a bit of research regarding road conditions and potential problems along your route. Of course you'll be traveling with an emergency roadside kit, but you'll still want to practice safety before it's even required.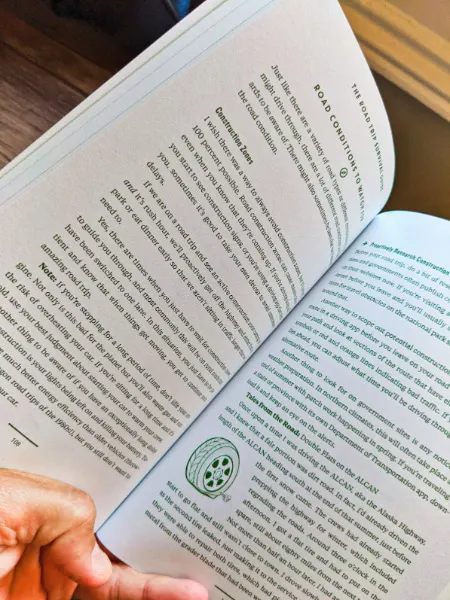 Making a Backup Plan
We've been on road trips when natural disasters have hit, and we've also been the source of our own travel disasters. With that, making a back up plan is important. Throughout The Road Trip Survival Guide you'll find lots of great tips and tricks to create simple back up plans.
Pre-tripping a Vehicle
Every car and every family is different, but when it comes to road trips, there are some important things you need to double check. Pre-tripping your vehicle, both mechanically and for basic supplies and documents is critical for your safety. See what we do before we leave to ensure a smooth ride for all.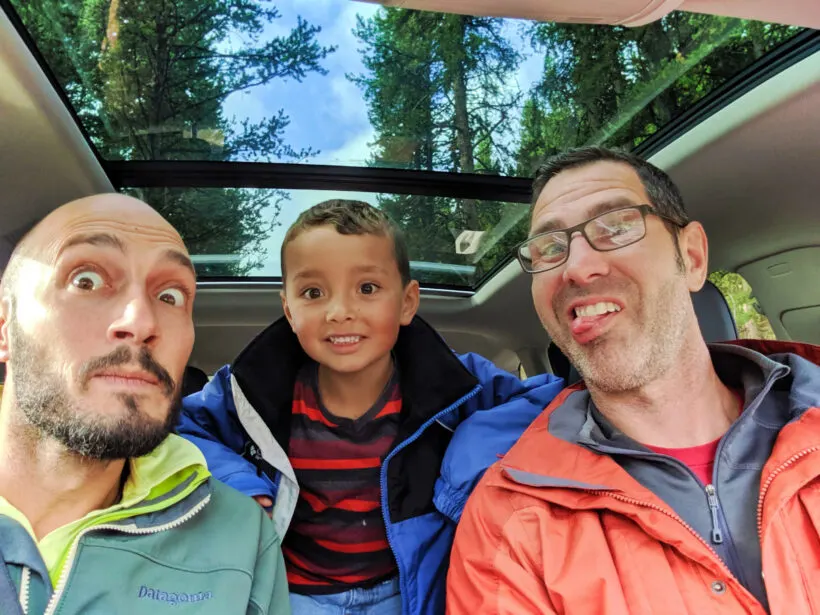 Favorite Road Trip Itineraries in the USA
Something I love about writing books is that you have to write and think differently than writing blog posts and running social media accounts. And that goes for creating easy to follow or expand on road trip itineraries.
In The Road Trip Survival Guide I've outlined some of my favorite road trips in North America. Each road trip itinerary includes favorite sights, famous and unknown, tips for routes, and where to end each day. I've made each travel plan in a way that you can easily add to them or skip what you're not interested in.
You'll find the following:
10 USA Road Trips You Shouldn't Miss
5 Clearly Canadian Road Trips
3 Easy and Safe Mexican Road Trips
Just talking about this right now makes me want to hit the road on one of my road trip itineraries!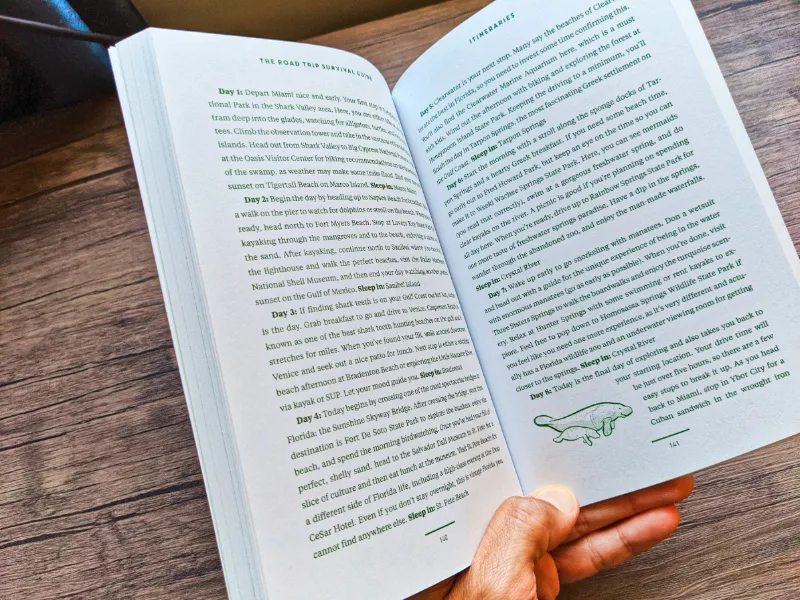 Current State of Road Trip Travel
So why did I write The Road Trip Survival Guide right now? Well, as the world is fighting off a global pandemic and people and trying to find ways to travel again safely, road trips are one of the best ways to take a vacation that YOU can control.
Road trips are growing in popularity for a variety of reasons, making this the perfect time to release my book.
You are a self-contained travel unity
You can adjust your plans and activities based on safety/health concerns
Road trips can be very budget friendly
Local travel can be low-impact and gives back to your own community.
I think each of things things is more important to travelers now than maybe any of us have considered before. So road trips, yay!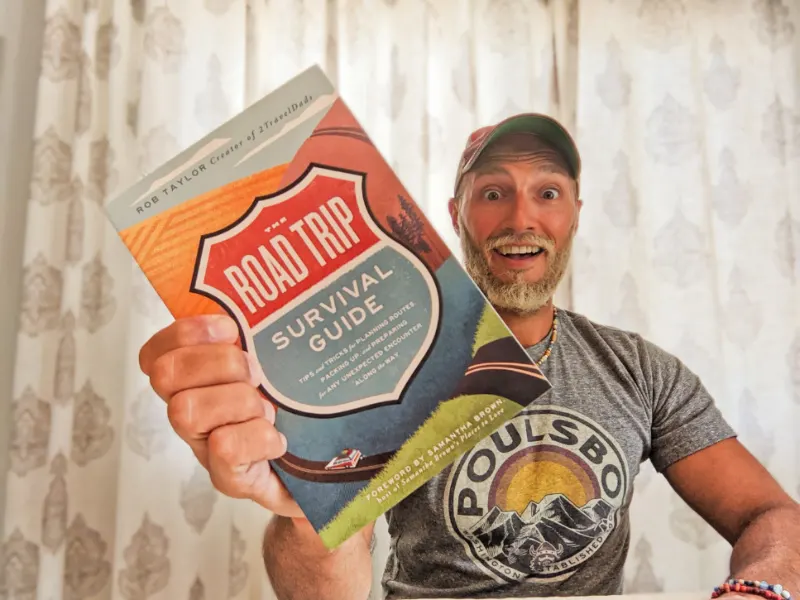 Health and safety precautions
As you start to plan your next road trip, whether you're leaving from your driveway or flying to the start of your route, no doubt health and safety precautions are going to pop into your mind. That's good!
Road tripping give you the opportunity to travel in your own way, managing yourself and your interactions closely. Yes, much of the adult population of the USA is vaccinated or will be soon (as of June 2021), but there are still going to be pockets of people that think the pandemic was a hoax or that won't get their shots for whatever reason.
Our family is continuing to live like we need to be cautious because we have unvaccinated kids and fragile family members that we'd like to still spend time with. Where we visit and what activities we enjoy are determined by the health precautions in place. I'd encourage you and yours to proceed that way too until the pandemic is legit done.
Yes, we have been to Universal Orlando and Disney World since the pandemic started, because we were able to see what the precautions were and how they were being managed. And the same with the Florida Keys and the Reno-Tahoe area.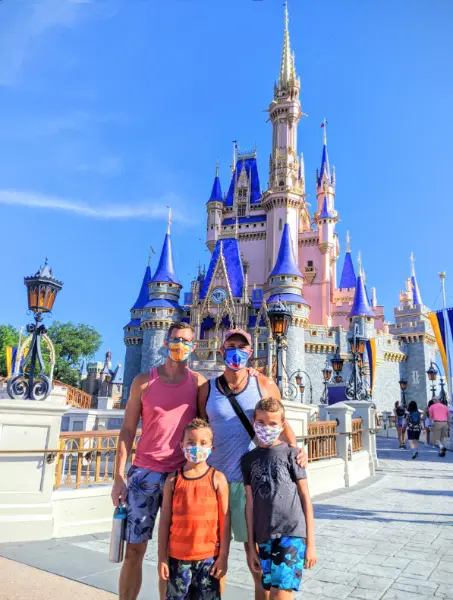 Research local guidelines
A great way to see what you may encounter at a destination is by researching local government guidelines for where you're visiting. Local guidelines may not be as strict or as lax as what you're used to, so be prepared.
Also, know that an attraction, restaurant or other establishment may have more strict guidelines than their local area. As private businesses, they have the right to require tighter health and safety standards than the local government.
Another great idea is to research what the local destination recommends for socially distant, outdoor activities. We did a project with the Santa Maria Valley in California, one of our favorite Central Coast destinations, to make guides for things to do and eat while visiting Santa Barbara wine country. Guides like this are great to help you feel safe and comfortable on your road trip.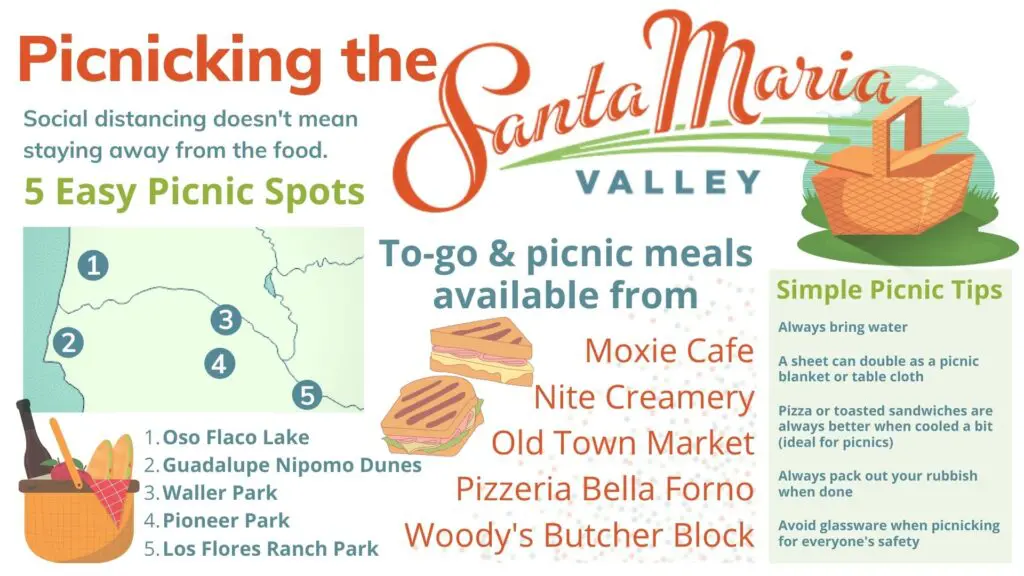 Research precautions at hotels and activities
We ourselves run a vacation rental and list it through AirBNB, so with that we have a set of cleaning guidelines and precautions we must follow for all of our guests. The cleaning steps and how we interact with guests as set forth by the hosting platform ensures our renters are safe and healthy relating to our rental.
The same sort of precautions may be required by travel brands and hotels, so checking in advance to see what's being proactively done to ensure you'll be in a healthy, safe environment is a good idea. A little research goes a long way in making sure you feel good about traveling.
Crowds and Popularity
Be flexible with daily plans as capacity issues continue to be a problem at popular spots. For example, there have been times throughout the pandemic where Universal Orlando or Disney World have hit capacity in the parks very early due to reduced visitor limits. Or thinking about National Parks, many have had to close their gates or pace entry to ensure capacity isn't reached.
As you plan your road trips, consider what the crowd situation will be like at the places you visit. Are you choosing a destination that's always popular historically but may be less so with people having a pandemic travel mindset? Or are you thinking that you'll be clever and choose some place off the beaten path… that everyone else is choosing too?
A good way to monitor current popularity and crowds in destinations is by monitoring social media platforms and channels. For example, parks and museums share on their Facebook pages or Instagram stories what the crowds are like, so pay attention. Some destinations have shared visitation calendars showing visitor trends. Use these tools to make smart travel decisions.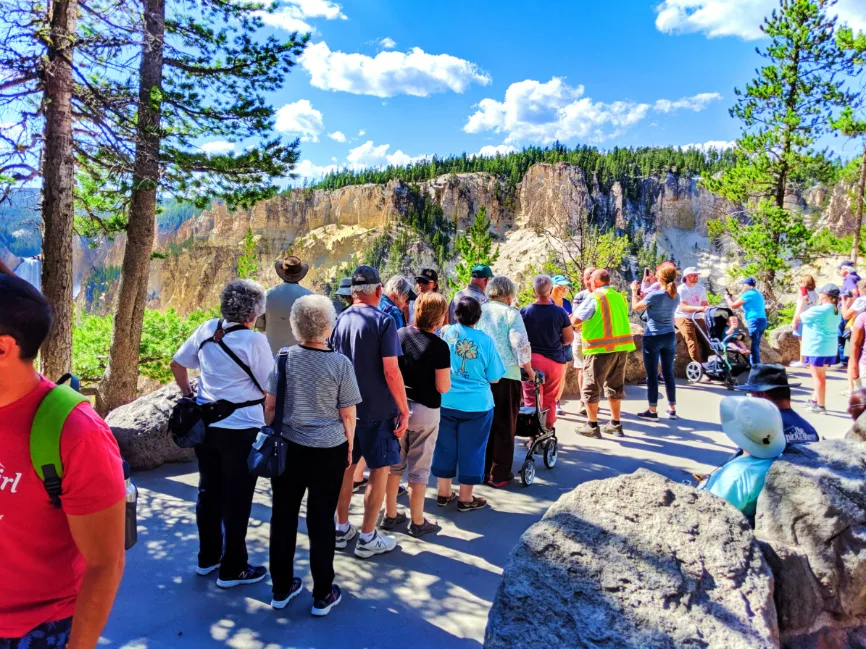 2021 influx to NPS and SPs
Our family has always been big on visiting National Parks, from Dry Tortugas National Park in the Florida Keys to hiking at Mount Rainier, visiting Kings Canyon in the off season to hitting up Yellowstone National Park several times in a year. While people are looking for more nature and to be wowed after staying apart and indoors for a whole year, National Parks and state parks are seeing record visitation.
We've had quite a few times this year where we've gone to visit some of our favorite local state parks and been turned away, or had to wait for a long time to put in kayaks. Blue Spring State Park (an hour from us, 40 minutes from Orlando) has hit capacity each weekend and many week days. Silver Springs State Park is one of our favorite places to kayak with manatees, and there have been days where we're #10 in line to launch our kayaks.
Even our local nature preserve has had days with no parking. I love that people are heading outdoors more, but as you consider your road trip plans or local getaways, remember that others are in the same boat as you. It just means we all need to be patient or adjust our expectations.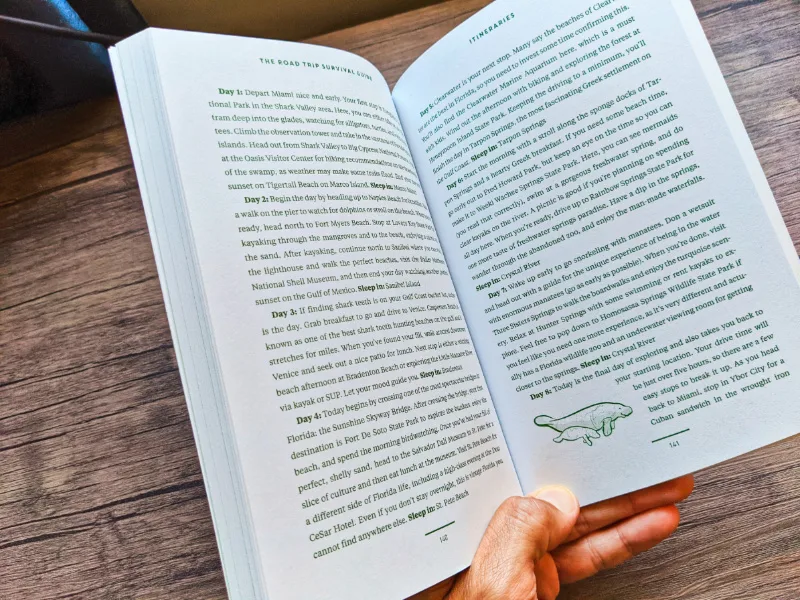 Camping Reservations: the struggle is real
Have you tried to get camping reservations at your favorite or a bucket list campground in 2021? It's wild how far out things are booking up. As soon as you know your travel dates, search for an book your camping reservations. Camping with kids is a great way to bond and get a change of scenery, but now planning that out is more important than ever.
Suggestions for getting camping reservations for your road trip:
book camping reservations as far in advance as possible
be open to new camping destinations
look for campsites NOT at the beach or lake
if you plan on renting an rv or buying a camper trailer, book your campsite 9 months+ in advance
I know, it seems like camping these days is a bit stressful, but proper planning and flexibility will help a lot and will make road trip planning in 2021 (and beyond) much easier.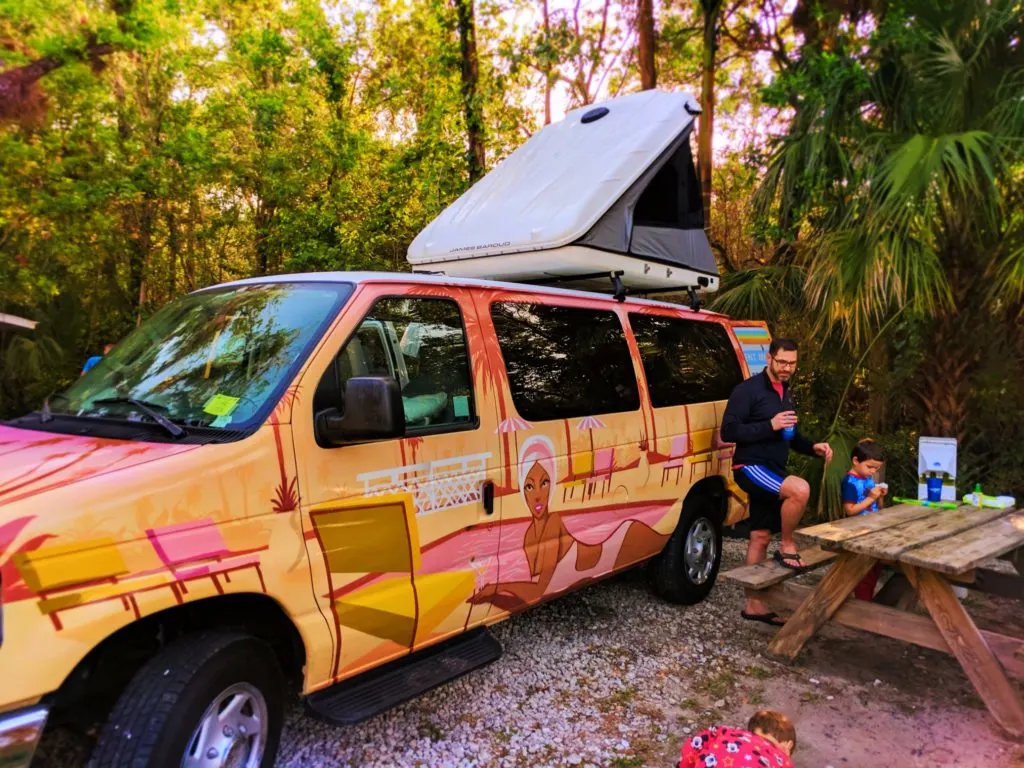 Writing about Travel from the LGBTQ Perspective
I'm excited to share about road trip planning from the family perspective, and in particular the LGBTQ family viewpoint, as I think it's important to consider how different types of people travel.  Although the Road Trip Survival Guide doesn't specifically call out anything about the LGBTQ travel experience, being gay and encountering different situations in life definitely shaped how I approach safety and preparedness.
For us, we don't let who we are dictate every element of our lives, but we are thoughtful about where we travel to and how. And we always make decisions based on safety, from destinations to activities.
I'm thankful that over the years families like ours have become more and more common, but we are still a minority and sometimes we really feel it. The goal with starting our blog almost seven years ago was to share our stories and tips to encourage other LGBTQ families to be active travelers. 
Visibility for families off all makeups leads to normalization. When we can be viewed as just another traveling family, even when going someplace where we may not be a common sight, we are able to enjoy the experience even more and that makes our kids enjoy it and learn more from our adventures.
That's the goal and after seven years, I'd say we've been accomplishing that. And now with road trips, this is a whole other facet of travel we can support people with.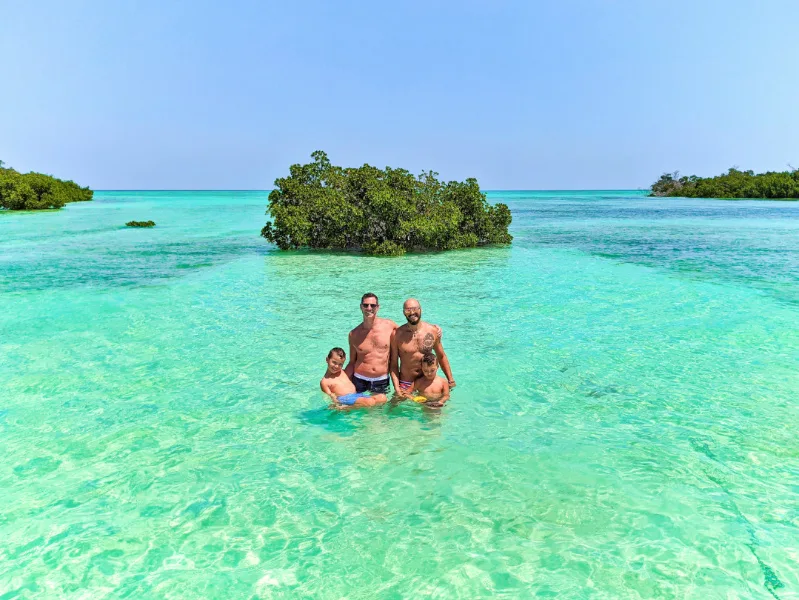 Thank YOU for supporting 2TravelDads and thanks in advance for purchasing a copy of The Road Trip Survival Guide. I can't wait to start working on my next book and to see where we can continue to go with the blog!