Mobile, Alabama is a magical city. A lot of people don't think of Mobile when they picture the beautiful, wrought iron balconies towns of the South, but Mobile AL is gorgeous and a must-visit place. There are so many things to do in Mobile, from walking the historic streets and eating amazing Southern cooking, so getting out into nature on the swamp or on Dauphin Island. Mobile is a hidden gem and will surprise you with every turn.
Being the birthplace of Mardi Gras in the USA and founded by one of the brothers who also founded New Orleans, it's already in position to be cool.  You don't hear a lot about Mobile as a destination or a party city, but it is.  It's not a party city like Las Vegas or the Daytona Beach of the 90s, but it's a place full of fun and pride.  And it's wonderfully LGBTQ friendly, which added to how welcome I felt and how much I loved Mobile, Alabama.  Anyways, here's the scoop on Mobile and why I can't wait to return and find even more things to do.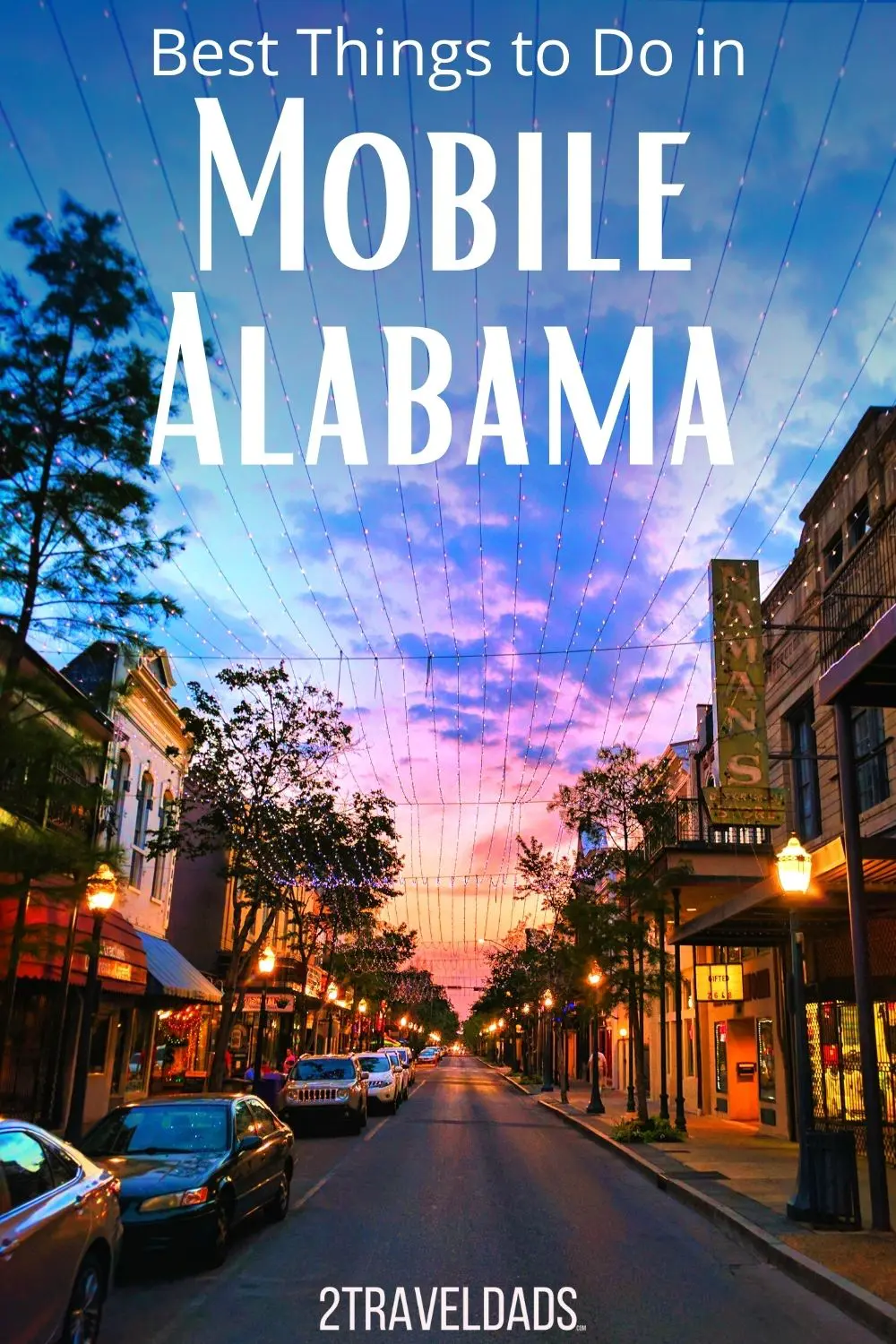 Locale of Mobile, Alabama
Mobile is at the very south of the Great State of Alabama on the Gulf of Mexico.  It's located where five different rivers meet.  It's surrounded by lush live oak forests and meandering waterways.  It's a short drive to the beaches of the Gulf, including Gulf Shores, Alabama.  It's a pocket of awesome in a place thought of as the Deep South.
Mobile has its own airport (MOB) and has two major interstates feeding into it.  You can arrive in Mobile, Alabama via cruise ship or private charter. We recently drove through Mobile on our move across the country to Saint Augustine, Florida.  Basically, what's stopping you from getting there and having an incredible time? And if you're traveling all this way, there are also some really cool, interesting National Parks in Alabama to check out!
Tip: since you're so close, doing Gulf Shores with kids is really fun with beautiful water and great activities. Add it to your Mobile trip!
History of Mobile, Alabama
Mobile is in Alabama.  That's enough to make somebody who hasn't been think about all they've heard, read or seen on TV about Alabama.  Just stop right there:  Mobile is completely different in nearly every way.  Yes, of course there are people who are stuck in the 1860s or the 1950s, but they're not as common as you'd think.  Here are some interesting tidbits shared with me by Mobilians during my visit:
Mobile was the first city in the south to elect an African-American mayor with a white majority vote.  

Mobile was the only major city in the South that didn't have a civil rights march due to several very active public groups that worked to change local laws, including desegregating schools, prior to government mandate. They've had protests, but weren't at the forefront of marches in the 60s.

Mobile has 

Gay Pride

celebrations with lots of community involvement in addition to being involved in Mardi Gras activities.  

Mobile, Alabama is the

most progressive city

I've been to south of the Mason-Dixon line.  I love it! 

And Mobile, Alabama is an old city; it's older than New Orleans.  Founded in 1702 Mobile has that same French influence you'll see in NOLA, but it's had it for longer.  
And here's a fun fact:  at one point Alabama was actually its own country (for a few days), and if you know where to look you can see references to it throughout Mobile.  And then there's Mardi Gras, which actually started in Mobile (the American version). Carnival celebrations happen all around the world (loved experiencing it on the Caribbean island of Isla Holbox)
With such a long, storied history there are some very interesting cemeteries to explore and plenty of history-related things to do in Mobile. And there is a lot of wonderful art to experience, from murals to galleries. Artists in Mobile create works celebrating their history in the city, particularly when it comes to Mardi Gras, but with a close eye you'll see more than beads.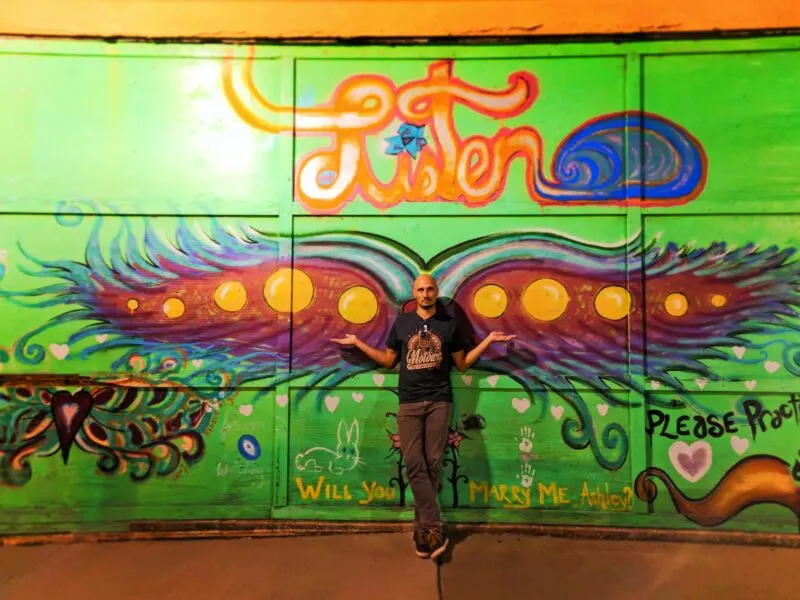 Best Things to do in Mobile, Alabama
Every city you'll ever visit has a few super awesome things that will keep visitors coming back or talking about for a long time.  Mobile is for sure one of those places, but we'll keep it short and sweet… like a beignet. In addition to these year-round things to do in Mobile, you'll also find a fair number of festivals and city events.
Exploring Mobile's neighborhoods
Seattle, San Francisco, Portland… all three are great cities made of beautiful and fascinating neighborhoods.  Living in Saint Augustine, FL we have some cool neighborhoods and cemeteries which are tourist attractions in themselves. And Mobile is like that too!
While there is a clear business district at the edge of the historic downtown, you don't have to ever step into that particular neighborhood. One of the best things to do in Mobile is to start at the edge of the historic, wrought iron balconied streets starting at Royal Street and work your way west. Between museums, cafes and galleries, you'll love every step through this historic Southern town.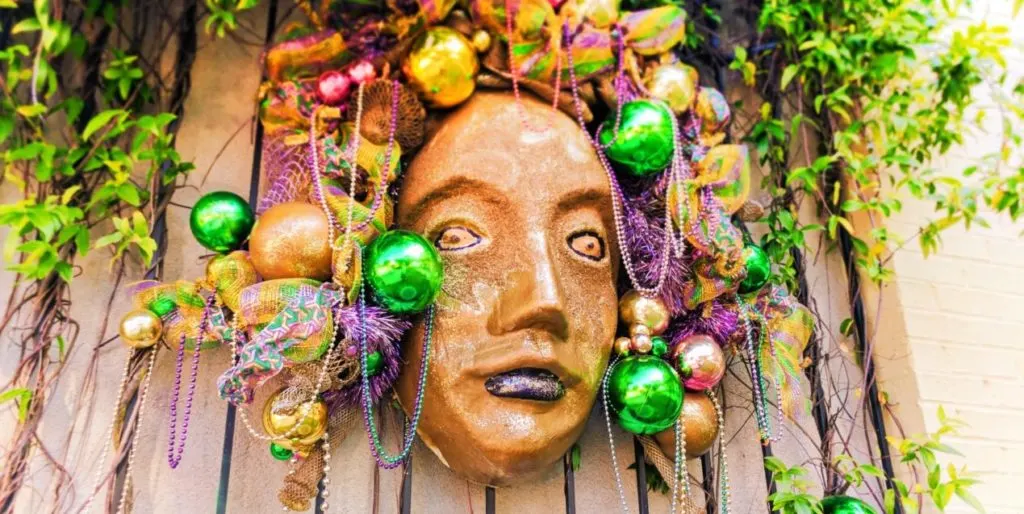 Downtown Mobile on Foot
Downtown Mobile, Alabama is really nice.  The buildings in the financial district (a two block spanse) aren't too tall and there are countless sandwich and coffee shops giving it a quiet, small city feeling.   And the business side downtown is right next to Dauphin Street, which is the main drag of the historic area and is highly entertaining.  
The people of Mobile have been exceptionally active in restoring their city since the 1960s, so the whole area west of the financial district is charming, historic and full of fun.  At night, it's lit up with twinkling lights, neon, marquees, glowing bar lights… Strolling through downtown Mobile at night is a must and one of the most unique things to do in Mobile, or the whole of the South for that matter.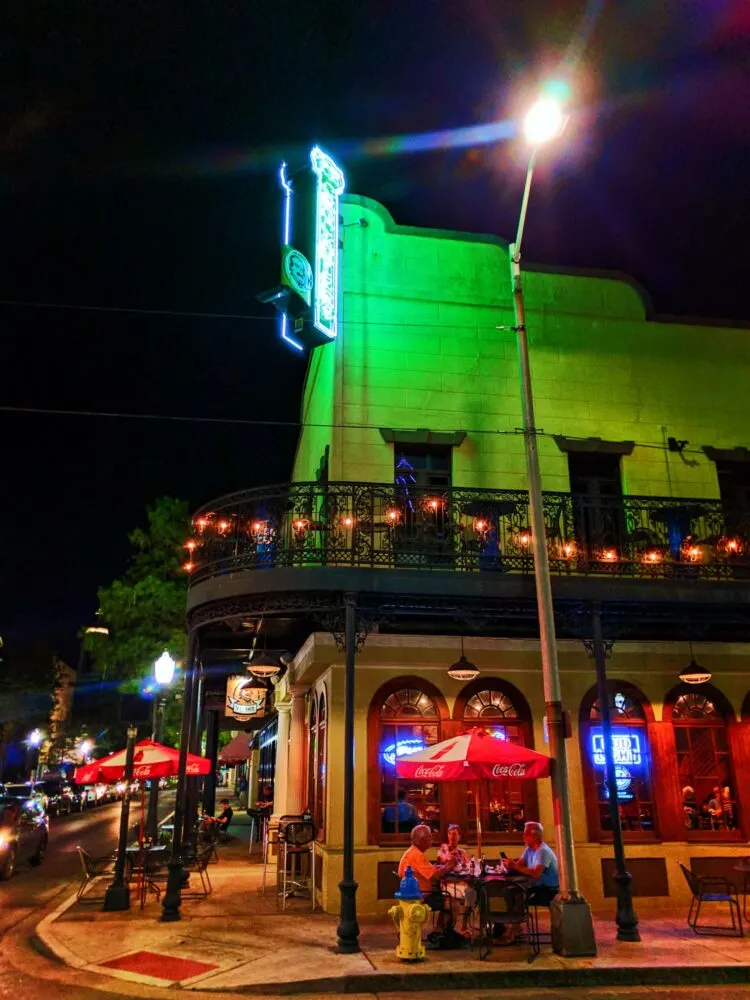 Oakleigh Garden and DeTonti Square Historic Districts
Being such an old city, Mobile has some incredible residential neighborhoods including seven historic districts.  Just north of the downtown area is the DeTonti Square Historic District.  Some of the homes here are so old and ornate that they've each been under renovation for… well, forever.  
Walking through the neighborhood you'll find a combination of Gulf Cottages, Federal style and shotgun houses.  Each of the homes as it's renovated is held to strict standard for color and outdoor features to keep the district as historically accurate as possible.  A homeowner can pop into the paint store in Mobile, say where they live, and leave with a color palate for the exterior of their house that is historically accurate and perfect.
Tip:  as you're exploring the neighborhoods of Mobile, look at the historic markers and coats of arms on the restored houses.  You'll learn all kinds of fun facts about the city and be able to impress all your friends when you bring them back!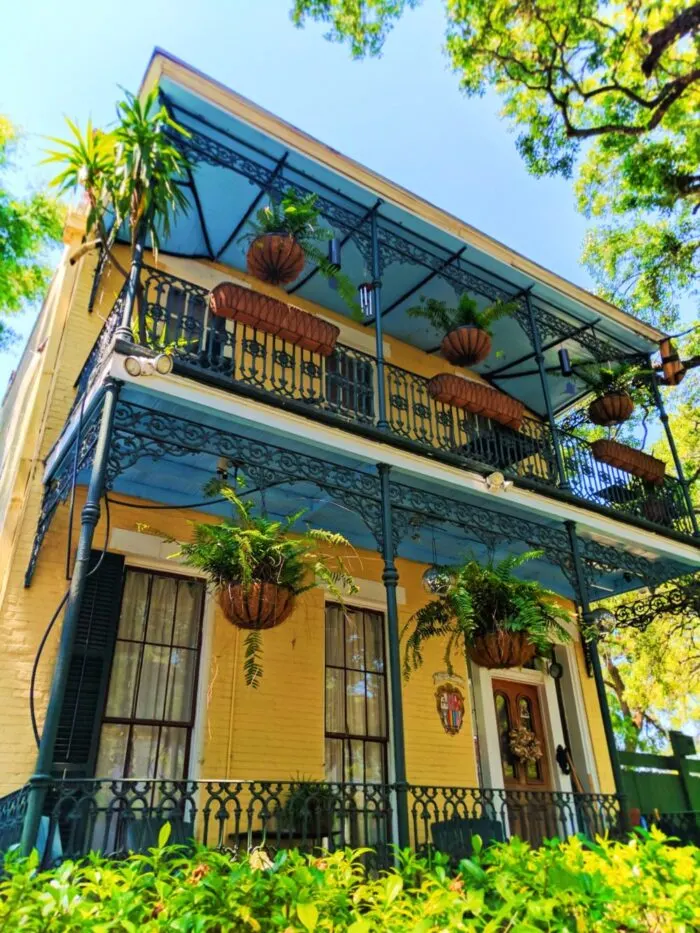 Another beautiful neighborhood to wander through is the Oakleigh Garden Historic District.  Here, in addition to the beautiful and interesting homes, you'll find some of the most impressive live oaks I've seen anywhere in the South.
Wandering the streets below the oaks and past the shotgun houses you'll eventually get to the Church Street Graveyard.  It's right by the old library so you can't miss it.  This beautiful old cemetery has some of the oldest graves in Mobile, Alabama, including that of Joe Cain, the re-founder of Mardi Gras.
Photo tip:  photographing the live oak neighborhoods and cemeteries is best in the LATE afternoon.  The filtered light makes for interesting shots with much softer shadows.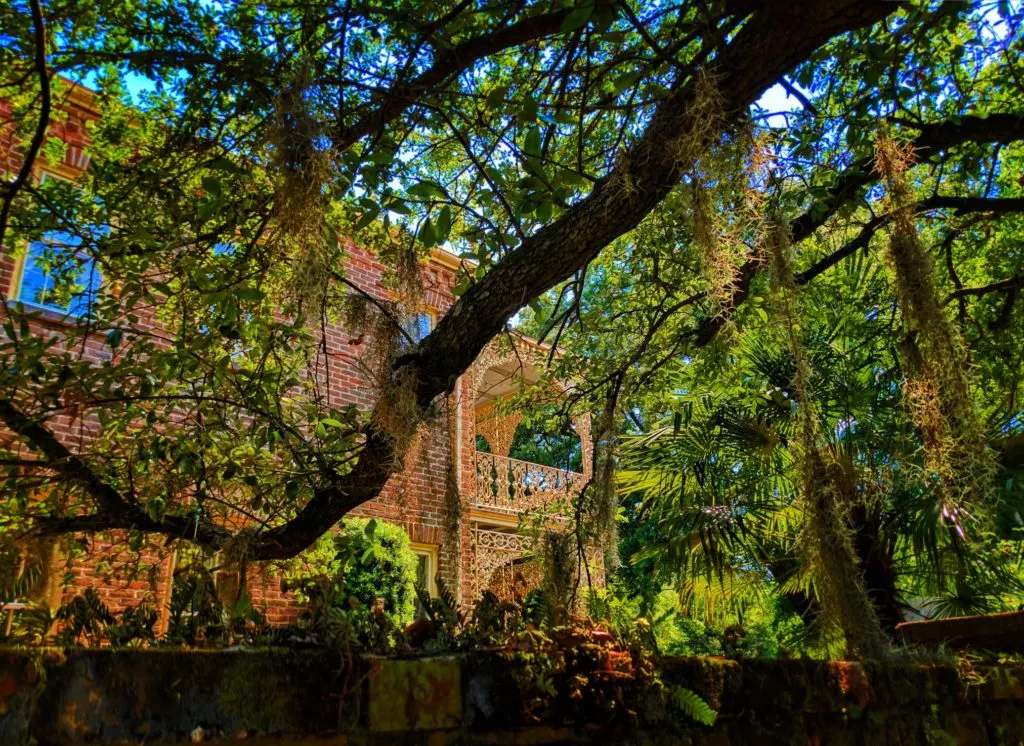 The last neighborhood that I wanted to mention is the Church Street East Historic District.  This is actually where I stayed, at the Malaga Inn, and I loved it.  In the morning, walk past wrought iron railings and find Mardi Gras beads in the bushes.  At night, there are gas lamps and dimly lit windows, so it.  
A few blocks away is Colonial Fort Conde and the Plaza for Mardi Gras events.  The historic charm is THERE along with plenty of things to do.  If you're not staying in this neighborhood, as least pay it a visit and enjoy some of Mobile's history.
PS, this is also the sunniest neighborhood in Mobile, so if you're out walking, be sure to consider your sun protection.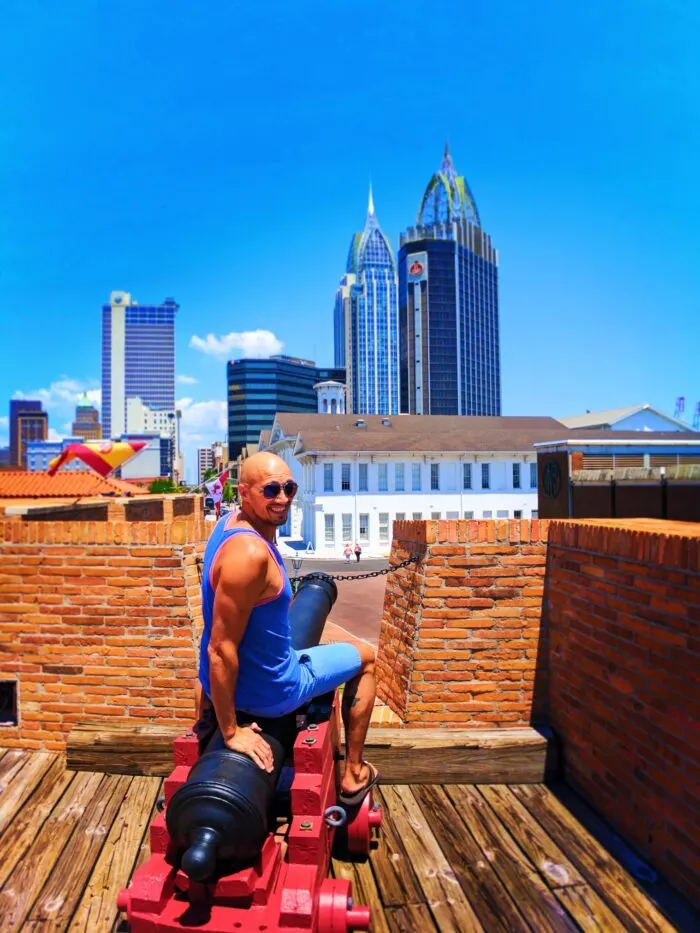 Enjoy the Best of Mobile's Southern Cooking
Southern cooking is famous the world over, and Mobile is the epitome of that. Since Mobile is both modern and historic, you find a diverse mix of cooking styles. Yes, you'll see Southern ingredients that tie them all together, but no two styles of biscuits or beignets are the same. Where to begin?!  
Let's just say that between blue crab legs and beignet sandwiches I was never hungry or bored with food. Here's just a taste of what I found and, no doubt, I should be including many more restaurants in downtown Mobile.  Here are three wonderful picks / ideas for breakfast, lunch, and dinner:
Wintzell's Oyster House

– anything with the tiny crab legs or the shrimp in ANY of their sauces and styles.  And their Oysters Monterey were my favorite. This is the only time that I've had oysters and enjoyed them.

Panini Pete's

– so the beignets are amazing and much more dense and, dare I say it, more delicious than other's I've add throughout the South.  And they'll make you a bacon and egg sandwich on a beignet! They also do delivery, but since Panini Pete's is located right in the historic downtown area, you can just walk there or stop in as you explore.

Noble South

– this is where I learned the Southern cooking isn't all butter with a side of butter.  Even though there were some beautiful meat dishes being served, my vegetarian collection of courses was an unforgettable surprise.  Especially the squash blossoms.  Perfect. I am excited to eat here again!
I had all kinds of other great food, but these three hot spots rang the bell for me.  Each was delicious and totally unique, highlighting the best of Southern cooking.  For more great ideas, check out this great article on restaurants in Mobile!
---
Book an evening food tour in Mobile here! – NOT OPERATING DURING COVID
---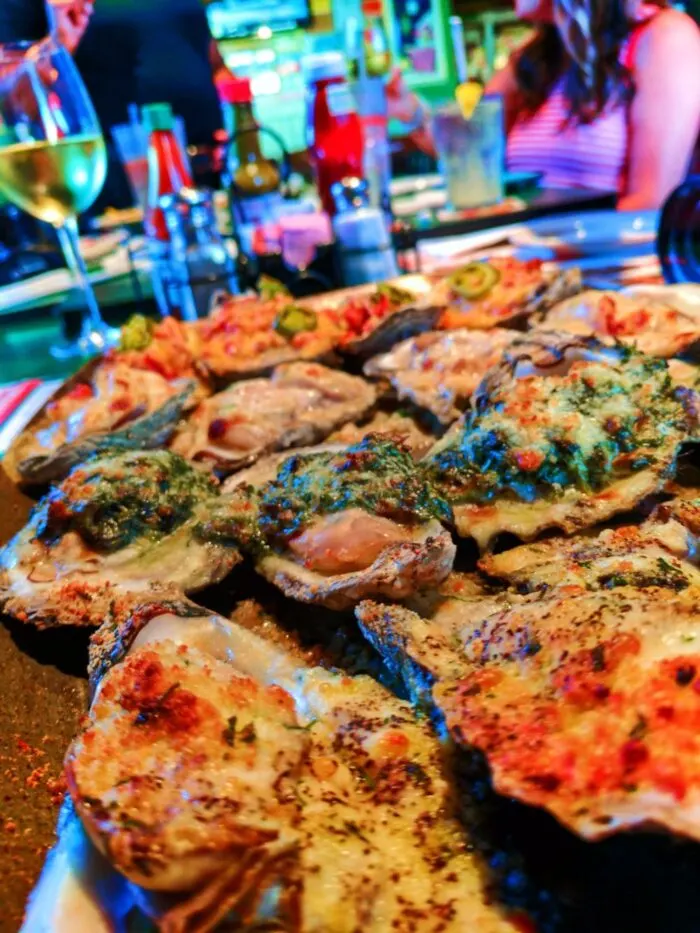 Get to Know the Locals of Mobile, AL
OMG, you don't even have to try to do this.  I met so many great people just walking around Mobile. Chatting it up with Mobilians is one of the best things to do, and it just happens.  Some of my favorite people that I got to hang out with were actually the many different servers in the restaurants I ate at (and then saw them about town).  
Ms Pinky at Wintzell's Oyster House had a new phrase for how delicious each dish was.  The gentleman at the Mardi Gras museum had amazing stories about festivities through the years and strength and presence of the LGBTQ population of Mobile, Alabama.  One of the four different servers I had when dining alone at a sidewalk cafe didn't want to talk about Mobile, but about my kids and all the weird things about being a parent.  
And then Spring, our breakfast server one day.  She was a delight.  We chatted about food and Mobile and Mardi Gras, and then art.  She's an artist whose medium is beads, which is perfect for being a Mobilian from the birthplace of Mardi Gras.  
Tip:  take a look at Mardi Gras bead art. It has got to be my new favorite medium and motif.  Mardi Gras bead art is so intricate and takes much more patience than I'll ever have.
Someday when I'm bored and just want to gab, I'm going to take a road trip back to Mobile and just go cafe hopping inviting random people to sit with me and drink iced tea.  Or sweet tea.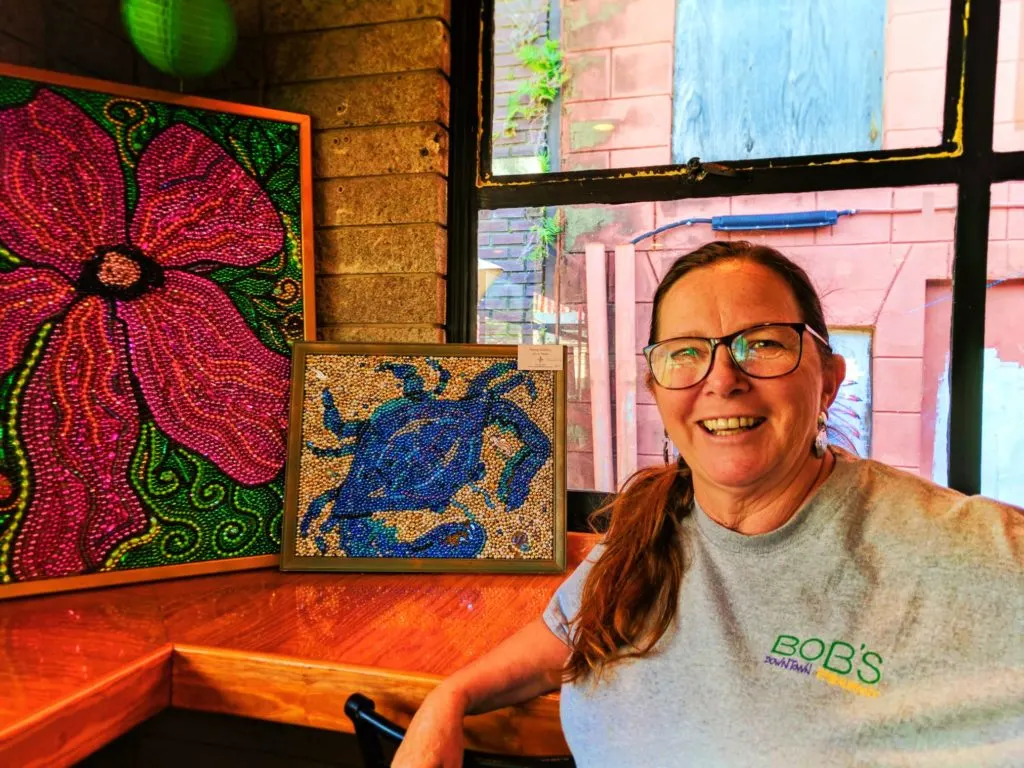 Airboat Rides on the Mobile Delta
We've gotten to take the kids on a airboat rides through the mangroves of the Everglades and love it!  Here in Mobile there is a different opportunity to do an airboat ride and it is just as fun but totally new when it comes to the scenery and wildlife. It's a must when you're planning things to do in Mobile, AL.
Just outside of town there's an area call Spanish Fort, and that's where we met Captain Geoff.  In addition to being an airboat captain, he's also a naturalist, so boom, sold. We've had very unique ecotours in Florida and in Cabo San Lucas, but doing the airboat with Captain Geoff was a very different experience, yet equally thoughtful and educational.  
Between the care he showed in his boating and the knowledge he imparted with great intent, Airboat Express is definitely in the top ecotours I've been a part of (including some amazing ones in Montana and Alaska).
The highlight of the Mobile Delta airboat tour was definitely the wildlife.  There were all kinds of fascinating birds and really unique vegetation, but this was the first ecotour I'd done that took us past alligator dens and nurseries.  We saw some enormous gators, yes, but getting to see baby alligators swimming or crawling all over each other was a real treat.
Tip:  if you have kids with you for an airboat tour, be sure they have sunglasses.  This helps keep the wind out of their eyes and they'll have a much more enjoyable experience.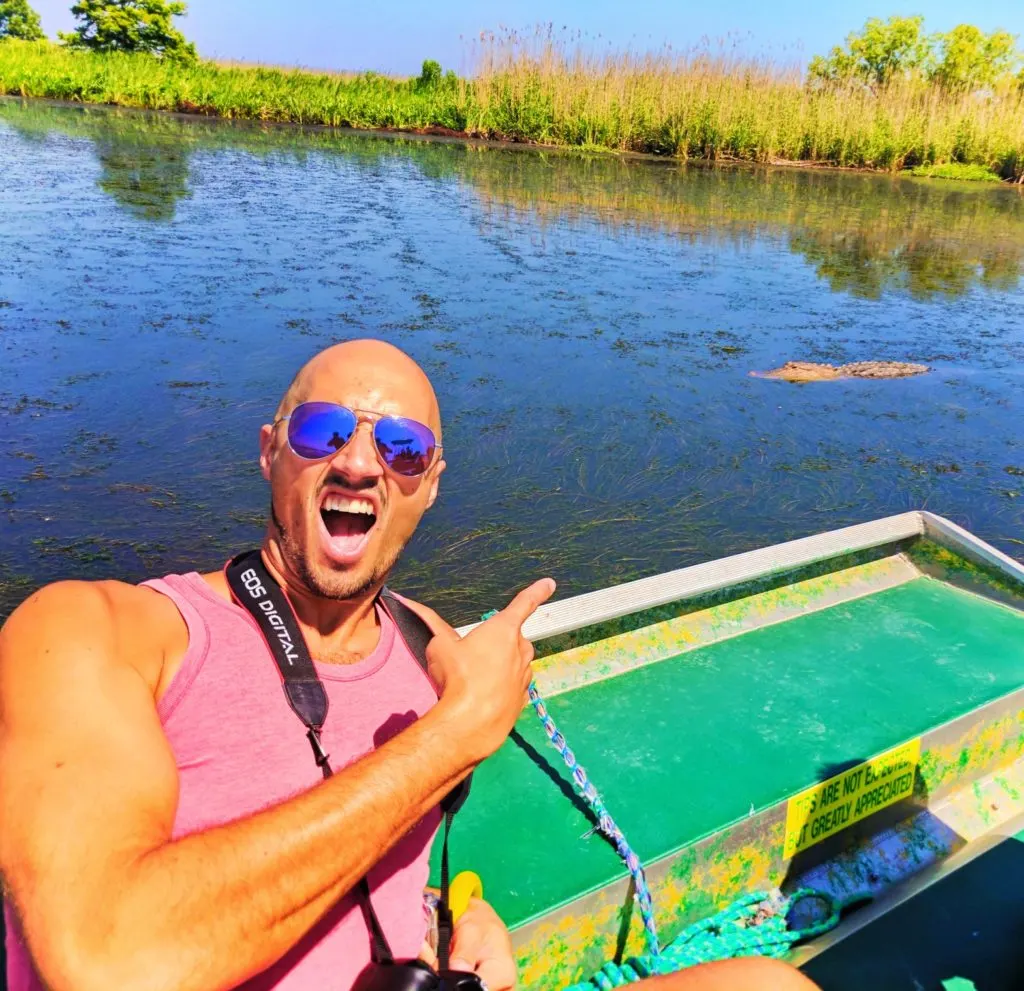 ---
If airboats aren't your thing, there are also kayak tours available on the Mobile Delta. Book one here!
---
Mardi Gras Things to Do in Mobile
As I've mentioned several times Mobile, Alabama is the birthplace of Mardi Gras.  The city really is born to celebrate like their motto says.  So, for starters, the Mardi Gras museum (also called the Carnival Museum) is pretty darn cool and interesting. And weird.  
If you happened into it without any preface you might think you stumbled into the Inauguration Gown gallery at the Smithsonian…but full of drag costumes.  I've never seen such lavish regalia.  So much embroidery and beadwork. The Mardi Gras Museum is required in your list of things to do in Mobile.
---
Pre-purchase tickets to the Mobile Carnival Museum here!
---
The other ever-present aspect of Mardi Gras are strands of beads.  Everywhere.  On my first night in Mobile I went for a walk and my eyes kept darting around to find beads in the trees and on lamp posts left over from the recent Mardi Gras celebrations.  I went on a tour driving around the many historic neighborhoods and sights and was given my own strand of Mardi Gras beads. They're now sparkling somewhere in Mobile, reminding somebody else that there's another celebration around the corner.
When you spend your time talking with the locals and gabbing it up with your server you'll see that everything is related to Mardi Gras:
"What have you got going on this weekend?" "Oh, I have a meeting with my mystic society."  

"Oh, when did you do X, Y and Z?" "Well, it was just after Mardi Gras and…"

"Any big plans coming up?"  "I know that there's a ball I am attending at Thanksgiving… It's the start of Mardi Gras."
Seriously, you can't escape it and that's just fine.  Seeing how excited and how dedicated each person is to EVERYTHING Mardi Gras is bizarre and inspiring.  It is a complete sense of community. Hopefully we'll get to experience Mardi Gras in Mobile, Alabama in the next few years. It'll be amazing.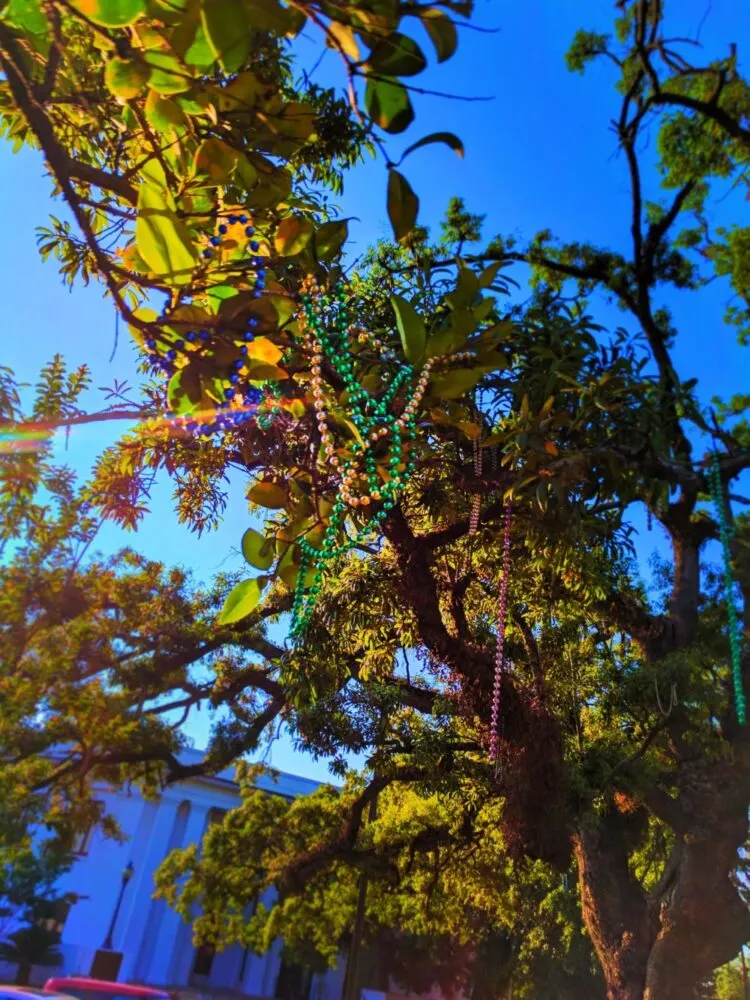 So I know Mobile might not have been on your radar before today, but doesn't it sound fantastic and aren't you ready to plan a trip? There are so many things to do and wonderful foods to eat! I can't wait to return with my family and have an awesome time making Mardi Gras memories and more.