One of the primary reasons we travel with our kids and show them as much of the world as we can is because we want them to grow up to be educated stewards of our world.  One way to do this is by participating in ecotourism, and in Florida there are some great opportunities for just that.  We've done several different types of ecotours in Florida now and feel it's important to encourage others to seek out activities like these for the better of the earth and the better of vacationing.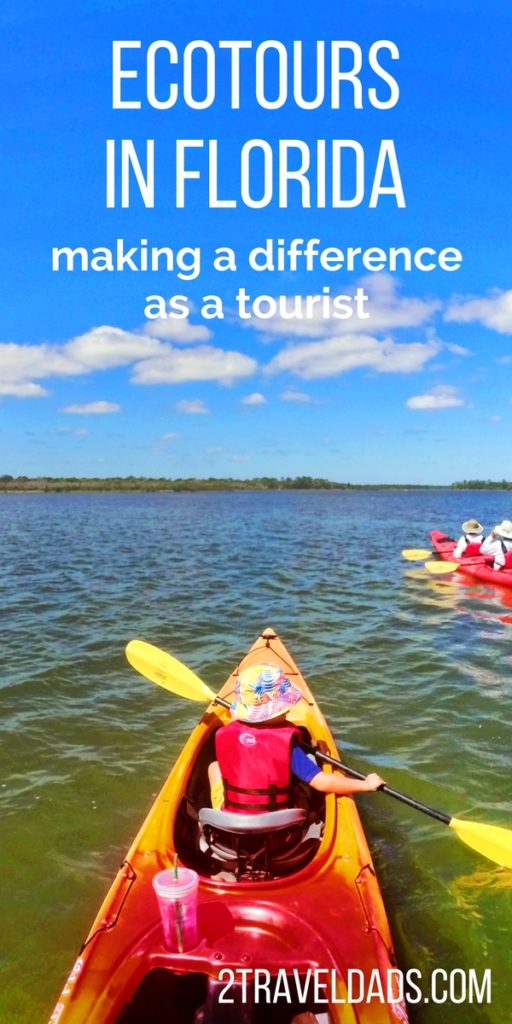 What is ecotourism?  Well, per the International Ecotourism Society it is "responsible travel to natural areas that conserves the environment, sustains the well-being of the local people, and involves interpretation and education."  This is exactly what we've experienced on our trips and why participating in ecotours in Florida is important.
Ecotours in Florida
Florida has a bad rap for its policies and practices when it comes to the environment and how it's protected, and rightfully so.  With everybody wanting a piece of the Florida sunshine, now more than ever it's important to be making tourism decisions that positively impact the environment and economy in the right way.
How does participating in ecotours in Florida make a difference?  Simple:  the tourism businesses that are conducting ecotours are being mindful of how the enter and interact with the environment, with the habitats and creatures, and how they're educating their guests.  When you do an ecotour you're putting money into a business that's providing a service to the community and protecting the nature they're working within.
We written before about voting with your dollars and making smart tourism decisions, and ecotourism is one way to do that. True, the tour company you go with isn't necessarily donating their profits directly to the WWF or Nature Conservancy, but they're going the extra mile when nobody is looking, working with lawmakers and visitors, educating them about the state of the environment and how to safeguard it.
Catamaran adventure with St Augustine Ecotours
St Augustine, Florida is known for many things, but particularly for being the oldest city in the USA.  With that history comes all kinds of development and "progress" over the years, and then also influxes of tourists on the beaches and waterways.  St Augustine Ecotours is at the forefront of protecting the St Augustine Inlet, including the Matanzas River, St Augustine beaches, and the Salt Run.
Our guide, the owner of St Augustine Ecotours, Zach, was amazing to spend time with on the water.  Having been in St Augustine for 20+ years, he knows the bay and the life it holds.  On a normal bay cruise or dolphin tour you tend to get the experience of zipping around a bay or being on a large boat with an open bar and it's just kinda fun to be out on the water.  With an ecotour, like the one we did, it was so much more.
We started in the marina by the sea wall and headed out towards the Atlantic Ocean. Most of the ecotours in Florida will take you to some sort of transition zone, either where a bay meets the sea or a spring-fed river joins a brackish waterway or something like that, because this is where you'll find the most fascinating diversity.  Where the St Augustine Bay meets the Atlantic there is another smaller inlet called Salt Run.
Salt Run was a special place for us to start our ecotour because it's recently been discovered to be a refuge for adolescent sea turtles.  We saw another tour in the Salt Run area, a dolphin cruise, and they were following some dolphins who were heading towards the end of the bay.  Because we were on a tour that's all about education and being respectful and conscious of the environment, we let the dolphins go on their way and we watched the young sea turtles popping up around us.  
Tip:  if you time it right there is a Sea Turtle Hospital just off Salt Run that you can tour on certain days. It's a part of the University of Florida so is working in both education and conservation.
We also got to get a close-up look from the water at the Castillo de San Marcos, a 16th century Spanish fort that's now a part of the National Park Service.  The ecotour side of checking out the Castillo was in hearing about how storms and sea levels impact the fort and how it's stood the test of time.  For the kids though, it was just cool to cruise past since they always love exploring the inside when we're in St Augustine on foot.
While Oliver, our oldest, would say that the highlight of our St Augustine Ecotours experience was collecting seaweed and looking for creatures in it (really cool actually), we most enjoyed heading south in the Matanzas River and spotting manatees and dolphins.  There was a point where I had to decide to snap a pic of a jumping dolphin or two manatees as they kissed.  I chose the manatees.
Our guide, Zach, had a lot of info to share about the dolphins we were watching in the Matanzas River.  He's been studying them for some time and they've been able to document unique fishing behaviors that they can actually be seen teaching their young.  We got to watch the dolphins chasing the fish up out of the water and catching them, even tossing them.  Really cool.  And it was great to hear from somebody who is so invested in the dolphins' safety and well-being.  All through our ecotour our guide's passion shown through.
At the end of it, Oliver announced that he wants to be a naturalist.  He said the same thing after our kayaking tour. 🙂
Why THIS ecotour operator?
St Augustine Ecotours gets our strong recommendation due to the knowledge of the naturalists and their passion to protect the ecosystem of the area.  The team is active in pursuing legislation and community education, as well as is fiscally active in protecting Florida's nature.
Tips for an open water ecotour
:
Use plenty of sunblock

Don't forget your sunglasses

Have your camera ready, but also just watch with your eyes

Bring snacks if you're with kids

Bring LOTS of water (we always say that about everything)
Kayaking the Intracostal with Ripple Effect Ecotours
We love kayaking.  We do it a lot at home in the Pacific Northwest, so finding ecotours in Florida that are naturalist-led kayak trips was exciting!  Located just south of St Augustine in the tiny townsite of Marineland, Florida is Ripple Effect Ecotours.  Their ecotours can range from just a couple kayaks to 30+ people (with multiple guides).  We did just a small group which was perfect with the kids.
Starting on the Intracoastal Waterway we learned about the grand project by the Army Corps of Engineers: a waterway that stretches from Brownsville, Texas to Boston, Massachusetts.  Made up of many inlets, natural rivers and bays, the Intracoastal Waterway if full of all kinds of life.
Before we even began our ecotour we spotted dolphins in the river, so we knew we were in for a great time.  We made our way across the waterway, which is basically a highway for boats, and into the mangroves and grass islands.  This is where the learning and excitement really got the kids interest piqued.  At our first stop we were surrounded by hermit crabs and conchs, fish and herons.  We were overwhelmed.  Amazing.
Paddling on we explored the endless grass islands and mazes of the area, crossing lakes that only exist at high tide and creek turns so tight we could've gotten stuck if we weren't paying attention.  Every stop our guide, Lief, made had a purpose and we learned a lot about how the mangroves and grass islands were being impacted by climate change, changing waters and an imbalance of species.  Our guide found lots of examples of the changing ecosystems as we paddled and kept learning in terms we, including our oldest son, could fully understand.
Interesting species issue:  because the number of larger conch species, such as the queen or horse conchs, has declined the crown conch has grown in population. The crown typically is eaten by the larger conch species.  Since the crown conchs are becoming more abundant, they're eating the oysters that live in the brackish streams and lakes of Florida. These oysters are part of the natural water filtration system of the inland waterways… See where this is going?  Water quality is being impacted due to the population decline of the larger conchs.
The last big highlight of our time with Ripple Effect Ecotours was seeing dolphins from our kayaks.  As we were ending our ecotour we crossed the Matanzas River and entered the marina area… where there were dolphins playing.  We were given clear instructions not to approach the dolphins and just let them be.  The dolphins were interested in us though and put on a small show all around us.  It was such a treat.
Why THIS ecotour operator?
In addition to leading a really well executed kayak experience full of learning, Ripple Effect Ecotours partners with both the University of Florida and Guana Tolomato Matanazas (GTM) Research Reserve to offer adult education classes towards becoming a Master Naturalist.  They're active in inspiring and teaching all ages, from locals to tourists.
Tips for a kayaking ecotour
Prep with plenty of sunblock

Wear hats and sunglasses

Prefit life-vests to be secure yet allowing for unrestricted motion

Wear water shoes or sandals

Bring lots of water to drink

Stretch after you're done kayaking
The slow boat from Fountain of Youth Ecotours
The third of our ecotours in Florida we want to share was within De Leon Springs State Park near Daytona Beach, Florida, ran by Fountain of Youth Ecotours.  
At first we weren't sure what to expect because everybody was so quiet and calm before we pulled away from the dock at the ACTUAL Fountain of Youth, but our naturalist guide, Karen, started to share all kinds of info about where we were and the life surrounding the river and… THEN THERE WERE BIRDS!!!
It was both awesome and hilarious.  Our guide went from calm to thrilled and completely had the kids' attention.  On previous ecotours in Florida that we'd done there was a lot of discussion around tides, climate change and human impact because the areas we were in were so strongly connected to each of those aspects, but here, being surrounded on both sides of the river by different protected areas, the wildlife was the highlight and it was parading itself around the banks for us.  One side of the river is Lake George State Forest and on the other is Lake Woodruff National Wildlife Refuge, so lots of protected space for all kinds of creatures.
Karen, our guide, was able to share all kinds of fascinating details about the animals we spotted on our ecotour.  The most interesting was actually about the anhinga birds.  We'd seen them all over on other tours and hikes that we'd done, but never understood their strange wing spreading that they do.  
Fun fact:  It turns out that the anhinga's feathers are very different from other diving birds and they actually have to dry out their wings in order to fly after a dive.  #TheMoreYouKnow.
Other super cool moments on our Fountain of Youth Ecotour included spotting a sleeping manatee, or "Man-teeeeee" as our youngest calls them, spotting alligators resting in the sun, spotting gators swimming all arounds, spying on a few baby gators, and watching huge great blue herons swooping along the river beside us.  Seriously, between the abundance of wildlife and our guide's sharp eyes, we had the best experience that the kids really connected with.
Why THIS ecotour operator?
True, you can rent canoes or kayaks at De Leon Springs State Park but unless you're already a naturalist yourself, you'll miss out on tons of information and probably won't see much of the wildlife that a guide's well-trained eyes can spot.  Also, if you're traveling with small, impressionable children, having direct access to a knowlegable and passionate guide may just plant the seeds of a future education path or career that can better the planet.
Tips for a slow river ecotour
Bring a good camera with a telephoto

Sit close to the guide if it's a larger boat

Don't hesitate to ask questions

Bring water
As you can see there are lots of different types of ecotours in Florida.  There are lots of tour companies in general that will get you out onto the water, but touring with a company like the ones we've shared is a great way to ensure you're spending your money with a group of people that are actively teaching and making a difference.
Beyond Florida, there are loads of other types of ecotours you can seek out, including "voluntourism".  If you have recommendations or stories to share, leave a comment below.  We are always on the lookout for meaningful travel experiences with our kids.
And if you need to pin this for your own upcoming vacation planning, go for it!