There are days or weeks when we are just worn out; sometimes it's from traveling a ton and sometimes it's just because life can be a lot to deal with. That's why we always try to relax on our weekends and get a good recharge. We've partnered up with Hampton by Hilton to both help us find new ways for our family to recharge and to share with everybody else just what it means to be a Seekender, and we did it in Hood River, Oregon.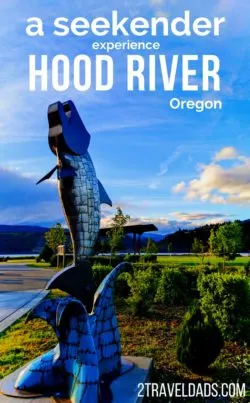 Hood River has long been a favorite place for us to escape to with the kids. It's perfect for a weekend getaway because it's not crazy far from home and there are countless ways to have a new experience each time. On our most recent visit we really aimed to take the role of Seekender and find all new activities to recharge. Here's how we set ourselves up for a great time away in Hood River as a family.
Accommodations with Hampton by Hilton
On our epic Florida Gulf Coast road trip we had a campervan the whole way… except for those nights at the start and end when we had to be in Miami. The Hampton Inn & Suites Miami-Brickell was our recharging station after the longest day of travel ever and then after days on end on the road. It was just what we needed. So then thank goodness we spent a Seekender weekend in Hood River in the brand new Hampton by Hilton on the waterfront. Again, perfect recharge; and the staff was so welcoming from the get-go.
We arrived and were given a nice room on the top floor looking out at the Columbia River, which is exactly what you'd hope for staying in any hotel in the relative location. Upon seeing that we didn't have a bathtub but a walk in shower, we called to the front desk to see if there was a room with a tub available since the kids always prefer a bath and the desk agent did a quick shuffle to get us into a larger room, I'd call it a suite, with a tub and extra play space for the kids. It was a really great surprise
In the mornings when we needed breakfast or coffee, even when dining out for breaky, the staff in the pantry area and lobby were ready to strike up a conversation and be of help in a heartbeat. It was nice to have people all around that were genuinely invested in making sure guests were able to relax… and they didn't even know we'd be writing about them. 🙂
Tip: if you're goal for a weekend trip is to relax close to home, chances are there's a Hampton Inn & Suites somewhere near your town, and there's probably a Seekender or travel blogger that has some advice for great ways to unwind and experience the area. Just sayin'…
Food in Hood River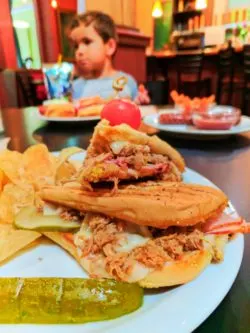 Washington and Oregon are states of great diversity and it really shows in the food you find. While we don't really write about food, it's always worth calling out when we visit a place that's full of really great grub. Or beer. Or wine sometimes. Hood River and the Columbia River Gorge is chalked full of deliciousness.

Most creative menu
Being a family full of food allergies and diverse tastes, it was great to find farm-to-table options, woodfire pizzas with fruit on them, salmon, and much more. And craft beer… cuz Oregon. – Solstice, Hood River OR
Winningest craft beers
When you get a beer flight that celebrates great PNW IPAs, you know you've struck beer-gold – Backwoods Brewing Co, Carson WA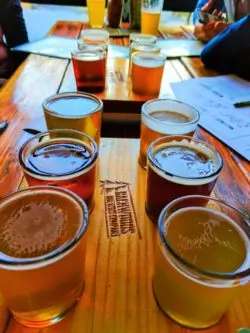 Most random food find
Hawaiian BBQ with a smoker serving up some of the most tender vittles around. The location and atmosphere don't do the food justice! – Lilo's BBQ, Hood River OR
Favorite winery in the Columbia River Gorge
Good wines, of course, but also being family friendly and ready to entertain kids and adults alike, that's just smart and thoughtful – AniChe Cellars, Underwood WA (winery + vines) & Hood River OR (tasting room + gallery)
Fun all around Hood River
Like we said, we're frequent visitors to Hood River since it's so easy to take a weekend trip to the Columbia River Gorge, so we've got our favorite activities. We like to do a little hiking, a little window shopping, a little people watching, driving the fruit loop…
Waterfront Park
Walking distance from the Hampton Inn & Suites Hood River, Waterfront Park is perfect for unwinding with kids. It's got a playground, complete with a rock wall (cuz when in Hood River…), walking paths, seating for watching all the windsurfers and kite boarders of the Event Site, and even a suspension foot bridge carrying over to the History Museum of Hood River County. Needless to say, we were not bored during our whole stay.
Tip: if you'd like to try another brewery, pFriem Brewing is located directly across from Waterfront Park. Very busy place!
Vintage Cars and Airplanes in Hood River
For the first time ever we got to visit the WAAAM: Western Antique Aeroplane and Automobile Museum. We weren't exactly sure how the kids would enjoy WAAAM but it was a hit! The museum was well staffed with friendly, knowledgeable volunteers from around the Hood River area and they were all so passionate about the planes and cars on property. The kids apparently really have a thing for vintage aircraft. Who knew?
The people we met at WAAAM really made the visit special, from the retired airmen telling stories of flying over the mountains to the pilot that was so passionate about flying gliders. And Ruth Blackburn who's just about 90 years old and rides her crazy tall motorized tricycle around the hangar.
Tip: check WAAAM's schedule if you're visiting on a Saturday as they fly a bunch of different vintage planes and offer rides in a variety of classic cars on the second Saturday of the month.
Waterfalls in the Columbia River Gorge
The most popular tourist attraction in Oregon is Multnomah Falls, which is only about a half hour from Hood River. Multnomah and the many other falls of the Columbia Gorge Waterfall Area are great for a day trip and their beauty is really something, but there are lots of tourists. Go, totally, but if you're up for a less crowded waterfall experience, cross the river to Carson, WA to hike to Falls Creek Falls.
Heading away from the Columbia River up Wind River Road and then onto a forest service road (follow the signs), you'll come to the trail head for Falls Creek Falls. The hike is an easy 1.75 miles in crossing a few fun bridges (a wobbly bridge even!) and being surrounded by the greenest vegetation outside of the Hoh Rainforest. The falls is incredible and will leave you a bit speechless initially. For having done a weekend in Hood River on countless occasions, somehow we had never made it here for hiking. Thank goodness for friends with recommendations.
Tip: on any weekend getaway in the Pacific Northwest, you should always have your hiking boots or spare shoes in your trunk. You never know when hik-spiration will strike!
A break with friends
Another part of recharging is spending time with friends. Since we've been in the travel industry in one form or another for 17 years we have made friendships everywhere. Hood River was perfect for getting to connect with some of our oldest friends. We try to travel to places where we know we'll get to see people, and this Seekender trip did that.
And despite the number of times we've visited Hood River, we still need help from locals, aka our buddies, to find cool new things to do. They actually were the ones who suggested Falls Creek Falls for a fun hike with the kids.
Tip: if you feel like you don't need to break away or don't know where to go, pick a friend that you haven't seen in a while and would like to catch up with. Use them for your travel inspiration!
So can you see why our Seekender weekend was so awesome and did us so much good? It was ideal having a consistent home base to come back to at the end of each day, and the amenities at the Hampton Inn & Suites Hood River made it easy to just chill and recharge.
It's funny: for all the traveling we do, so little of it is for the purpose of relaxing and just being together. Our Seekender weekend did just that, and in plotting out how we could best regroup as a family, we're actually pretty darn inspired to set aside a few more weekends to do the same sort of relaxation and exploration in some of our other favorite local spots.
If you have any ideas for where we could/should head next, let us know! We're on the lookout for our next sleepy town or nature adventure, so be our local friend and point us in our next direction!