By now you know that we're head over heals in love with Florida (#LoveFL).  St Augustine caught us with its charm and history.  The Everglades stole our hearts with the gators and one-of-kind landscape.  Rainbow Springs left us speechless with its crystal clear water and endless fun.  St Pete Beach and Fort De Soto are just icing on that cake of love.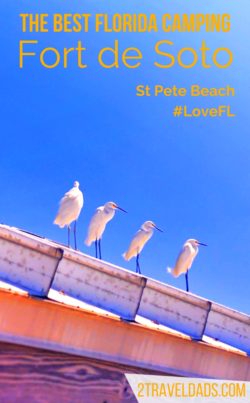 At home in the Pacific Northwest we've got Fort Worden or Fort Casey to satisfy our need for beaches, bunkers and lighthouses.  Fort De Soto County Park has all of this and more.  And it's actually warm and sunny so you can swim and have an amazing Florida experience.  Check it out!
Locale of Fort De Soto
Fort De Soto County Park is at the very western end of Pinellas County at the edge of Tampa Bay.  Technically in Tierra Verde, Florida the park covers five different keys (islands).  The first key, St Jean Key, is where you'll find the campground and the start of the biking trail, and the campground also spills onto St Christopher Key too.  The second island, Bonne Fortune Key, is home to mangroves and small water access spots.  The key to the west, Mullet Key, is the largest and most fun.  This is the main island and is where you'll see the bird sanctuary, actual fort, ferry to Egmont Key State Park, the piers, and the beach.
Beyond Fort De Soto County Park, you'll find loads to do in the area.  St Pete Beach and St Petersburg have all kinds of great restaurants, beautiful hotels (the Don Cesar!), and wonderful cultural sites, including the Salvador Dali Museum.  South across the Sunshine Skyway Bridge you'll find Bradenton with its own beautiful beaches and De Soto National Memorial… in case you're into living history and Spanish cosplay.  Lot's to do all around the Tampa Bay area!
Staying at Fort De Soto
You know we love camping, so on our epic Florida Gulf Coast road trip we tooled up and down the coast in an Escape Campervan.  It was awesome!  We made our reservations at Fort De Soto through the Pinellas County Parks website about a month in advance.  
Tip:  book your camping reservations here, or any other Florida park, as far in advance as possible.  Florida State and County Parks fill up fast and far out.
The campground was really cool, like camping in a palm jungle.  Each campsite is separated from the next by dense vegetation.  The palm trees and vines provide a partial canopy in most sites and it's really cool.  Each camping loop also has well maintained bathroom and shower facilities, and there is a communal playground in the campground as well.  It's a great spot for a family vacation or weekend getaway.
The Waterways
Not that the Gulf of Mexico has crazy tides or anything, but the waterways surrounding Fort De Soto County Park are really calm and quiet.  Kayaks and stand up paddle board (SUP) rentals are available in a few different spots in the park so that you can explore the bays and mangroves surrounding the keys.  
Fun activity:  whether or not you're a birder, you'll love seeing all of the different shorebirds that congregate at Fort De Soto, from roseate spoonbills to great blue herons, egrets to ibises.  You cannot paddle into the protected area of the bird sanctuary, but you can approach it and there are loads of spots to watch the birds from the water.
The Bunkers of Fort De Soto
Hands down, nicest military bunkers we've ever toured, and we've been through a lot of them including in San Francisco and all around Washington State.  Very well maintained, but also very limited, the bunkers of Fort De Soto are a fun addition to a day in the park.  Unlike most of the West Coast bunkers, these are white washed and well lit.  Our kids prefer the dark, scary labyrinths of the bunkers we have at home, but I particularly liked being able to see and not be freaked out by the never ending corridors.
Note:  the cannons at Fort De Soto are pretty cool (if you're into military history) and you won't find many like them anywhere else, as they're short, stubby cannons that point vertically.  Weird.
Fort De Soto's North Beach
You never have to coax us to have a beach day, especially when the beach access is so easy and the sand so beautiful.  Fort De Soto County Park's North Beach is a long one with plenty of space for beach-goers.  The current here is stronger than any other beach we visited on the Gulf Coast, but it's still very easy to manage even if you're not a strong swimmer.
The best part about the beach here is the manatees. Yep! So, the manatee hoopla began when I was swimming back into shore and bumped into him.  Turns out he had some friends with him and they were making their way around the island.  We got to watch them around the pier and going back and forth at the beach.  It was a really special experience.
Note:  if you are trying to communicate with somebody speaking French, Spanish or Italian, the word for "manatee" is "lamantin" or "sirene"… like a mermaid.
The Fishing Pier
You know that we don't sport fish and we actually don't fish for food either, but a lot of other people do. The 1000 ft fishing pier is super fun for kids, with fishermen on both sides casting and reeling continually… vying with the dolphins for fish.  Yep, we got to run back and forth on the pier tracking the dolphins as they swam at top speeds, playing with fish and fishermen.  The kids loved it!
Also from the fishing pier:  manatee watching.  If they're in the area, the manatees love to eat the sea grass that grows around the island, particularly on the north end.  Keep your eyes peeled!
Can you see why we fell in love with Fort De Soto?  I have to admit that it actually is quite a bit more cool than our two main fort-parks in Washington State… but then you can't blame the PNW for not being Florida with all of the sunshine and warm water.  Oh well, we'll just have to get back to Fort De Soto sooner than later for another unforgettable camping experience by the beach.
Do you know of any other spots like Fort De Soto you can share?  We're always looking for those perfect combos of history, nature and fun, so tell us where to go next!