We are so fortunate! We've gotten to visit St Augustine and Florida's Historic Coast a few times now and each time we love it more and more. On this most recent visit we got to spend a lot more time exploring the nature of the area and we've got some awesome ideas for outdoor activities around St Augustine.
Everybody thinks of St Augustine for its history and being the coolest town in America, and rightly so, but there a lot more to it as well. Being a perfect blend of beaches, swamp land and estuaries, outdoor activities around St Augustine will keep you busy as you create an exciting adventure.
St Augustine Beaches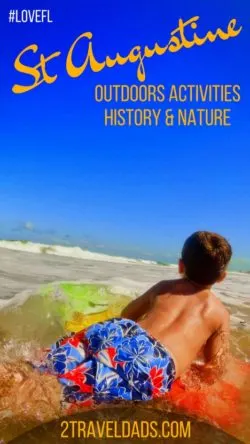 How can you ever talk about visiting Florida without hitting the beach. We've learned how to schedule our days with the kids to allow for playing tourist and seeing the sights and also having a good amount of beach time. When you're in the area, outdoor activities around St Augustine ALWAYS afford for beach time.
Ponte Vedra Beach
North of the city of St Augustine is Ponte Vedra. Yes, it's the land of beautiful homes and golf courses, but it's also a wonderfully long strip of beach with just the right waves for playing. We opted for the beach access across from the GTM Reserve, Guana Tolomato Matanzas Research Reserve, as there was a parking area and actual crosswalk to the beach.
The beaches of Ponte Vedra were great for beach combing as well as playing in the sand. The texture was just perfect with enough chunkiness to not make a huge mess in the car but soft enough to feel amazing between your toes. And it's absolutely beautiful. The waves here are just large enough to be exciting for adults but also small enough that you can feel safe playing in them with older kids. We even attempted to teach our oldest how to boogie board here!
Tip: depending on your travel style or where you're staying you may have beach toys at your fingertips. Always keep them in your vehicle just in case you need them. And a good beach umbrella is really helpful too.
Ponte Vedra Beaches are ideal in your plan for outdoor activities around St Augustine as the beaches aren't terribly crowded and there is very little development around the public access points. We cannot wait to go back!
St Augustine Beach
The shape of the Continental Shelf around North Florida make for varying beach types every few miles. Where Ponte Vedra had some great waves and gritty, shelly sand, St Augustine Beach has a much farther tidal break and the wave take longer to roll in. St Augustine Beach is ideal for a sunny day with smaller kids.
We really enjoyed the beach combing on St Augustine Beach. The shells were quite plentiful and there was a great variety. They were all very different from what we found on the Gulf Coast Beaches. The bird watching was also quite different at St Augustine Beach with a lot more plovers and egrets than up north.
Note: there are some great restaurants in the St Augustine Beach area, so plan on grabbing at least one meal there. We had some tasty Caribbean-American fusion at Mango Mangos and loved it. We even bought some of their special key lime seasoning salt. Delicious.
The Estuaries and Reserves
If you're unfamiliar, river deltas or marshlands near the beach typically create estuarine environments with lots of dense vegetation that thrives in the brackish waters (fresh/salt water mix). This is also a great place to find shorebirds, dolphins and more.
GTM Reserve Education Center
Starting north in the Ponte Vedra area and heading far to the south is the Guana Tolomato Estuarine Research Reserve. When you're planning outdoor activities around St Augustine be sure to spend some time here.
Our first stop in the GTM Reserve was at the GTM Environmental Education Center. Have you ever walked into a building with no idea what you'll find and then come face to face with a near life-sized right whale? Yeah, that was us here. Upon entry we were given a scavenger hunt to guide us through the many exhibits as we learned about the estuary, animal migrations, and the problems marine ecosystems face regarding pollution. It was a great place to show the kids up close why we need to care for the earth.
After some awesome learning we headed outside to check if there were manatees in the river at the moment. There weren't but we did spy all kinds of birds and loved watching the mullet (fish, not hairdos) jumping and slapping the water around us.
Kayaking the GTM Estuary
South of St Augustine in the town of Marineland there is a marina with a great eco-tour company, Ripple Effect Outdoor Adventures. We met our guide, Leaf, who outfitted all four of us for a day of paddling and then set out across the Inner Coastal Waterway and into the estuary. Before we even got into our kayaks we were watching dolphins playing and fishing right in front of us.
Kayaking is a must when it comes to outdoor activities around St Augustine. With such a diverse environment, how can you not want to explore it up close? Our guide was very passionate about sharing the ecosystem and explaining the different issues facing it, from climate change and its effects to the imbalance of species within the waters.
Tip: when you're kayaking in unfamiliar waters or in a protected area, book an eco-tour with a naturalist guide. You'll learn so much, you'll be safer (for you and nature) and you'll have an unforgettable time.
As we wrapped up our kayaking in the GTM Reserve we got to observe a couple of dolphins fishing. They were getting playful and putting on quite the show. We were all careful to not paddle towards them, but the dolphins swam all around us. Following this, Oliver, our oldest, told us that he wants to be a naturalist someday. I hope that happens. 🙂
Tip: always be sure to have extra water with you when you're kayaking. It's an incredible workout and you'll sweat more than you think.
Exploring the Inner Coastal Waterway
Yes, the estuaries on the North Florida Coast are all along the Inner Coastal Waterway, but you can actually get onto the Inner Coastal for its own outdoor activities around St Augustine. Check it!
St Augustine Eco Tours
We love doing boat tours. We've done them all over the place, from the Everglades to Mexico to up in the mountains of Glacier National Park. When we boarded our boat with St Augustine Eco Tours we weren't too sure what to expect, but we'd heard that Zach, the operator, was an amazing naturalist who cared deeply and was great with kids. Totally true.
Going on a power boat on the Matanzas River, aka the Inner Coastal Waterway, was way different than kayaking in the estuary. We were able to head out to Salt Run Bay between Anastasia Island and the city of St Augustine, where we watched dolphins playing and juvenile sea turtles popping up all over the place.
Note: this particular area is really unusual when it comes to a habitat as it's where many sea turtles live and grow from when they first make their journey into the ocean until they're adults swimming the open sea. It's a special spot.
Following exploring the more open bay, we headed up the Matanzas river, learning about shore birds and the fort, the Castillo de San Marcos. It was interesting seeing and learning about the fort from the water; it was a totally different experience.
Moving south we were treated to an exceptional moment: we came across a small congress of manatees feeding…while a family of dolphins went crazy catching fish and throwing them into the air just beyond. It was amazing! The kids loved every minute of it. Our naturalist, Zach, also pulled out an underwater microphone so we could listen to the dolphins. Seriously awesome eco-tour.
One of the highlights for the kids was riffling through the seaweed that had been swept into the Matanzas River. It's called sargassum and it drifted in from the middle of the Atlantic Ocean on a crazy, unusual current. Each chunk of this seaweed was full of creatures, from shrimp and crabs, to fish and nudibranchs (sea slugs). So cool!
Tip: if you'd like to really learn about the marine ecosystem of the North Florida Coast or want a trip geared up to make a difference, talk to St Augustine Ecotours about how to spend some extra time with them, and maybe even do some volun-tourism in the area.
Fort Matanzas
We fell in love with Fort Matanzas National Monument on our first trip to Florida's Historic Coast. Planning an adventure to the Fort is one of our musts for outdoor activities around St Augustine. Located on the western side of the Matanzas River, the National Parks Service does a foot ferry across to its little island at the start of the estuary. Opportunities for wildlife viewing include manatees, pelicans, all kinds of shorebirds, and of course, dolphins. The Fort is really neat and the history you get with the tour is fascinating.
Note: 2016's Hurricane Matthew destroyed the ferry dock at Fort Matanzas National Monument, so before adding this stop to your North Florida itinerary, check to confirm if the boat service is operational again. As of April 2017 boat service is still down.
Strolling St Augustine
I know, we're so water-centric in our family. You can always ensure you're doing outdoor activities around St Augustine by planning to stroll the city too. We've explored so much of the area that I feel like we're experts… but there's still a ton for us to see.
Key sites to visit on foot in the main downtown area are the Castillo de San Marcos, St George Street (really cool shops and dining) Huguenot Cemetary, Aviles Street (the oldest street in Florida), and of course, the Sea Wall. There are several types of tours you can do in St Augustine. We've done the Old Town Trolley Tour, which is a hop on, hop off tour all through town, and the Ghost Tour of St Augustine…
Old Town Trolley Tour
This was such a great activity with the kids. We started at the Old Town Trolley Tours depot by the Old Jail. Beginning with a completely in-character tour of the jailhouse, including solitary confinement and gallows, was a great way to set the tone for the day. It was fun, historical and hilarious to do with the kids. They both braved the creepy old place.
Continuing on, we hopped on board and headed for the old City Gates. A visit to Castillo de San Marcos National Monument and a walk with Hyppo popsicles down St George St and we were ready to hop back on. We caught the Old Town Trolley Tour right by Flagler College and heard all about the rest of the town. We ended at the Fountain of Youth Archaeological Park where Oliver begged us not to drink the water. His argument: "But I love you the way you are." He's a keeper.
Ghost Tours of St Augustine
Okay, we split up for this. One dad stayed at our vacation rental and put the kids to bed while the other went on the Ghost Tour of St Augustine. The ghostly tour starts in the old downtown area and winds through the city streets in the dark, led by a costumed guide with a lantern. After hearing the history of the town, the stories of Flagler College and swinging by the cemeteries, you're pretty much piqued to spot some sort of ghost. Check out the interesting "energy" caught on film.
Tip: whether or not you believe in ghosts and spirits and such, this is a cool tour. Seeing the old town at night is awesome and the night air is a bonus to planning your outdoor activities around St Augustine.
So, now that we've visited our favorite Florida city a few times, we're just about ready to pick up and move here. Outdoor activities around St Augustine are plentiful, the history is abundant, and the charm and fun never cease.
Have you been to St Augustine or anywhere else along Florida's Historic Coast? What are your favorite haunts or stops? We're ready to go back to explore more at a moment's notice, so tell us where to go next!