A complete guide to snorkeling in Cabo San Lucas
As heartbreaking as it is to realize that you're kids are growing up it's also amazing.  We are able to do so many more fun things and share even more new experiences with them.  One that is really exciting is snorkeling! Snorkeling in and around Cabo San Lucas is surprisingly great and if you're in the right spot, it's mellow enough for kids.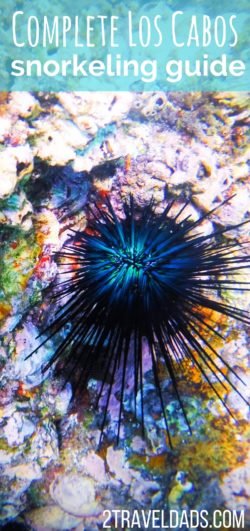 Have you been snorkeling in Cabo San Lucas?  Have you been to Cabo when you WEREN'T on spring break as a college kid?  Well, Cabo San Lucas is one of our favorite family travel destinations and now with growing kids we're excited for our many future visits.  When it comes to snorkeling, there are a variety of fish-type experiences we enjoy doing, both with and without the kids.
Tips for snorkeling with kids
The first thing that we must say is that you should never force your kids into the water.  Kids will get in in their own time.  I'll admit that this is difficult as a parent, as you know that it's okay to swim in the ocean and that if you're being safe there is nothing to fear, but kids also need to be comfortable and confident before venturing out.
Having said that, snorkeling with kids should start with calm water and a comfortable setting.  As adults who are pretty great swimmers, we're comfortable both just off the beach and being dropped a few hundred yards off.  When we're going snorkeling with kids in Cabo San Lucas, we're a bit more thoughtful.  Cabo is set between the Sea of Cortes and the Pacific Ocean, so if you're not smart about it, you may pick a place where you can't even swim safely.  
A great way to start your kids with snorkeling is by letting them play around in the pool with goggles or a mask.  It's takes the strange feeling away and lets them feel safe with their feet firmly planted.  Once they feel good about this, a calm beach is the next step, then wading out as far as they're comfortable… where, no doubt, there will be loads of little fish that they can see.  If the response to tiny fish is good and they're strong enough swimmers, you're ready for some deeper water or more exciting sights!
Tips to save for later: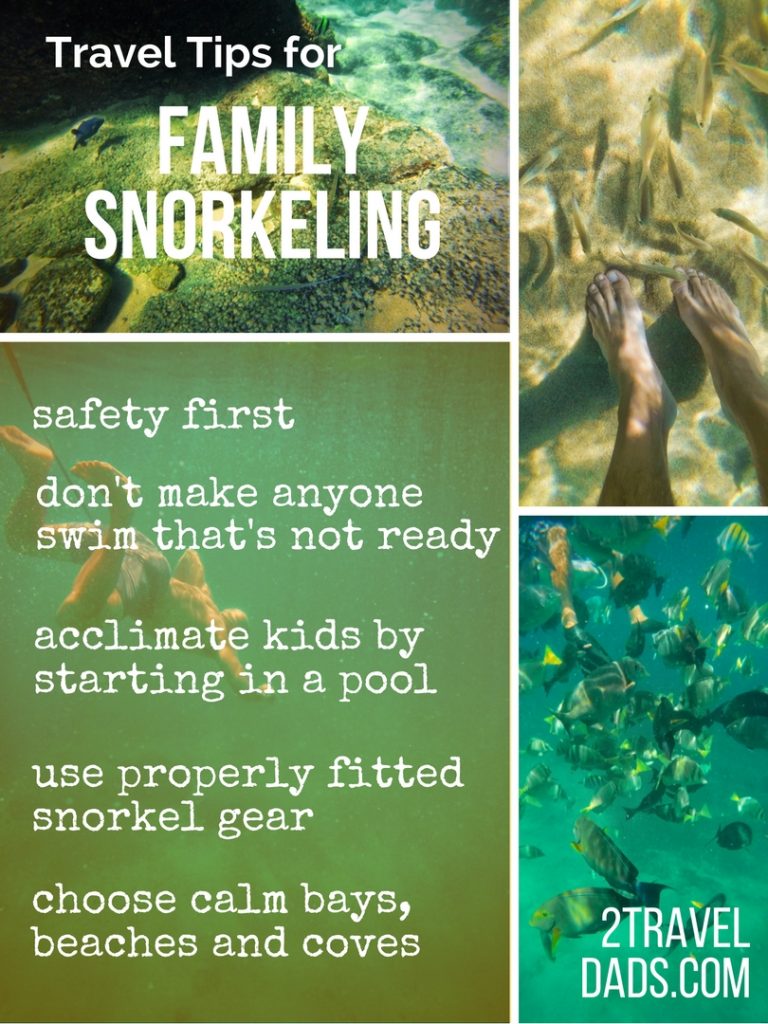 Snorkeling in Cabo San Lucas: Boats vs Beaches
We have done a wide variety of snorkeling in Cabo San Lucas over the years, and when we say "variety" we're not just talking about the beaches we're at, but about the method of approach and overall wildlife. You know that we love to get out on the water, so that's one approach we take, but then we also will venture out in a car or even on foot to find good snorkeling in Cabo San Lucas.  There's plenty to find.
Snorkeling the Sea of Cortez via Boat
One of the most stereotypical tourist things you can do on any Mexican beach vacation is a booze cruise.  Now, just like with wine tasting or visiting a brewery, you can do a booze cruise in a classy and responsible way.  We've done our fair share of them over the years and know how to have fun and be safe.
Our favorite style of cruise for snorkeling in Cabo San Lucas is the catamaran with nets.  What this means is that you can lay over the water as you sail to your destination.  You get splashed.  You get sun.  You have an amazing time.  And then you still have snorkeling to do!
Tip:  the La Princessa or Sigame are our two favorite catamarans to do.  We have done many, but they're our favs with a great crew, great open bar and good food.  Note: not a ton of shade on these boats, but it's still doable if you're sensitive.
Other snorkeling cruises we've done have included the Oceanus (great for kids!) and the Cabo Escape.  We've done others too, but they weren't exceptional.  What we like about the larger boats, like these last two, is that they have lots of shade and play space for the kids.  This is key, particularly if they're not up for jumping from the boat.
Tip:  a booking service, such as Olympus Tours, is a great idea if you want to get a snorkeling cruise set up in advance.  There are loads of people trying to get you onto their boat as you wander through town, so booking in advance is helpful for ensuring you're getting the type of tour you want.  Tours in Los Cabos are plentiful, so working with a larger booking agent is great assurance you'll have a good time.
Again, the big thing to remember with setting up a tour for snorkeling in Cabo San Lucas or anywhere else, if the kids aren't feeling it and want to stay on the boat, that's fine.  Ask the crew if there are any fun options for playing in the water or splashing where the kids will still feel safe. Oh, and when you do a snorkeling cruise, they'll provide the lunch, flippers, masks, snorkels and even life jackets.
Note:  depending on the boat you're touring with, you may be required to wear a life jacket at all times, even if you're an experienced swimmer.  This is both a bummer and nice peace of mind.  Snorkeling should be a stress free experience, so if wearing the PFD stresses you out, talk to the crew about your options.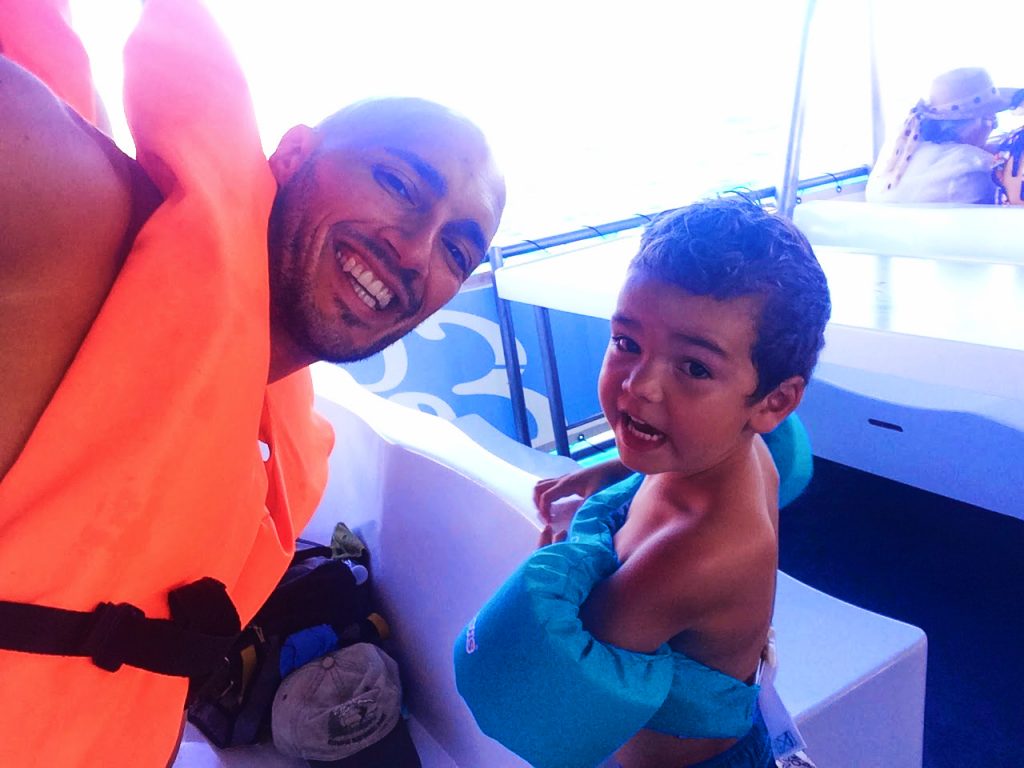 Snorkeling Los Cabos via Beach
And this is where the planning comes in AND where you can really control the snorkeling experience.  I mentioned before that Cabo San Lucas falls between the Sea of Cortez and Pacific Ocean.  This makes for amazing waters and interesting coastlines.  You won't find many places in Baja California Sur that you can snorkel on the Pacific coast, but on the Sea of Cortez side you're all set.
Driving or walking to a local beach will actually provide some wonderful snorkeling opportunities.  You'll need your own snorkel gear for this, so find out if you can rent/borrow some from your hotel (or you can purchase it for cheap at a pharmacia or any other store.  Oh, and you'll want to bring a beach umbrella, as not every beach is equipped with palapas for public use (some are though).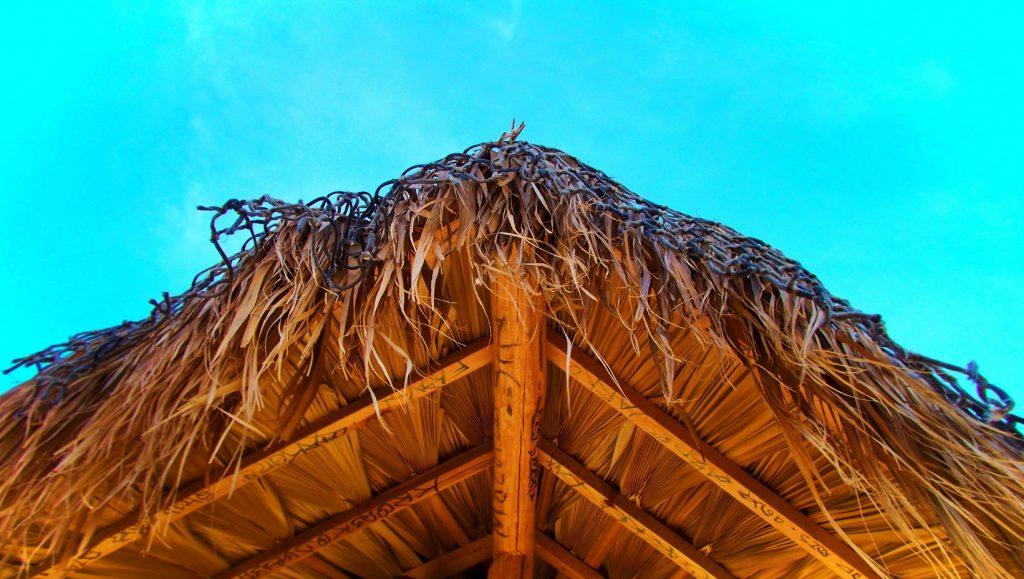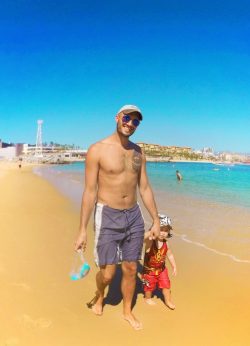 When you start your snorkeling experience from the beach instead of the boat, you'll be able to see more of the cove you're on.  For example, a lot of the beaches in the Los Cabos area have tide pools and smaller pools filled with life, and even though you would be snorkeling in them, they're fun to explore.  And beyond these pools, you also get to start into the water near rocky areas, which is where the best snorkeling is found.
Tip:  this is how we got our oldest to be okay getting into the areas with fish, as it was shallow enough that he could easily stand but deep enough that he could watch the fish.  Perfect approach!
A snorkel day based off a beach is also a guarantee of a longer experience in the water.  We typically venture to Mexico with our soft cooler (easy carry-on for the flight) and pack it to the beach with lunch, fruit and beverages.  Add a few towels and that umbrella we mentioned and you can spend all day playing in the water and sand.  FYI:  we love the beach approach.
Best spots for snorkeling in Cabo San Lucas
Okay, this is going to be a short and sweet list, so take notes and then go have fun!  The list below is organized West -> East, so know that as you venture down, you're getting further away from Cabo San Lucas itself (which is okay).
Playa Empacadora (the Cannery Beach)
Should we share about our favorite beach?  No, we shouldn't, but we will.  The Cannery Beach is called such because it lies in front of an old tuna cannery that's long been abandoned.  Until recently, there was even a sunken ship just off the shore which made for amazing snorkeling in Cabo San Lucas.
Today, the beach is also called Playa Publico (public beach) and is where the locals go on the weekend.  The palapas and boardwalk that once lined the beach are gone following Hurricane Odile, but the beach and rock held strong and are more beautiful than ever.  From puffers to parrot fish, angel fish to octopus, we've seen the most amazing creatures here.  And if you're really feeling it, the tide isn't too crazy to be able to swim past the rocks to the next small beach over.  You can also scale the rocks to get a view AND a more private beach.
Get here:  you can take a water taxi from anywhere but be clear to state that it's THIS BEACH you want, as you may end up at Medano or Lover's beach (not awesome).  We stay at our timeshare at the Playa Grande, so this beach is just a ten minute walk from our home base.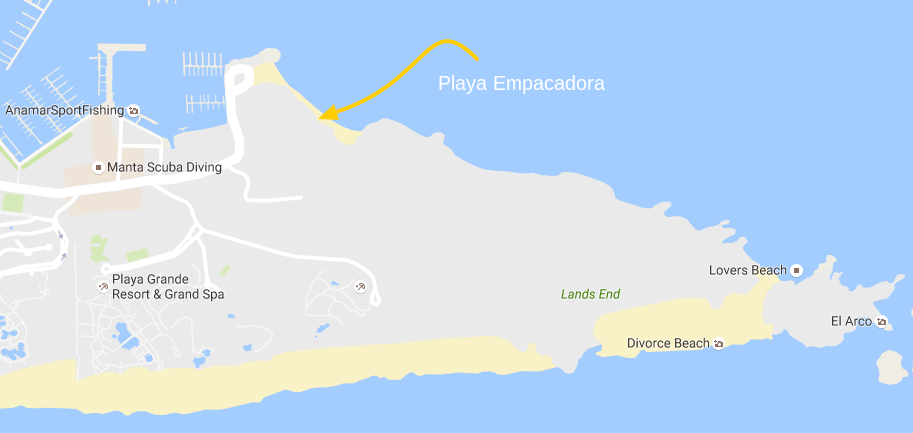 Playa del Amor (Lover's Beach)
Warning!! Tourist trap!  Yes, this beach is beautiful and the rocks towering above it are so unique, but between the snorkeling the the massive number of tourists that take water taxis here, it's not worth it.  Playa del Amor is close to the famous arch, so if you do want to visit here you'll no doubt get a side tour to check out the rocks and the sea lion colony, but the swimming here is rough and the snorkeling is minimal.  Caveat:  this was the first place I ever saw a moray eel, but then I did swim out and away from the beach and wasn't being safe.
Get here:  you can only get here by water taxi/glass bottom boat or by illegally trespassing and climbing cliffs.  Do the water taxi.  Bonus:  walk up and over the beach to Divorce Beach on the Pacific Ocean for a contrasting view (but don't swim).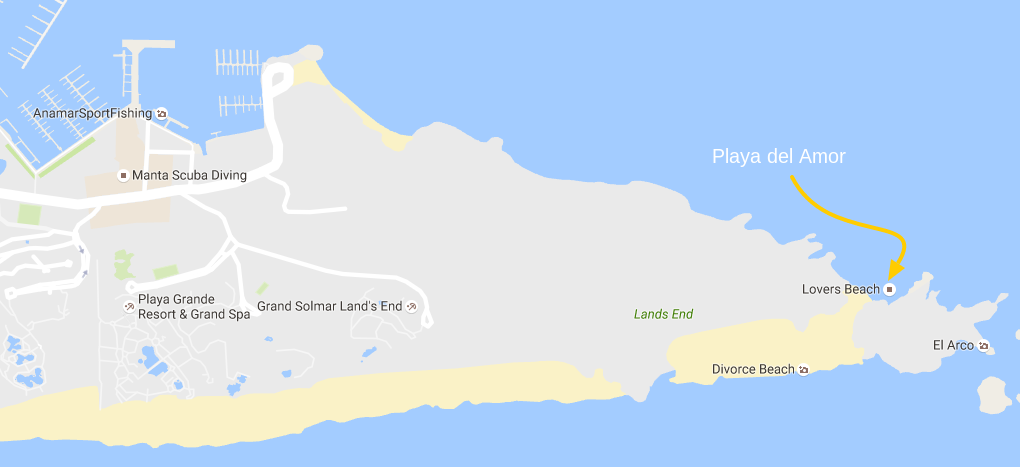 Playa Santa Maria
The beach at Bahia Santa Maria is beautiful and perfect.  This is another beach that the locals go to, so the best time to visit is mid-week.  This is also great to beat the crowds because it's ten minutes out of town and no cruise ship passengers can get to it.  Of the many spots for snorkeling in Cabo San Lucas, this is one of our favorites due to the quiet setting and great rock outcroppings.
Notable fish we've seen here are cowfish, parrot fish and loads of urchins.  If the wind picks up, due to the shape of the bay, the waves can be a bit of a pain, so exercise caution when you're snorkeling here.
Get here:  you'll need to have a rental car or ride the public bus.  By car, it's about ten minutes away from downtown Cabo San Lucas on the way to San Jose del Cabo.  Note:  you'll see a security guard type person hanging out.  Feel free to tip him, as he'll keep an eye out on your car (but don't leave your keys, he's not a valet).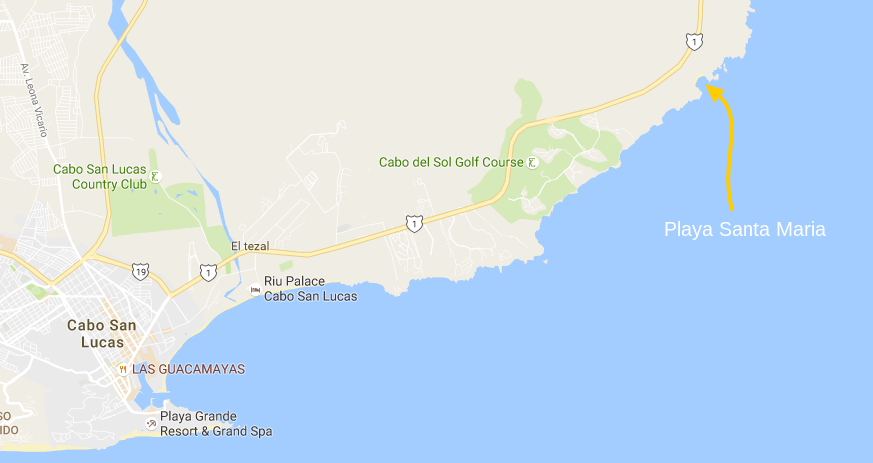 Playa Chileno
We have wonderful memories of coming here before we had kids.  This is another relatively quiet beach between Cabo San Lucas and San Jose del Cabo.  Chileno Beach is larger than its neighbor, Santa Maria, and has actual bathroom facilities and palapas.  Bahia Chileno has tide pools on two sides and it great to explore on foot.  When it comes to snorkeling, keep in mind that many of the booze cruises and snorkel excursions head to this bay, so out in the water you'll see lots of people.
Don't be discouraged by the apparent crowds, as many locals hang out on the beach for quiet relaxation and the tourists on the snorkeling tours are only there for 45 minutes or so.  If you're bummed out by the people, lay on the sand or splash with the kids for a bit and the crowds will dissipate.  The snorkeling at the western end of the bay is the best due to being sheltered a bit from the Pacific current crashing in.  This is also a one of the spots we've encountered a moray eel (from a safe distance).
Get here:  it's another five minutes east of Playa Santa Maria.  You could probably even hire a taxi to get you here and pick you up later if you really wanted, but that might be just as expensive as renting a car.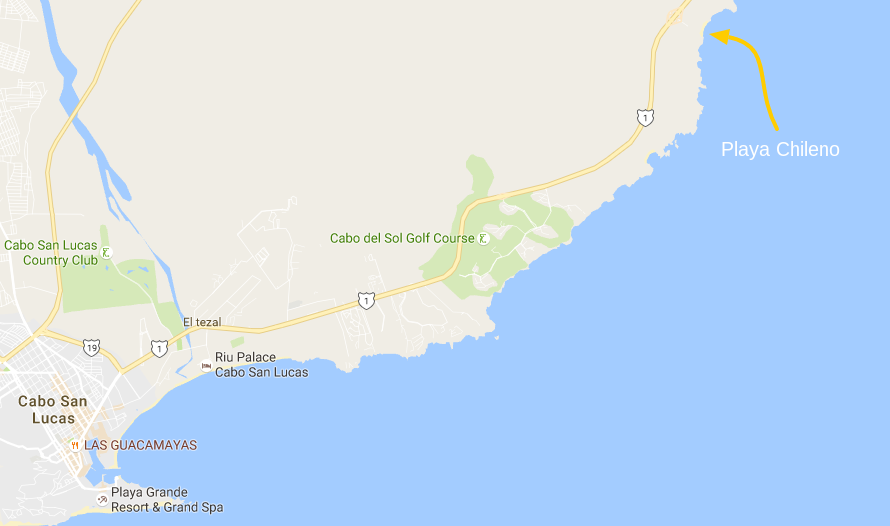 East Cape Beach
Again, do we share this wonderful secret?  So, this isn't a beach for snorkeling, but it's perfect for walking and enjoying solitude.  Located in San Jose del Cabo, you have to feel like you're completely lost to actually get here.  Where do you park?  Um, I guess on the side of the road close to the Buzzard's Bar & Grill (such a cute B&B/restaurant on the beach).
The coolest thing about East Cape Beach is actually the tide pools.  Bare with me and imagine what I'm telling you about:  picture an enormous drill making huge holes in the flat rocks, some the size of five-gallon buckets and others much larger.  Really, the sealife in the tide pools and the beautiful long snail shells you'll find are the reason for heading here.
Get here:  head through San Jose del Cabo and follow the signs for Puerto Los Cabos.  You'll follow Camino Cabo Este (East Cabo Road) until you're down at the beach.  If you come to a traffic circle, head down the hill.  If you come to another road but it's still titled Camino Cabo Este, head down the hill.  When you see the Buzzard's place, you'll now you're in the right area.  Hit the beach, tide pools to the left.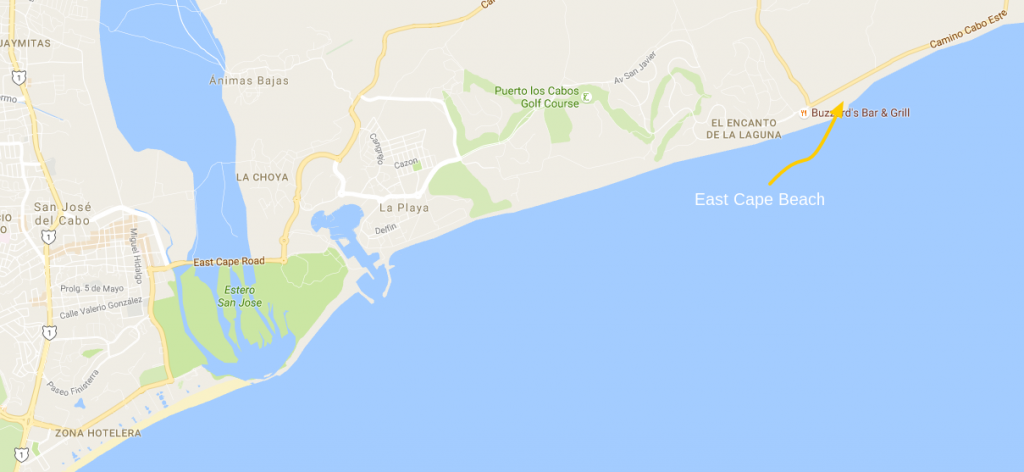 Cabo Pulmo National Park
If only we had a better waterproof camera last time we came here…  An adventure to Cabo Pulmo National Park is just that:  an adventure.  We recommend booking a tour in advance to ensure you arrive in one piece and don't get lost in the coastal mountains of Baja California Sur.  The drive is about two hours out of Cabo San Lucas and it's a bumpy, windy, crazy drive.
When you arrive at Cabo Pulmo National Park, you'll see there are some diving shops and food options.  We have pre-booked a guide both times we've visited and highly recommend it.  Our guide shared the history of the area, a good deal about whale migration, and made sure that we knew how to interact with sea lions.  Yes, sea lions.
A highlight of snorkeling at Cabo Pulmo is the sea lion population that enjoys saying high to the humans.  They jump off the rocks around you, dive deep and pop up.  They're awesome and they keep their distance.  Warning:  if you're easily startled, this is NOT for you.
Beyond the sea lions, the Mermaids Lagoon is the other big highlight.  The most perfect cove directly out of a fairy tale or cartoon, this small lagoon is home to parrot fish, urchins and so much more.  If you head for the shore, you may see LARGE iguanas just hanging out, sunning themselves on the rocks.  Oh, and giant clam shells that seem so out of place, but have made their way into the cove.  Seriously incredible.  We'll be back for snorkeling with the kids when they're a bit older.  And I forgot to mention it, but there's also a very long reef off the shore a few hundred yards.  You do need to be dropped here by a guide and it's only recommended in very good weather.
Another option:  if you're going to head northeast, you can also go a bit further towards La Paz to have a whale shark encounter.  Be sure you're going with a reputable guide though who is following safety and conservation guidelines.
Get here:  book a tour.  Yes, you can drive but the road into Cabo Pulmo National Park is dangerous and it'll take forever.  For the cost of renting a car and equipment, you're better off to do the tour and have a wet suit in addition to the amazing experience.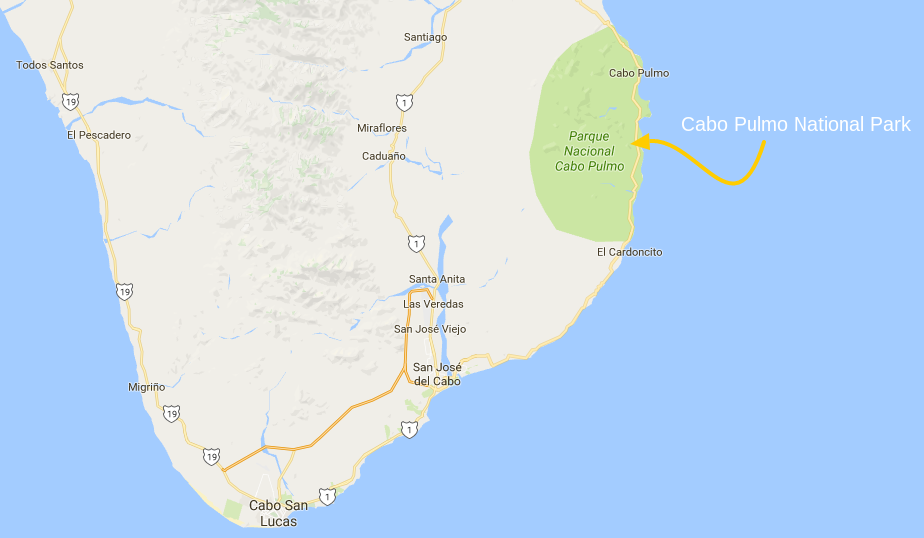 For a totally different type of snorkeling experience, check out the snorkeling Danielle from Thought Card did in Iceland in the waters of Silfra.  Totally different.  Totally cool.
See?  Snorkeling in Cabo San Lucas is an incredible activity with so many options.  We are so glad to have gotten to do it many times and cannot wait to continue our favorite activity as the kids grow up.  
If you have other snorkeling spots in Baja California Sur that you'd like to share, feel free to leave  comment.  We're always up for trying new places!