I first traveled to Isla Holbox for a yoga retreat and it was amazing, both the yoga aspect and the destination of Isla Holbox. Following the trip to Isla Holbox we got a bunch of questions about the island, so here is the full rundown of how to get to there, what to do and eat, and where to stay. It's one of the last slices of mellow Caribbean life, so check out what makes it so special (and visit sooner than later).
What is it that makes taking a trip to Isla Holbox so special? Well, several things, but the easiest answer is this: it's very much Mexican and very little corporate. The town of Holbox is very similar to other Mexican towns in that it's pretty colorful and is 60% restaurants. What makes it different (in addition to the golf carts like on Isla Mujeres) is that it's full of street art and hammocks and there aren't huge booming resorts everywhere.
Yeah, both in the water and in the town you can use or rent hammocks to chill out randomly and the large hotels are very few in number.  Really, it's just what you'd want to find and why a trip to Isla Holbox is worth the time and money.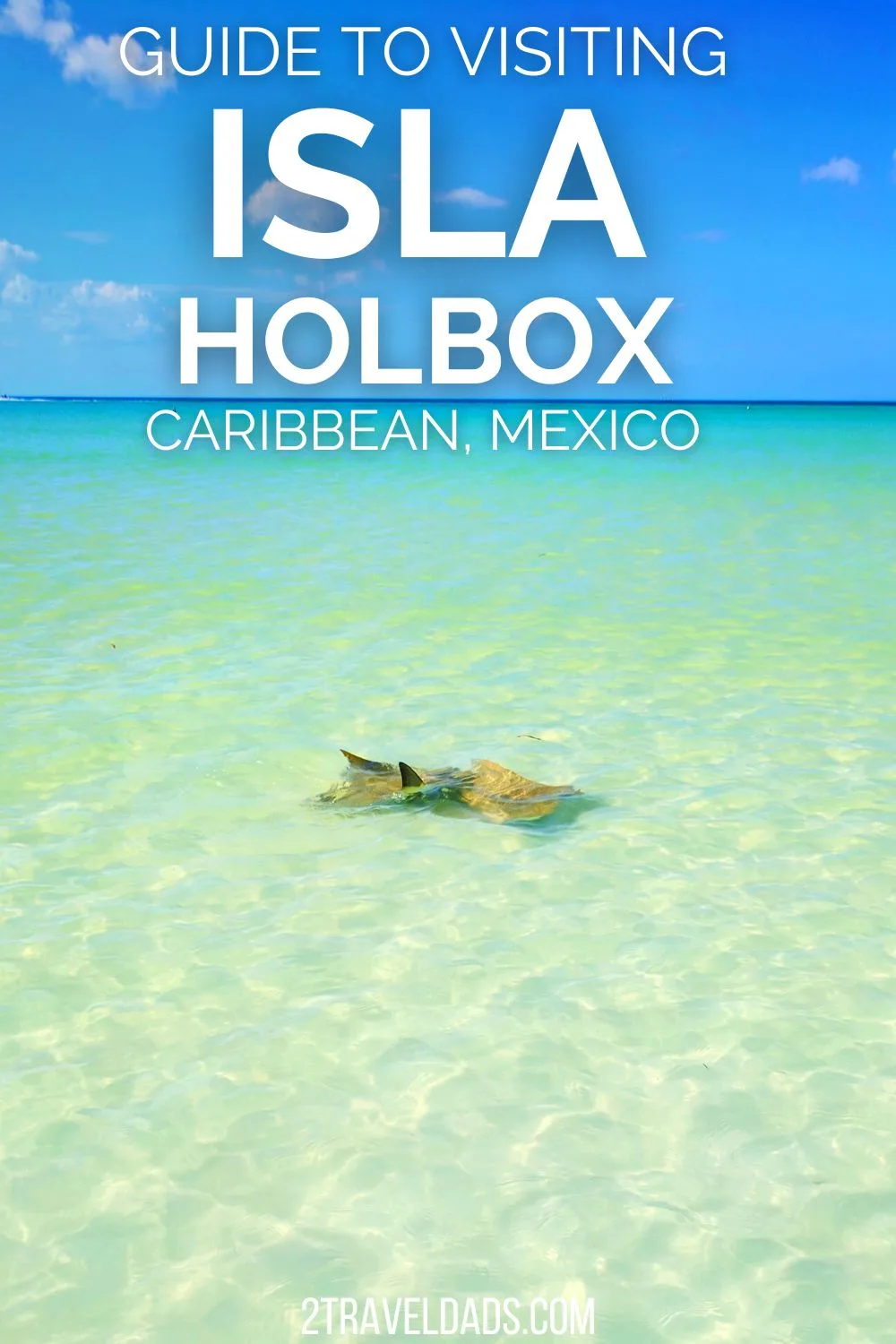 Where is Isla Holbox?
The super cool little island of Holbox is just off the northern tip of the Yucatan and it's still fairly chill for being a Caribbean destination. It's a strange place, I'll be honest. And FYI, it's said "Hole-bosh." You'll fly into either Cancun or Merida, and then head north. It's about 2 hours' drive from Cancun (CUN) and just over 4 hours from Merida (MID).
How to Get to Isla Holbox
You arrive by boat and that in itself is kind of an adventure. From Cancun, you can catch any number of transfer vehicles, but you MUST BOOK IN ADVANCE. The drive from CUN to  Chiquilá is about two hours, so ensuring that you start your trip to Isla Holbox on the right foot is extra important.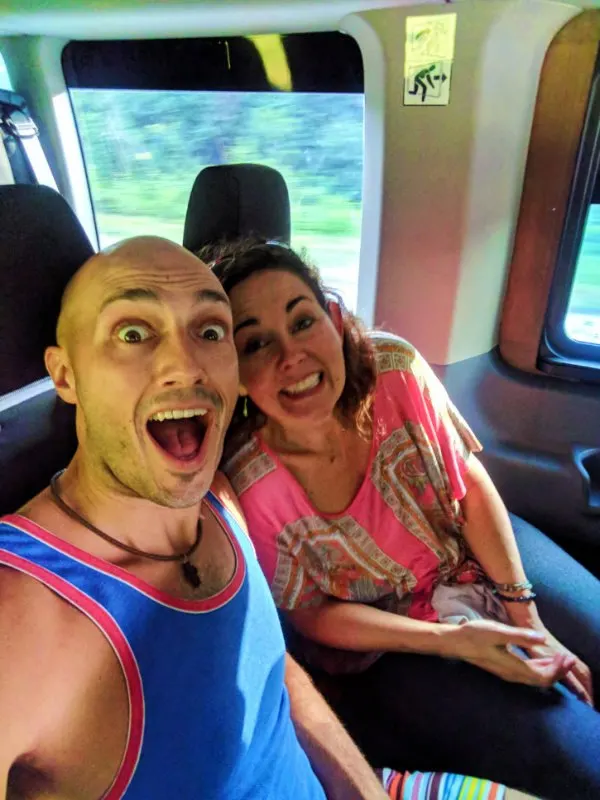 The next step is to catch the Holbox Express from the town of Chiquilá. On a windy, rough day, you need to sit inside the passenger ferry or you'll be soaked. We got soaked upon our departure…but it was fun for a moment.
Tip:  it is a BYOB or BYOMI (musical instrument) sort of boat ride, so be prepared to have fun. What a fantastic way to start your time on Isla Holbox!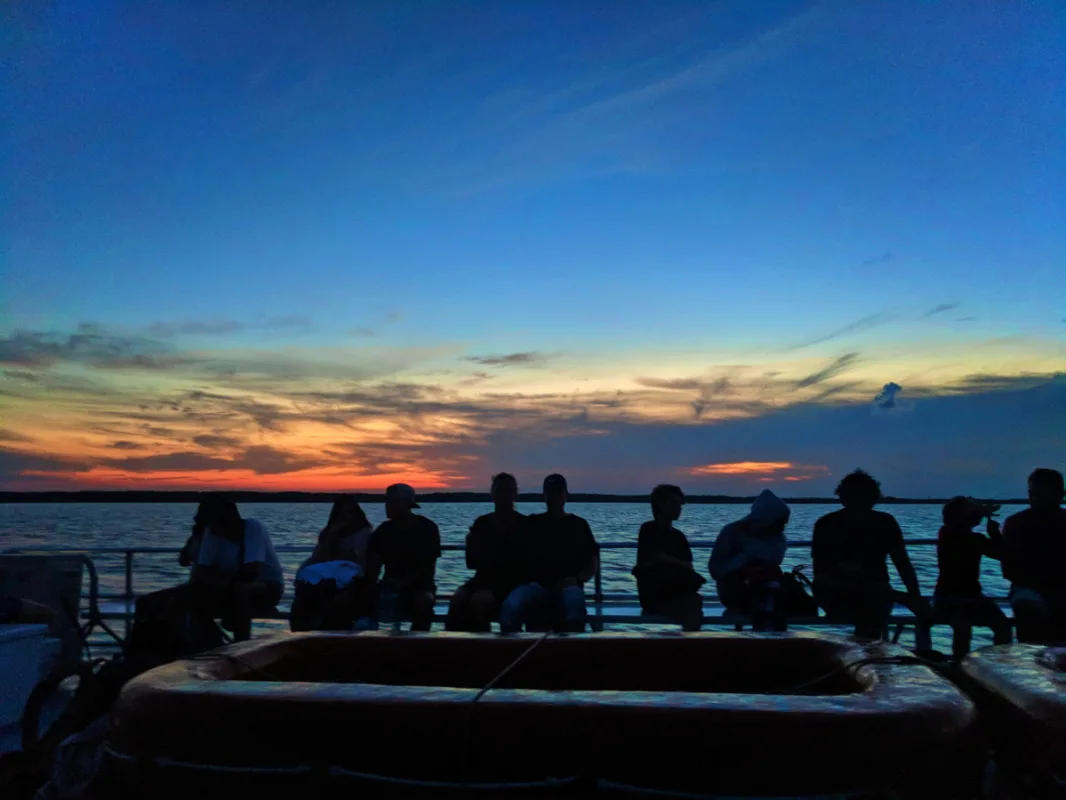 Once you've made the trip to Isla Holbox, the only transportation around the island is via golf cart taxis or bikes that you rent. Actually you could also rent your own golf cart if you really wanted, much like on Isla Mujeres. There isn't pavement except for some areas of the town with paved sidewalks, so whether you're walking or carting, you'll get a bit dusty.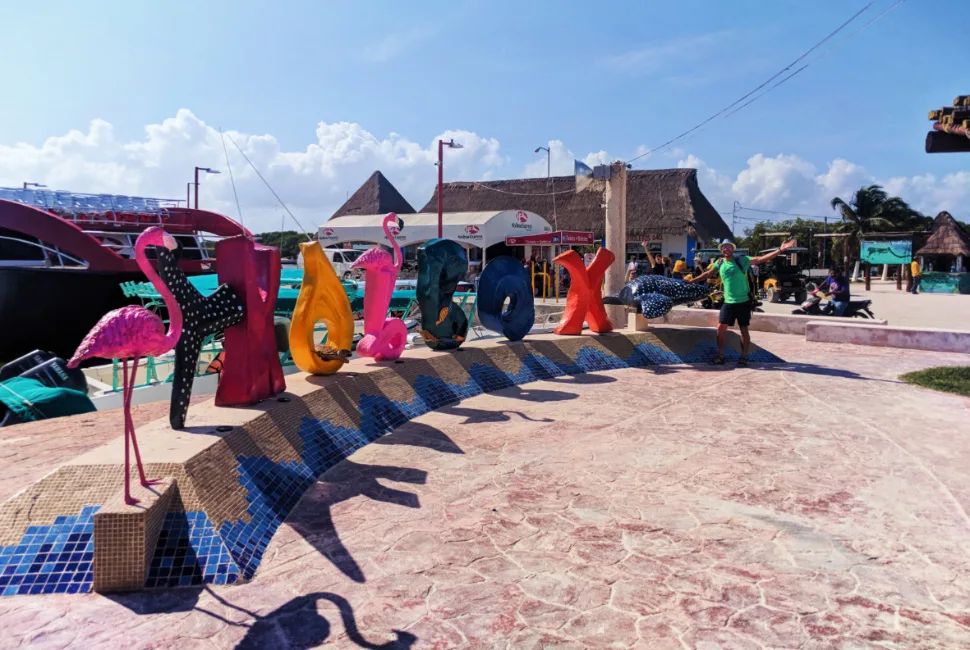 Best Things to Do on Isla Holbox
Clearly the most important reason you're taking a trip to Isla Holbox is because you need quality beach time, but there are lots of other great ways to occupy your time as well.  These are our top picks for how to spend your time on Holbox without getting too crazy (I actually think you can only remain chill on the island… pretty sure).
Beach Time on Isla Holbox – ICONIC
Nearly any place you book for your stay on Isla Holbox will have some form of beach access.  TAKE ADVANTAGE OF IT! The waters in this part of the Caribbean are very mellow and waves are tiny. The beaches are great for walking and laying, for splashing and swimming too.  There are different parts of Holbox where feathers and sea matter accumulate, which can be unpleasant to walk through, but there are plenty of spots where this is a non-issue. This varies with each season and with each year.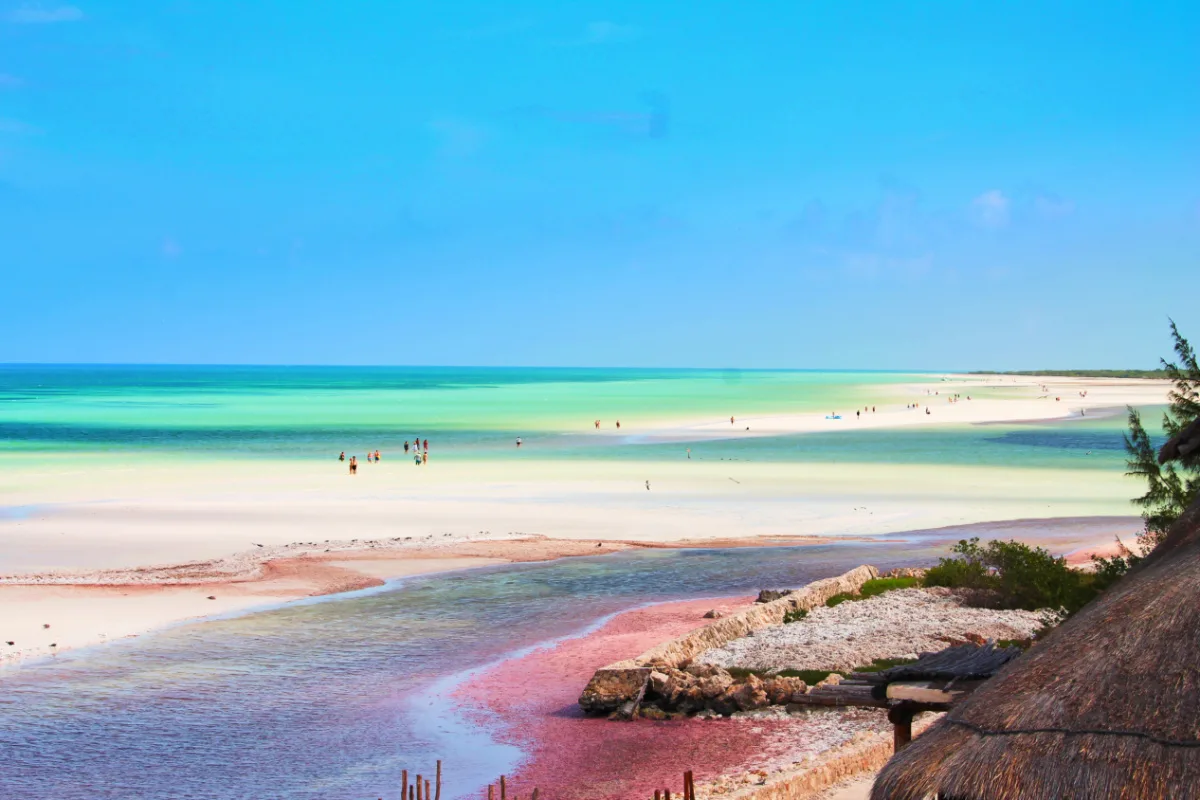 Along most of the beaches you'll find hammocks hanging over the water. Is there anything better than laying in a hammock with the aqua Caribbean waters lapping below you?
Most hotels will have dedicated sandy space for lounging in the event there is marine matter on the shore. If your accommodations doesn't have this, you'll be able to walk out to the sand bar and lounge IN the Caribbean Sea, which is pretty darn amazing.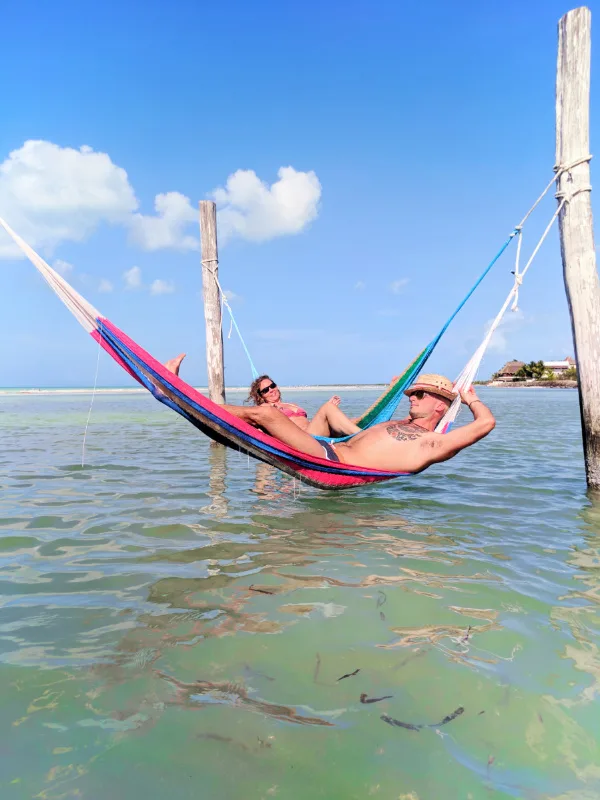 Wildlife to Watch for on Isla Holbox
Imagine walking on the beach and being accompanied by eagle rays. That's right: the beaches and shallows of Isla Holbox are teeming with life, big and small. If you're lucky you'll get to relax with the rays, spy on horseshoe crabs as they crawl below you, or spy flamingos as they fly along the surface of the water.
You'll be amazed at how much wildlife there is on and around Holbox. Because there are so few visitors and the island is closely managed, the area is well preserved and is a bit of a haven for wildlife. Rays, dolphins, sharks, sea turtles and other marine life come surprisingly close to shore because it's so peaceful.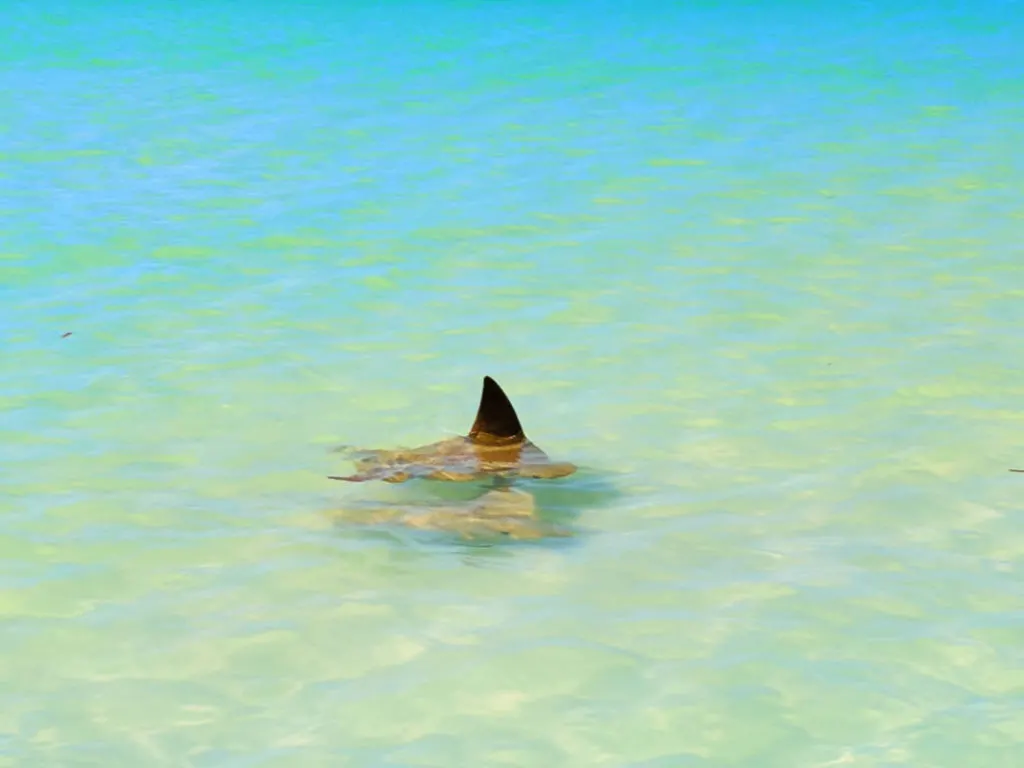 There are lots of sea stars, sea cucumbers, urchins and other life sitting on the sandy bottom surrounding Isla Holbox. Be careful as you walk, because you move much faster than these beautiful creatures.
Tip: DO NOT pick up sea stars in the sand unless they are turned onto their backs. This can be dangerous for the sea star and the risk of them dying because you damaged their undersides or sensitive areas isn't worth the Instagram picture. If you're saving an overturned one, great, but don't linger with it outside of the water.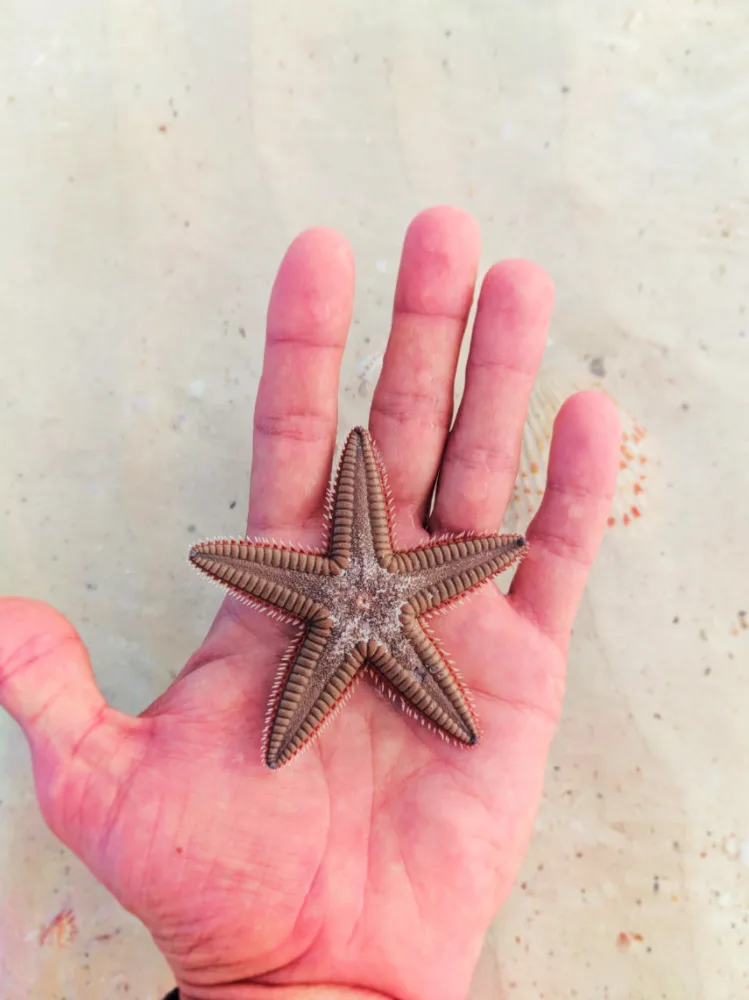 If you're hoping to see horseshoe crabs, you'll need to get up early. The horseshoe crabs tend to haul out in the night and make their way ashore. As the sun comes up they head back into the water, so during daylight hours you can watch for them in the shallows.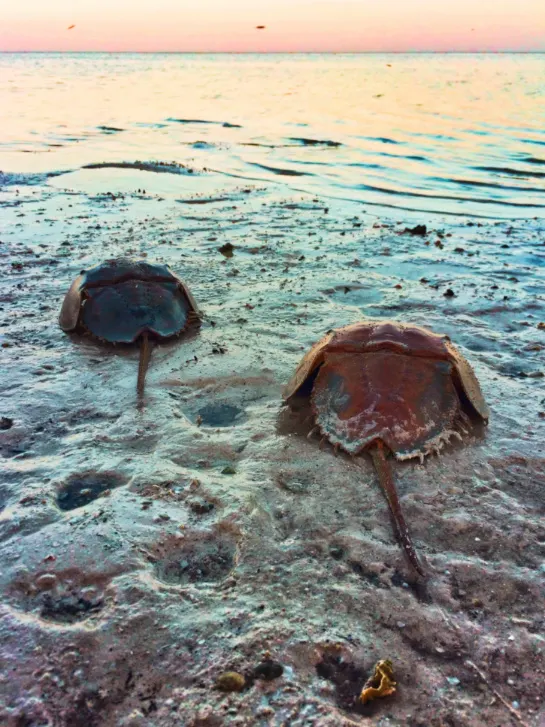 Where to See Flamingos on Isla Holbox
Seeing flamingos in the wild is a bucket list item for so many, and it certainly was for me too. We have roseate spoonbills here in St Augustine, Florida, but they ARE NOT the same as flamingos, either in size, color or grace.
There are two main places to see flamingos at or near Isla Holbox. The first, and this is where you can easily go when you're on Holbox, is the Yum Balam Preserve. This area is a protected wildlife preserve full of all kinds of birds, dolphins and more. The flamingos tend to circle the area from the far east portion that touches the Yucatan Peninsula all the way to the westernmost area south of the townsite on Holbox.
If you're leaving the island, head to El Cuyo and then further west toward Río Lagartos and Las Coloradas for flamingos. This calm, colorful part of the Yucatan is also known for the flamingos that both reside and migrate through.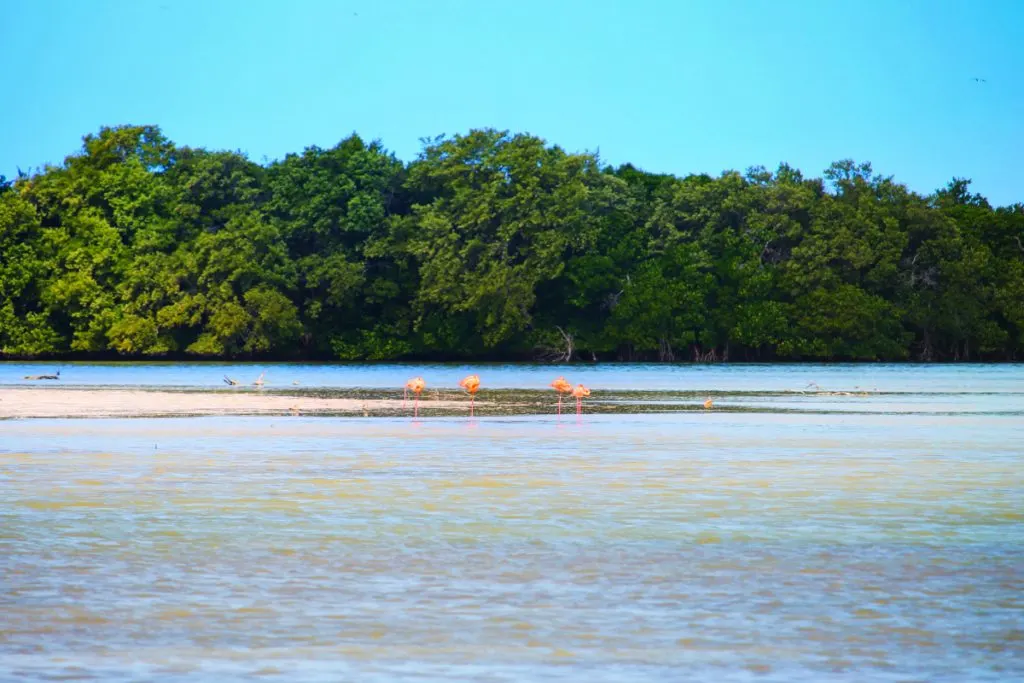 Caribbean Kayaking at Holbox
One more idea for enjoying the water on a relaxing morning or afternoon is to go kayaking. We love to kayak wherever we are. It gives a great new view of wherever you are and it's great exercise. Kayaking off-shore of Isla Holbox is both beautiful and a challenge. The current is pretty strong flowing past the island, so depending on your starting point and the wind, you could be in for a good workout.
Tip:  always bring water with you, no matter what activity you're doing. Staying hydrated is key to staying healthy and happy.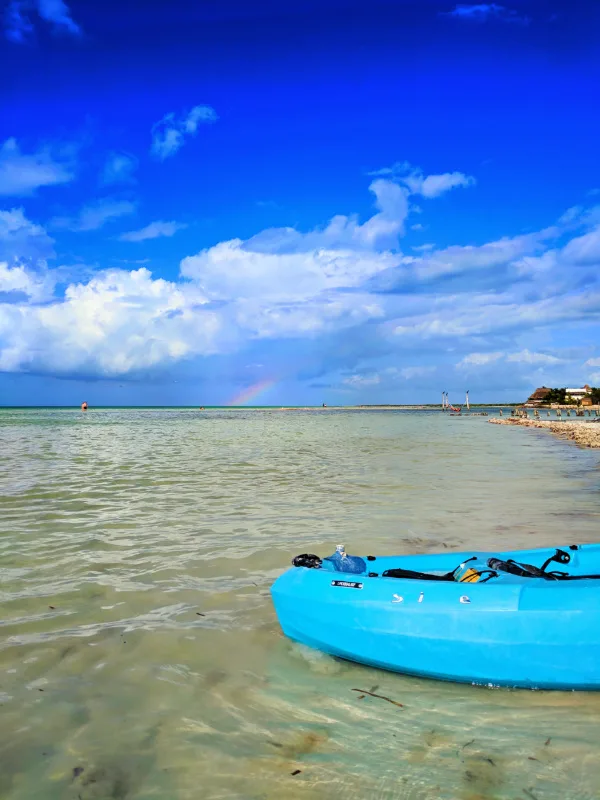 If you're kayaking around Isla Holbox, be sure to get specific instructions from your rental company or resort hotel so that you can both stay safe and be timely. It's very easy to enjoy the paddle when you're going with the current. If you're goal is to paddle from the Caribbean side to the bayside, you'll need to be mindful of the difficulty depending on the weather and the water.
Just be safe and have an amazing time. 🙂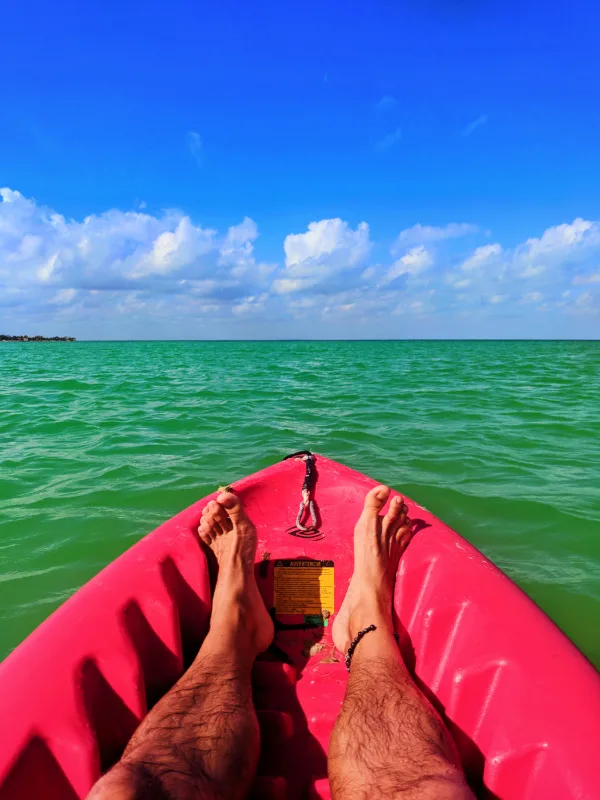 Top Activity Pick: Holbox Three Islands Tour
The only organized tour I've done on Isla Holbox is the Three Islands Tour. A boat picked us up just off shore from our hotel and took us out from the island. We almost immediately were greeted by a family of bottle-nosed dolphins that were in a playful mood. After observing them for a while (including a baby dolphin!) we moved on rounding Isla Holbox.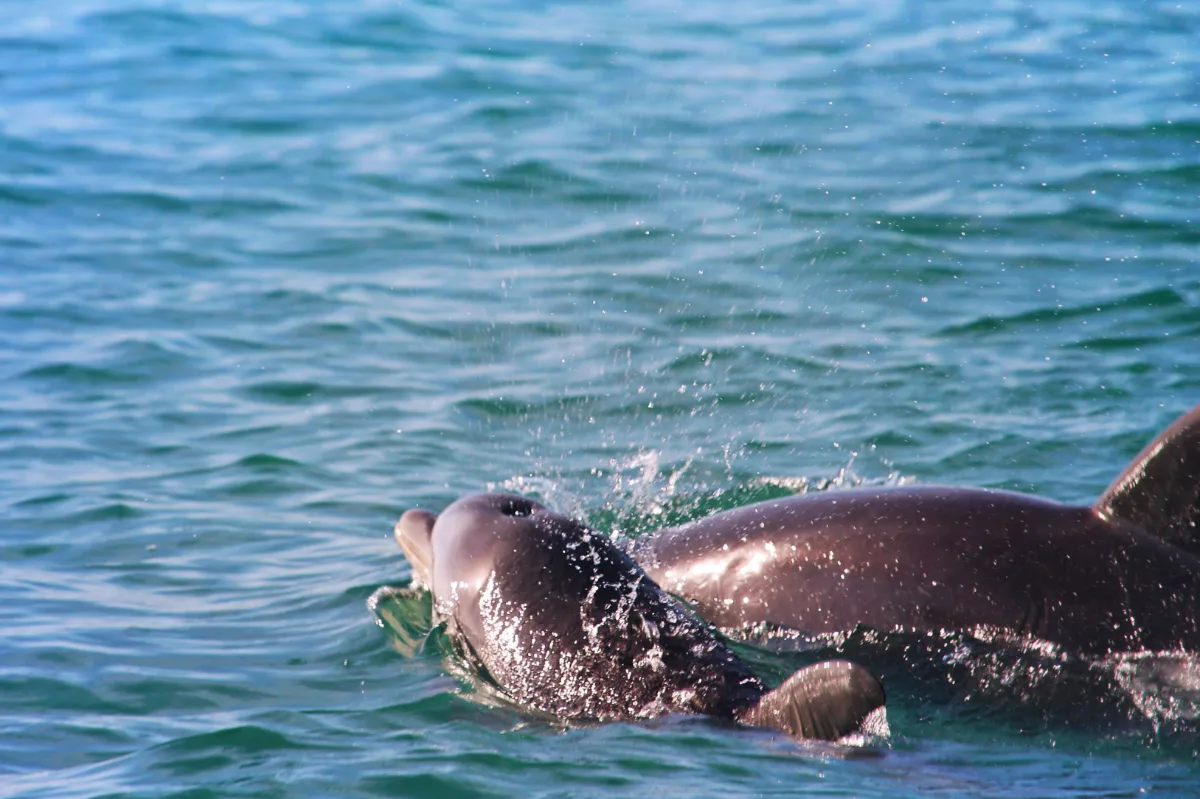 Our next stop was at Cenote Yalahau.  A part of the larger Yum Balam nature preserve that encompasses the tip of the Yucatan and a few small keys, this cenote is in the middle of a mangrove forest just on the edge of the Yucatan Peninsula, so it is actually on the mainland, not an island. Here you'll find a forest lookout to climb, a cenote to jump into, and just beautiful nature to enjoy. We were like kids splashing and jumping and loving it all.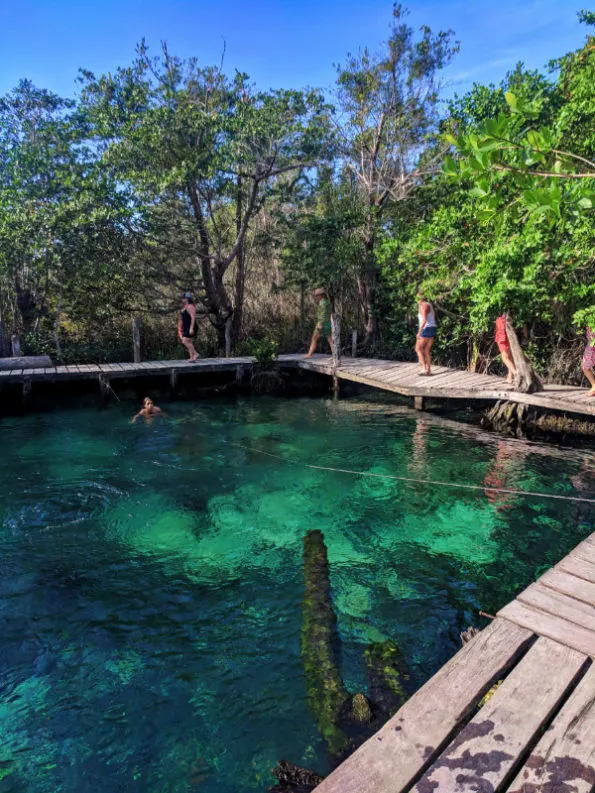 From Cenote Yalahau we headed to the bird refuge at Yum Balam. Here, we couldn't go ashore, but there was a dock and two observation towers in the water for our use. Incredible. Great egrets, tri-colored egrets, pelicans, fluffy white egrets, vultures, osprey… It was amazing how active they all were and it was just really breathtaking to observe.  There was just one bird missing from our birding list…
Our last stop was at the far western end of Isla Holbox.  What were we doing? Looking for flamingos! We saw only four, but they were pretty cool. We took time to get into the water and walk around the tiny piece of land and sandbar, but we couldn't get very close to the flamingos.
Tip:  you can book this boat tour in advance or purchase in person from a roaming tour vendor once on Isla Holbox, but we recommend booking ahead of time to avoid the hassle and guarantee your spot.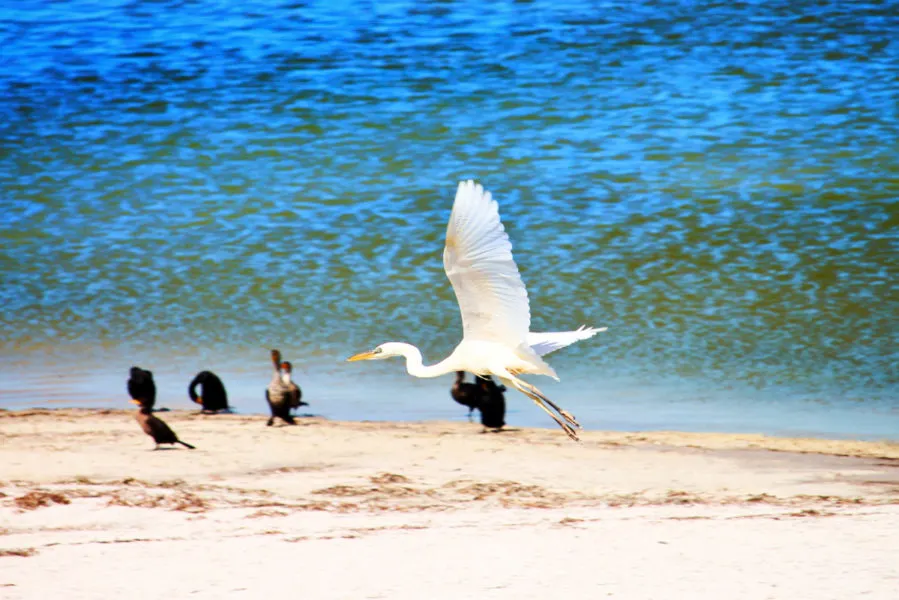 Swimming with Whale Sharks in the Caribbean
Disclaimer: we haven't personally done this, but our good friend Sarah from Coffee with a Slice of Life, founder of Girls that Scuba, has swam here and was blown out of the water.  Check out her full account of the experience and recommendations for having a safe and unforgettable whale shark encounter. Could anything make your trip to Isla Holbox better? Not likely.
Tip:  book your whale shark encounter in advance so you can be prepared for the best experience possible and be sure you're working with a reputable, conservation oriented guide.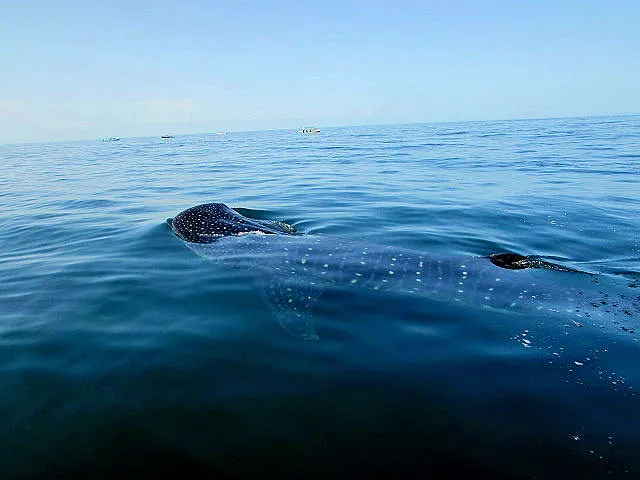 Note:  if you are looking for experiences with sharks and diving in general around Mexico, whether it's the Caribbean or the Baja, Dive Ninjas Expeditions is very observation-conservation forward and they're very experienced with the wide variety of marine life all around Mexico.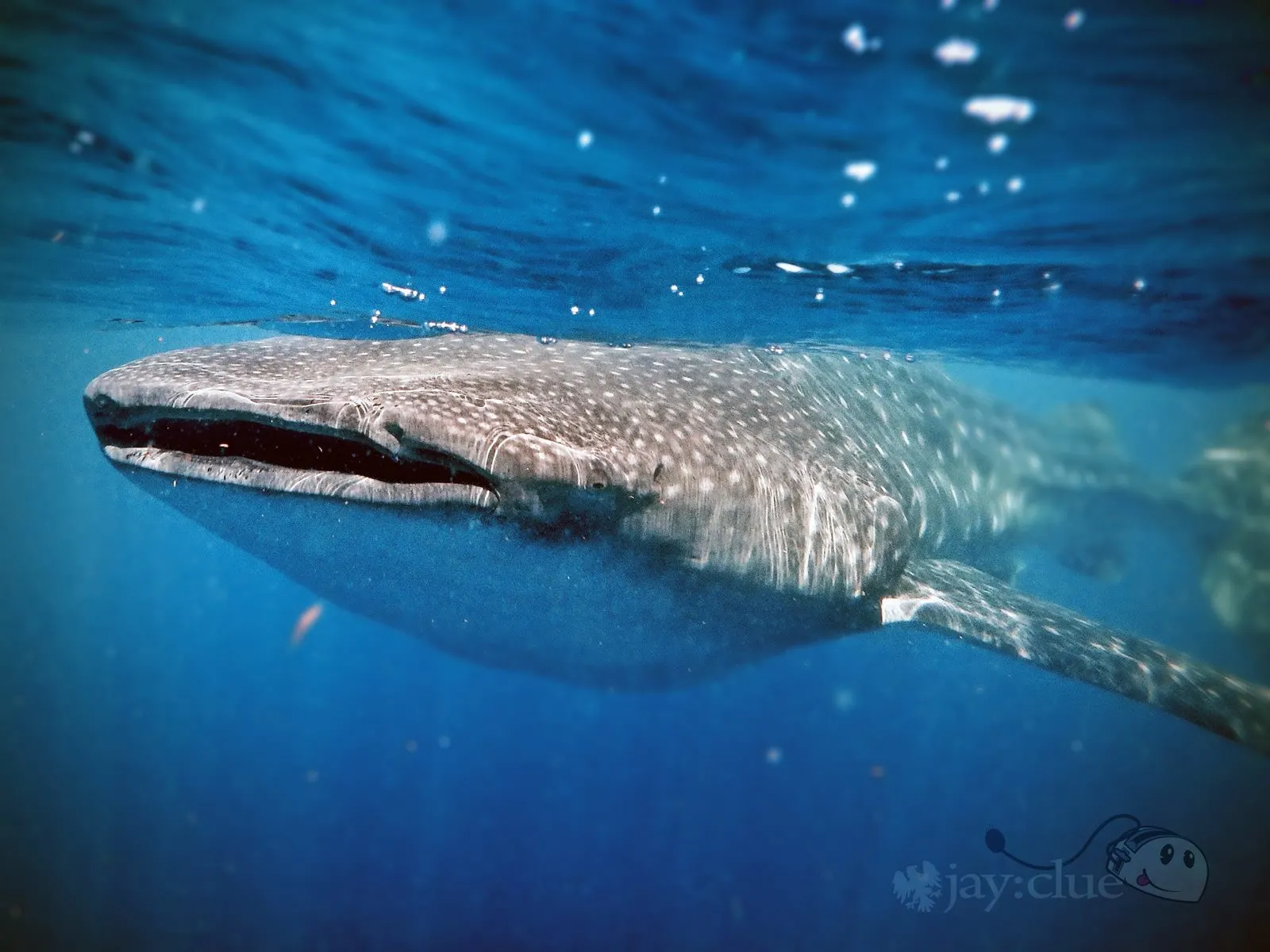 Experiencing Bioluminescence on Isla Holbox
Have you ever walked on the beach or in the surf at night and had it start glowing like there were tons of tiny pixies in the water? Well, that's what happens in certain bodies of salt water. We've enjoyed bioluminescence in Eastern Puerto Rico, at the Merritt Island National Wildlife Refuge at Cape Canaveral and here. Isla Holbox happens to have a lagoon with some amazingly strong bioluminescence. Here's the process for experiencing it:
book a tour or taxi to the bio bay on a moon-free night
be ready to get in the water – be wearing swimwear and sandals
hang on tight as you travel by golf cart out to the bay
splash around and have fun
Note:  you won't be able to photograph the bioluminescence unless you have a super-special high tech camera meant for pitch black photography. Just enjoy the experience of playing and splashing with the sparkles.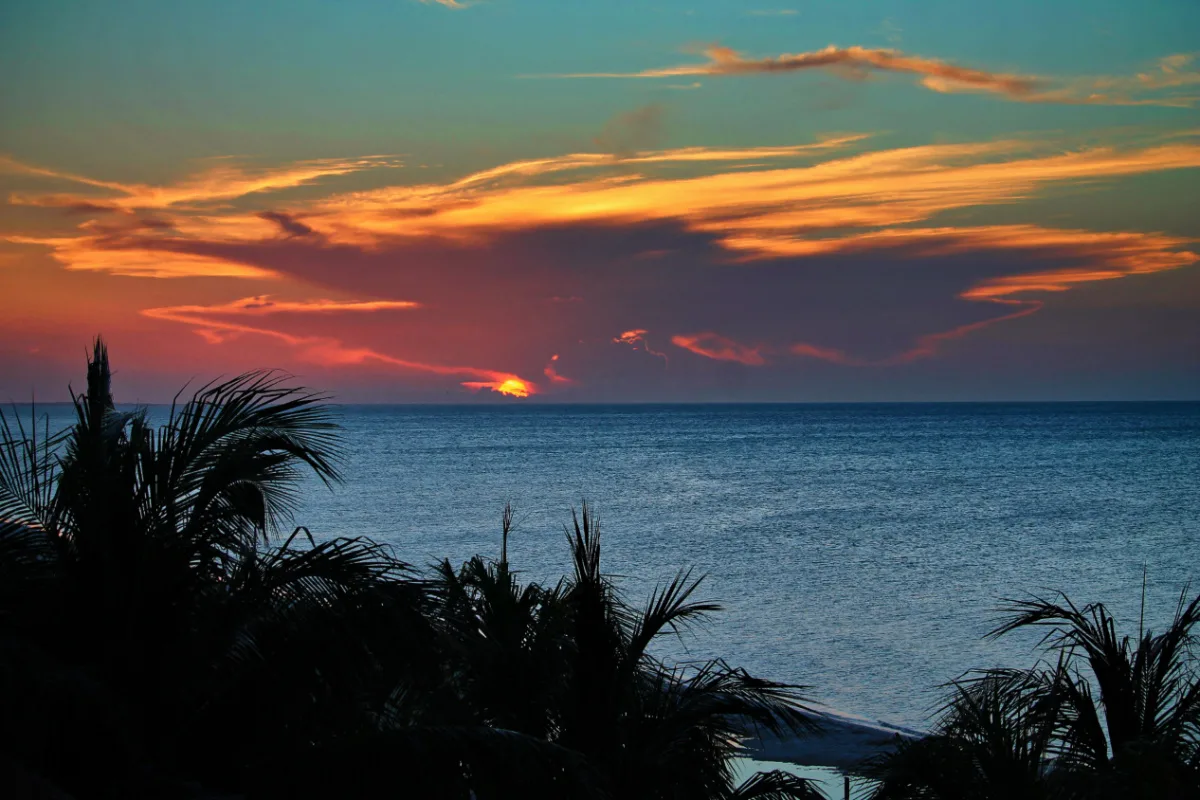 Exploring and Photographing the Town of Holbox
Before I even knew that I was taking a trip to Isla Holbox I was familiar with the colorful street art of the island. Seriously, I had a week where on Instagram all I saw was Holbox street art… which got me totally interested in the island. It turns out that the whole of the Yucatan Peninsula is covered in street art, but Isla Holbox is really loaded with tons of it in a small area. From the beach to up in the neighborhood there are loads of small and large scale Mexican street art pieces. Beautiful!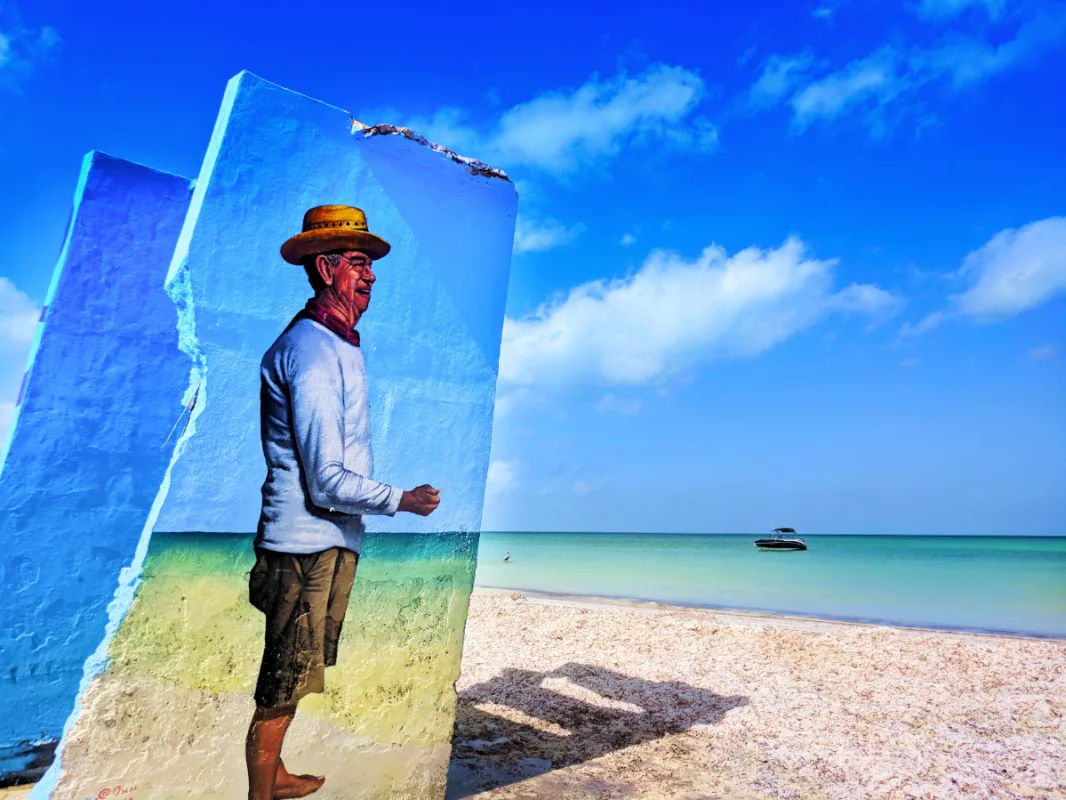 Know what else is beautiful in the town of Holbox? Everything basically.  Both in daytime and when it's totally alive at night, everything in Holbox is colorful. We always do a little window shopping because we like to find cool (small) pieces of art to bring home and add to our collection, and doing so here winds up making a shopping day and photo session.
Tip: don't just walk around taking pictures of peoples' wares and art. ASK first. In some cases, photographing shops and galleries is close to shoplifting, as you're taking their creative, lively designs for your own purpose without purchasing. Just be thoughtful.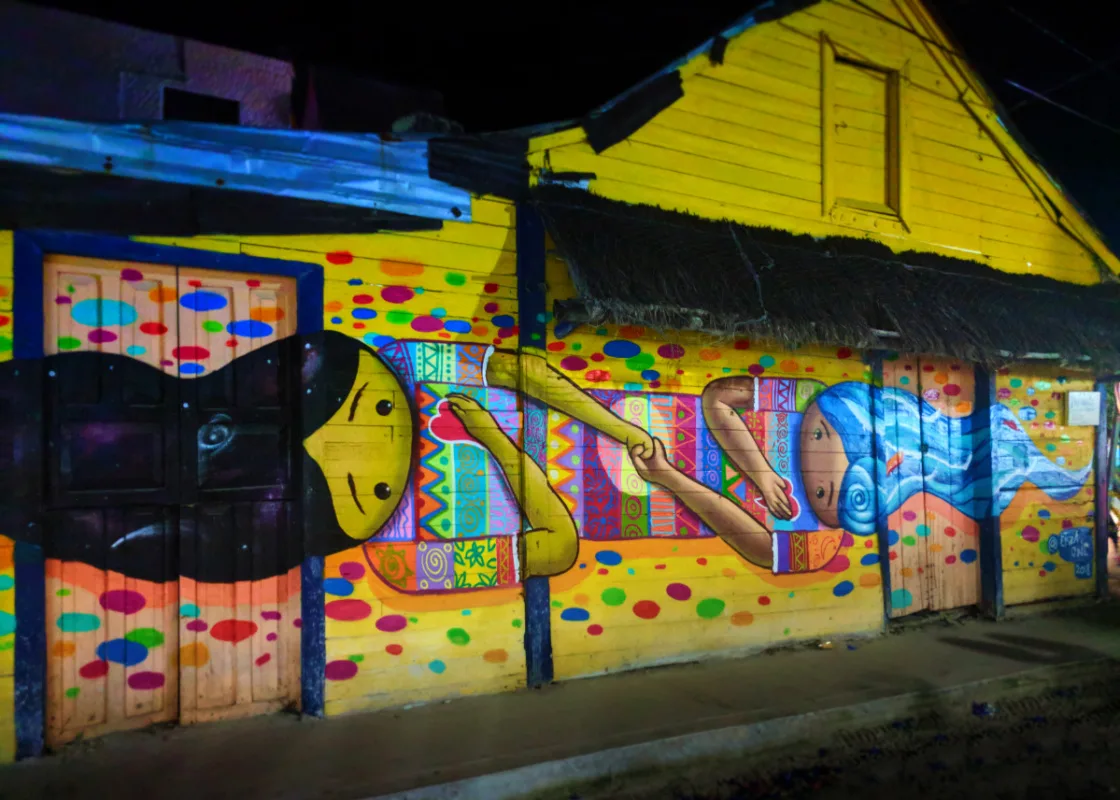 Running Routes on Isla Holbox
Being a really long island, Isla Holbox has a ton of beaches and a good portion of the main beach has a road that runs alongside. This provides two really great and totally different running routes, both which are easily accessible from nearly anywhere you're staying on the island.
Holbox Running Route #1
: Mid-island heading west through the town
Run through town, past the airport to the western nature preserve and back is an awesome running plan. This route is shaped like a lasso and can be about 3 miles, depending on when you choose to turn around.  Highlights along the way include the town square, lots of street art and a look into what's beyond the main tourist area.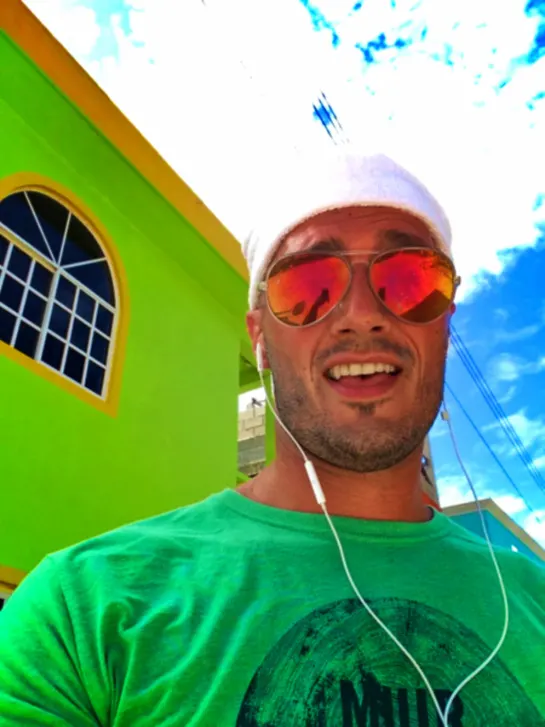 Know that a portion of this run took me though one of the poorer parts of the island, which gave me some perspective into the income disparity in such a small place as Isla Holbox, but it's a good route and you can respectfully pass through the neighborhood without disturbing residents.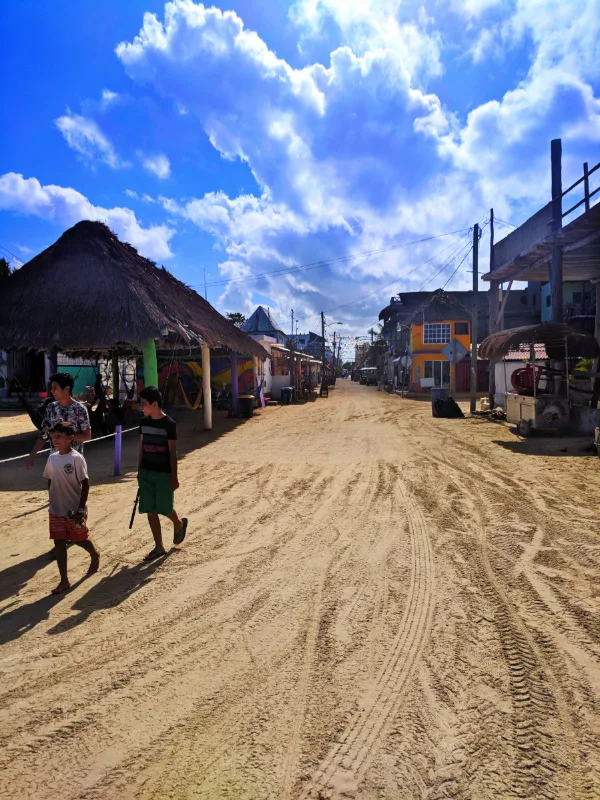 Holbox Running Route #2: Mid-island heading east aka beach running
 Starting mid-island or near Hotel Villa Flamingos, take off to the east, through the northcentral nature preserve. There are running/biking paths as well as firm beach paths you can run on.  I really enjoyed this because I did it early in the morning and I got to watch the colorful sunrise come up through the mangroves.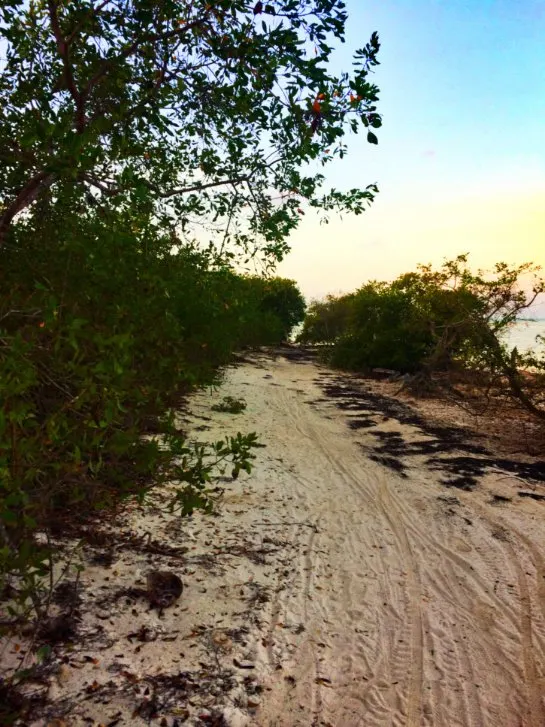 There is a creek to cross on this route, but as long as you're doing the route near the mouth of the creek there's a path for crossing.  Highlights on this route include mangroves, beach running, countless beautiful birds and… wait for it… horseshoe crabs! Such a treat!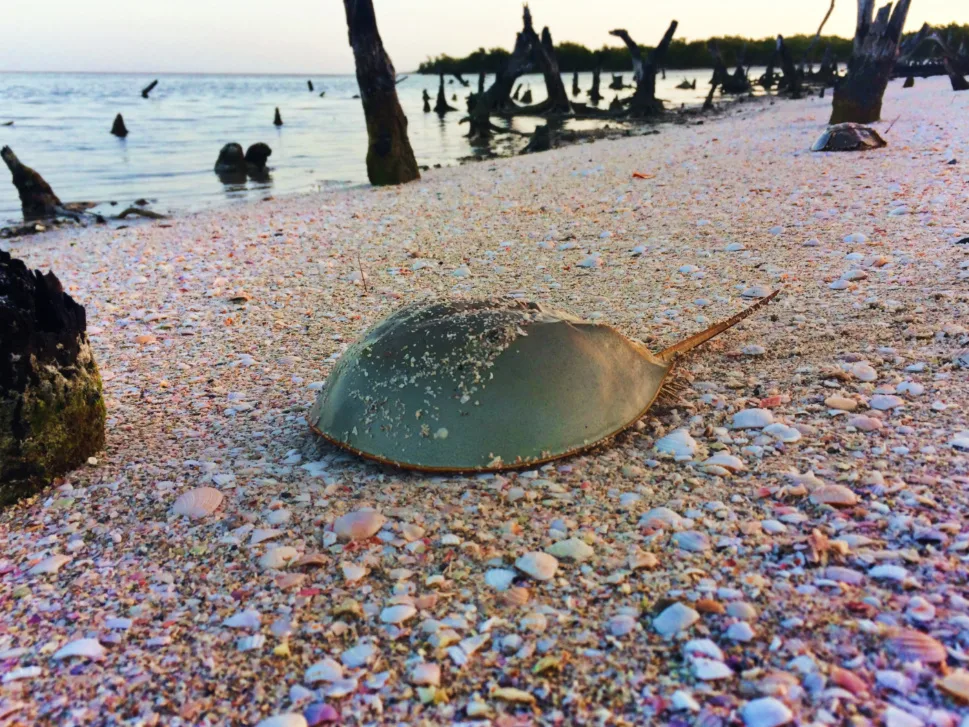 Where to stay on Isla Holbox:  Villa Flamingos
We were picked up from the dock on Isla Holbox by a golf cart taxi (like I said, there aren't cars on Isla Holbox) who took us to Hotel Villa Flamingos.  The property is set among palm trees and iguana dens. After a quick check in I got settled in my room. So cool.
My room was on the second floor of one of the villas with a nice, big balcony equipped with deck chairs and a hammock.  A sitting area, a desk for work and a huge shower rounded out the interior of the room. The lighting was exceptionally cool with the ceiling and bed being lit from below.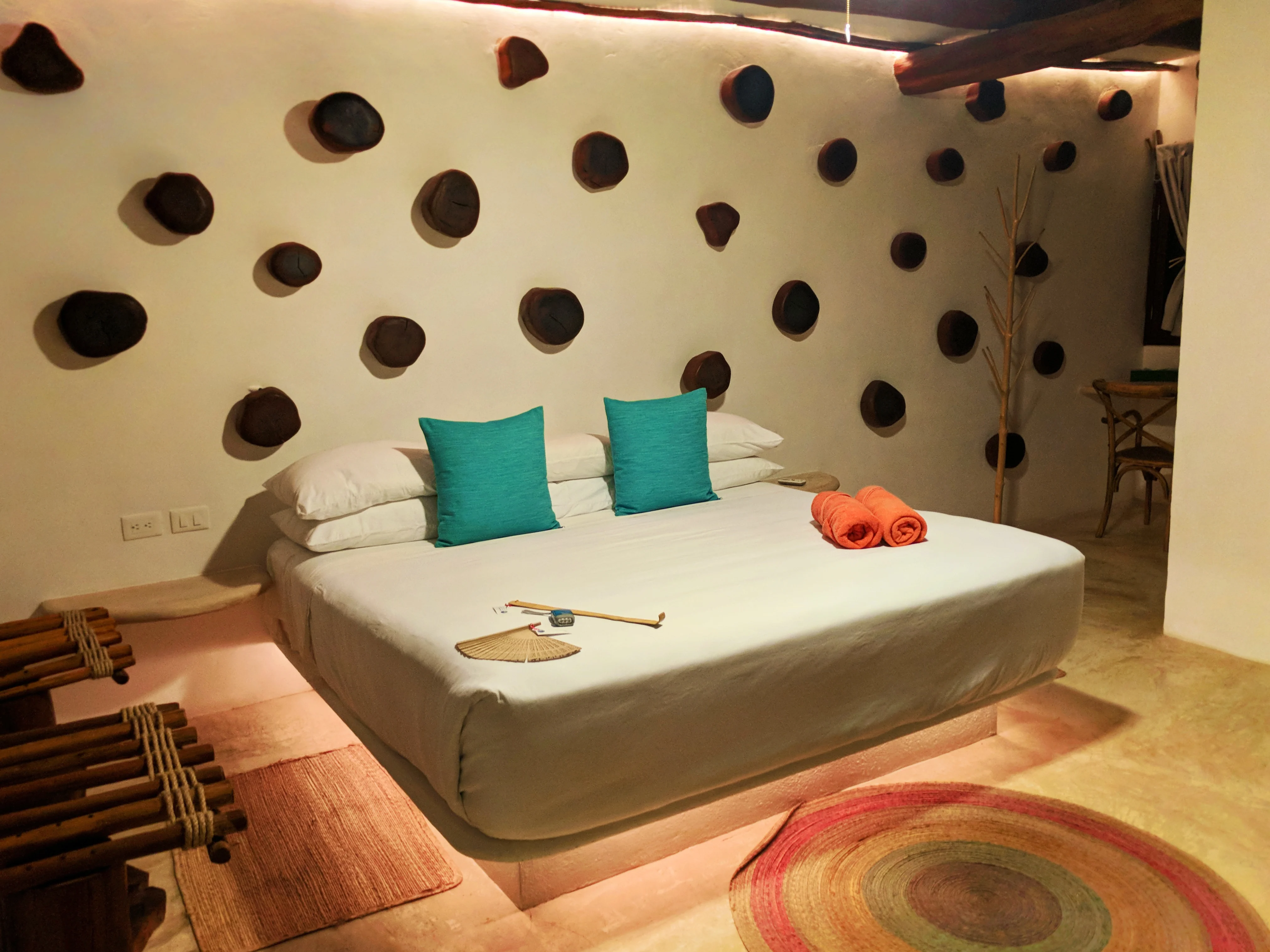 Hotel Villa Flamingos is really ideal for relaxing.  I mean, it's on the beach, right? It has three pools and many hammocks and swinging lounge beds in the shade.  Oh, and hammocks in the water. And how could I forget that one morning I was watching the sea and a flock of flamingos flew by?!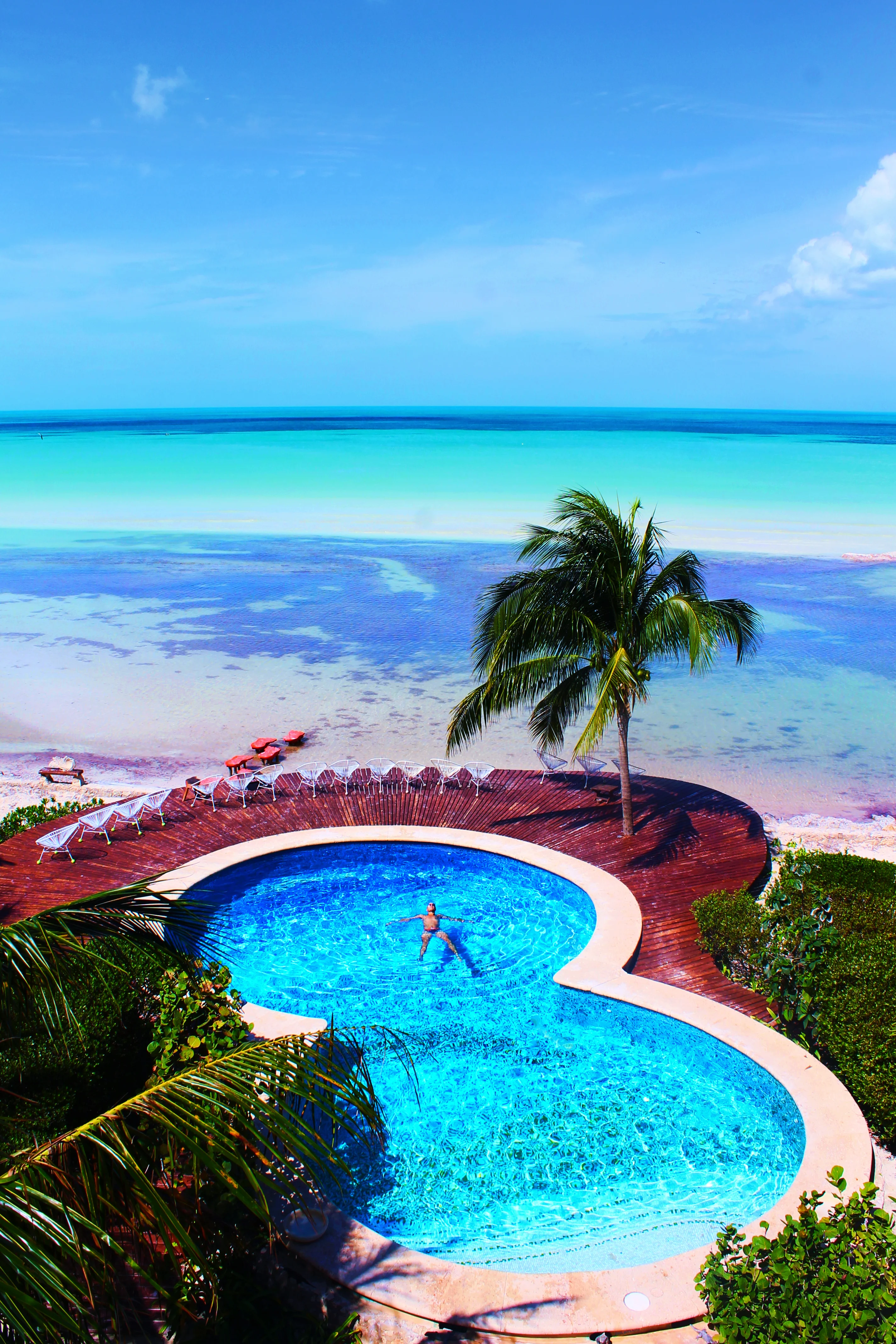 There is a restaurant at Hotel Villa Flamingos with a very good Mexican breakfast buffet and exceptionally fresh lunch offerings. And you HAVE TO TRY the tamarindo margaritas. I've had tamarindo margaritas all over Mexico but none have compared to the ones served at Villa Flamingos.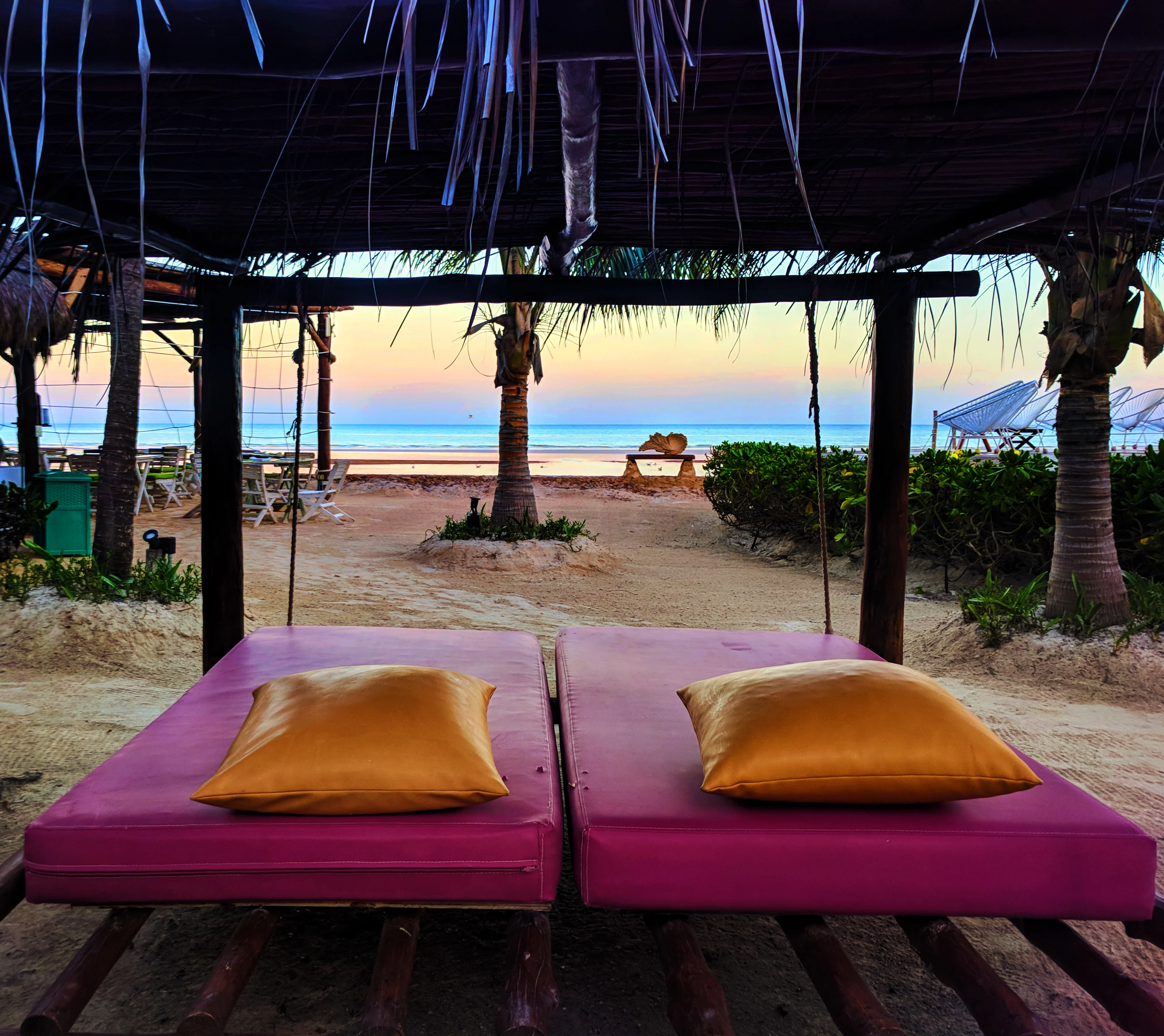 The yoga retreat I was attending was also here at the Villa Flamingos. We had the large upstairs space of the main villa building looking out across the palms and the Caribbean. I couldn't have been a better setting for a week of yoga.
Note:  there are plenty of small to medium sized hotels you could book for a trip to Isla Holbox. Check out other options if you're looking for something besides Villa Flamingos.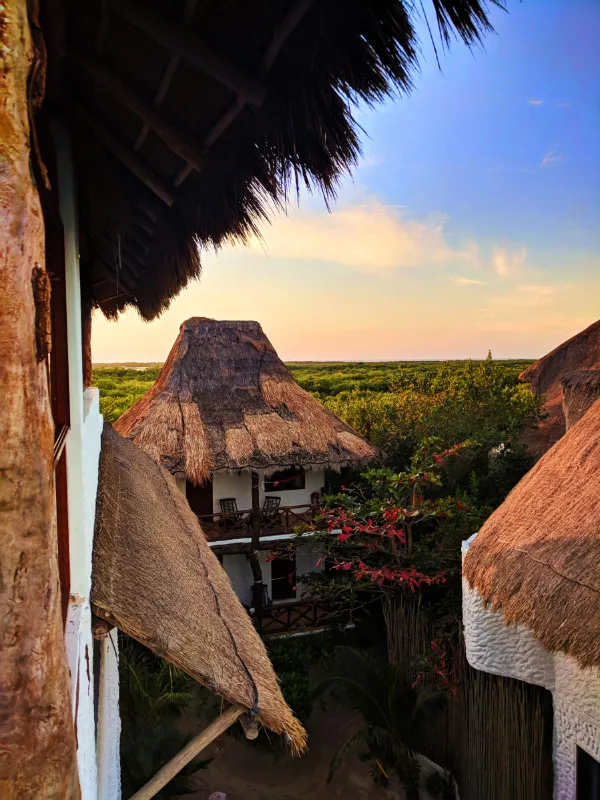 Dining around Isla Holbox
I ate a several different restaurants in town, on my own and with friends, but my favorite was El Champlin. This small restaurant in the heart of downtown, just off the main square, has no menu. Each day the chef sees what's fresh and available and makes four dishes. When we went, the options were stewed shrimps, bone-in tenderloin, lobster and cream sauce, and grouper (fish) with poblano peppers. I had the grouper and it was remarkable. Delicious with a really subtle heat.
I also went to Luuma several times for dinner, drinks or snacks. Luuma in Holbox is, I think, the precursor of what's to become of many restaurant spaces on the island. It's got its genuine Mexican flare and mainland Mexico style, but it's also working to cater to the up-and-coming young crowd that's discovering Isla Holbox for the first time. It's hip (and now I sound old) and fun, but also feels like a chill night spot. Delicious food either way with amazeballs tapas.
Overall, the food of Isla Holbox really seemed to be Mexican inspired but big-city trendy. Sushi is very popular on Isla Holbox, equal to ceviche and other raw fish dishes. It was not what I was expecting.  If nothing else, expect anything you get to be very fresh, particularly if it's seafood based. You won't be disappointed.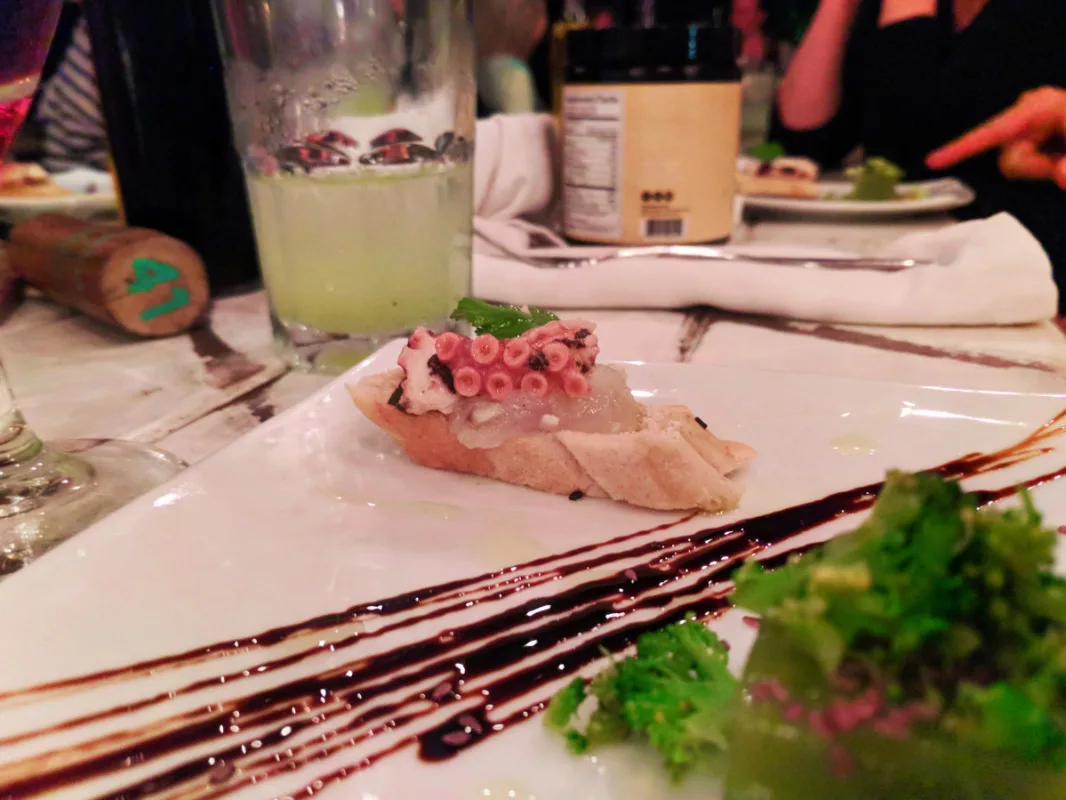 If you're not familiar with the restaurant world in Mexican tourist towns, something we've noticed as we travel around is that there's always a lot of change. We make recommendations today, but if you plan a trip to Isla Holbox in a few months, the top dining spots may be totally different. Try something new and with no prior knowledge though; chances are you'll love it!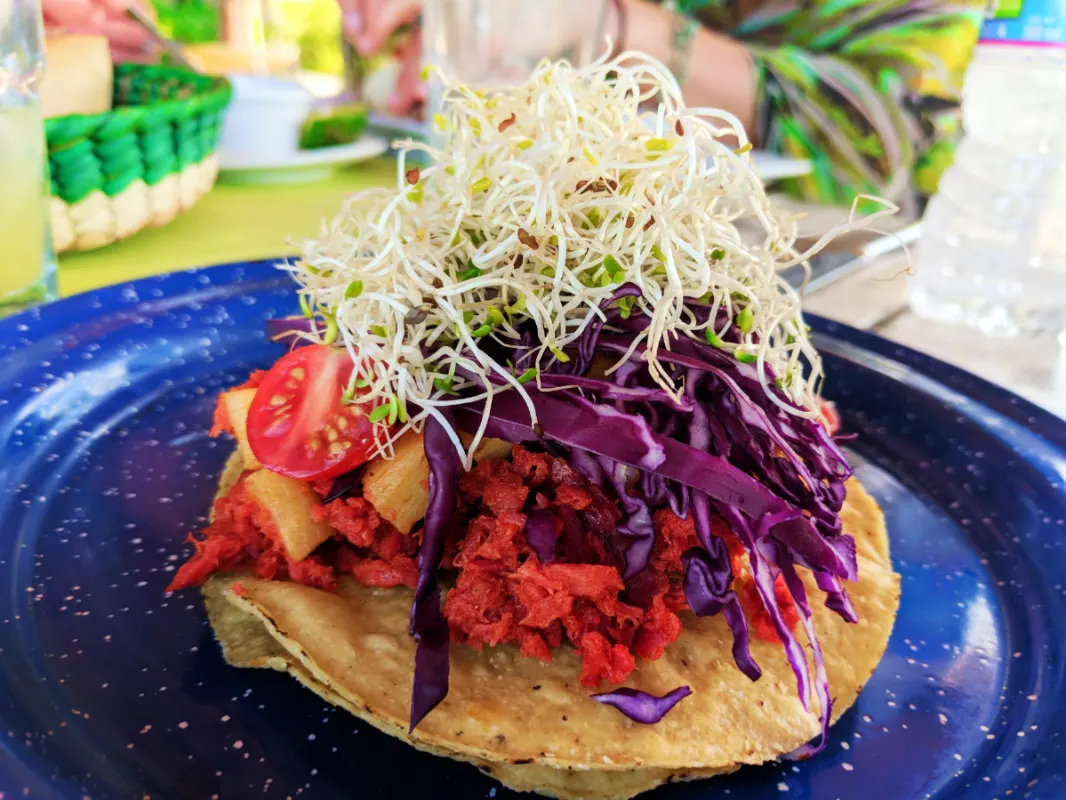 I'd happily plan another trip to Isla Holbox with the family, just us dads or even another solo yoga retreat. It's a beautiful, relaxing island and is perfect for any soul needing to escape the real world.
Want to pin this for planning your own trip to Isla Holbox? Go for it, and be sure to get a hold of us if you have questions or need more recommendations.