Even when a place is as remarkable as Yosemite National Park, it's always nice to explore beyond the most famous sights and most popular trails. True, you cannot surpass the epic view that awaits at the end of the Wawona Tunnel as the Yosemite Valley opens up to show off Half Dome, El Capitan and the waterfalls, but when it comes to experiences in nature, there's more than you imagined in Yosemite Country.
After spending a week at the Tenaya Lodge at Yosemite, we've seen a different side of Yosemite Country, including activities we'd never considered on previous visits. When it comes to one of America's favorite National Parks, we are excited to help others Explore Better like we have.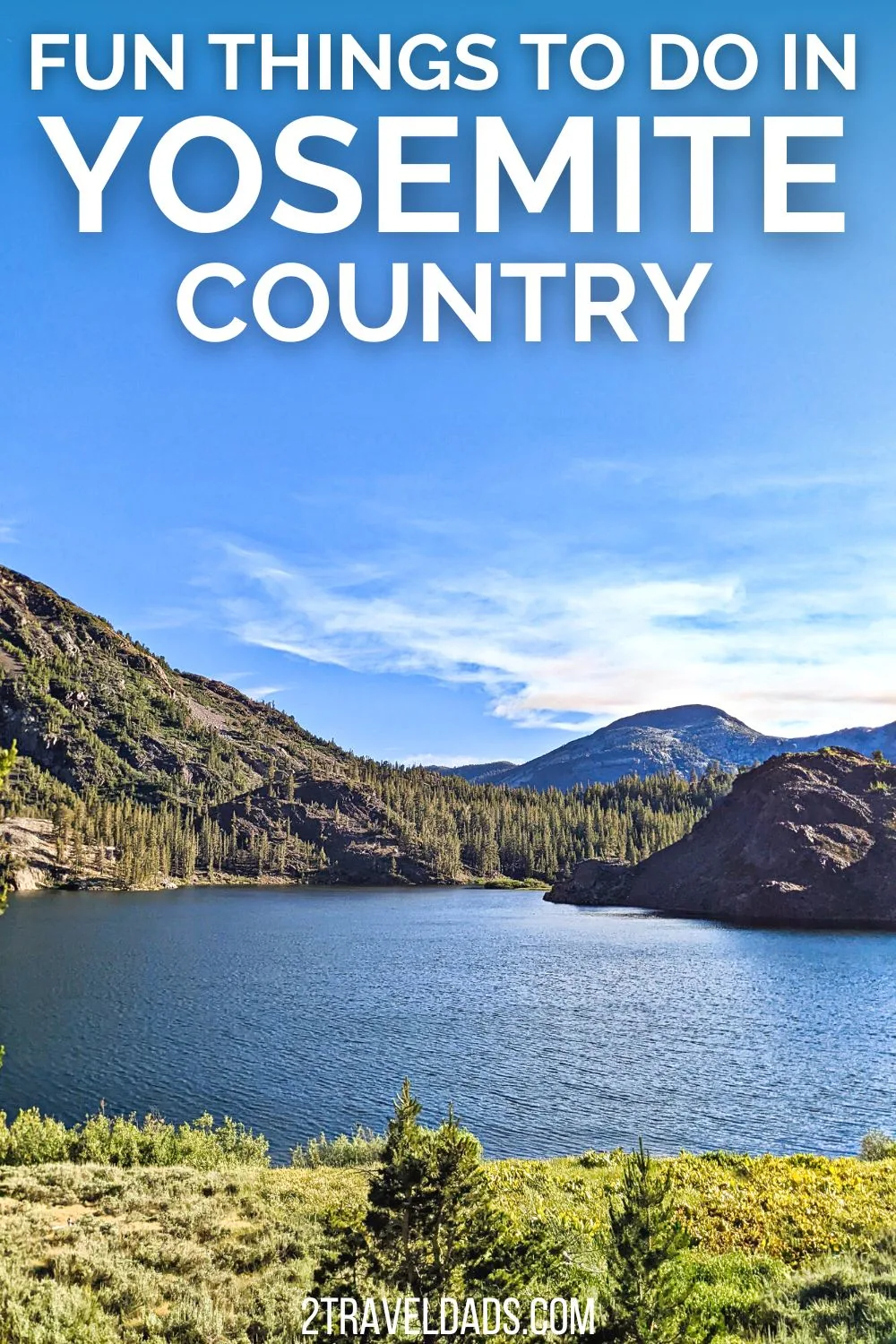 Five Truly Unique Yosemite Country Activities
As you plan your visit to Yosemite National Park, consider these suggestions for ways to see Yosemite Country from a different perspective. Whether it's the history of the area or getting into nature with nobody else around, I think you'll find these picks great additions to a totally unique Yosemite getaway. Yosemite Country is more than what's within the National Park, and it's a lot of fun to explore. From great restaurants in Oakhurst to unique fishing and kayaking opportunities.
Note: we were based out of the Tenaya Lodge for all of these activities. We've stayed here multiple times and love it as a home base for exploring Yosemite Country and the National Park.
EBiking and Hiking Adventure
We love getting out into the forest, and especially in California's Sierras. Renting E-bikes with off-road tires, we were able to cover a lot of ground really quickly as we headed out from the Tenaya Lodge at Yosemite. E-Bikes are unique in that you can pedal yourself just like a normal bike, but then you also have a small electric motor to boost you on your way.
It's remarkable just how quickly you can get from point A to point B, and with the thick mountain bike tires, how easily you can traverse the rough roads and trails into the forest. We really enjoyed hopping on our ebikes and leaving the crowds behind.
For our particular adventure, we rode about 2.5 miles into the Sierra National Forest to the Tenaya Falls Trailhead. From there, this clearly marked National Forest Service path took us through the woods and along the Lewis Fork Creek to Tenaya Falls. We only met one other hiker along the way and loved the scenery. After dipping our feet in the creek, we headed back to our Ebikes and rode back. Such a great way to enjoy the forest of Yosemite Country!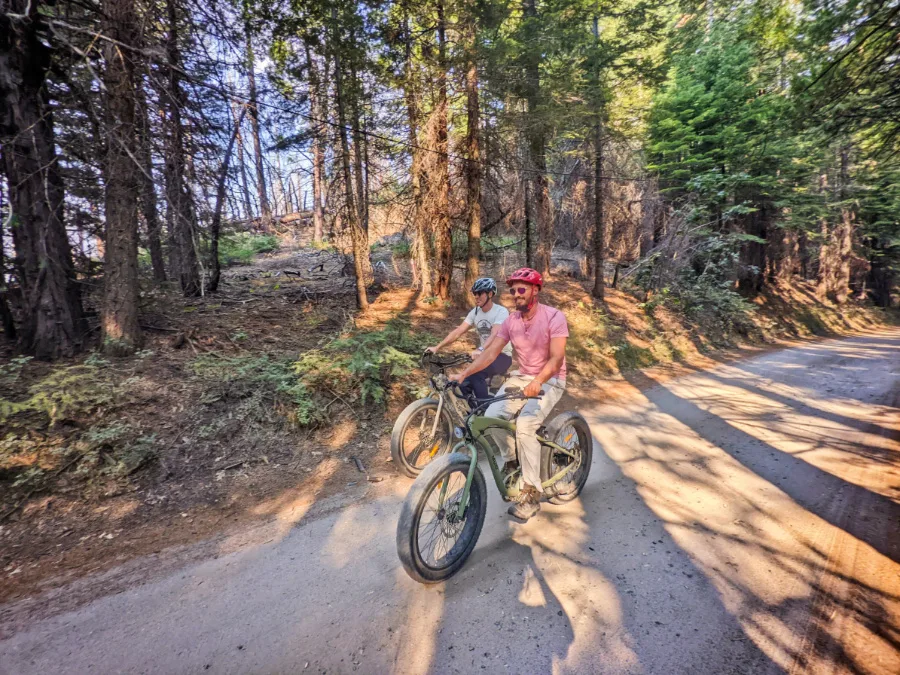 Guided Nature Hike in the Forest
Even though we're very knowledgeable when it comes to flora and fauna in the mountains, there's something to be said about going on a guided hike. We hit the trail with our kids and our local guide and immediately learned new things about the trees we'd been walking by for the last few days. Example: the white fir tree actually smells like oranges when you rub its needles, and even tastes like orange peel. Totally wild and something we'd never have known without our guide.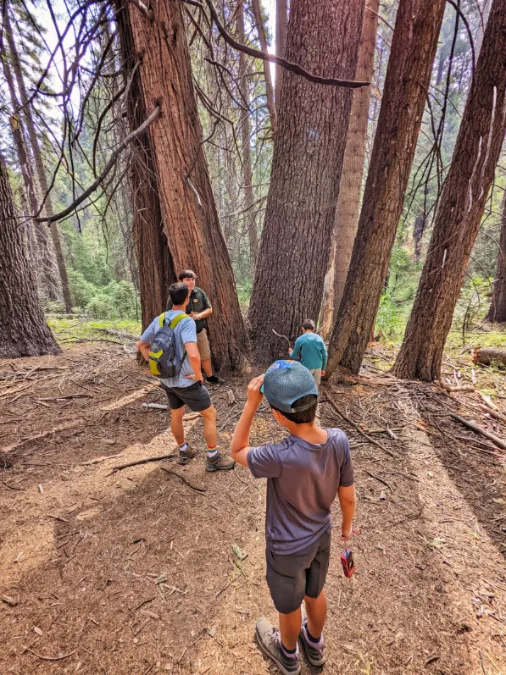 It's also nice to get insider information about additional hiking in the area or the best places to watch for wildlife. Guided nature hikes are available within Yosemite National Park, usually led by Park Rangers, and outside with both local tour companies or, in our case, as a service provided by our lodge, the Tenaya Lodge at Yosemite. It's travel opportunities like this that help us keep our adventures both unique and educational for our kids (and us adults).
When you head out on your guided nature hike, be sure you've got your camera, some binoculars for birdwatching (one of my favorite activities) and plenty of water. Even though nature hikes don't tend to be strenuous, the air in the Sierras is more dry than sea level or the South, so if you're not accustomed to it, you'll need to drink more water than normal.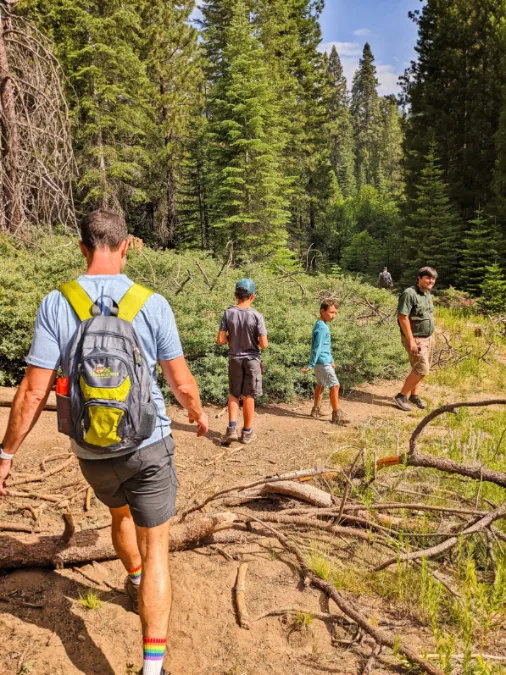 Off Road Exploring with a UTV
Never have I ever… driven an off-road vehicle across a granite dome in Yosemite Country. Actually I have! Yosemite Adventure Co, a women-owned tour and rental company, makes it possible to explore the more remote areas around Yosemite National Park. Until you've gone off-roading up the face of a mountain like a bighorn sheep, you haven't had the complete California Sierras experience.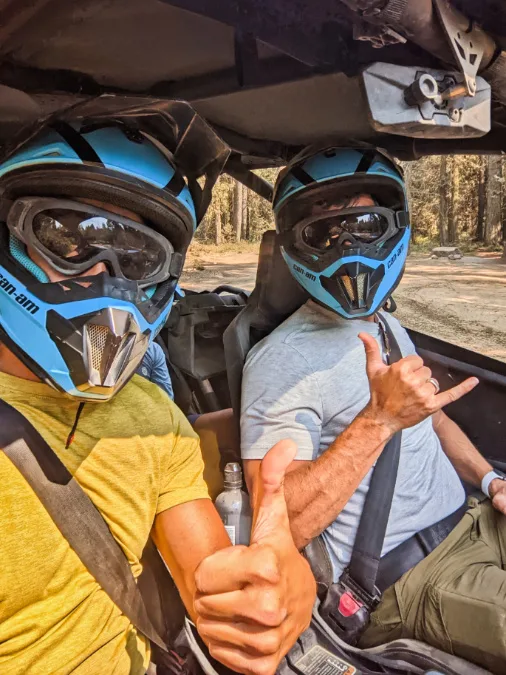 Since we were exploring with friends, we were able to split up our time between driving the UTV (Utility Terrain Vehicle) and getting a Jeep tour with our guide. We enjoyed having the two varied activities, and I'll tell you, they were certainly different. The tour with our Yosemite Adventure Co guide was full of local info and stories, a bit of science, and amazing views. Our time driving the UTV across creeks and up mountain faces was epic and much more of an adrenaline rush.
When it comes to making sure the kids had a great time, bumpy rides and getting away from it all would've been enough for them. Add helmets, goggles and getting splashed as we traversed the forest and you have the recipe for an all-ages Yosemite adventure. And FYI, you WILL get awesomely muddy or dusty!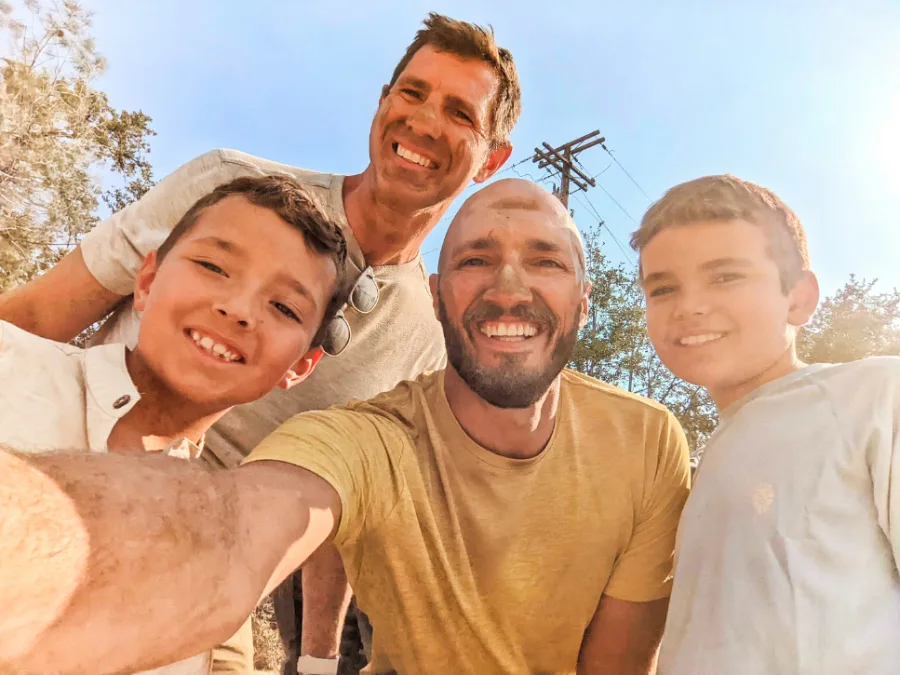 Horseback Riding in the Sierra National Forest
From the mountains of Montana to the beaches of Mexico, we have enjoyed horseback riding as a family all over the place. Yosemite Country is a special place to ride horses. Streams, rugged trails and the best smelling trees make it pretty remarkable when it comes to a family activity.
Our guide for horseback riding in Yosemite Country was Yosemite Trails Horseback Adventures. I used to be a horseman myself so I always love when we go with guides that really care about the rider experience and the horses' well being. Yosemite Trails made sure everyone was comfortable and trusting of their horse before we went onto the trail. This included making sure that we all understood how their horses have been trained, which really means understanding how to communicate with each horse. I loved the approach.
For beginners or just those who don't get the chance to ride horses often, Yosemite Trails Horseback Adventures is a good option for seeing a different side of Yosemite Country. The care and Sierra National Forest scenery pair nicely to create a unique way to explore. Truly, this particular horseback riding adventure stands out as one of the best we've done as a family.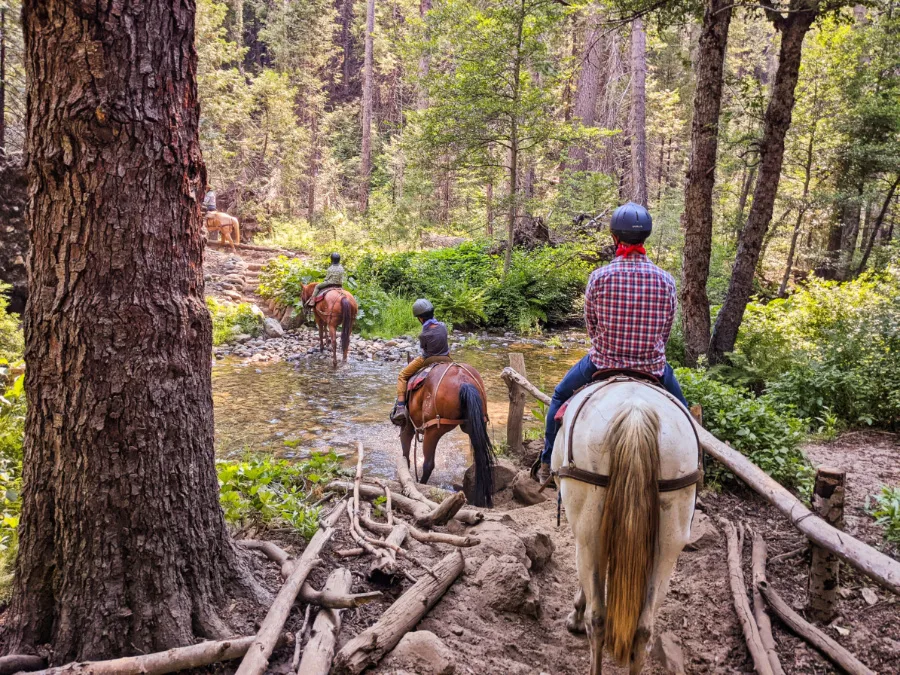 Historic Yosemite Sugarpine Railway Trip
What's a trip to Yosemite Country without getting into the history of it all? Just outside of Yosemite National Park is the Sugar Pine Railroad. This historic train ventures into the Sierra National Forest several times each day, sharing the story of the bygone lumber era of the mountains and even more about the way of life for the lumberjacks of the Sierras. Understanding the past is something we always try to make a part of our travels, so activities like the Yosemite Mountain Sugar Pine Railroad is perfect for that!
If you want to just do the train ride and get a history lesson, that's easy to work into your Yosemite trip, and if you're looking for more, stick around at the Sugarpine Railway for longer and get a lesson in gold panning, or plan a longer train adventure and really immerse yourself in the lumber days in the museum or the evening train ride.
A tip for visiting in the peak of summer: book your train tickets in advance, as the Sugar Pine Railroad can get busy. It's still a great option for avoiding busier times in the National Park and it's great for all ages, but it is a popular activity.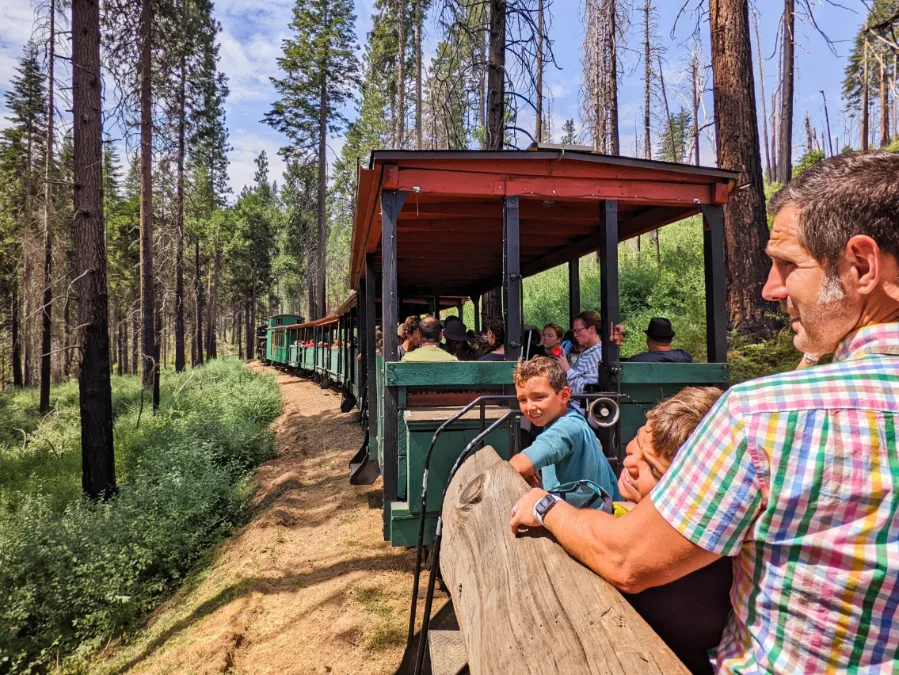 More Unique Yosemite Activities to Enjoy
Of course I've got some great, unique things to do WITHIN Yosemite National Park too. Yes, it's a favorite park and you'll encounter some bottlenecks of visitors, but there are some great picks that are a bit more off the beaten path and offer a really wonderful Yosemite experience. Here are our favorite options:
Bring a picnic into the park for an afternoon at Cathedral Beach picnic area on the Merced River, surrounded by the towering granite cliffs
Visit the Tuolumne Grove of giant sequoias in the northwestern corner of the park; it has fewer visitors than the Mariposa Grove and offers a very different sort of hike
Plan a day trip to the Hetch Hetchy area of Yosemite; it's only accessible from a road outside of park boundaries and offers views much like the main Yosemite Valley, but with a gorgeous blue lake.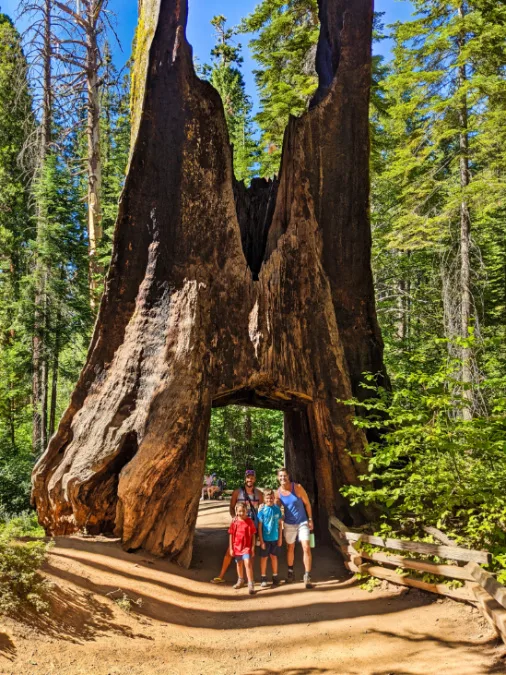 There are so many more things to do, and endless views to take in. Visiting Yosemite Country is a special type of trip and planning to add some unique, lesser known fun will elevate it even more. Take the time to explore beyond the park. You'll be glad you did.