Everybody seems to have an opinion about overrated sights and places to visit.  Roadside attractions are totally cliched to stop at, but why not stop?  Viewpoints on highways that have pull-outs are usually there because the view is incredible.  Why wouldn't you want to stop at a vista like that's "like woah"?  Tunnel View in Yosemite National Park is like that.
Yes, every tour bus and tourist and hiker and solo traveler and everybody everywhere always stops there and rightly so.  Tunnel View is jaw dropping.  While we're specifically telling you about this one stop, please apply what we're saying to any viewpoint wherever you are in the world.  We're just as guilty of trying to get to our next stop as the next family on a road trip, but for realz… just read on.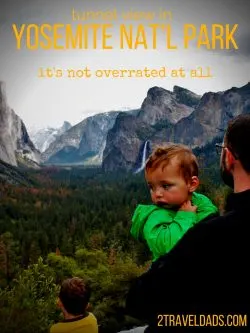 What is Tunnel View? in Yosemite
When you're driving through Yosemite National Park from the south, you'll go through some different places that are pretty and peaceful and just what you'd want to see in a National Park.  After you pass those spots and get closer to the Yosemite Valley, you must go through… the tunnel.  It's no joke.  The Wawona Tunnel is long and amazing.  
And at the end of the Wawona Tunnel…
https://www.youtube.com/watch?v=A5WkTZ_5s8Q
Enjoying the Best View Ever
At the end of the Wawona Tunnel is the most spectacular view in all of Yosemite National Park, and in this view you'll understand why this is one of the best West Coast National Parks.  I feel confident saying this because I've been all over the Park in different seasons and have climbed Half Dome and truly believe Tunnel View in Yosemite National Park to be the most breathtaking of all sights.
We took time to watch the clouds roll in and out.  We watched people from all over the world sit in awe.  The grandeur of the Yosemite Valley and its features are worth taking at least ten minutes to just chill, either sitting on the beautiful CCC stone wall or if it's a cold day, in the comfort of your car.  I guess what we're trying to say is that if you do nothing else exciting during a day of driving, you should spend some time enjoying the incredible view… in safety while you're not actually driving.
Warning:  it's SO DIFFICULT to drive in National Parks without getting distracted by the amazing views.  Pull over when there's a pull-out.  PBS released an incredible documentary about the National Parks and it talks about how the roads in the National Parks were designed by artists first and then civil engineers second… and it's totally true.
Parking at Tunnel View
There are two sides of the road so two options for parking.  If you're coming from the south, just pull off to the right and park in the smaller area and cross the street.  If you're driving up the mountain, pull off to the valley side and park, but be wary of where you land.
Tip:  tour bus parking is vaguely stated throughout Yosemite National Park.  At Tunnel View it's more clearly marked but you might not even think about what you're doing because hey, it's open parking, right?  If you pay attention you'll see that the middle area of the valley side is for buses only and they WILL make you move.  So be smart and don't create a honking scene.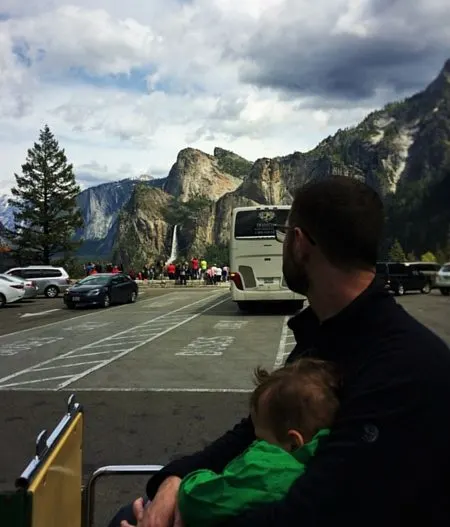 Hiking at Tunnel View in Yosemite National Park
There are several hikes coming out of the hillside parking area at Tunnel View.  If you'd like to elevate yourself just a bit more, you can opt for any hike from a quarter of a mile to much, much more.  It's worth it for getting a pure view with very few people potentially spoiling a shot.  This isn't a launching point for a full 9 hour backpacking journey, but if you'd like a quick elevation gain and a beautiful picnic, head up the hill.
Hiking idea:  if you want a challenge out of here, do the Pohono trail UP to Glacier Point.  You'll be tired but it'll be memorable.  And you can always do the trail down the hill from Glacier Point, which is a ton easier.  We did NOT do this with kids, but have done it in the past and it's a really wonderful hike.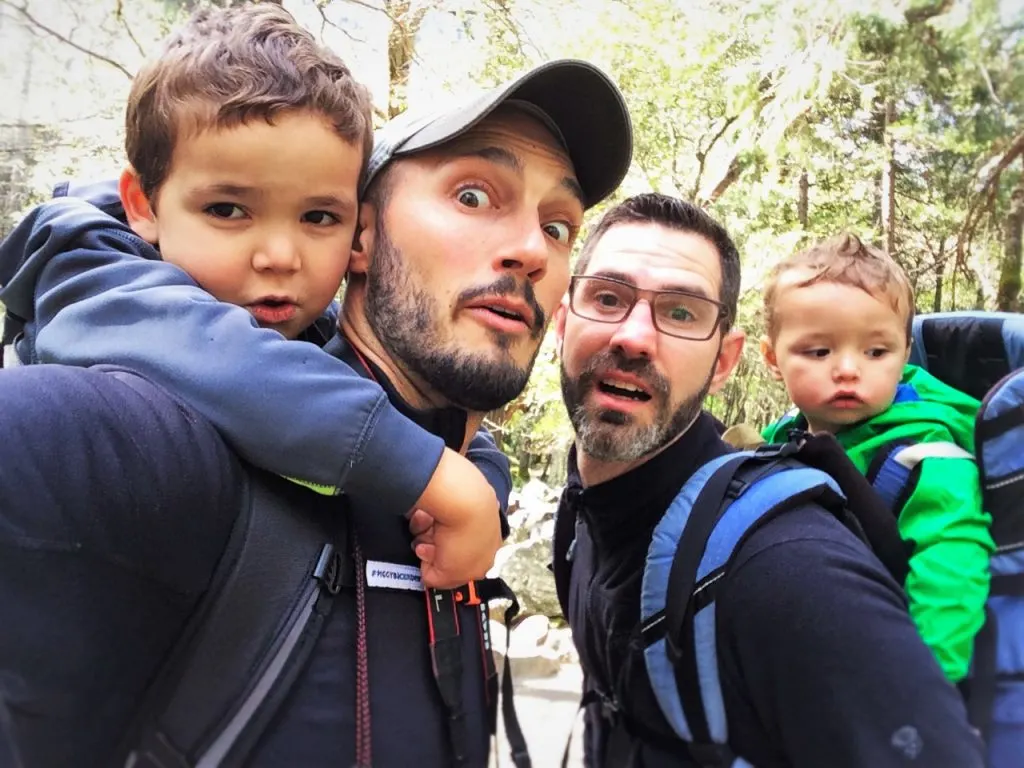 What You'll see at Tunnel View
The reason stopping at Tunnel View or driving up to it is worth it is because you'll be wowed, whether it's sunny or if you're watching a storm roll in.  Most of the famous Yosemite National Park landmarks are visible from this one spot.
The Yosemite Valley
Seriously.  Amazing.  We've traveled all over the USA, Canada, Mexico, Europe, Asia… the Yosemite Valley is one of the most breathtaking, dramatic views on earth.  True, Glacier National Park and Yellowstone have had our hearts for a long time and the kids really enjoyed them, and they are strikingly beautiful too, but until you've looked down the Yosemite Valley from Tunnel View, yeah, you just haven't been fully wowed.
Tip:  use your time at Tunnel View to pick out some key sites and even hikes that you'd like to do in Yosemite National Park, as you'll be able to see from here how everything fits into the big picture.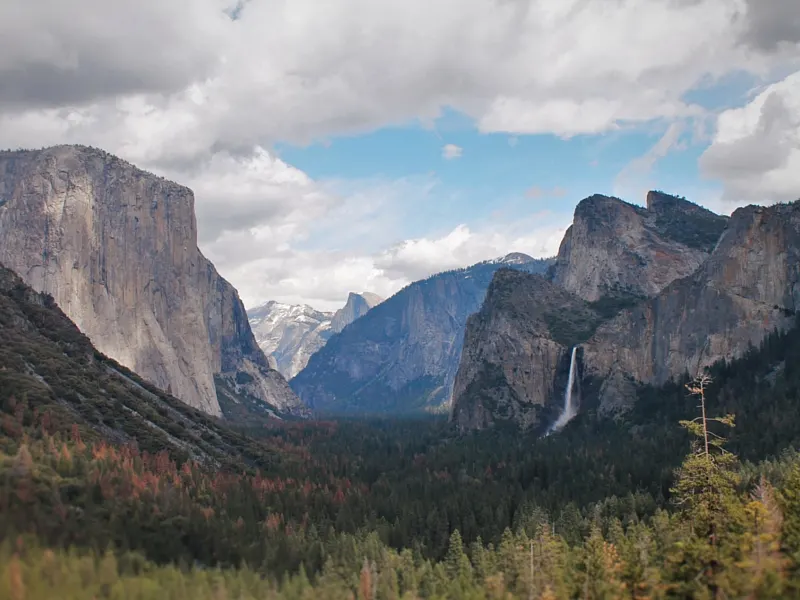 El Capitan
We learned a ton about El Capitan on our Yosemite open air tram tour (article to follow), including loads about rock climbing and how important El Capitan is as a rock climbing mecca.  Its towering granite face looks like a wall of light when the sun is shining on it.  It's really awesome.  Since we're not climbers we didn't attempt it, but while in the Park we did see countless mountaineers on the face of the rock and at its base, prepping for their ascents.
Cool fact:  Camp 4, the base camp for climbing El Capitan and other sites in the Yosemite Valley, is on the National Registry for Historic Places due to its significance in the growth and development of mountaineering over the years… but it's just a campground to everybody who's not a climber.  Climbers are cool people.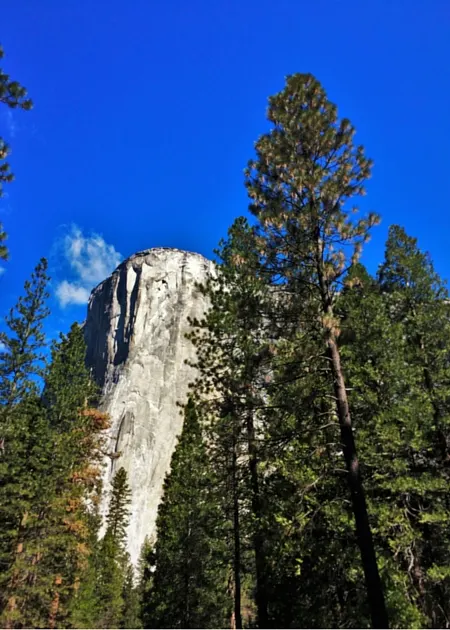 Bridal Veil Falls
When you're looking out from Tunnel View in Yosemite National Park, you get to see so much beauty… but only one waterfall.  Depending on the time of year that you're there, you may or may not be wowed.  On our most recent visit to Yosemite National Park we got to experience Bridal Veil Falls with so much water it had a cloud coming off it whenever the wind blew.  
Tip:  this is one of those moments to look from afar and see what you'd like to visit specifically.  With Bridal Veil Falls, you get that "OMG, we have to get as close to that waterfall as possible!" feeling.  It's so beautiful.  Oh, and you do get a tad bit soaked when you visit…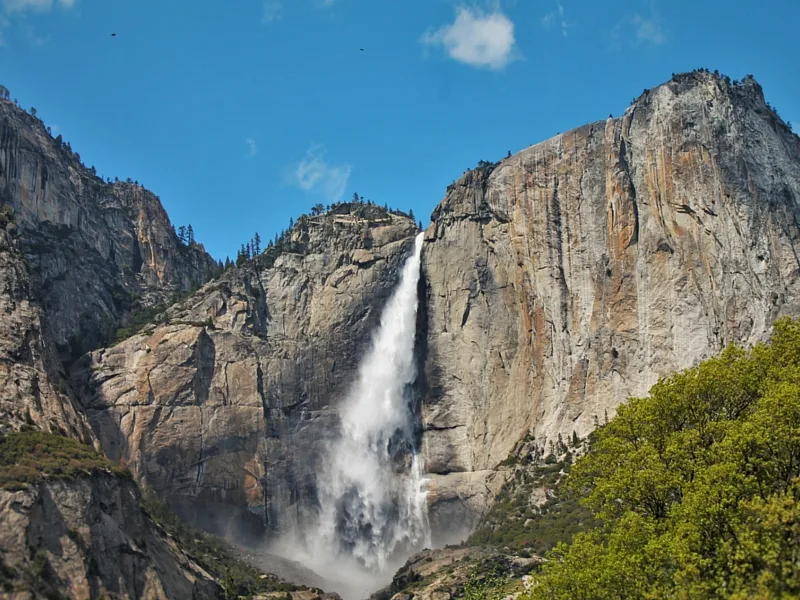 Half Dome
This trip didn't see a day hiking to Nevada Falls to go up the cable trail and see the view from the top of Half Dome, be we got to enjoy the most amazing chunk of granite from Tunnel View and it was perfect.  When you're doing a trip to a place where you have a hiking bucket list and memories of really intense hiking, it's good to be able to have a relaxing time seeing your kids enjoying things in a totally different way… and then planning the first time that you all get to climb Half Dome together in the future.
Hiking idea:  totally unrelated to the rest of this article, but if you want an incredible hike, do the trek to Nevada Falls and then continue up Half Dome on the cable trail.  You should inquire in the Village area regarding access to the cable trail and what's open or may require permits.  Both legs of the hike are strenuous, but both also offer incredible views and experiences.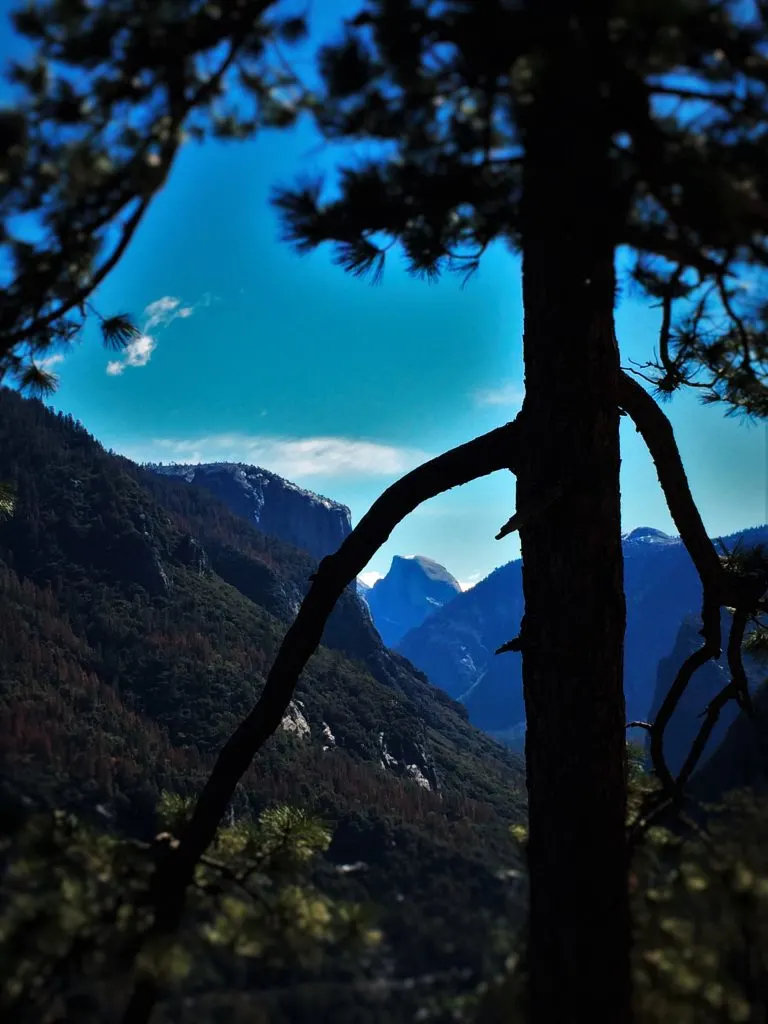 So all of that is why you should for sure spend time at Tunnel View in Yosemite National Park.  While on the surface you're thinking that it's just a pull-out to catch a quick vista of the Yosemite Valley, but it's a preview of an amazing time.  It's an itinerary waiting to happen.  And it's where you catch some memorable, iconic pictures with your family.