Silver Springs State Park is our favorite place to take visitors when they come to Florida. Between having the most gorgeously clear water and the most remarkable wildlife encounters, Silver Springs will become your new favorite Florida State Park too. Even if you're not normally into outdoorsy things, that atmosphere and all the things to do at Silver Springs State Park will make it a place you want to return to every year.
We've picked our favorite things to do at Silver Springs and have put together everything you need to know for visiting, from trails to kayaking, including how to paddle to Silver Springs State Park from the Ocala National Forest.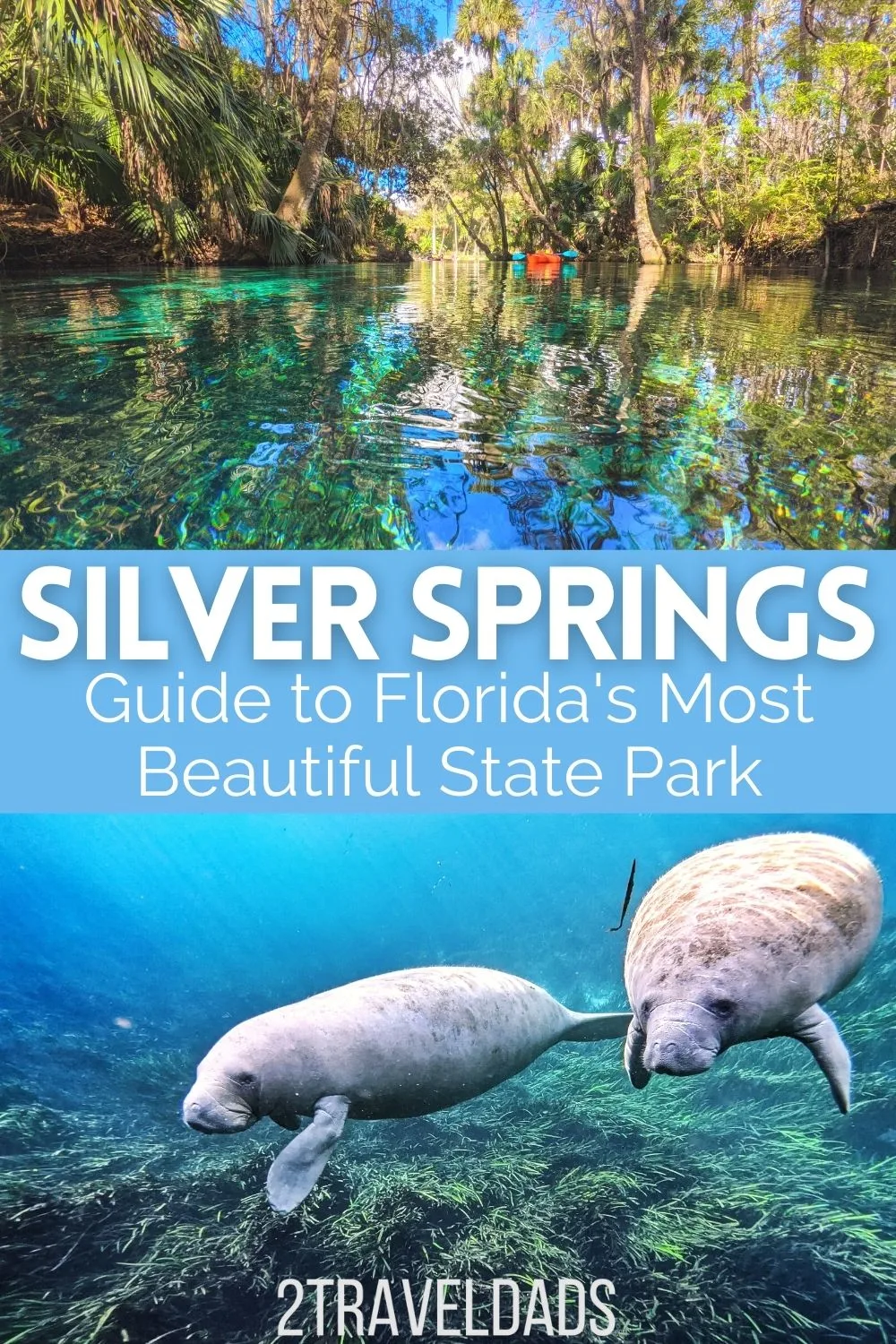 History of Silver Springs, Florida
Back in the golden age of Hollywood, Florida had a big role in shooting adventure films and underwater scenes. Silver Springs was at the heart of major motion picture production due to its extremely clear water and very deep head springs. The jungle setting also was the perfect backdrop for any number of exotic locations, but conveniently located in Florida.
Movies filmed at Silver Springs include The Creature from the Black Lagoon, James Bond: Thunderball, Tarzan, and I think we can all agree that the greatest masterpiece filmed at Silver Springs State Park was Legend with Tom Cruise
Silver Springs State Park also was one of Florida's attraction parks, much like Rainbow Springs State Park in Dunnellon to the west. Here there was a train ride, glass bottom boats, gardens and other Florida curiosities.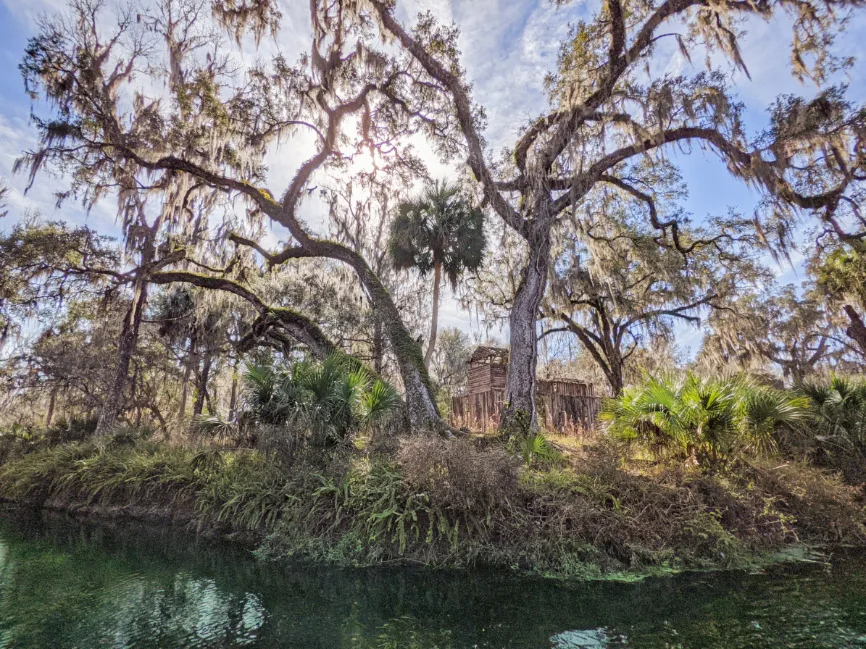 Best Things to Do at Silver Spring State Park
Due to the year round warm weather at Silver Springs State Park you'll find that there are lots of things to do in any season. While the springs and Silver River are best enjoyed on the water, you don't even have to step foot on a boat to have fun and appreciate one of the clearest springs in Florida.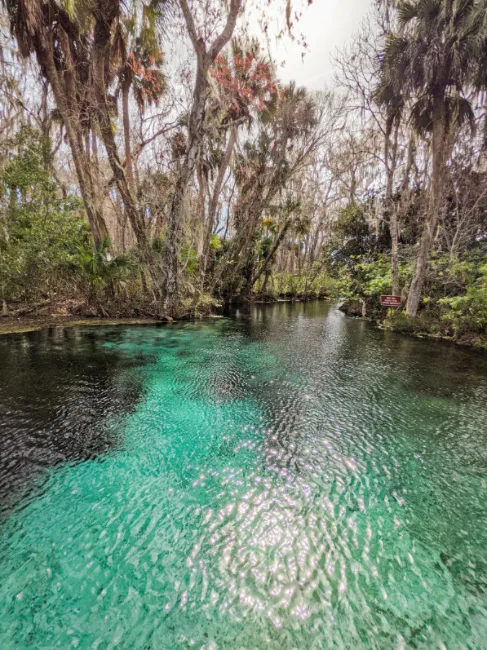 Can You Swim at Silver Springs?
Unfortunately you are not allowed to swim at Silver Springs in the headspring area, or down the Silver River for quite a ways. There is a good deal of boat traffic on the Silver River, and the glass bottom boats come and go quite frequently, both at the headsprings and quite a ways down the river.
Tip: if you want to swim and snorkel at a beautiful freshwater spring, Blue Spring State Park has a beautiful run that's open to swimming when it's not manatee season. It's a favorite swimming hole for our family.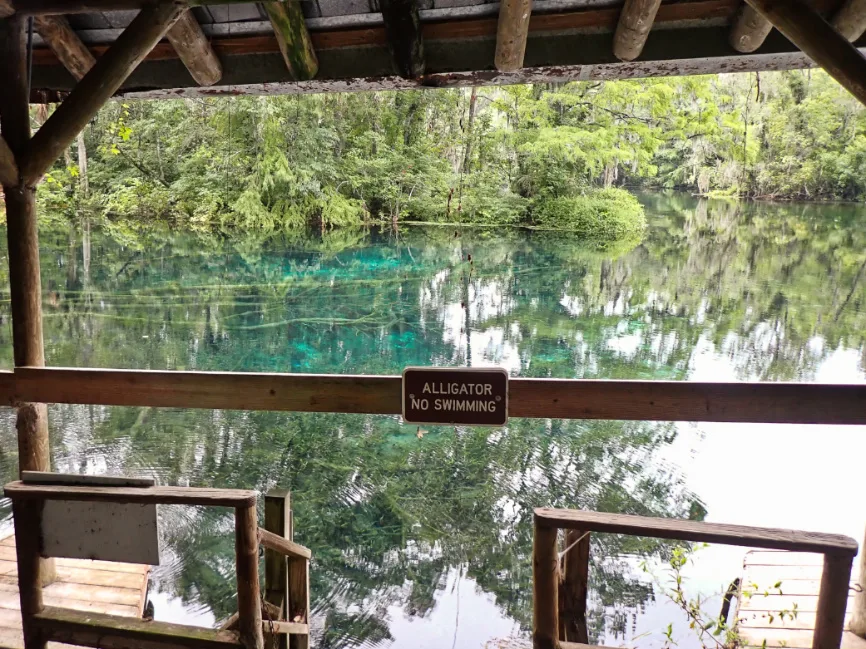 Glass Bottom Boats on the Silver River
The glass bottom boats at Silver Springs State Park have been in operation since the 1870s. They offer several tours taking visitors all around the head spring and down river to the different bays and additional springs that never stop bubbling. Riding the glass bottom boats is a great way to see the wild stretch of the Silver River without paddling, and you get views into the underwater world, with fish, turtles, alligators and manatees. Get up-to-date Glass Bottom Boat Tour info here!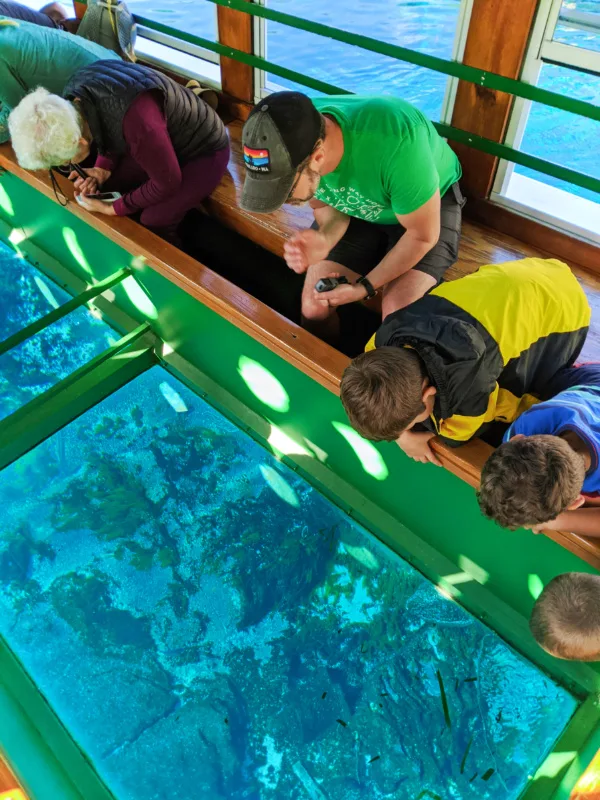 Trails through Silver Springs State Park
Silver Springs State Park has a pretty big trail system too. While it's not hiking in the sense that you're gaining elevation, the trail systems take you through the subtropical forest and even offer really unique and beautiful views of the springs and river.
If you are into trail biking, the Orange trail is a great pick that winds through the forest several miles and ends as a boardwalk overlooking the bend of the Silver River. The Blue trail is also called the Spring Connector trail. This joins the trails at the south end of the park with the main spring area trails. If you start on the BLUE trail you can ride to the ORANGE trail.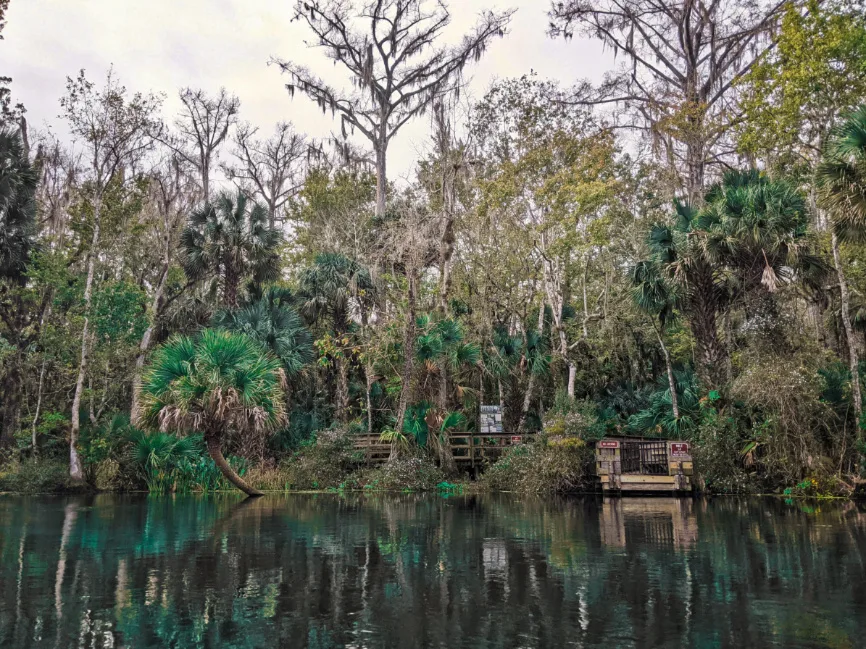 For visitors that don't want to get too deep into the Florida jungle at Silver Springs, there's a nice paved trail through the botanical gardens along the river. Here you can see some of the old movie set spaces, get views of the bubbling sand beds in the river and even spot wildlife.
The other really easy and wholly accessible trail is the Fort King Island trail. Here, you'll cross a footbridge onto the island and then have gazebos and view platforms along the smaller Fort King Paddling Trail. There are some really remarkable patches of turquoise water visible from here, as well as some pretty epic Florida jungle vegetation.
Bonus: if you're really into it, the Florida Trail actually goes through Silver Springs State Park… if you're into doing a 1300 mile trail.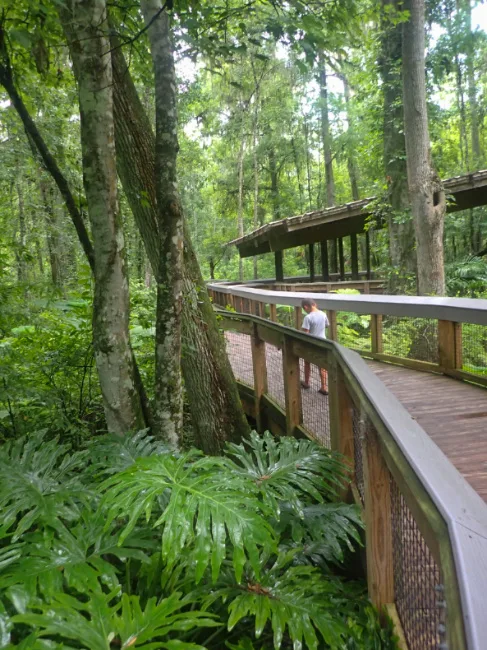 Events and Activities to Enjoy
Being such a large park, Silver Springs does events regularly. Mostly guided hikes/trail walks, rangers lead guests through the different trail systems of the park talking about history, the ecosystem and the science behind the springs. Silver Springs State Park even does special dog events! Get event info here!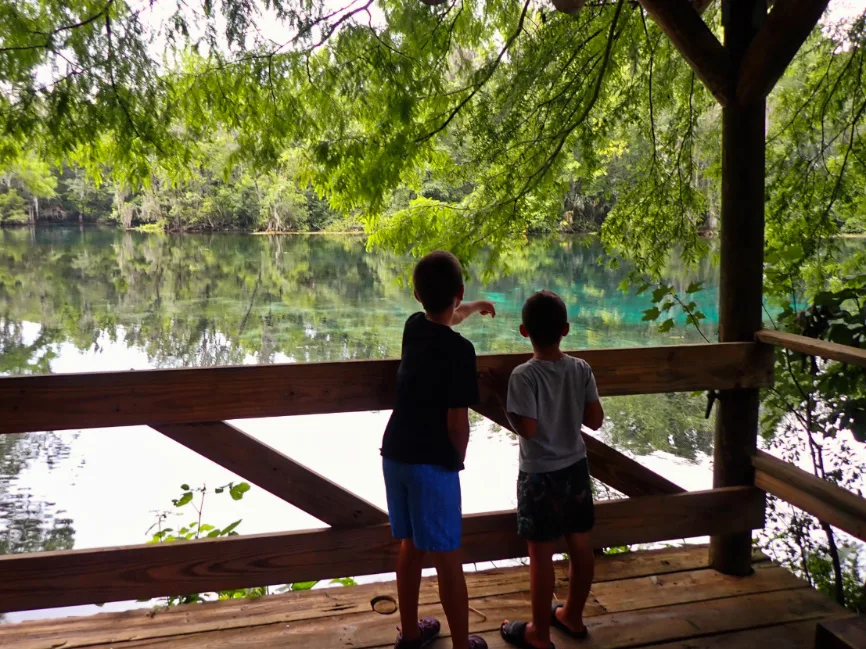 Paddling at Silver Springs State Park
Let's be honest, this is why we really love it here. Kayaking and SUP at SIlver Springs State Park are astounding. We have taken EVERY person who's come to visit us here. In summer, the wildlife is active and incredible, in winter, the manatees take over the river and you get to paddle with giants. This is one of the best Florida state parks for paddling!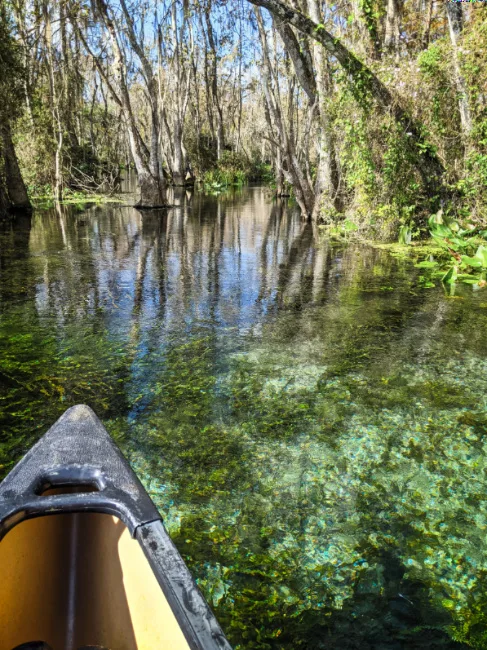 Kayaking at Silver Springs
Probably the most common way to get on the water here, kayaking at Silver Springs State Park is the quintessential Florida outdoors experience. You can rent kayaks and canoes at the headspring through Paddling Adventures or you can bring your own. The Silver River flows from the headspring at 3 mph, which is pleasantly slow and perfect for every skill level of kayaker.
Rent a clear kayak (no tour) here!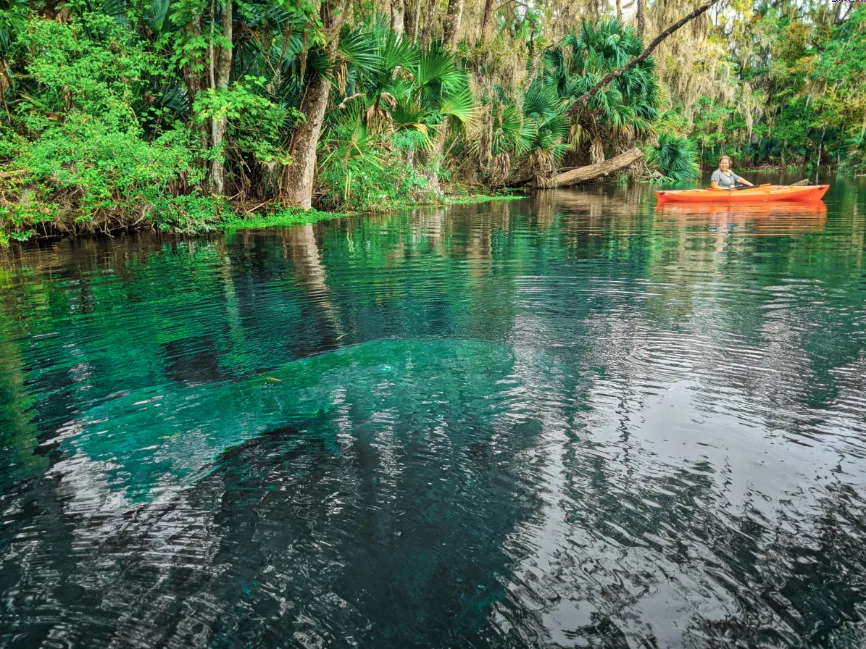 There are a few different routes you can go for your kayaking path:
Fort King Paddling Trail, roundtrip – short, but really easy with kids
Fort King Island Trail, loop – medium length, mix of the jungle paddle and broad river with manatees
Fort King to Orange Trail Platform and back via headspring, our standard route, 6 miles in total and doable with all ages, but tiring for out of shape or inexperienced kayakers.
If you want to see more of the river and can have somebody from your group meet you, you can actually paddle down the Silver River from Silver Springs State Park to a variety of haul outs and then get picked up.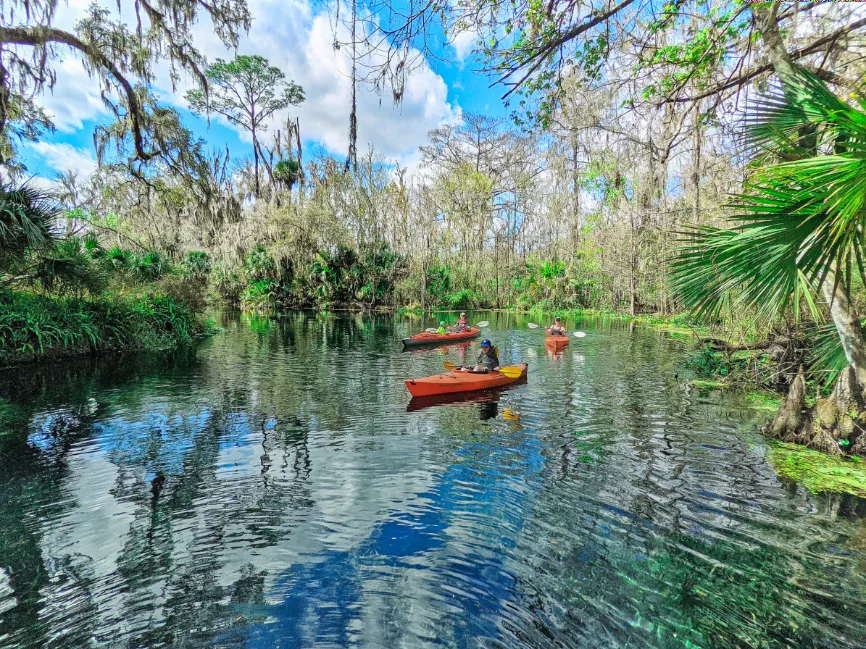 Standup Paddle Boarding at Silver Springs
Much like kayaking here, bringing a SUP to explore the Silver River and the headspring is a popular thing to do at Silver Springs. You can go the same routes as you do when you're kayaking but you need to exercise a different sort of caution. Both on the Fort King Paddling trail and down river a bit you'll come across submerged logs. In a kayak these pose no problem, when you're on a SUP you have to be cautious of your fin. Hit a submerged log and your board will stop while your body keeps going.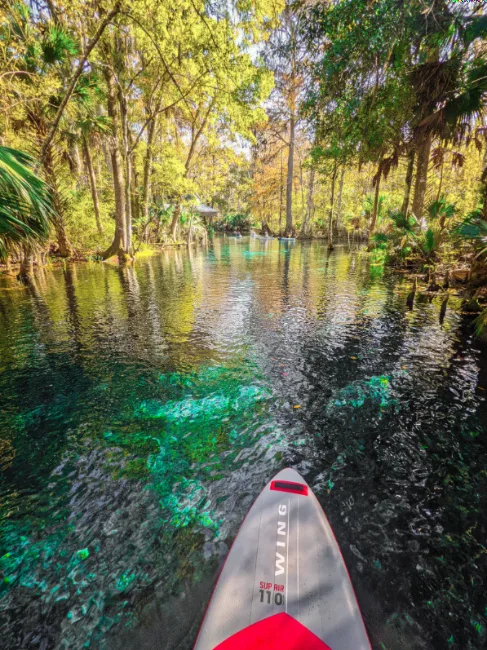 Using a SUP on the Silver River truly is MY preferred activity. The higher viewpoint from the SUP gives a view deep into the crystal clear river that you just simply do not get from a kayak. This elevated view really highlights the turquoise waters, the fish and underwater birds, and of course makes spotting and watching manatees at Silver Springs much easier.
NEW OPTION: now you can even do a CLEAR SUP tour at Silver Springs. The only thing better than SUP at the springs is Clear SUP. Book a CLEAR SUP tour here!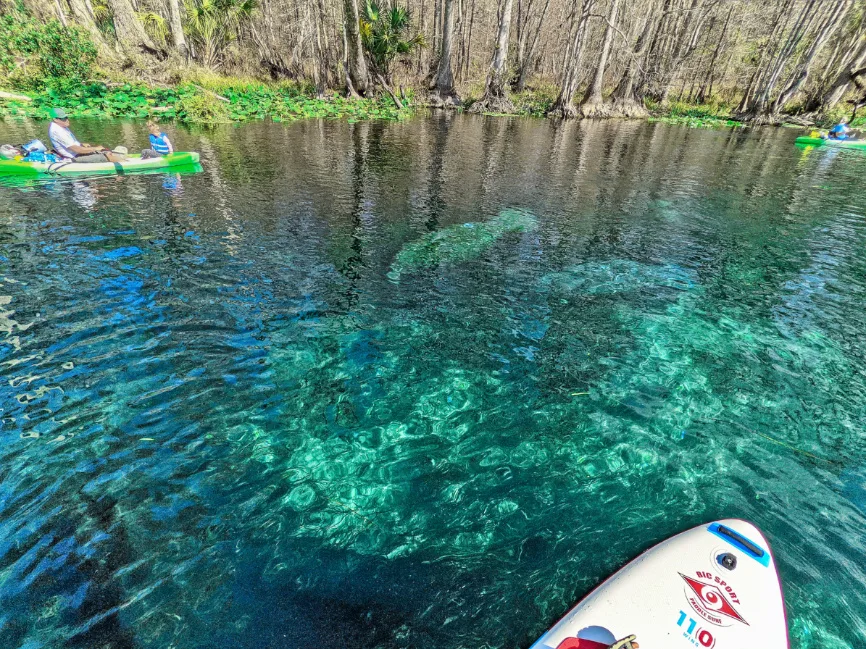 Guided Tours of Silver Springs
Since not everyone has their own kayak or SUP, you'll find several good tours that go out of the headspring area. We recommend booking in advance to ensure you can get on the river, but you can also sometimes score a spot on one of the Paddling Adventures tours.
Our top pick for first timers at Silver Springs State Park is the clear kayaking option. There are some really cool clear kayaking tours on the Florida Gulf Coast, and then there are a few that do the freshwater springs as well. The benefit of a see-through kayak is… clear. 🙂 You'll be amazed as you see a pelagic bird swim under you or when you see an alligator sitting on the bottom of the river. Amazing!
Where to Stay Near Silver Springs State Park
The town of Silver Springs is just outside the entrance to the State Park. There are a few places to stay here, including some vacation rentals that would be perfect as a home base while you explore more of the Ocala National Forest. This part of Florida isn't known for luxury hotels, so adjust your expectations now, but there are some good options.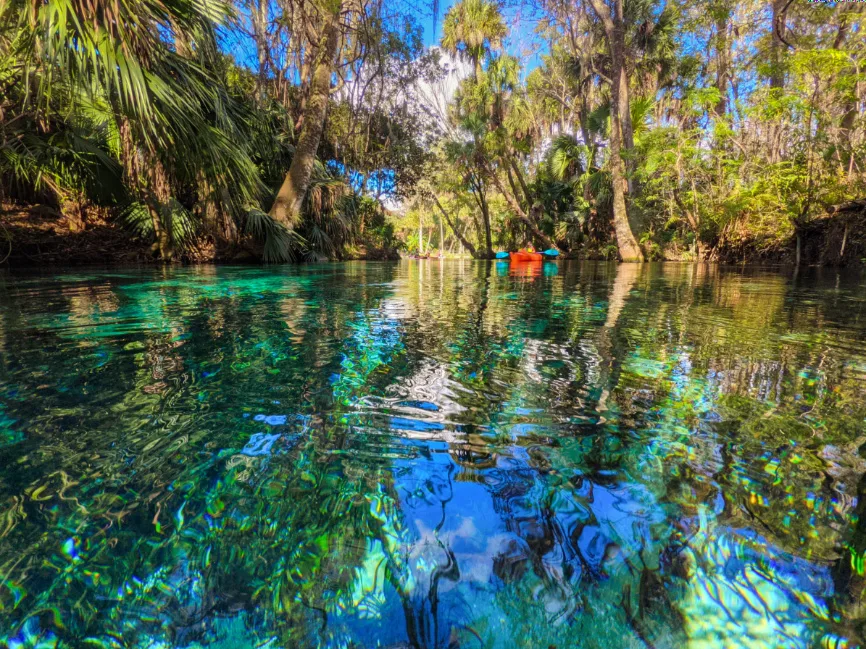 Hotels in Ocala
While you're still not in a premium luxury destination as you get into the city of Ocala, it's much larger and more developed. Only about twenty minutes from Silver Spring State Park, you'll find nearly all major travel brand hotels in Ocala. There are even a few really nice spots, as the World Equestrian Center is located here and some posh events take place locally.
Camping at Silver Springs State Park
Yes! There is camping at Silver Springs State Park! Like with all camping in Florida, you need to make a site reservation as far in advance as you can. Camping in Florida has become increasingly popular in the last few years and now it's nearly impossible to get a same-day camping reservation anywhere.
We've had success getting campsites on short notice at Fort De Soto County Park in St Pete, at Collier Seminole State Park in Naples, and at Hanna Park in Jacksonville and THAT IS IT. For the best experience camping at Silver Springs State Park, try to book your campsite six months out or more. That'll give you time to plan and you'll be glad you're all set, so less stress.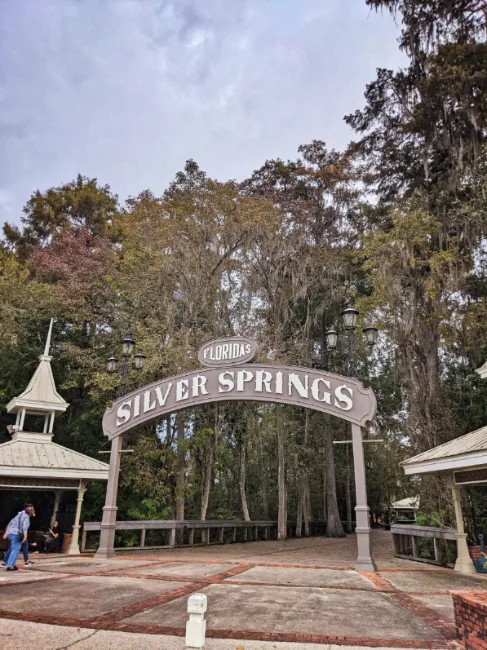 Wildlife at Silver Springs State Park
Blue Spring State Park is the best to see manatees from the land (and they're there by the hundreds in winter), but Silver Springs State Park is amazing for paddling with manatees year round. The Silver River and surrounding Ocala National Forest are full of wildlife besides manatees, so even if you don't encounter any in the river, you'll still see tons of animals.
Reminder: the very nature of being wildlife is being wild. There is never a guarantee of seeing any specific type of wildlife in any set spot. While it's very likely to have success in the places we mention, we are not in charge of where the wildlife wanders. Also, being wild, animals can be unpredictable. I'm more concerned about being flipped in a kayak by a manatee than being bitten by a gator.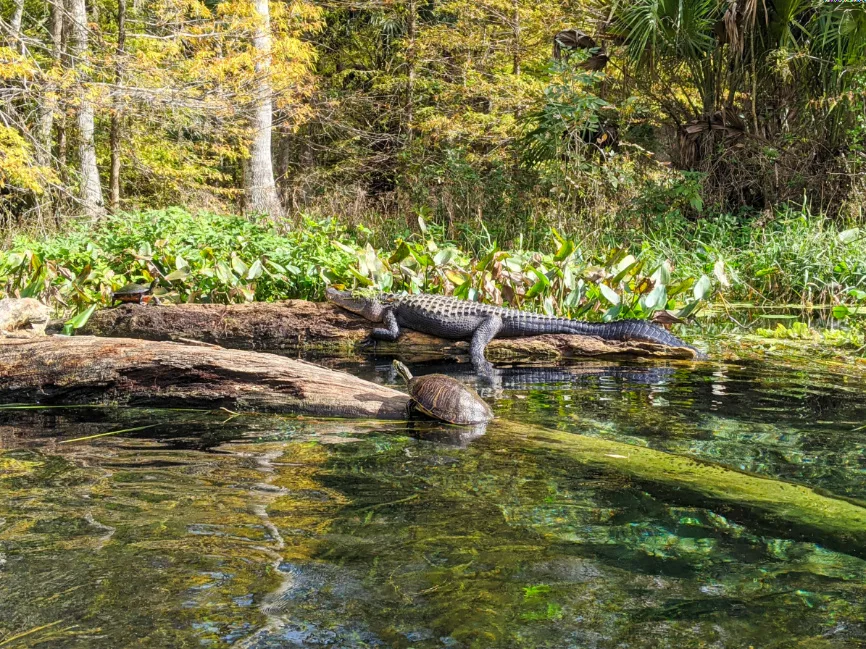 Manatee Encounters on the Silver River
Let me start with the rules:
Do NOT touch manatees
Do NOT feed manatees
Keep at least 15 feet from manatees
If a manatee comes to you, just be still and let it be its curious self
Silver Springs State Park is incredible for seeing and photographing manatees. In winter months the huge mammals make their way from the ocean to the consistently warm headsprings, so from November to March, you'll typically have great luck seeing them. In spring and summer months, there are still a good number of manatees that hang out in the Silver River, but not quite as many.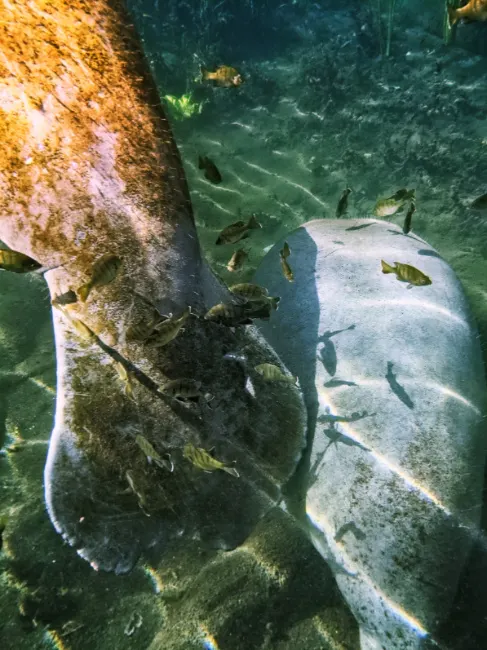 You can spot a manatee in the river by watching for its footprint, a smooth circle on the surface of the water that tends to grow, usually with other smaller circles leading away. You can also watch for their flukes, huge backs, and their adorable faces to break the surface. They have the cutest muzzles that act like grabby little hands when they eat.
A bonus place to see manatees if you're exploring Silver Springs on foot or bike is from the end of the Orange Trail boardwalk. Here you look out over the Silver River in an area that manatees tend to relax and feed. It's where we usually do our paddling picnic, but you can walk to it as well.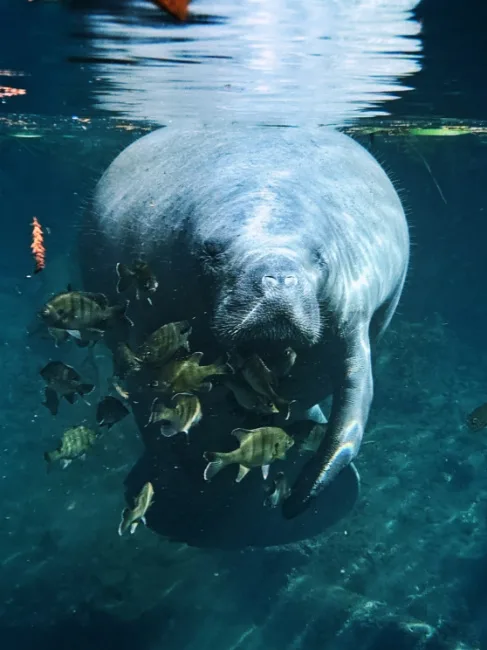 Alligators and Safe Observations
Most people who don't live in Florida have a strong concern about seeing alligators, especially when they're paddling. I think it's smart to have a healthy understanding of what an animal is capable of, but I am more uneasy around horses than alligators personally, and I've been a horseman taking people up into the mountains on horseback. Alligators are mellow and not a threat unless threatened.
There was an alligator removed from Silver Springs State Park in 2022 due to him becoming too comfortable with people. He was a large, handsome gator, and a favorite of our kids. People interacting with him, including feeding, made him a danger, ultimately causing his demise; he was shot by park officials.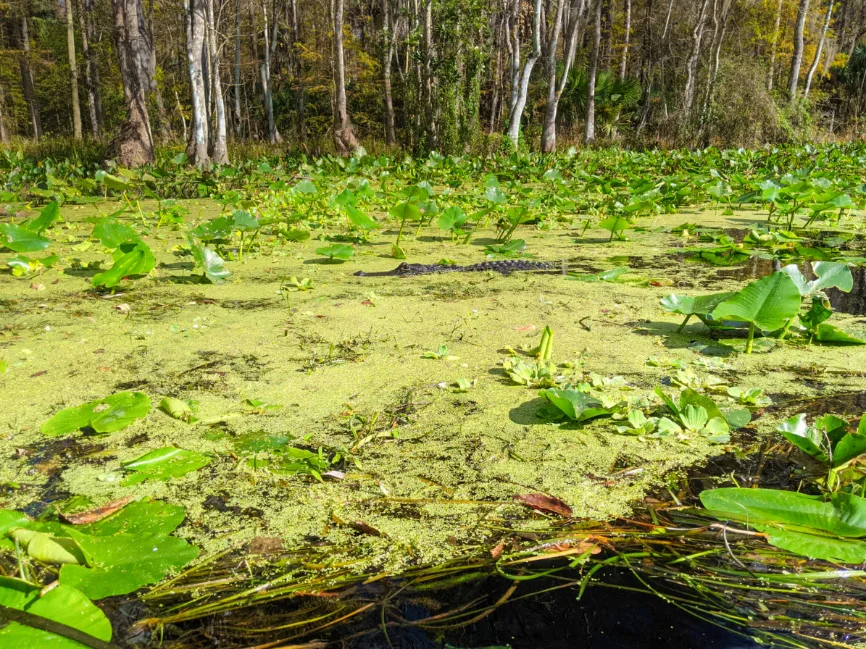 Alligators don't want to eat your foot. They want to be left alone and eat a fish that they catch tomorrow. In the winter months you'll see alligators hauled out on logs or the shoreline, just sunning themselves, trying to stay warm. In the summer, they do the same thing and then will also be in the water a bit more.
The key to being safe when you're paddling with alligators is to give them their space and to NOT try to attract them. They'll ignore you unless you're threatening them or trying to feed them. Nearly every alligator/human encounter you read about starts with a human doing something intentionally dumb. True, there are times when a gator attack seems unprovoked, but they are so rare that it's nothing to worry about.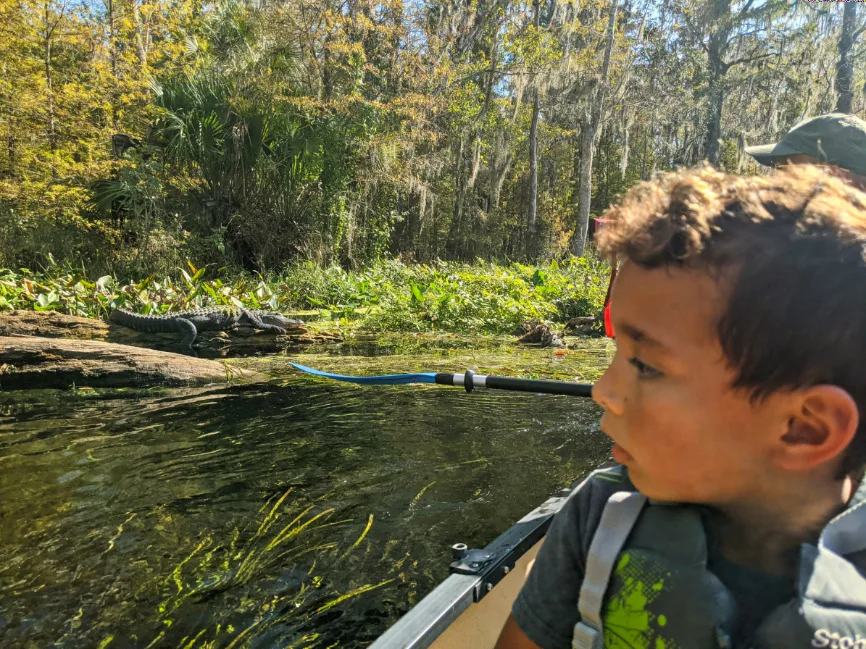 Otters in the Silver River
If you're so lucky as to see river otters at Silver Springs State Park you'll fall in love with them. The otters at Silver Springs and in the Silver and Oklawaha Rivers are the more adorable and hilarious animals to see on the river. They aren't as curious as manatees, but they will hang out and watch you if they like.
It's most common to see river otters in two places:
Where the Fort King Paddling Trail meets the Silver River
Between Ray Wayside Park (boat launch) and mile 4 of the Silver River
These two spots are just wild and just protected enough that the river otters love it. We've seen them in both locations several times.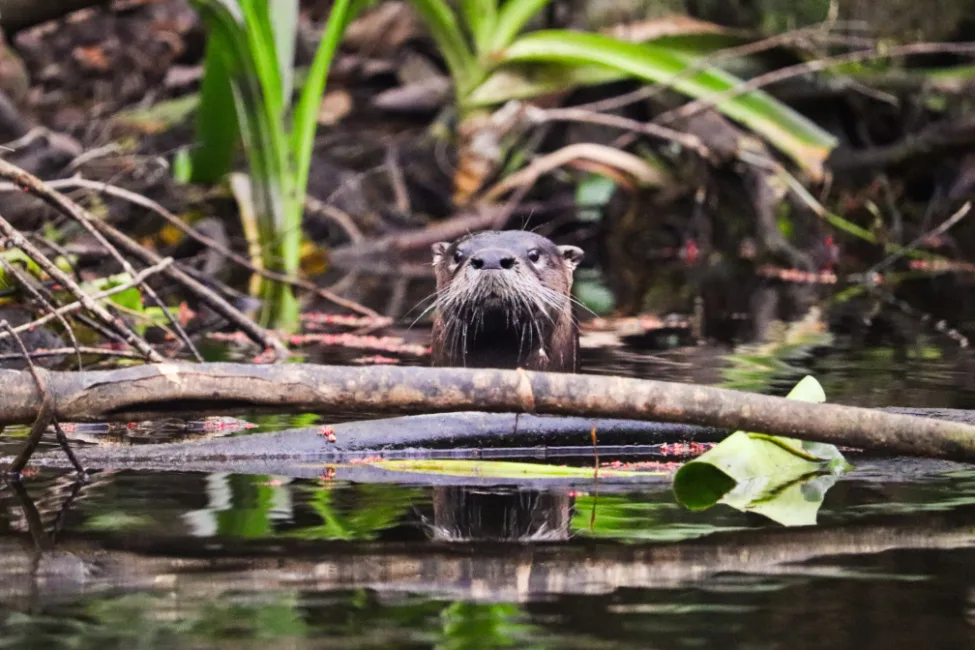 Are there Monkeys at Silver Springs State Park?
I'm sure you've heard about monkeys in Florida. Well, yes there are monkeys at Silver Spring State Park. They are rhesus macaques monkeys and they're really cool to spot. They were originally brought to the area when they were using Silver Springs for making films in the 1920 and 30s, and then one day their owner released them.
The monkeys started just on an island in the SIlver River, but this particular type of monkey swims and can jump far. Needless to say, with nearly a hundred years of roaming the Silver Springs area and the Ocala National Forest and today the monkeys are everywhere. They can be from the Ocala National Forest all the way to the Everglades.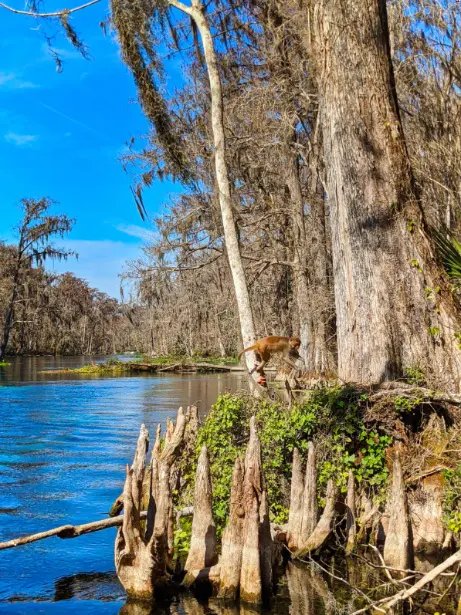 We have seen the monkeys at Silver Springs several times, but not every time. They tend to be up in the trees closer to the headspring, or along the ground and in the cypress forest around mile 3 to 4 of the Silver River. They are wild though, so they could be anywhere!
Note: do NOT attempt to feed or pet the monkeys if you see them, and give them plenty of distance. Even though they are cute, they actually carry Herpes B, which doesn't harm them necessarily, but can be deadly to humans.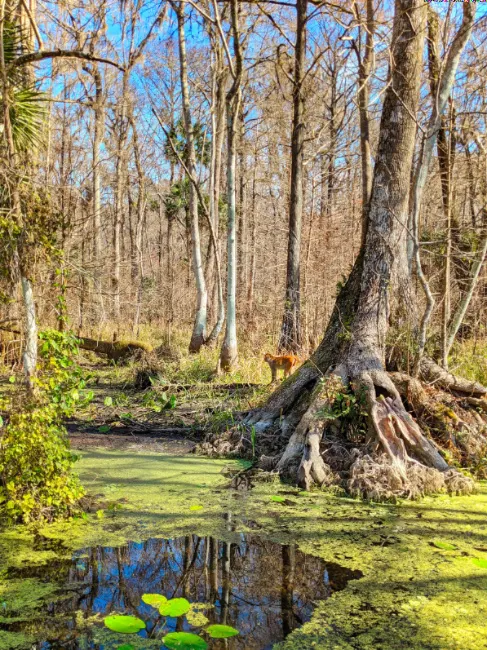 Where is Silver Spring State Park
Located just over an hour north of Orlando or two hours southwest of Jacksonville, Silver Spring State Park is in Marion County, Florida. Ocala is the biggest city nearby, but even that feels like a medium sized town. Silver Springs really is just smack in the middle of Florida.
This area, where the Ocala National Forest surrounds you on all sides, is some of the most wild land in Florida. Very nearby is the Florida Black Bear Reserve, the Cross Florida Greenway, and the Oklawaha Wild and Scenic River area. When you hear about the beautiful, wild Florida it's often in reference to this part of the state.
If you're going to try to see all the most wild and remote parts of Florida offering the most unusual and perfect experiences you'd need to plan to visit Big Cypress National Preserve, the Florida Keys Marine Preserve, the Blowing Rocks Preserve in Palm Beach County and Silver Springs State Park. You could add a few more stops, but those four picks would give you the perfect combination of tropical waters and wild jungle.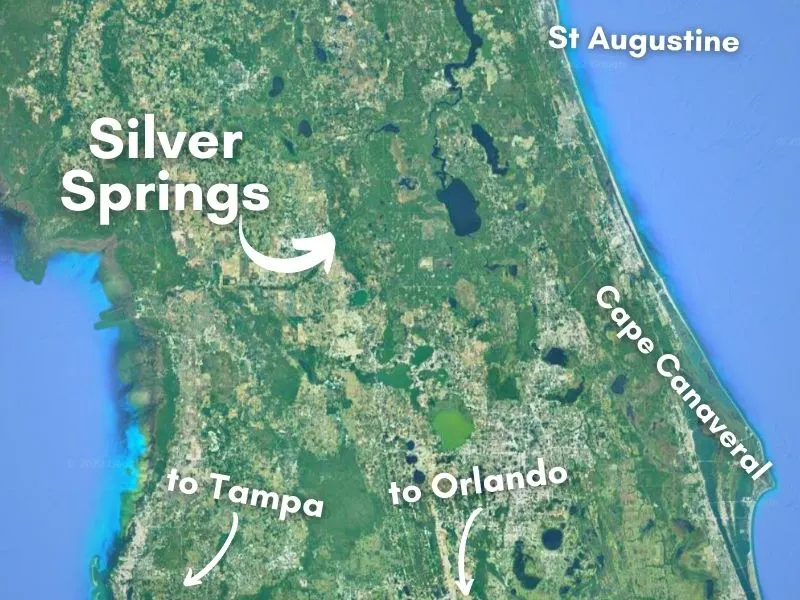 When to Visit Silver Springs State Park
The best time to visit Silver Springs State Park and Central Florida is October/November or March/April. This is when it's just the perfect temperature and the wildlife is most active. Visiting in the summer is gorgeous and fun too, but on a still day, Silver Springs State Park can be quite the hot place to hike or paddle.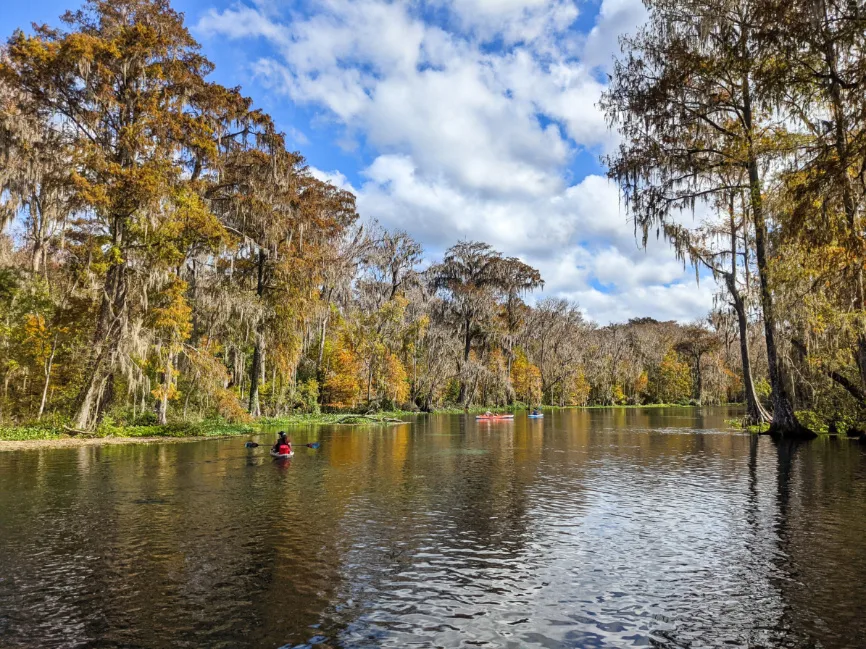 If you want to visit Silver Springs for manatees, the best time is from late November through early March. This is when there are more manatees in the springs, including a lot of baby manatees being born. We still have great success seeing manatees at Silver Springs in summer, but the numbers are higher in winter.
PS: did you know that Florida does actually get fall colors? True, they usually hit in December and January, but they are beautiful. There will of course be oranges and yellows in the Ocala National Forest, but the fall colors at Silver Springs and the Silver River include LOTS of reds too. It's gorgeous, especially when paired with migrating birds.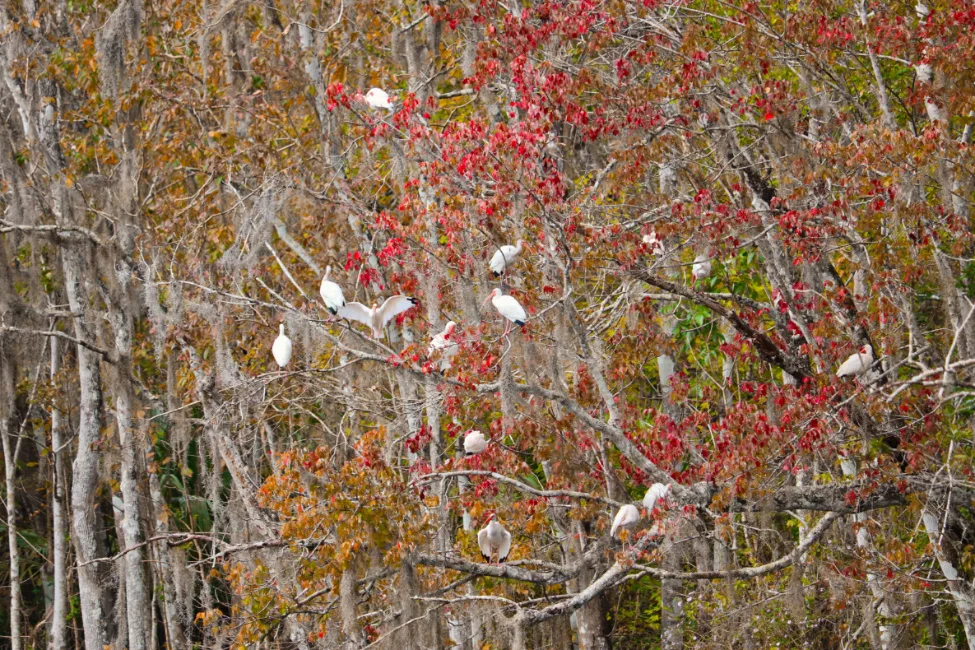 Other Nearby Springs to Visit
The State of Florida has over 1000 freshwater springs, so picking just a few is tough. We've picked our favorite springs to visit that are relatively close to Silver Springs State Park, that way you can plan to visit several springs in one trip.
Our top local springs picks are:
Silver Glen Springs – for swimming
Alexander Springs – for swimming and paddling
Juniper Springs and Fern Hollow Springs – for swimming and a fairytale setting
Blue Spring (not Blue Springs or Madison Blue Springs) – best manatee viewing from land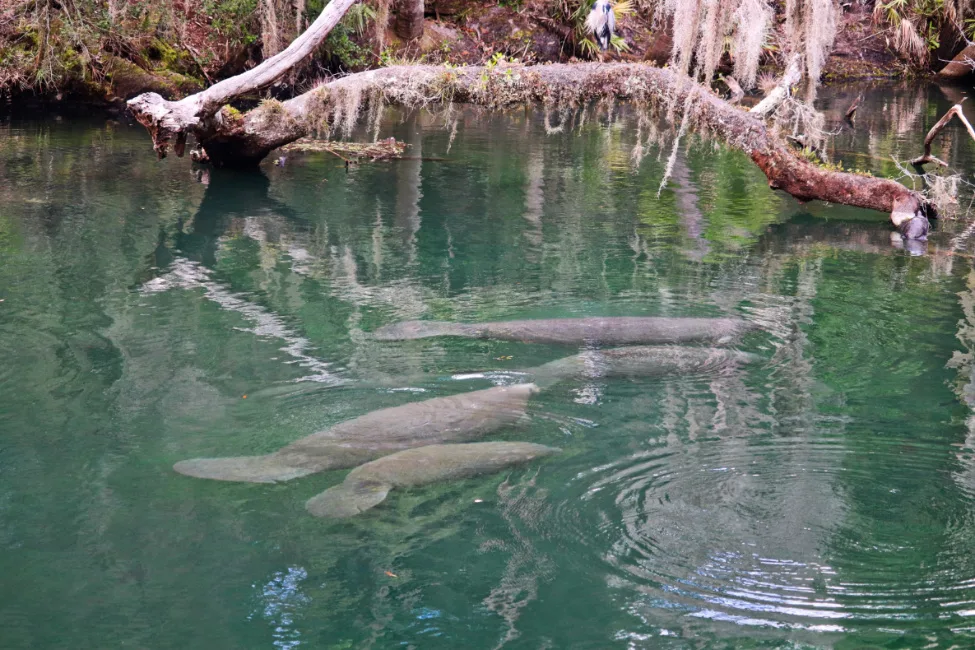 Are you excited to visit Silver Springs State Park? I hope so. I really would like to encourage you to experience the park and the Silver River from the water. Kayaking and SUP really are the most remarkable ways to see the wildlife and the colorful water.
If you have any questions or anything, please leave a comment below or send us a note. We love helping people plan their trips to Florida!