Florida gets a bad rap for a lot of things, but something it's winning at and can't be beat by any other state are its natural springs. Florida springs can be found all around the state, but primarily in the central region and Ocala National Forest. The best ways to enjoy the many freshwater springs include paddleboarding, swimming, glass-bottom boats and just walking along them.
While there are more than 1000 fresh water springs in Florida, these are the springs best for seeing manatees or just getting onto the unbelievably crystal clear water.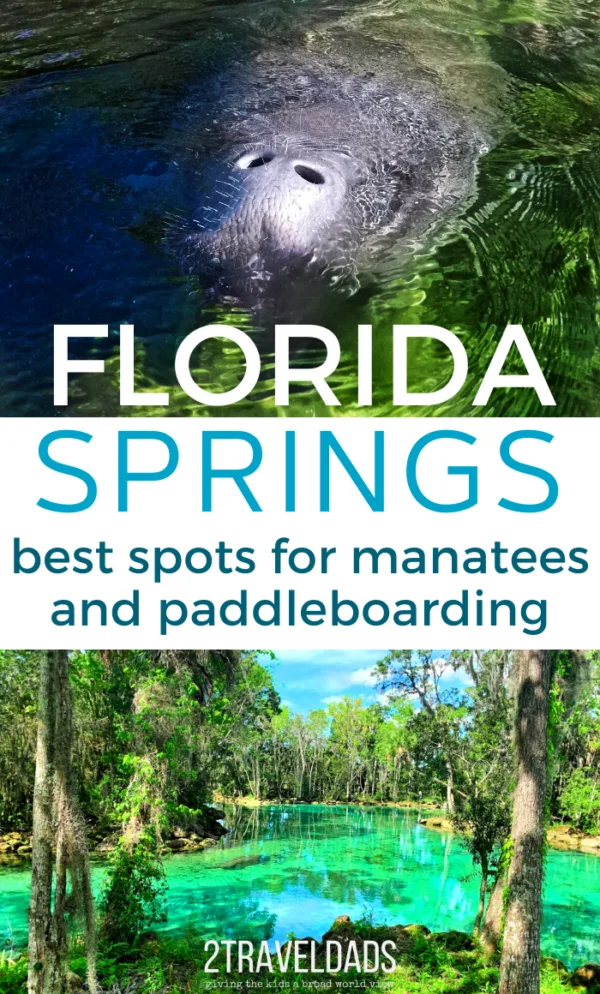 Time at the theme parks and resorts is great, and totally fun and relaxing, but if you wanted to spend a day paddleboarding and exploring different Florida springs is an awesome idea. You won't regret it. Central Florida is home to a never-ending list of fresh water springs and rivers and they're so easy to experience in addition to a trip to Universal Orlando or Walt Disney World.
Paddleboarding Tour of Florida Springs out of Orlando
So, you know how we're all about kayaking and do it all the time? Well, after many attempts I've had an incredible time Stand Up Paddleboarding (SUP) and it's my new favorite activity. After spending a whole day with Paddleboard Orlando and visiting many Florida springs over the years, I can tell you that SUP is one of the best ways to experience Florida's back country.
The biggest benefit of paddleboarding when you visit Florida springs for manatees is that you have an up-high point of view. You can more easily see the wildlife in the water and can really appreciate the colors and depths of the rivers and springs.
If you don't have your own paddleboarding gear, finding a good, reputable company or guide service is the first step to a great Florida springs SUP experience. Before spending time with Paddleboard Orlando I stalked them on Facebook and Instagram to see the types of adventures they were taking their guests on and the reactions guests were having. Everybody was having fun and the sights were awesome, so boom! Paddleboard Orlando wins, and they were really great to work with.
Book either of the two tours I did here: Wekiva River Paddleboarding OR Paddleboarding with Manatees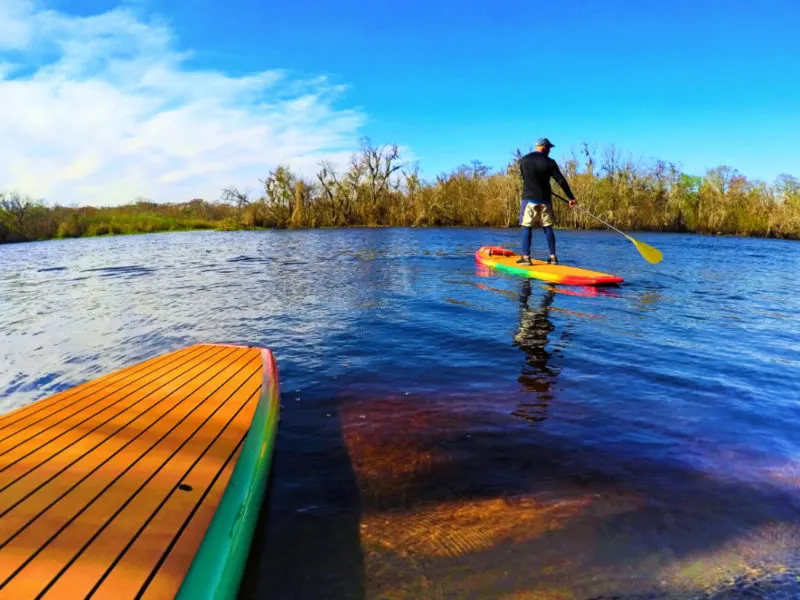 Best Florida Springs Near Orlando for Wildlife
Not every fresh water spring has manatees hanging out. While Florida is very flat and there are very few rapids, there are a few drops or obstacles keeping manatees out of certain rivers. For example, the Wekiva River has a section of rapids that manatees cannot cross, but then the Silver River is perfectly flat all the way to the headspring. These springs/paddling spots have lots of wildlife beyond manatees, so if you don't get to see sea cows on your trip, you'll no doubt see other creatures.
Paddling the Wekiva River – Wild and Scenic River
About 30 minutes outside in the town of DeBary, or even closer to Orlando, is Wekiva Island. Yep, it's kind of an island in the middle of the state. On Wekiva Island you'll find a food truck, a bar, meeting space, kayak rentals, and a launch site. Google Maps link here to the Island.
All around Wekiva Island is the most still river full of beautiful vegetation and fascinating wildlife. The Wekiva River is one of only two rivers in Florida designated as a National Wild and Scenic River. Paddling up the Wekiva River is a little like paddling through Jurassic Park, only instead of dinosaurs there were turtles and alligators everywhere.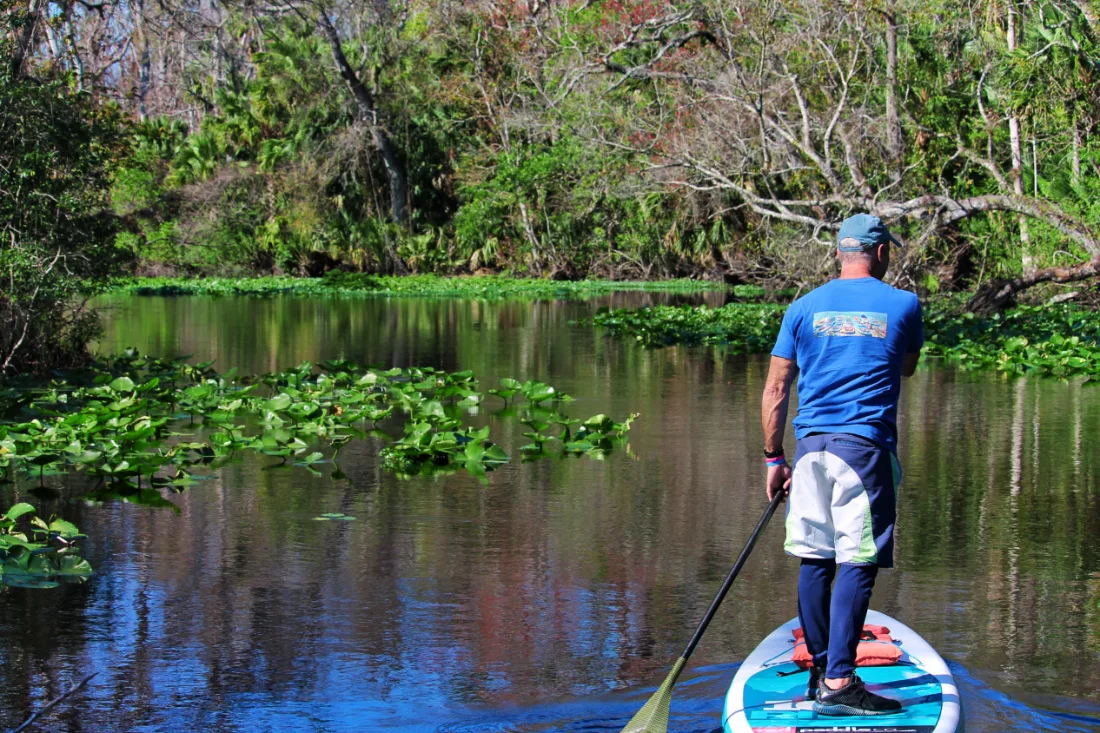 The untouched banks and crystal clear water were absolutely perfect for spotting them and watching them swim under us. Also seen along the Wekiva River are ibises, egrets and hawks. The gators are always awesome! Most of them can be spotted outside of the water, just hanging out on logs or bunches of grass. While it may seem daunting to paddle, either kayak or standup paddleboard, with alligators, it really isn't. They are NOT interested in people and would sooner swim away.
Other wildlife to watch for, but that we haven't seen oyet paddling on the Wekiva River includes raccoons, river otters, wild boars and black bears. We've seen all of these creatures in the surrounding forest, but not specifically while paddling the Wekiva River.
Book this paddleboarding tour here! – weather and time permitting, two Florida springs may be included on this tour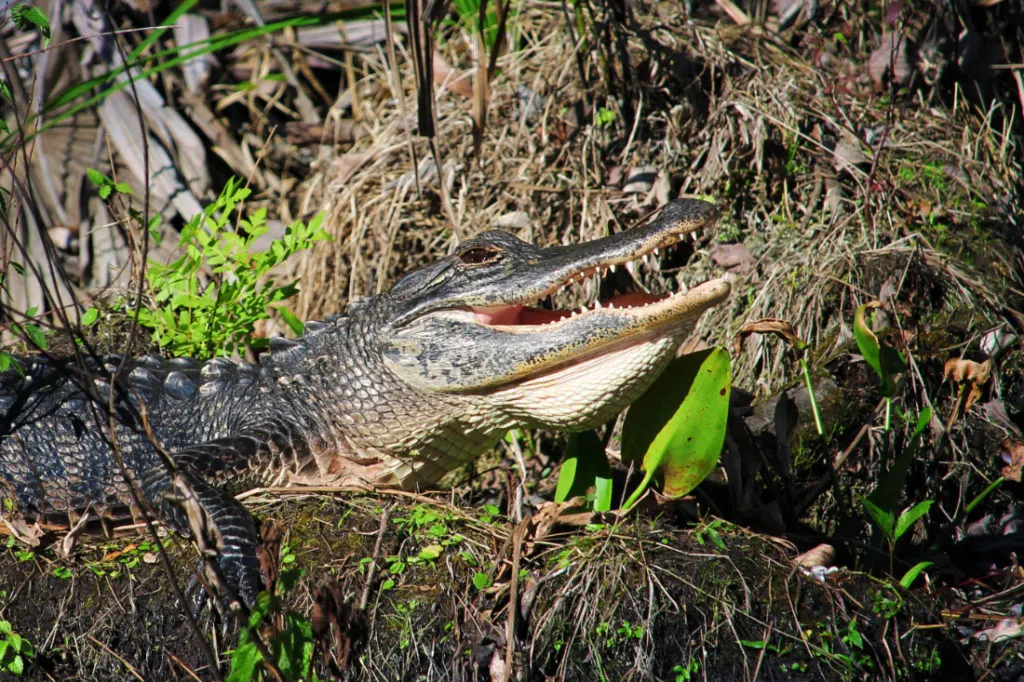 Swimming at Wekiwa Springs
The source of the Wekiva Wild and Scenic River is a gorgeous headspring. Part of Wekiva Springs State Park, there's a beautiful spring area for swimming and exploring. If you are in the mood for snorkeling, you can check out the crack in the limestone bedrock and the underwater formations, as they're full of fish.


Note: year round the water that bubbles up out of the headspring is 72 degrees F. While Floridians will say that's too cold for swimming, jumping in any time of year is a great idea and as long as you're prepared with a towel or sunshine, you're good to go! That's what makes Florida springs so great!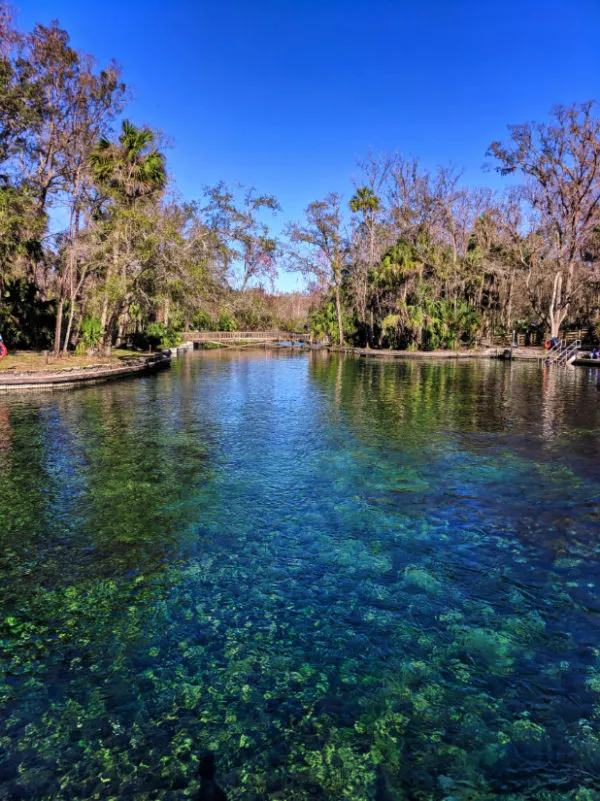 You can also access Wekiwa Springs State Park and the headspring from the park area. There is parking there and a trail system, so if you don't want to paddleboard up river, you can just drive there too.
Rock Springs Run and the Florida jungle
Also going out of the Wekiva Island area on the Wekiva River is the jaunt to Rock Springs. A much longer and more wild paddle than the route to Wekiwa Springs, it takes more time and planning, but well worth it. Rock Springs has a smaller head spring, Originating at Kelly Park, but is wonderfully wild. In addition to beautiful birds and gators, you can watch for wild boars and black bears.


The area all around the Wekiva River is so cool and a hidden gem in Central Florida. The many Florida springs make development of the area difficult, so the natural landscape is well preserved.
Paddling at King's Landing for Rock Springs Run
King's Landing is Instagram famous for it's gorgeous green and turquoise water and crazy maze of tropical water. There are two ways to head out of King's Landing:
Turn Right to the Emerald Cut
Turn Left to Rock Springs Run
While both routes are gorgeous, they are very different. The Emerald Cut heads to the boundary of Kelly Park and is party central on a summer weekend. People rent canoes and kayaks and bring their coolers to spend the day just hanging out on the Emerald Cut. It's still beautiful, but quite crowded on the weekends. Tip: do Emerald Cut on a weekday or in early spring or fall.
The route to the left, Rock Springs Run, is much less crowded and more densely forested. It's 8.5 miles from King's Landing to Wekiva Island, so if you want to do this route one way, you'll need to have pre-arranged transportation between the two points (sometimes Uber will do it). You can book a guided tour for this or do it yourself. Or you can do just a part of Rock Springs Run and paddle back to your launch point. So many options!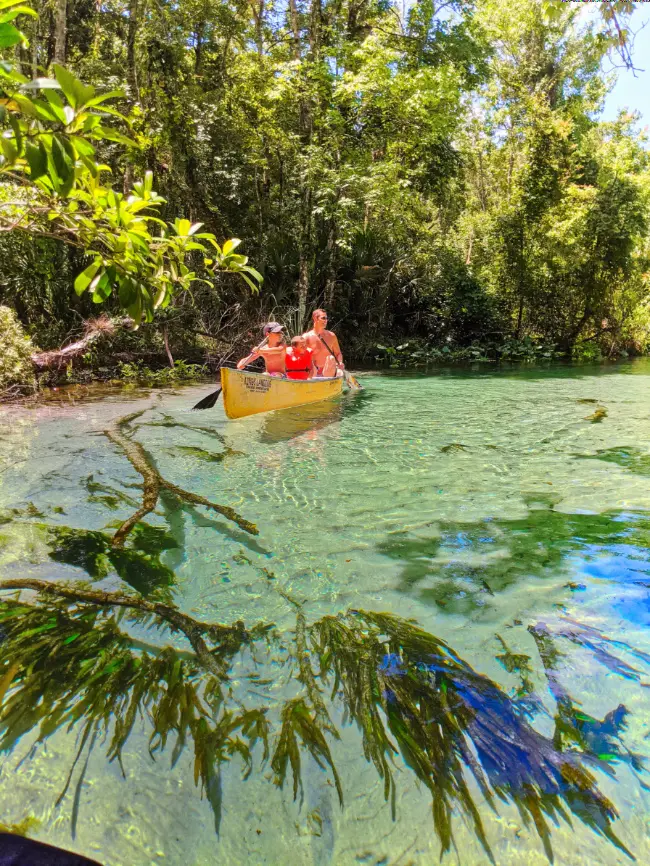 Eastern Florida Springs near Daytona
For those visiting Daytona Beach or Saint Augustine, it's tough to break away from the beaches, but there are some INCREDIBLE Florida springs nearby. Both of our suggestions are easy day trips and could even just be half-day trips.
Blue Spring State Park
You probably already know that Blue Spring State Park is one of our favorite places in the state and for sure the prettiest of the Florida springs. We have had incredible visits here with the kids just swimming, hiking through the forest, checking out the springs and counting gar in the water. This is also the destination for hundreds of manatees in the winter months.


I met up with Paddleboard Orlando and we put into the St Johns River at French's Landing. After getting our bearings on our boards (totally windy day) we started upriver.
Wow! What a different view of a river we'd strolled along so many times. The banks of the river were teeming with egrets and herons. There were bald eagles and hawks flying overhead. And then there were manatees. Blue Spring State Park is the THE BEST place in Florida to experience manatees.
Tip: for info about wildlife safety, including how to respect manatees, check out our article here all about how to respect and enjoy wildlife.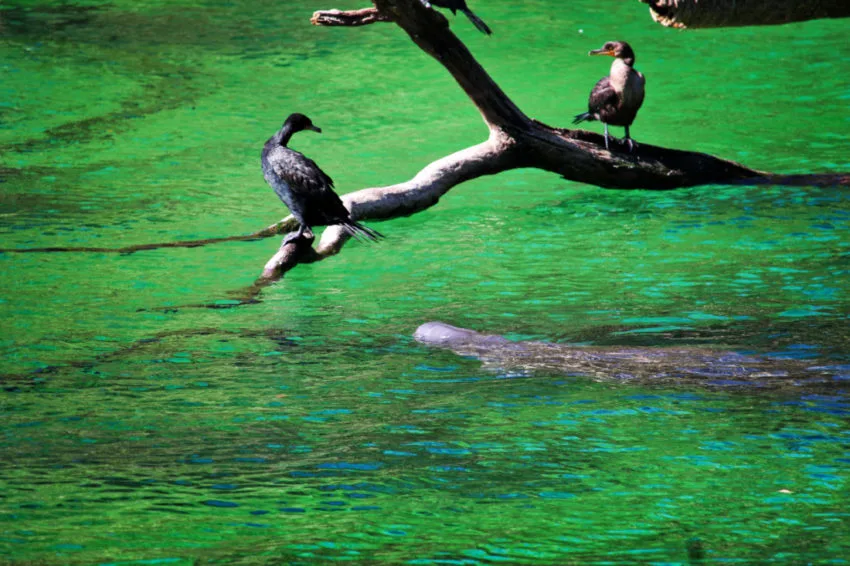 Stand Up Paddleboarding with Manatees at Blue Spring State Park
We've seen manatees plenty of times, including snorkeling with them in Crystal River, but nothing was like the close up encounters and sheer numbers of them at Blue Spring State Park. We approached the headspring area as far as the buoys and just sat there. The manatees are naturally curious (and they seemed to know our guide) so they were quite playful and interactive. I've since been back to this same spot four times and had just as amazing of experiences, both during winter and not.
Note: paddleboards, kayaks and boats aren't allowed past the mouth of the headspring area during manatee season, but there are so many you'll still have an incredible time.
After hanging out and being visited by several manatee families, we pulled our boards ashore in the appropriate area and headed for the boardwalks. Observing the manatees and anihingas (water birds) from the platforms along the waterway was awesome! They're such huge beasts and are so calm. The wildlife pairs with really beautifully with the crystal clear water.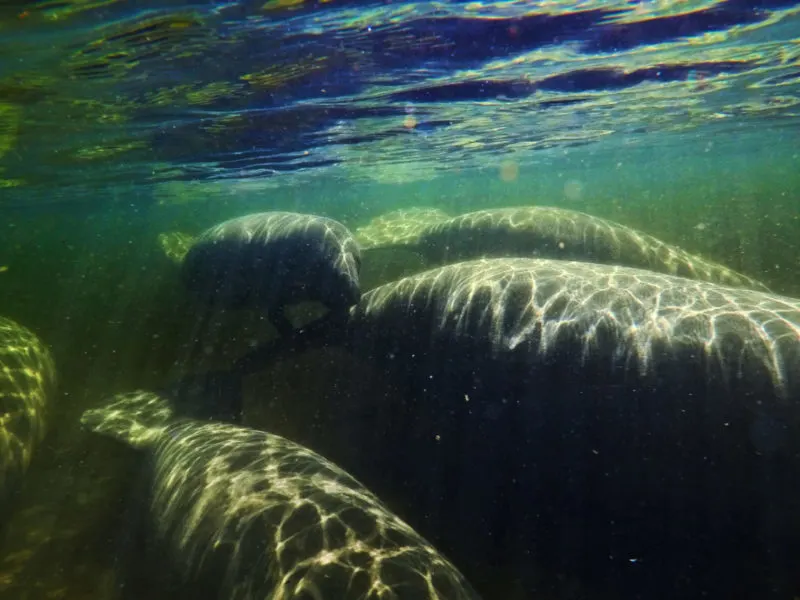 If you have little kids with you, often it's calm enough to paddleboard with little ones sitting on the boards (our youngest LOVES it). Check with your guide in advance if that's an option for you paddleboarding destination. Sharing wildlife experiences with kids makes for an unforgettable paddleboarding trip to Blue Spring State Park.
Book this exact Florida springs paddleboarding tour here! – know that the number of manatees varies and is out of the control of any guide or Florida State Parks.
Ecotours at De Leon Springs State Park
Florida loves their attraction state parks. De Leon Springs is a wonderful state park very close to the Daytona area. About a half hour's drive from Daytona Beach, you can plan a visit for a meal at the Old Spanish Sugar Mil and some wildlife viewing.


De Leon Springs has been built up around the main headspring to be a perfect swimming hole. The spring feeds a larger river when you can actually take a guided eco-cruise to look for manatees, alligators and more. You can also rent kayaks here at the state park or launch your own (there is a launch fee at this park). This park is one of our family's favorites when we're in the Daytona area.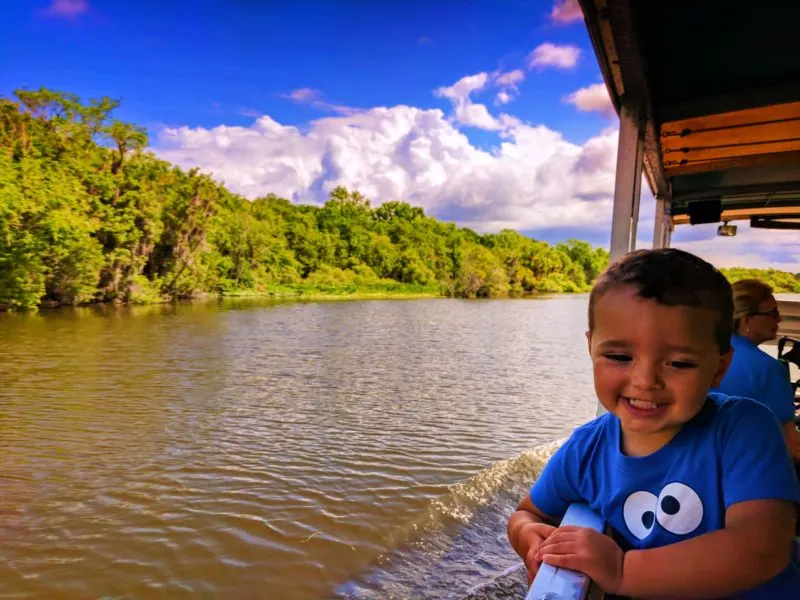 Southwest Florida Springs for Manatees
Seriously, there are so many springs to explore all around Florida. While there aren't guided tours to all of the many Florida springs, a lot have interpretive displays or visitor centers. You can always visit on your own and explore at your own pace.
Florida Springs w/ Mermaids: Weeki Wachee Springs
Another amazing Florida spring to check out is Weeki Wachee Springs. It too is a state park and a haven for manatees… and mermaids. Yes, when it's not manatee season there is actually a live, underwater mermaid show. I know it sounds bizarre, and it is, but it's also wonderfully vintage-Florida.


There are all kinds of activities and attractions at Weeki Wachee Springs, so be prepared knowing that a visit to these Florida springs will be very different from the pristine nature of Blue Spring State Park.
Crystal Springs and Crystal River
Crystal River is a famous destination in Florida. This is the most popular place in the state for swimming with manatees. Manatee interaction with humans is closely monitored and managed, so Crystal River is the place to go for having an in-water experience with manatees. Snorkeling at Crystal Springs is a busy experience because there are many licensed vendors taking guests out, but if you can go early, it's magical.
For the best experience swimming with manatees at Crystal River:
book your snorkeling tour in advance
visit as early as possible for the greatest manatee presence
ASK ABOUT WATER CLARITY – when there are a lot of boats on the river, the clarity drops greatly, making it very difficult to have a good manatee experience
Really, this is a very special place, but you must be sure you're booking your experience to be the best possible. It will run about $80 – $100 per person for a credible guide, but it's a once in a lifetime experience. Check out our full article on staying at the Plantation on Crystal River and our manatee swim.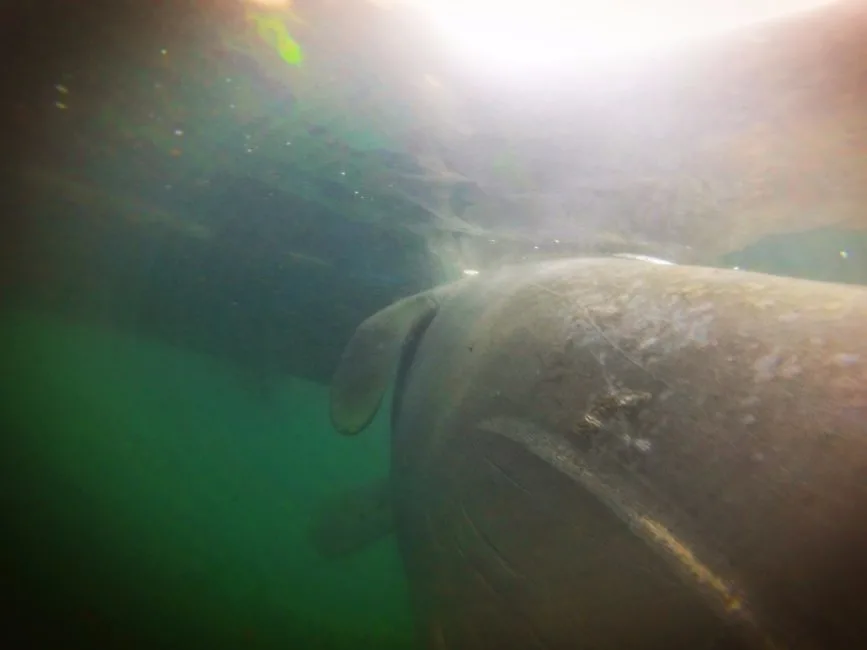 Three Sister Springs Refuge
Located in the town of Crystal River, this Florida spring is one of the best places to OBSERVE manatees in the winter. The area is a refuge, and although the manatees can come and go as they please, their numbers soar in the winter months.


In the summer, Three Sisters Springs is a really cool park for swimming and kayaking. They also have a boardwalk system, so exploring and appreciating this gorgeous area is easy.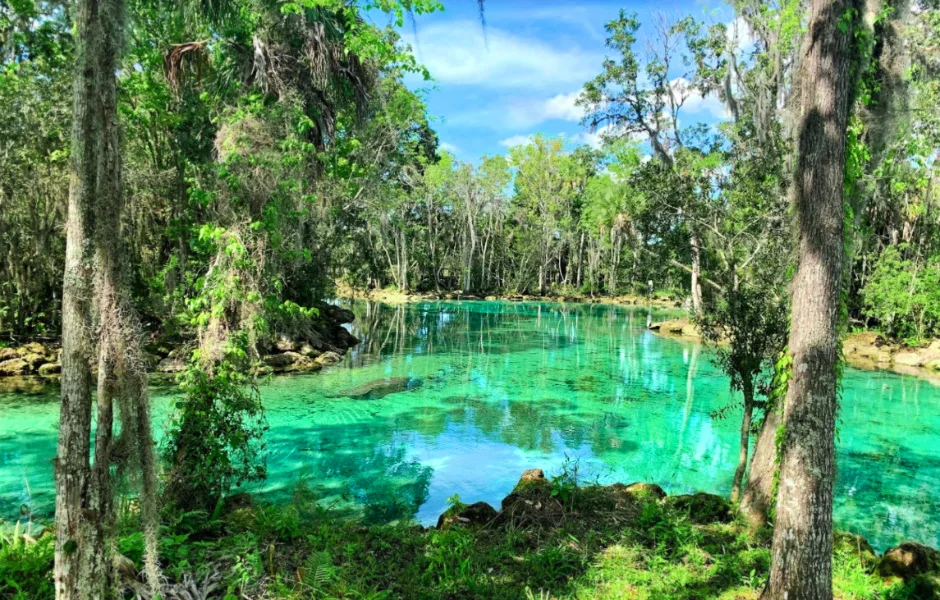 Visiting Homosassa Springs State Park
Homosassa Springs is a bit different. This isn't a spring for swimming, but this is a great place to… GO UNDERWATER! The park has been around since 1920s when it was first set aside for preservation. It's also a wildlife park, meaning that it's kind of like a zoo, housing several species of mammals and reptiles native to Florida.


The highlight really is the underwater observation room just above the spring. Here you can spy fish, turtles, and sometimes manatees. There is also a medical facility here at Homosassa Springs that is used to treat injured manatees.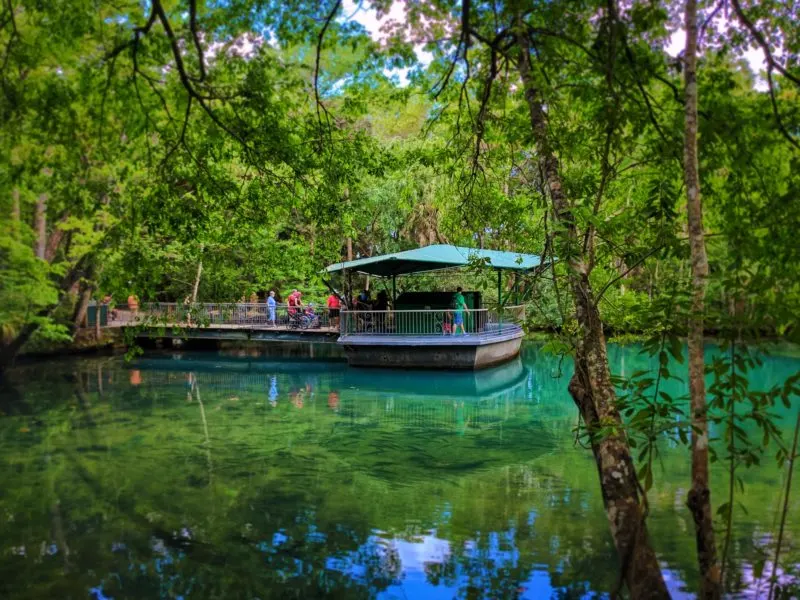 Central Florida Springs not to miss
We've separated this area from Orlando because it's just not a half hour or so; it's about two or more hours from Orlando to either Ocala or Dunnellon. These can still be day trips from Orlando, but they take more planning.
Silver Springs State Park
Heading a bit farther north you'll find Silver Springs State Park. This is also a very popular spot for finding manatees, gators and birds of all sorts. Popular for both SUP and kayaking, Silver Springs is gorgeous and, dare I say it, very Instagramable. It's my favorite place to paddle, and I visit at least once a month.


You can visit the headsprings of Silver Springs State Park by driving directly to the park entrance or you can paddle to the. Entrance to the park on foot has admission per person, with the glass bottom boat tour additional (see below). My personal favorite approach to exploring the springs, as they are actually all throughout the river, is to launch kayaks at Ray Wayside Park and then paddle the 5.1 miles up the Silver River. It's a long trip but it's so worth it.
You can also put in your own kayaks, canoes or paddle boards from the boat launch at the state park. There is a launch fee per boat and the drive-through drop off gets a little crazy on the weekend, but it's a small price to pay for the easy experience. From here, you can either paddle directly into the Silver River or head down the Fort King Paddling Trail. Here you'll see old movie sets, a sunken boat, alligators and of course manatees (when present). I love this particular stretch of water. It's gorgeous!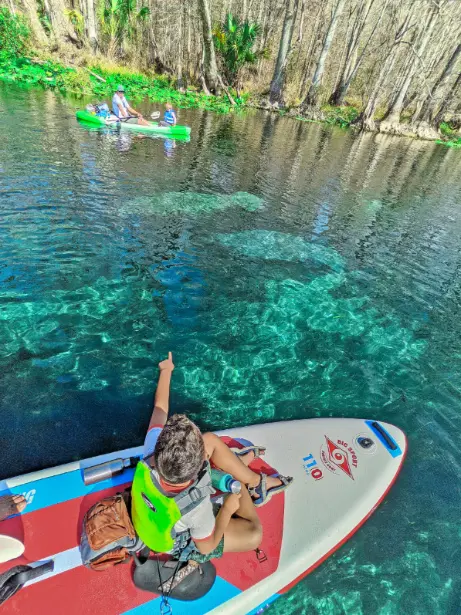 When visiting Silver Springs State Park at the headspring, either rent a SUP or kayak to explore on your own OR get a ticket for the glass bottom boat tour. About 45 minutes, the tour will take you down the Silver River a bit for wildlife viewing and to go over the many fissures of the Silver Springs area. It's a Florida springs site to not miss!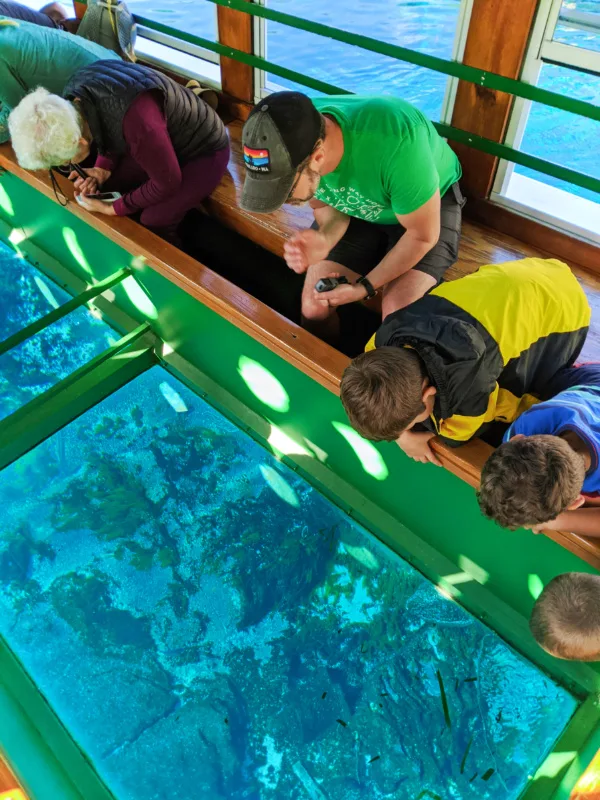 Monkeys at Silver Springs State Park
Besides the crystal clear waters and tropical vegetation, another interesting sight at Silver Springs State Park are the monkeys. More than a thousand rhesus macaque monkeys run wild in the forest due to being released a long time ago from a private collection and zoo. Today, the monkey's are closely monitored due to the herpes virus they carry, but can be seen from the waters of Silver Springs. Totally weird and so fun to observe!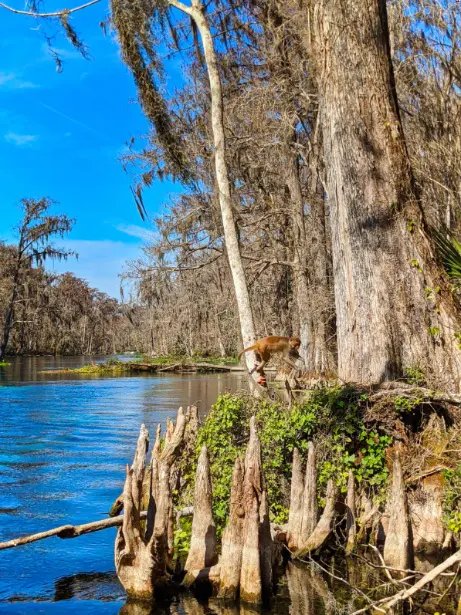 Rainbow Springs State Park
We loved Rainbow Springs State Park. The kids enjoyed swimming in the most colorful waters we'd ever seen and even exploring beyond the springs up in hills. Rainbow Springs State Park has plenty of swimming opportunities as well as dry-land-fun. The site of a former zoo and also an attraction park, there are a bunch of waterfalls (manmade), a butterfly garden, and even creepy old animal paddocks.


The Rainbow River is known to have a solid gator population though, so any paddleboarding or swimming needs to have a high level of caution and alert. Really beautiful though and is one of the most fun of the Florida springs to visit!
If you're interested in camping and making a weekend of it, just downriver from the headspring is the Rainbow Springs Campground. It's a great option for where to stay near Rainbow Springs, especially since there are very few accommodation options all the way out here.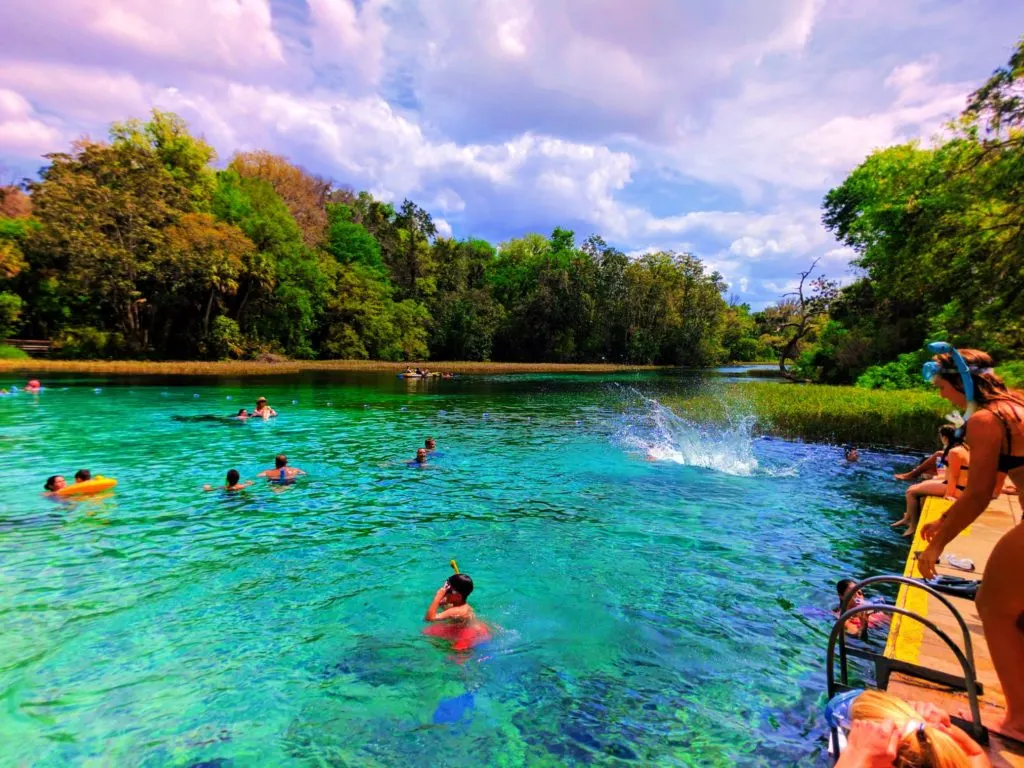 North Florida Springs to Visit
Unless you're driving across Florida for a road trip or you're heading to Gainsville, not a lot of tourists head to this part of the state. More remote and less touristy, north central Florida has plenty of great options for freshwater springs.
Swimming at Fanning Springs
Feeding into the Suwannee River, Fanning Springs is another one of those picturesque swimming holes. A Florida State Park, Fanning Springs is HUGE and goes deep enough to be an inland scuba destination. Who knew?!


Like with other Florida springs, Fanning Springs closes to human access (for swimming, snorkel and scuba) during the winter months. The manatees come into the springs starting in November and tend to hang around into late February or March. If you want to see manatees, this is your north central Florida destination!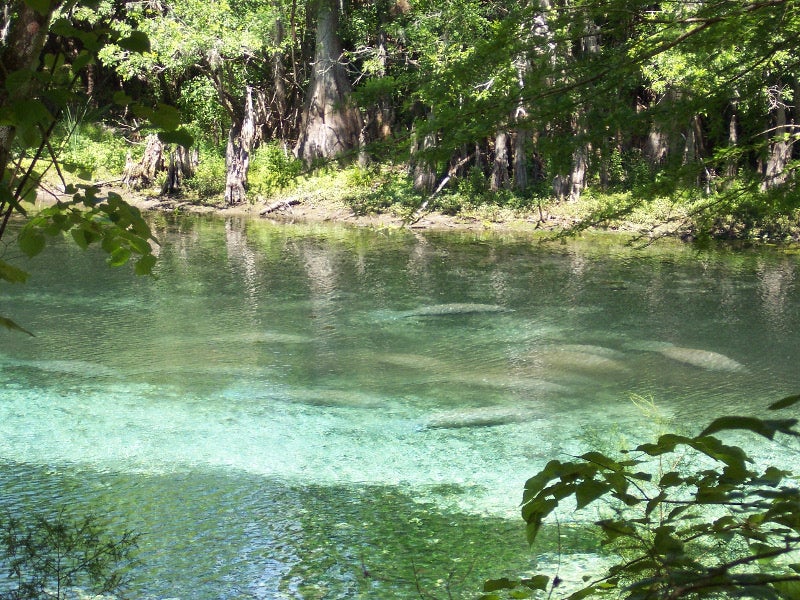 Ginnie Springs for a Florida Springs camping trip
Northwest of Orlando, you'll find another wonderful of the Florida Springs: Ginnie Springs. This spot is perfect for the camping and kayaking enthusiast. Ginnie Springs is a privately owned area, so it has different rules and regulations than other freshwater springs in Florida, but it's still beautiful and fun!


Top activities at Ginnie Springs include snorkeling, scuba driving into the springs, kayaking and of course, camping. Check out these great ideas for planning a fun weekend camping trip to Ginnie Springs (Angie Away is our friend and only recommends the best!).
What if I've never tried paddleboarding or kayaking?
Trying a new sport or activity can seem daunting or stressful but it doesn't have to be. Paddleboarding was both really intimidating to me and kind of hilarious until I did it. Immediately I realized the error of my ways when I discovered that it's actually fun and much more of a workout than I thought.
You know, you see people drifting by on their paddleboards and they look lazy almost, but paddleboarding is actually a combination of strength, balance and endurance. If you think you don't have one of those three things, that's okay. What you lack in balance you'll make up for in strength. Where you don't have the strength, you'll find your endurance. You just don't know until you try.
Tip: it's okay to do your paddleboarding experience on your knees or standing. As long as you can paddle, you're good to go. And remember that everybody does things differently and not everybody is good at everything.
Kayaking is much easier and you'll feel much more confident rather quickly. I'd rather see manatees from a paddleboard because of the view, but for comfort and stability, encountering manatees in a kayak will be much more comfortable for a beginner.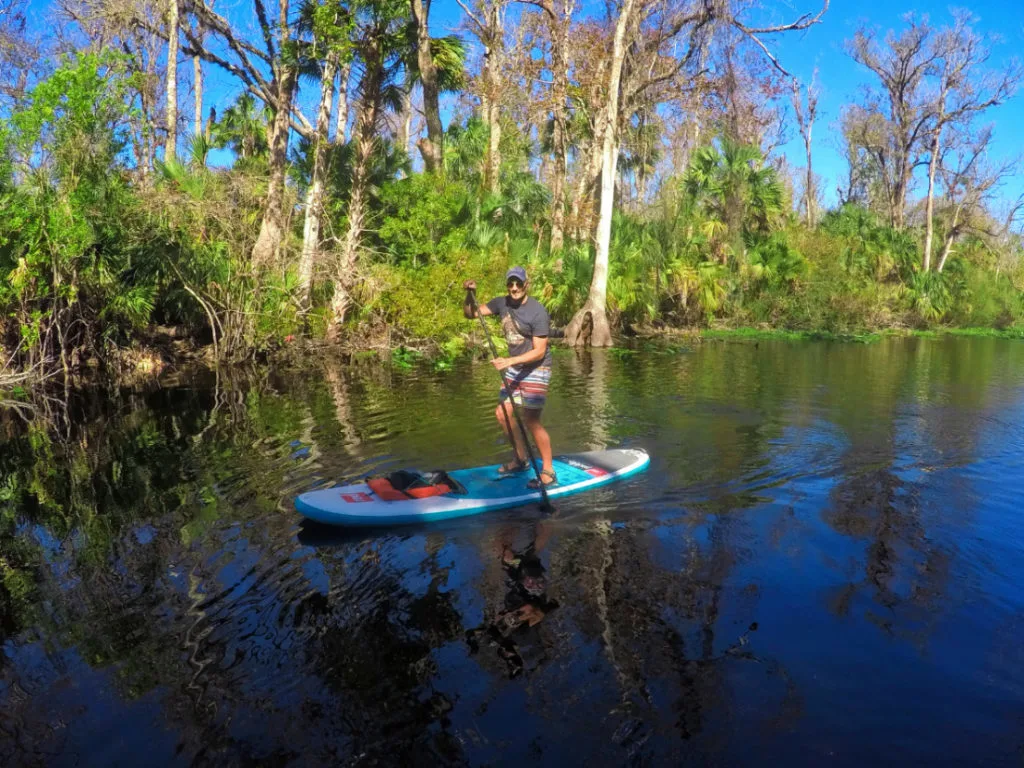 Benefits of paddleboarding
I was discussing this with some other guests of Paddleboard Orlando. Paddleboarding is a unique recreational opportunity where you can access some of the most calm, and beautiful places without any sort of impact on the environment. Same with kayaking. Paddleboarding is incredible exercise that works muscles you don't realize you have. And it's so calming too.
Fun challenge: if you're into yoga AND nature, there are paddleboard companies that will combine the two, using wide, stable boards. Yoga and paddleboarding is one of my big goals for the future.
View this post on Instagram
So, not that we would ever tell you to stop enjoying your time at Universal Orlando Resort or Disneyworld, but don't you just want to plan a day out in Florida's unique nature? Seriously, we've been all over and nowhere else has there been sure a combination of fascinating geology, gorgeously clear water, abundant wildlife, and endless fun.
Paddleboarding Florida's springs near Orlando and beyond is an incredible experience, for the solo, couple or family traveler alike.
Want to pin this for later when you're planning your Orlando getaway? Go for it!! Also, be sure to check out our plan for a really fun Florida Gulf Coast Road Trip!