Being a St Augustine local is such a treat. The oldest city in the United States, Saint Augustine has endless things to do. With unique tours, activities, pristine beaches and wonderful things to eat, you'll love visiting St Augustine. These are our top picks, the best things to do in Saint Augustine, and should keep you busy for four days in the Ancient City.
Check out where to stay in Saint Augustine for our top hotel and vacation rental picks. Before we lived here we visited many times so have lots of experience with hotels in St Augustine. If you have any specific questions about visiting St Augustine, where to eat or where to stay, please leave a comment or send us a note. We're always happy to share more!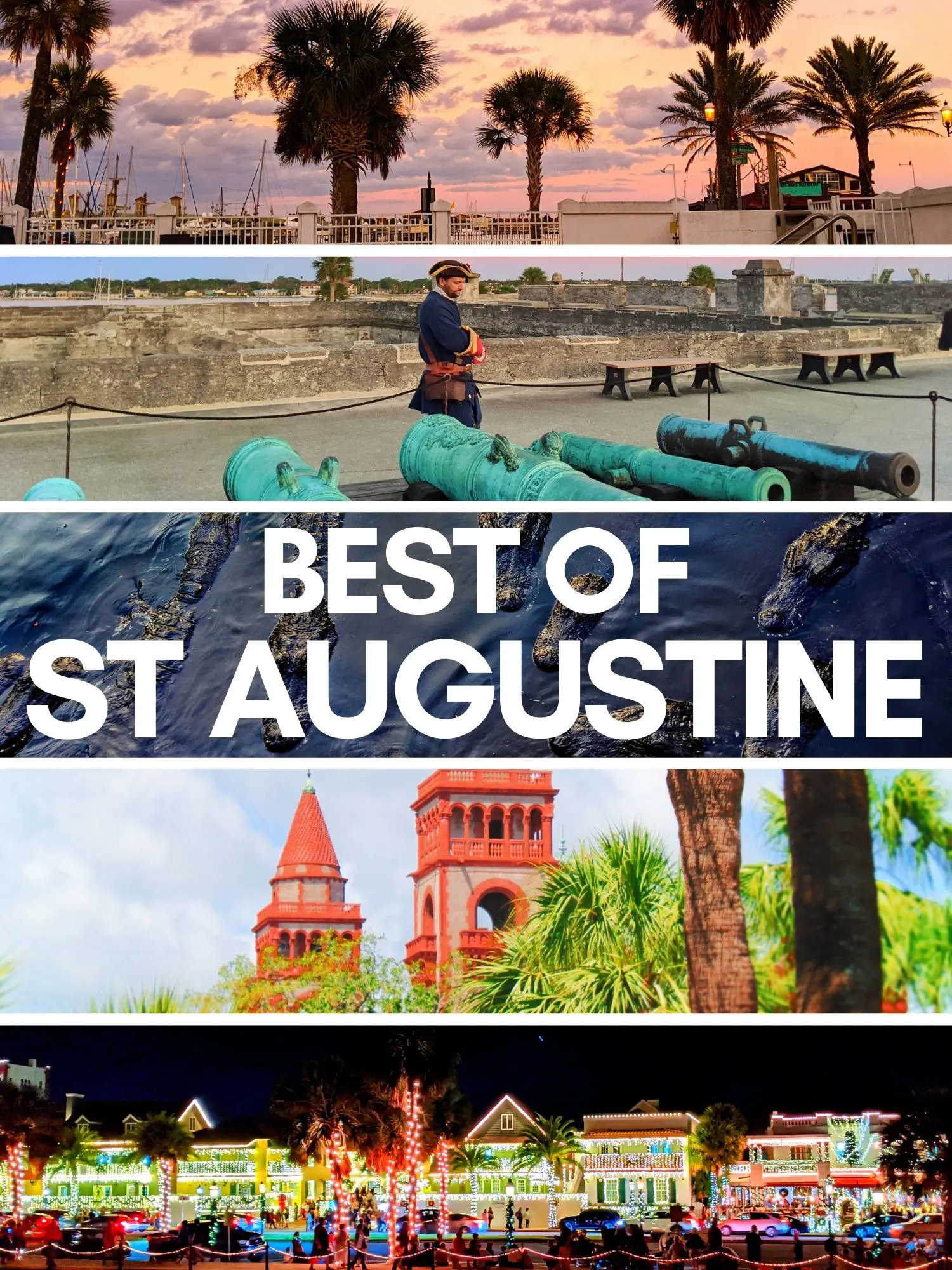 Best Unique Things to do in St Augustine FL
We've broken down the best things to do in Saint Augustine by area, meaning downtown, Saint Augustine Beach, Butler Beach and then north of the city and into Ponte Vedra. Enjoy our recommendations, and know that if you want to do everything we talk about here, it's going to take you at least four days. Saint Augustine is our favorite city in the USA and if anything we note here seems iffy, send us a note and we'll help you figure out your itinerary just a bit better.
Don't miss our restaurant recommendations for St Augustine either. You'll see that there are a few things we mention over and over, particularly Menorcan cuisine. It's amazing! Some of the best stuff to do and eat in St Augustine comes to us from the area being a melting pot of cultures. Enjoy it!
Listen to our podcast episode all about Downtown St Augustine!
Best things to do in Downtown St Augustine
You'll find the downtown area and waterfront of Saint Augustine to be fun and beautiful. It's easy to explore on foot and there are plenty of places to just have a sit and people watch. There's no shortage of great food or wonderful coffee shops in St Augustine either. It would be wrong to visit St Augustine without playing tourist and seeing its most famous and unique sights. And even if you're not a big tour person, we have some great suggestions for unusual tours everyone will love. Search for St Augustine tours here!
Want somebody else to plan it all and guide you through the city? Check out this complete 2 Day Guided St Augustine Tour!
Explore the Castillo de San Marcos
Located on the waterfront, the Castillo de San Marcos is probably the biggest attraction when you visit St Augustine. The Castillo (fort) was built in 1672 and is in really great shape. It's weathered battles, hurricanes and visitors for going on 400 years (the original structure).
A good portion of the Castillo de San Marcos is wheelchair accessible and all of it is fun for kids. The fort is directly on the water, so the views are incredible, and then across the street is the Spanish Colonial Quarter. This is a great place to start your day and is at the top of our list for the best things to do in Saint Augustine.
If you're visiting St Augustine when the Castillo de San Marcos is closed (Mon/Tues or after hours) you can still walk around the entire fort along the moat wall. There are displays and it's still a very unique place to visit and explore just on the outside.
Allot 1.5 hours for the Castillo de San Marcos. If there is a cannon demonstration, you may want to spend more time.
Cost: $0 w/ National Parks Pass (terms apply) OR $15 per person 16+ (kids under 16 are free)
Hours of Operation: 9:00 – 5:00 pm – check site to confirm hours of operation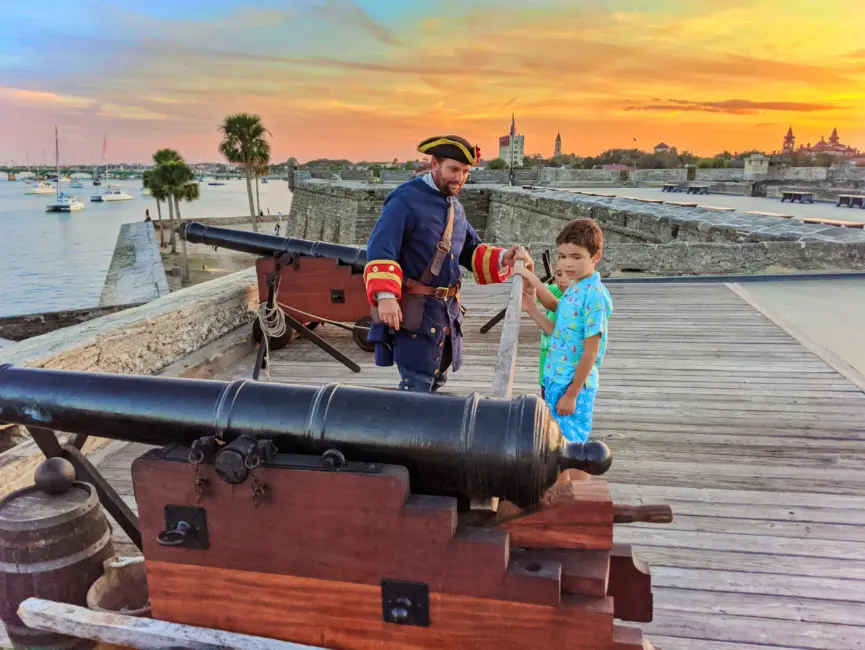 Visit the Pirate and Treasure Museum
What an awesome treasure of a museum! We visited on our first trip to the city and didn't make it through because the kids were scared. On our most recent though, we discovered that the Pirate and Treasure Museum is one of the best things to do in Saint Augustine. Between the original Jolly Roger and actual pirate treasure, and then some awesome film memorabilia, we thoroughly enjoyed the Pirate and Treasure Museum.
Cost: $15 for adults and $8 for kids
Hours of Operation: 10:00 – 7:00 pm – check site to confirm hours of operation
Similar Tour Option: Pirate Walking Tour of Saint Augustine – kid friendly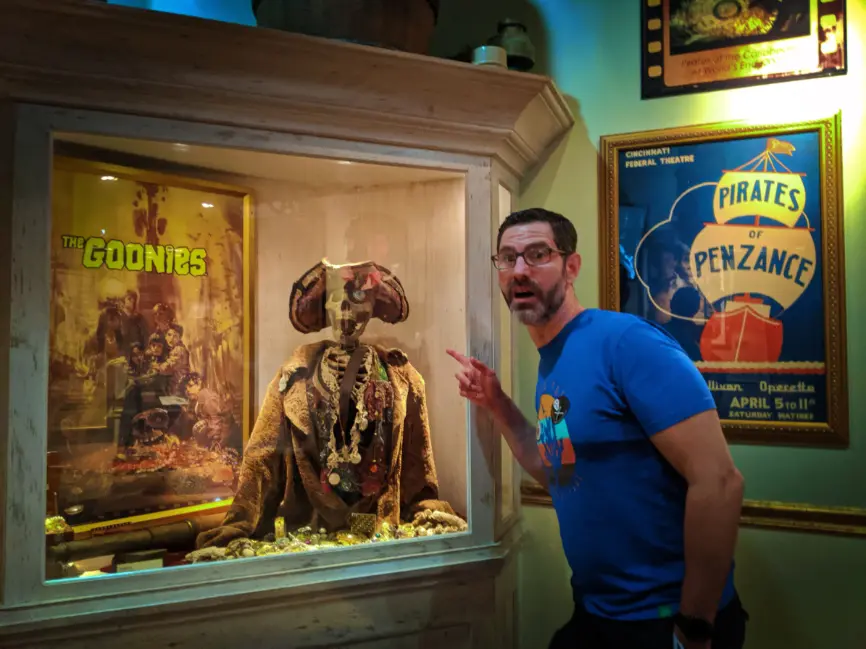 Living history at the Unique Colonial Spanish Quarter
If you've been following our blog, you know that we're suckers for history, and the Colonial Quarter is great for experiencing it, and particularly for seeing living history. If you're going through the actual Colonial Quarter Museum, it's perfect for learning and having weird fun. When we say weird fun, what we mean is that it's really entertaining to see town-life of days gone by happening before you. It's not as comprehensive as Williamsburg and the Historic Triangle, but it's still one of the best things to do in St Augustine.
We got to see how a ship was built, experience a working blacksmith shop and learn about loading and firing muskets. It is pretty cool. Beyond the actual museum area is the live, functioning town that's also part of the tour. It's loaded with shops, museums, breweries and distilleries (even wine tasting) and galleries. Allot at least 1 hour for the Museum and another hour at least for wandering and relaxing.
Cost: $13 for adults and $7 for kids
Hours of Operation: 10:30 – 5:00 pm – check site to confirm hours of operation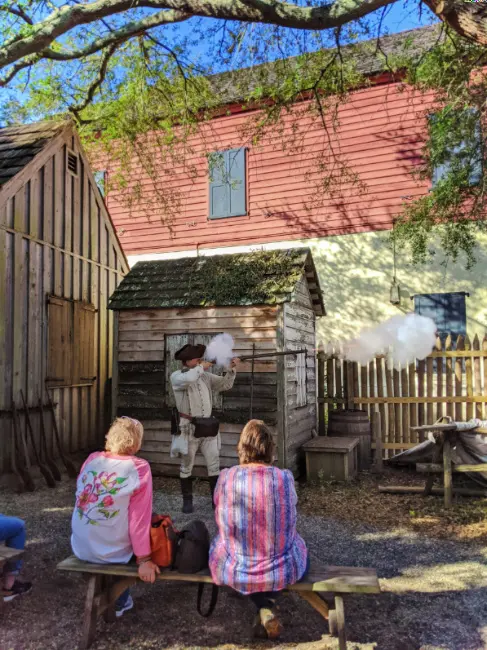 St Augustine at Night: ghost tours
If it's not your thing, that's okay, but walking the streets of St Augustine at night is another cool way to enjoy the city. Whether you want to visit the cemeteries and alleys on your own or join an organize, guided St Augustine ghost tour!
Ghost tours are a combination of storytelling and spectral photography. I know, it sounds curious and like a giggle fest, but it's actually really fun. Costumed tour guide lead visitors by lantern light. It's great! Book our favorite tour here! The other popular ghost tour is Ghosts and Gravestones which gets rave reviews.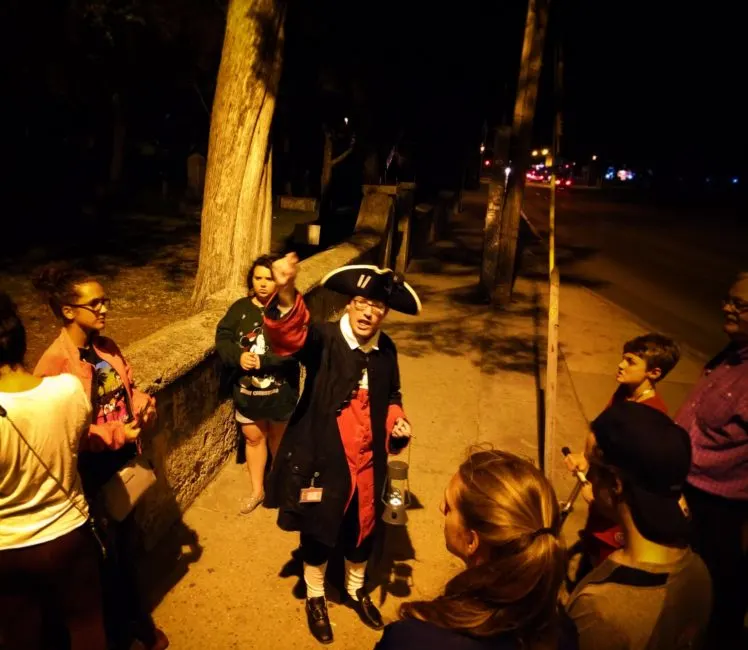 Stroll and shop along St George Street
Visiting St George street is one of the best things to do in St Augustine, hands down. St George street in the historic district of Saint Augustine is some of the best people watching in Florida. It's got a great vibe and lots of fun and interesting shops. There are many restaurants for both formal dining and walk-up snacks.
And where else will you just see pirates walking the streets? We've got some great recommendations for hotels in St Augustine that are just off St George Street!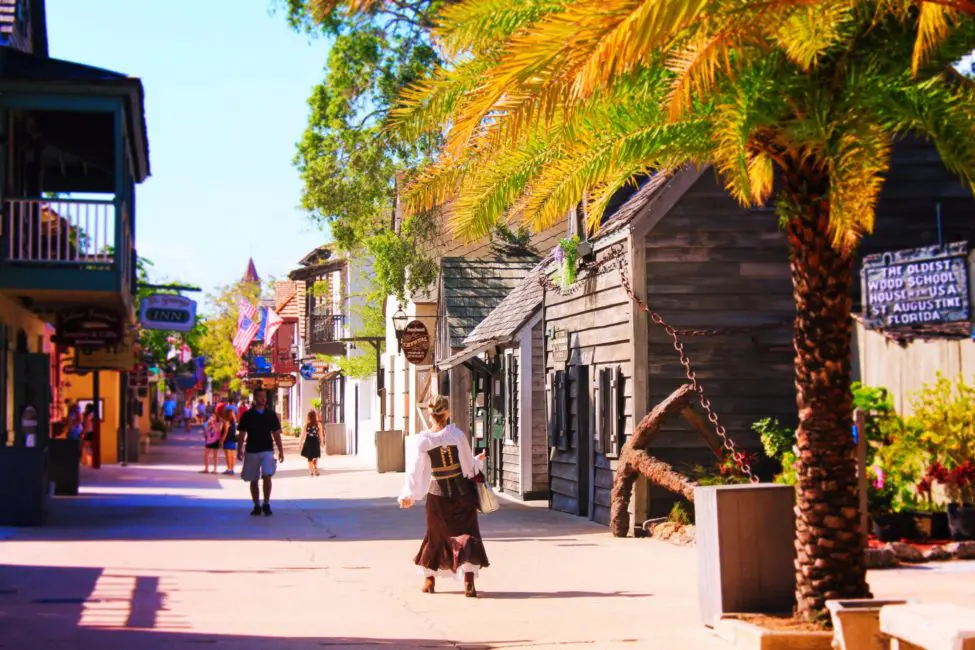 Tour Flagler College: so ornate and amazing
Originally the Hotel Ponce de Leon, Flagler College is an immaculately preserved slice of the late 19th century. Built in 1888 it's a gold-leafed, Tiffany windowed vintage experience. Since Flagler College is an active campus, you can only explore with a tour guide.
The Flagler's Legacy tour lasts about an hour and is fascinating. I'd even call it one of the best things to do in Saint Augustine with kids!
For tour information, check the actual Flagler College tour website, as the tour schedule varies based on term schedule and demand.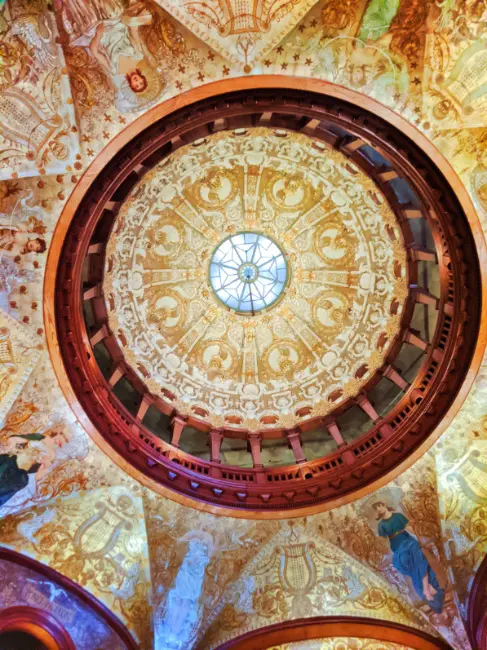 The Lightner Museum
If you enjoyed the Flagler College tour or are just an art lover, you'll really enjoy visiting the Lightner Museum across the street. Originally the Alcazar Hotel, this museum is a wonderful place to both appreciate art and get a glimpse into St Augustine's history.
Tour the Russian baths, eat lunch in the Alcazar Café (aka the swimming pool) and even walk the corridors the servants of the Alcazar would use. This is a great thing to do on a hot day or to get out of the rain.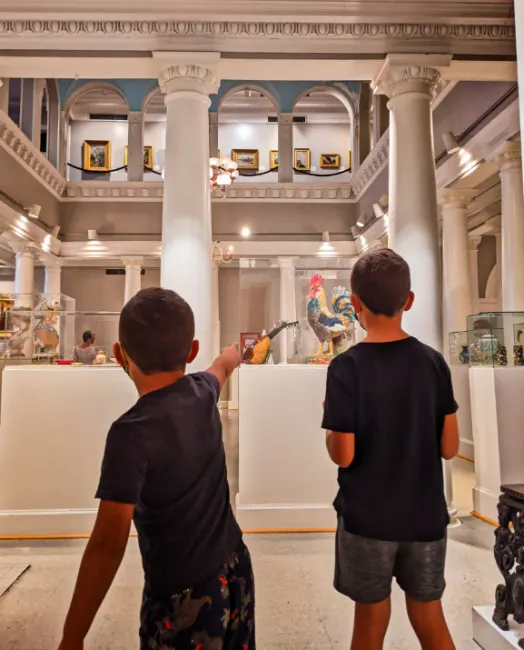 St Augustine Distillery Tour
We've visited many distilleries around the USA and Canada, and the St Augustine Distillery is our favorite. Who doesn't love to learn or at least pretend to learn about distilling while sampling great beverages? We do! And the Saint Augustine Distillery is THE place for it!
A kid-friendly distillery tour, you'll see their boutique fermenting and distilling operations, as well as get some tips on making awesome cocktails at home. When you're done, head upstairs to the Ice Plant for another cocktail and some unique Saint Augustine dining.
Fun Fact: during the COVID-19 pandemic the St Augustine Distillery started producing hand sanitizer for the city and it's been readily available ever since.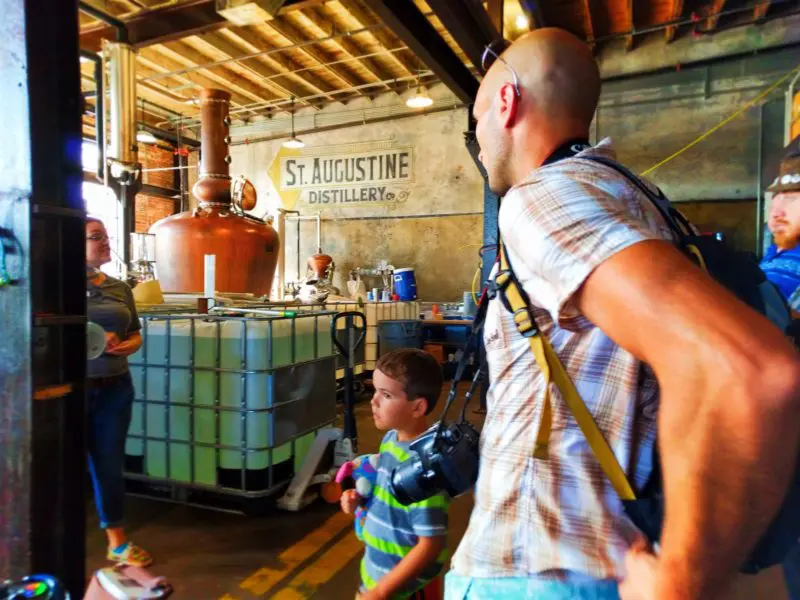 Holidays in St Augustine: Nights of Lights
Yes, this gets its own section. Nights of Lights is the holiday festival in Saint Augustine that turns the coolest downtown area on the east coast into the most glowing! Christmas in St Augustine is surprisingly festive, despite there being so many palm trees. Experiencing St Augustine at Christmas is one of the best things to do in Florida, and for sure one of the most festive.
Saint Augustine Tree Lighting and Celebration
Each year in November, St Augustine does a tree lighting that includes more than the town Christmas tree. In addition to having a beautiful tree in the Plaza de la Constitución, the giant oak trees, palm trees and many of the building facades are lit with Christmas lights and decorated with everything you can imagine. Check the Florida's Historic Coast website for the dates for the next big St Augustine Nights of Lights celebration and related events.
Annual Dates for Nights of Lights festival: last week of November through beginning of February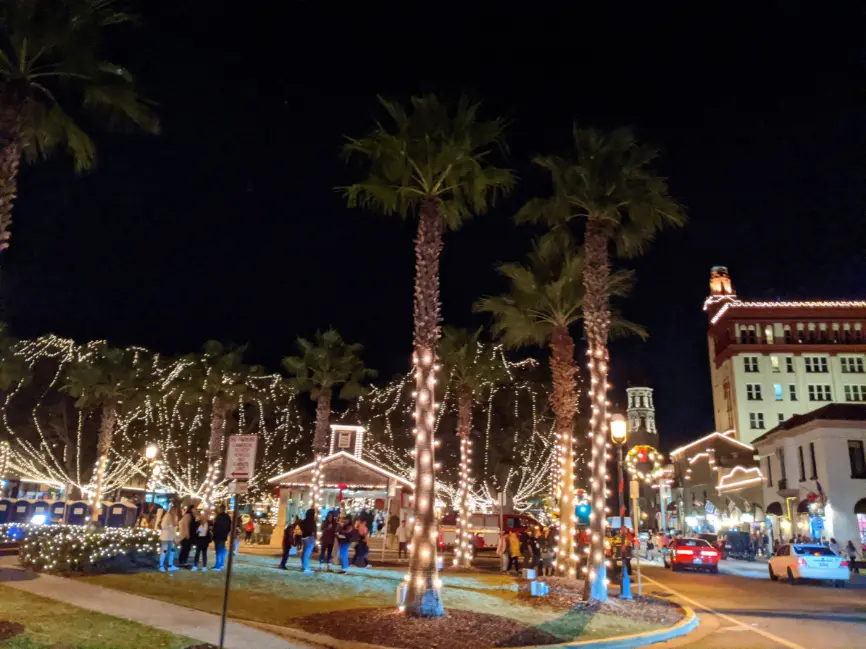 Nights of Lights from the Water
We thoroughly enjoy being on the water and viewing the epic Christmas lights all along St Augustine's waterfront is awesome. We recommend booking a Christmas light cruise in plenty of advance, as it's one of the most popular ways to enjoy Christmas in St Augustine. There are two tours we can suggest:
Nights of Lights Scenic Cruise – we did THIS ONE! – BOOK THIS TOUR HERE!
Red Boat Tours Christmas lights cruise from Vilano Beach – have not done this one – BOOK THIS TOUR HERE!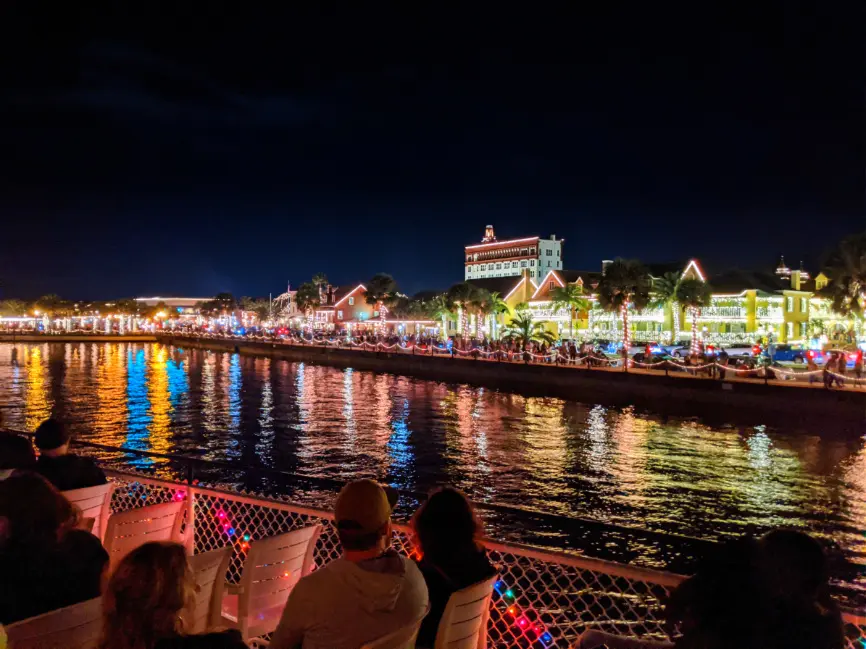 Best Unique Foods in Downtown St Augustine
You'll need to check out our complete article on the best restaurants in Saint Augustine, but for now, these are our top picks for some of the best food in the downtown core of St Augustine. We have so many great ideas for awesome food, but for now, these are simple choices and are all walking distance within the Ancient City:
lunch at Taberna Del Caballo

empanadas from the Spanish Bakery

grab a Hyppo Ice Pop to cool off

any meal at the Columbia

(with martinis)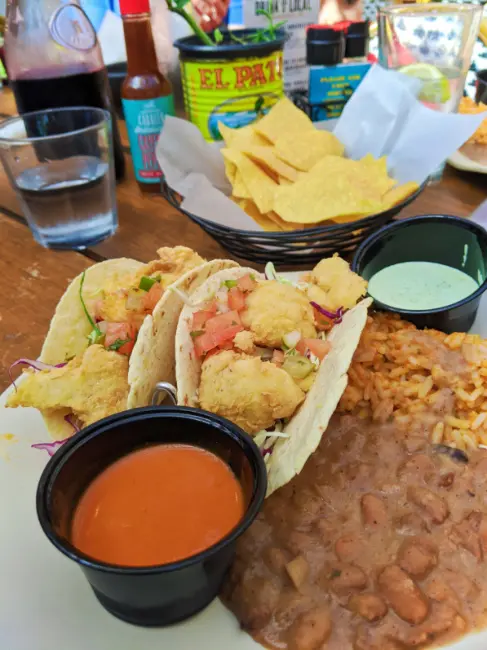 Saint Augustine Beach Area Fun
If you thought all of the best things to do in Saint Augustine were just in the historic core, you were wrong! St Augustine Beach is its own city and is just as fun and unique, both for activities and places to eat. Of course there's the beach, but Saint Augustine Beach is also home to several historic places and icons of Florida history. Mix the local favorites with the beach and you have a winning time in Saint Augustine Beach!
Check out our podcast episode about St Augustine Beach and the best things to do!
Anastasia Island State Park
Located at the north end of St Augustine Beach, Anastasia Island State Park is ideal for both camping and day trips. Since it's just across Lions Bridge from downtown, it only takes ten minutes to get there!
If you're looking for history, this is where the quarry for the stone of Castillo de San Marcos was. If wildlife it what you're looking for, shore birds are everywhere and the small bay, Salt Run, is a sea turtle nursery basically. Visiting Anastasia Island State Park in spring or fall also brings the chance of spotting right whales off the coast. Such a wonderful place!
The dunes that line the beach are also a highlight. There are boardwalk trails lining the dunes and beyond that, there is a remarkable stretch of beach. The beachcombing here is very good, with a wide variety of shells.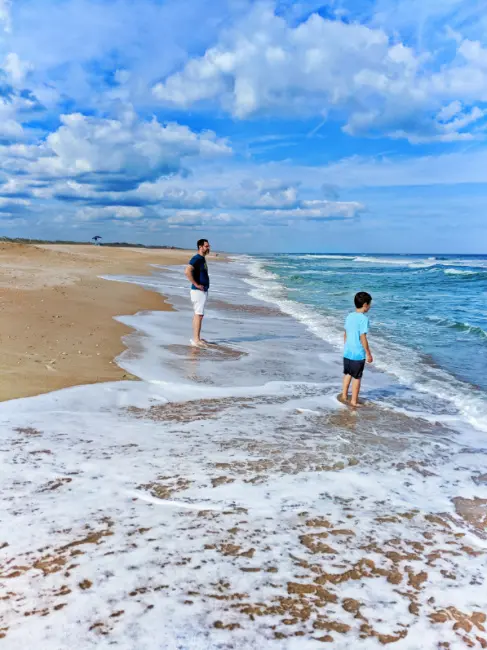 Ocean Hammock Beach
A city park, Ocean Hammock Beach is awesome. The parking area is just off the A1A and then a long boardwalk leads through the hammock jungle to the dunes and beach. It's perfect. While it may be a bit busy on the weekend, weekdays, this is one of the best beaches in Saint Augustine. Google Maps link here.
Note: if you see what seems to be a small to medium sized turtle on the sand near the grass, THIS IS NOT A TURTLE and you should NOT ATTEMPT to put it in the water. This is a gopher tortoise and leaving it alone is the best way to protect it.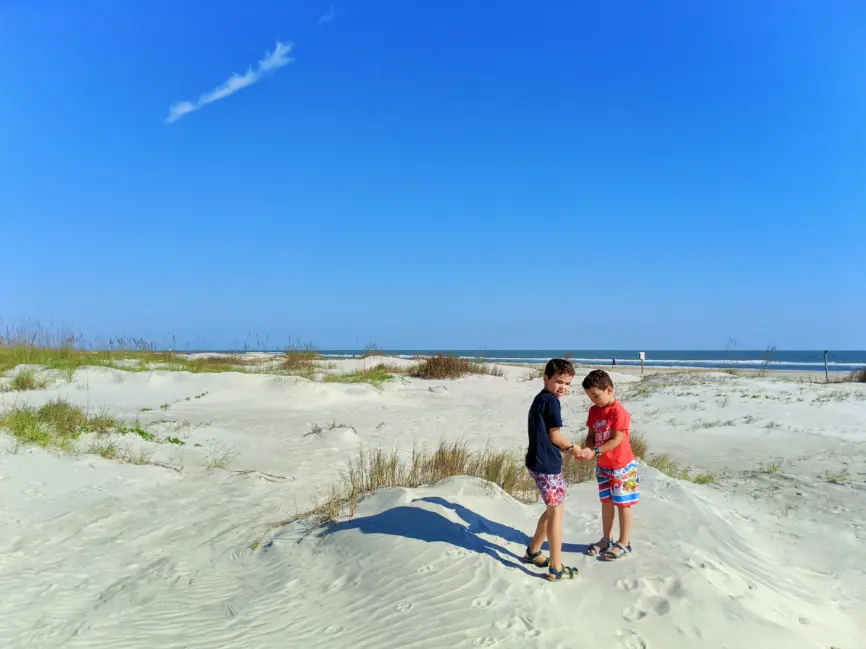 Fort Matanzas National Monument
This is a wonderful way to end the day. Fort Matanzas National Monument is about 30 minutes south of the city and is easy to get to if you're already visiting either the lighthouse or the Alligator Farm, and it's a great final stop on the historic St Augustine tour.
Once you're there, there's a nature trail taking you through the shallow coastal forest and then a small passenger ferry out to Fort Matanzas (it's on an island). The boat ride is pleasant, the view from the fort is beautiful and the history you learn is really fascinating. Before you head out to Fort Matanzas, check to see when the first and last ferries are, as your visit is completely dependent on the boat. Allot 1.5 hours+ to enjoy the fort and sights.
Cost: the whole experience is free, but you're welcome to make a donation.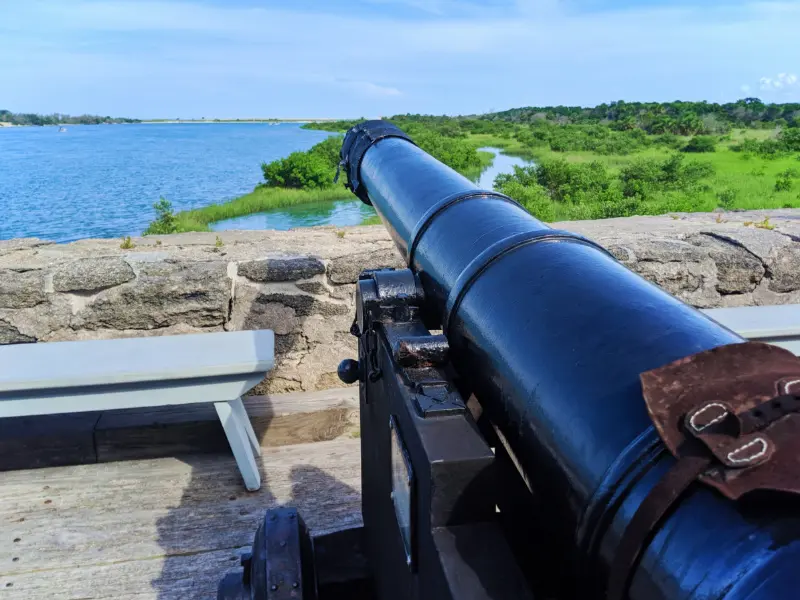 St Augustine Alligator Farm
Without giving away the farm (ha ha ha) you get to see and learn about so many different types of crocs and gators at the Saint Augustine Alligator Farm. And there are birds and turtles and lemurs and so much more too! The historic St Augustine Alligator Farm is really fun and VERY different from your standard zoo experience. It's been such since 1893! The best part is the boardwalk to creep out even the bravest… You'll just have to see. Oh, and they serve beer.
We're cautious about taking the kids to zoos and aquariums, as we've learned that far too many of them are not serving a purpose beyond human entertainment. The St Augustine Alligator Farm is part of the Species Survival Plan (SSP) and houses and researched several critically endangered and vulnerable species. This includes reptiles, birds and mammals. Allot 2 hours for the St Augustine Alligator Farm.
Cost: ticket prices vary depending on the season. Check here.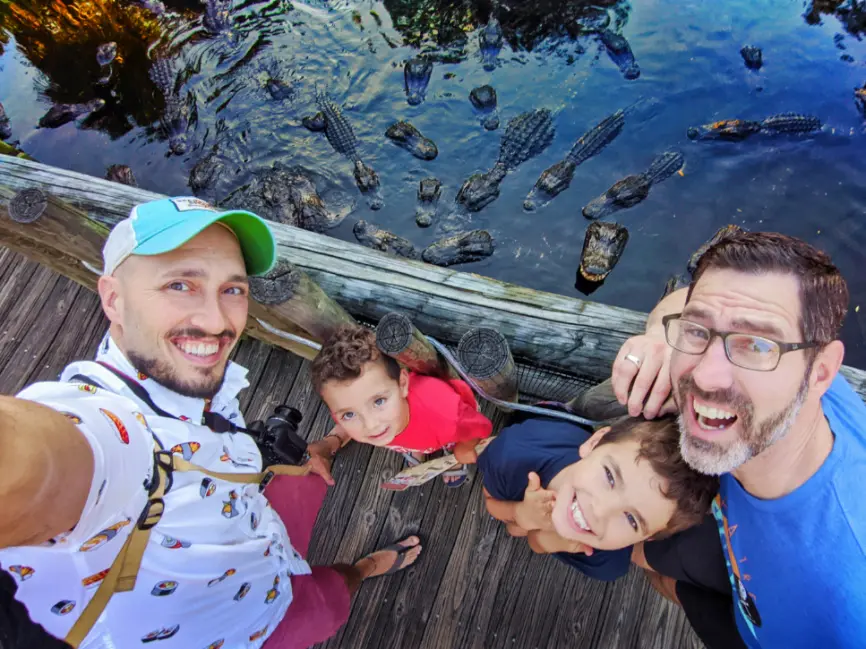 Saint Augustine Lighthouse
We've visited many lighthouses in our travels and have explored some cool ones, but the St Augustine Lighthouse is exceptional. First thing to know: to go up the tower, you have to be at least 44 inches tall. It's quite the climb, but there are resting spots along the way.
The St Augustine Lighthouse has 219 steps to the top, so be ready to sweat in this oldie. Once at the top, it's an incredible view looking across the Atlantic Ocean, down the coast and across the Intracoastal Waterway. It's the eighth tallest lighthouse in the USA and is 60 feet taller than the tallest one where we lived in Washington State. Really, the historic St Augustine Lighthouse is such a cool sight to see.
In addition to climbing the tower, there's a great museum, keepers' quarters and grounds to tour. There's even a playground for younger visitors. Allot 1 hour+ to check out the site and climb the lighthouse.
Cost: $13 for adults and $11 for kids 12 and under AND 44 inches or taller.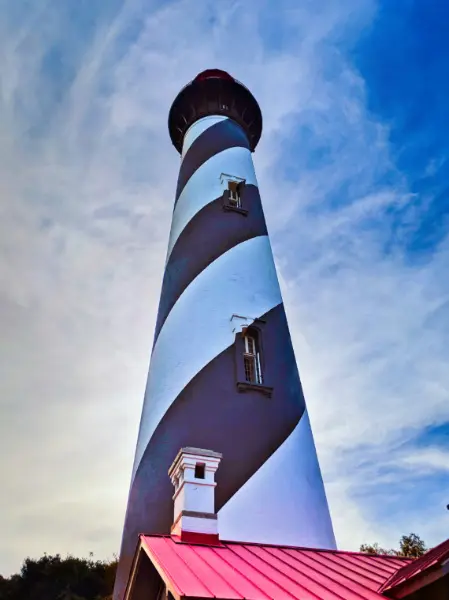 Relaxing in Butler Beach
Our favorite part of Anastasia Island (St Augustine Beach and surrounding area) is Butler Beach. Just fifteen minutes from downtown, Butler Beach has long stretches of perfect sand, typically has a nice sand bar at low tide, and access via Butler Park East or Crescent Beach Park is easy. There are also some great places for kayaking around Butler Beach. Kayaking and SUP on the Matanzas River is a highlight to spending time in the neighborhood.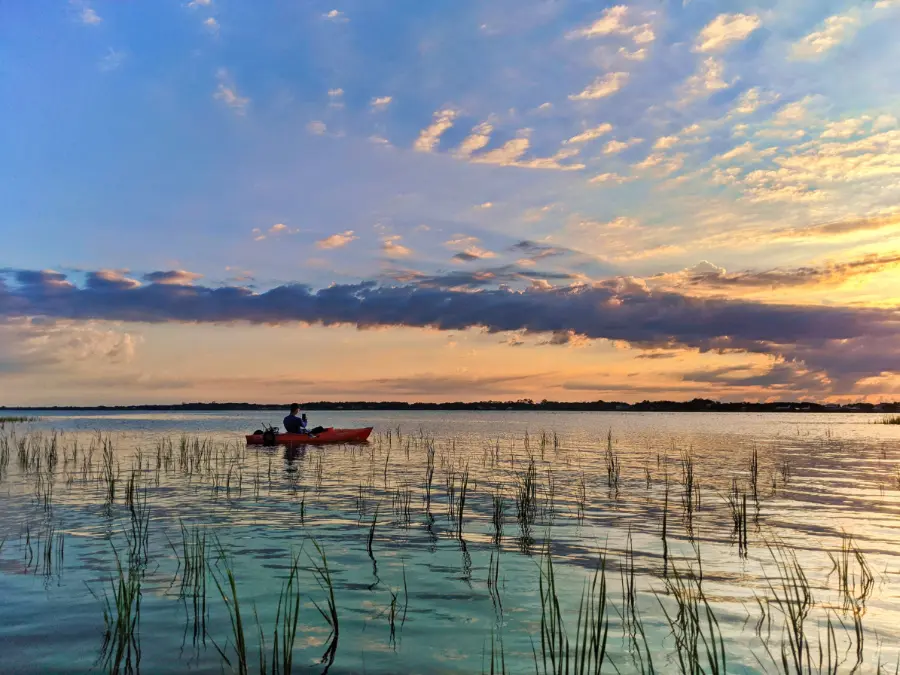 Best Eats in Saint Augustine Beach
We've got another article all about the best eats in the Saint Augustine area, including St Augustine Beach, so be sure to get our full set of recommendations. In the meantime, here are three sure-fire spots to score some delicious food in the beach neighborhood:
Salt Life Food Shack across from the beach

Village Garden Food Truck Park near Lions Bridge

Caribbean food at Mango Mango's by A1A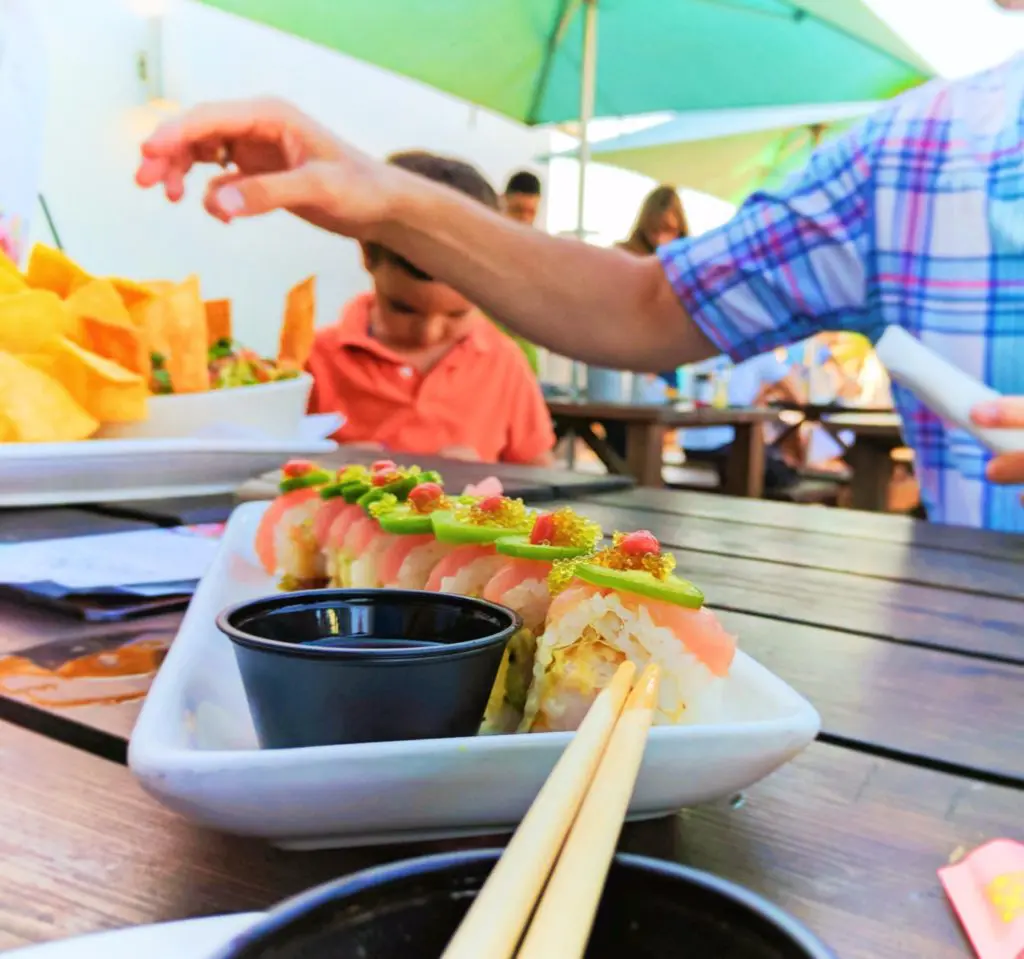 North Saint Augustine and Ponte Vedra beaches
North Florida is one of our favorite destinations because with each city or large town there are pockets of unique nature and smaller communities everywhere. And there's history everywhere too!
Beyond the downtown area, you'll start to get into neighborhoods and even some smaller towns. It's all still very close to Saint Augustine, but for location's sake we're splitting it off. This makes it easier to plan the best stuff to do without having to retrace your driving route each day or it's easy to add these activities if you're staying up in Jacksonville Beach.
Visit the Fountain of Youth
The Fountain of Youth, yes, the one Ponce de Leon and his crew searched for, is actually located in Saint Augustine, FL! Now, I've drank from the Fountain of Youth and have proceeded to age… but I like to think that it's slowed it down just a bit.
Besides the actual spring that is considered to be the Fountain of Youth, the park/attraction area has much more. There is admission to get access to the Fountain, the gardens and the archaeological areas. It's really actually very beautiful and the living history aspects are wonderful. And if you're into peacocks, this is the place for you! Countless peacocks, both colorful and pure white, roam the grounds of the Fountain of Youth. It's awesome!
Cost: $17 adult, $9 child – these are online prices, in person +$1
Hours of Operation: 9:00 am – 6:00 pm every day – check site to confirm hours of operation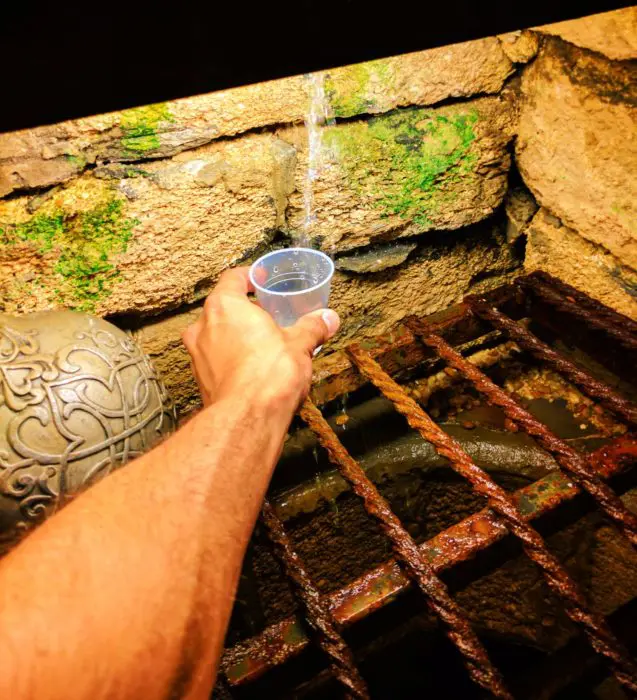 Walk or drive Magnolia Avenue
Voted the most beautiful street in the USA, Magnolia Avenue is gorgeous. It's located directly next to the Fountain of Youth Archaeological Site so it's easy to add to your St Augustine itinerary. Walk or drive down Magnolia Avenue and enjoy the Spanish moss hanging off the tunnel-like live oaks that line the street. It really is a wonderful place and extremely photogenic. Google Maps link here.
Tip: be aware of other cars and drivers, as it is an active street and you don't want to hold up traffic or get hit by a car.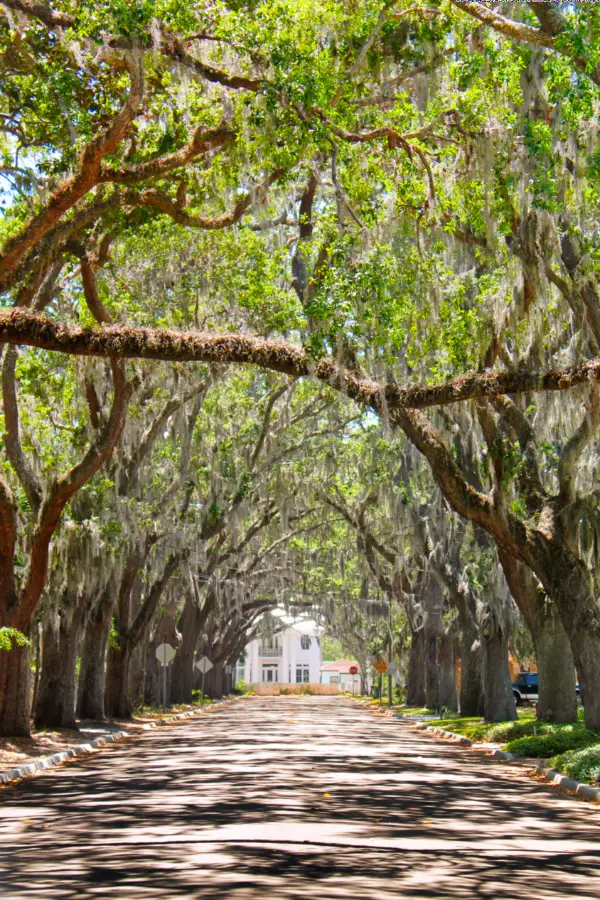 Get spooky at the Old Jail
Built in 1891, the Old Jail is one of the creepiest places we've taken the kids. Yes, it's cool and the history you learn along with the tour is fascinating, but it's for sure a creepy place. Located near the Fountain of Youth, it's an easy add to your trip. The tours are operated by the Old Town Trolley Tours company, so admission is discounted if you're also doing a trolley tour.
Cost: $14 adults, $8 children – Book your Old Jail tickets here! Get a combo ticket for Trolley Tour, Jail, Oldest Store & History Museum here.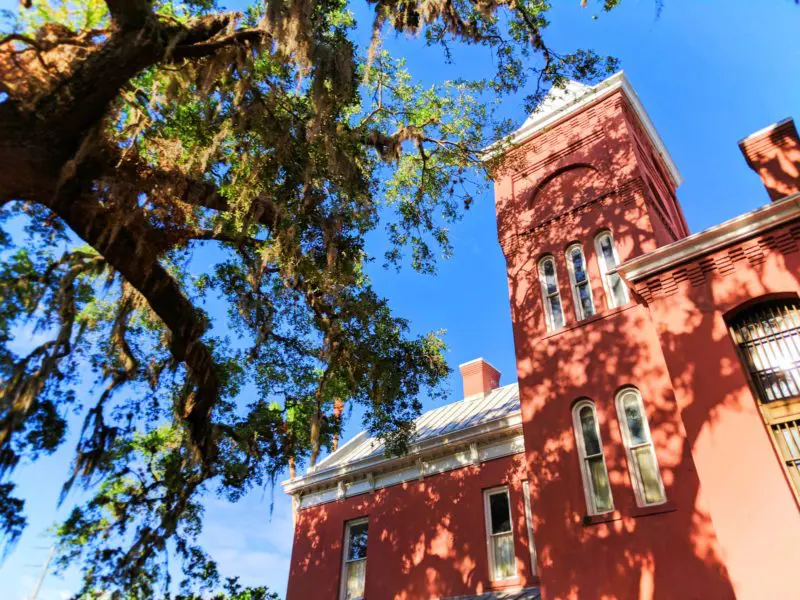 Learn something new at the GTM Research Reserve
The Guana Tolomato Matanzas National Estuarine Research Reserve (GTM Research Reserve) has long been one of our favorite marine science centers. It's full of diaramas, specimen drawers and life-sized marine animals suspended from the ceiling.
Newly added to the GTM Research Reserve is a reptile exhibit area where you can see native snake species, baby alligators, and more! Top it all off with a great educational scavenger hunt and it's the perfect kid-friendly activity. It's on the best things to do in St Augustine with kids.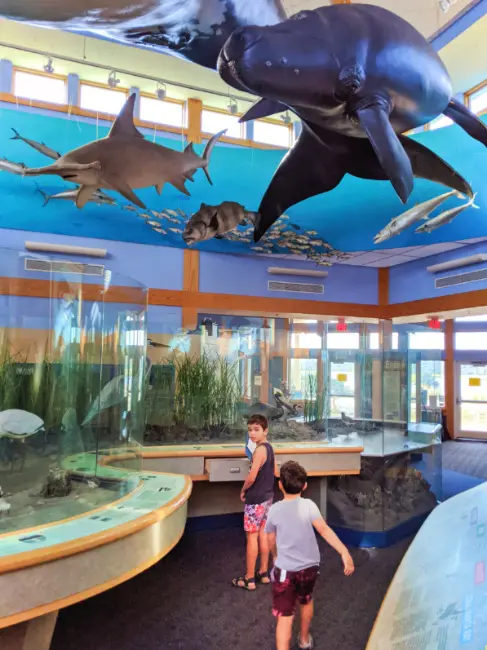 Do a beach clean up in Ponte Vedra
Florida beaches are our favorite, and they're all so different. The beaches of the Ponte Vedra area, just north of St Augustine proper are really beautiful and not as busy as the Saint Augustine Beach beaches. Ponte Vedra is largely a part of the GTM (see above) and they do regular beach cleanups to document what sorts of trash is either left at the beach or washes up.
If you'd like to both enjoy the beautiful beaches AND do some good, stop into the Research Reserve and ask for a trash tracking sheet. You can then head to the beach and document what trash you find, and then you can just drop your data off at the GTM building when you leave the beach. It's a easy way to have fun and help the earth!
Tip: Middle Beach is the closest beach to the GTM building and it's also great for finding cool shells and shark teeth! Google Maps link to Middle Beach and parking area.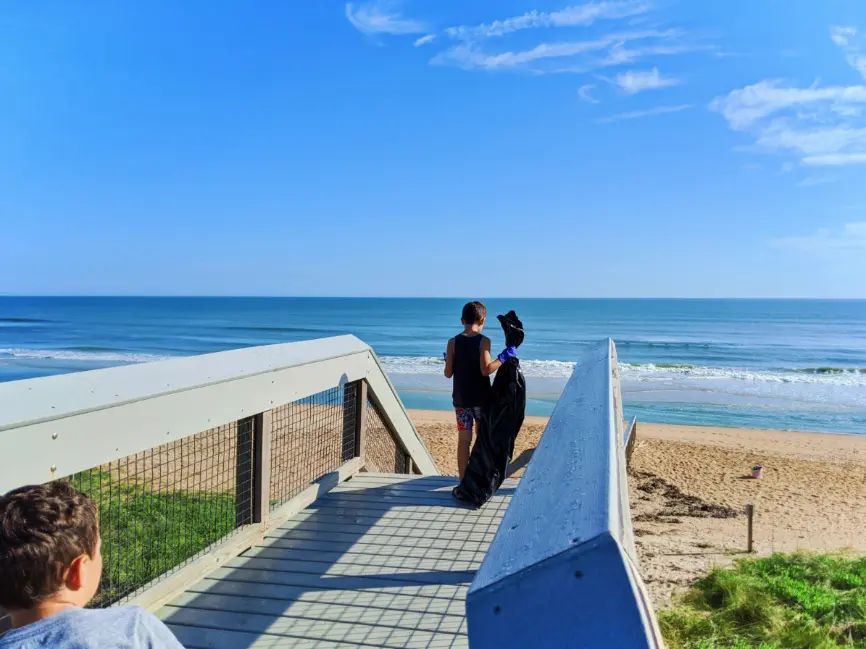 Shark Tooth hunting at Mickler's Landing Beach
Several of the St Augustine area beaches have a good number of shark teeth mixed into the shells, but nothing compares to Mickler's Landing. Just a bit farther north than Middle Beach, Mickler's Landing has a good size parking area and beach facilities (showers/bathrooms).
The long and far stretches of beach at Mickler's Landing are perfect for finding shark teeth because of how the current pulls across the beach and settles the shells just right. The best spots to find shark teeth at Mickler's Landing are just to the south of the main entry point. You'll find them in the patches of crushed shells, so keep your eyes peeled!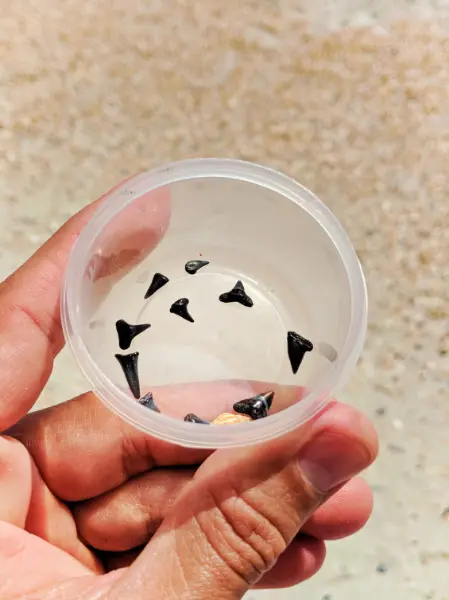 How do you find shark teeth?
Do I want to tell you the best method for finding shark teeth? No, but I will. Finding shark teeth in Florida is one of our favorite things to do. It's have luck and half skill. Here is the easy breakdown of how to find shark teeth:
locate a patch of crushed shells just beyond the tide line
scour just below the top layer, looking for very dark or black pieces
let your eyes be drawn to the shinier, darker shells and you'll find them to often actually be shark teeth
The shark teeth you find are usually fossilized, so are heavier than normal shells, and due to their smooth surface, tend to be quite shiny. I find it helpful to dig down a little so I have sea water to rinse the shells in my hand. It's almost like panning for gold (which we love to do) and the larger shiny teeth will rest as the bottom of your handful.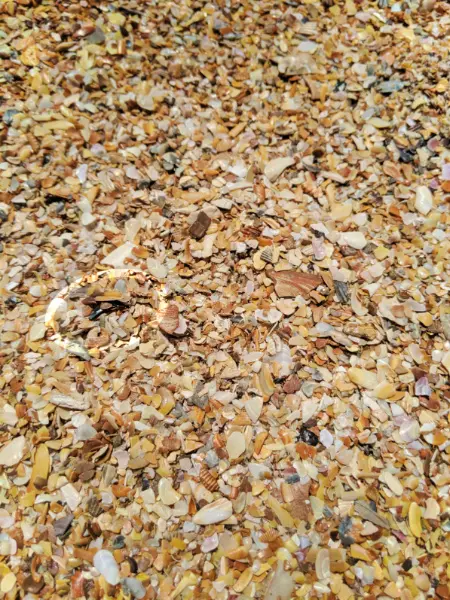 Other special ocean treasures to watch for
Of course shark teeth are the ultimate find, but as you're beach coming and looking for shark teeth, be on the lookout for other fossils. We've amassed quite a collection or manta ray teeth, prehistoric horse teeth, and even bits of fossilized bone. Beautiful seashells are also wonderful to find, so don't be bummed if you don't find shark teeth but do walk away with other natural wonders.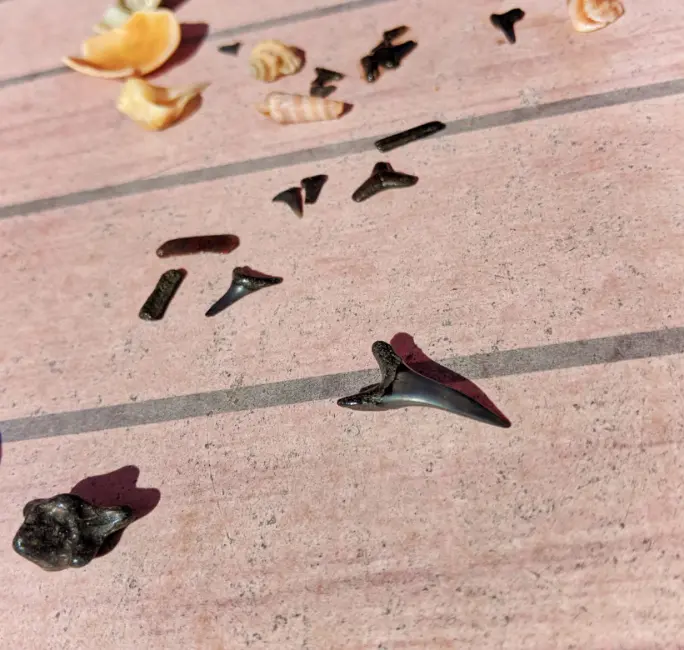 Best Eats in Ponte Vedra Beach
The Vilano Beach and Ponte Vedra areas have their own wonderful restaurants. With fishermen coming in daily and some long standing, well established restaurants, you're sure to enjoy dining north of St Augustine as well. Here are a couple of restaurant picks that are sure to please!:
Aunt Kate's on the Tolomato River

Oceanfront lunch at The Reef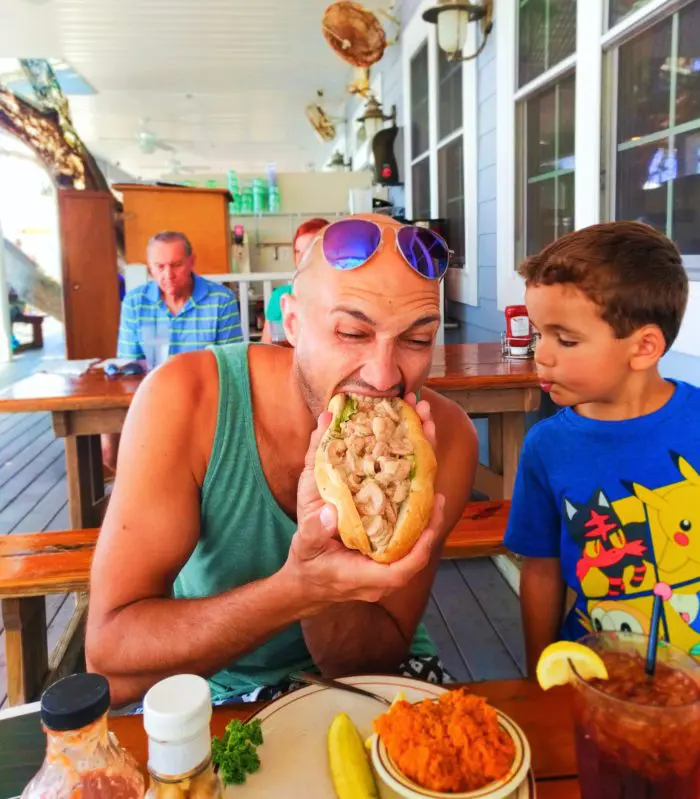 Best ways to visit St Augustine attractions
In larger cities the solution for exploring the best spots is often just getting a hotel in the main tourist area and calling it good. On a trip to Saint Augustine, Florida you could indeed stay directly downtown or you could stay in a more chill area and visit downtown. That's what we recommend, both for the conveniences of being closer to beaches or being closer to the main highway. There are so many wonderful day trips to take, staying outside of downtown is a great idea.
Guided tours of the Ancient City
You can visit all of the best things to do in St Augustine on your own, but we do recommend doing one of the Hop-on-Hop-off tours for the ease and history of it all. They're a great option for getting around seeing more of the town than you thought possible. Without worrying about parking or driving down narrow brick-paved streets, doing a hop-on-hop-off tour will make visiting Saint Augustine attractions easy and flexible so you can enjoy it to the max.
Red Train Tours – book it here
Old Town Trolley Tours – book it here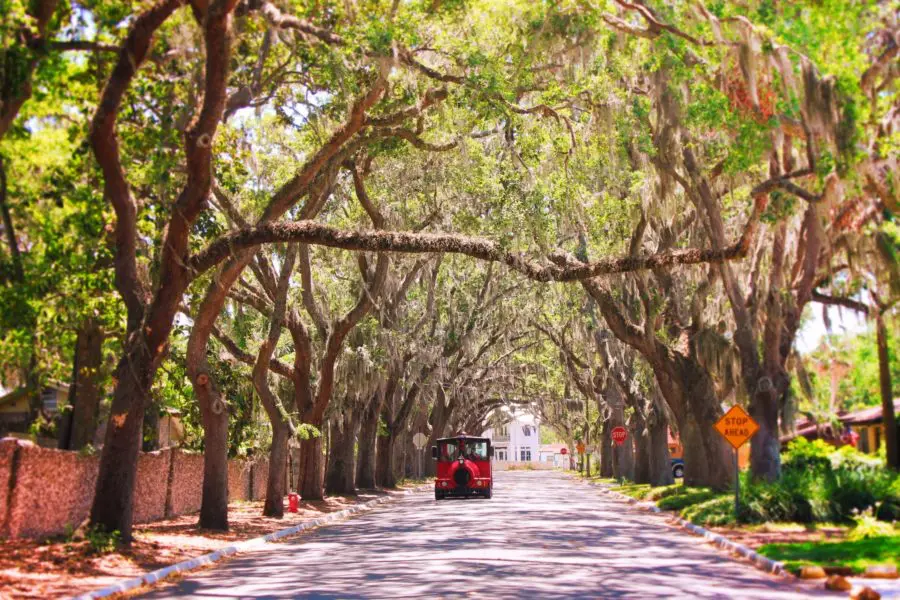 Golf Cart tours of downtown Saint Augustine
I know, this sounds weird, but this was so much fun and such a great way to explore downtown Saint Augustine. The kids particularly loved it. During the busier times, such as Nights of Lights or summer events, leveraging the golf cart options is super smart. And fun. Book a Saint Augustine golf cart tour here!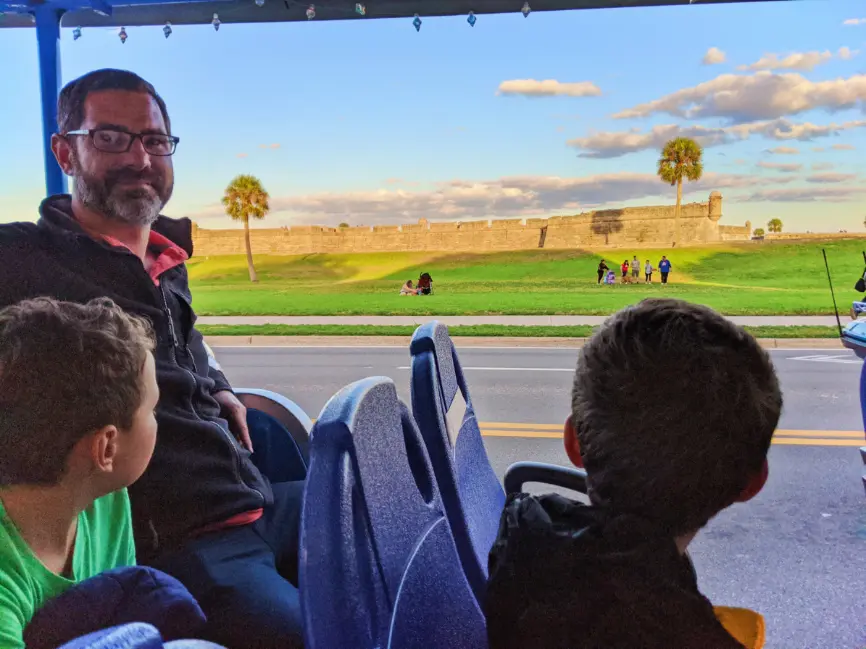 Parking for downtown Saint Augustine sites
Of course you can also explore and enjoy Saint Augustine on your own. There aren't a ton of city-managed parking lots, but for sure there are enough to consider parking downtown convenient. Below you'll find a map of the best parking in Saint Augustine. You should be able to pay using a credit/debit card at any time. Should you be parking after 5pm, most parking is free, so double check any parking signs.

We've spent so much time on Florida's Historic Coast both before we lived here and now everyday, that we love it and thoroughly enjoy people coming to explore our home. If you have ANY QUESTIONS about anything we covered here or that we skipped over, please leave a comment or send us a note. We're happy to help you plan your Saint Augustine vacation and make it as memorable as possible!
And if you'd like to pin this for when you're planning your Florida's Historic Coast trip…