Most of us who grew up in the USA had lots of history classes that referred to all kinds of sites and events on the East Coast, and specifically Virginia. The Historic Triangle is the name of one of the coolest places to visit in Virginia: Williamsburg, Jamestown and Yorktown.
Between visiting the Jamestown Settlement, Yorktown and Colonial National Park, and then Colonial Williamsburg itself, you'll learn a ton and have a blast doing it!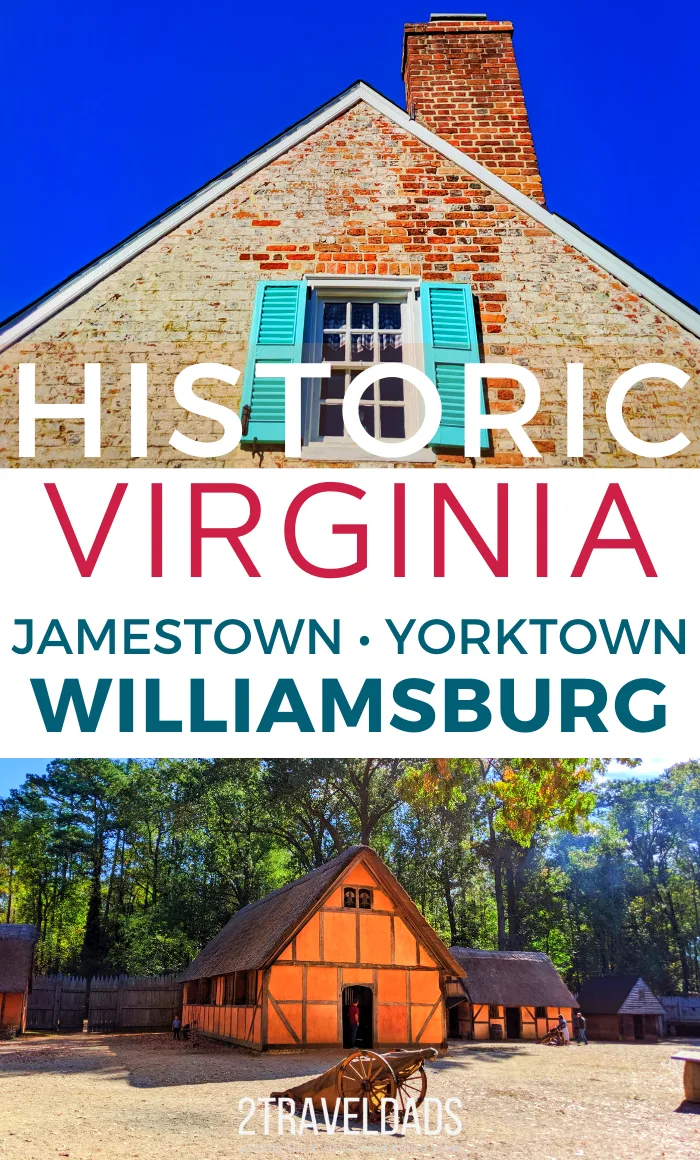 Historic Triangle Pass
The Historic Triangle Pass is an easy way to gain access to several historic sights and attractions in Southeast Virginia. Included in the pass:
Admission to Colonial Williamsburg

All exhibit buildings

Non-specialty tours

Art museum access

Jamestown Settlement

Complete museum exhibition

Living history village

Indian village

Jamestown tall ships

Yorktown sites

Museum of the American Revolution

Colonial National Park sites (including Historic Jamestowne) – also covered by America the Beautiful Pass
The cost of the Historic Triangle Pass is (as of 2019): $89 – $110 for adults (16+) and $41-$50 for kids (6-15 years old), depending on time of year and special sales. If you're planning on hitting most of the sites and attractions included in the pass, the savings is at least $10 per person if you're only planning to visit the big sites, but much more if you're doing everything. Buy your Historic Triangle pass in advance here!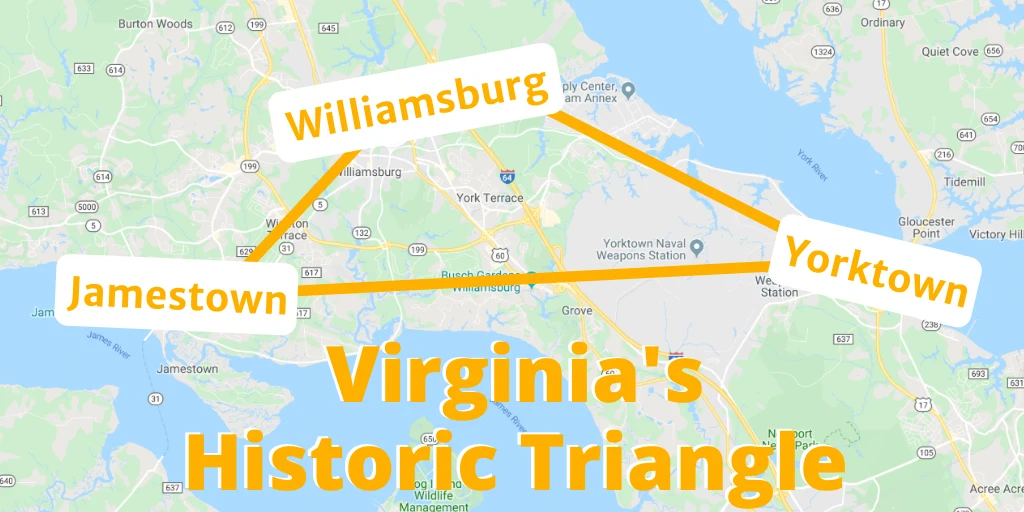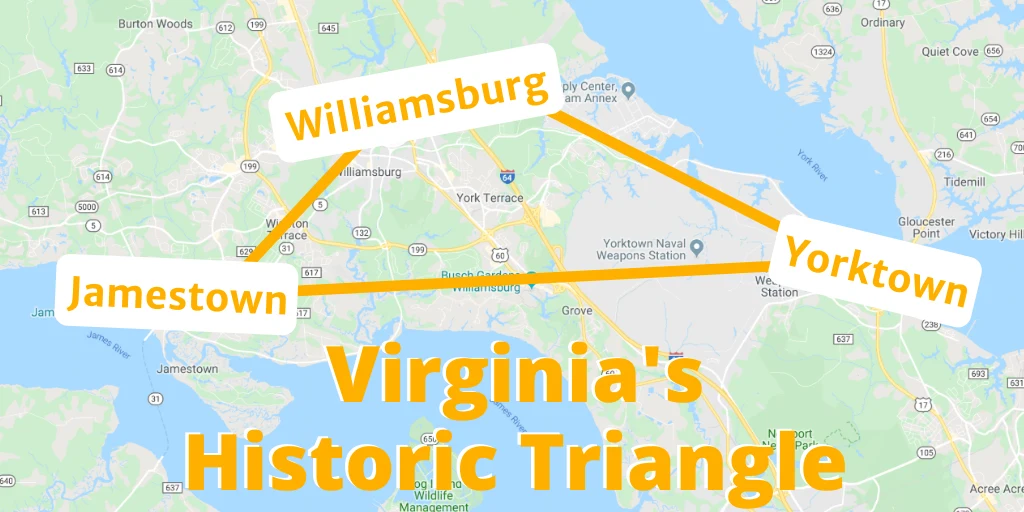 Visiting the Jamestown Settlement
Jamestown is much more than just an archaeological site. It's a complete historic experience, both inside and out. There are a few different areas to visit for a complete experience. Purchase tickets for Jamestown Settlement here!
History of Jamestown
Settled by the British in 1607, Jamestown was the site of the Virginia Company's first village site. When they arrived they needed food and to figure out their place in the land. Over time, they killed or displaced countless indigenous people and claimed the land for their own.
The story of Pocahontas is centered around Jamestown and the relationship between the existing residents, the Powhatan Indians and the British settlers. The stories you see in Disney movies or learned in school aren't entirely accurate as to the glossy side of things, but give enough of the story that you can figure out what actually happened if you think about it.
Tip: spend time actually reading the information and watching the videos at the Jamestown Settlement to get the full picture of what happened at Jamestown, from the Indians to the Africans who lived there.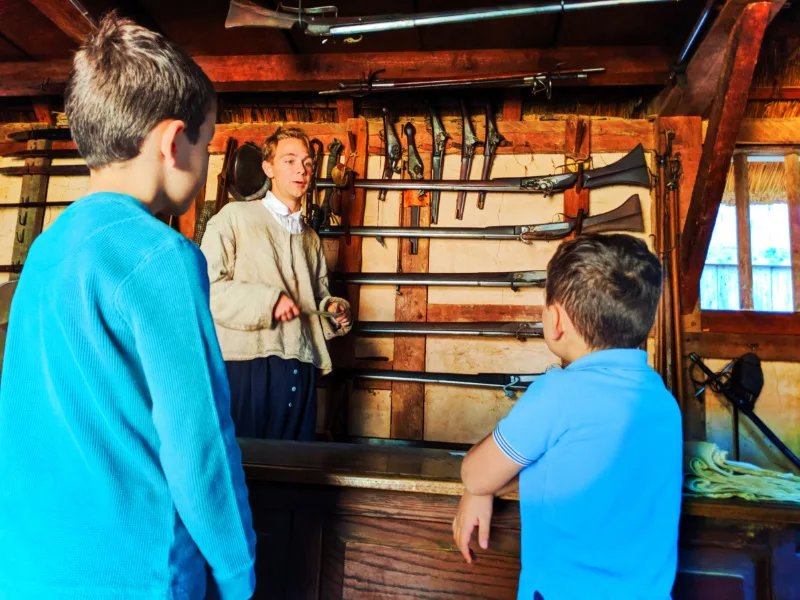 Things to do at Jamestown Settlement
Because Jamestown is our recommended first stop when you do the Historic Triangle, we recommend getting there at opening and being deliberate in how you spend your time. Allot at least two and a half hours for getting the full Jamestown Settlement experience.
Exploring the Jamestown Museum
the museum at Jamestown Settlement is really amazing. We spent about an hour and a half going through Reading the exhibits and watching some of the videos. We could have spent three hours.
A combination of dioramas and movie Set like exhibit areas, the Jamestown Museum is one of the best historic Museum spaces we've ever visited.
Tip: this is a great place to encourage big kids who are just getting into reading to really take time understanding history. The combination of reading and interactive exhibits is excellent.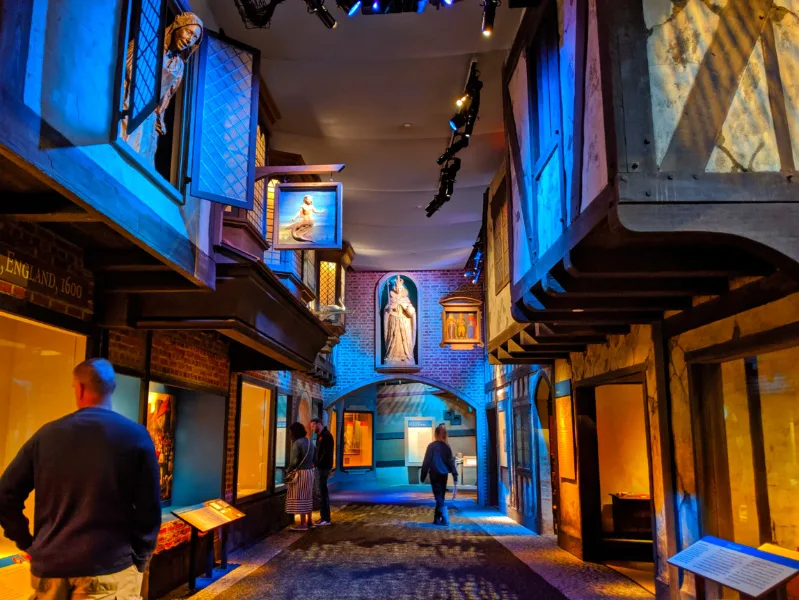 Living History at Jamestown: tall ships and village life
The living history areas at the Jamestown Settlement are super fascinating for both kids and adults. You can visit in Indian village, several sailing ships, and walk through the village. Each has very different experiences.
In the village we saw traditional Craftsman making native crafts and building tools. On the ships we learned about sailing life in the voyage across the Atlantic. In the village it was a lot of demonstrations around 16th century life.
The best demonstrations we felt were the blacksmith shop, the kitchen, and the musket demonstrations. The staff was all very knowledgeable and ready to share an answer any question.
Tip: since most of the living history areas are not directly next to outdoor fireplaces, have your visit in the fall or winter be sure to dress warmly. The Jamestown Settlement is located just off of the James River and the breeze can be quite cool.
Although the historic triangle does include Colonial Williamsburg, spending time doing the living history experience at the Jamestown Settlement is definitely worth it and you'll be glad you did.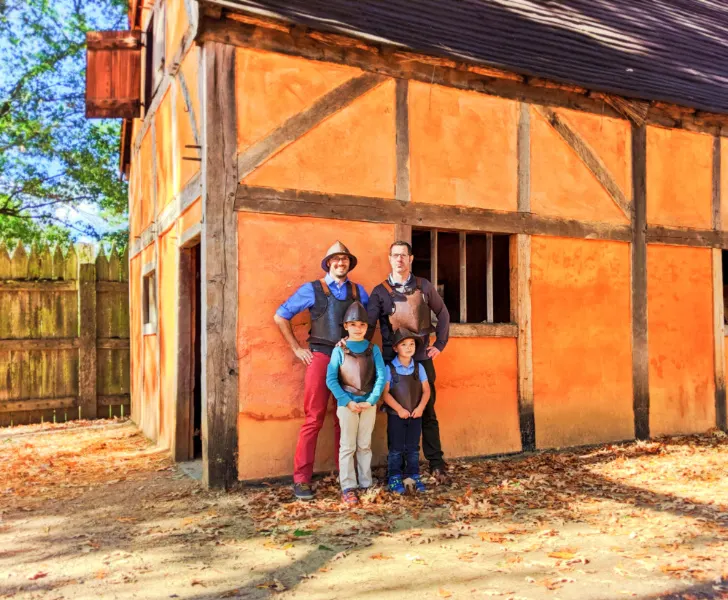 Visiting Jamestowne Archaeological Site
The last part of the Jamestown area is the National Park site. Historic Jamestowne is a part of Colonial National Park. Here you can check out the remnants of the original Fort James as well as several other pre-colonial ruins. Like at the Jamestown Settlement, there are also costumed interpreters.
Entry into Historic Jamestowne is included with either your Historic Triangle Pass or Colonial National Park admission. It's also included if you have a National Parks pass such as an America the Beautiful Pass or Access Pass.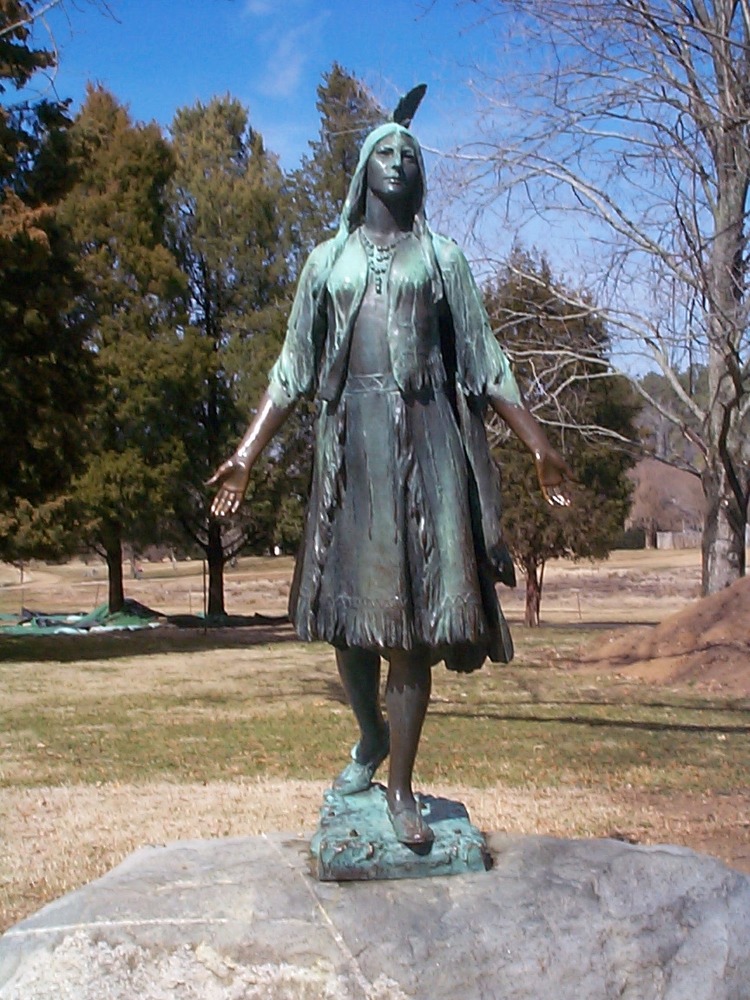 Visiting Colonial Williamsburg
We definitely want to encourage you to check out our full article on Colonial Williamsburg, but here are the highlights and why it's also worth your time when visiting the Historic Triangle. Get advanced tickets for Colonial Williamsburg here!
Top sights with kids at Colonial Williamsburg
Colonial Williamsburg could be an entire day's activity. We actually have an article about exactly have to spend a full day with kids. The things not to miss though include the Governor's Palace, the Market Square, and at least one Colonial dining experience.
There are so many layers of history, in both revolutionary war and 18th century life, that you could do every guided tour and still be ready to learn more.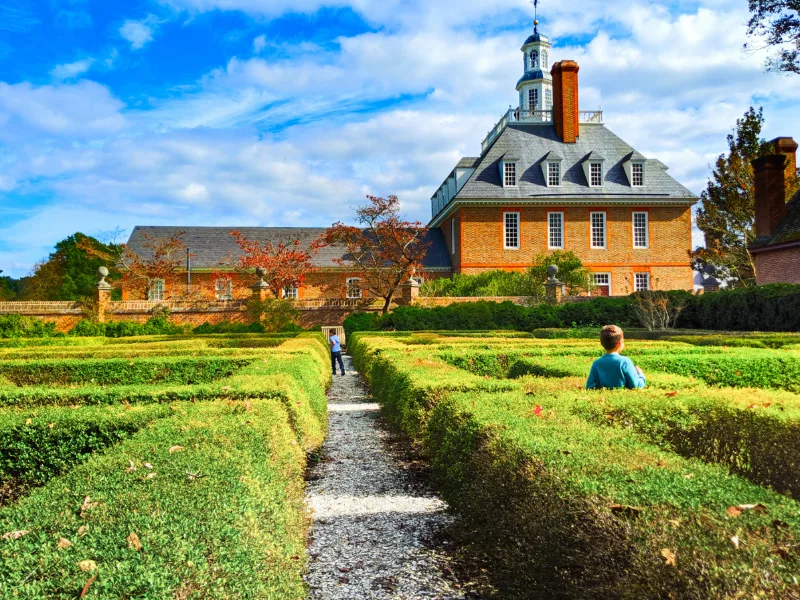 Best activities in Colonial Williamsburg
I know I just said that dining is something that you need to do while you're in Colonial Williamsburg but it really is true. The King's Arms Tavern is a wonderful candlelit dining experience with traditional foods and the coolest restaurant atmosphere we've ever experienced.
The Governor's Palace tour is also one of the best activities in Colonial Williamsburg. Meant to be interesting for all ages, you get to experience both be formal political side of the house and the fun in decorative side. It's pretty cool.
Lastly, taking time to go into the many artisan shops in Colonial Williamsburg is a must. Whether you want to see how bookbinding is done or you're interested in silver smithing, the many shops and demonstrations are amazing.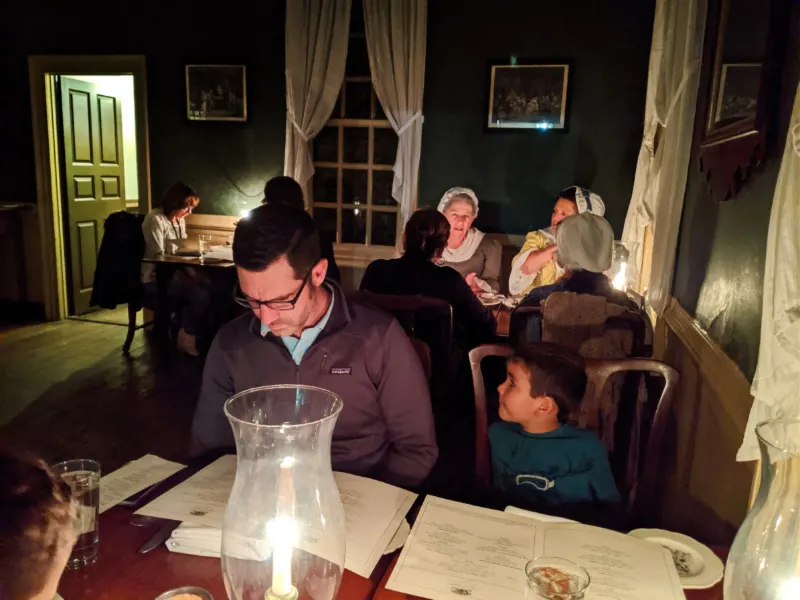 Exploring Yorktown, Virginia
Yorktown, Virginia is it part of the Historic Triangle as well. It is not a large town, but its historic district and waterfront make it a wonderful place to visit on a weekend trip to this historic region.
Colonial National Park sights
Colonial National Park is a combination of revolutionary war sites, including where the British surrendered. A comprehensive visitor Center has videos and exhibits to help explain both the revolutionary war as a whole and the importance of the Yorktown area. Check out more Virginia National Park sites here!
Exploring Colonial National Park is best done either on bikes or in a car. Between the military cemetery and the battlefields, there's quite a distance to cover.
Tip: be sure to stop in The visitor Center to pick up a map to guide you along the route to see the most interesting parts of colonial National Park. And don't forget to get your National Parks Passport stamped.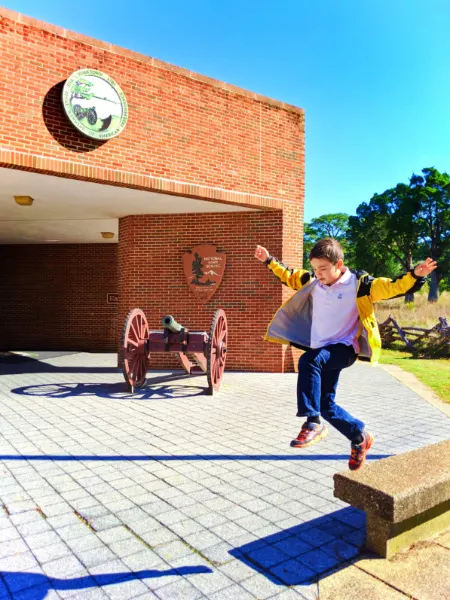 Uptown and Downtown Yorktown
Uptown Yorktown might be the cutest neighborhood we've ever walked through. Located above the harbor, the old neighborhood of Yorktown is still just as beautiful today as it was in the 1700s. Brick homes and government buildings are small in comparison to other colonial towns but they are the perfect backdrop for a beautiful day of exploring Virginia.
Tip: there aren't many businesses in the historic uptown area, but you can for sure grab a coffee and check out a gallery or two. Summertime offers more events so take that into consideration if you are visiting October through May.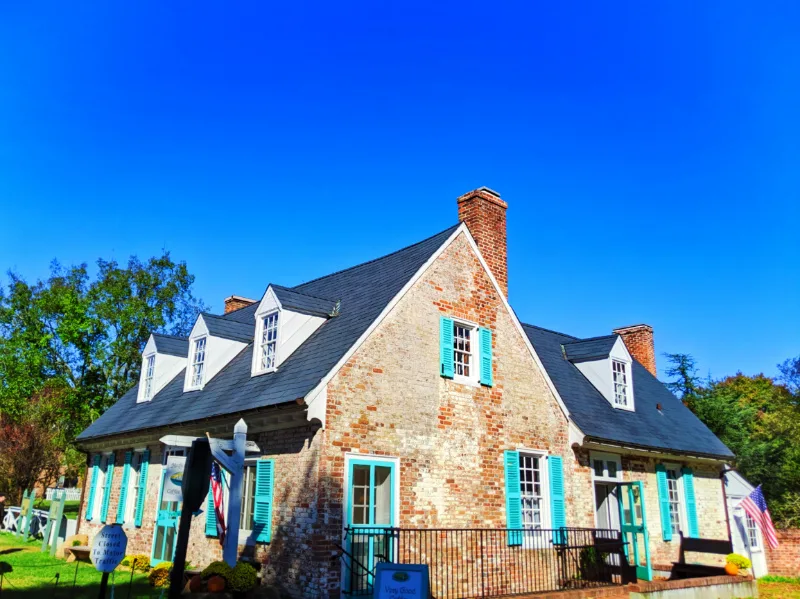 Easy to walk from uptown down to the waterfront. a long promenade gives access to Sandy Beach and lots of benches to watch the ships go by. Historic placards and statues as well as Cornwallis's Cave are all accessible from the waterfront promenade.
Tip: it's open with limited hours but the Watermen's Museum is a fun place to visit with kids to learn about the maritime culture of the Virginia Coast. It's not huge, but it has some cool features, including a reconstructed windmill and lots of nautical gear.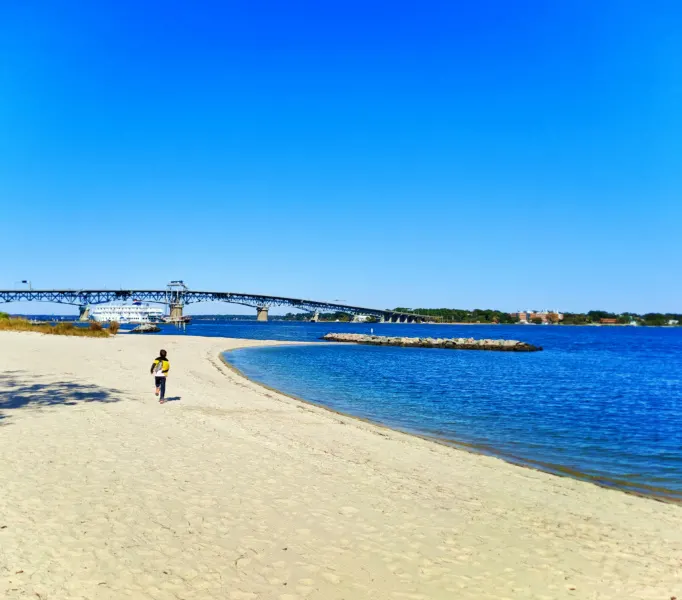 American Revolution Museum
The gem of Yorktown is definitely the American Revolution Museum. Admission to the museum is a part of your Historic Triangle Pass or you can purchase it as its own ticket (in-person at museum). Combo Yorktown/Jamestown historic sites ticket here!
The most comprehensive of any museums addressing the revolutionary war, it will take you a few hours to get through the American Revolution Museum. There is a cafe on site as well as picnic areas if you would prefer to bring your own lunch.
Tip: this is a popular school field trip destination so take into consideration when you are planning to visit the American Revolution Museum knowing that you may be sharing the space with a hundred or more kids.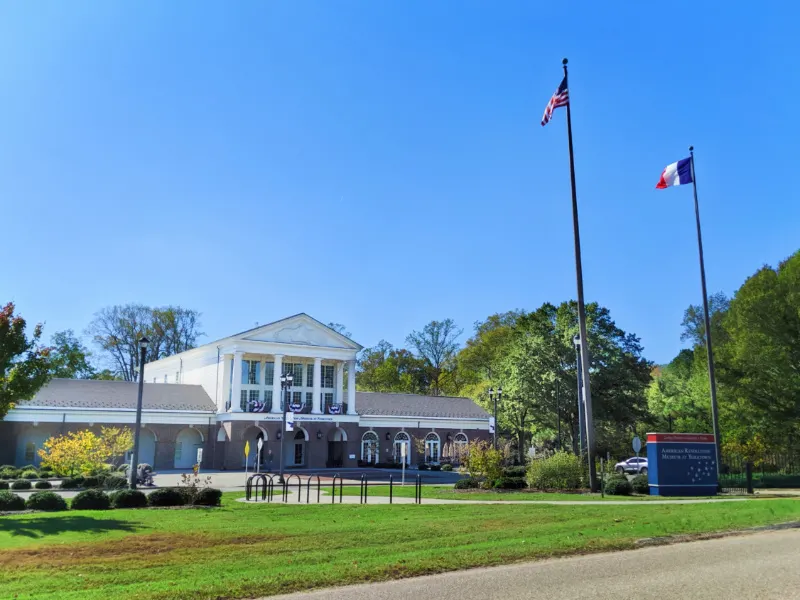 How to plan your time exploring the historic triangle
Let me start by saying that one day is not really enough time to visit Jamestown, Colonial Williamsburg, and Yorktown. You do need at least two days to get the full experience, but three are recommended. As you make your plan, consider the driving time between sites, which can be up to 40 minutes. We recommend doing Yorktown and Jamestown in the same day, and then doing Colonial Williamsburg on its own day. Add another day if you want to cross the big bridge and visit Cape Charles and the peninsula.
Even though the drive time isn't bad between any of the sites, limiting your time in the car is always nice. If you're going between Jamestown and Yorktown, you can add in a stop in the Newport News area for lunch. #geniusidea
Tip: for a trip that also has a crazy spin on it, add a day at Busch Gardens Williamsburg. Crazy roller coasters and theme park attractions! Get advance tickets for Busch Gardens here!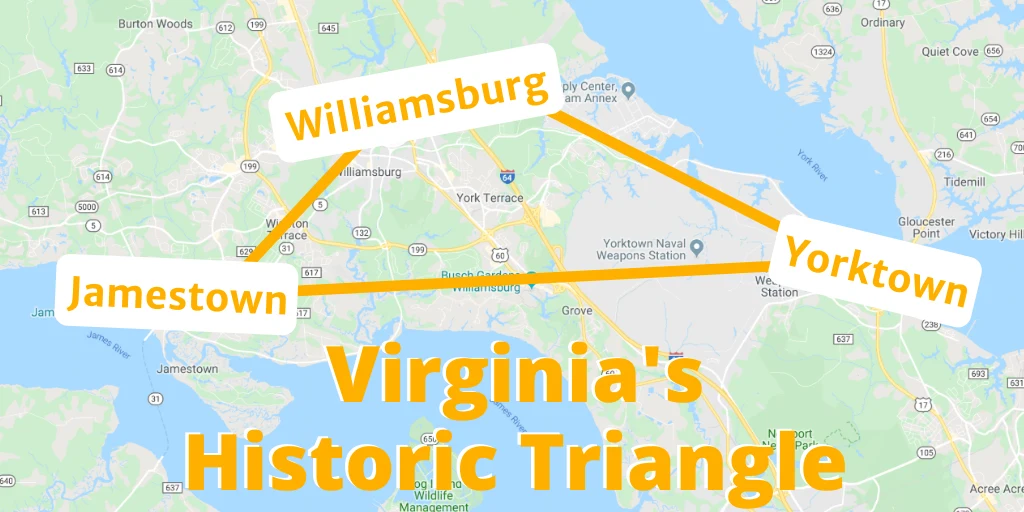 Where to stay in the Historic Triangle
All around Williamsburg you'll find a variety of resorts and charming B&Bs, but also travel brands you'll find elsewhere. We visited with Best Western Hotels and Resorts, so had three options for our weekend in the Historic Triangle.
Search Best Western hotel options here! (this is for booking directly through BW)
Best Western Historic Area Inn
The Best Western Historic Area Inn was our home base while we visited Jamestown, Yorktown and Williamsburg. We enjoyed the location, as it was just outside of the business of the resort areas, including the Busch Gardens theme park, and it was easy to get to Yorktown.
Since it's a Best Western property, daily breakfast is included, as well as wifi, a fitness center, pool, and lots of great public spaces. Our room was quite large and ideal for the four of us for two nights. Really, it was perfect for getting good rest and relaxing at the end of the day. Book BW Historic Area Inn here!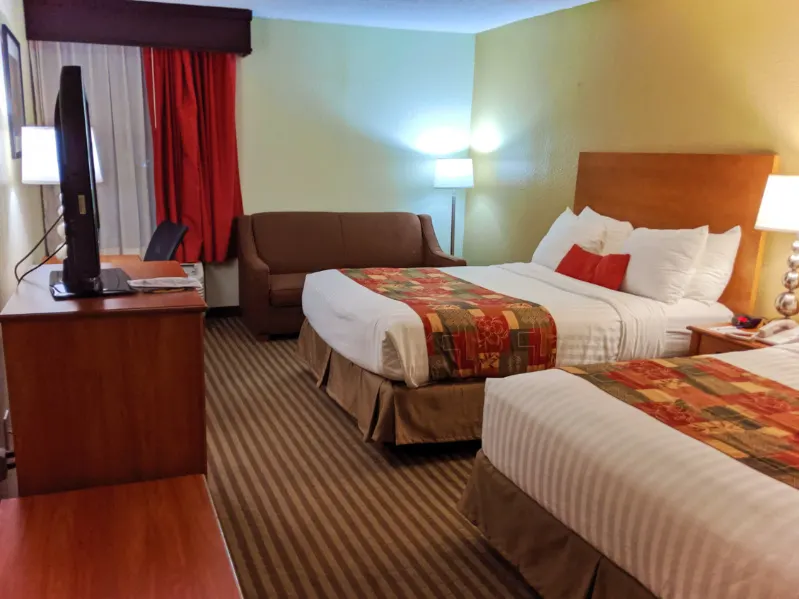 Best Western Williamsburg Historic District
Located very near to the Historic Area Inn, it's another Best Western option. The main difference is the walk-ability, being less than a 15 minute walk into the historic colonial preservation area. The public areas of the BW Williamsburg Historic District also are more grand, but as we didn't stay at this property we cannot provide too much detail. Book BW Williamsburg Historic District here!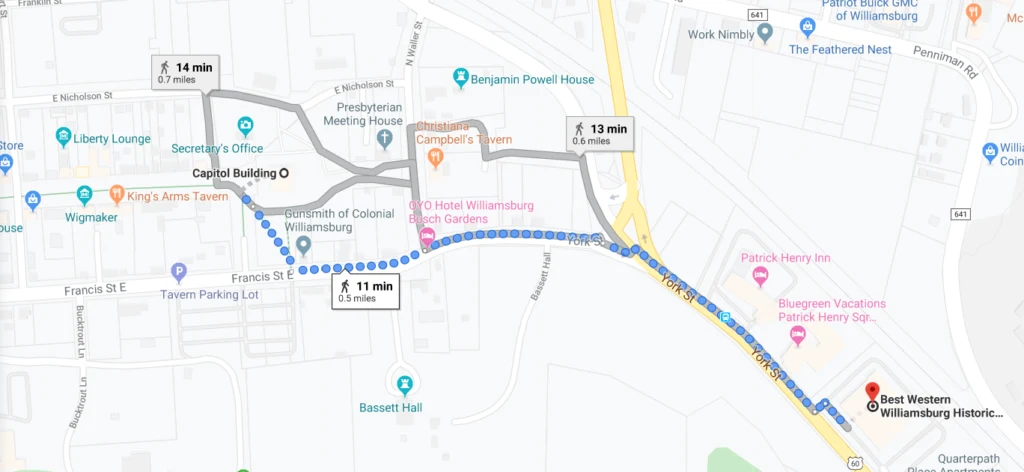 Best Western Plus Newport News Inn
Just beyond the immediate historic area of Williamsburg, the BW Plus Newport News Inn is located between Jamestown and Yorktown to the south. Also, it's near the Newport News / Williamsburg International Airport, and that's why this is another great option for a home base! Book the BW Plus Newport News Inn here!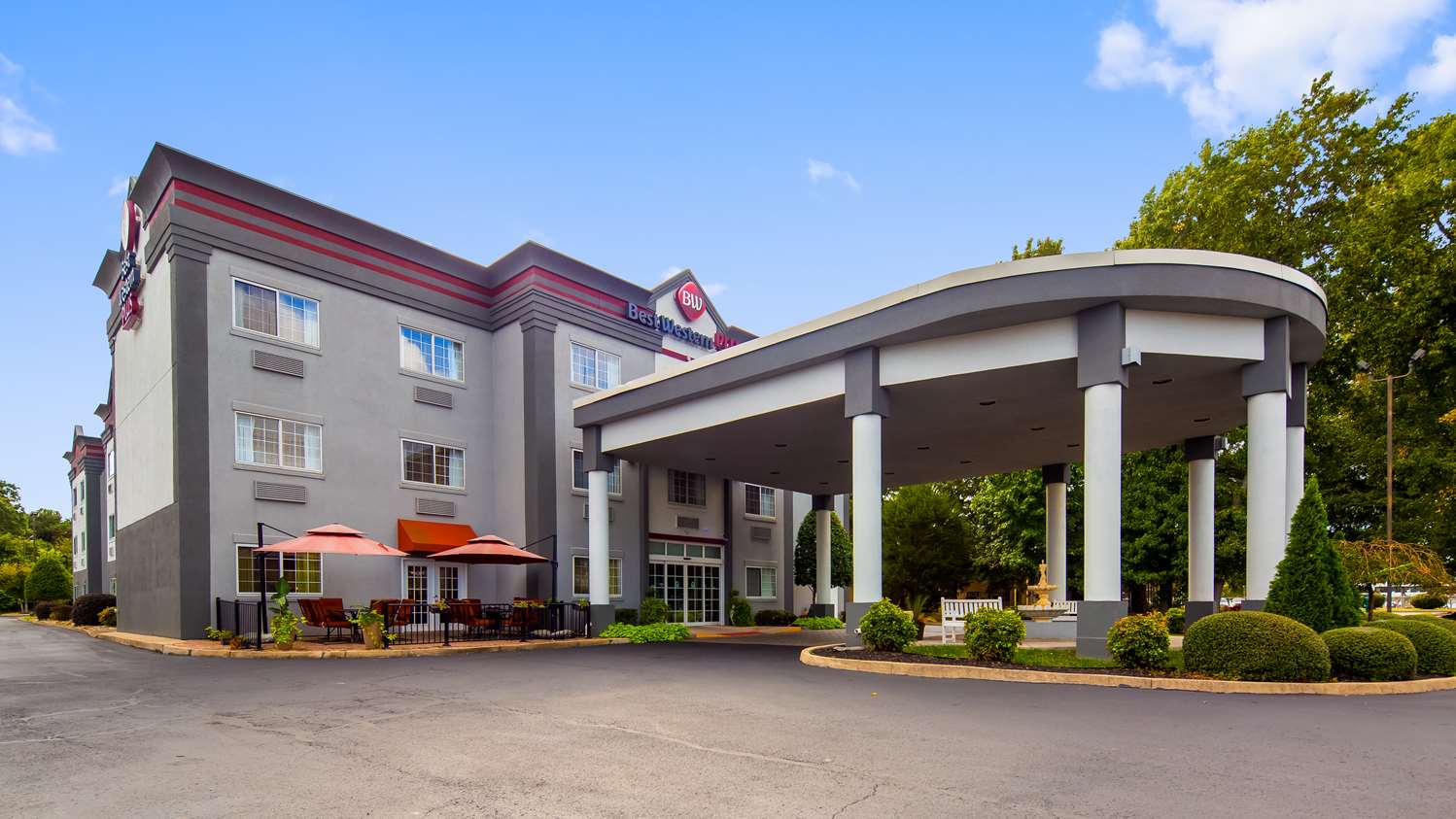 Woo hoo!!! Who's up for an awesome trip to explore Virginia's Historic Triangle? I cannot wait to go back. Even though we had two days, we know we'll plan for three or four for our next trip. Please let us know if you have any questions. Either leave a comment or send us a note and we'll help you out!
Want to pin this for planning your own trip to Jamestown, Yorktown and Williamsburg? Go for it!!!