We've loved visiting the Santa Maria Valley of California for years, ever since our first visit in 2017. We wanted to take a different approach to visiting on our most recent trip, so went with the theme of agritourism. Of course we still enjoyed the beach and nature of the Central Coast, but California agritourism with kids was a hit in more ways than just a fun vacation.
Why the Santa Maria Valley for California agritourism? For three reasons:  diversity of farm experiences; wonderful, welcoming people; and it's gorgeous. Just keep reading…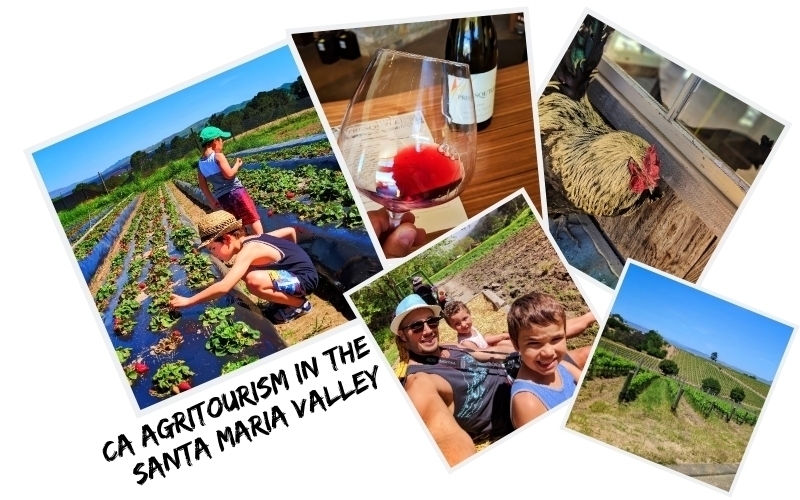 What is agritourism
We love agritourism because it's a very different way to explore and learn. If you're not familiar, agritourism is the approach of tourism through the lens of farming and agriculture. It's visiting and interacting with farmers and experiencing both the work and the joy of farming. One of the biggest benefits of agritourism with kids is helping them see and understand where their food comes from.
Tip: a good conversation to have with kids is regarding sustainability and organic farming and labeling. When you start visiting farms and vineyards, you'll see signs and you'll hear farmers talking about what they do to ensure they're growing the best produce possible, so it's nice to lay some groundwork.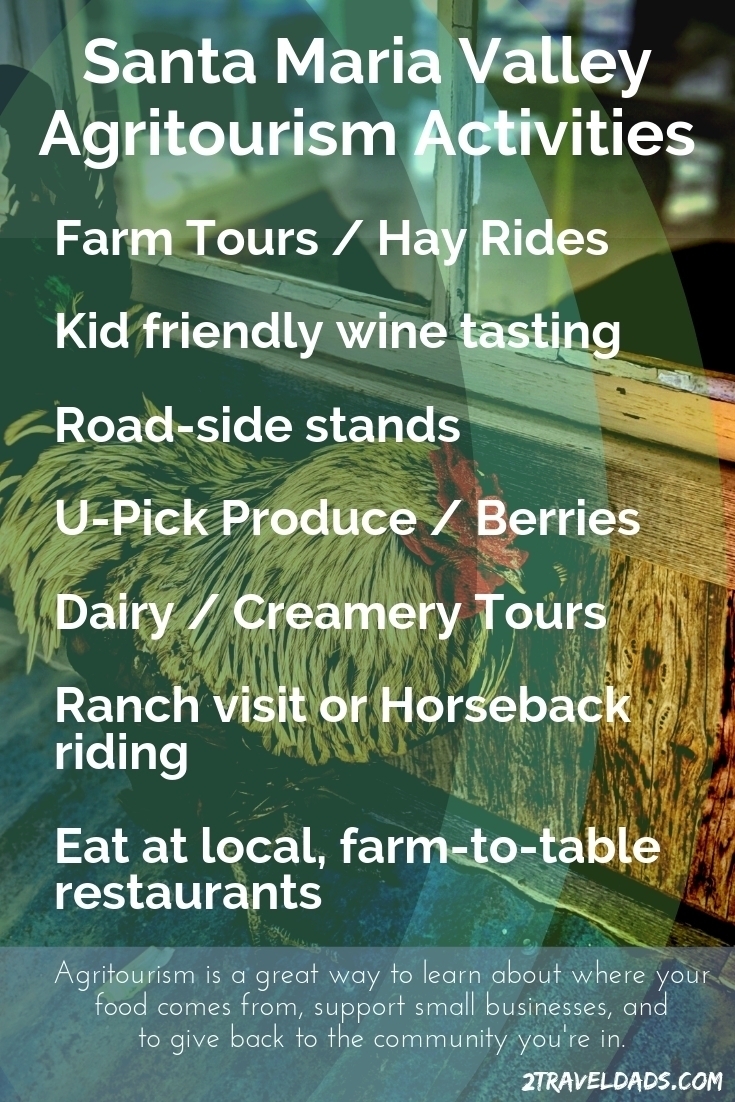 California Agritourism in the Santa Maria Valley
The Santa Maria Valley is located about 2.5 hours north of Los Angeles and about a half hour south of San Lusi Obispo. With the ample sunshine and cool coastal air funneling up the valley, it's an ideal place for growing countless crops, particularly grapes. And cabbage. And cutting-flowers. Everything.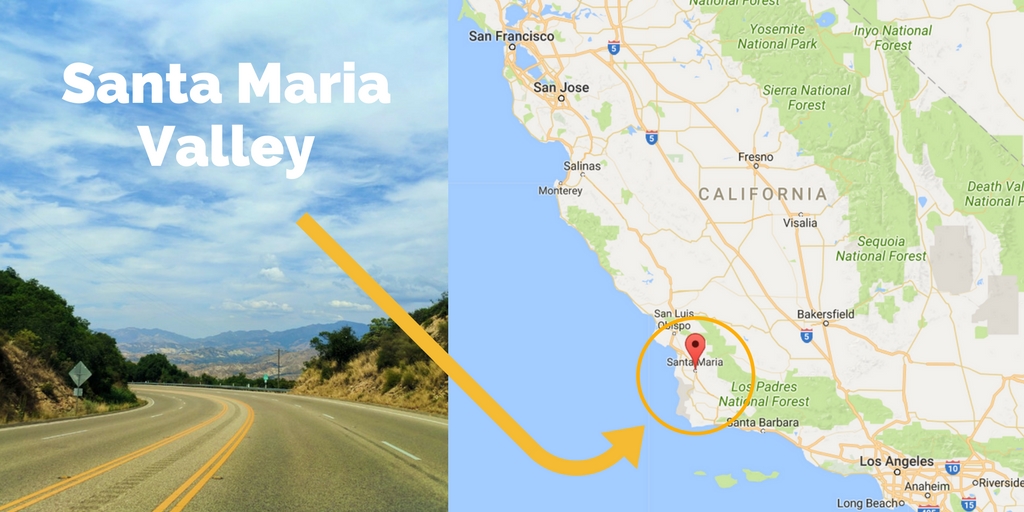 U-Pick blueberries, strawberries and more
Our first California agritourism stop was all about fruit farming, particularly berries. We paid a visit to U Pick Blueberries (check out their Facebook page) in the heart of the Santa Maria Valley. Here, the kids were escorted to the blueberry and strawberry rows, shows what to look for in ripe fruit, and some key skills for being efficient in your picking. Then they went to town.
U Pick Blueberries is a family run farm, so everybody is involved. Their own kids are around so they're invested in making sure that they're growing clean, healthy fruits. And since they aren't using pesticides and chemicals on their produce, you're encouraged to sample as you pick. California agritourism with kids is all about giving them a sense of enjoyment and understanding when it comes to their favorite snacks, and in this case, blueberries and strawberries.
Tip:  when you do U-Pick of any sort, expect to pay the same prices or slightly more than you would for organic produce of the same type at the grocery store. The benefits of picking your own fruit are the fun, sense of place and immersion in the experience. It's worth a little extra.
Why should you visit U Pick Blueberries? Because yum. You actually would be surprised to find how much more flavorful fruit is directly from the plant when it's perfectly ripe. It may be a little addicting, so be cautious about how much fresh fruit you eat in one sitting… or picking. Check out our guide to Rochester NY for more agritourism ideas, including apples and sunflowers.
For more information check out the Local Harvest website to see more options for varying types of U-Pick and farm-to-table, local options.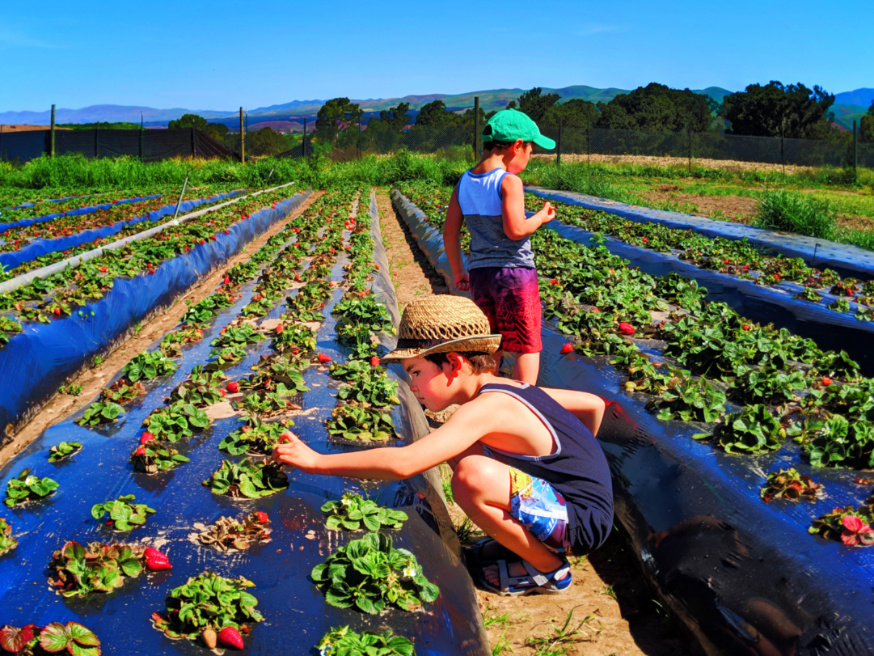 Organic farming and beneficial insects in farming
If you meet an organic farmer they are more than happy to tell you all about their practices and products. We got the full rundown from the farmers at UPick Blueberries regarding their methods and the work that goes into keeping their plants healthy. The kids were fascinated to learn about mites and introducing beneficial insects to help keep pests down. I mean, add bugs to anything and you've got their full attention.
Tip:  if you're a gardener yourself, do a little research on ways to grow your own produce and flowers organically. You'll be surprised how easy it is to leave out the chemicals and love all the goodness.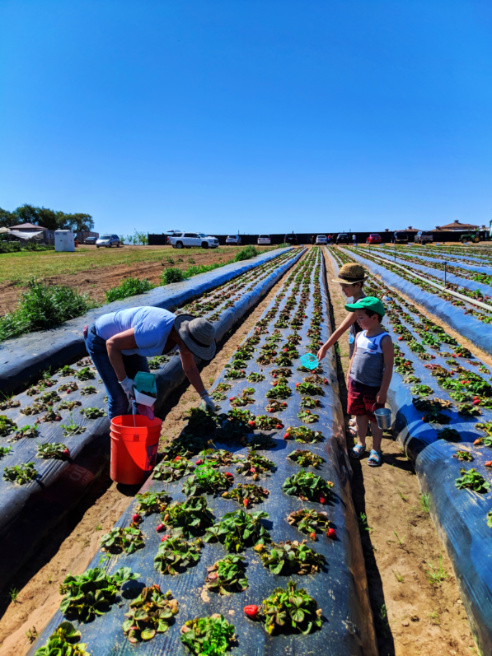 Visiting the Luffa farm with kids
First thing's first: luffas and sponges are two VERY different things. Not the same. At all. When we pulled up to the Luffa Farm in Nipomo we had no clue what we were doing or why, except that it was a part of California agritourism so worth the time to learn something. OMG, super cool and wow, plants are amazing!
Almost from the moment we arrived at the Luffa Farm the kids were working (by choice). So, how you get luffas for the shower/bath is actually from gourds, like squash. They are grown in greenhouses and mature very quickly, much like zucchini. They wither on the vine and then once dry, are peeled and sold as luffas. We were surprised and amazing. And peeling luffa gourds is a really zen activity for kids.
Why should you stop at the Luffa Farm? Simple. Seeing where an everyday product comes from and supporting a small, local operation is an interesting and uplifting experience. The farmers are passionate about their process and product and love to educate visitors.
Bonus: stop into the shop at the Luffa Farm to get your own natural bath products including tallow-free glycerin soaps. The kids picked out cool shapes, including dinosaur soaps, which is a pretty cool souvenir.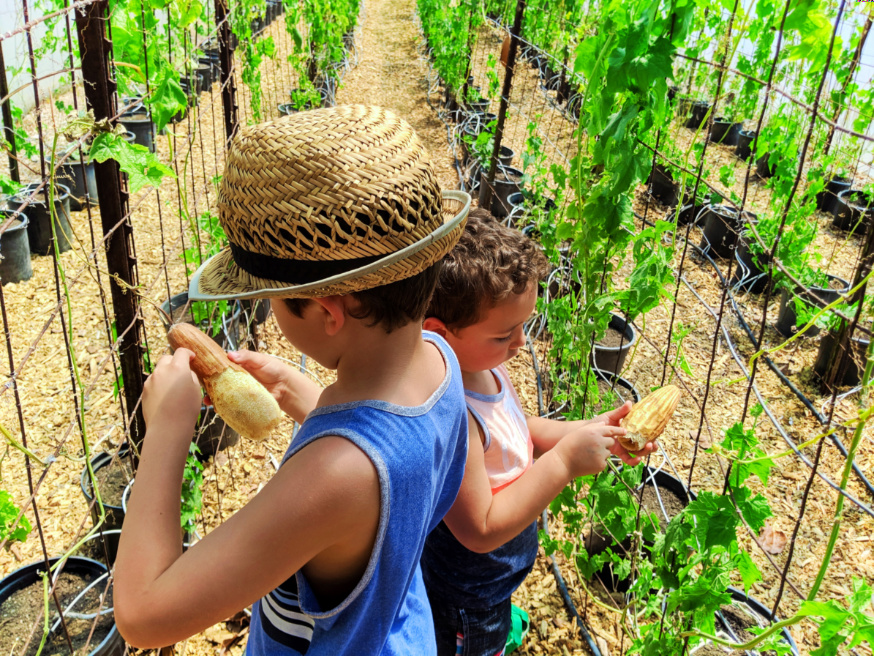 Santa Maria Valley wine country
Someday we'll get to do a trip through the Santa Maria Valley wine country that's dedicated to vineyards and wine tasting. It's so easy though to add it to a California agritourism itinerary though; it's super simple to make a short visit to any number of wineries. We have a few recommendations for kid friendly wineries in the Santa Maria Valley:
Presqu'ile Winery – Santa Maria – estate winery with vineyard onsite, tasting room, limited food menu available, outdoor space for relaxing with the family. Horseshoes and bocci ball are available to add a level of fun and relaxation to the visit. Tip: if you happen to be a member, there's a nice private patio with lounge space and Foosball away from the weekend crowds.
Cottonwood Canyon Vineyard – Santa Maria – part of the Foxen Canyon Wine trail, the first wine caves in the region are here (really cool with kids)
Ca del Grevino – Los Olivos tasting room, Santa Maria vineyard – the Los Olivos tasting room is just outside of Santa Maria which makes it easy to visit in the afternoon on your way in or out of town. Tip: get a tasting platter to share with the kids. Loved it at their old tasting room on our first visit to the Santa Maria Valley.
Something awesome to look for when visiting Santa Maria Valley wineries are notes and signage about their sustainability and water conservation. Droughts are no joke and you'll no doubt hear about them if you're exploring California agritourism, so hearing what the individual farms and vineyards are doing to conserve water and manage their resources appropriately is really cool. For example, Presqu'ile Winery participates in the SIP Certified program: Sustainability In Practice.
Santa Maria Valley wine highlights include some kickin' Pinot Noirs and Dolcettos. Due to the climate (remember the cool air I mentioned) and the terroir (said terr-wah), the area produces some delicious cool climate grapes in addition to the standard cabs and chardonnays. If you get the chance to taste a variety of Pinot Noirs side by side, you may instantly feel like a certified sommelier, just because the wines can vary so greatly all within the same appellation.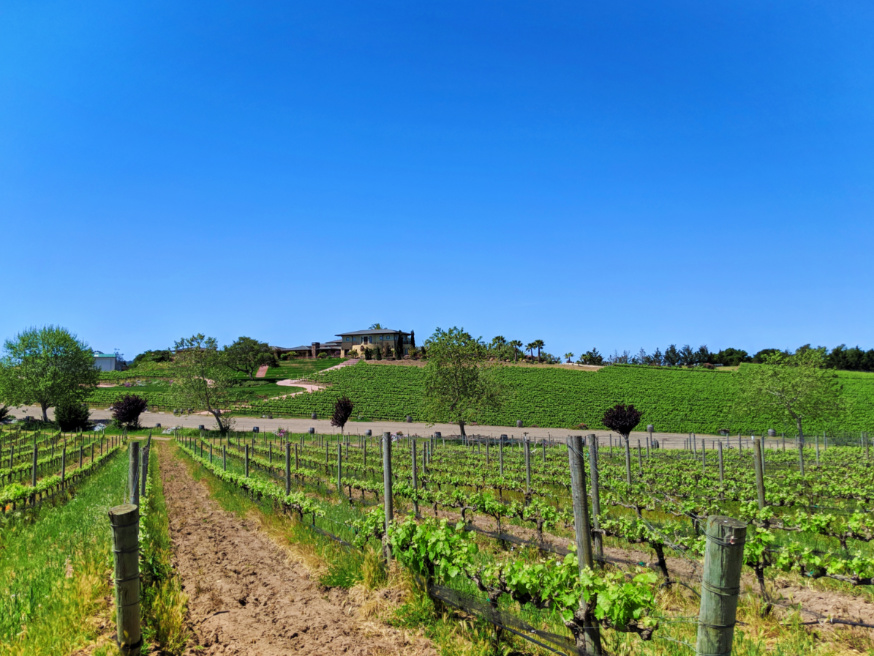 Tips for wine tasting with kids
I'll be honest that the most enjoyable wine tasting happens when you don't have kiddos with you, but there are ways to make a winery visit fun for them too. Wine making is all about science! When visiting a winery, particularly one that has a vineyard or production facility attached, there are lots of interesting steps to wine making that kids will enjoy. From stomping the grapes (seasonal, in fall) to touring cellars and wine caves, wine tasting can be very family friendly.
Tips for wine tasting with kids:
Prepare your own kid-friendly tasting in advance (apples, cheese, juice)

Choose a winery that notes kid or family friendly on their website (call for details)

Bring an activity for the kids – we bring coloring books or

The Ultimate Travel Journal for Kids

Invite your kids to ask questions of staff, particularly the farmers or winemakers
With a little planning wine tasting with kids can be really easy and add an element of fun for adults on a California agritourism trip.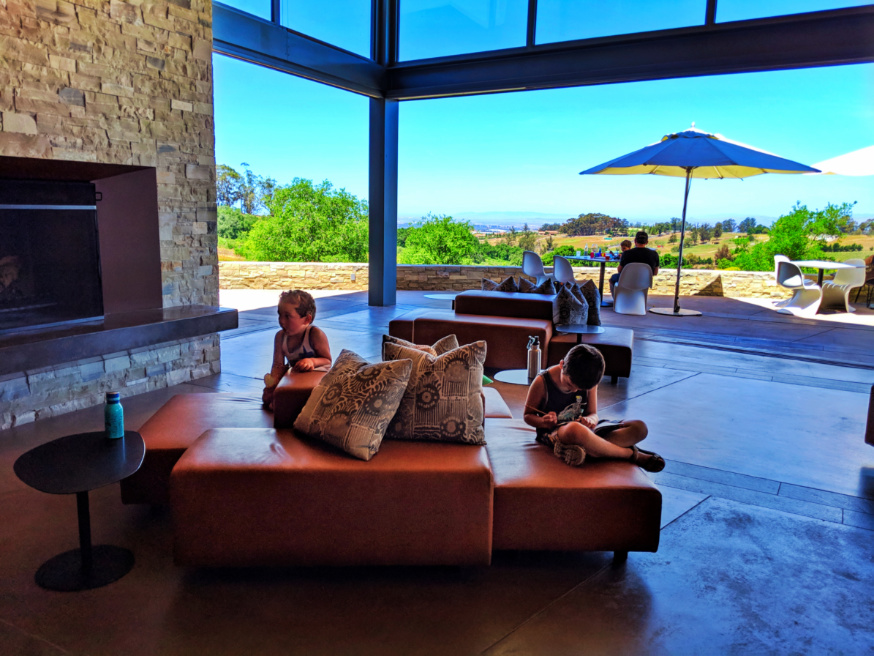 Farm visit: Avila Valley Barn
When we were first recommended to visit the Avila Valley Barn, just north of Santa Maria, we were told it was great for seeing farm animals and bringing home a farm-fresh apple pie. While both of these are true, the Avila Valley Barn is also a fully operating FARM farm. The kids enjoyed feeding the goats and cows, but they also LOVED the farming operations.
We hopped on the hay ride and got a guided tour of the full farm, from the free-range chicken pasture to the artichoke fields and apple orchards. We learned about guinea fowl protecting the free-range chicken flock, about crop rotations for better produce, natural composting through planting (mustard crops, who knew?!) and more.
Bonus: they do a full BBQ on the property as well as cider pressing, baking, and run their own produce stand. You can't get more local than this.
Why should you visit the Avila Valley Barn? This is a fantastic working example of how a traditional farm runs. They raise crops in additional to animals, so as a sustainable model, it's nearly perfect. Since it's built around a stream and walnut grove, it's also very well immersed in the natural landscape of California's Central Coast. It's a treat to visit, and perfect for anybody interested in California agritourism.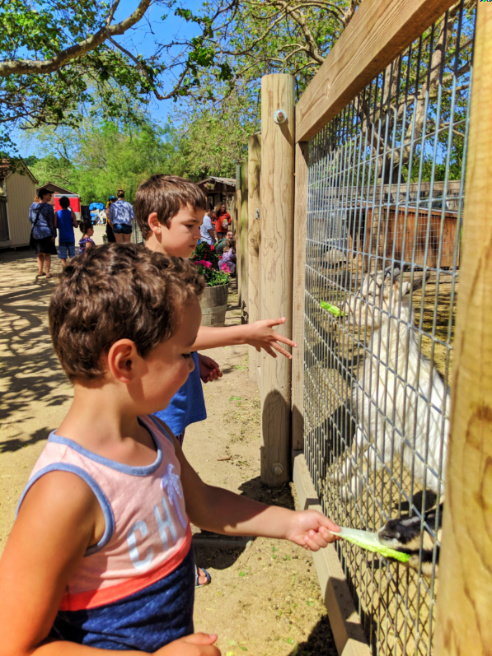 Crops everywhere: knowing where your food comes from
We didn't just visit farms as we toured the Santa Maria Valley, we enjoyed delicious food and perfect beaches too. What amazed us all, including the kids, was the presence of crops everywhere. You can't get from one town to another without driving past fields of broccoli or people picking strawberries. Farm country is everywhere bordering every town.
Tip:  visit the Santa Maria Valley in April for the Strawberry Festival. Perfect time to eat everything strawberry and meet the locals!
Driving between the produce fields, we were starting to get good and guessing what type of crop was in each plot. A few vegetables, like artichokes and cabbages, were quite surprising to the kids. The most valuable part of exploring the many fields was actually being able to put faces with the food. Teaching kids to appreciate all people and all jobs is important, and before this trip, they hadn't considered the many individuals who touch their food before it gets to them.
Note:  visiting farm country, particularly through California agritourism, really brings current immigration issues to the front of conversations. This gave us the opportunity to talk to our oldest about politics and the value everybody brings to our world.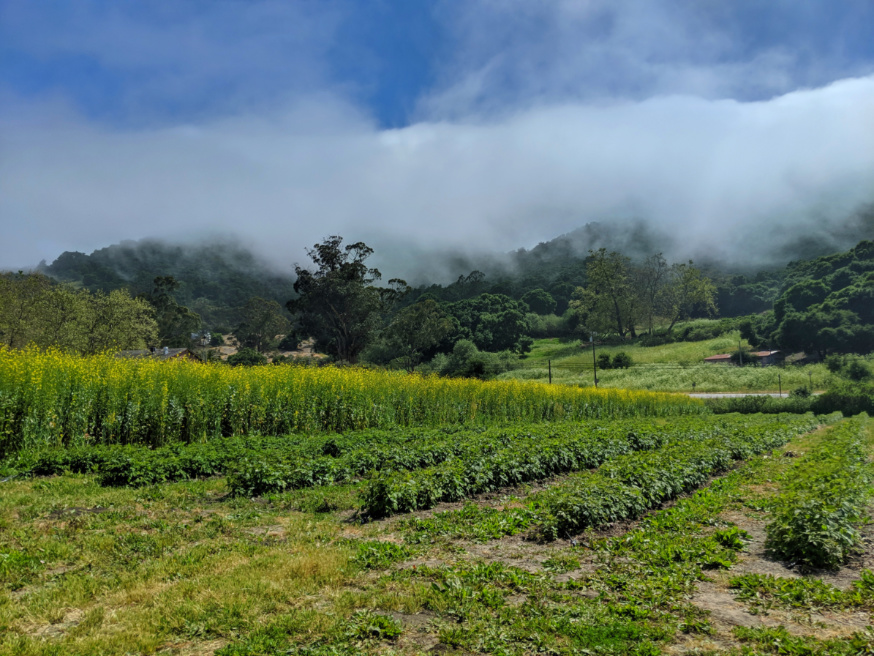 Supporting small businesses and artisans through California agritourism
There are both small and large farms as you explore the Santa Maria Valley. You'll find that with many of the stops you make, or even as you drive along, there are loads of opportunities to support the small businesses throughout farm country. Family run shops and artisan stalls are everywhere if you just keep your eyes peeled. We recommend checking out farm stands and boutique style sheds that you'll see along the way. It's a wonderful way to get souvenirs AND support the community you're visiting, which is our main goal in any trip!
Tip: supporting small, local businesses is a great way to both contribute to the community you're visiting and practice low impact tourism.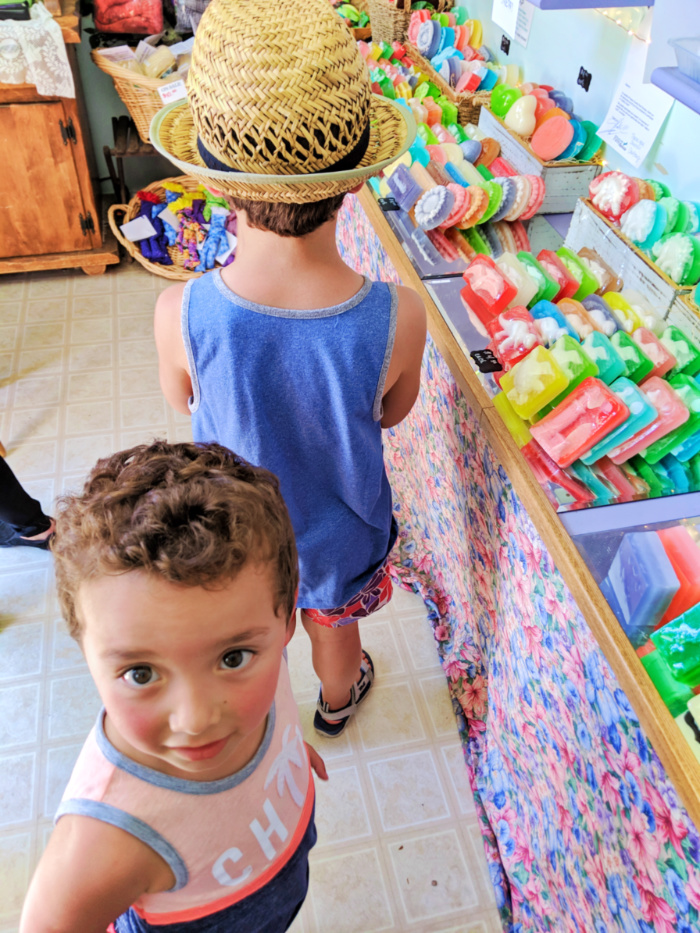 We love exploring the Santa Maria Valley any time of year. California agritourism turned out to be the perfect way to see a new side of the area and to explore new places. We look forward to returning to the SMV again and again.
Please check out our other article all about the Santa Maria Valley. It's loaded with more ideas for what to do and where to visit. Enjoy!
And want to pin this for your own agritourism travel planning? Go for it!!!