Family travel usually keeps us doing things like hiking and animal related activities, which we completely love, but what if we said that a new thing happening in Washington State adds a fun new aspect to family travel:  wine tasting.  That's right, family friendly wine tasting is happening in the Pacific Northwest.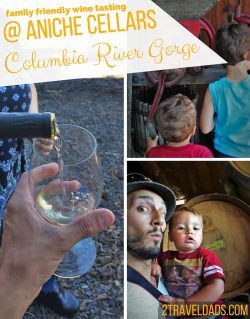 We travel to the Columbia River Gorge frequently, typically doing hikes to waterfalls and running through the High Prairie with the kids.  We did, once upon a time, find a winery that had some great outdoor space and we got to do a little wine tasting, but it wasn't really a great option.  On our last adventure in the Gorge we happened into AniChe Cellars in Underwood.  It was the most perfect family friendly wine tasting ever.  We'll tell you about where it's located, why it's awesome and why family friendly wine tasting is a parenting decision we make, because that always comes up with other parents.  Anyways…
Locale of AniChe Cellars
If you're visiting the Hood River area of Oregon, you'll need to cross the Columbia River to get to Highway 14 on the Washington side.  From there you'll need to turn North onto Cook-Underwood Road and the onto Little Buck Creek Road.  You'll find yourself climbing through the forest and then into hillsides of vineyards.  Once you see the nifty old rusty car and the AniChe Cellars sign, it's time for you to head up that little gravel road.
If it's a Saturday, you may want to park at the bottom of the driveway and walk up the hill.  We were there on a weekday so got to park by the tasting room… uh, or I guess the tasting barn.  It's just such a cool wine-tastic compound!
Why is it family friendly wine tasting?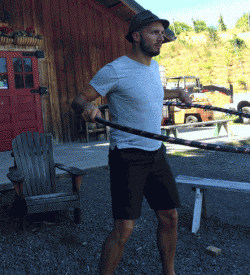 Before even getting the family friendly wine tasting party started, it was important to get the kids comfortable and relaxed.  The first thing we noticed were the hula hoops.  Seriously, because hula hooping in the sunshine is all that it took get the kids focused on having fun.  And then bubbles, because bubbles rock.  Having great kid stuff at the ready made our visit start out perfectly and made the kids feel completely at home.
And then they brought out snacks.  With cheddar bunny crackers for the kids and shady places to chill, we were good to go.  Oh, and there were snacks for adults too.  True, they were flavorful bits to be a part of the actual wine tasting, but when your kids have snacks and it's just the mood, it's okay to enjoy your cheeses, fruits and chocolates.  Why not?
The last aspect that sealed the deal on AniChe Cellars being family friendly wine tasting was the actual execution of it:  outside in adirondack chairs in the shade while kids ran around screaming and blowing bubbles, rolling hula hoops down the long hill and taunting the chickens who wanted all the snacks.  There was no rush through any of the generous pours and there was a fun story to go with each tasting.  Seriously, well done.
Note:  AniChe Cellars is a great place for family friendly wine tasting because the owner is a parent too (and former teacher).  She knows the importance of considering kids AND being able to relax as a grown up.  Bravo.
Was the wine any good?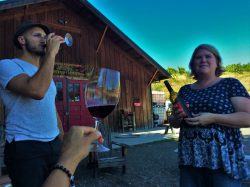 Of course!  Each of the wines from AniChe Cellars is named for a literary character and if you know your stories, I'm sure the wines match the titles just perfectly.  Oh, and keeping with the literary theme, there was a wonderful Where the Wild Things Are piece of chalk art in the tasting barn and some great quotes on the wine bag we left with.
There was quite a variety, mostly blends, of both white and red wines.  If you know anything about wine varietals, you'd appreciate some of the lesser known grapes AniChe uses, such as Albarino, Rousanne, Petit Verdot, and Cinsault.  Washington has some really productive wine regions and AniChe Cellars pulls grapes from at least three of them.  Having worked with wine previously, I was glad to see some familiar appellations with strong reputations.
Note:  the winemakers for AniChe are ladies, which might not seem like a big deal (and it certainly shouldn't be), but the role of "winemaker" is a predominantly male one.  Female winemakers are few and far between and we applaud them for breaking into the limelight… or winelight I guess.
Now, we're not going to get into the tasting notes and mouthfeel of each wine because that's not who we are (we do that with beer), but we do want to encourage you to visit and try EVERYTHING.  We left with a few bottles of the Tzippy (a tasty white that I'm going to serve with salmon and garlic potatoes) and next time, we'll probably get a half case and mix it up.  Really, quality flavors and a wonderful experience is what you should expect from any wine tasting, and AniChe delivered.
And now for the parenting bloggy part of all of this…
Why would you go wine tasting with kids?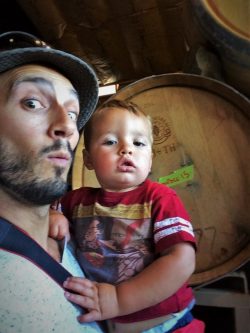 This is an oddly controversial topic.
Like with everything in life, it's what you make it.  Family friendly wine tasting is a great activity because it demystifies wine and its presence in life.  Depending on how you were raised or the environment you grew up in, wine may not have ever been around you… and maybe as a kid you would always look at people drinking wine in a restaurant and think that they're alcoholics and feel bad for them.  That was me.  I was taught that wine or beer were very, very bad things and that the people who drank them weren't in control of themselves.
As an adult, I know that's not the case.  I'm not denying that some people struggle with alcohol, but people also face dangerous struggles with food or self-worth.  Demystifying and decriminalizing a product or activity is a step towards teaching kids about life and how the world works. It prevents kids from being put into a position of judging somebody else's actions or tastes without knowing them.  Teaching about the farming, the wine-making processes and enjoying this amazing product in moderation gives kids a frame of reference to respect it vs just thinking it's booze.
Visiting a family friendly winery isn't teaching our kids that day-drinking and getting drunk as a family is okay.  On the contrary, it shows them that wine, like plants or art, is a product and you can enjoy it simply without overdoing it.  It shows them that wine tasting is a responsible activity and opens their eyes to a cool agricultural product, like u-pick berry farms or dairies that you can visit.  Being able to see the huge wine barrels and learn a little about the process makes it an educational experience even.
You may completely disagree with us 100%, and if so, please leave a detailed comment regarding your thoughts on the matter.
Note:  if you want to engage in a discussion about this, feel free to, but please be respectful.  Family friendly wine tasting or having alcohol present in the home are both things that will vary in every family.  Everybody also has their own thoughts based on memories or experiences, so be sensitive to that.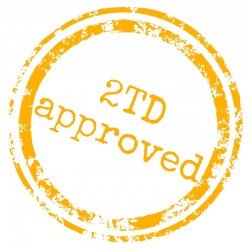 It's nice to know that if we want to have an adult afternoon when we're traveling with the kids we totally can.  Family friendly wine tasting is a nice option to have and AniChe made us feel welcome and we're looking forward to our next visit when we're in the Columbia River Gorge.
Do you know of any other great wineries for family friendly wine tasting?  What other fun family friendly activities are surprising to find in the Gorge?  Leave a comment and we'll check it out next time we're down there!