The Pacific Northwest has countless spots where you can look around and say "Wow, I love it here!"  Seriously, every view is different and beautiful.  It's also a place where kids can run wild and play on the beach (almost year round).  Fort Casey on Whidbey Island is such a place.  From forest trails to bunkers overlooking beaches, a day at Fort Casey is fantastic fun.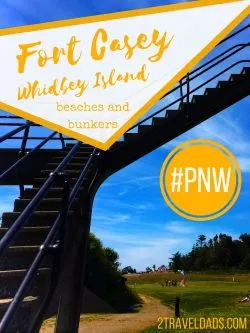 We've shared before about Fort Worden in Port Townsend, Washington.  It's got bunkers, beaches and the Point Wilson Lighthouse.  Well, it's directly across the water from Fort Casey… which also has bunkers, beaches and the Admiralty Head Lighthouse.  True, it's a very similar destination, but Fort Casey is easier to get to from Seattle, so that's why we're sharing it.
Locale of Fort Casey State Park
There are two ways to get to Fort Casey State Park:  driving west from Interstate 5 or taking the Port Townsend ferry.  If you're coming from Seattle or Vancouver, you'll be coming from I-5.  If you're already having a fantastic trip on the Olympic Peninsula and want to jaunt to the east sound, you can do that too!
Our last trip to Fort Casey was after spending a fun summer weekend in Anacortes.  After spending a few days sailing and playing in some awesome parks, we left Anacortes a bit early to be able to spend some time exploring Fort Casey with the kids.  It was a great addition to an already fun weekend and a great activity to wear the kids out before our ferry ride back to our side of the Puget Sound.
Tip:  if you're traveling via the Port Townsend ferry and it's the weekend, check to see how the ferry traffic is.  The boats on this route are small and they do offer reservations if you're worried about missing the boat.
What to do at Fort Casey
Like we said, there's tons to do at Fort Casey State Park.  When I was in 5th Grade, this is where we did our overnight camp.  We got to stay in the military bunk houses and learn about survival in the woods, as well as just have fun and be kids.  Such a cool experience as a kid!
Bunkers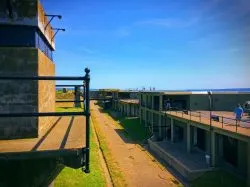 What's a bunker?  If you've ever read history books or toured old forts or war sites, you've probably seen or heard of bunkers.  They're strongholds constructed to house military personnel and equipment for war times.  The Puget Sound area has several places to experience them, Fort Worden across the water from Fort Casey is another.
The bunkers at Fort Casey are pretty cool.  From concrete lookouts with sweeping views (and scary staircases) to mazes deep within the hills that you should only go into if you're exceptionally brave and totally not scared of the dark.  We enjoy doing the more shallow bunkers and checking out the cannons, but our oldest, Oliver, loves doing the scary ones.  He's a brave little soul.
Note:  DO NOT MAKE CHILDREN GO INTO THE BUNKERS.  When I was little I was forced to go into the bunkers and it was terrifying; a bit scarring actually.  Don't make your kids do it if they don't want to.  This is totally a "No means 'no'" situation.

Tip:  if you're interested, there are bunker tours available.  Check with the State Park website for details.
Beaches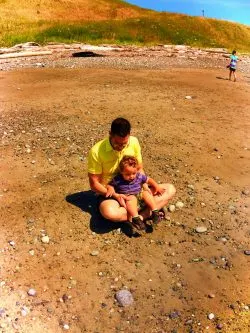 Beach-combing is in our family's blood.  We love it and do it all of the time.  Fort Casey State Park is shaped like a peninsula, so you've got three sides of beach beauty.  There is a bluff above most of the beach, but the northern most beach is flat and is close to the barracks where there is lots of open space.  The beaches of Fort Casey have a lot driftwood, so that's the main find, but there is the random beautiful shell too.
There are also designated fire areas at Fort Casey.  Washington has varying laws about when and where you can have beach fires, so it's nice that it's clear here.  There are limited beach fire ares though, so don't bank your entire trip on getting to do one.  We didn't do a beach fire on our last trip, but we've done them before.
And then swimming… My goodness the water is beautiful, but dang!  It's cold 95% of the time.  You totally can swim if you're into that though.  Beware of the drop off though, as the beach, depending on the area, drops off quickly and the tide is strong in Admiralty inlet.
Tip:  when you're in the Puget Sound area, or any coastal area for that matter, keep a few beach toys and a blanket in your car.  You'll be glad you have them then you randomly find a perfect beach.
Kite flying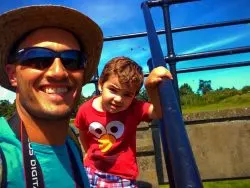 We lost our kite's tail.  Sadness.  We need to get a new one so we can fly our awesome delta again, but in the meantime, Fort Casey is awesome for watching kite fliers as a spectator.  Around the bunkers are some rolling hills and a huge field.  It's the ideal kite flying location and everybody knows it.  We love watching the fancy big kites that just sail softly above, as well as the crazy stunt kites.  It's all fun and kids love to watch… and to fly their own kites when able to.
Admiralty Head Lighthouse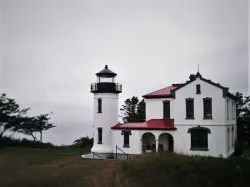 It's no secret that we love lighthouses!  Admiralty head is a need looking one, built in the stucco fashion.  It's open to the public for most of the year, but usually limited to Friday, Saturday and Sunday.  We've been in it a few times and it's fun, but it's not the best lighthouse on Puget Sound.  Wow, Fort Casey State Park has so much to do!!
Things to know about Fort Casey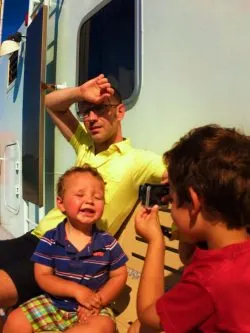 Fort Casey is a State Park, which means that there is a day-use fee or you need a Discover Pass.  Since we live in Washington, we have the Discover Pass and use it to access State Parks and Forest Service sites of interest.  Fort Casey is an easy day trip from Seattle or the Olympic Peninsula.  There is camping, but it's not the greatest.  You can find better campgrounds that are much more quiet on the Olympic Peninsula.
Growing up, we went to Fort Casey a lot.  True, when I was a kid I hated it because it meant being forced to go into dark bunkers and get the bejeebers scared out of me, but as an adult I can fully appreciate all aspects of the Park.  Our kids enjoy the full experience and will, I'm sure, always love popping in and out of the bunker mazes.
If you're in Seattle and you're looking for an unusual day trip, head north to Whidbey Island and check out Fort Casey State Park.  You'll have a great time and get plenty of fresh sea air… and maybe even some exercise!