Florida's beach towns are all so different with totally varied activities, and even different colors of sand. Butler Beach is a neighborhood directly next to Crescent Beach in Saint Augustine, Florida and it's all you need to having the most incredible Florida vacation.
This is our guide to Butler Beach including where to stay, best activities within 15 minutes, spots to eat, and beach access points. Being between America's oldest city, Saint Augustine, and Daytona Beach, Butler Beach is the perfect spot to be close enough to the action but removed enough to be quiet.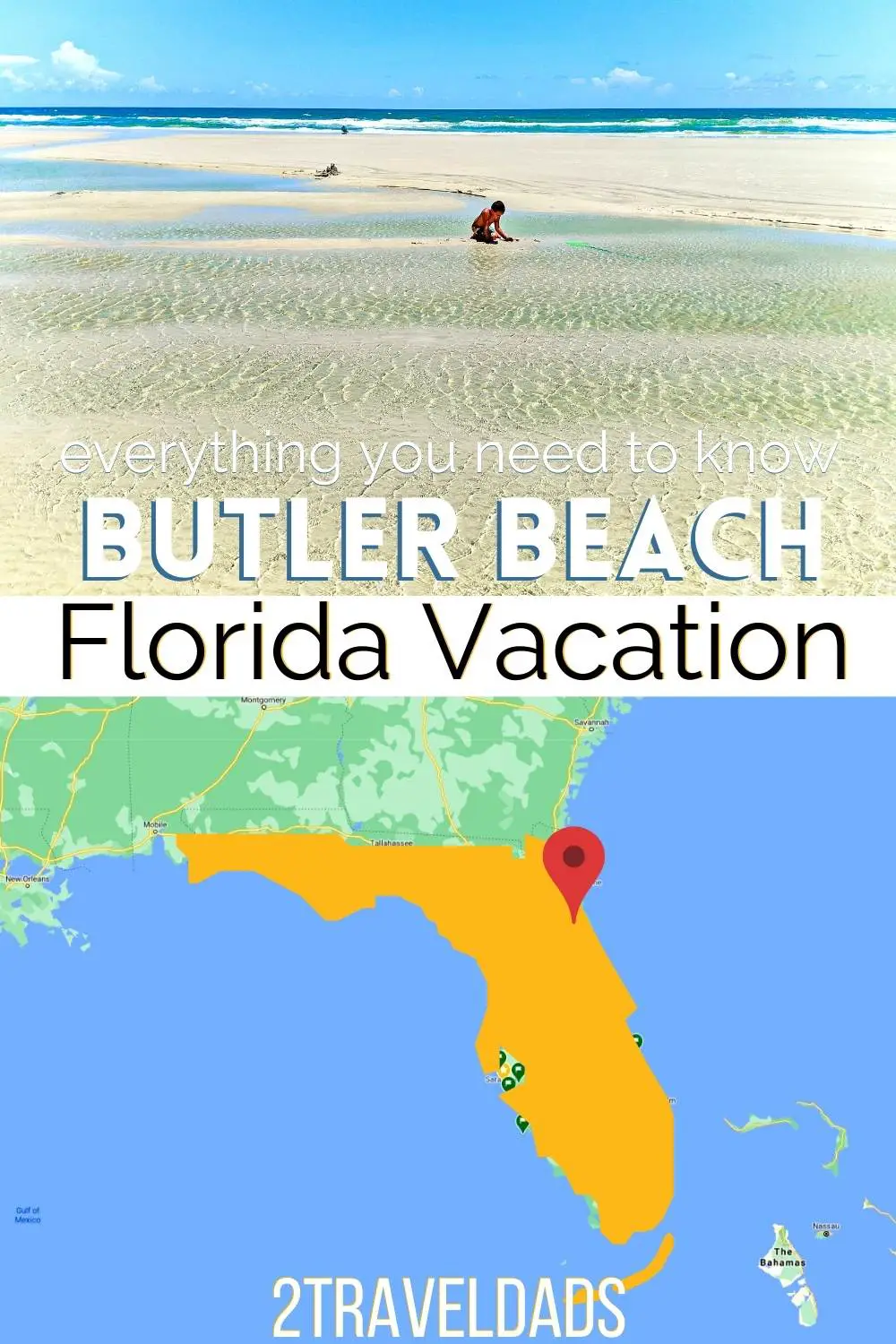 Why Choose Butler Beach for a Florida Vacation
There are countless cute towns and cities in Florida for weekend getaways. When we're asked about our favorite spots, we always default to Saint Augustine. True, we now live here as of 2020, but even before the move it was our favorite destination. Now that we've been living here, we've learned that Butler Beach is our favorite neighborhood.
Don't get me wrong, there are tons of things to do in Saint Augustine itself, but if you want to truly chill Florida beach vacation, Butler Beach is the ticket. It's quiet, there are lots of beach access points, it's right on the Intracoastal Waterway, and you're never too far from the main tourist areas despite feeling a world away.
Note: we use Butler Beach and Crescent Beach interchangeably, as the two neighborhoods blend together. If something is close to one, it's close to the other too.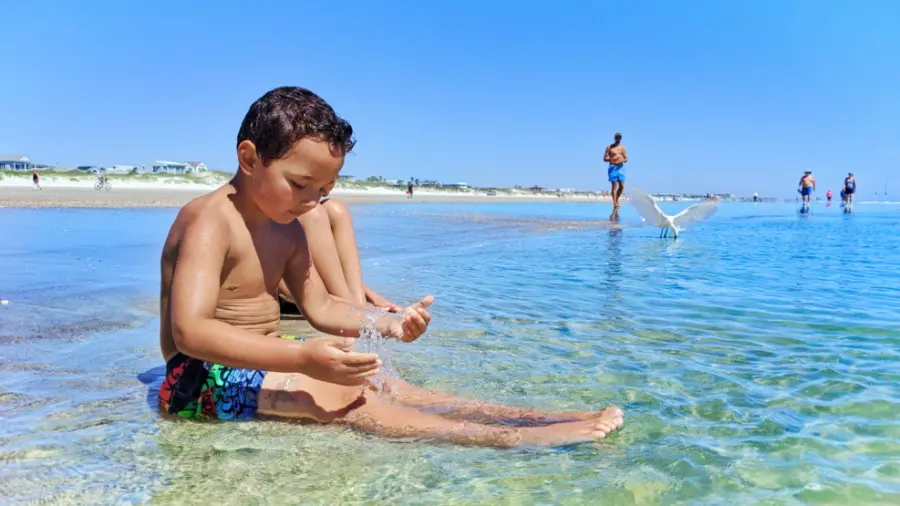 Location near Saint Augustine
The city of Saint Augustine is located on a bay with the Intracoastal Waterway flowing both north and south past the town. On the edge of the city are Vilano Beach (cute town site and beaches to the north), Saint Augustine Beach (totally Florida beachy restaurantville), and then Butler Beach and Crescent Beach. These last three are located to the south on Anastasia Island.
From Butler Beach it's an easy 10 minute drive into Saint Augustine Beach, and then just 5 minutes more into the historic downtown core. You have ample opportunities for fun and history on Anastasia Island, but during your Florida beach vacation you also HAVE TO carve out time to explore historic Saint Augustine (it's best in the evening).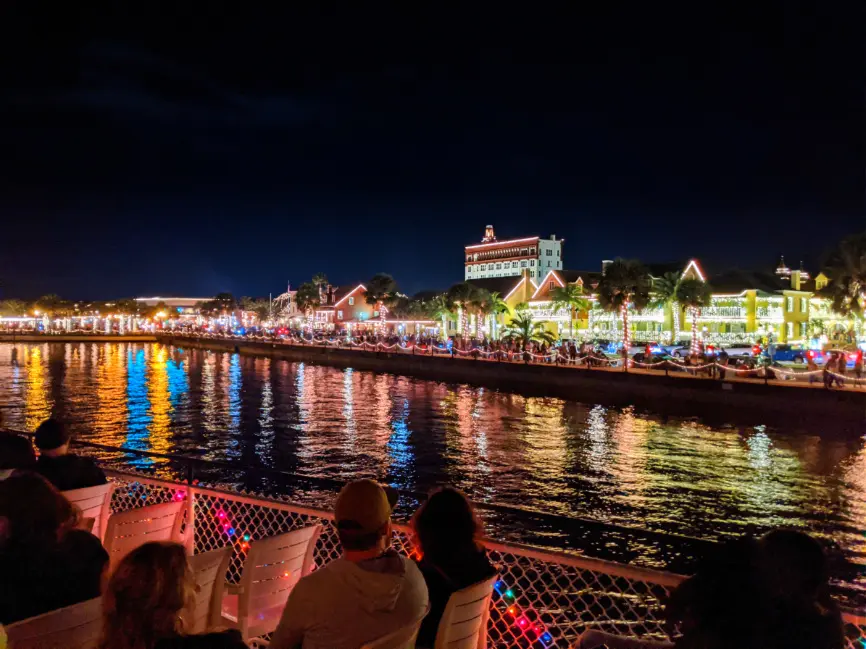 Butler Beach vs Vilano Beach: which neighborhood to pick
A lot of Floridians know Vilano Beach as an easy escape on the First Coast (yes, we call ourselves that). Vilano Beach has a few cute beach parks, some restaurants, a fishing pier and a Publix (grocery store), but not much else. Its shining point is that it's only a few minutes from the northern part of downtown where the touristy stuff begins.
We love the area and enjoy visiting and taking out-of-town guests to Vilano beach, but it's not where we'd recommend for a longer beach vacation. There is a lot of surfing activity in Vilano Beach, so that kind of tells you what to expect of the waves and how busy the beach gets. And that's why we love Butler Beach and Crescent Beach for a relaxed trip to north Florida.
The beach is much wider on Anastasia Island, meaning that at both low and high tide there is a ton of space with long, uninterrupted stretches of sand. This makes for easy social distancing and great play space for kids. Also, because the shelf goes out so far, there is typically a sand bar breaking the bigger waves and making beautiful turquoise pools on the beach.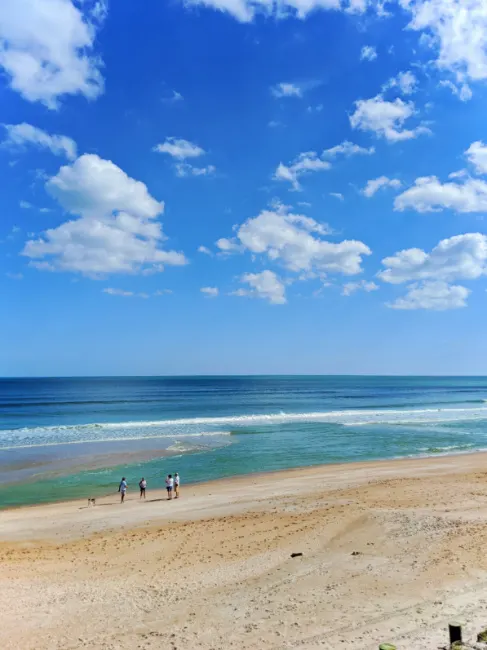 Where to Stay on Anastasia Island
Our top pick for a Butler Beach or Crescent Beach getaway is a vacation rental. You could certainly book a hotel, and we have recommendations for that, but for longer stays or family travel, a private rental is ideal. There are lots of condos available both south of Crescent Beach or just north of Butler Beach. We recommend a beach house or bungalow where you can fully unwind and make yourself at home. Check out our complete guide to hotels in Saint Augustine!
A favorite Florida beach hotel with kids in the Crescent Beach area is Beacher's Lodge. It's right on the beach, has pretty nice accommodations, and it conveniently located near Highways A1A and 206 (the Intracoastal bridge).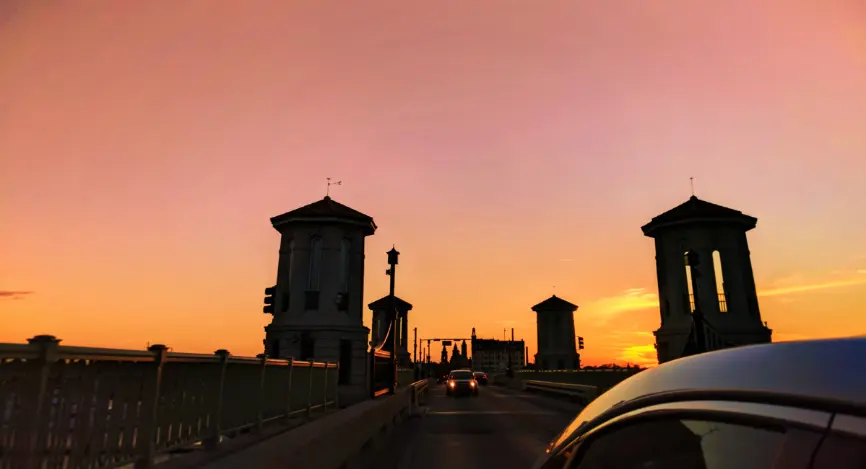 You'll find that there are many more vacation rentals in the Butler Beach and Crescent beach neighborhoods that very close to downtown Saint Augustine. There is a law in the downtown core that has a minimum stay requirement for vacation rentals, which means there are very few unless you're staying for two weeks or more.
Note: while you hear it said that they've limited vacation rentals near downtown because they need to ensure affordable housing for locals, that's not true. The local hotels are behind the new law (2020) to force people to stay in hotels instead of privately owned rentals. Ugh.
Look for a vacation rental here, and our top recommendations are below!
Top AirBNB Vacation Rental Pick: Buccaneer Bungalow
Our top vacation rental pick is the Buccaneer Bungalow in Butler Beach. We love it for its cozy layout with two bedrooms, open floor plan living and lots of outdoor space. Since it's located directly between the beach and the Intracoastal Waterway, it's perfect for any type of Florida trip. We are big into kayaking, so being next to the Butler Park West boat ramp is ideal.
The beach is walking distance (10 minutes with kids, 5 without) and the Buccaneer Bungalow comes equipped beach chairs and toys, as well as a couple of coolers you can use. Book it here!
Listen to our podcast episode all about buying our own vacation rental and turning it into a business!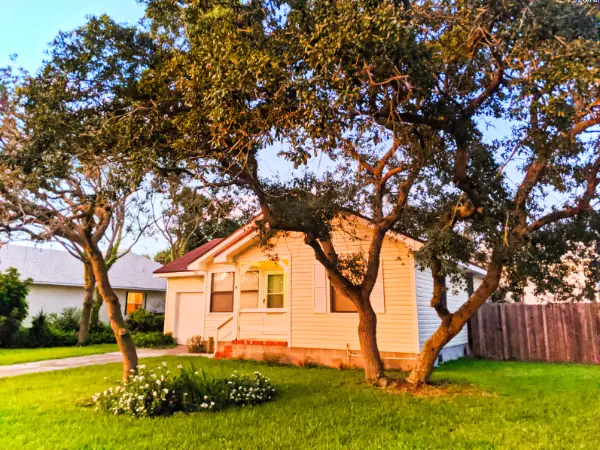 Top VRBO Condo Choice: St Augustine Beach Ocean Village Club
We stayed here before actually relocating to Saint Augustine and the kids loved it. Our unit wasn't directly next to the pool or directly next to the beach, the location in a condo complex was nice. Depending on what unit you book, you may have an ocean view or a garden view. Either is great and will put you close to the boardwalk across the dunes.
The downside of staying in a condo instead of a vacation rental house is that there are people around you, potentially on all sides. While most beach condos in Saint Augustine are the full time residences of older, quiet people, you do run the risk of unwanted noise and endless footsteps. If you're a city person, this may be fine, but if you're used to the quiet, it might annoy you. Overall though, loved staying here.
Book a VRBO in Ocean Village Club here!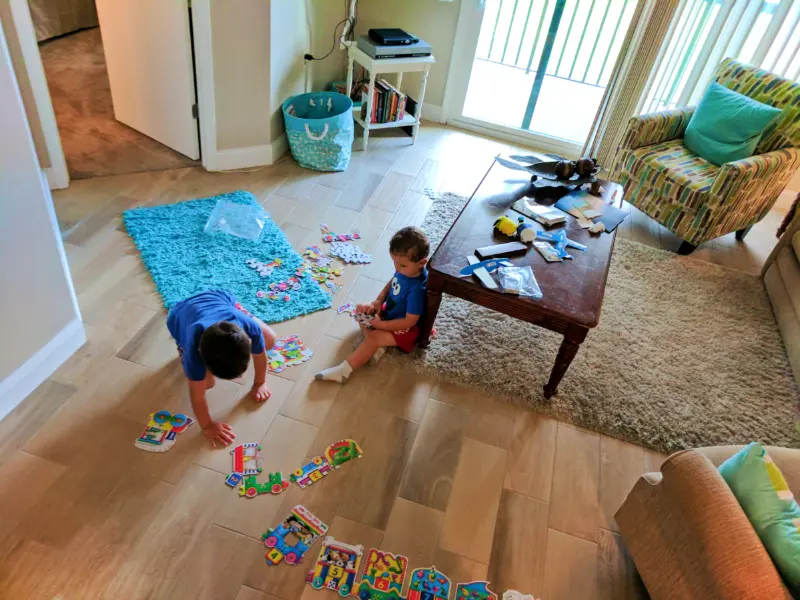 History of Butler Beach
As you drive into the Butler Beach area, you'll see signs that call it Historic Butler Beach. Every place has a little history, and our neighborhood is no different.
Dr Martin Luther King Jr & Civil Rights
In 1964 our neighborhood was the site of repeated violent attacks and vandalism when Dr Martin Luther King stayed here. Each day we walk past the beach cottage that had been graffitied and shot up trying to deter Dr King and the Southern Christian Leadership Conference before the passing of the Civil Rights Act of 1964.
The people who owned the house provided shelter and safety to Civil Rights activists, and then later worked to help affect change in the criminal justice system, including issues relating to police violence. These people were examples of care and love and standing up for what's right. The beach cottage has a Freedom Trail marker.

The historic marker at the site says:
"This beach cottage attracted international attention in 1964, and a photograph taken here of Dr Martin Luther King Jr has become one of the iconic images of the Civil Rights Movement. It was the winter home of Dr Cyril M Canright and his wife Winifre, who taught as missionaries in China in the 1020s and 19302 and later made their home in New Jersey. The Canrights were supporters of the Civil Rights Movement. They made their beach house available to Dr King when he came here with the Southern Christian Leadership Conference (SCLC) at the urging of Dr Robert B Hayling and the St Augustine movement in May 1964. The mass campaign let to the passage of the landmark Civil Rights Act of 1964.
SCLC staffers Dorothy Cotton, Rev CT Vivian, and Harry Boyte visited or stayed here. Dr King had not yet spent a night in the house when the local newspaper ran directions to it on the front page. it was vandalized by segregationists. They shot up the house on May 28th, 1964 and then attempted to burn it on May 30. On June 8th, they smashed the windows and furniture, painted racist graffiti inside, and firebombed it. All of these events were widely reported around the country and increased public pressure to do away with racial segregation.
Dr Canright passed away the next year, but Mrs Canright continued up into her 90s to work for prison reform and other causes in New Jersey. The Winifred Canright House in Asbury Park was named in her honor. They provide housing for people with HIV/AIDS who might otherwise be homeless."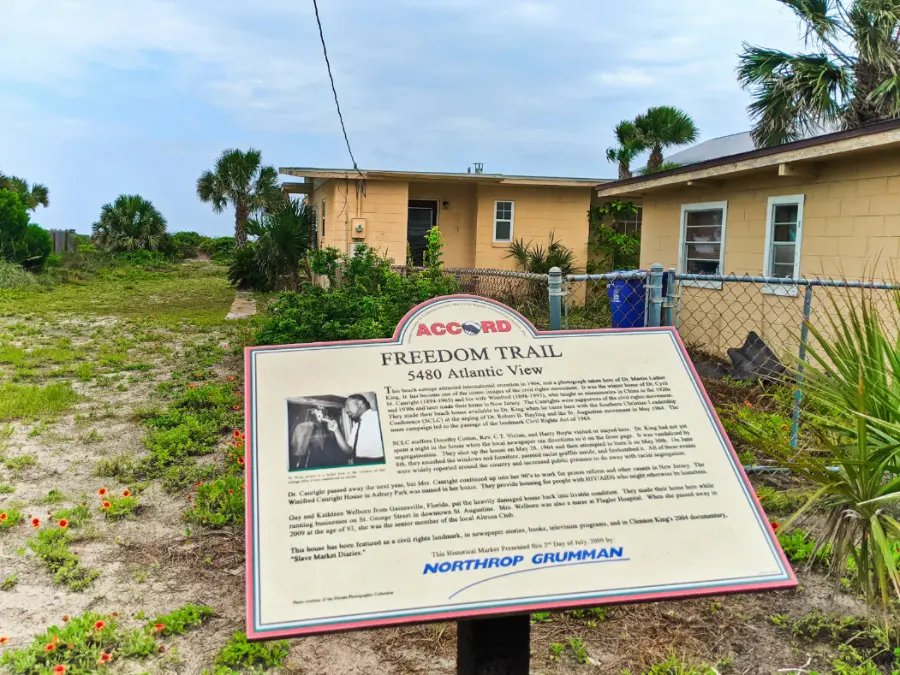 Vintage Florida Beach Vacation Destination
Once upon a time Windswept Acres was a Saint Augustine beach destination. Cute bungalows and colorful paint made this little vacation village a prime destination. All that's left today of the vintage Florida bungalows is a single pink and white building, a part of the former Windswept Beach Cottages (built in 1946).
Even though this doesn't seem like an epic historic site, there are so few of these mid-century motor inns and cottages left, that what remains at Windswept Acres Park is considered an ideal example of the architectural style and a slice of time not found elsewhere on A1A. In addition to the vintage Florida cottage, there's also a walking path, picnic tables and playground.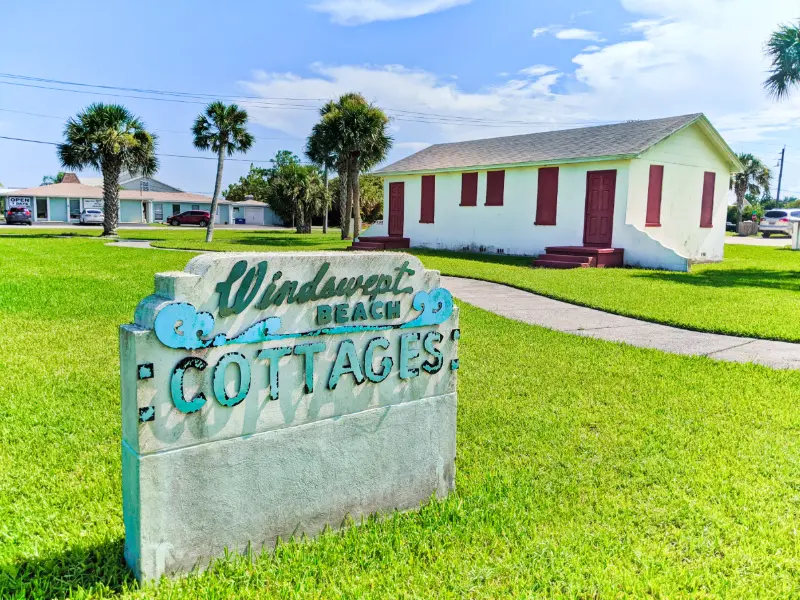 5 Easy Beach Access Spots Around Butler Beach
There are actually a ton of access points for the beaches from Saint Augustine Beach all the way down to Marineland, but these are our top picks. We've chosen these beautiful beaches for their lack of crowds, their sand qualities, and their ease of access. The sand in Saint Augustine and on Anastasia Island is the best of all the beaches in Florida, so take time to actually relax and walk on it! View COMPLETE beach access map here!

Ocean Hammock Park
It's easy to miss this wonderful beach access point just within the border of Saint Augustine Beach. There is a parking area and then long boardwalk leading through the Ocean Hammock (coastal forest), across the dunes and onto the beach. The sand is sugary white and soft. This is our top pick for an easy to get to beach if you're actually staying downtown Saint Augustine.
Tip: bring your whole beach day lunch/snacks/and everything, as it's a long (but easy) walk from the parking area to the beach.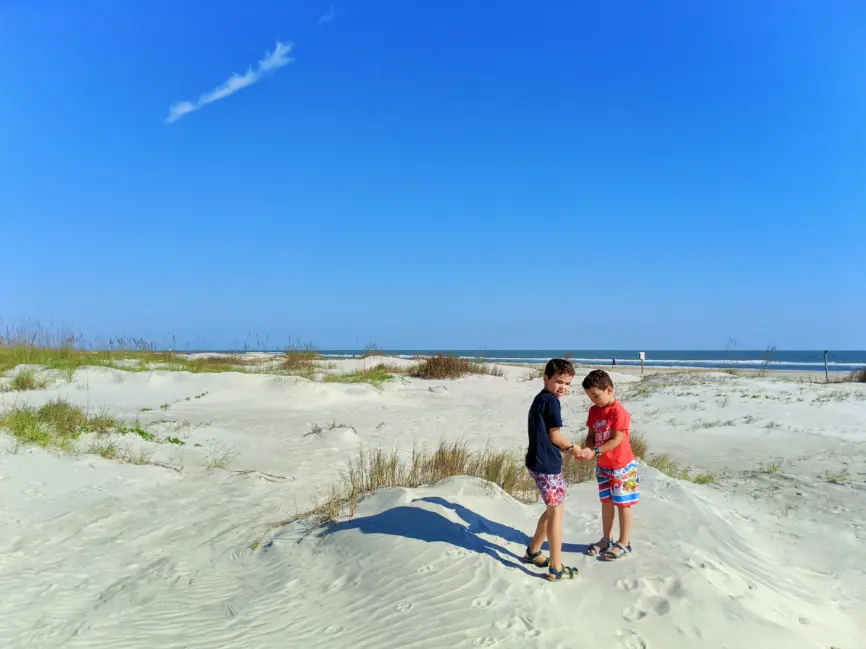 Matanzas Ave Access
Parking at Windswept Acres Park, it's a short two block walk onto the sand at Matanzas Avenue. This is also one of the few access points for those who want to drive onto the beach. This is also where we enter when we ride bikes on the beach.
As a resident of the neighborhood, we would love for people to STOP driving on the beach. Some drivers don't pay attention to kids or pedestrians on the beach and it's a safety hazard.
Having said that, Matanzas Avenue is the best beach access in the Butler Beach neighborhood. There is a lifeguard stand, there are trash cans, and there's plenty of space to set up your perfect beach day. And don't forget, you don't have to plop right at the first place you see. Give yourself and others room on the beach.
If you really want, you can even walk along the beach or Atlantic View in either direction for less crowded spots. There are lots of options.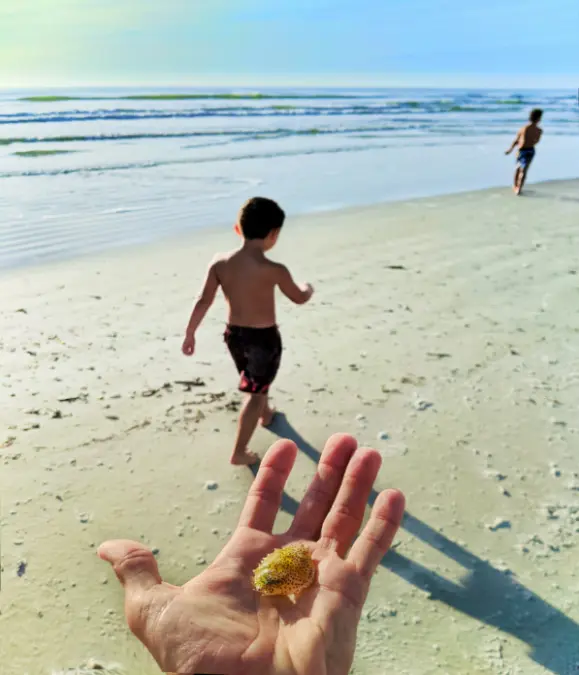 Butler Park East
If you are planning a full day at the beach, we recommend heading to Butler Park East nice and early. There's a parking lot right by the beach path. There are also facilities (bathrooms) so if you're at Butler Beach all day, you don't have to worry about kids and beach potty emergencies.
The sand here is perfect, and at low tide you can walk really far out. There's often a sandbar here, so that makes for both great waves and a mellow area to hang out. Butler Park East is ideal with small kids, both for ease of access and for open space on the beach.
Note: there's also Butler Park West. That's NOT on the beach, but on the Matanzas River. If you're plugging the location into a map program, be sure to use Butler Park EAST.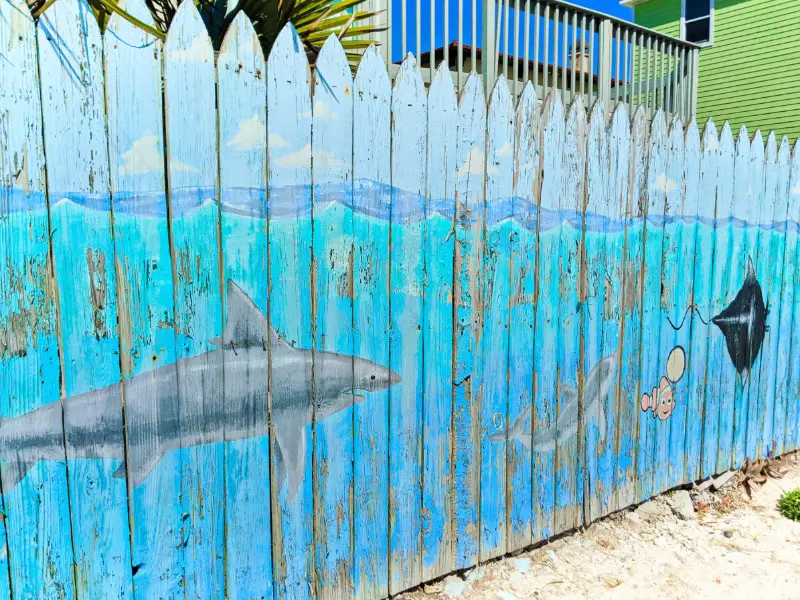 Crescent Beach Park
A very similar beach access point to Butler Park East, Crescent Beach Park has a parking area directly adjacent to the beach boardwalk. What makes Crescent Beach a bit different is that there are showers for after your beach day and picnic tables just off the parking lot.
Another bonus is that the South Beach Grill is also located at Crescent Beach Park. This is simple, fresh Florida fare. Between the fish sandwiches and fish wraps and fried shrimp, you'll find all the Florida grub you could want. Also, they have a daily drink special, so you know…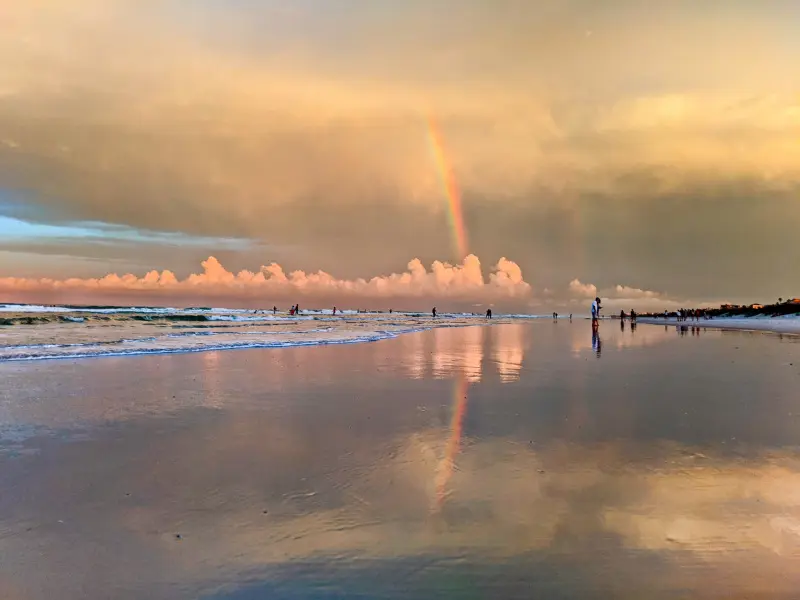 Spyglass Beach Dunes Walkover
If you're not watching for it, you'll miss Spyglass Beach. It's funny cuz it's kind of a tricky beach. When you park, you'll see a ton of stairs. Don't let that discourage you. Pack up your gear and climb the stairs. Up and over across the dunes and you've got a beautiful beach.
Because it's easy to drive past, parking is limited, and there are stairs, it's not very crowded, ever. Spyglass Beach is also great with small kids because of how large the sandbar is when it forms. And if you're into shark tooth hunting, you can even find some here! The coquina sand is great for finding a mix of shells and random teeth, but it's not the #1 shark tooth hunting beach in Saint Augustine.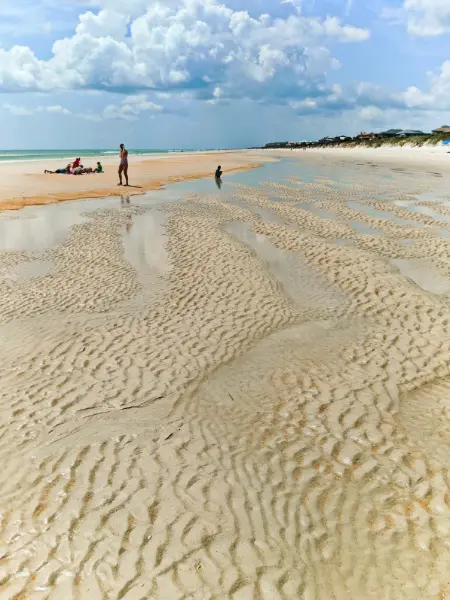 Things to do in Crescent Beach/Butler Beach
Beach days are awesome but there really are a lot of other things to do in the Crescent Beach and Butler Beach areas. It's basically the north Florida outdoor playground. You could do a whole vacation just to this area and be completely satisfied.
Kayaking in Saint Augustine
We are avid kayakers and actually run a kayaking guide service, so we are quite partial to kayaking in Saint Augustine. The Intracoastal Waterway has a plethora of places to put into the river. If you're looking to cover a lot of ground, put in at medium tide by the Saint Augustine Lighthouse and paddle from Salt Run all the way to Fort Matanzas. It's a long paddle, but amazing.
We recommend going out with a guide if you're not familiar with the area. If you don't want to get onto the water with us, Saint Augustine Eco Tours does an awesome job, focusing on learning about ecosystems. Before moving here, they were our #1 pick and we've been out with them several times.
If you want to go kayaking with us, we do tours at sunrise and under the brightest moonlight, we cover historic sites and nature treks. Check out our other site for more info:
Sunrise Kayaking in Saint Augustine
Historic Saint Augustine Paddling Tour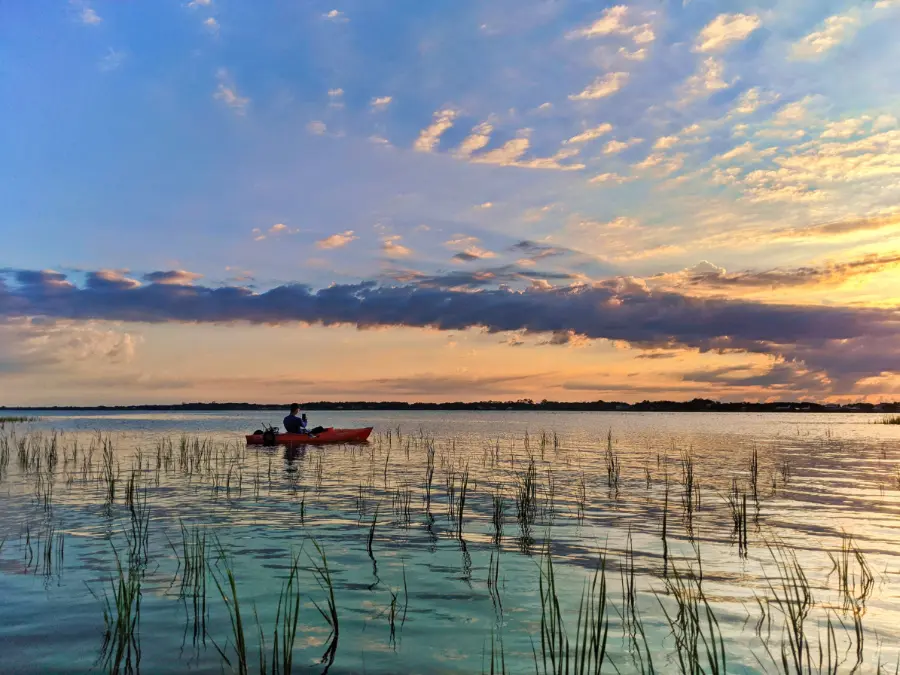 SUP on the Intracoastal Waterway
Stand Up Paddleboarding has become increasingly popular in the last year. It's one of the best ways to get on the water, and not just for sightseeing, but for yoga and fitness. The Intracoastal Waterway wraps all around Florida, and in the Saint Augustine area it's called the Matanzas River to the south and the Guana River to the north. The Matanzas River flows through Butler Beach / Crescent Beach.
Butler Park West is the best place to put in for SUP. Here you're guaranteed amazing bird watching, as well as a consistent presence of loggerhead sea turtles. We go out here all the time and have seen manatees (even right at the ramp), dolphins, sharks and even river otters.
Tip: go at high tide as there are a lot of oyster beds and you do want to damage your SUP, especially if it's an inflatable one.
Another great spot to put in for a SUP adventure on the Matanzas River is at Fort Matanzas National Monument. Not at the actual monument access site, but just south you'll find a boardwalk leading to the river beach. Here you can put in your SUP and either paddle north towards the historic fort or south through the Summer Haven channels. Either is a beautiful option.
We have two of this specific Inflatable SUP and HIGHLY recommend it. Order one now to get in within a month!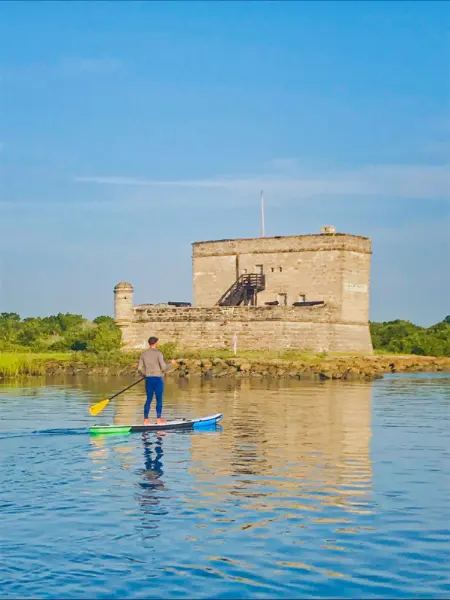 Historic Sites to Visit in Saint Augustine
Being in the oldest city in the United States, Saint Augustine has so much history to explore. Directly in the Crescent Beach area you'll find Fort Matanzas National Monument. During the pandemic, the Fort is closed to visitors, but the river access is open, and here you'll get a beautiful view of the historic structure. During normal operation, there is a free foot ferry to Rattlesnake Island and a guided tour of Fort Matanzas.
Another nearby historic site to visit is the Saint Augustine Lighthouse. It's also located on Anastasia Island, about ten minutes north of Butler Beach. It's 219 steps to the top of the lighthouse, but it's worth it! There are also several museum buildings on the lighthouse property, so plan enough time to learn about the nautical history of Saint Augustine.
As you head to downtown Saint Augustine the history just pours out of every narrow street. From the oldest house in the USA to the oldest street, the Castillo de San Marcos National Monument to the Governor's House, walking through downtown Saint Augustine is fun and historic.
TIP: download our Saint Augustine Scavenger Hunt before going downtown.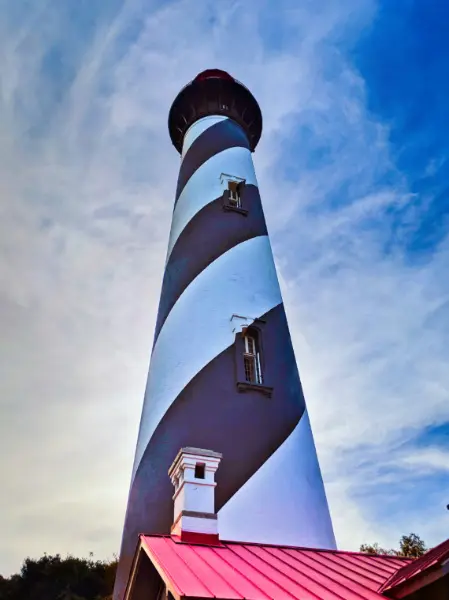 Biking on A1A and the Beach
If you didn't bring your bike to Butler Beach, don't worry, you can rent one. A1A Cycle Works is centrally located and does everything from rentals to bike servicing. If you're looking to rent bikes, get there early or call in advance, because on busy days they do run out. Other bike rental spots are found just north in Saint Augustine beach: Island Life or Drifters Beach and Bike Rentals are both good options. Drifters will actually meet you at a location within a certain area, which is helpful.
Note: we've bought bikes from both A1A Cycle Works and Island Life. Both have great, knowledgeable staff for outfitting the right bikes and they have a great selection. FYI, kids bikes are more difficult to come by and even with advance notice may not be available.
Florida A1A has bike paths along it, perfect for riding. As you ride, watch for beach access points, Florida A1A Birding Trail markers, and neighborhood cafes for grabbing a bite. If you would prefer to do beach riding, head to the Saint Augustine Beach neighborhoods where you'll find a beach vibe very similar to the PCH in California. So much to do and see!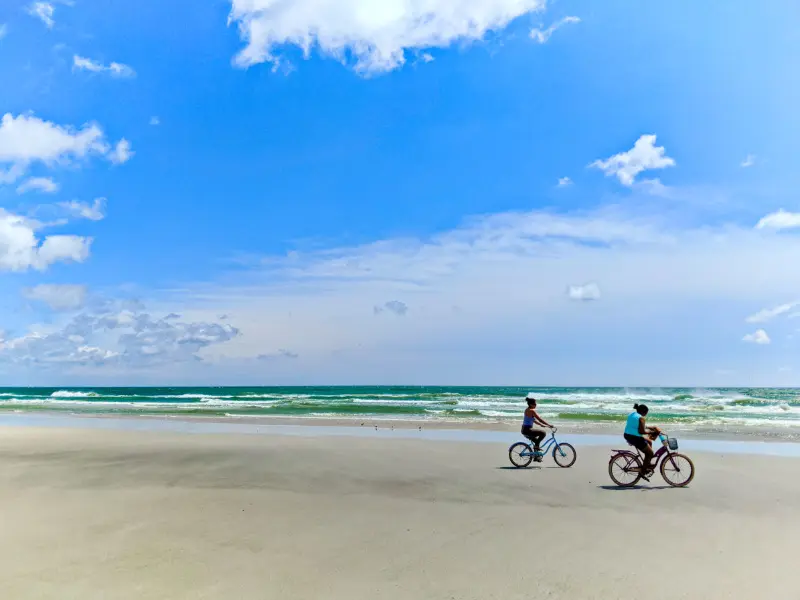 Tips for Biking on St Augustine Beaches
Beach biking isn't like riding a bike on a road or bike path. The sand makes for a more aggressive ride and it's much more of a workout despite being flat. When you're planning a beach biking day, be smart about it:
Walk your bike ONTO the beach – you won't be able to ride across the soft entry areas
Ride on the hard pack sand
Plan your ride for an outgoing tide – this give more hard pack sand and more space to avoid people
Don't try to run over sea shells – the can be sharp and may pop tires.
Don't ride IN the surf. You'll sink.
If you're riding a beach bike with a rack or bags, you can pack a bit of gear for enjoying your time on the sane. Bring a picnic or games and set up camp wherever you like. Be mindful of the incoming tide though, as you don't want to get stuck somewhere.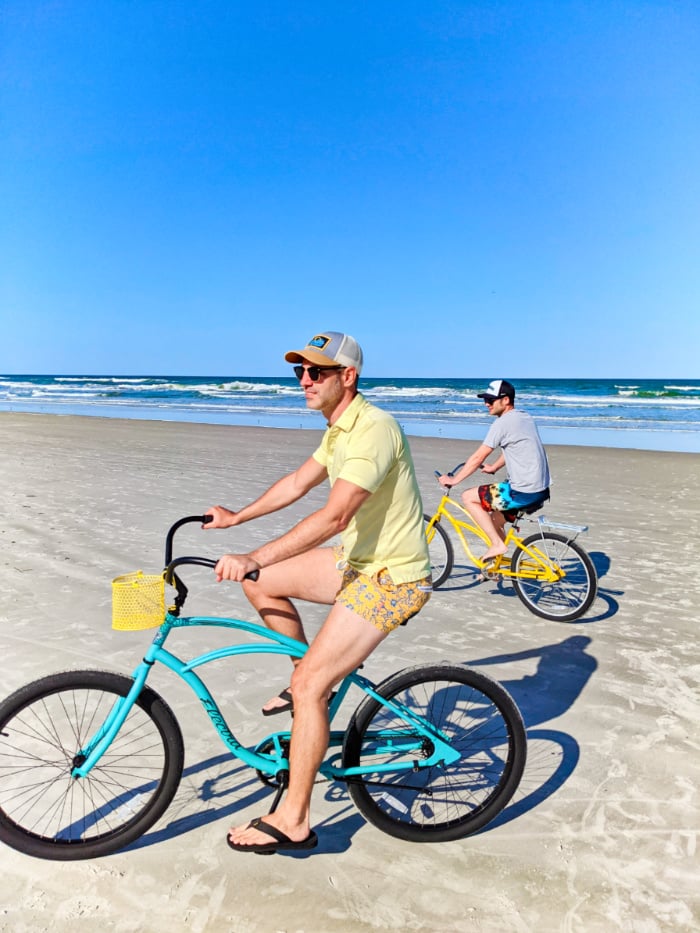 Best Places to Eat Near Butler Beach
Thank goodness the people of Butler Beach and Crescent Beach love to eat, because it means that there are some great spots without having to go far. From dining outside to delivery, you've got some great choices.
Outdoor dining in Crescent Beach
If you're looking for the hardiest helping of fish and chips in Saint Augustine, Red Frog & McToad's is the place. Located on A1A, they have picnic tables outside and serve up a mean fried haddock (basically cod).
For delicious sandwiches and Florida fusion salads, the Back 40 A1A at Treasure Beach is one of our favorites. Our kids love it because they do sliders for kid's meals. They have a few bistro and picnic tables outside to ensure distance in dining, and the service is always good.
We recommend Safe Harbor Seafood right next to Crescent Beach park. The seafood is great and they have a dish, Crab Cake Fries, that I really love.
A little to the north, but still on the island is our new favorite restaurant: GAS – Full Service. Between local seafood to really interesting Cuban fusions, it's a winner. The grilled fish sandwich with datil pepper collard greens is absolutely awesome. PS: they also do curbside to-go pickup. Total win.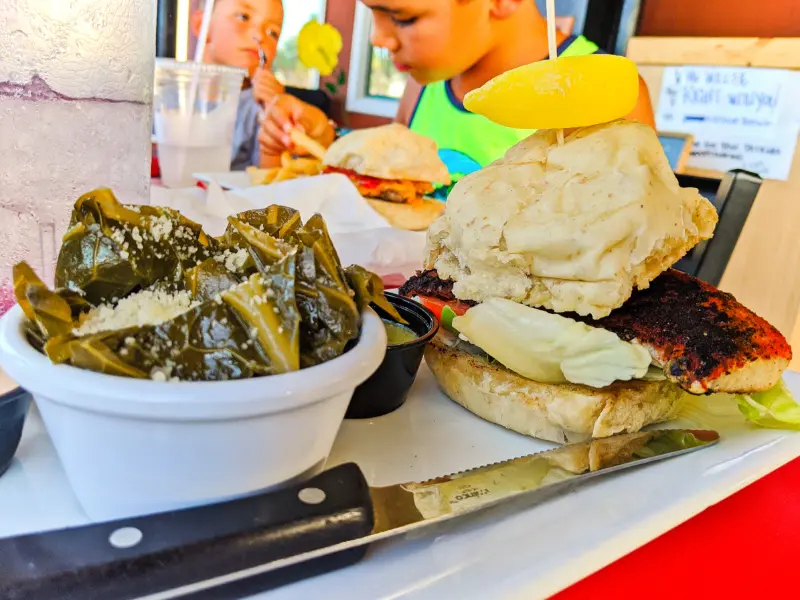 Best Dinner Delivery to Butler Beach
With services like Grub Hub and Door Dash, anything is available for delivery these days. And thank goodness, because sometimes the wait to be seated at some of Saint Augustine's best restaurants can be long. If you want to deliciousness of the local food scene without the people, our top pics for delivery are:
There are of course many more options, but these picks are our favorites for consistent delivery.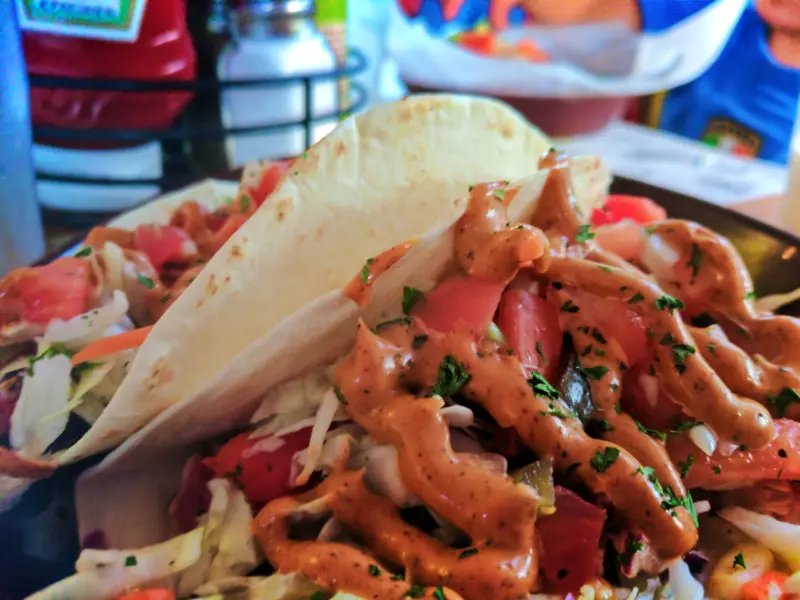 Local Fish Market in Saint Augustine Beach
The last thing we HAVE TO RECOMMEND is the Fisherman's Dock fish market. Located on A1A just north of Butler Beach, they bring in the best of locally caught fish and shrimp. If you plan on doing your own cooking on your visit to Crescent Beach (or anywhere in Saint Augustine), we highly recommend visiting Fisherman's Dock early in the day. They have a great selection, but it's popular and fish goes fast.
Tip: if you want to get shrimp and have them peel/de-vein them, you do need to call in advance. Sometimes they can do it on the spot, but calling ahead will save you time and work.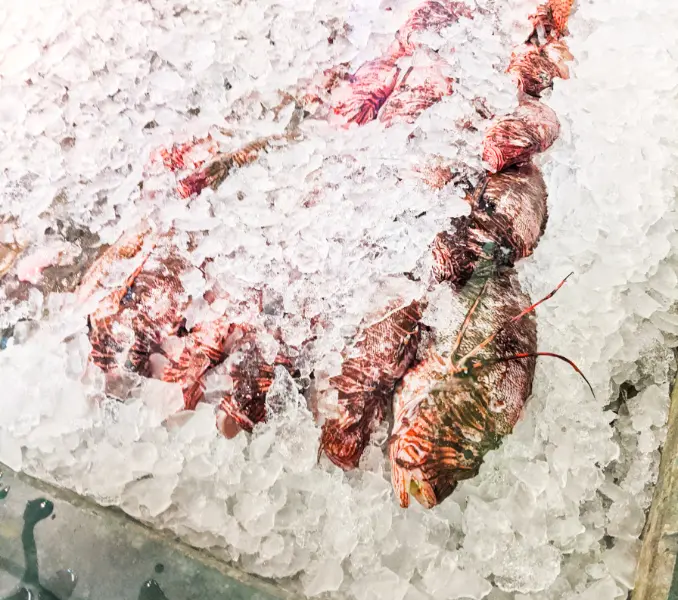 Wow! I hope you're excited to have an amazing Butler Beach or Crescent Beach vacation. We love our neighborhood and are always thrilled when people come to visit and don't want to leave. If you have any questions, please let us know because we're here to help and make sure your visit to Saint Augustine is awesome!