Saint Augustine has long been our favorite city for exploring on foot. It's colorful, historic, and so fascinating. You never know what you'll find!
After spending many hours walking around downtown and along the Sea Wall, we've discovered some interesting sights and objects. Please enjoy our scavenger hunt as you wander Saint Augustine and be sure to share with others so they too can explore with new eyes.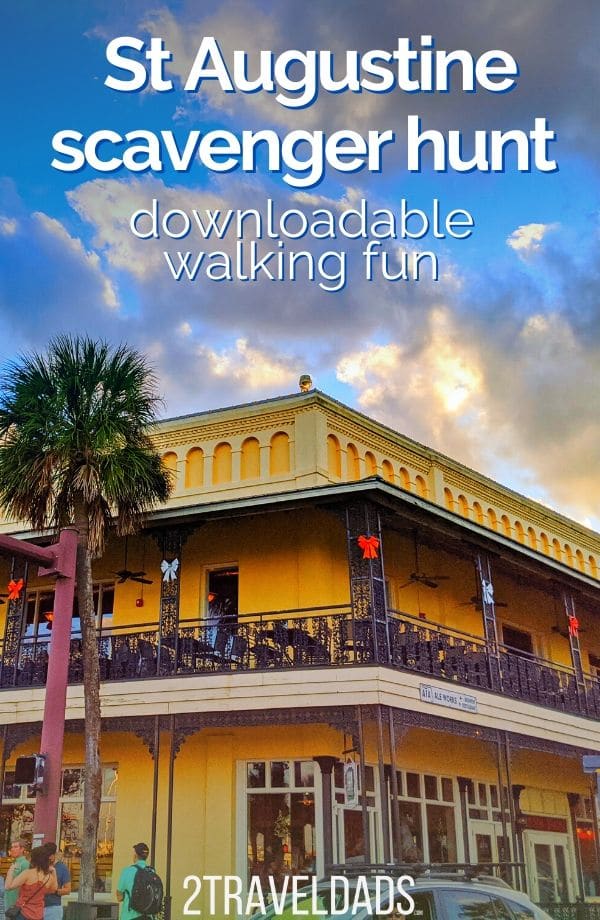 How to do the Saint Augustine Scavenger Hunt
To start the Saint Augustine scavenger hunt, you'll want to either print or download the checklist below. It's easy to share between a group or give one to each person and have them break up to find all of the items on the list. Teams are fun too, especially if you have small kids you're doing the scavenger hunt with.
Printed St Augustine Scavenger Hunt
If you're printing the scavenger hunt, we recommend printing two per sheet. You can fit two if you are printing on regular 8.5″x11″ paper and then you can cut it in half. One will fit if you need to print it larger, but there's no need to waste paper if more than one person wants their own.
To make doing the scavenger hunt easier as you walk around town, print it on heavy paper or card stock. Don't worry if you don't have that though, just carry it in a small note pad to support it when you mark off items.'
Digital Scavenger Hunt in Saint Augustine
Easy peasy!! To do the digital version of our Saint Augustine Scavenger Hunt, download the image below (.jpg) and mark it on your phone in your favorite notepad or editing program. You can also use it within Instagram and mark on it that way.
The third option for doing the digital St Augustine Scavenger Hunt is to download the PDF (also below) and use your preferred PDF editor on your phone or tablet as you explore the sites of the Ancient City.
"What do I do when I've completed my scavenger hunt?"
Once you've completed the scavenger hunt (or done as much as you can) snap a photo and share on Instagram or Facebook. Be sure to tag @2TravelDads on either platform and we'll share your photo!
Feel free to share this fun activity with others visiting Saint Augustine, Florida, the oldest city in the USA. And don't forget to pin it for later if you aren't here right now. Have fun!
Awesome Saint Augustine Scavenger Hunt Download
Download options for the completing the scavenger hunt:
If you want to just have an idea of what to watch out for, but not actually complete the scavenger hunt, here is the list of what to look for:
Cannon balls
Cemetery
Charging Bull image
Coat of Arms
Coquina Wall (shell rock)
Florida State flag
Green Shutters
Historic Site plaque
Ice Pop shop
Mosaic of mosaics
National Park Service sign
Palm tree trunk beams
Person in costume
Pirate Flag
Pretzels
Spanish Bayonet
Spanish flag
Stained glass window
Statue of a priest
Statue of an explorer
Tabby Column (oyster shell concrete)
Wrought Iron Gate
Thank you so much for playing along and don't forget to check out our other great ideas for exploring Florida's Historic Coast!