The USA has several cities that are known around the world as being iconic or embodiment of America. We think of New York, San Francisco, Seattle and Chicago. Traveling to Chicago is really awesome and totally easy to do in two or three days; you could even have an unforgettable Chicago experience in one day if you were really in a pinch and wanted to. It's an easy, walk-able city with unlimited potential and plenty of things to do.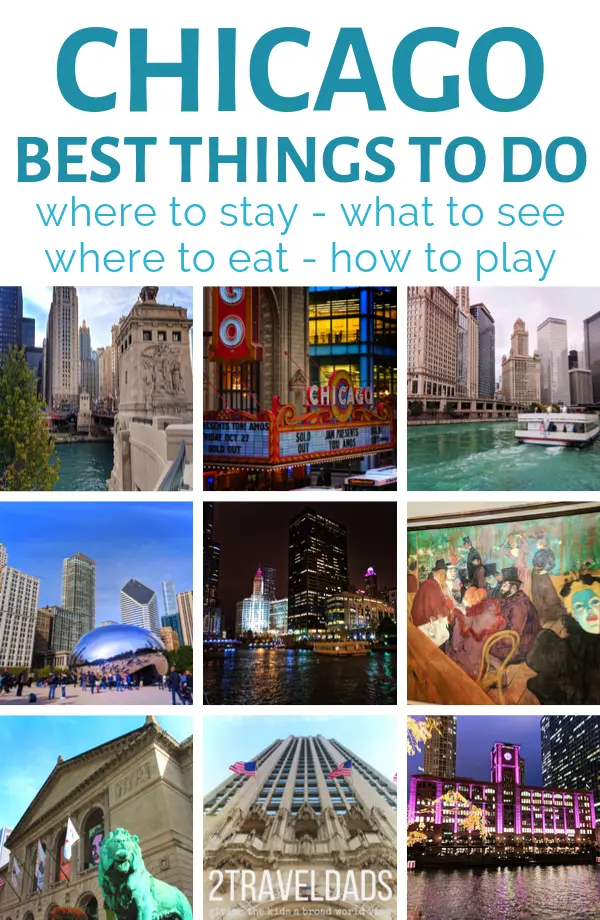 Traveling to Chicago: 8 things not to miss
There are so many things to do in Chicago, and you really can't do them all on one trip. For your first trip, or if you're traveling to Chicago on a tight schedule, these are the best ideas to make sure you explore the city and really get a feel for this incredible town. And you have to check out this awesome video (and tips) for 48 hours in Chicago!
To get familiar with the layout of the city, take a look at the map below. You'll see that Chicago is on the shore of Lake Michigan, so there are several activities and sights very near each other since they're all in that Magnificent Mile neighborhood, between Michigan Ave and the Lakefront Trail. We don't include the Shedd Aquarium or Field Museum on our things not to miss in Chicago, but they're close by too, so easy to add to your list.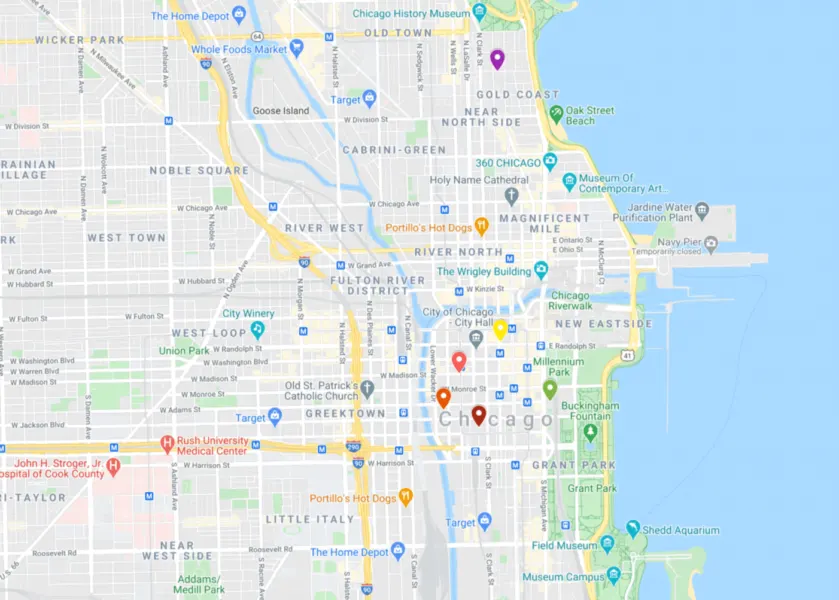 1. Walk the streets of Chicago
Doing Chicago on a time crunch is so easy because it's such a walk-able city. Most of the key sights and museums are all around either the Chicago River or the Magnificent Mile, aka Michigan Ave. Walking the Magnificent Mile will let you see some of Chicago's incredible architecture, maybe let you do some shopping, grab food, and the get you to any museums you want to visit.
Also, along this stretch of Chicago you'll find Grant Park with fountains, public art installations and lots of great places to enjoy the bustle of the city. Don't forget: Grant Park is just off Lake Michigan, so it's windy… hence Chicago being named the Windy City.
And if you break away from the Magnificent Mile, and you should, you'll get to stumble into all kinds of cool side streets and restaurants. The tourists are walking the Magnificent Mile, so rock explore Chicago a different way: wander in search of coolness and you'll find the best cups of coffee, some great pizza, and totally random dive bars.
Tip: just a block off Michigan Ave on Ohio is a gem of a local gay bar – the Second Story. Dive is the only way to describe it because it's so tiny and cozy, but it's wonderfully clean, great drink prices, and a really fun crowd of all ages (adults).
Also fun for a great walk in the Chicago Riverwalk. A long, well-lit promenade running through a good portion of downtown, the Chicago Riverwalk gives some incredible views and a fun perspective of the city. You'll find some cool cafes along the riverwalk too, so if that's your style plan on some wine or coffee and people watching. Visit during the holidays and enjoy the city even more with this Chicago Christmas itinerary!
2. Ride the El to a cool neighborhood
Public transportation is one of my favorite things to experience when I'm playing tourist, and especially in Chicago. The El fits so well into all of my movie memories of Chicago, from While You Were Sleeping to the Fugitive. How could I not ride it? I ended up heading to the Uptown/Winnemac Neighborhood and scored with a great meal, fun shopping, and learned some fun facts about Chicago. Did you know that Chicago has a Swedish neighborhood? Who knew. Traveling to Chicago MUST include the El.
Neighborhoods to explore via the El:
Uptown or Andersonville – Red train NORTH
Downtown loop – Orange train
Washington Park – Green train SOUTH
Chinatown – Red Train SOUTH
Tip: you can either by a single ride ticket or a pass. The pass requires a $5 deposit that you can eventually get back, but if you are traveling to Chicago for only a day or two, choose the single tickets.
3. Be a total Chicago tourist: the Bean
Sometimes we do touristy things because we are tourists too. We love finding off the beaten path spots and activities, but love to be cheesy too. The Bean, aka Cloud Gate, is located in Millennium Park just off the Magnificent Mile. Yes, it's the ultimate selfie destination, even if you're traveling to Chicago for the fifth time, but truly it is actually really cool.
Tip: get there early in the morning to catch it without tons of tourists around. I walked by and nobody was there. When I actually stopped, I was one of 500+ people around it.
Also in Millennium park are some really cool public art installations, an amphitheater, and quiet places to sit. Nearby attractions include the Art Institute of Chicago, the Chicago Cultural Center, the Theater District and the Shedd Aquarium/Field Museum. See? Being cheesy and visiting The Bean actually isn't silly but is a great way to get into the heart of downtown Chicago!
4. Do an architecture cruise on the Chicago River
When I first polled the crowd to hear what I should do for my first Chicago trip EVERYBODY told me to do an architecture cruise on the Chicago River. I was like, um, okay. I got a hold of Wendella Boats, the original architecture cruise, and they set me up with the most awesome and crazy knowledgeable cruise director around. My cruise was great, but the top recommended architecture cruise is with Chicago Cruises and the First Lady.
Starting at the base of the iconic Wrigley Building, the architecture tour does the length of the Chicago River, including the weird northern arm of it. It was incredible to learn the history of Chicago, see the sights, and actually get a better understanding of the lay of the land. It was a freezing cold day when I did it, but I bet on a sunny, warm day that it's incredible. I'd do the architecture cruise on the Chicago River again in a heartbeat.
Tip: dress appropriately for being outside on a boat. You can be inside (by the bar) if you want, but being outside gives you the best views and is what makes the architecture cruise awesome. Stay warm though.
5. Bucket list paintings at Art Institute of Chicago
I studied Art History at the University of Washington and love museums, so visiting the Museum Campus was incredible for me. We're homeschooling the kids and get to teach them about all kinds of things, including art. The Art Institute of Chicago has been on my bucket list of world activities for the longest time and it did not disappoint. It's worth traveling to Chicago just to share the Art Institute of Chicago with kids. Get your Fast Pass Admission to AIC here!
As if the incredible Renaissance art and suits of armor weren't enough, the Art Institute of Chicago houses my favorite painting, and Oliver's too (our oldest): Sunday Afternoon on la Grande Jatte by Georges Seuratt. I got to see it in person, unobstructed. I got to wander around looking at Degas and Monet's work and more… and then revisit my favorite painting. If you're an art lover or just a person looking to have a moment to try to understand what all the hype about art, or this painting in particular, is, then you need a few hours at the Art Institute of Chicago. #BucketList
Tip: allot 2-3 hours to explore the AIC. If you can spare the time, plan for 4-5 hours to be slow and thorough. The collections are incredible and you'll leave a better person for spending time there. 🙂
6. Catch a Broadway show in Chicago
Chicago has an awesome Theater District. They get some of the bigger shows before other cities do, like Hamilton for instance. Yes, I did try and no, I couldn't score Hamilton tickets. If you're looking for another show though, Chicago is a great city to visit if you want to catch a Broadway show without going to NYC.
Tip: download Today Tix as soon as you know you'll be visiting Chicago, or even just have it on your phone for finding theater tickets in your own city. You can find all kinds of tickets in advance or same day at a discounted rate.
7. Eat awesome food
Chicago is known for its Chicago style deep dish pizza, right? There is much more to the Chicago food scene than that though. You can seek out Italian or a steakhouse, or you can venture into modern cuisine. I found everything from Szechuan style Brussels sprouts to chili Benedicts. Yes, I had Chicago style deep dish pizza too, but it wasn't my favorite.
Tip: here is a great article about a local's favorite restaurants in Chicago you can't miss (and some to avoid)
And sushi. We have a little rule regarding sushi: never eat sushi more than an hour from the coast. Found out something though about sushi grade fish. Most types of fish used for sushi are required to be frozen before it can be used. Since learning this, I've tried all kinds of great sushi inland, and Chicago's sushi was rockin'.
Tips for good eats: I will never pretend to know all of the best places to eat, but here are four spots I enjoyed for good food in Chicago beyond just downtown.
Beatrix – Magnificent Mile
Summer House Santa Monica – Lincoln Park neighborhood
Bongo Room – Andersonville neighborhood
Rollapalooza – Boystown (gayborhood)
8. Visit your favorite movie locations
Traveling to Chicago is your ultimate chance to dork out. So many movies happen in Chicago… Before you do your Chicago trip (or if you're traveling with friends) Google "movie locations Chicago" and pick some sites.
For me, Union Station Chicago was a must-see. It was the scene of the great shootout in The Untouchables. I also wanted to check out the Chicago Theater (because it's iconic and in Chicago) and, as I mentioned earlier, ride the El. I wandered around like Richard Kimball in The Fugitive. And I tried to tackle the sights of Ferris Buller's Day Off but it was too tough for me. Next time…
Chicago Bonus Plan: the full Ferris Buller's Day Off route
So, these are the great Chicago sites to visit to relive Ferris Buller's Day Off. We love movie themed road trips and exploring. These are not in order of the film, but set up as a route you can do to visit them as efficiently as possible. Also, to really get the full experience, plan your Chicago trip to fall on September 17 or thereabouts (a weekend in mid-September). Plan it right and you might even score a parade spotlight.

Chicago Board of Trade
Willis Tower Observation Deck – have lunch and do the Skydeck!
Parking Garage – Madison & Wells
The Von Steuben Day Parade site – Dearborn & Randolph
Art Institute of Chicago – included with the Chicago CityPASS
Lakeshore Drive
"Chez Quis" the fancy spot – 22 W Schiller St
Wrigley Field
There are several other sites that are shown in Ferris Bueller's Day Off, but these are the key ones to spending a day feeling like you need to save Ferris. Totally a bonus activity when you're traveling to Chicago.
Traveling to Chicago: where to stay
I've stayed in two great hotels in downtown Chicago and they were at two very different price points. Check them out below!


Millennium Knickerbocker Hotel – Magnificent Mile
Located just a few blocks off the Magnificent Mile the Knickerbocker Hotel is totally from Chicago's heyday. It feels like a step right out of the 1920's. Well maintained and still showcasing its vintage charms, it made me feel like I was in the Chicago of the movies.
The rooms at the Millennium Knickerbocker Hotel are very small, just like most old hotels or converted apartment buildings from the teens and 20s, but they're very nice. Very good linens, comfortable work space and very quiet, but very small. It's perfect if you're in Chicago for a quick trip or for work. Are you going to be spending much time in your hotel room anyways?
EMC2 Hotel – Magnificent Mile
Part of Marriott's Autograph Collection, the EMC2 Hotel Chicago is way cooler than I am. It's a shocking difference from the Knickerbocker. EMC2 is modern and uber sophisticated… and totally Steampunk. My room had some really cool art and features, all with copper fittings and cool design elements. I even had a fresh flower in my room each day.
Favorite feature in my EMC2 room: the cell phone music amplifier.It's a copper tray on a pipe with a trumpet end and works to amplify the music you play from your phone. Genius. It was great to have something to break the silence while I worked out of my hotel room.
Again, the rooms aren't huge but they're very comfortable and are great for a fun Chicago visit or if you need to be working out of your hotel room for a good portion of your stay.
I'm excited to go back to Chicago with the family. We've already got our family trip planned out. We'll be doing the Shedd Aquarium, Lincoln Park (including the free zoo), the Field Museum (because dinosaurs), another architecture cruise on the Chicago River, the Chicago's Children's Museum (on Navy Pier), and of course, returning to the Art Institute of Chicago.
Traveling Chicago is totally fun on your own or with family. I don't know how it took me 35 years to get there but I can say that a Chicago trip is something I'd do again without question. Such an awesome place!
And if you are heading to the Windy City anytime soon, pin this for later. Visiting Chicago is a blast any time of year!