Beyond pirates and forts in Saint Augustine, we are always excited to experience alligators in Florida. Alligators are our families favorite animal…next to sharks and manatees. When we found out about the St Augustine Alligator Farm we just had to go and have been back several times since. We were genuinely surprised at its awesomeness upon our first visit. It is a really well put together zoo!
Of all of the zoos and aquariums we've experienced, this one provided the seemingly-best habitats for the animals with the most specific zoo keepers and scientists on property (stark contrast to the Georgia Aquarium). This is our complete review of the Saint Augustine Alligator Farm as well as a guide to having a great visit with kids (or just adults!)
What Animals are at the Saint Augustine Alligator Farm?
The name is misleading: the Saint Augustine Alligator Farm is neither a farm nor just alligators. While there is a part of history where the Alligator Farm really did raise gators in a sense of "farming" them, it hasn't been like that for a long time and it is now much more of a zoological garden. Yes, there is a heavy focus on alligators and other crocodilians, but there's much more.
Florida's Native Alligators
You literally see alligators from the moment you walk through the doors of the Saint Augustine Alligator Farm. Baby gators greet visitors and the tiny little gators are so cute, so cuddly…well, not cuddly, but they really are cool. And then there was a fake gator to sit on and get a picture right away too. From the start, the mood of an alligator adventure is set.
And then there was an albino gator… and then…. Really, no time was wasted in being sure to show us all of the different types of crocodilians.
Tip: the Alligator Farm is larger than you think and if you want to score a picture of a happy kiddo sitting on a gator, do it at the start of your visit.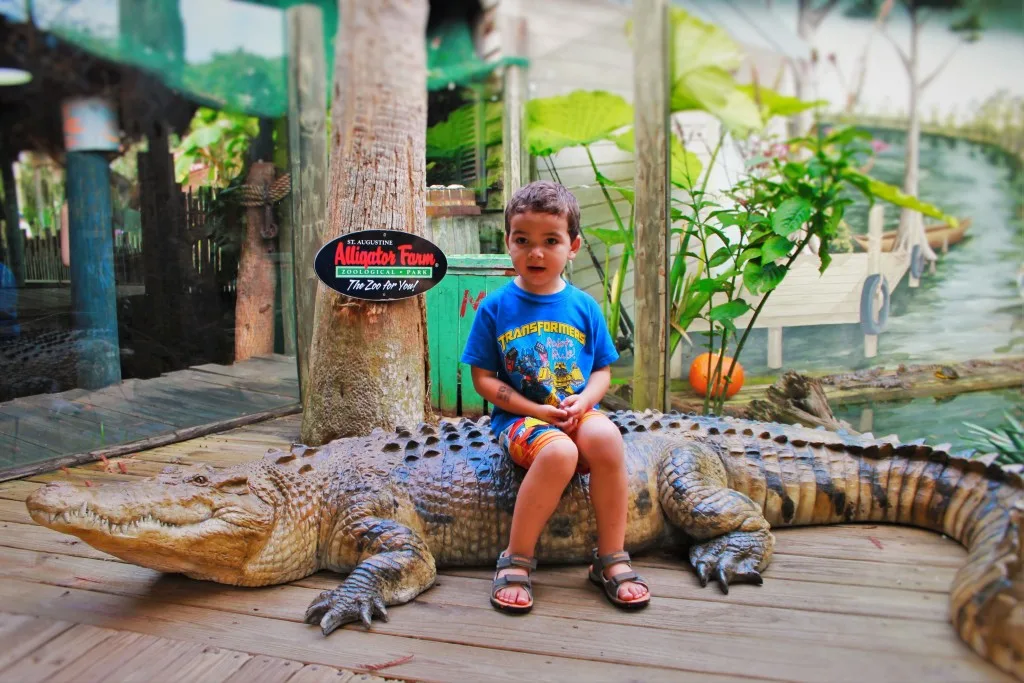 The Alligator Swamp
By far, this was the highlight of our visit. This is what we expected all of Florida to be like. Well, not really, but we were hoping. The boardwalk runs the length of a football field and really is genuinely creepy. Even though you're totally safe, if you get scared easily or don't like reptiles, you may have a small panic attack. Below you are more alligators than you can imagine. We don't even know how many we saw as they were impossible to count. On the banks of the swamp they were all lounging all over each other just like on a National Geographic special. In the water, they were swimming across each other, chillin' in the sun… and catching birds that flew too close. We witnessed real carnage which was… um… it really brought us into the moment of where we were: on top of hundreds of gators.
Tip: kids in strollers for this section is a gooooood idea. We've got flailers who can fling themselves out of our arms without notice. You don't want that to happen here. As bigger
Crocodiles and Gharials
The variety of crocs and gators was really impressive. We knew that there was the Nile crocodile and the Florida gator, but we didn't know the variety was so vast: crocs from 5 continents, gators from 2, caimans, GHARIALS! They're all separated by species and then regionally within each. Just walking through and seeing the many types side by side, you'll learn a lot about each.
Note: Maximo the Crocodile was very impressive to see, but for an animal so large, his exhibit was very small and confining. Granted, our knowledge of reptiles and their environmental needs/range isn't deep, so his exhibit may have been more than sufficient, but the impression for such an enormous creature was that he probably needed A LOT MORE room. *I am not an expert.
Tip: each exhibit has very well put together information placards. There's a lot of facts and stats that help you understand the different species as well as habitats. They're written well enough that investing 20 seconds at each spot is well worth the time to read and learn.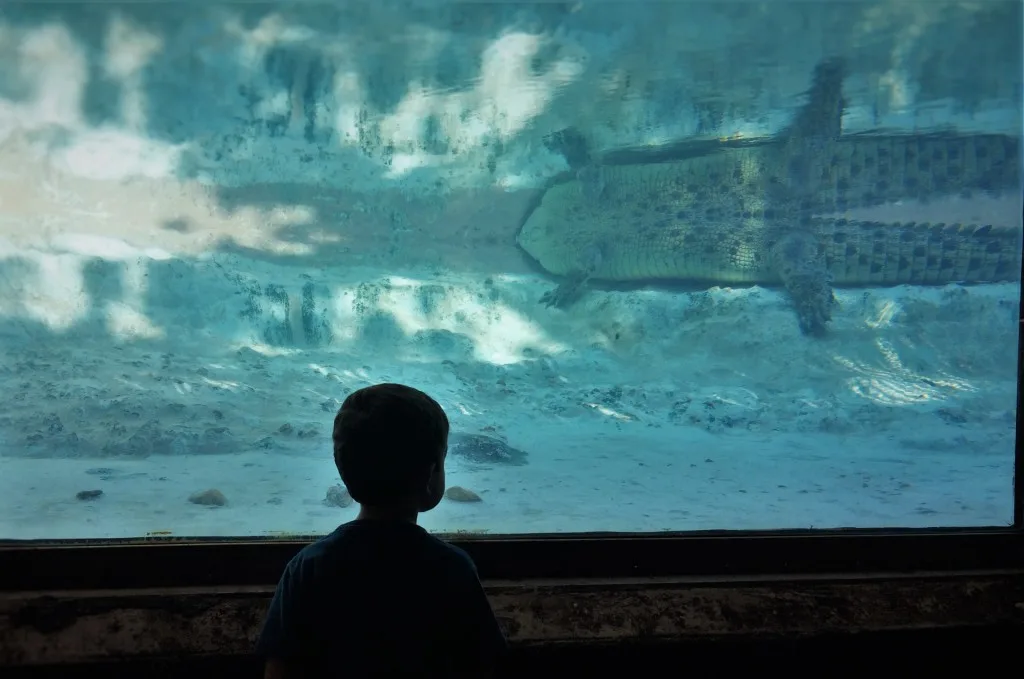 Birds and the Florida Migratory Rookery
Hornbills, parrots, cockatoos, cranes, storks…VULTURES. Seriously, we weren't anything but alligators, so seeing some of our favorite birds was great. The hornbill is my favorite (hi, I'm Rob) and they had several varieties. The vultures were amazing too, as they weren't just turkey vultures like you see on the side of the highway, but actual real, big, creepy, beautiful Cape Griffin vultures. Seriously, they're such stunning birds and you can observe them close enough to really see their talons and crazy sharp beaks.
Tip: there is an actual playground at the south end of the Alligator Farm where you can sit and watch the storks and vultures while the kids are climbing and sliding and such. Relax and enjoy them! Oh, and there's another great photo-op with a cut-out face wall where the kids (or adults) can be vultures or storks.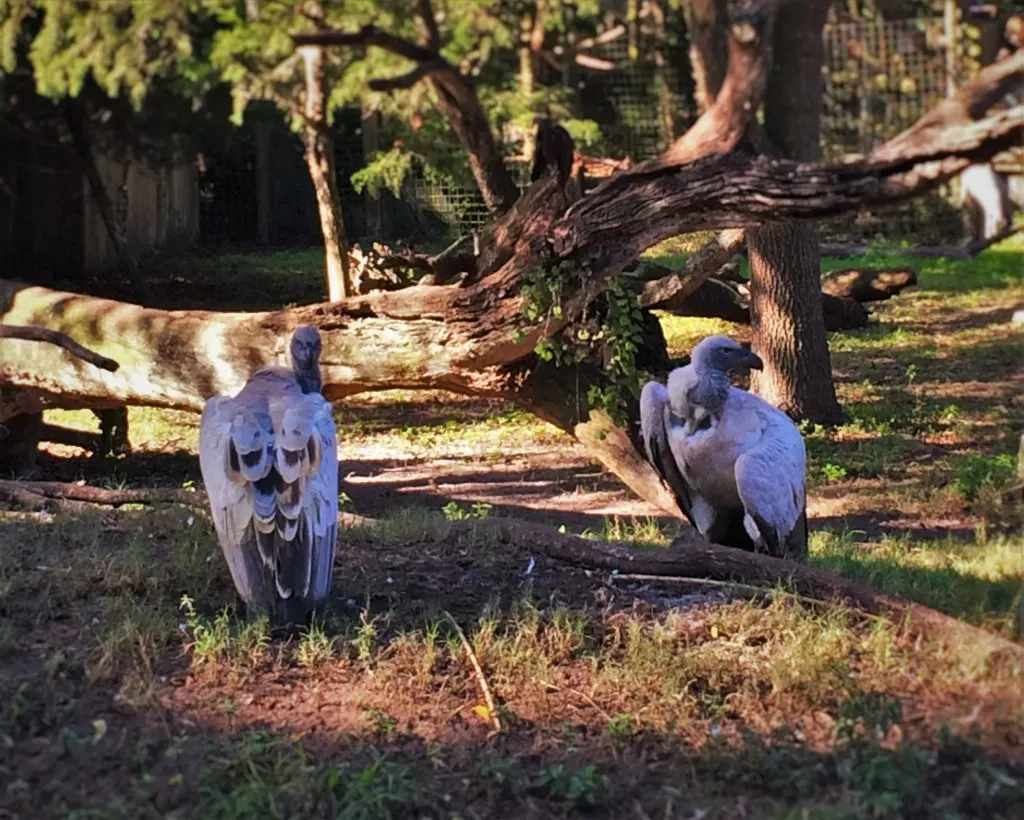 Seeing Komodo Dragons at the Saint Augustine Alligator Farm
With a rather large exhibit of varying landscapes and coverage, the komodo dragons are a sight to see. We've gotten to experience them in several zoos and by far this exhibit was the best we've seen. And it helped that the dragons were in the mood to pose in the sunlight for us.
Tip: kids can be quite literal. Explain that komodos aren't fire breathing type dragons. Just a thought.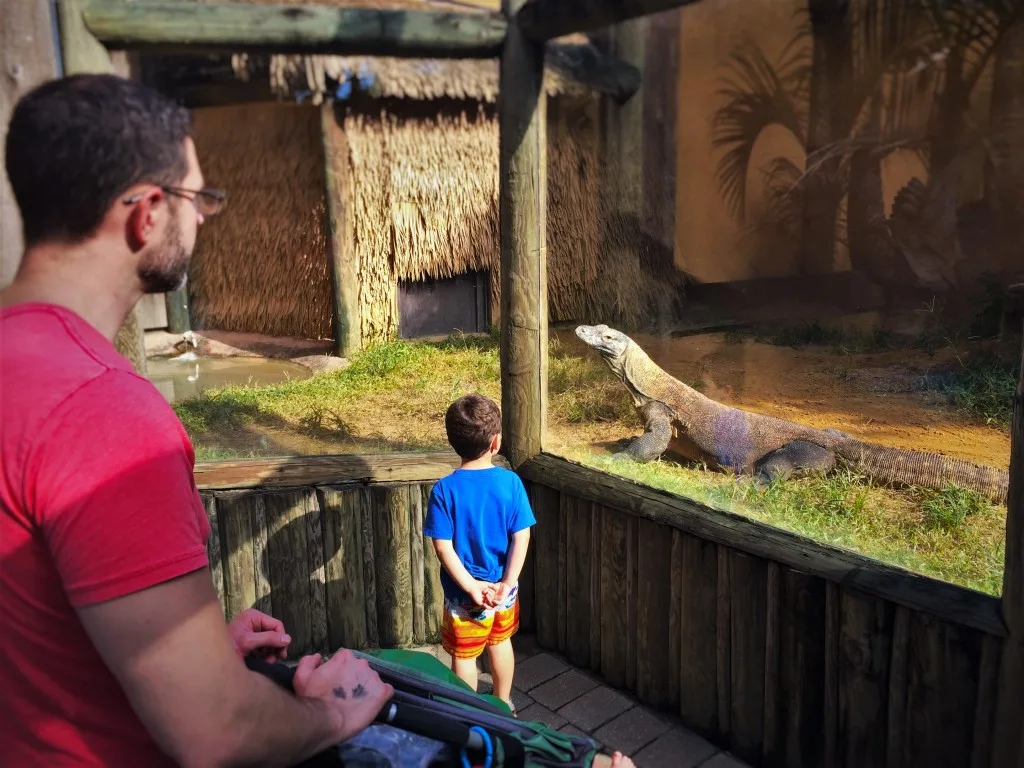 Tropical Mammals and Rainforest Creatures
In addition to all of the creatures mentioned above, the St Augustine Alligator Farm also has lemurs, tamarins, Galapagos Tortoises, and some very interesting displays and exhibits about the different parts of the world featured animals are from. Next time we're at the Alligator Farm, we'll be doing the zip line obstacle course that covers most of the park. We can't wait!
Tip: if you want to do the zip line, be sure you arrive wearing shoes, not flip flops. Open toes = you no go.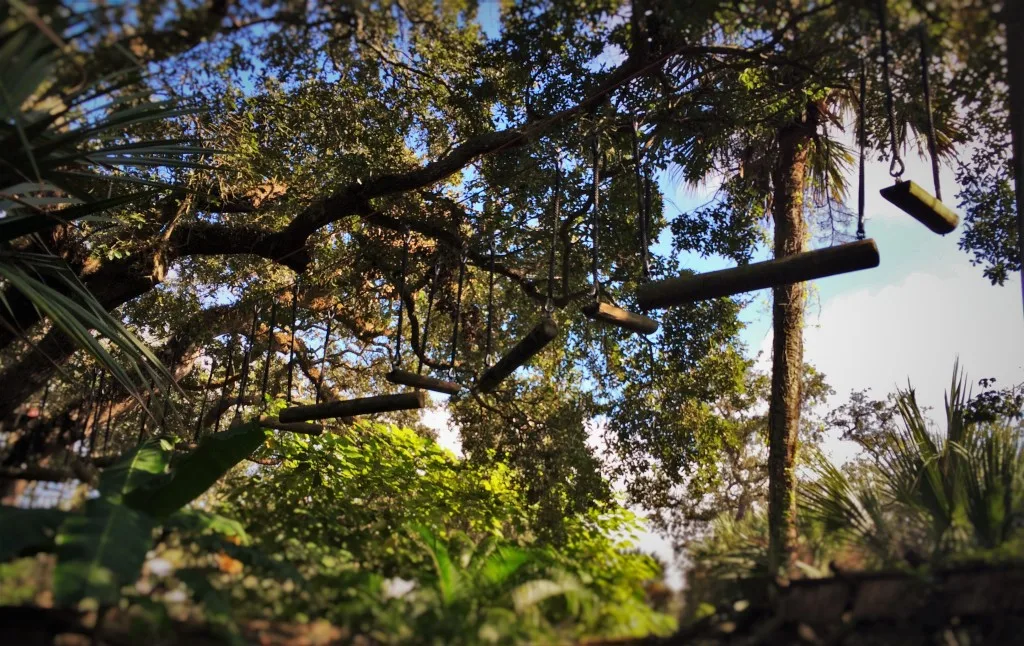 The St Augustine Alligator Farm really is such a cool place for a family trip. It is almost completely wheelchair or stroller accessible. There is food available in the park at the ToucanTina, where they actually serve beer as well (and for better than a bar prices). There are a few spots to sit in the sun or the shade, but then also there are some select air conditioned areas if the humid heat is just too much. The staff we talked with were all very friendly and knowledgeable. It was great and we were thankful they hosted us.
Tip: find out when they're feeding the gators if you're in the mood for some thrashing tails and growling. Also, see when they're doing animal demonstrations. We got to meet the nicest macaw and even snuggle a python.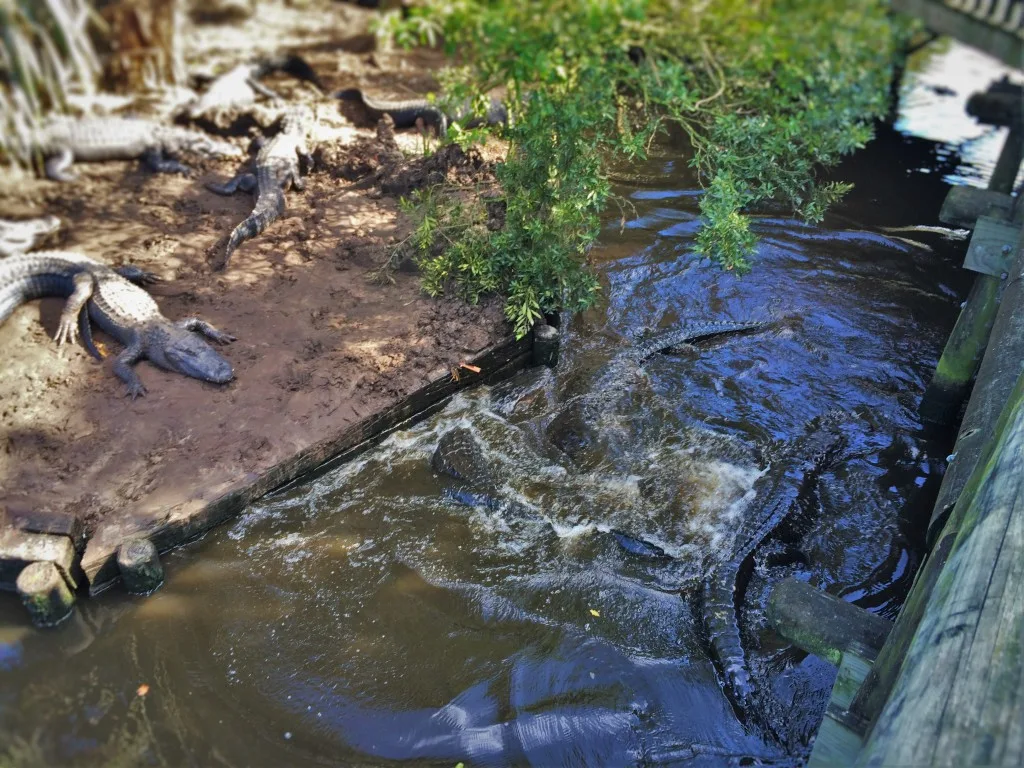 If you're in St Augustine, it's worth about two hours to gingerly explore the St Augustine Alligator Farm. It's a very unusual zoo and was great for seeing something new and getting an experience with gators. Once you're done here, you can easily jet over to the lighthouse that's very close by or head down to Fort Matanzas, about 20 minutes south. Each of these activities is another way to make you to truly #LoveFL.
Want to Pin it? Go for it!!