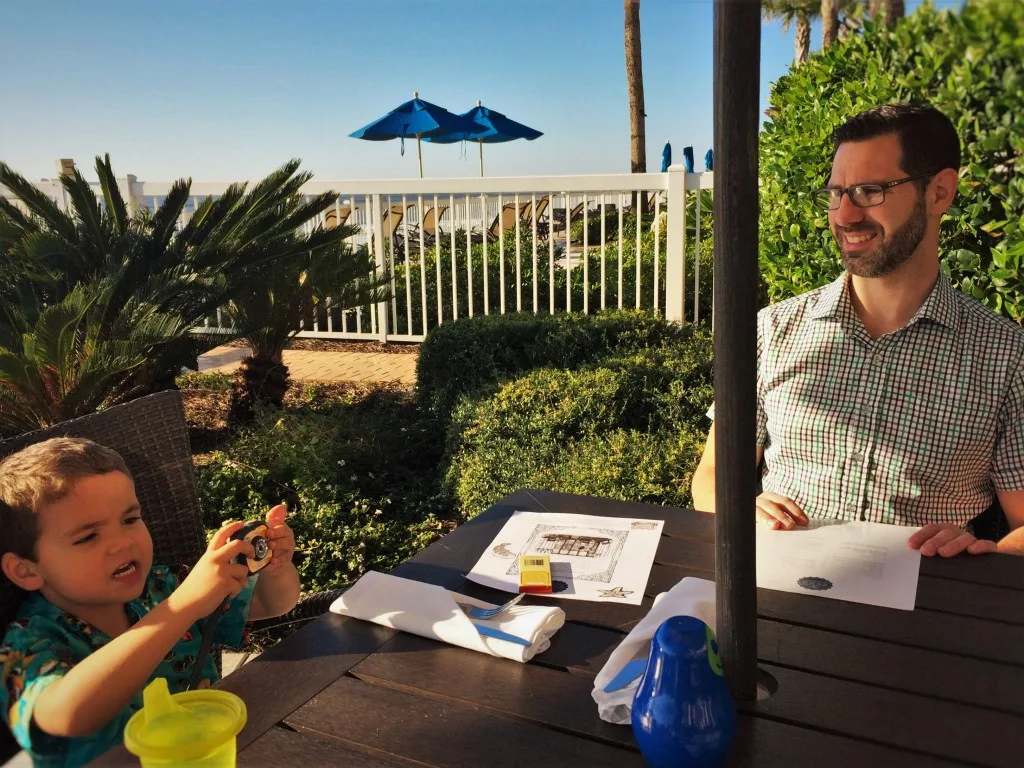 Before we had kids we'd relax each night by watching HGTV or the Food Network and dream about renovating our kitchen or maybe dining out every night. And then kids happened and we realized that we'd rather build with blocks and eat grilled cheese sandwiches. But then we travel and are immediately reminded that there is so much amazing food in the world to experience and that our kids will love it too. We're not shy about bringing kids to a nice dinner, so boom: Echo Restaurant and Best Thing We Ever Ate, Taylor Family edition.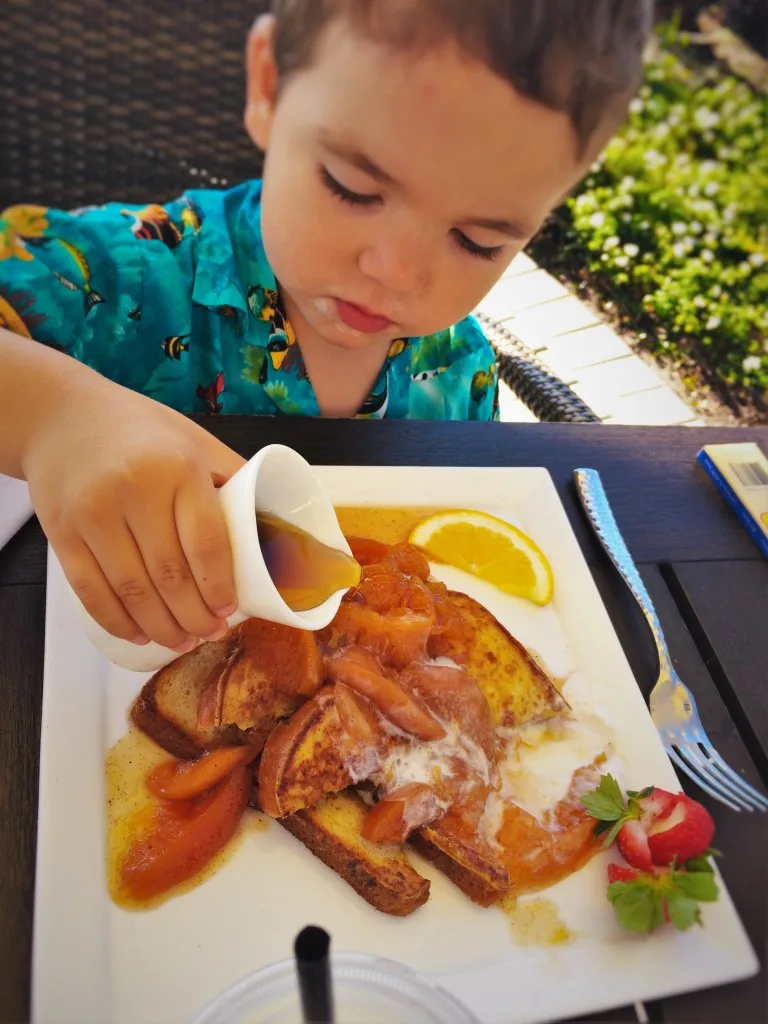 We had an amazing stay at the King and Prince Resort on St Simons Island, Georgia and were blessed with a high class place to dine too, Echo Restaurant. Typically we opt to venture out, away from the hotel and find little places where we can be loud and try new things. Since the King and Prince was hosting us, we dined on property and gosh were we glad we did. The service was excellent at each meal, with the staff being really flexible with our tired kids. And we could eat outside in the sun or shade, or inside. Always good to have choices.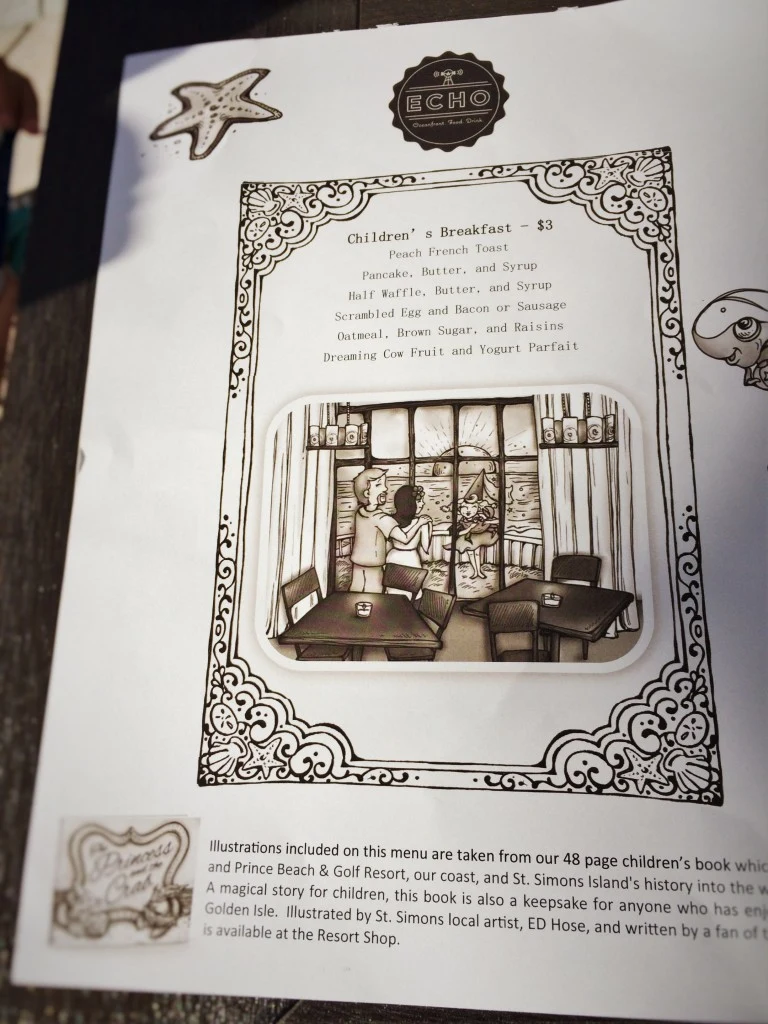 Prior to getting into the actual food, we want to shout from the rooftops how much we felt welcome as a family at Echo. Like we said, stellar service, but family-wise the restaurant has created their kids menus in the most thoughtful way: 1.) they're fun to color with scenes from the resort's children's book, The Princess and the Crab; 2.) there is a respectful selection for the kids that eat more than grilled cheese sandwiches; 3.) kids items are NOT price gouged as is too often the case in restaurants ($3 breakfast, $5 dinner).
Fun story: our first night there, our oldest was really tired and beyond cranky. He ordered the kids menu's Mac 'n Cheese… and when it arrived the noodles were spiral…not elbow. End of the world for some reason. Our server offered to have elbow noodles made instead, which we declined… cuz kids have to learn that life is not 100% catered to them… even in a very nice hotel or restaurant. The offer was sweet and was a great service example, but yeah no, sometimes kids need to just deal.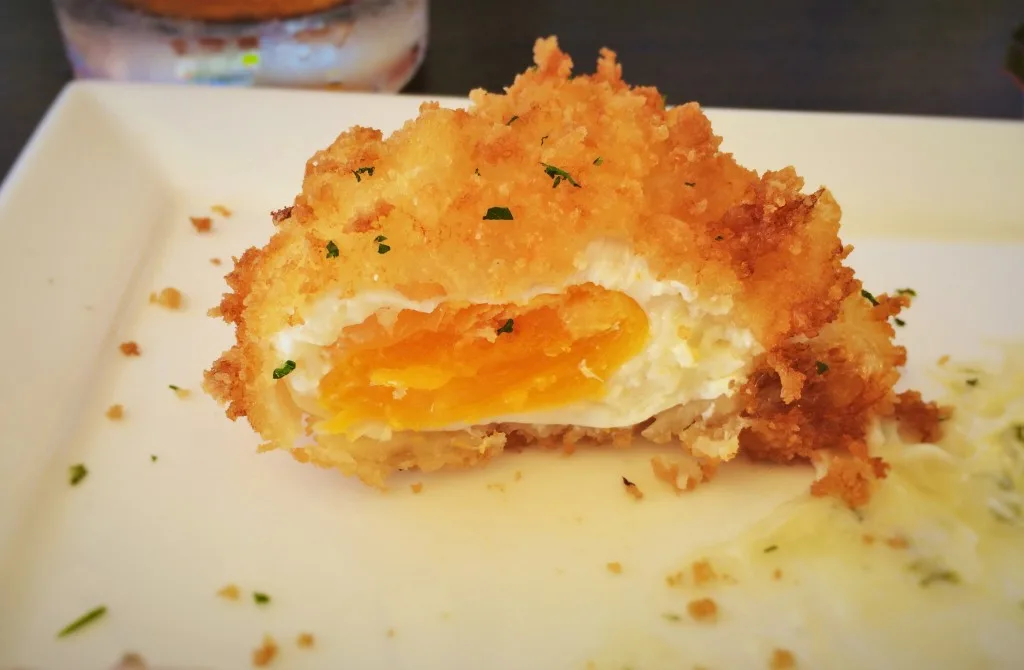 Breakfast – they say that breakfast is the most important meal of the day. Is it? Maybe, but probably because that's the meal that you can eat dessert or leftover cold pizza and it's all good. At Echo Restaurant, it's the most important meal because it's where you can get the Crispy Egg. The what?! Yeah, picture a poached or slow fried egg that's been crusted with panko or crumbs and then perfectly fried to give you a crunchy outside and a warm, soft inside. That's the crispy egg.
Eggs Coastal – place that crispy egg on top of a beautiful piece of salmon that's sitting on a cake made of grits and then dill sauce below… it's breakfast gold. Had it for two different breakfasts. That good.
Eggs Lowcountry – another breakfast medal winner at Echo Restaurant. It consisted of shrimp and Andouille sausage mixed into roasted potatoes with a fried egg. While the sausage itself wasn't the most spectacular variety of Andouille ever, the shrimp and potatoes were a winning combo. And it was very Southern.
Peach French Toast – from the kids menu, but BOOM. It was such a hit, and we'd be lying if we said that it was only our son that enjoyed it…because there was plenty to go around and it was adult palate quality.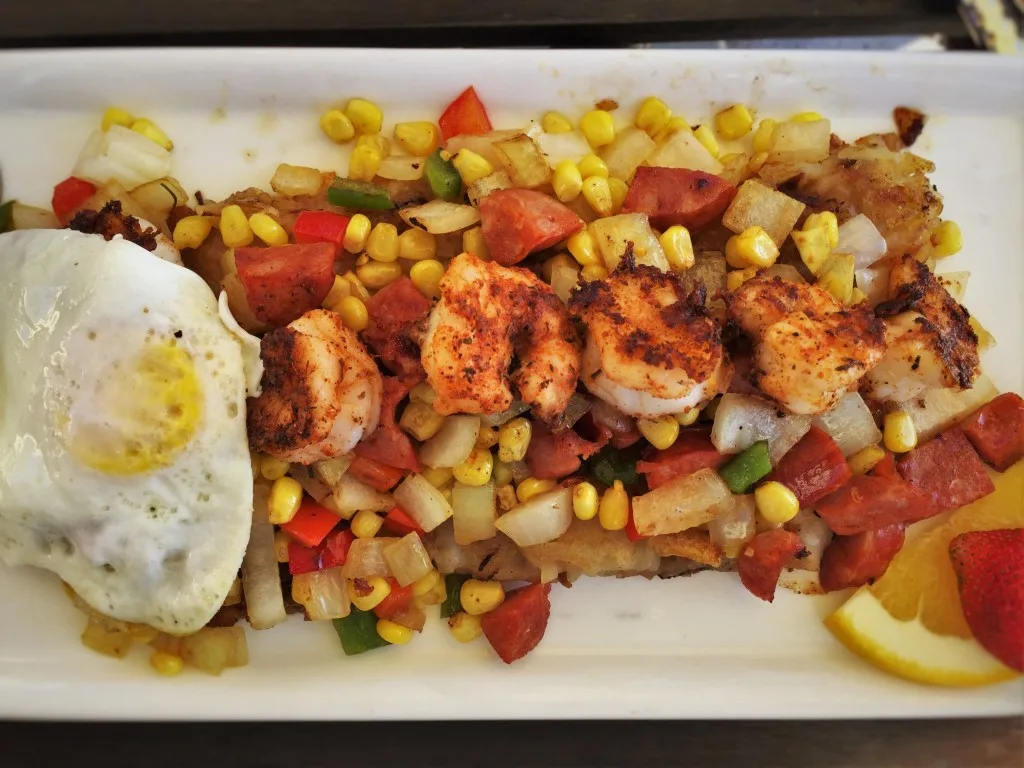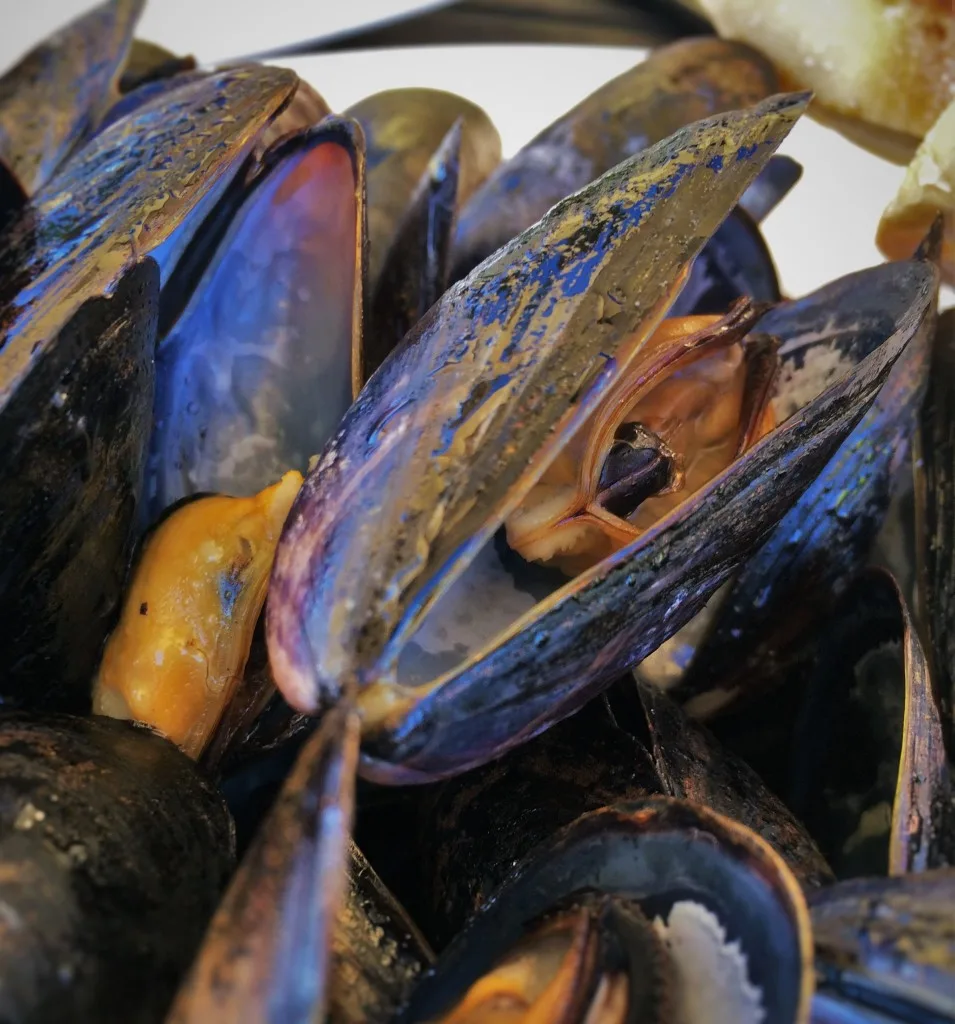 Lunch – undoubtedly the best meal we ate on our whole trip through the South. From amazing seafood to cheesy creaminess, it was just too good. In our post about the King and Prince Resort, we said that one of these items haunts us it was so good. Here it goes:
Mussels – not amazing but not bad (the good stuff is next). Not a ton to say, as the broth was quite standard and the shellfish quality was good. There was no wow-factor…and being from Seattle, we have a lot of shellfish experience. Again to be clear: totally good and worth eating, but not the best thing ever, because that was the…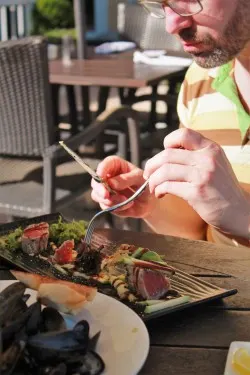 CAST IRON SEARED TUNA – this dish needs to be on the Food Network show The Best Thing I Ever Ate. It is truly the most perfect restaurant dish ever created, from flavors to textures, quality of ingredients to presentation. I've never had a dream about food, but this has somehow crept into my sleep and I've had two dreams where I was eating it since. Amazing tuna, crisp apples, fresh greens, hoisen sauce: so completely amazing.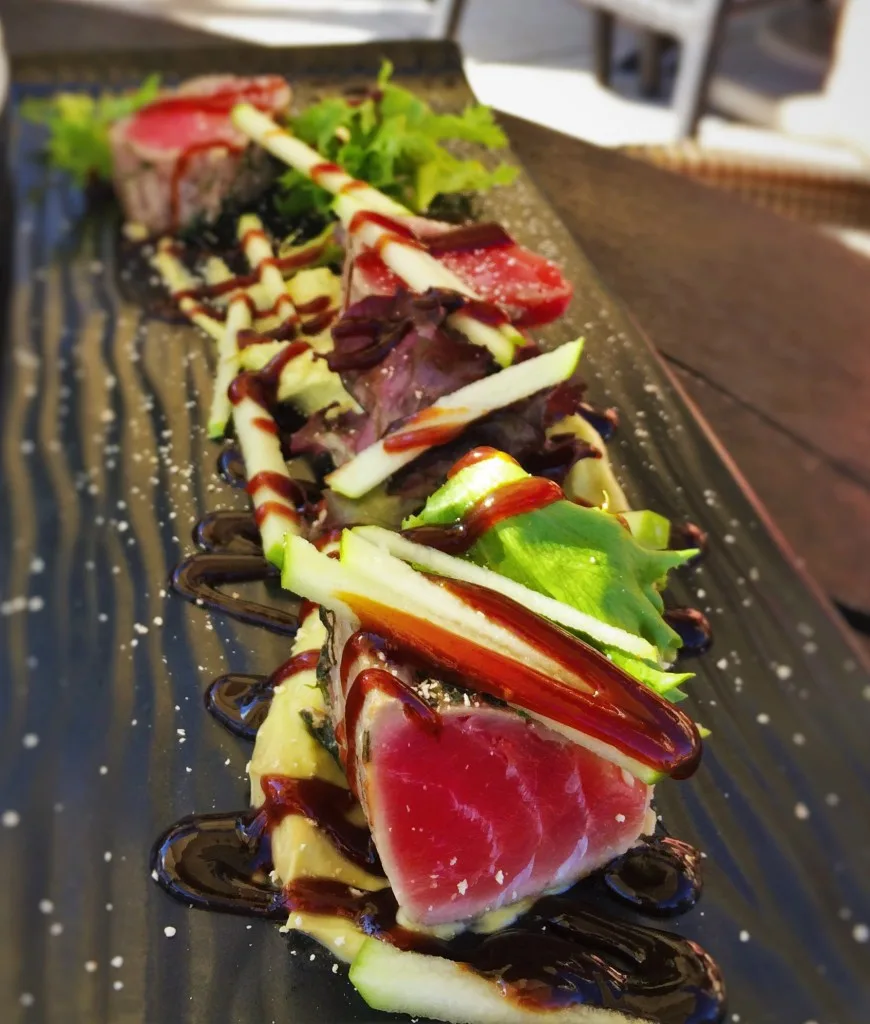 Fun story: when we tweeted our review of the King and Prince, upon reading it they sent us the recipe for the Seared Tuna. We haven't tried to make it yet because we're really scared that we'll fail miserably. We will be attempting it though, and when we do, we'll share the story and pictures of our own creation. All of the fingers everywhere are crossed hoping we do justice to the dish.
Crunchy Seafood Mac 'n Cheese – most people were hooked at the phrase "mac 'n cheese"… So add to that crab, scallops, salmon and more. On top, maybe throw some fried grouper (local) and wow. We're not saying that this dish is healthy as far as fat content and salt goes, but again, the quality of the components was very clear and the flavors were incredible. Oh yeah, and there were a few veggies in the mix, but not so many that it took away from the cheesy seafood-ness of it all.
Shrimp Pasta with Lobster Cream Sauce – again with the creamy seafood and noodles. While not as stunning as the Seared Tuna or Cruchy Mac, the amount of shrimp in this dish was…generous. And the lobster cream sauce could've actually been served in a cup with a straw, or maybe a wonton spoon so you could scoop shrimp…then you wouldn't need the noodles!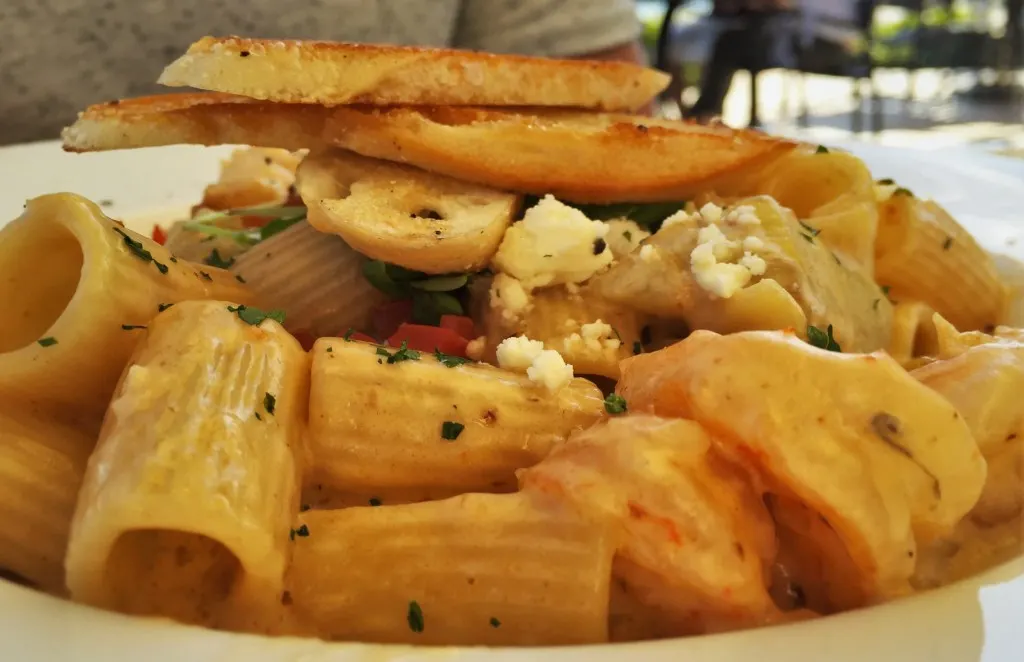 Citrus and Pomegranate Salad – crispy, refreshing, again with the unquestionable quality. Beautifully assembled and delicious. And healthy. Okay, there was a really tasty healthy food we got too. (not pictured)
Dinner – ending your day with a meal that makes you ready for bed is always a good idea. It's funny, but eating so grandly feels weird, as we eat very practically (but deliciously) at home. We do like to take advantage of these times to try some new things though. Something new for everyone this night!
Fried Scallops – scallops are tricky to cook. Too often they're served undercooked or overdone and chewy. Confession #1: In all honesty, we ordered the fried scallops as a challenge to see how good the kitchen at Echo Restaurant actually was. They passed the test with flying colors…and a shiny medal. The scallops were cooked perfectly, complimented with the right portion of saffron risotto and a really flavorful lemon aioli. The only thing we wanted done differently was that there was a little more of the lemon aioli for the rest of our meal…because it was really tasty.
Bison Ribeye – you know? It was good. We don't eat a ton of bison (more than most though, I'm sure) but know that this was very good. It was cooked to a good medium, much less pink that one might order a beef ribeye, and was served with fingerling potatoes and asparagus. It was more of a Midwestern meal than a Southeast Coast meal. Wonderful, but didn't really fit in with the rest of Echo Restaurant.
Catch of the Day, Blue Bass – confession #2: this was ordered because it came with more risotto. Is that bad? No, it was really good. To compliment the risotto (mwah ha ha) was a lovely piece of fish that was ideally crispy on the outside and tenderly yet thoroughly cooked on the inside. Score.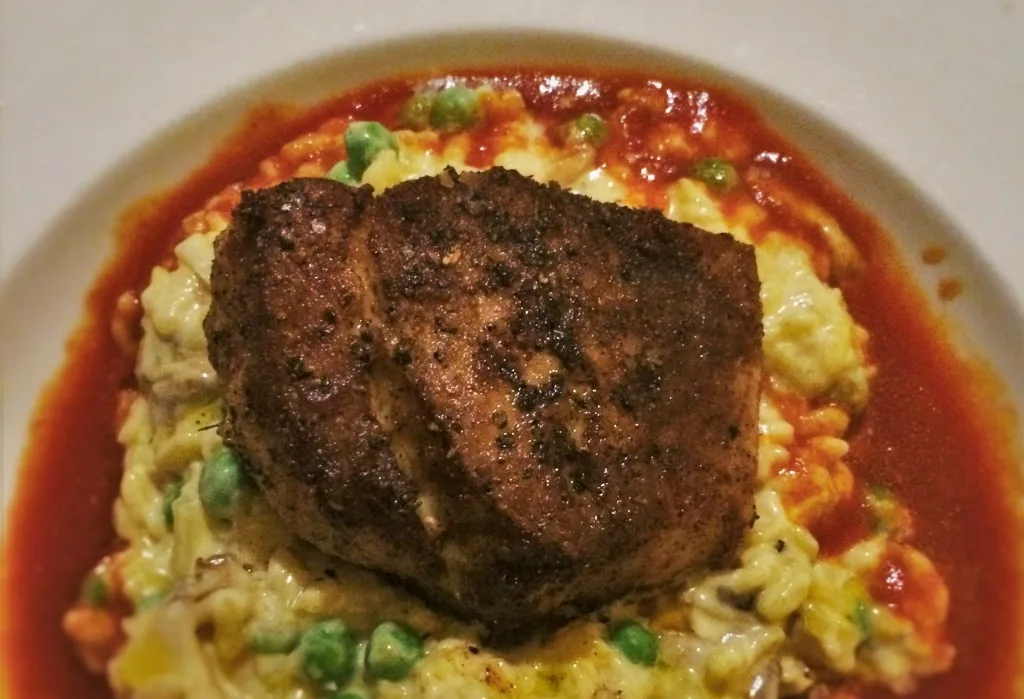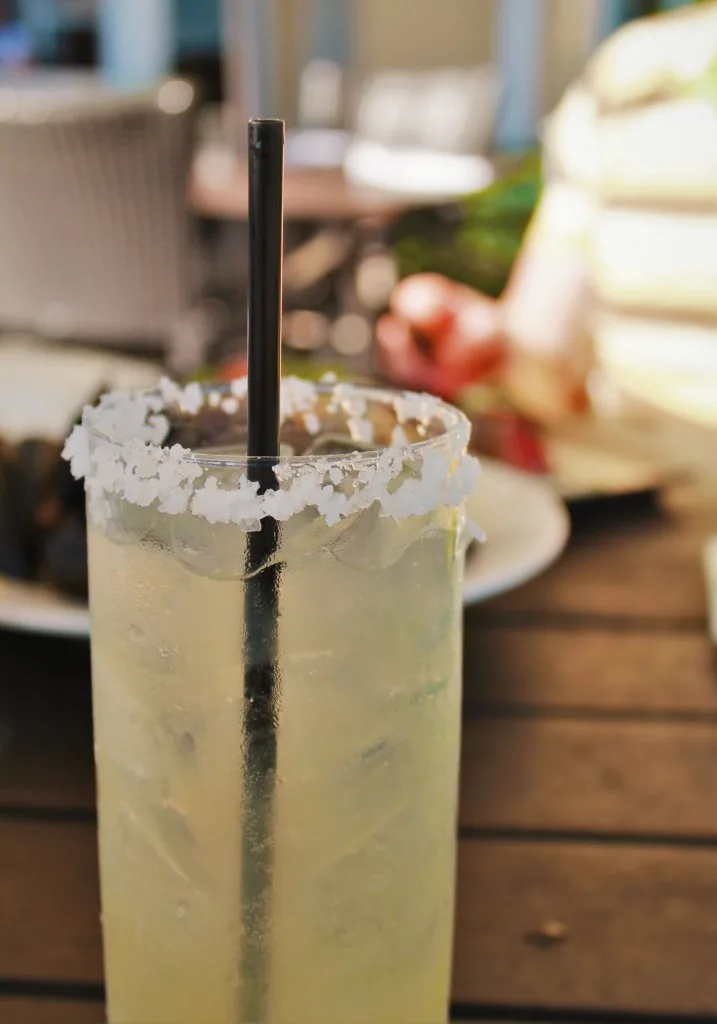 Beverages – of course there was a lot of iced tea to drink, but there were some pretty lovely cocktails too. Ooh, where to begin…?
Mexico Mule – tequila, lime juice and ginger beer. This was good… and weird. To the last sip I wasn't sure if I loved it or thought it was too strange. I think it was tough to not think of it as a margarita, so with each drink the strong ginger beer flavor would hit and be like "hey, I'm why this drink is called a mule. Not from Moscow, but hey, sup?"

Princess Rita – the perfect margarita. The recipe is spot on for mixing Cointreau, Grand Marnier, citrus juices and clearly good tequila. I'd not judge anyone having a second. Or third on a warm summer night.

St Simons Ruby – save the best for last. This was the best cocktail we had across the state of Georgia. Tequila, agave and ruby red grapefruit juice. If ever there were a cocktail that was appropriate at any meal, it is this one. Initially grapefruit juice sounded weird to mix with tequila, but you know, the two are the perfect balance. It was really delicious.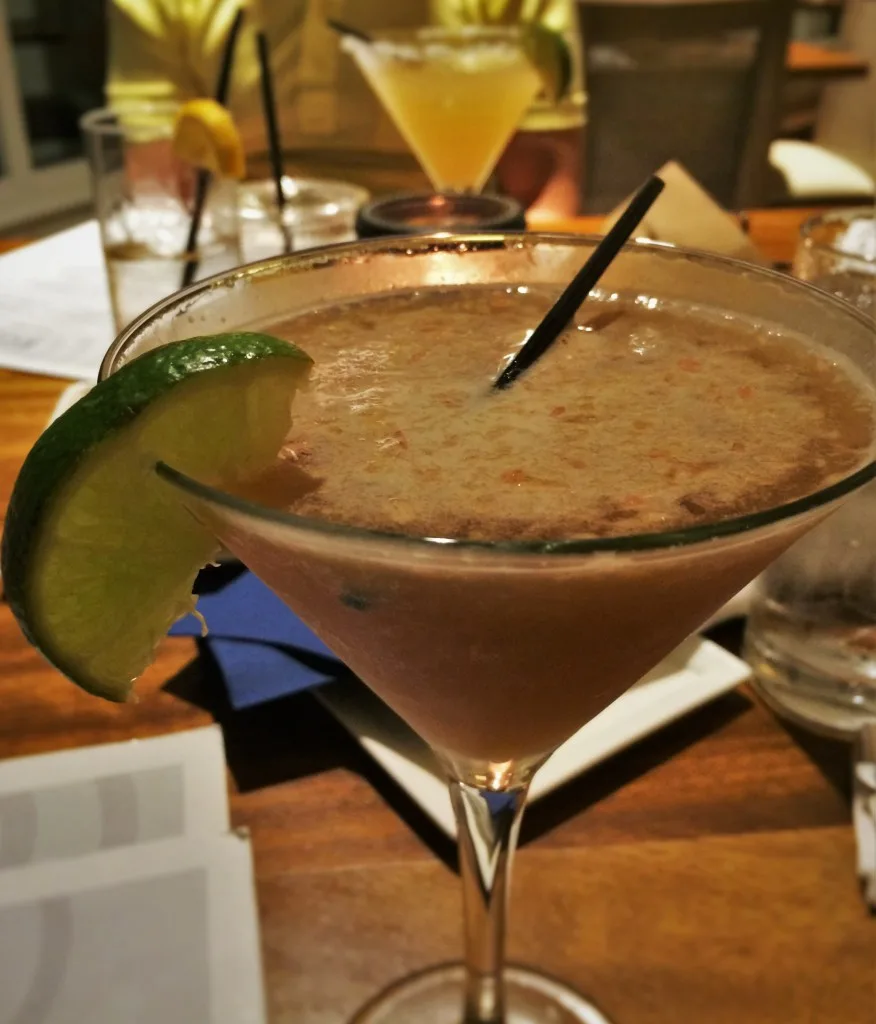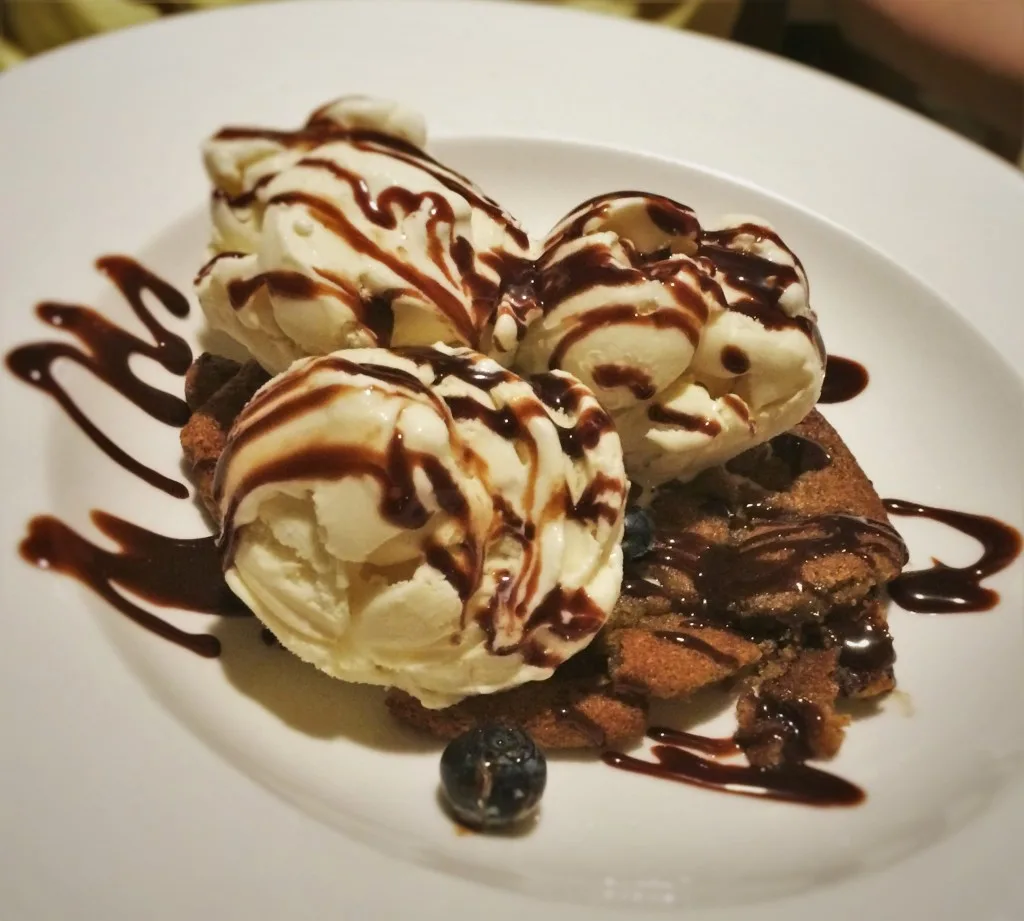 Desserts – you know when you've eaten a really good meal and you feel like you're already on a high note and should just stop? Yeah, that's how we felt. We did try several desserts as Echo Restaurant was being such a great host, but of the three we tried, none were so blow-me-out-of-the-water good that they made us feel good about having dessert. I think that's the key to a good dessert: be so tasty that there's no question that it should've been eaten. To be clear, what we had was good, but not jaw dropping.
Cookies and Cream – a warm chocolate chip cookie served with ice cream. If the cookie was gooier, sold!
Lemon Meringue Tart – the lemon filling was wonderful, but the crust could've been a better shortbread. Again, good but not the best thing I ever ate, but it was tasty. The best part was the toasted meringue.
The Shipwreck – this dessert was clearly tailored to a four year old…and it was a hit! It was just straight up a crazy ice cream sundae for our son to dig into before bed. Um, good idea on our part.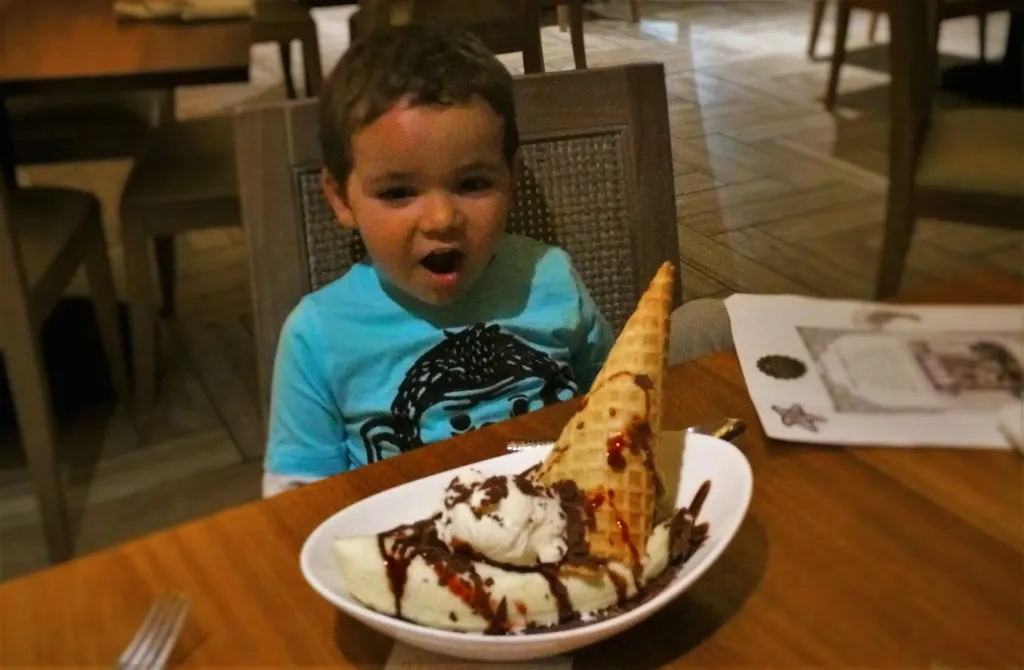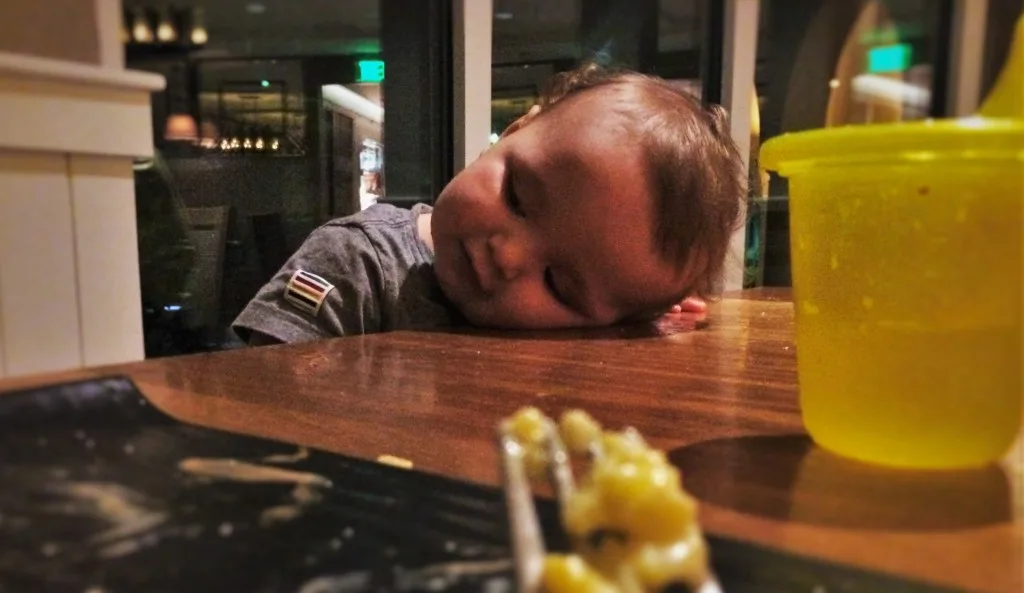 We thoroughly enjoyed all of our meals at Echo Restaurant. Dining on property made our stay at the King and Prince Resort even better than and was the perfect complement to the accommodations and beach time. Even if we aren't staying at the hotel, next time we're on the Georgia coast (which is often), we will for sure be going back simply to dine at Echo. And we're eating nothing but seared tuna. And scallops.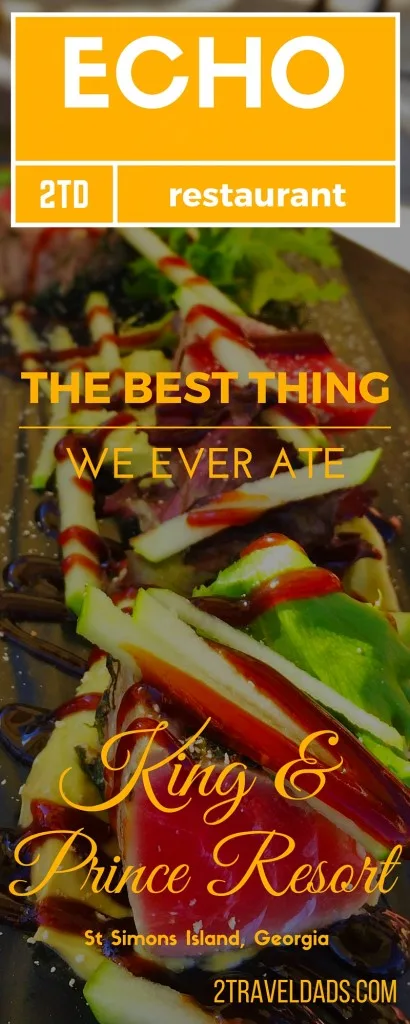 Want to Pin it? Go for it!!