We have visited St Augustine quite a few times and each time we've stayed someplace different. There are many hotels in Saint Augustine as well as other options, such as camping, and we're covering them all! After you read this article you should be able to make a solid choice in choosing a hotel in St Augustine and the surrounding area.
We've work with Best Western Hotels & Resorts in the past and have lots of experience with the brand, so we do recommend them for sure, and they sponsored our most recent trip to Saint Augustine before me moved here. We encourage you to check them out for booking a hotel in the St Augustine area, particularly because they have so many options! We've got additional recommendations for St Augustine and all the way up to Jax Beach for hotels and other accommodations, so let us know if you have any questions.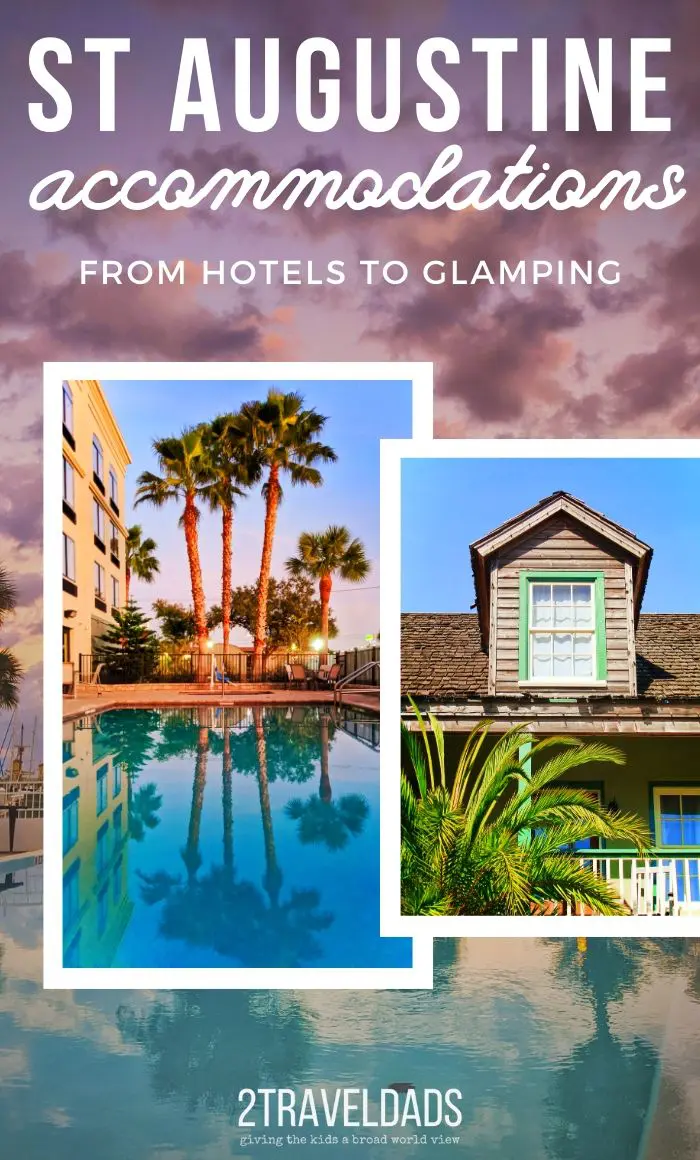 Where to stay in Saint Augustine
A city like St Augustine is great for any type of traveler because there is such a diversity of accommodations. Whether you want to find a budget hotel or want to book a beautiful, historic suite, there are lots of options! We love wandering through the historic downtown (check out our St Augustine scavenger hunt) so it's nice to be close by, but also there are benefits to staying outside of the popular historic district.
Reviews and recommendations for BWs in St Augustine
We partnered with Best Western Hotels & Resorts on our most recent visit and really enjoyed their offerings. As a thank you to our sponsor, we'd love for you to check out their options!
Best Western Plus St Augustine I 95
Located outside of the downtown core near the freeway, the BW Plus St Augustine I 95 was a wonderful, quiet option for visiting during the holiday season, which is one of the busiest times of year in the city. We enjoyed the large rooms, the outdoor pool and hot tub area (complete with lounge chairs), and the daily breakfast.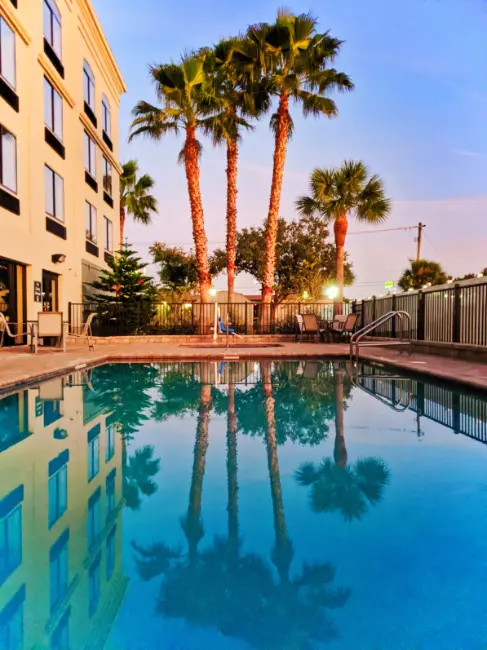 We've come to learn that BW Plus is our favorite of the Best Western family of hotels. Strong Wi-Fi, complimentary breakfast, and nice in-room amenities make BW Plus our brand of choice. And this property is a great example of the more upscale BW Plus variety.
A bonus to this St Augustine hotel is that it's very close to the interstate, which make day trips like visiting the many Florida springs or Daytona Beach super easy.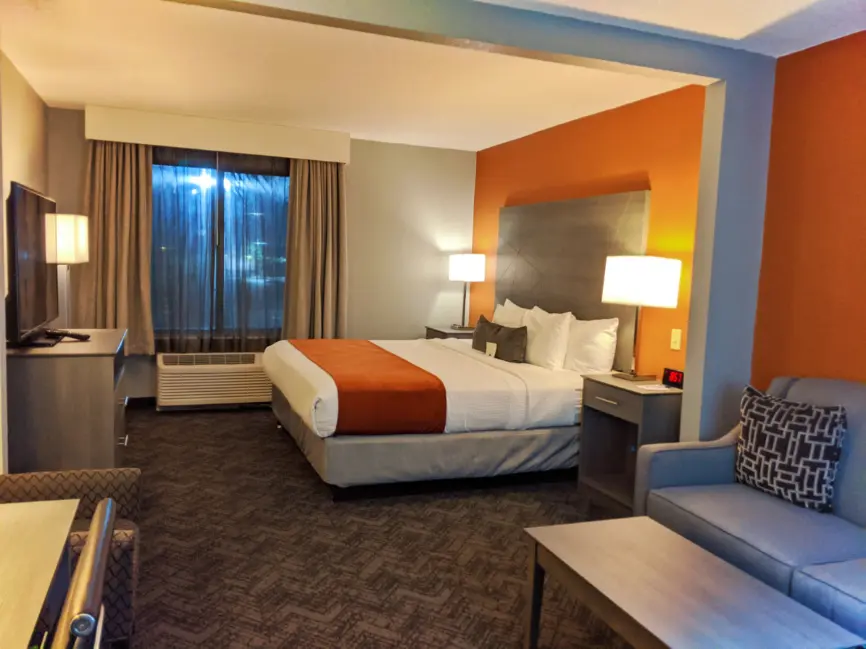 BW Historical Inn
This BW property is on the edge of downtown, so it's still walking distance to everything in the main core of the city, but it's also a bit removed for a more mellow visit. The bonus of choosing the BW Historical Inn is that it's location NOT being directly downtown allows for some lower room rates. If you're visiting during Nights of Lights, we would recommend this BW hotel in St Augustine because it IS removed from the primary activity area yet is close enough that you could have a nice walk into town or catch a cheap taxi. Book the BW Historical Inn here!
BW on Saint Augustine Beach
Right across from beach access in the Saint Augustine Beach neighborhood is the BW Saint Augustine Beach Inn. If having a beach vacation is your main goal, this is the spot for you! Cross the street and you're at the beach. Very close to some of our favorite St Augustine Beach restaurants, you can't go wrong. Book the BW St Augustine Beach Inn here!
Best Western directly across from the Castillo
The BW Bayfront is located DIRECTLY ACROSS from the Castillo de San Marcos. It's as set into the action as you can get. Recently renovated, it's a great option for being able to explore Saint Augustine on foot and wander the streets at night without being too far from home. Book the BW Bayfront St Augustine here!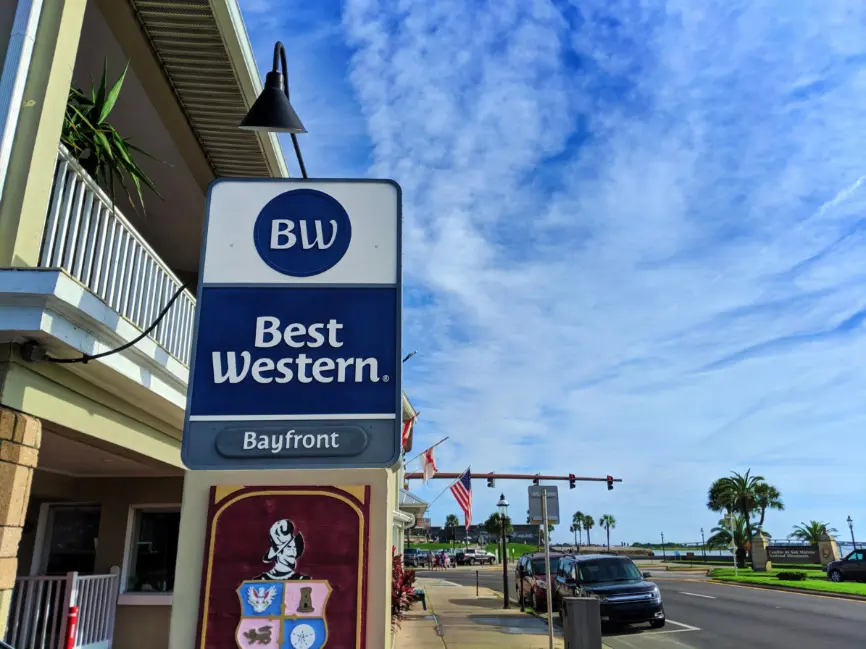 Historic Hotels around Saint Augustine
If there's one thing cool about old cities, it's that they have some unique accommodations, particularly around the historic district. Saint Augustine has some nifty hotels and inns directly in the historic downtown and around Lions Bridge. And if you want a bonus historic hotel recommendation, we've got one below that's just north in Jacksonville Beach. Check 'em out!
St George Inn at the City Gates
Even though it's not historically a hotel, the St George Inn is a pretty cool hotel property. It's located across several old buildings just inside the city gates and right nest door to the BW Bayfront. With many of the rooms having private porches and nearly direct access to St George Street, it's a fun St Augustine hotel for feeling historic and right in the action.
The Historic Casa Monica Hotel
Located right next to Flagler College and the Lightner Museum, the Casa Monica Hotel is part of the Historic Hotels of America. This beautiful property was built in 1888 and has survived the many events, both natural and financial, that have hit north Florida. The Casa Monica is for sure at the top range of hotel budgets, but if it's your travel style and luxury is what you want, it's worth considering.
BONUS: Casa Marina Hotel in Jacksonville Beach
I know, this isn't one of the hotels in St Augustine, but just 40 minutes north is one of our other favorite Florida beach cities, Jacksonville / Jacksonville Beach. Jax Beach was a hot spot in the 1920s and has a wonderful little hotel that still has the old Hollywood vibe: the Casa Marina Hotel. Book the Casa Marina here!
The Casa Marina Hotel is right on the beach and is wonderfully charming and historic. With both rooms and suites, it's a great option for families that want to stay closer to the big city of Jacksonville while still enjoying the beach vibe just beyond the hotel. We also really enjoyed the vintage Penthouse dining at the Casa Marina. Lot's of reasons to check it out!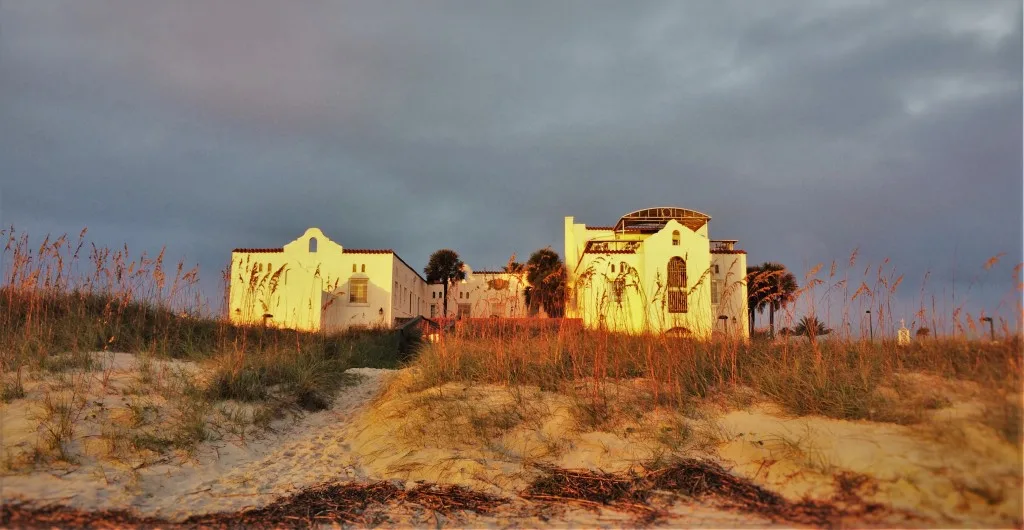 Vacation rentals in Saint Augustine
Historic St Augustine was our first reason we fell in love with Florida, but beach time is also mandatory when you're visiting. If you're more of a vacation rental sort of person, both in town and near the beach there are many options. You'll find that in Saint Augustine Beach there are several condo communities that have vacation rentals. We've stayed in one before and enjoyed the vibe of being in a community vs in a hotel area.
Because vacation rentals have many different requirements, from number of required nights to restrictions on allowing children, it's not always the best fit, but might be for you. Search for vacation rentals in St Augustine here via VRBO!
We really enjoyed staying in a private vacation rental at the Ocean Village Club off Highway A1A in St Augustine Beach. If you're able to rent a condo in this complex, you'll love the pool and beach boardwalks. it's perfect for families.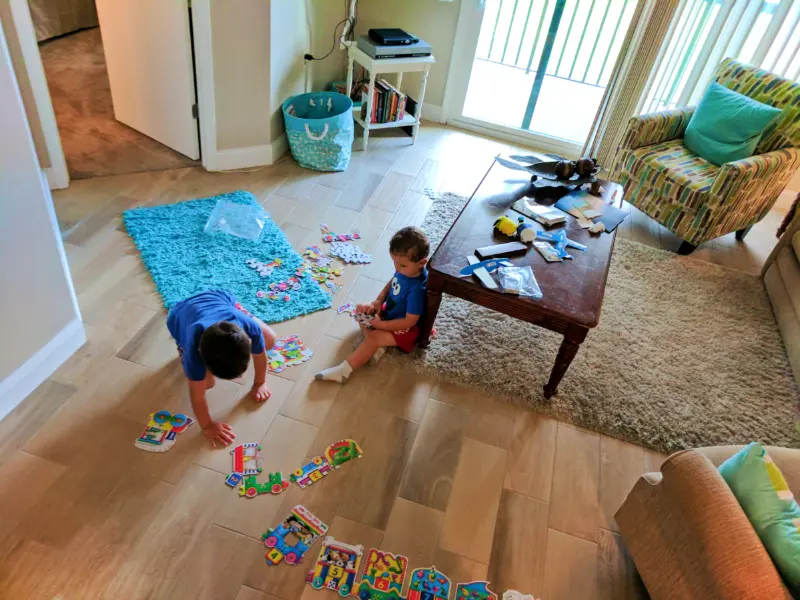 AirBNB is also a great way to find a vacation rental. We have found lots of great places through AirBNB and we like the openness of the reviews. We actually own a vacation rental here in St Augustine now and list it solely on AirBNB because we like the platform. Search for a vacation rental via AirBNB here!
Camping in Saint Augustine
We love camping in Florida and do it whenever we can. We have two really great ideas for camping in Saint Augustine, either for roughing it or glamping. Both of our suggestions are in the St Augustine Beach area, so they're very close to the Saint Augustine Lighthouse, Alligator Farm, and Fort Matanzas National Monument, as well at the beaches.
KOA Holiday in St Augustine Beach
We really enjoy KOA Camping because it's convenient and yet also makes sure that we're spending time outdoors. St Augustine Beach actually has a KOA Holiday campground just off the A1A, complete with camping spots, RV hookups, or camping cabins.
Camping in Florida is fun, but there aren't a ton of options close to many of the main tourist areas, so the St Augustine Beach KOA is a great exception to consider.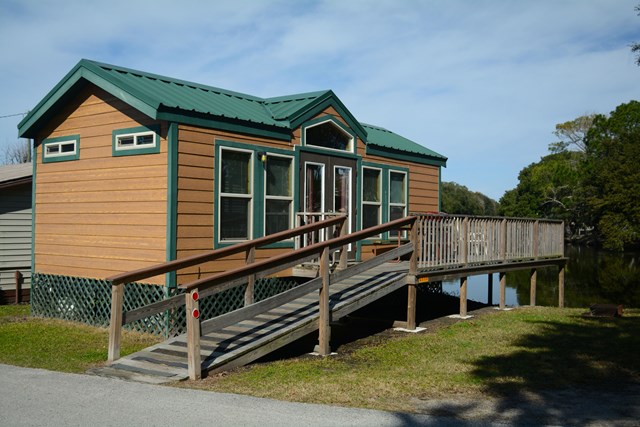 Camping at Anastasia State Park
Also in the St Augustine Beach area, Anastasia State Park has some wonderful camping options. Staying at the state park means that you're very close to the beach as well as some prime kayaking spots such as Salt Run. There are 115 campsites that can accommodate tents or RVs. They are open year-round. Check camping reservation availability here.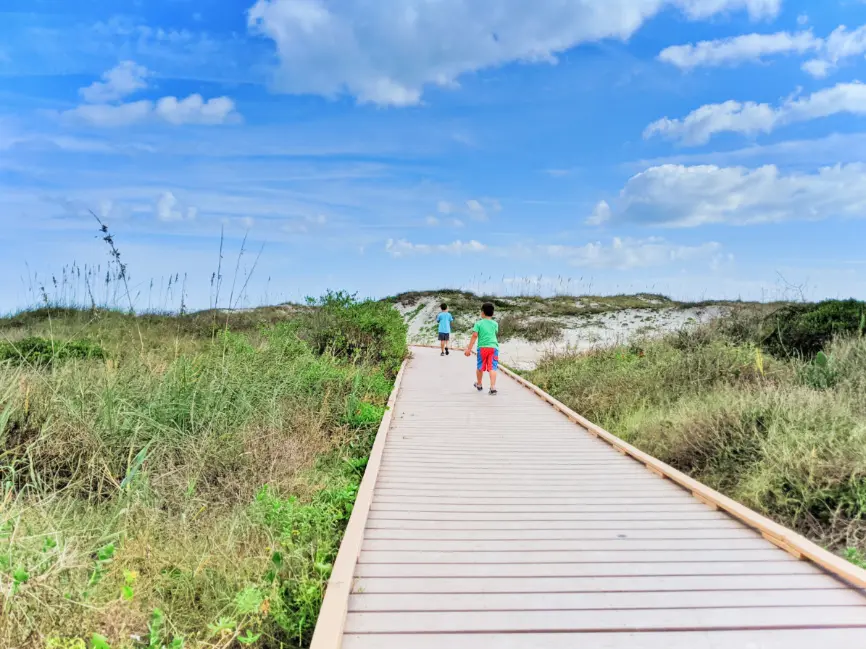 By now you should feel pretty well informed about hotels in St Augustine, understanding alternative options, and even where you can camp. If you have any additional questions or are curious about any hotels that we didn't mention, please let us know by leaving a comment or sending us a note. We're happy to help! If you prefer to search your own accommodations, feel free to use the search box below [affiliate]

And go ahead and pin this for planning your own St Augustine accommodations and vacation!