We have had our first Kampgrounds of America (KOA) camping experience and are thrilled to share it with you. Before this trip we didn't really know what to expect at a KOA, even though we'd reviewed the website and seen many campgrounds. You just don't know what the feel of a place is going to be and how it'll fit with your travel style until you're actually there. I'll tell you it was great. When it comes to Oregon Coast camping, the Astoria / Warrenton / Seaside KOA Resort was perfect for us.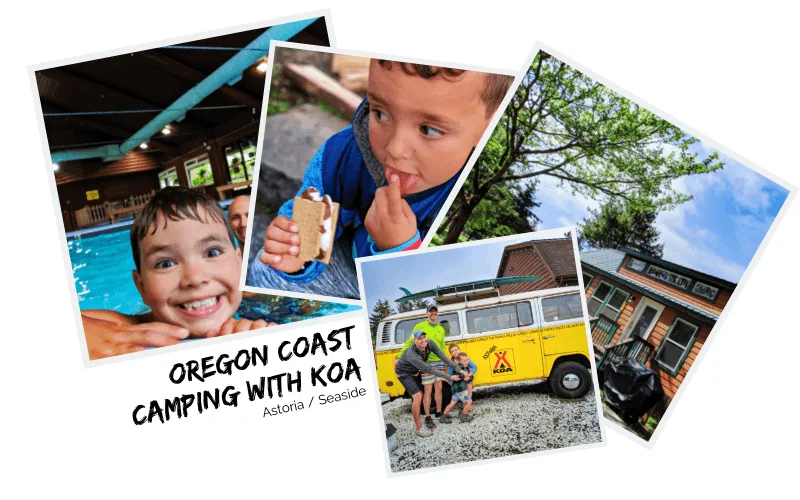 Where is the Astoria / Warrenton / Seaside KOA?
We spend a lot of time in Oregon, and particularly on the Oregon Coast. At least once a year, this year it's been twice already, we do an Oregon Coast road trip, either from tip to tip or just one part of the Oregon Coast. If you're coming from Washington State or the Portland area, the practical first stop for you coastal getaway is Astoria, Oregon. About two hours from Portland and 3.5 hours from Eugene or Seattle, WA, Astoria or Seaside are  totally doable for an easy weekend escape.
You do have to either drive along the Columbia River for a good portion of the trip or you'll cross the Coastal Range. Either way, the drive is beautiful and there are plenty of stops you can make along the way, from hiking in the hills to visiting small towns full of wineries. If you're coming from Washington, you can add a little side trip to Cape Disappointment State Park either on your way to or from the KOA Astoria to get your lighthouse fix, because there are two just off the Columbia River. However you get to your Oregon Coast camping destination, you'll enjoy the full travel experience.
The KOA Astoria is actually located in Hammond, a much smaller town a few minutes west of Astoria. The official title of the campground is the Astoria / Warrenton / Seaside KOA. As you can tell by its name, it's in the perfect spot to enjoy all sorts of cool Oregon Coast day trips from the campground.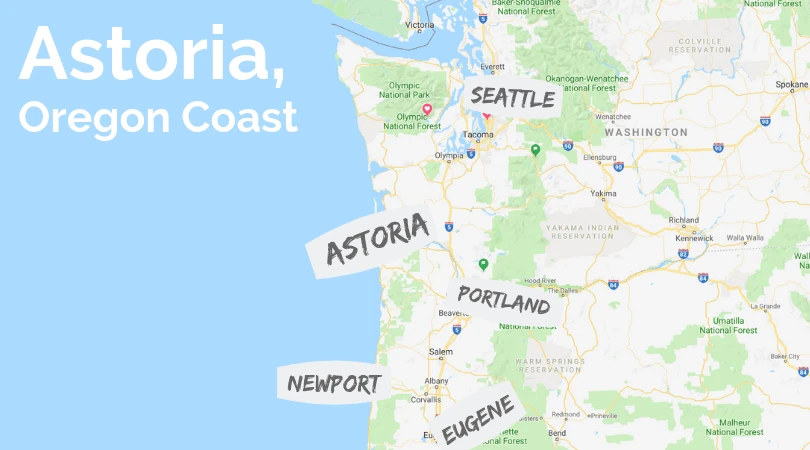 Oregon Coast Camping Options at the KOA
Being big travelers, we stay in all sorts of accommodations and camp in all variety of campgrounds. The Astoria / Warrenton / Seaside KOA Resort has the gamut, from Oregon Coast cabins to campsites. Depending on your budget and the number of people in your group, there is some sort of accommodation to fit your getaway.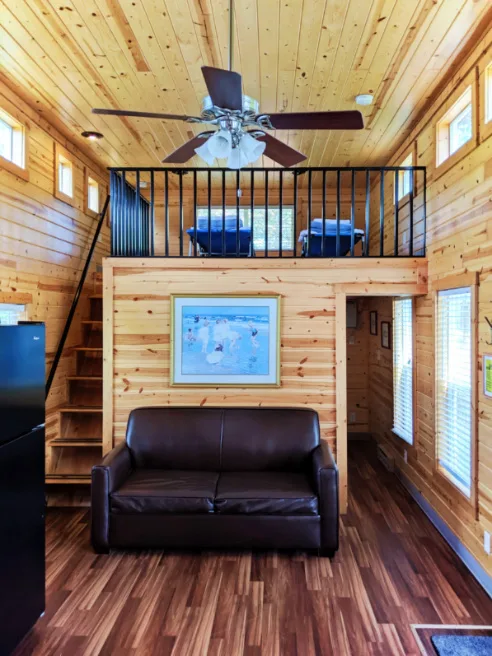 We stayed in a Deluxe Cabin which was fantastic. True, our cabin wasn't exactly camping, but we made sure that we still got the camping experience by using our fire pit and outdoor space. Inside, our cabin was fully equipped with a small kitchen (including pans, dishes and utensils), bathroom, dining area/living room, bunk room, queen bedroom, and sleeping loft. Additionally, there was a sofa-sleeper. Such a cool Oregon Coast camping cabin!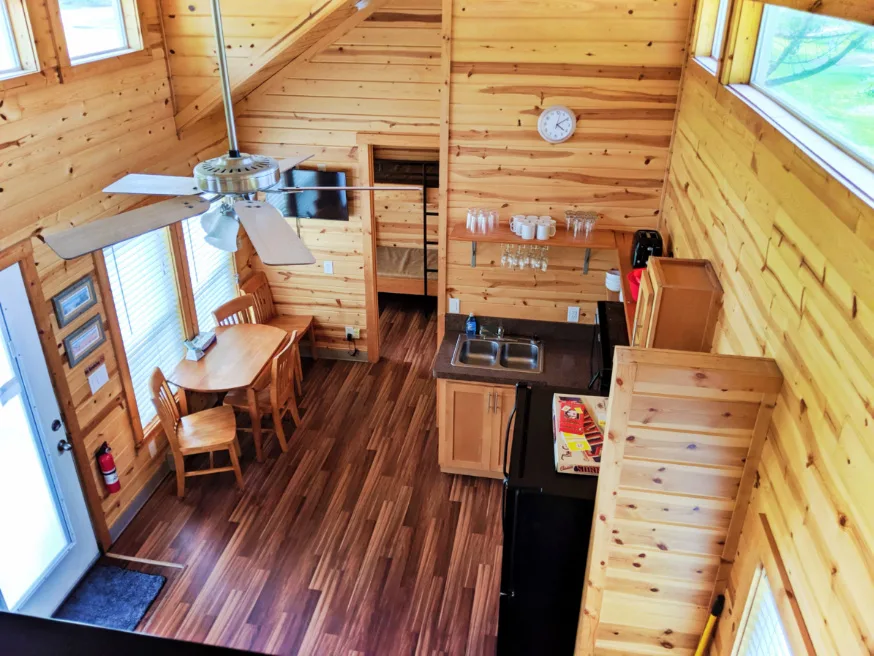 If you're looking for something less grand or at a lower price point, there are Camping Cabins, both one or two bedroom, that have bunk beds and sleeper sofas and some other cabin options. Also, you can't forget actual camping options.
There are campsites with partial covering or standard spaces without any structure, as well as RV sites with hook ups. While the KOA Astoria doesn't have the wooded privacy and forest feel of a National Park campground, it makes for an ideal spot for Oregon Coast camping as a family or for larger group trips.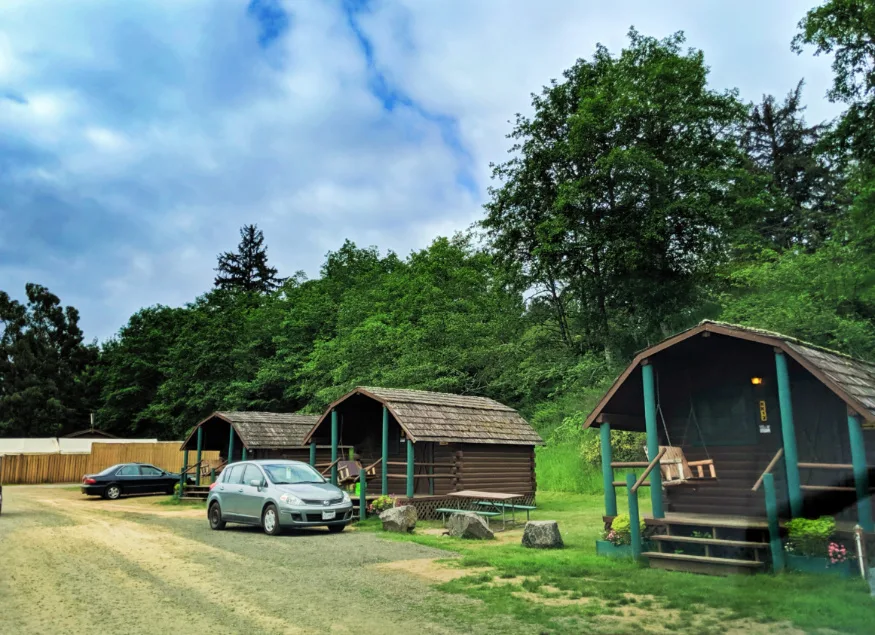 Note:  if you want to book a Deluxe or Camping Cabin at the KOA Astoria campground, they do reserve rather far in advance, particularly for summer months. If you know you're going to be in area, make your reservation sooner than later to get the right Oregon Coast camping option for you.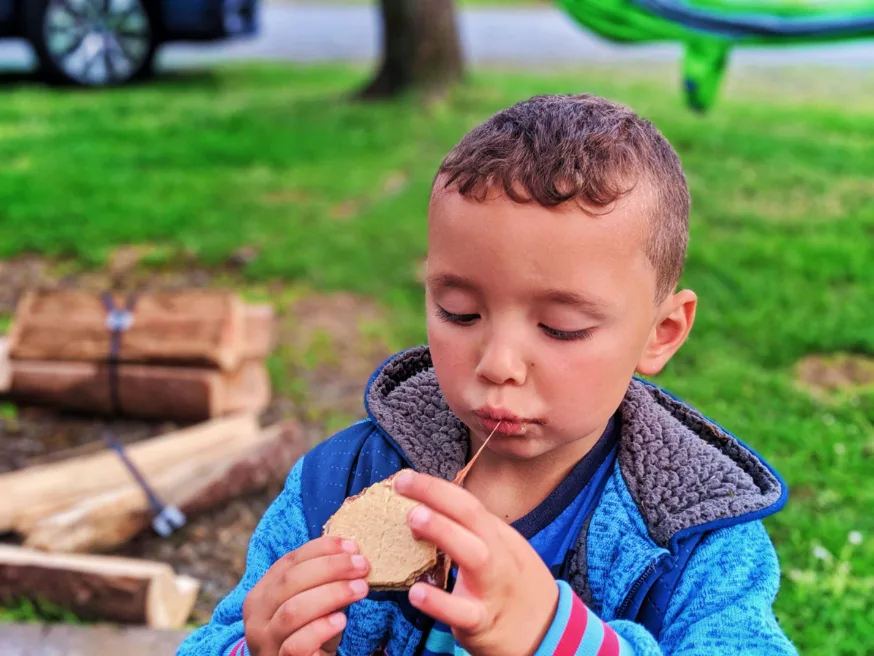 KOA Amenities Onsite
Growing up camping deep in the woods or in state and National Park campgrounds, we are used to bringing all of our own supplies and really roughing it. One of the things we loved about our camping trip to the Astoria KOA was that we didn't need to bring our whole regular car load of camping gear.
Whether you're staying in one of the cabins or tent camping at the Oregon Coast, this KOA has amenities to make the visit easier than you could hope. There is outdoor kitchen space for tent campers, barbecues with many of the cabins, and even a café on property for meals if you're really not down for cooking.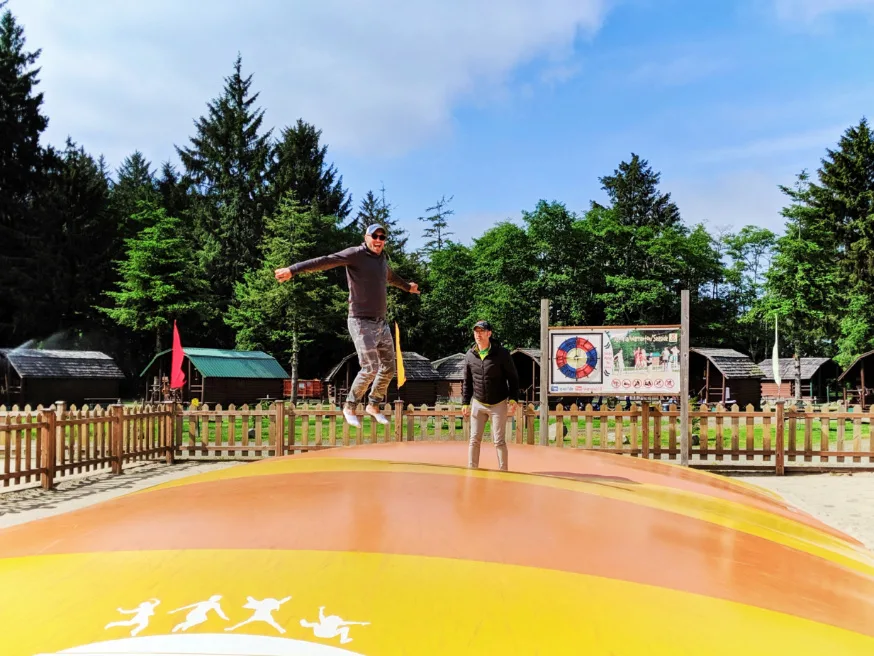 Tip:  every morning they do a pancake breakfast for free, so it makes it super easy to have a relaxing day from the get go. The pancakes are free, but if you'd like to add things like eggs, bacon, biscuits and gravy… it's an additional charge.
Other on-site amenities that make the this campground an ideal Oregon Coast camping destination include both indoor and outdoor pools and hot tubs, a camp store for any additional supplies, mini-golf, Frisbee golf, bike rentals (free and options that cost), volleyball and an enormous jumping pillow (like a trampoline). There are a few playground areas, outdoor chess, nature trails… Basically, if your goal is to get out of the city and just relax and enjoy a down-to-earth resort getaway, that's exactly what we found at the Astoria / Warrenton / Seaside KOA Resort.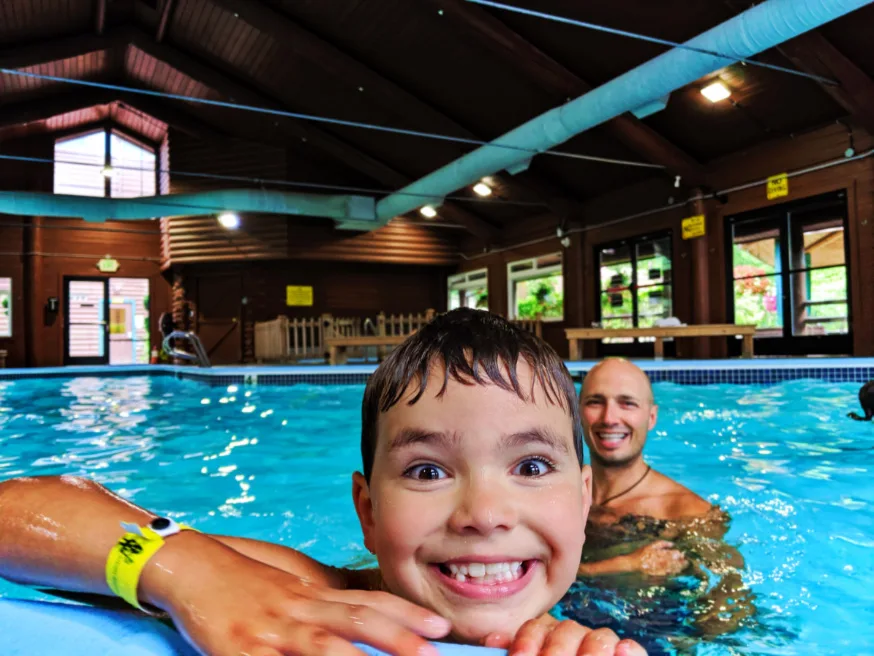 KOA Astoria / Seaside Camping Weekend Itinerary
Our trip to the KOA Astoria was the first truly relaxing getaway we've had as a family in some time. True, we're always on the go and experiencing cool destinations and learning awesome stuff (so much WOW recently at the Royal BC Museum in Victoria, BC), but it's rare that we get time to relax in a destination. I guess that's what's nice about having a cabin for Oregon Coast camping: you have 1/10th the work of a regular camping trip so you have extra time to just enjoy hanging out.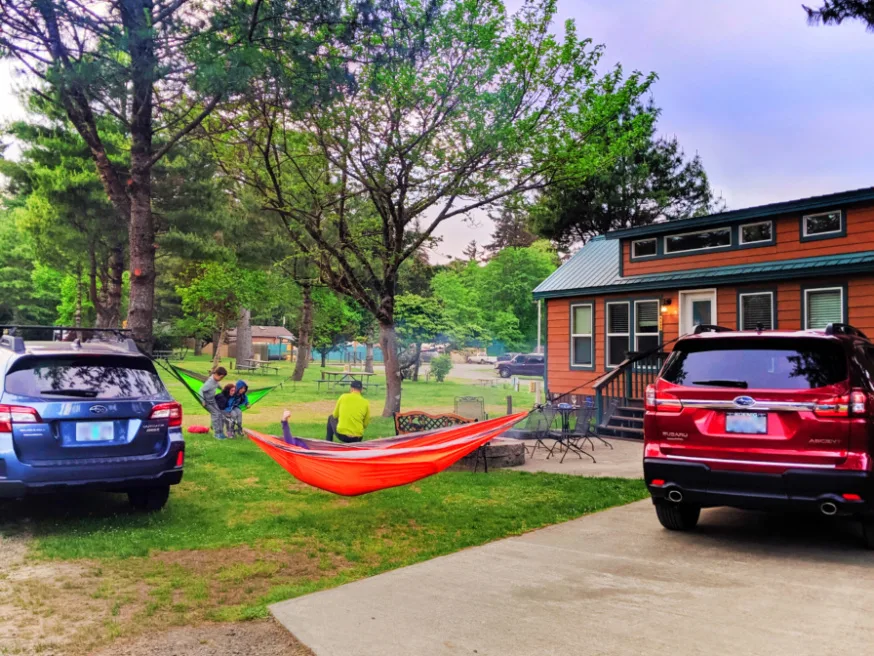 There are a few really great Oregon Coast towns nearby, particularly Astoria and Seaside. Relaxing at camp and then popping into town with a chill attitude is the perfect weekend plan. But more detailed ideas below…
Exploring Fort Stevens State Park
Directly across the road from the Astoria / Warrenton / Seaside KOA Resort is Fort Stevens State Park, a part of the Oregon State Parks System.  This super cool state park is full of recreational activities that you can either drive or bike to (great reason to rent a bike at the KOA!).
With several groups of retired military bunkers for exploring, Fort Stevens is fun for everyone and provides an interesting atmosphere for hiking or picnicking. There are also a few ponds and small lakes for kayaking, there are beach access points, and even a shipwreck.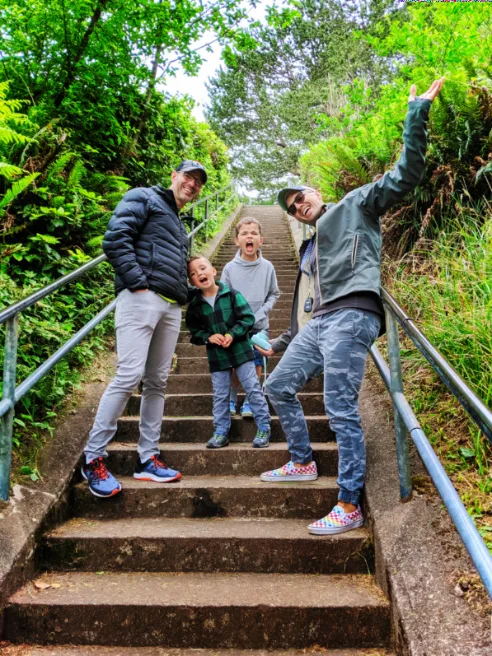 Note:  driving is allowed on the beaches at Fort Stevens. The dunes and beaches are still beautiful, but at certain times of day when there are more cars, you need to consider beach traffic in your plans.
Several people recommended doing the "Beast Tour" around Fort Stevens. You can catch the tour (additional cost) at the Military Museum and get a high-up view of the grounds from the bed of a huge military transport truck. Afterwards, stroll through the rose garden and other parts of the grounds. Really, you could spend a few days exploring and relaxing around Fort Stevens State Park.
As a sidenote, if you're not camping at the KOA but considering this area, Fort Stevens also has camping and it's one of the best places to camp on the Oregon Coast.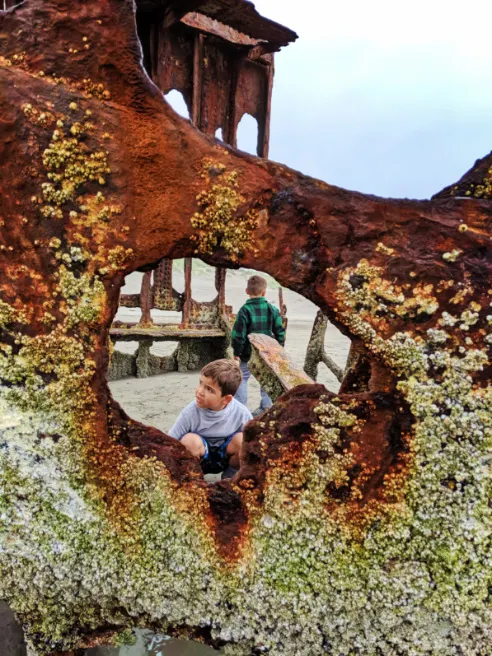 Visit to Lewis and Clark National Park
If you're not a history buff, you might know the story of Lewis and Clark and their expedition across the United States in the early 1800s. Enter Lewis and Clark National Historic Park and you'll get the scoop. Located about 15 minutes form the Astoria / Warrenton / Seaside KOA Resort campground, it's an easy jaunt over to Fort Clatsop to check out the Visitors Center and then head out into the woods. There are lots of exhibits explaining the expedition and sites affiliated with the Park, but the real fun for the kids is getting out onto the trails and visiting the reconstructed fort.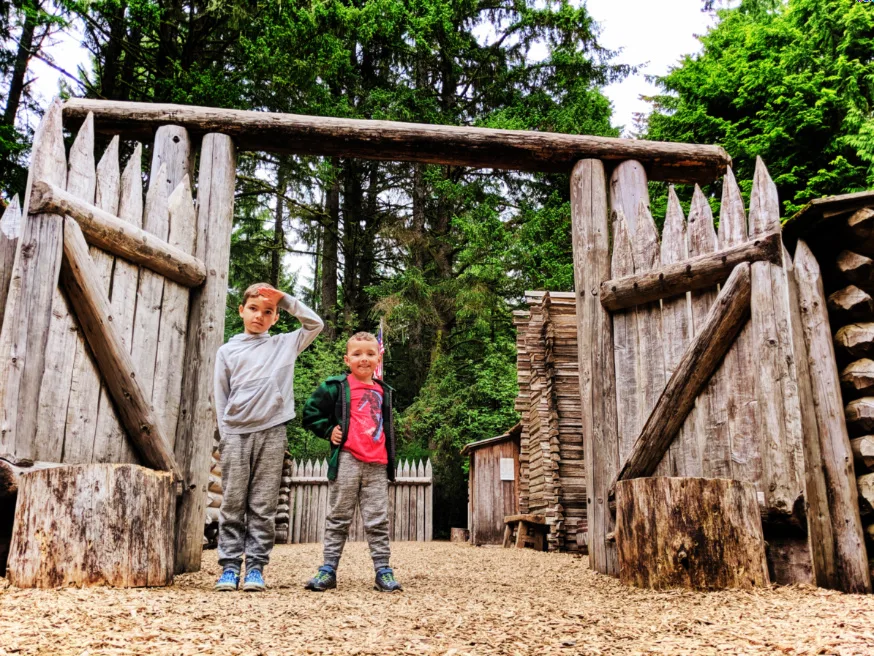 In addition to Fort Clatsop, there are nature trails that lead to the spring, the river and canoe launch. If you want to keep exploring beyond the Fort Clatsop area, the Lewis and Clark National Historic Trail will take you to other sites, including part of Fort Stevens State Park and several spots on the Washington side of the Columbia River. It's a whole adventure on its own, but perfect to add to an Astoria / Seaside camping trip. 
Tip: don't forget your National Parks Passport because there are several cancellations you can get both at the Visitors Center and at the Fort Stevens Visitors Center.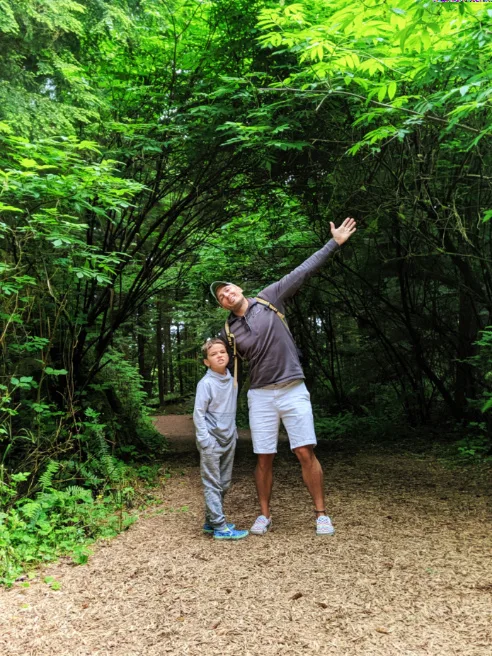 Seaside fun: the ultimate beach town of the Oregon Coast
We love visiting beach towns because they are all about enjoying yourself. Seaside, Oregon is no exception and is a great spot to visit for the day. About 25 minutes from the KOA Astoria, Seaside has a great boardwalk to guide you along the beach, tons of flat, open beach space for flying kites and playing, and a really fun downtown area.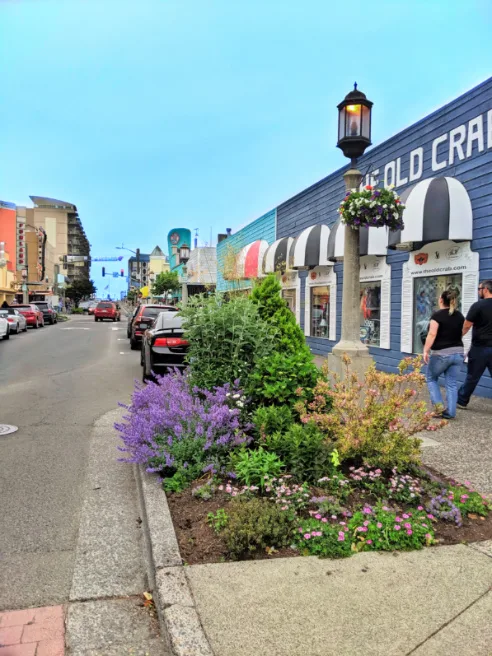 There's even a midway type part of downtown that's just begging for visitors to ride the carousel or play some carnival games. And Fascination. OMG, this is our new favorite game and it's only found in a few places. Fascination is a ball game that's similar to Ski-ball and Bingo. It's super fun, easy for kids and a totally unique activity.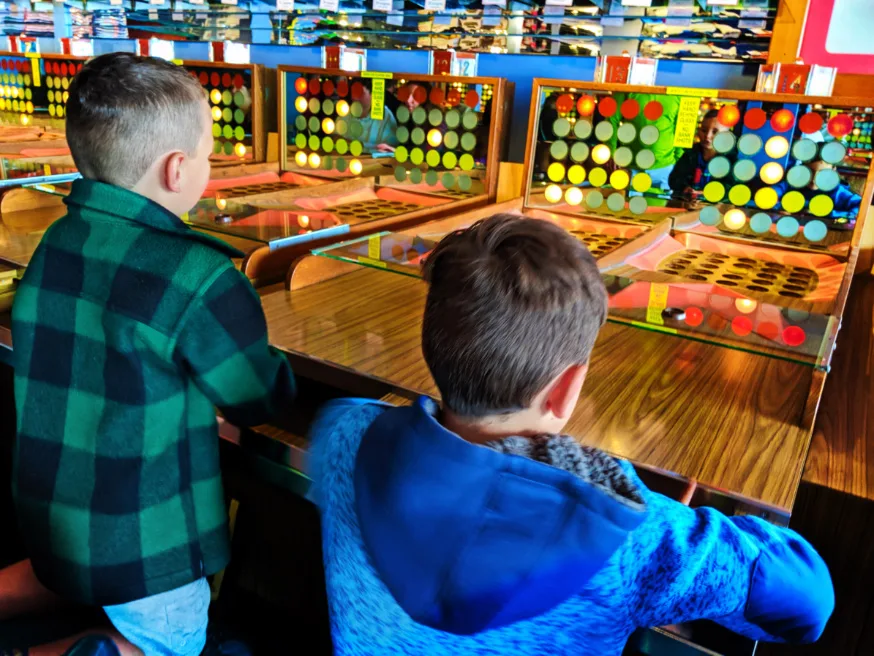 There are all kinds of restaurants in Seaside, but seafood and burgers are clearly the theme. Walking down Broadway, the main drag, you smell fish and chips everywhere. We found the most amazing place though:  Big Kahuna Pub and Grill. We didn't research any places to eat in Seaside and happened into Big Kahuna to just fall in love. Yes, it's totally a loud, tiki-themed joint but it's kid friendly and truly, the most fun dining experience we've had in a long time. The food was good as were the award winning Bloody Marys. The best part though was the singing. Clearly everybody at Big Kahuna loves their jobs and each other, because lunch was a karaoke jam session that everybody was taking part in. #winning.
Also fun in Seaside is the aquarium, which isn't huge but focuses on local marine life. It's right off the beach so you'll no doubt be walking by it anyways! When you're downtown, parking can be a bit tricky on the weekend, so grab what parking you can and then be sure that you're adhering to time restrictions. If you find a spot within three blocks of the beach, GRAB IT!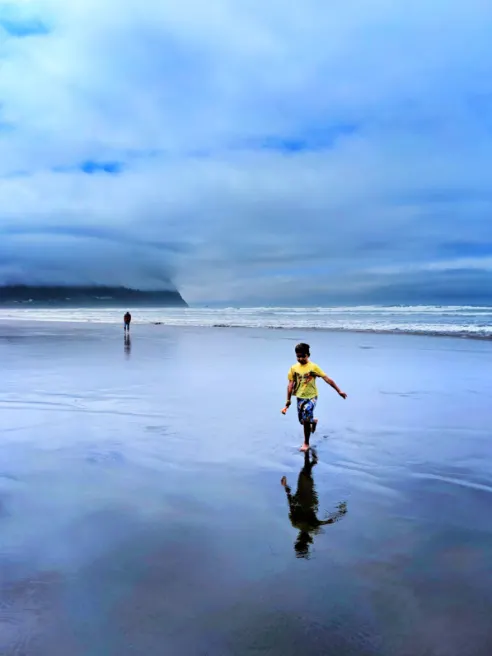 Things to Do in Astoria, Oregon
I told myself that I wasn't going to mention The Goonies at all in our Astoria / Seaside itinerary, but how can I not? Ethically I have to. So 1.) Goonies never say die and 2.) even though you can't go to the Goonies house anymore you can still visit the jail and enjoy the iconic Astoria cityscape that was the backdrop of the absolute best movie of the 1980s. And that's just where we started as we played tourist in Astoria: the old county jail that was so famously featured in The Goonies. Beyond the jail, which is now the Oregon Film Museum, we also drove through the town, checking out the steep streets and Victorian architecture.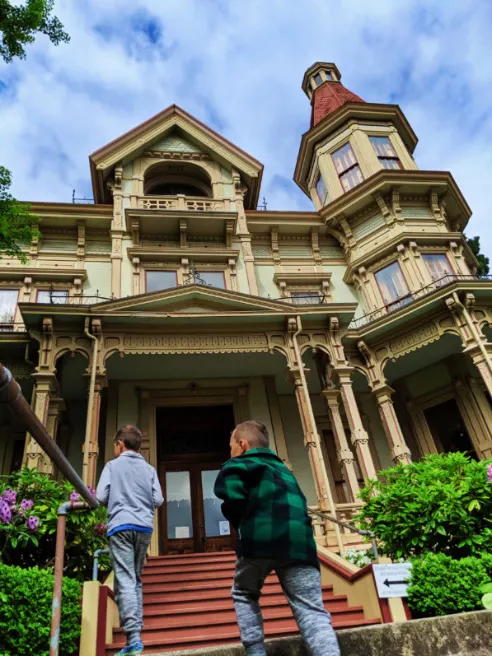 The boys actually requested to tour the Flavel House across the street from the jail because it looks like a castle. What a cool spot! We bought our tickets at the carriage house on property and then headed into the mansion. Armed with a riddle-driven scavenger hunt, we did a self guided tour of the house. The kids were floored when they learned about chamber pots and bed warmers. I personally learned that our kids would not have made it living before electricity and modern plumbing. Good times.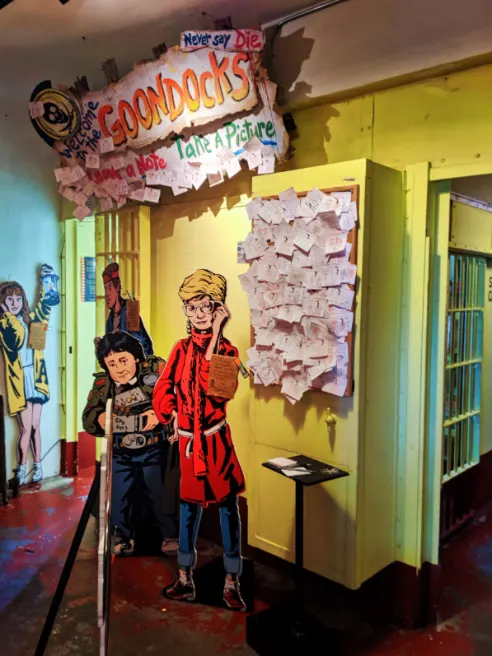 Other Astoria activities include walking the waterfront, checking out the Astoria Column, and getting out on the water. If you're into fishing, there are lots of sturgeon and salmon charters that go out of Astoria, so if that's important to you, be sure you research and plan your Oregon Coast camping when fishing season is open.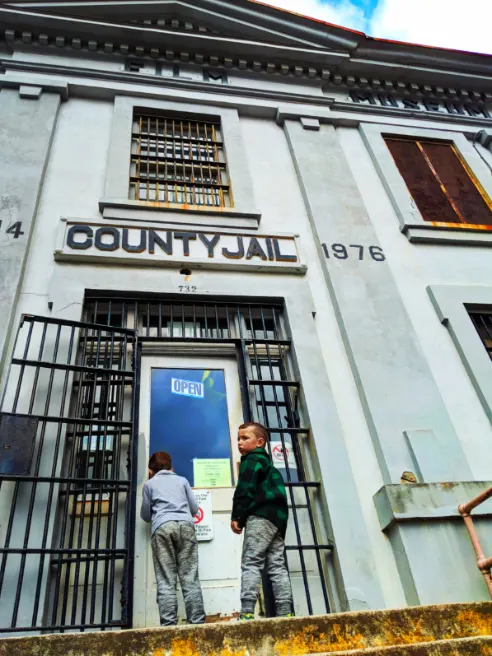 So what do you think? Are you excited and ready to plan your own Oregon Coast camping trip? We are talking about our next trip down to visit Seaside and spend another few nights at the Astoria KOA and are hoping for summer before school starts again, but we'd be happy to return any time of year since there's so much to do in this part of Oregon. If you have additional suggestions, please let us know!
Want to pin this for planning your own Oregon Coast camping trip? Go for it!!!  Go for it!!! And if you have addition activity suggestions or questions, leave a comment or send us a note.