Having grown up in the Pacific Northwest, I've always been familiar with the history of the area and some key figures in its settlement, including Lewis and Clark, the famous 19th century explorers. In southwestern Washington and part of the Oregon Coast, there is Lewis and Clark National Park. We're going to tell you all about this little known National Park and give you some great ways to experience it all.
Yes, I know that this is a National Historical Park vis something Dry Tortugas National Park or Yosemite, but it's pretty darn cool and beautiful just the same. If you have additional tips or questions about visiting Lewis and Clark National Historical Park or the Columbia River area, please leave a comment or send us a note. We're happy to chat and help you plan your travels!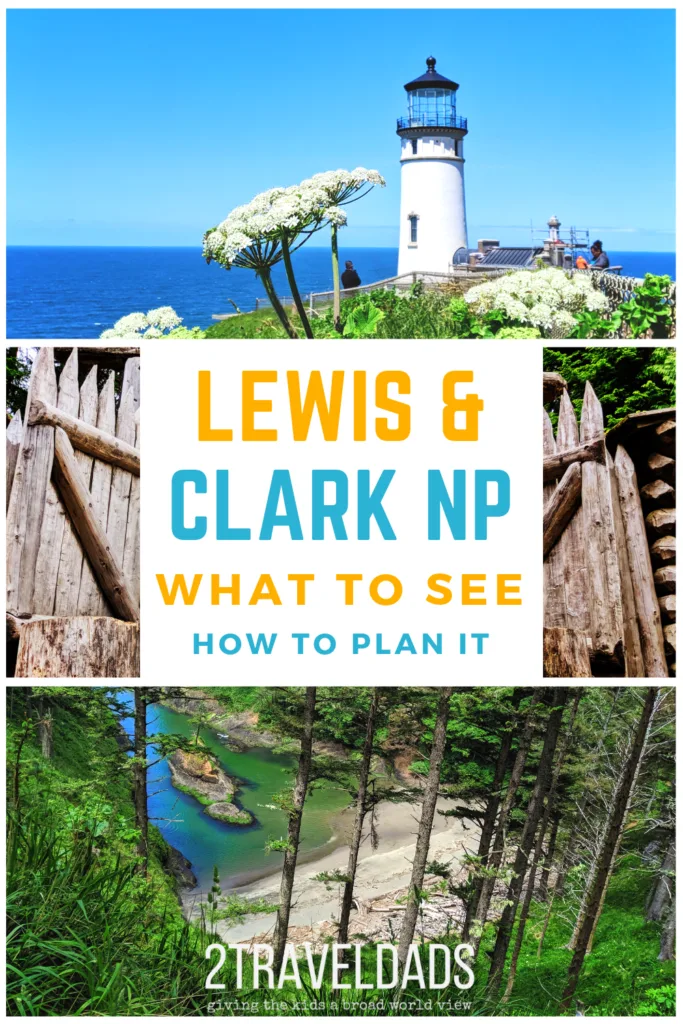 Getting to Lewis and Clark National Park
Most people are going to be visiting Lewis and Clark National Park as part of an Oregon Coast road trip. The park includes a collection of sites, not just one big square, so planning a route is key. If you are coming from Portland, it's about two hours to the Northwest Coast or Oregon. If you're driving from the south, such as Newport, it's a bit over two hours.
For visitors driving from the Seattle area, you'll have about a five hour drive, as you'll have to abandon the interstate early on and take a series of rural highways to get to the coast and cross the Columbia River. Wherever you begin, the drive is beautiful and no doubt you'll find some great stops along the way.
Where to stay near Lewis and Clark National Park
What's your travel style? When we were visiting Lewis and Clark National Park, we were in a cabin at the Astoria KOA. It's a great campground with tent site, camping cabins, deluxe cabins and all kinds of amenities. Check out our full Astoria KOA camping article here!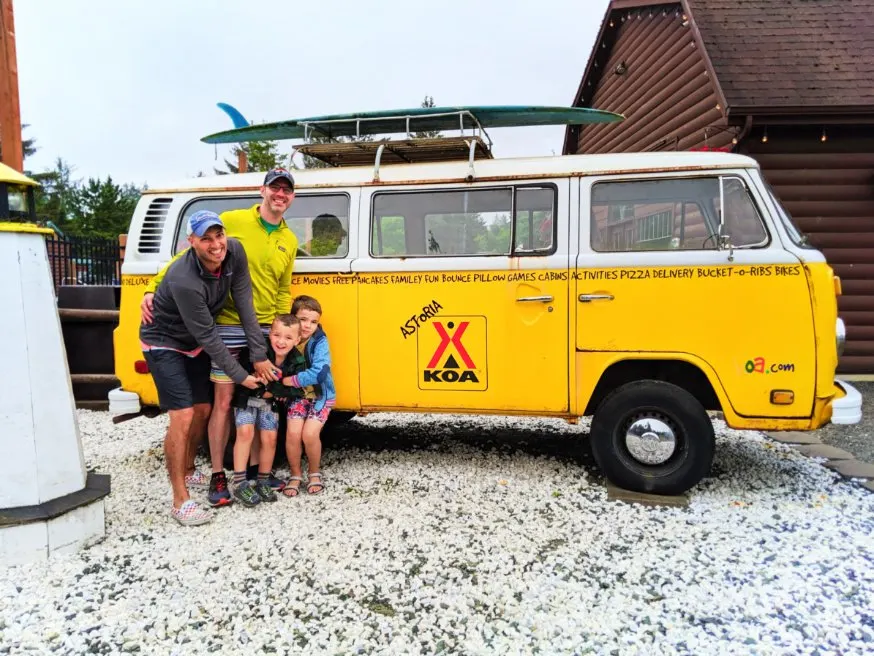 There are other options too though, including camping within Fort Stevens State Park, a variety of hotels in Seaside or Astoria, or also camping in Cape Disappointment State Park on the Washington side of the Columbia.  Search for hotels near Lewis and Clark National Park here.
Tip: since there's so much to the Northwest Coast area of Oregon, we recommend staying for a few days either in Astoria or to the south in Cannon Beach or Seaside. You can't go wrong being by the beach.
Exploring Lewis and Clark National Park
We're going to start with the Oregon sites and then finish with the Washington side. As I said, Lewis and Clark National Park is split between the two states, so having a good understanding of what all is a part of the Park is key. Also, something cool about Lewis and Clark National Park is that, much like Redwoods National Park, it's made of the NPS sites AND state parks. Super cool!
Visiting Fort Stevens State Park
The majority of Fort Stevens State Park is centered around the retired army fort, build in the 1920s. Much like Fort Worden State Park up in Port Townsend, WA or Fort De Soto in St. Petersberg, FL, there are lots of bunkers to explore, including tunnels, platforms, lookouts and more. You'll also find a military history museum, a rose garden (loved it!!!), and a tour via "The Beast."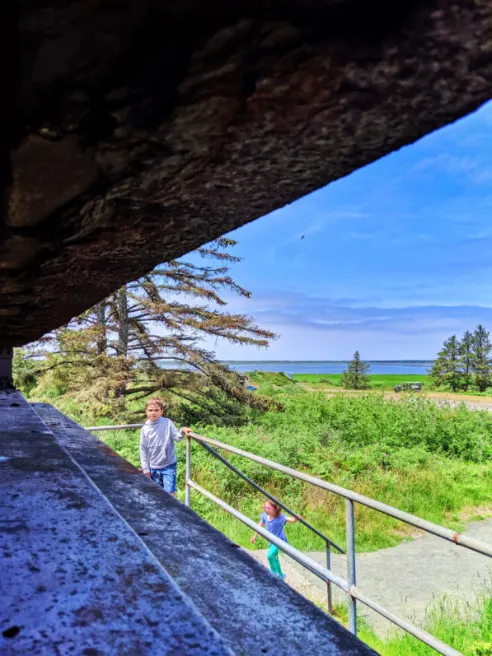 Fort Stevens State Park also has an extensive trail system that guides you to a variety of historic sites within. If you're bring bikes along when visiting Lewis and Clark State Park, you'll love the winding roads and trails… but beware of elk! That's right, there is a resident herd of elk that hang around the Fort Stevens / Warrenton area, so just always be wary. They are big and strong, but also are totally not interested in hanging out with humans.
Tip:  if you're visiting Fort Stevens State Park in the summer, be sure to do some hiking in the dunes and check out the shipwreck, the Peter Iredale. The beached of Fort Stevens have a lot of vehicle traffic, so be wary, but the dunes are gorgeous.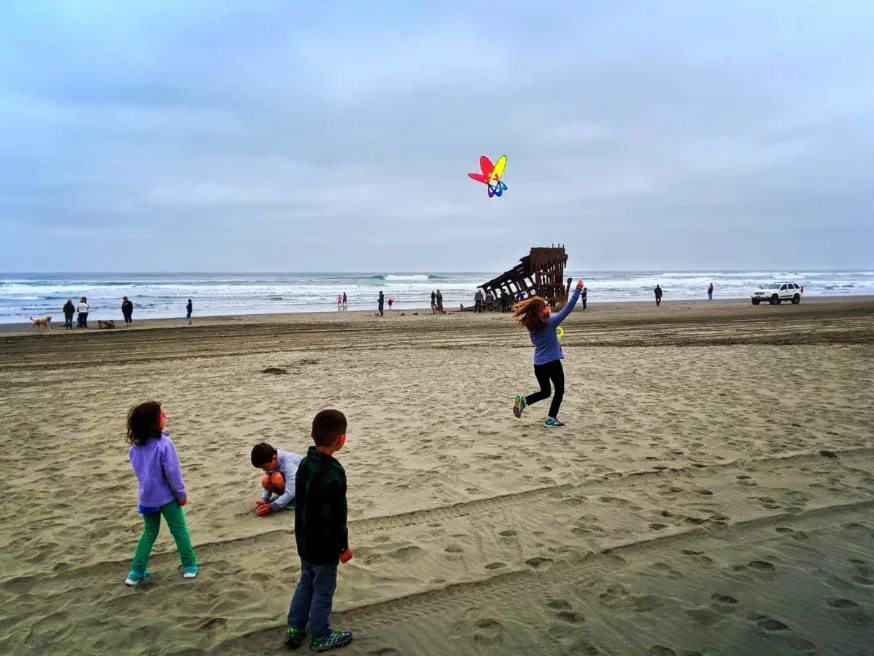 Remember, Fort Stevens State Park is a FEE AREA. There are several stations throughout the part where you can pay your day use fee ($5 USD). Make sure you pay your fee so you don't get a larger, more expensive ticket!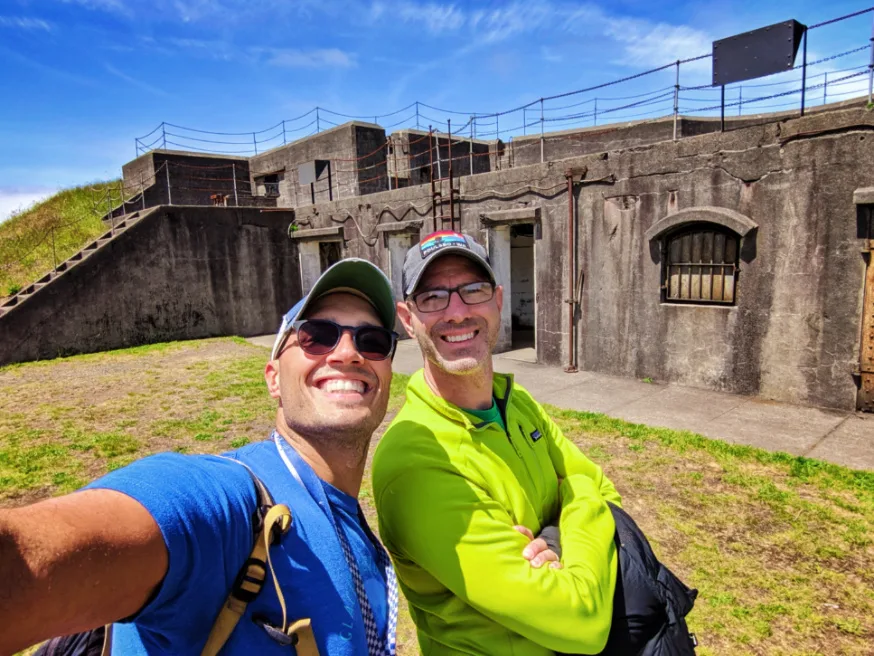 Fort Clatsop at Lewis and Clark National Park
This is our favorite part of visiting Lewis and Clark National Park. Fort Clatsop is where Meriweather Lewis and William Clark weathered a winter and set up shop while deciding what do next before heading back across the country. Here, they and their soldier crew nearly froze to death and were miserable (I'd like to think it's comeuppance for exploring and plotting out a hostile takeover for land that wasn't theirs).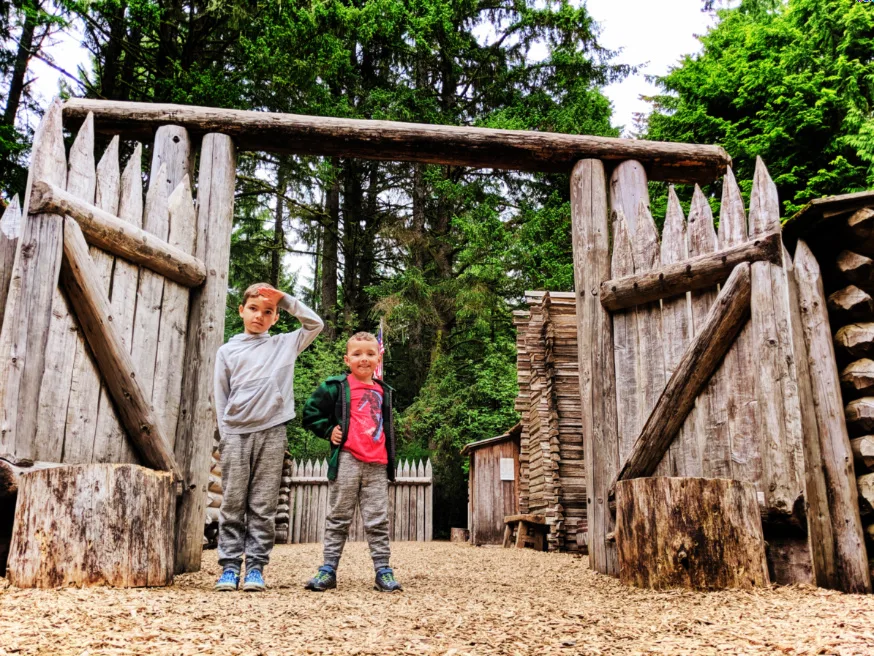 Anyways, today it's actually pretty cool to check out, especially with kids. Lewis and Clark National Park has reconstructed the original fort site, including furnishing in the quarters and tools relative to the time. This is a great site to visit with kids to make them thankful for their own lifestyle. Total wake up call.
Also at Fort Clatsop, there are nature trails that lead you through the woods and to the old docks from logging days at Nutal Landing. It's a different sort of history lesson, but really does put into context many of the other towns and sites you'll come across in the Pacific Northwest from when logging was king.
Tip: this may sound counter intuitive, but visit Fort Clatsop on the weekend. You may be treated to some living history if the season allows and you WON'T be at the fort when local school groups visit. This part of Lewis and Clark National Park is great for learning, so is a popular local school field trip.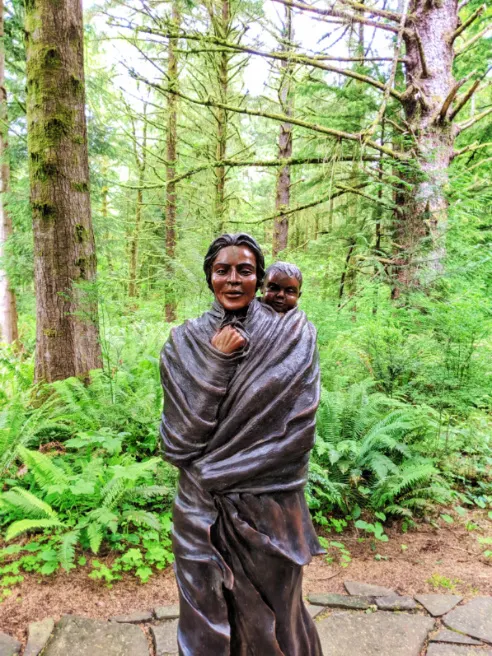 Seaside, Oregon and the Salt Works
I'll be honest, this is nothing thrilling and is pretty minor. It is considered a site within the National Park, but it is merely the remnants of the old seawater evaporation facility that was used in the early 1800s to extract salt for preserving food. Today, there are some stones and a placard marking the site. Skip it unless you're really into the minutia of history.  Google Maps link here.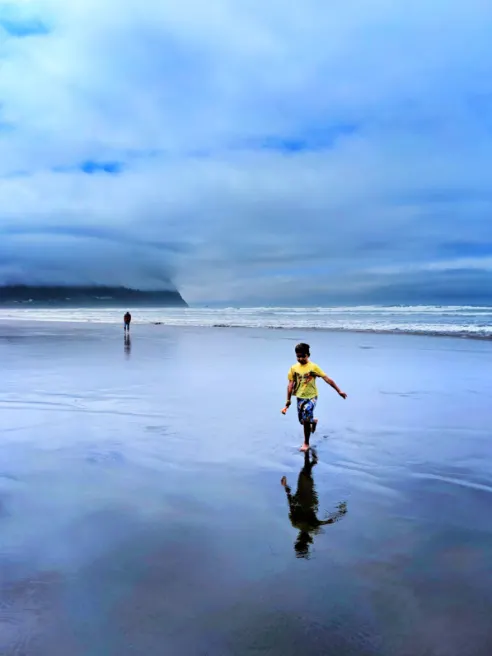 But then Seaside, Oregon is a really fun town! Between the midway games, small aquarium AND the beach, it's a great getaway and could be its own fun plan beyond visiting Lewis and Clark National Park.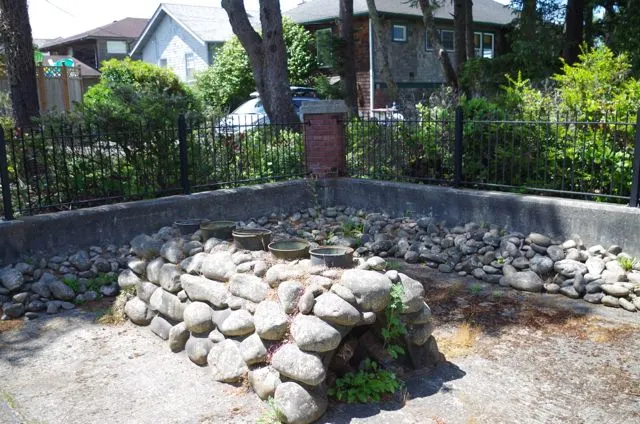 Bonus: quick fun in Astoria
Since we're all about the history and enjoying the hidden gems of Oregon, you need to spend a little time in Astoria. There aren't any parts of Lewis and Clark National Park in downtown Astoria, but there are some wonderful historic sites. Particularly, we want to direct you to the Flavel House in downtown Astoria. Built in the 1890s, it's the quintessential Victorian Mansion… turret and all. Spend an hour and do the self-guided tour. We don't have a ton of well preserved historic homes in the Pacific Northwest, but the Flavel House is amazing.
Note: give the kids another dose of reality by teaching them about historic toilets. They'll be fascinated and thankful for indoor plumbing all at the same time.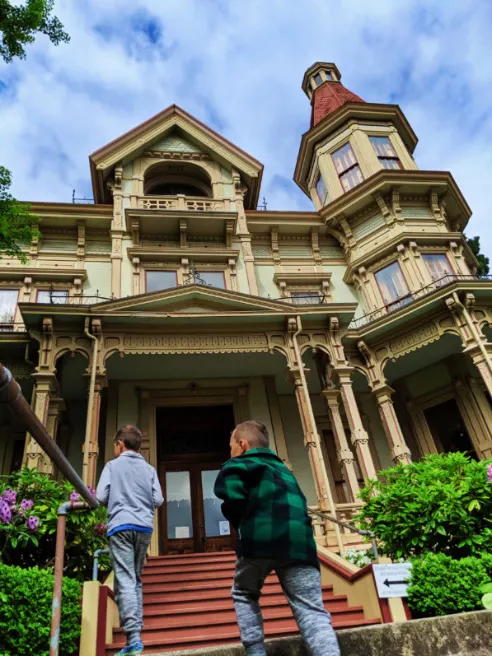 Crossing the Columbia River
Before you can continue your tour of Lewis and Clark National Park you need to get across the mighty Columbia River. I call it mighty because the Columbia River has carved its way from the headwaters up in British Columbia (so pretty!) through the high desert and across the Cascade Mountains to its end at the ocean. Where the Columbia flows into the Pacific Ocean, there are sandbars and shallows for miles.
Many who are visiting Lewis and Clark National Park are doing so after traveling through the Columbia River Gorge, including the waterfalls of the Columbia River Gorge. This river is a part of so much Pacific Northwest history and we all love it.
Tip: for a fun road trip after visiting the coast, continue heading east on the Washington side of the Columbia River to explore along Highway 14. It's an incredibly beautiful drive that goes from dense, mossy forests to desert buttes and cliffs. It's incredible.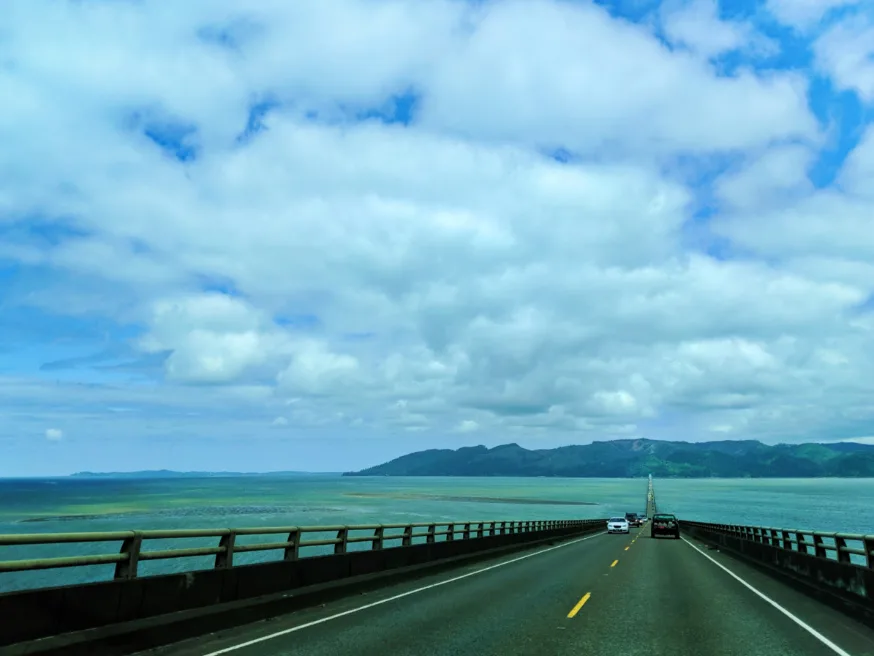 Dismal Nitch and Middle Village
There are a few small National Park sites on the Washington side of the Columbia River. Dismal Nitch is actually just an historic market and rest stop, so if you're approaching from the north, it's an easy stop and gives a really beautiful view of the Columbia and the Astoria Bridge… but not much else. It's here that more than 200 years ago the Lewis and Clark crew was stranded while they waited out a storm.
Also nearby is Middle Village. This site is another quick stop for the view and some historic reconstructions. It's located just after the biggest sandbars in the Columbia, and at sunset or just before, the light is golden and perfect across the river.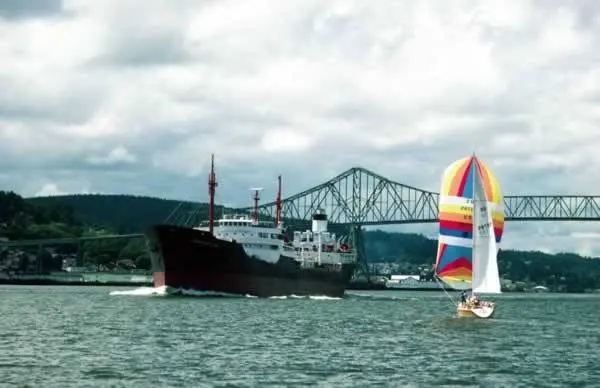 Visiting Cape Disappointment State Park
I'm so excited!!! This is my favorite part of Lewis and Clark National Park! Cape Disappoints is named such because Captain Meares (the same as Cape Meares Lighthouse) and his crew, NOT Lewis and Clark, struggled to make their way up the Columbia. Whaa whaa…. 
Cape Disappointment State Park is actually incredible though. With two lighthouses, a network of trails, beaches, camping and scenic views to rival other National Parks. Why is it a part of Lewis and Clark National Park? Cape Disappointment is home to the Lewis and Clark Interpretive Center which is perfect for getting the low down on everything PNW history.
Note:  there are automated pay stations throughout Cape Disappointment State Park. Be sure that you either pay your day use fee, purchase a Discover Pass (WA State Parks and Federal Lands), or display an appropriate pass on your vehicle dashboard.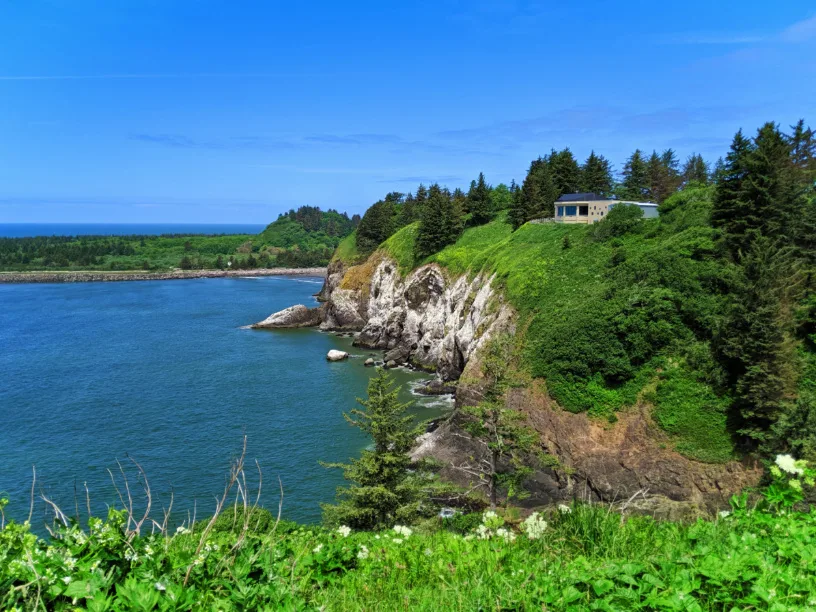 Hiking to Cape Disappointment Lighthouse
As noted above, Cape Disappointment State Park has two lighthouses. The first, the namesake of the park, is a fun and interesting hike. Starting just west of the Visitors Center, the Cape Disappointment Lighthouse trail is 1.5 miles round trip. Yes, there are some steady climbs, but for the most part the trail is shades and smooth with lots of unique vegetation to check out.  Google Maps link here.
Along the way, you'll also see the Coast Guard station, a spur trail to the Visitors Center and perhaps the most perfect beach in Washington. If you choose, you can hike down on a constructed trail and enjoy some beach time. Be careful to stay ONLY on the designated trail as the area is sensitive and you don't want to be the cause of erosion. 
Bonus: bring a beach blanket or picnic and enjoy a quiet afternoon on the secret, perfect beach below the lighthouse: Dead Man's Cove. Remember though, pack out what you pack in.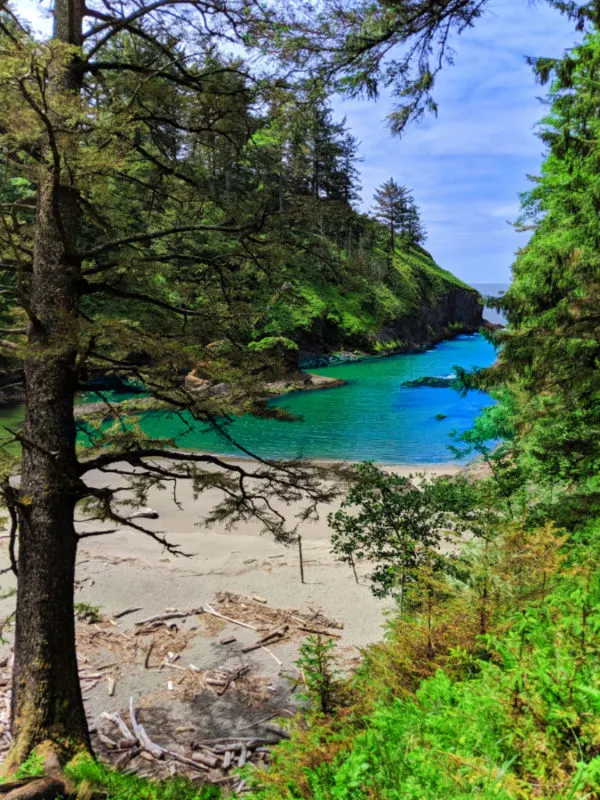 Once to the lighthouse, it's an ideal spot to sit and watch for whales. In spring and fall you can usually spot gray and humpback whales passing as they head to their winter waters. It's not a guarantee, but worth looking for. Note: The Cape Disappointment Lighthouse is NOT open for tours.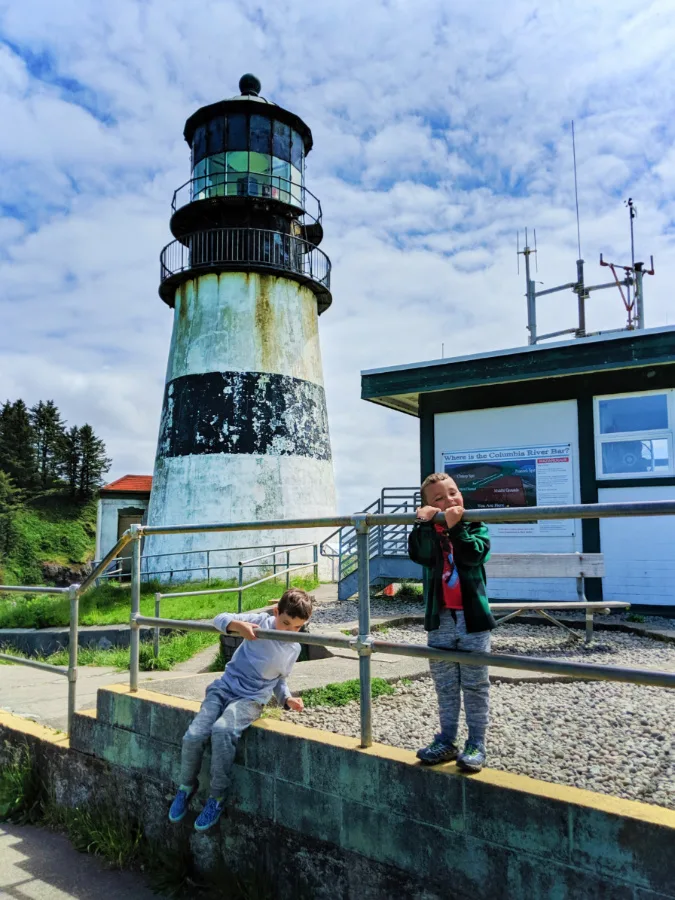 Walking the Cape Disappointment Discovery Trail
Connecting the various points of interest within Cape Disappointment State Park, and the best trail within Lewis and Clark National Park, the Discovery Trail will take a full day or more to complete as you make stops. Starting at the Cape Disappointment Lighthouse and winding through the hills and woods, to the North Head Lighthouse, it's perfect for adults or families with older kids. To keep going, you'll head north all of the way to Long Beach. In total, the trail is over 8 miles (one way) and is actually a combination of three trails:
West Wind Trail – from Lewis and Clark Interpretive Center
North Head Trail – this takes you to the North Head lighthouse
Discovery trail – you'll want to stay to the left to get the most direct route up the coast
We recommend hiking one way and getting picked up when you're in Long Beach. If you're on bike, it will go much faster, but you can only ride the part of the Lewis and Clark Discovery Trail north of North Head Road, or at least this is only only designated bike path. PLEASE follow the signs and be respectful of hikers.
Tip: since the round trip trail is 17+ miles, be prepared with lunch, snacks, and extra water if you are doing the full Discovery Trail.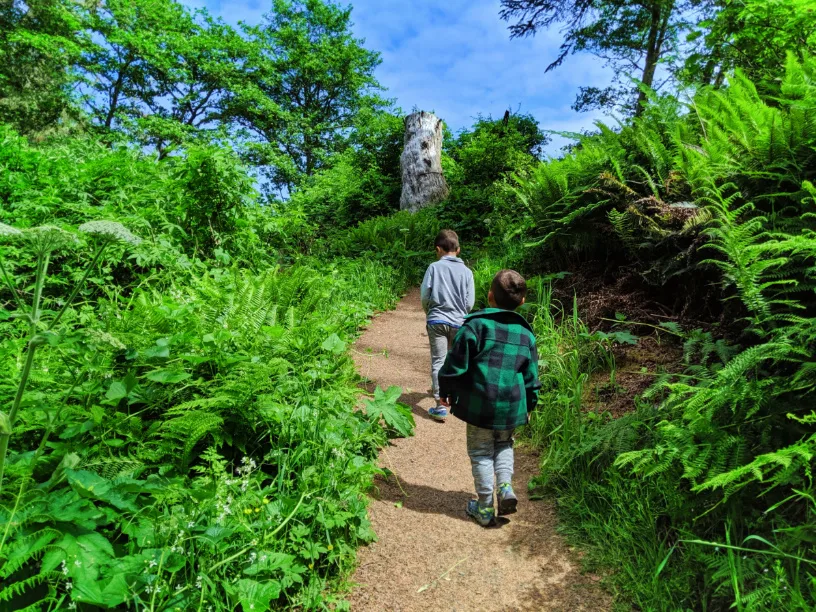 Visiting North Head Lighthouse
Our lighthouses in Washington are the cutest. Florida has epic lighthouses, some of the tallest in the country, and Wisconsin has some truly rough and tumble weathered light stations on the great lakes, but our lighthouses in Washington are unique. The North Head Lighthouse is a perfect example of what I mean.
Standing at only 66 feet tall, the North Head Lighthouse in Cape Disappointment State Park is beautiful and adorable. In 2019 it was fully renovated, including the trail leading to the lighthouse and the original keepers quarters.  As of July 2019 the North Head Lighthouse is open for visitors seven days a week. Public operating hours vary in the fall and winter months.
Note: there is limited parking at the trail head, but if it's full don't worry. The hike out to North Head is only just over a quarter mile or the full loop is .6 miles, so people will be leaving sooner than you might think. It's worth waiting for a parking spot.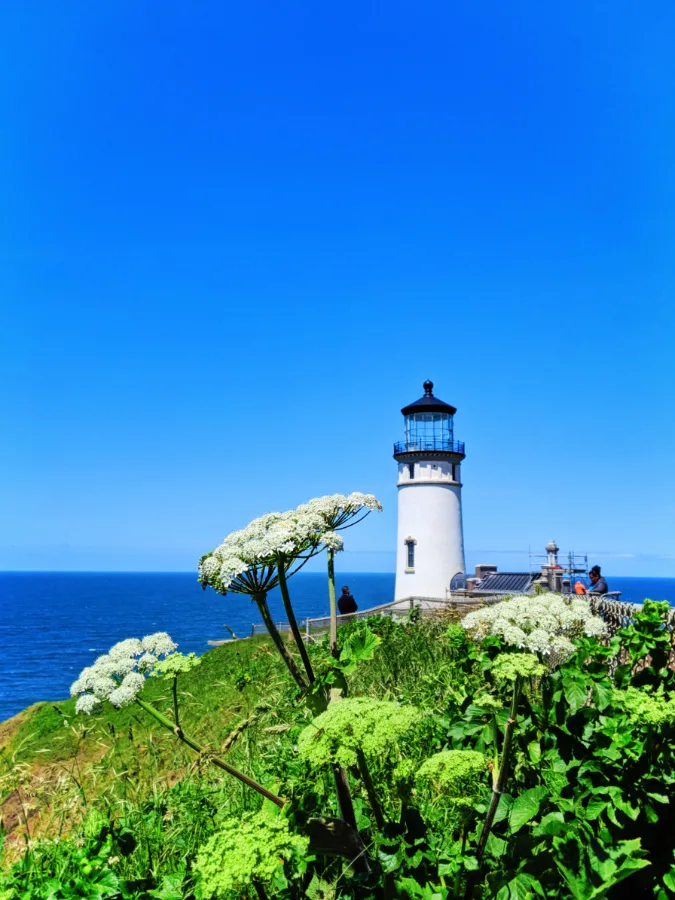 Enjoying the scenic route
Cape Disappointment State Park is minimally developed, which makes it perfect to be a part of Lewis and Clack National Park. The landscape and ocean views are what make this part of Washington State so great to visit. Take the time to do the short, random hikes, such as Bell's Overlook. Take a few minutes to use the pullouts and appreciate the ocean views, like you can at the Beard's Hollow view point. 
As Washington has grown, special untouched spots like Cape Disappointment State Park have become fewer and fewer. Enjoy it and leave it just as you found it, or better.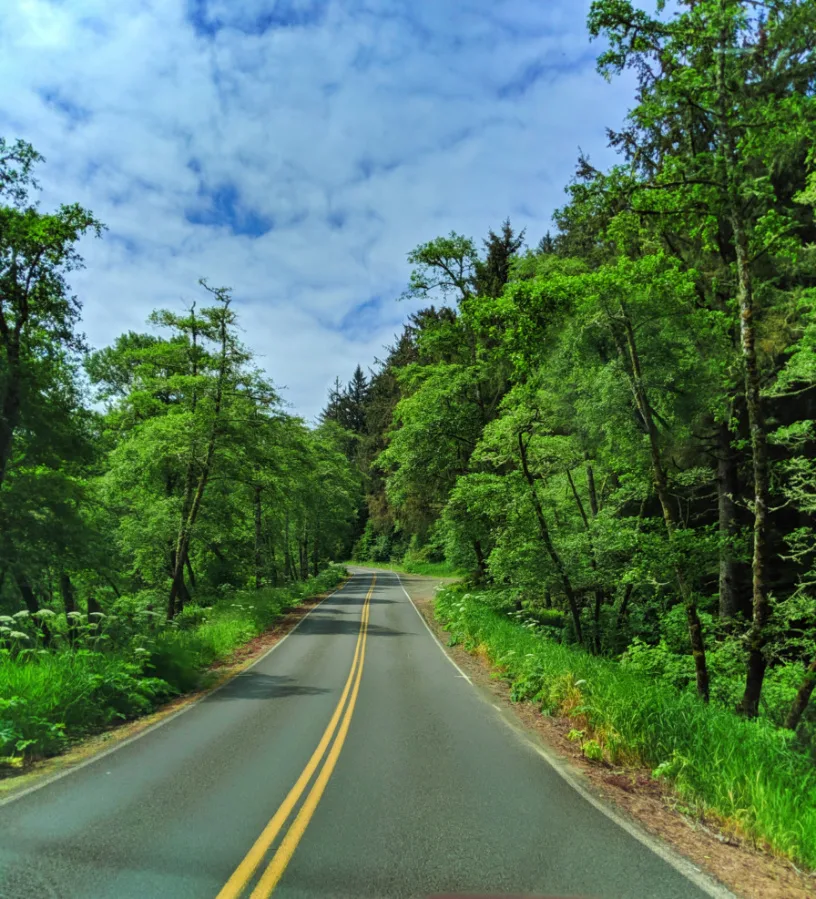 Lunch and activities in Ilwaco
I had no idea Ilwaco was such a cool little town. Located just outside of Cape Disappointment State Park, Ilwaco is the ideal Washington fishing village. As you park in the ample free public parking, you'll walk into the marina and find that it's got a beautiful promenade and countless fishing charters. There are also a variety of local artisan shops and seafood restaurants.
We really love the Salt Hotel and Pub. It's all about locally sourced ingredients and awesome beer. And with a fair amount of outdoor seating, how can you go wrong? We actually need to plan a full weekend in Ilwaco for so we can check out more of the town and surrounding area. There are a lot of kayaking spots in the Willapa National Wildlife Refuge, just north of town and we NEED to go paddling there!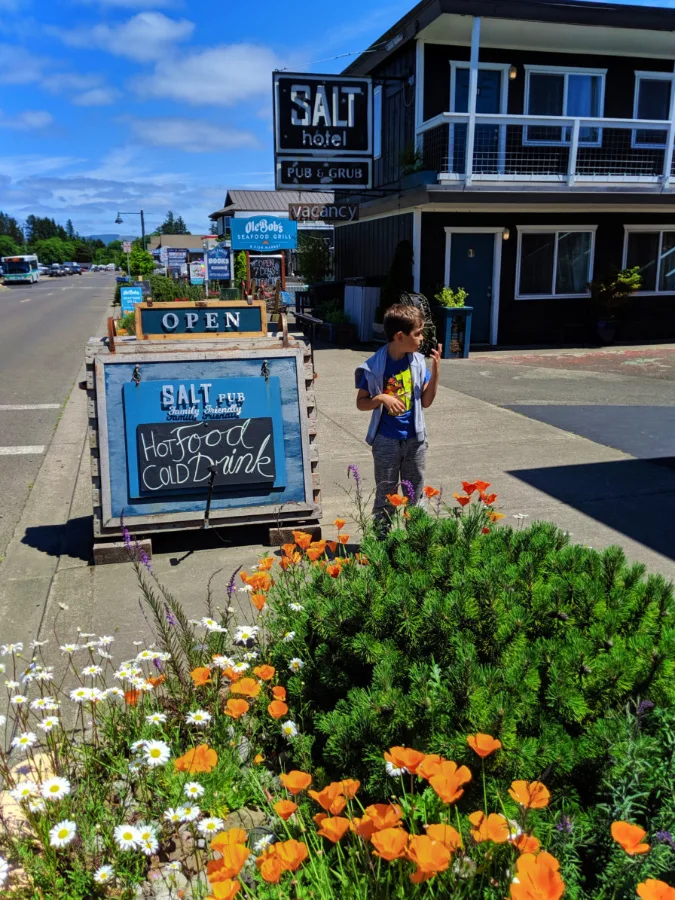 As you can see, Lewis and Clark National Park is a pretty awesome place to both experience some history and get a taste of the amazing life we have here in the Pacific Northwest. It's an easy add-on to an Oregon Coast road trip or if you're local, it's its own weekend getaway for fun and learning.
If you have additional suggestions for things to do around Lewis and Clark National Park, Astoria, or Ilwaco, we'd love to hear them! Send us a note or leave a comment!
And want to pin this for you own vacation planning to the Pacific Northwest? Go for it!!!