Beaches and bunkers.  That's what we did this weekend.  We loved every moment of it.  If you've not lived on a US coast, you might not have ever been to a pre-WWII fort.  Close to home for us is Fort Worden State Park in Port Townsend, Washington.  Fort Worden rocks for a family travel day for a bunch of reasons and to be clear, its attraction is heavily influenced by the presence of a lighthouse.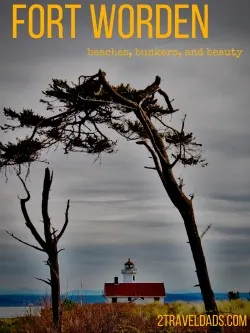 Fort Worden is awesome and so much fun.  It's fun to experience places with your own kids when you've been there a gazillion times before your own children ever existed.  Fort Worden is one of those places for us.  Chris grew up in Port Townsend and I grew up visiting all of the time, so Fort Worden is especially packed full of memories.  When we were walking around the bunkers with the kids, Chris told our oldest "you know, Grampa used to play here when he was a little kid too."  That's the sort of place Fort Worden is for us.  
It is easy to spend a day exploring the entirety of Fort Worden State Park, but you can also just pick one portion of it.  It's definitely best to visit in the summer, as it can be a bit windy and you'll want some warmth to counter the wind.  
But why should a visitor trek out of the charming little Victorian seaport of Port Townsend to go wander through Fort Worden?  Well, how about these four awesome reasons…
Fort Worden is awesome for kids
Our kids have a lot of energy. Our oldest somehow was able to run on sand for as long as the beach goes. I don't know how he does it. When we were at Fort Worden and heading to the Point Wilson Lighthouse he was able to run back and forth and not get tired. That's one of the great things for kids at Fort Worden: the beach and the lighthouse.  While the lighthouse isn't open year-round, when it is open there isn't a height restriction for kids. Some lighthouses, like the St. Augustine Lighthouse, do have height requirements so you might end up with some let down tiny travelers. The only restriction for taking kids up into the Point Wilson Lighthouse is that you can't wear them in a backpack, they must be carried if they cannot do the stairs safely.
Tip:   check to see if the lighthouse is open for tours before you go. Tour days are random and happen most frequently during the heavy tourist season, such as May through September, but they can happen  in the off-season too.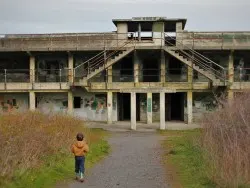 Another fun activity for kids at Fort Warden is touring the old military bunkers. They're no longer in use, but they're just as awesome today as they were when I was a little kid. The bunkers are definitely an area where a parent needs to keep an eye on the kids. Bunkers have lots of edges that a child can fall off of and plummet 2 to 30 feet down to the ground.   There are also lots of ladders to climb, tunnels to go through (bring your flashlights),  and concrete walls to slide down.
Tip:  don't MAKE kids go into the bunkers if they don't want to.  I have awful memories of being little and being forced to go into the bunkers at Fort Casey (across from Fort Worden) for the purpose of somebody trying to scare me.  Not cool.  Don't do it.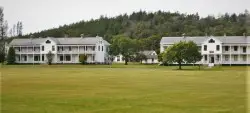 If it's a nice day at Fort Worden a really good idea is to go to The Big Field between the military housing to fly kites. Fort Worden is ideally located in the perfectly windy section of Port Townsend. We've played frisbee, flown kites, and just kicked around a soccer ball on the field countless times. It's kind of the perfect spot for almost anything.
Tip:  if you hike up the hill from the barracks you'll come to the upper bunkers which are just as fun and interesting as the ones down at beach level, and there are a lot less people.  It's so cool to explore.

Tip 2:  we use a hiking pack for almost any sort of walking around.  They're not just for hiking in the mountains and are a heck of a lot easier than trying to use a stroller on a sandy beach, bumpy hiking trail or multi-level area like the bunkers at Fort Worden.  We prefer our Kelty Kids hiking pack, but there are many options out there.
Fort Worden is fun for couples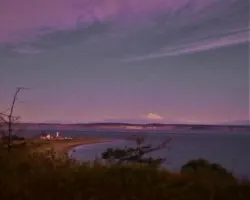 If you are a cheesy,  romantic traveler then you'll just fall in love with Port Townsend in general, and then you'll get to Fort Worden and you'll see the lighthouse at sunset and you'll never want to leave. Maybe it's just me, but I think that lighthouses are the most captivating of any building you'll ever hike or walk to when playing tourist. Besides this though, Fort Worden is romantic for going on walks in the woods, and exploring some beautiful lookouts from up above the lower bunkers. There are lots of walking trails and viewpoints that have very few people along them. I'm not saying this is a great place to go and hide in the woods and make out, but it's nice to have some seclusion and just enjoy each other's company.
Tip:  Fort Worden at sunset is one of the prettiest places around, especially in the summertime when it's a little bit breezy but still nice and warm and the sky is the perfect color of purplish bluish yellowish pinkish reddish gold.
Fort Worden is great for nature lovers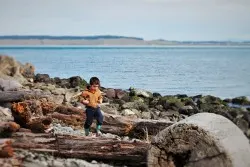 Like I said, Fort Worden has great walking trails through the woods. It's loaded with all kinds of natural vegetation and very little invasive species. Also, you're in Port Townsend. If you've not been to Port Townsend too many times before you might not realize that the main population of Port Townsend is actually deer.   Fort Worden is no exception to this. We've also gotten to see loads of rabbits, bald eagles flying overhead, sea lions and seals both in the water and on the beach, and some people are fortunate enough to get to watch orcas off of Point Wilson.
Tip:  If you want to go to Fort Worden to take part in some whale watching, you should check out the Orca Network website or Facebook page ahead of time to see if any orcas or other cetaceans, such as gray whales, have been seen off of Port Townsend, Point Wilson, or are heading that way from the Strait of Juan de Fuca.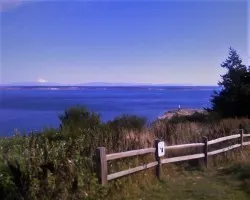 One of the other cool science things to do besides sit and watch for orcas in the Strait is to visit the Port Townsend Marine Science Center at Fort Worden State Park. It has its own fee and it isn't open all of the time, but you can check out its website to see when visiting is a good idea. I remember one time heading to the Science Center and encountering a small family of sea-run river otters hanging out on the dock below.   If you're really up for something involving Marine Science, you can check out the summer camps that the Port Townsend Marine Science Center does, which are also listed on the website.
Tip:   After a day at the Marine Science Center it's easy just to walk down to the beach where the water is strangely warmer here than in other areas of the bay around Port Townsend. The sand is very clean and soft and well worth carving out sometime for a nice beach day.
And if somehow you missed walking on the northern beach of Fort Worden State Park, you should go see the view, the small dunes, the bluff… Oh, and you should spend a few moments getting your zen on with nature.  We are those rock stacking people and we're passing that skill/hobby down to the kids…  Just a thought.
Fort Worden has a history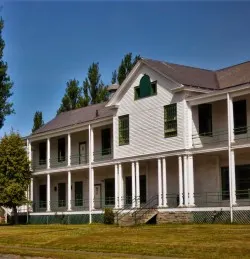 The Army started building Fort Worden in 1897. It actually was active for a little over 50 years until it shut down and got turned into a Juvenile Detention Facility. It's totally not like that now. Now it's full of awesome old barracks that are used for variety of things, including a military museum, quarters for groups that want to have conferences and functions at Fort Worden, private accommodations that can be rented, and then just fun places for people to go and experience things such as the Centrum music program.
Tip:  check out Centrum's schedule if you'll be visiting when it's warm, because you might catch the Fiddler's Fest or other awesome collective concert programs.  There are a bunch of genre's and performers making awesome concert experiences.
Probably the most historical thing to happen at Fort Worden was filming a movie with Richard Gere. If you saw the movie An Officer and a Gentleman you might recognize that it's shot around Fort Worden and the town of Port Townsend. Everybody who lived in Port Townsend at the time can remember the movie being filmed and I'm pretty sure it was the highlight of everybody's life. Okay that was sarcastic. But everybody does remember and will happily tell you about whatever part they had in helping host the crew and in creating the movie.
Visiting Fort Worden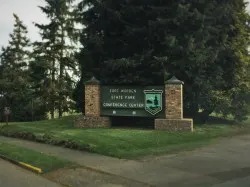 Washington State Parks require a Discovery Pass or day use permit.  At Fort Worden you can obtain this right by the Marine Science Center.  You can also visit on pre-planned free entry days.  Getting to the Fort is easy if you're already in or heading to Port Townsend.  There are signs all around town directing you to the Fort… and then I think we all have some form of GPS these days.
You know we love doing picnics wherever we go, so know that we wouldn't send you to Fort Worden if there weren't great picnic spots.  There are tables, a cooking shelter, nice restroom facilities and even a little store if you need picnic supplies (open seasonally) all down by the beach.  
And do you know what else you can do at Fort Worden?  Go camping!  In all honesty though, we don't recommend it, as we have indeed done it and actually packed up and left because the wind gets so crazy off the Strait of Juan de Fuca in the middle of the night.
Fort Worden is a really wonderful day trip or addition to a long trip to the Olympic Peninsula.  If you're visiting from Seattle, plan on about two hours to get there, as you'll have to take a ferry and then have a nice drive.  If you're visiting from Vancouver, BC and planning some time on the OlyPen, you can take a small ferry from Whidbey Island into Port Townsend (check on reservations though).  If you're doing a tour up the Pacific Coast, you'll be heading past Port Townsend on you loop, so you might as well stop in.
We love it for planned or impromptu trips, so if you'll be in the area, be sure to take some time to make a stop.  Have you been to Fort Worden?  What do you think are the must see sights?  Feel free to share!
This post contains affiliate links which means that we may earn commission if you listen to our advice.