I've been visiting Vancouver BC since I was a little kid and each trip is so different from the last. Since we always seem to do it as a weekend trip to Vancouver, that's how I'm approaching my favorite things to do in this amazing city. I think a weekend in YVR (Vancouver's airport code) is the perfect amount of time to get a taste of Canada.
We always say in our house that Vancouver is the city of the future with the accent of the future. It's this wonderful combination of cool architecture, history, the mountains, the sea, First Nations art and culture, and a very international population. I know every city has its issues, but Vancouver always feels like a beautiful world away whenever we're there.
Our most recent weekend in Vancouver was just before boarding the Rocky Mountaineer luxury train heading out on the First Passage to the West route, so know that everything we're sharing can be done spring through fall (and some activities are great in winter too). If you have your own suggestions or more questions, please leave a comment or send us a note. We're happy to share more!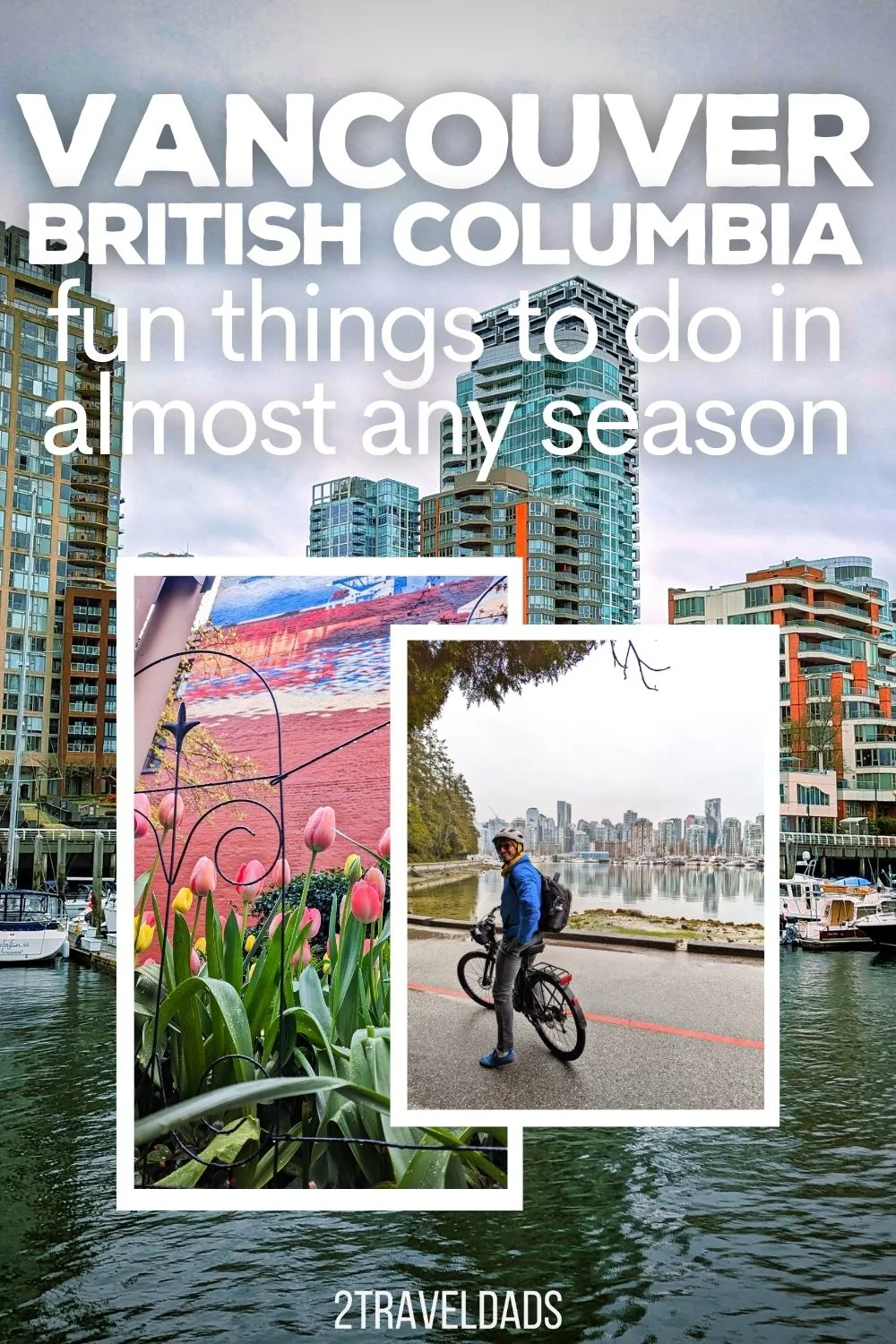 Where is Vancouver, British Columbia?
Vancouver BC is in the westernmost part of Canada, just north of the US / Canada border, north of Washington State. The city is located right in between the Pacific Ocean and the Cascade mountain range, so you can imagine how beautiful the setting is and how many great things to do there are in Vancouver and the surrounding area.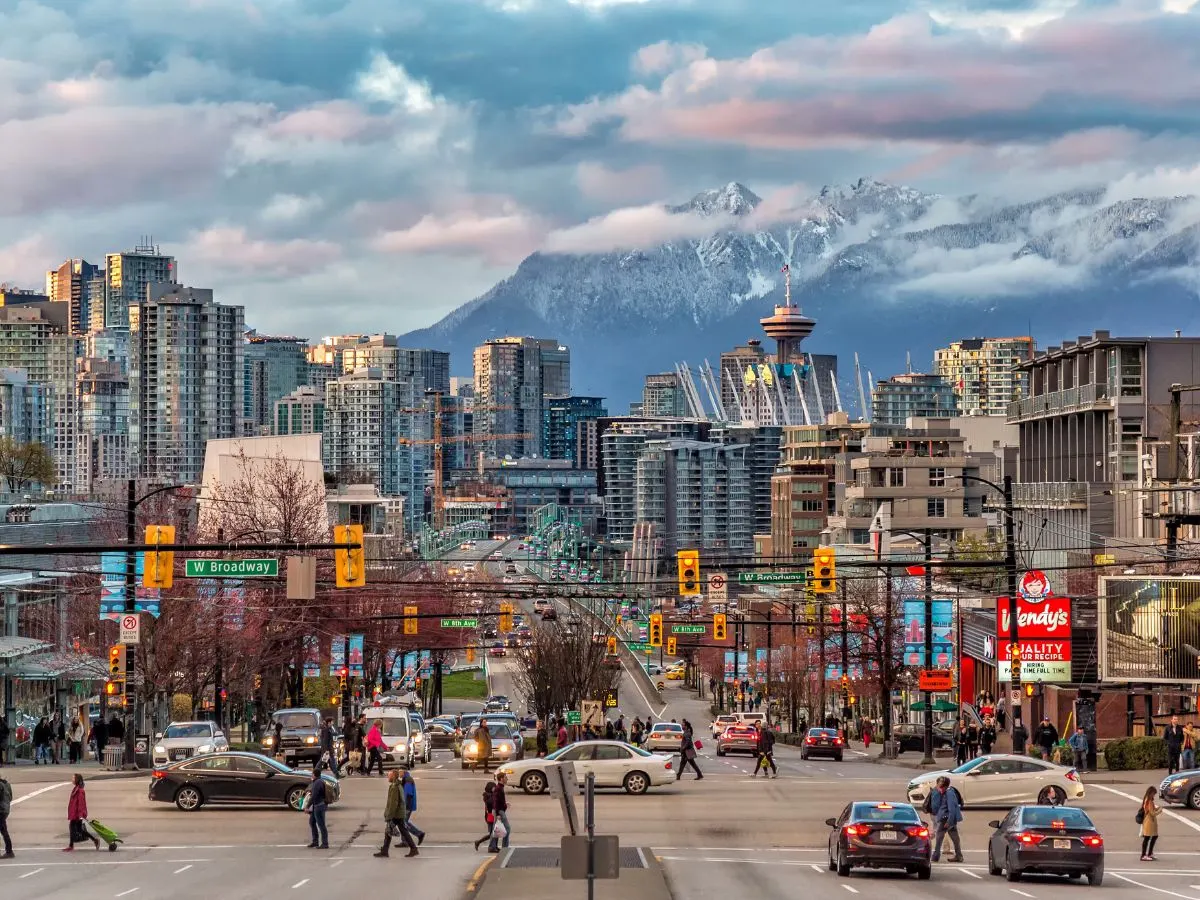 How to Get to Vancouver
Flying to Vancouver, the airport code is YVR, and you can get there from nearly every major city in North America, and also there are direct flights from Tokyo, Bangkok and New Delhi. If you want to drive to Vancouver from the nearest major Canadian city, that would be Calgary, Alberta, which is an 11 hour drive. Driving from Seattle, WA Vancouver is only three hours or so away.
And did you know that you can take a seaplane to Vancouver from several places? You can fly to Vancouver via seaplane from Seattle, Victoria, Tofino, Nanaimo, Whistler and more. The flight in is gorgeous!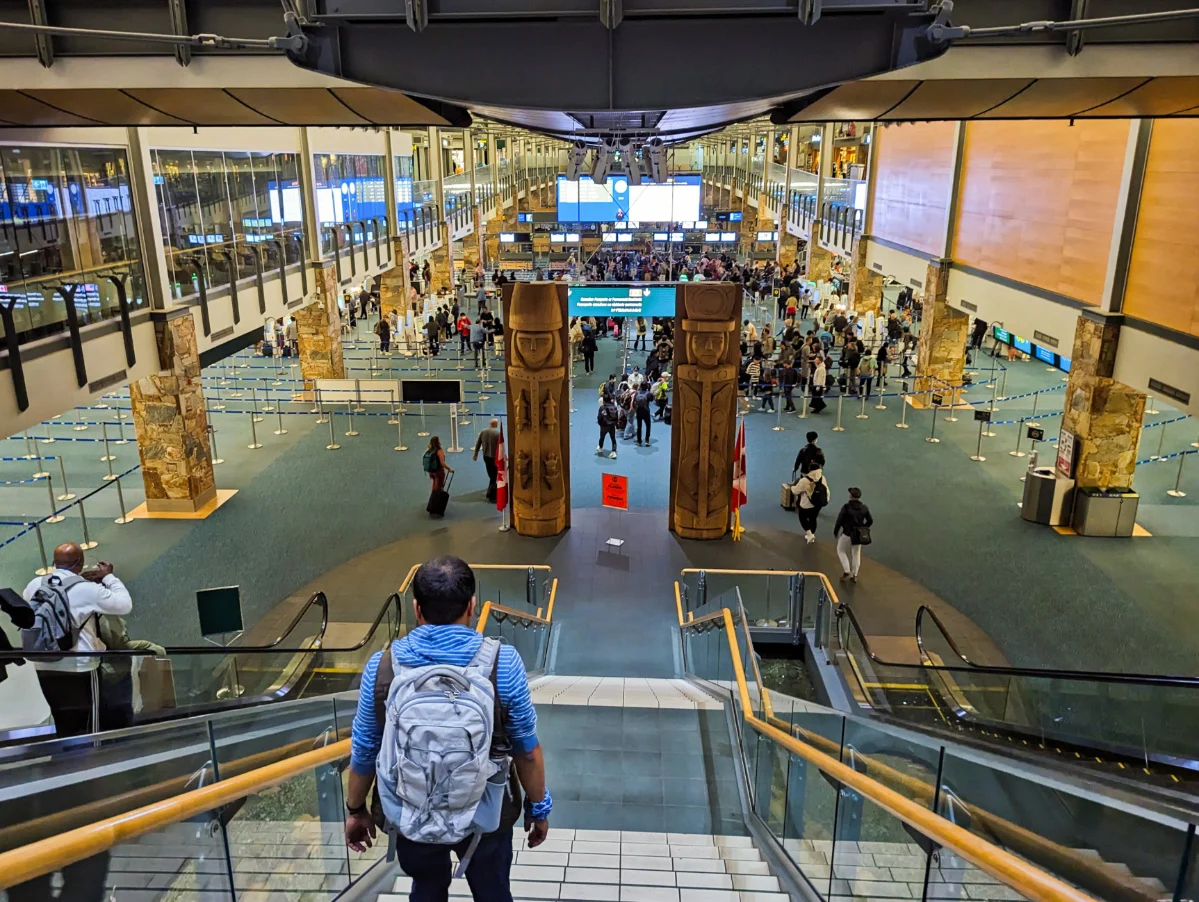 Cruises Departing from Vancouver
Living in Florida, people talk about visiting Vancouver, but only as their departure port for an Alaskan cruise. Yes, there are lots of cruises that go out of Vancouver, BC. Most of the cruise that depart from here are the longer Alaskan cruises that go as far as Whittier, but there are also shorter cruises along the Inside Passage, as well as repositioning cruises.
Repositioning cruises are a great way to have an unusual cruise itinerary that's always a one-way. Going from Vancouver BC, you can get repositioning cruises to Seattle, Hawaii, California, New Orleans, Florida and even Australia and Asia sometimes. Check out all the cruises that leave from Vancouver BC!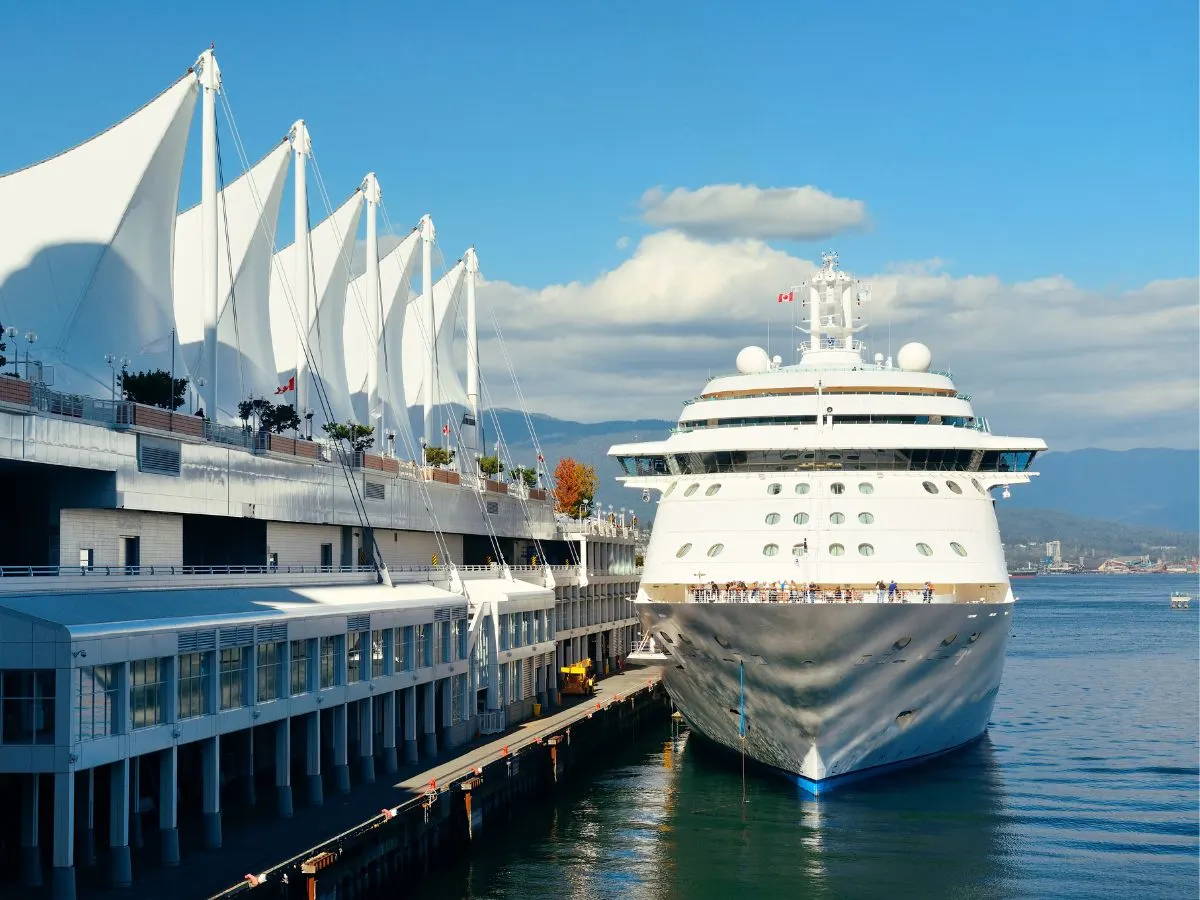 Can you Get to Vancouver by Boat or Train?
Getting to Vancouver by boat, besides a cruise ship, is doable via the BC Ferries system. There are several routes that go back and forth between Vancouver (the city) and Vancouver Island (Victoria, Nanaimo and Tofino). You can't take a ferry from Seattle to Vancouver BC, but you can do one from Anacortes to Sidney BC (the island) and then from there over to Vancouver.
When it comes to the train, you can get to Vancouver on the Amtrak Cascades route, which runs from Eugene, Oregon to Vancouver, BC or on Via Rail from Toronto, ON. But the BEST train into Vancouver BC is the Rocky Mountaineer from Banff or Jasper. It's amazing!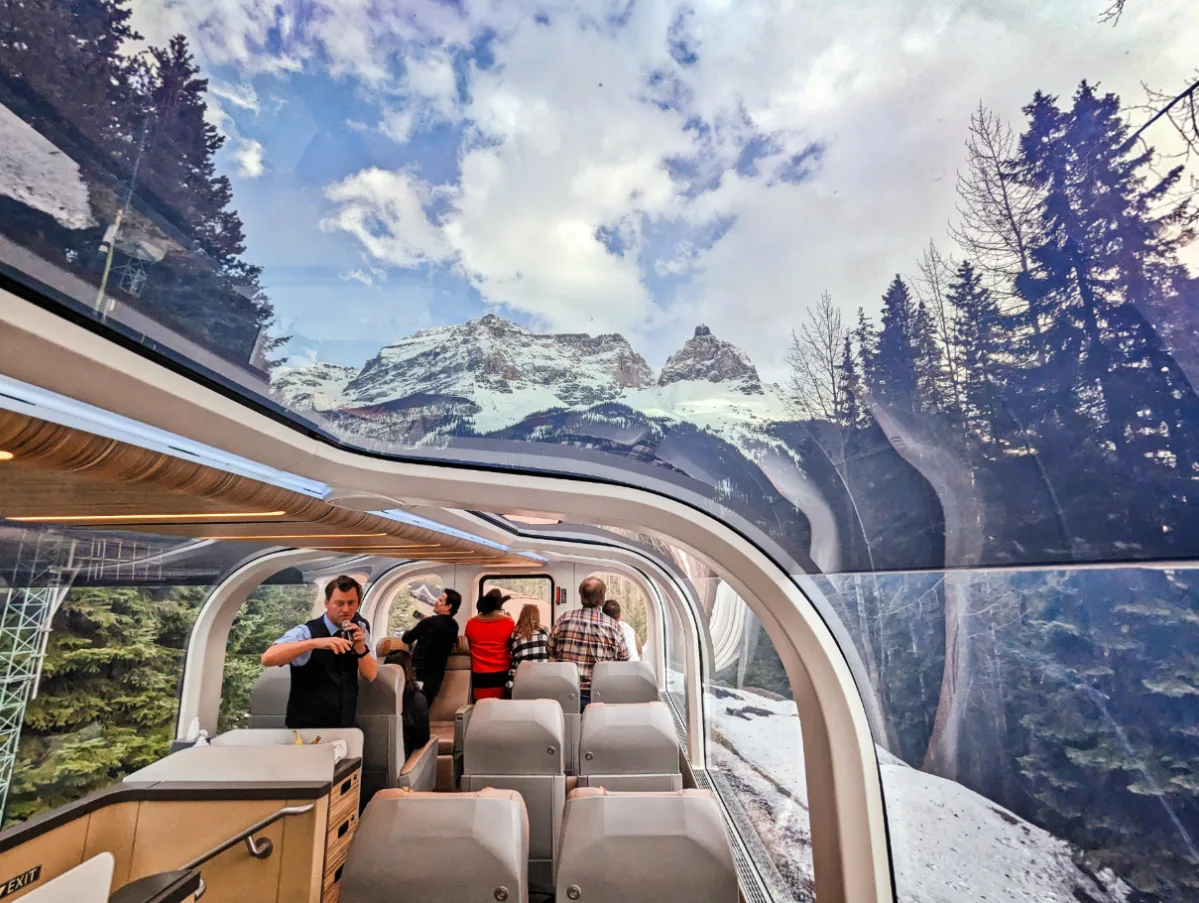 Awesome Weekend in Vancouver: Easy and Fun Plan
Now that you know how to get to Vancouver BC, here are some great ideas for fun things to do in Vancouver BC for a weekend trip. We like to have a mix of both outdoorsy and cultural activities whenever we're anywhere, and Vancouver really lends itself to that. If you don't want to be rushed, plan three days for having a fun, long weekend, or just pick a few things to do each day with the intent of coming back to YVR.
Favorite City Neighborhoods to Visit in Vancouver
While there is a clear "downtown" to Vancouver, there are some wonderful neighborhoods all around it, and one of our favorite things to do in Vancouver is just explore the neighborhoods on foot. From Chinatown to Cambie Street on the south side, there are great places to fall in love with Vancouver.
Gastown Historic District
Probably the most famous neighborhood in Vancouver, Gastown is a fun place to shop and try to figure out what movies were filmed there. My favorite is, of course, The Never-ending Story. As you walk along, trying to find the bookstore or you're looking out for Falcor flying above, pop into any of the many shops for your Canada-themed souvenirs. There's more to Gastown than that.
One of the coolest features of Vancouver's Gastown is the steam clock. Just off the brick-lined streets at the intersection of Water and Cambie Streets, the steam clock operates like a train engine, complete with gears and whistles. Be there on the hour to see it go off.
PS: if you're in Gastown on a Friday or Saturday night, you'll see that this is actually where the bachelor and bachelorette parties go to do their pub crawls. I kid. Actually, there are lots of great restaurants (not all touristy) and cocktail bars here, so plan to at least grab one meal in Gastown.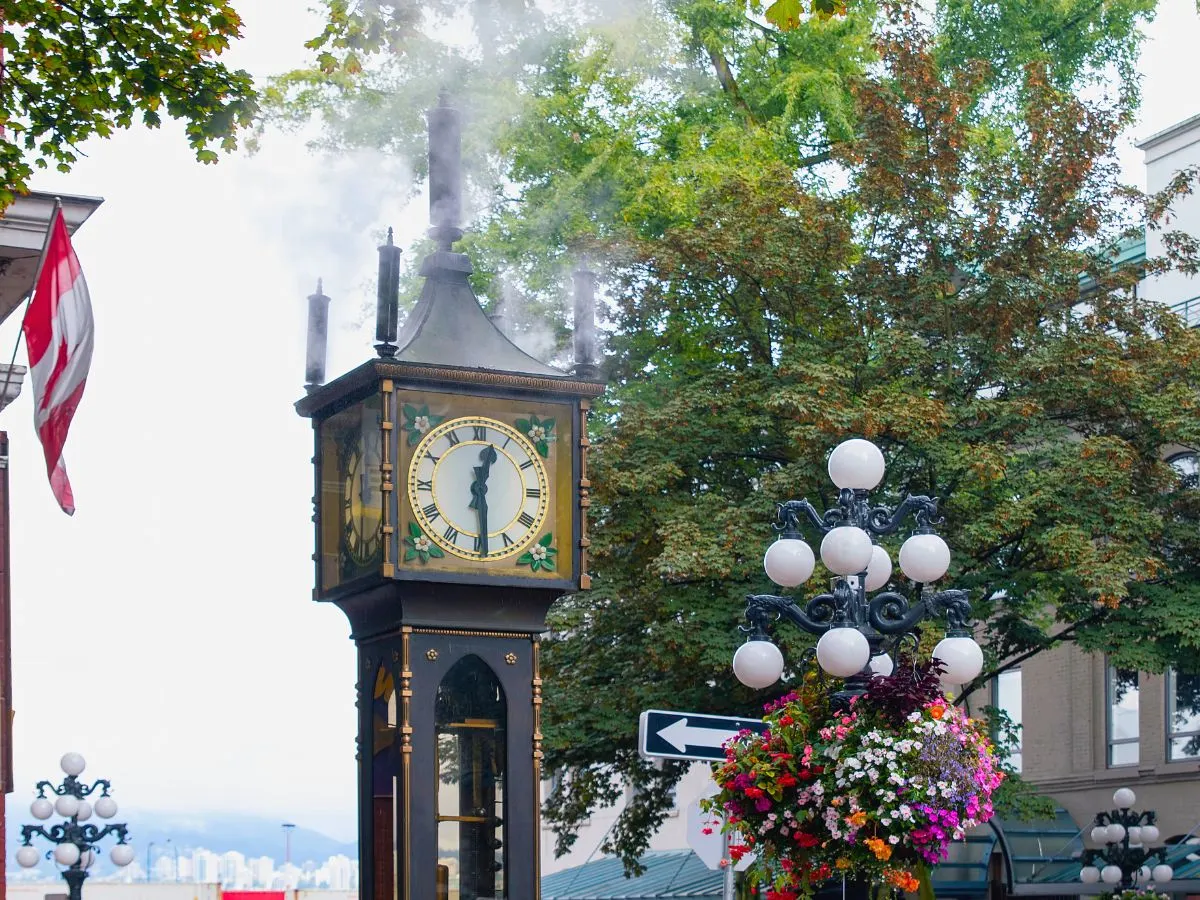 Davie Village Gayborhood
Ahh, I had my bachelor party here so many years ago. Davie Street aka Davie Village is the area on Davie between Burrard and Jervis. Here you'll find fun clothes shopping, some of my favorite international restaurants in Vancouver (I love Taki's Taverna, Greek), and of course, the Vancouver gay bars.
Not that I would ever tell somebody where to go solely based on their identity, but if Gastown is where straight peeps go for their favorite pub crawls, Davie Street is the destination for the LGBTQ cocktail hours. It's also a great neighborhood for brunch.
For a fun weekend plan for Vancouver, plan to walk the Seawall Path (see below) from the Coal Harbour side of downtown all the way to Sunset Beach (the dog beach). You don't have to do the whole loop around Stanley Park and it's a wonderful way to see multiple parts of the city and end your walk in a great neighborhood for dining.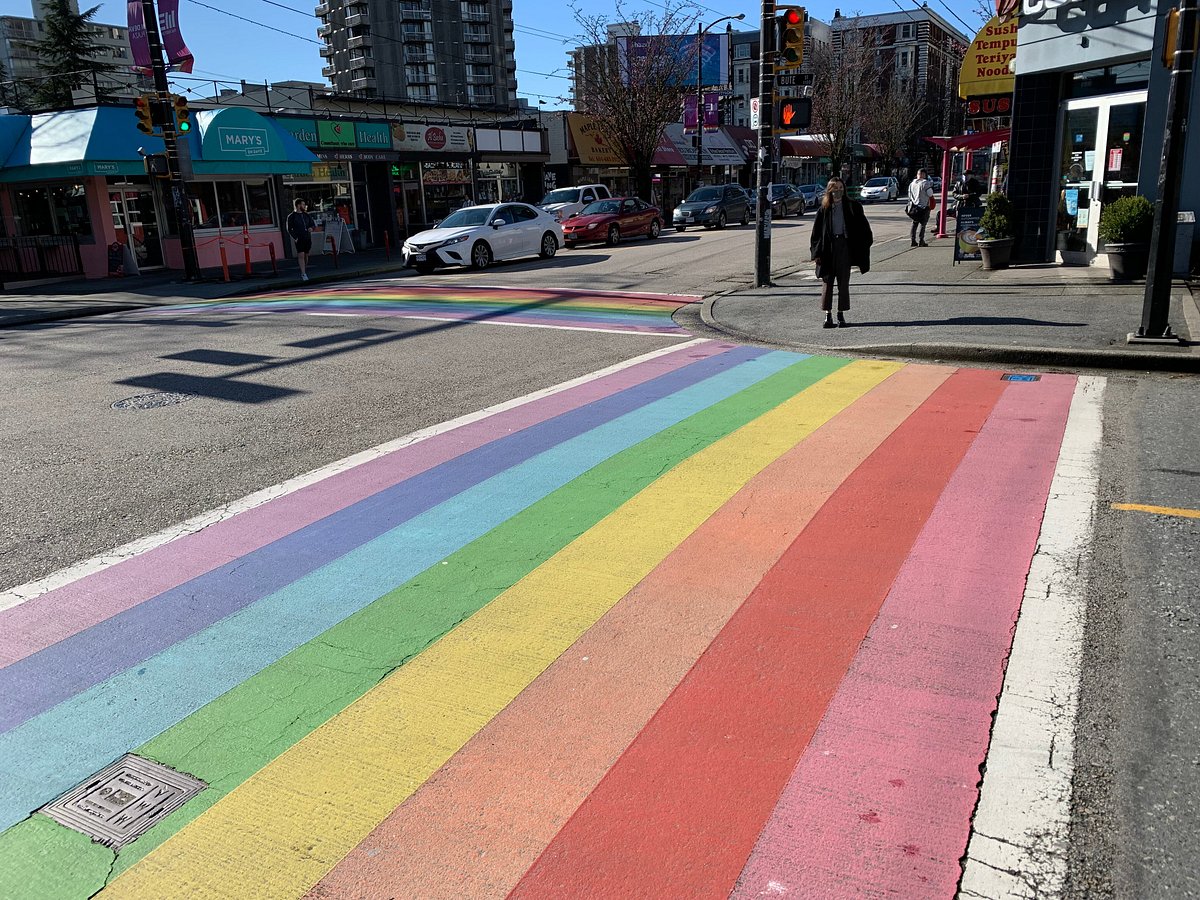 Vancouver Waterfront – Coal Harbour
On the northside of Downtown, you'll find the start to the Seawall Walk. This path goes all around the way around Stanley Park, winds down past Third Beach and eventually goes toward Yaletown and then the BC Place stadium, before terminating at the start of Chinatown. When you're on the northside though, there are lots of places to eat and things to do.
Here you'll find lots of public art, the Lookout at Harbour Center (Vancouver's Space Needle or their version of the Calgary Tower), Canada Place, and plenty of spots to sit and watch the seaplanes take off. While there may not be a ton of ticketed activities here, there are things to do like Fly Over Canada (like Soarin' Over California at Disney's California Adventure), lots of really cool restaurants and cocktail spots, and then (my favorite) the terminal for the foot ferry over to Lonsdale across the bay. I think any opportunity to be on the water is a good one, so take advantage of being in this neighborhood to enjoy the short ferry ride across the harbour and back.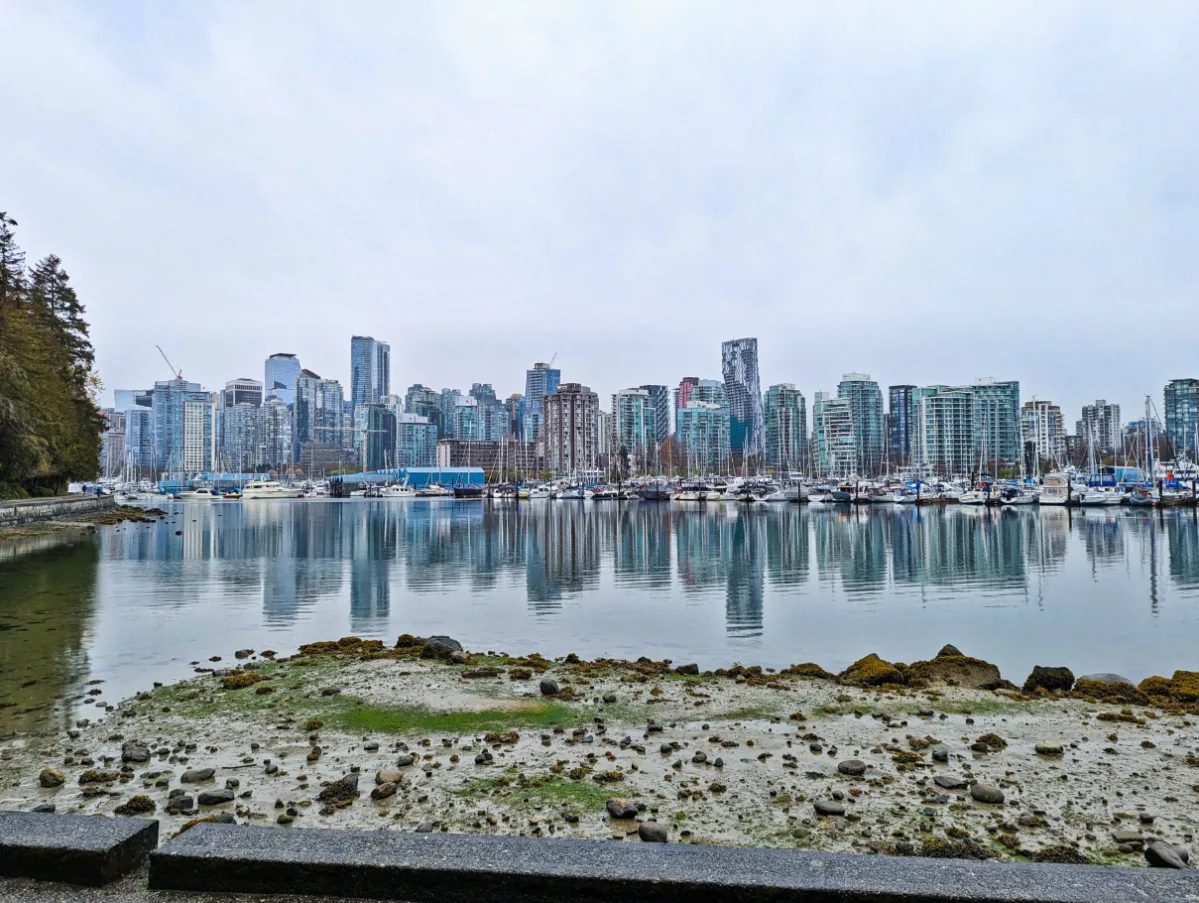 Granville Island
On the southside of downtown, Granville Island is a hub of art and food. Here you'll find at least four theatre spaces, the Granville Public Market, the Childrens Market and a lot of different sorts of studios. I think one of the most interesting studios/shops on Granville Island is actually the broom-makers shop where you can see them make traditional broomsticks of every sort, and you can purchase them!
For lunch, wander through the Public Market on Granville Island and grab snacks of every sort, all locally sourced. There are lots of actual food counters and even restaurants here too, much like Pike Place Market in Seattle. I think the most Pacific Northwest thing you can get here in the Granville Island Public Market is salmon. Smoked salmon of any variety is available, and you can buy it and eat it on the spot or ship it home.
One last element to Granville Island that makes it a hub of fun (for us at least) is that this is where you can catch a variety of boats for tours. Whether you want to do the False Creek Water Taxi (see below) or you're heading out for whale watching in the Strait of Georgia or Howe Sound, you'll catch the boats here. Vancouver is a city surrounded by water so it only makes sense to enjoy it!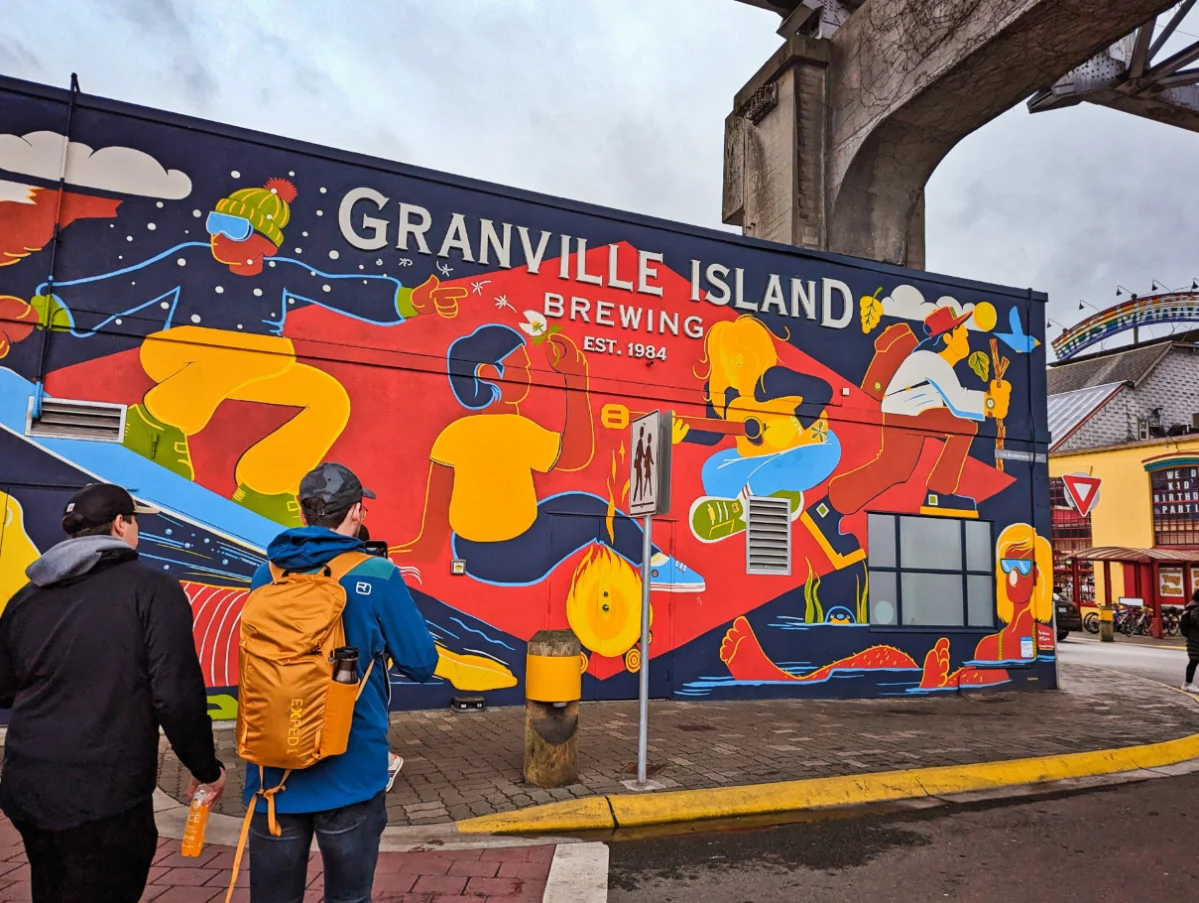 Outdoor Things to Do in Vancouver
The climate in Vancouver is surprisingly mild given that it's in Canada and most people expect it to be covered in snow for half the year. Like Victoria, BC, Vancouver is pretty warm in the summer and then it can be cold and moist in the winter, but not always frozen. I've only been to Vancouver when there's been snow twice, and I've spent a ton of time here. And with that, there are lots of wonderful outdoor things to do in Vancouver.
Biking Around Stanley Park
There are lots of places to rent bikes in Vancouver, so if you didn't bring your own, don't worry. We rented EBikes from City Cycle, who also does tours, to ride around Vancouver. Stanley Park is our go-to destination for almost any sort of things to do. Here you're find a collection of First Nations totem poles, several unique gardens, public art installations, two lighthouses, eagles nests, trails in the forest, beach access and even the Vancouver Aquarium.
Ride your bike from downtown to the Seawall Path and it will lead you around Stanley Park and under the Lions Gate Bridge. Biking in Vancouver means that you're both getting exercise and doing some of the best sightseeing in the city. Pre-book your bike rental here!
Note: on the south side of Stanley Park there are several paths that are pedestrian only and you CANNOT ride a bike on them. Pay attention to the signs!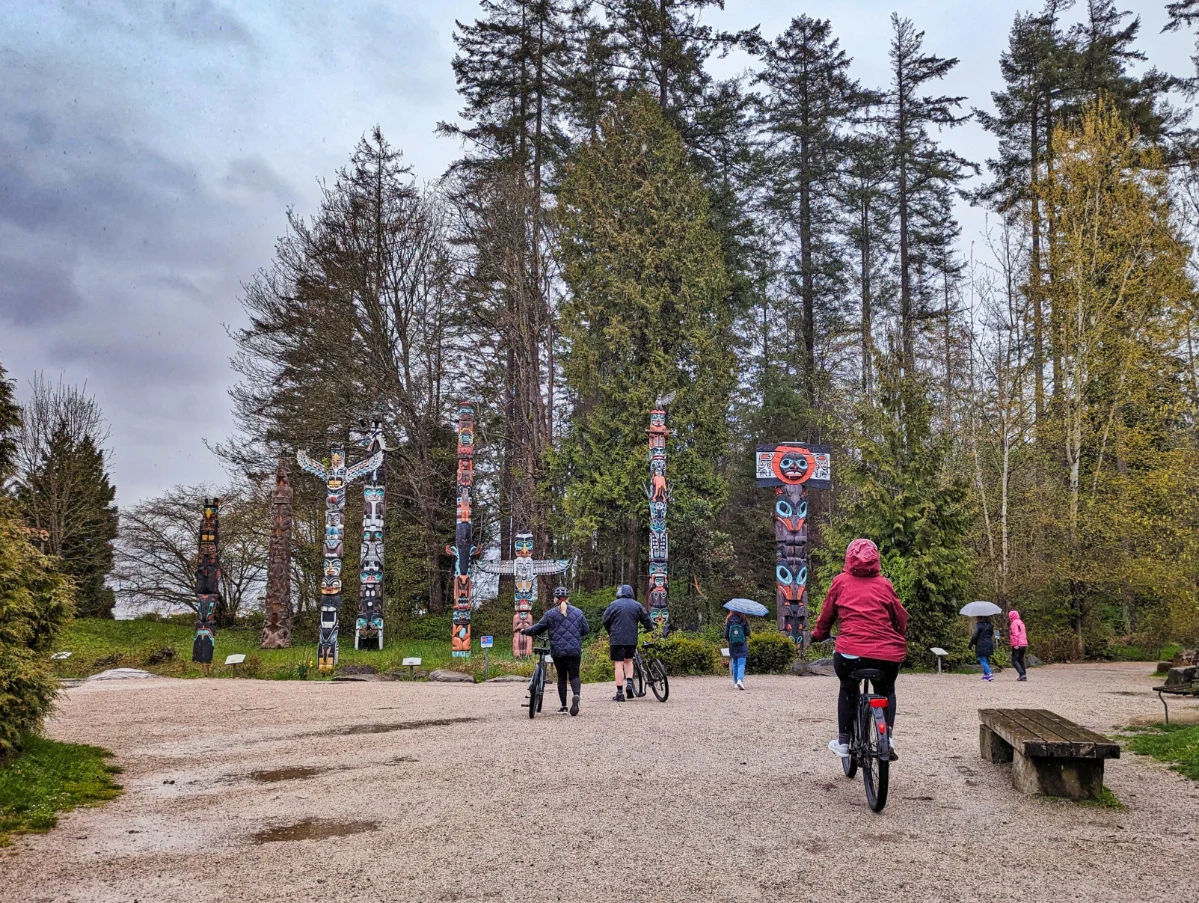 Walking the Vancouver Seawall Path
I keep mentioning the Seawall Path. Really, it's a remarkable trail that goes around nearly the entire peninsula of Vancouver proper. Starting at the end of the train tracks at Canada Place (where you would depart on an Alaskan cruise) and looping around Stanley Park (optional) and then ending at BC Place where they do concerts and sports. You'll be able to see lots of different views of the city, cross under several iconic bridges and make stops for food and drinks continually.
If you only have one weekend in Vancouver, be sure that at least some of your time is spent walking a portion of the perimeter of the city, or riding a bike around it. It'll make you fall in love with Vancouver and get you planning your next visit.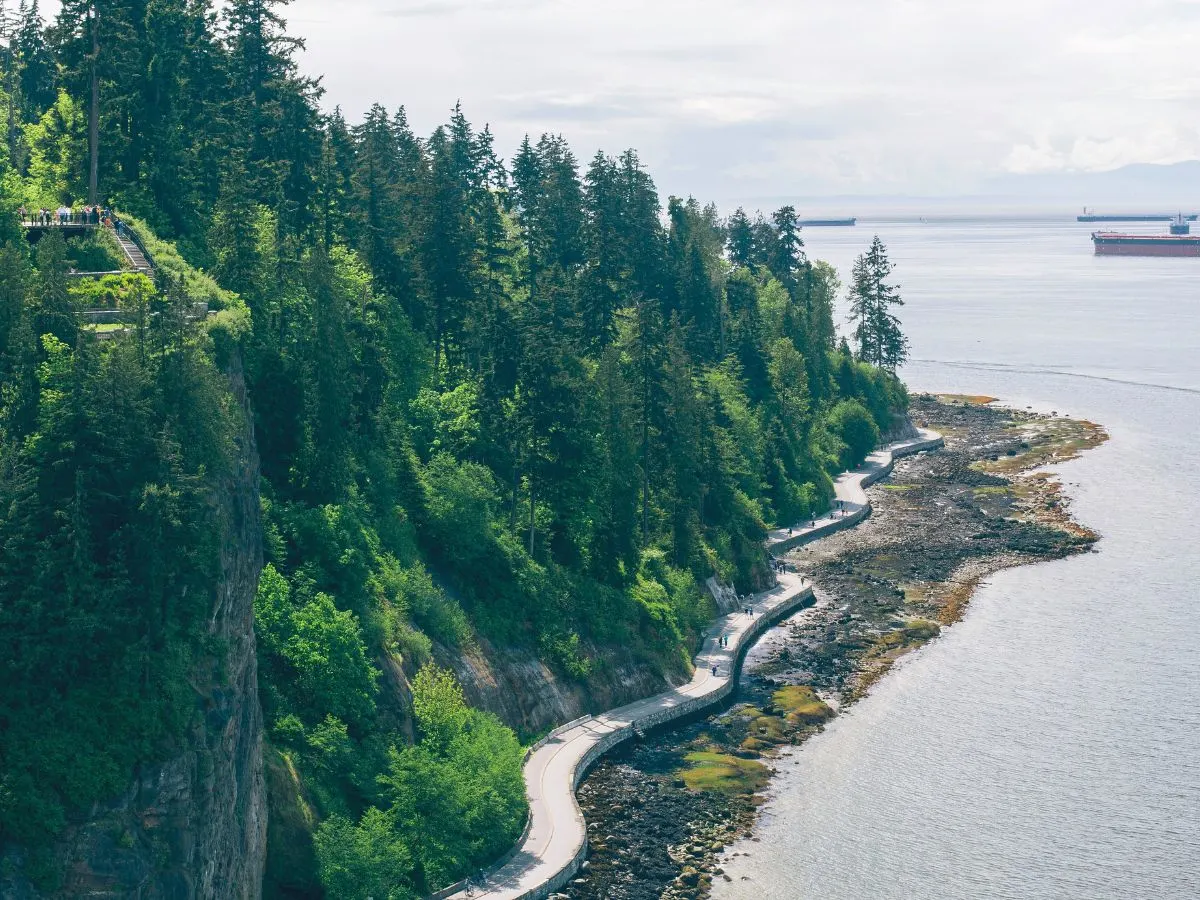 Do the False Creek Water Taxi
Another wonderful way to see Vancouver is the False Creek Water Taxi. Much like the adorable stubby water taxis in Victoria BC, the False Creek Water Taxi is both a transportation option AND a tourist activity. Going all the way from Science World (the building that looks like EPCOT) to Kitsilano at the west end of the southside of town, and making a stop at Granville Island, the False Creek Water Taxi is a fun way to see the city from the water. They run every day, rain or shine.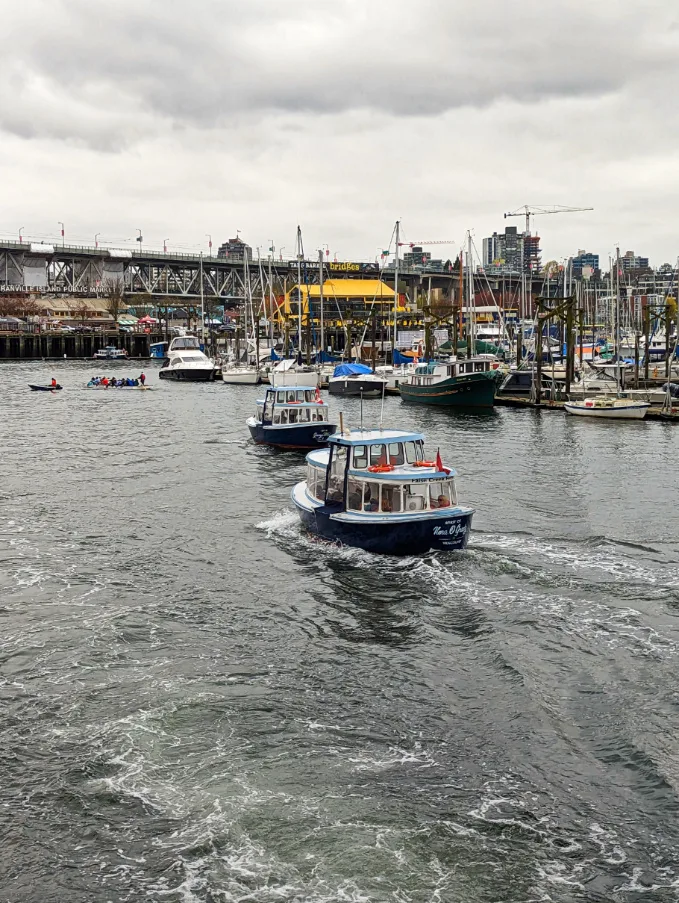 Arts and Culture in Vancouver
Part of what makes Vancouver such an interesting metropolitan, international city is the art. Whether you're interested in visiting museums and galleries or you just want to enjoy public art, Vancouver has plenty of it. Also, there is quite a lot of indigenous, First Nations art all around the city.
Bill Reid Gallery – First Nations Art
Bill Reid was an incredible artist from the Haida nation on the British Columbia coast. He created hundreds of large scale pieces that can be found all over BC, and the Bill Reid Gallery in downtown Vancouver is a wonderful place to visit and both learn about him as an artist and activist, and to see some of his Haida carvings and works up close. Located a half block from the Fairmont Hotel Vancouver, it's easy to spend more than an hour wandering the gallery and reading everything. Also, take time to sit and watch the film they play at the Bill Reid Gallery, it's great.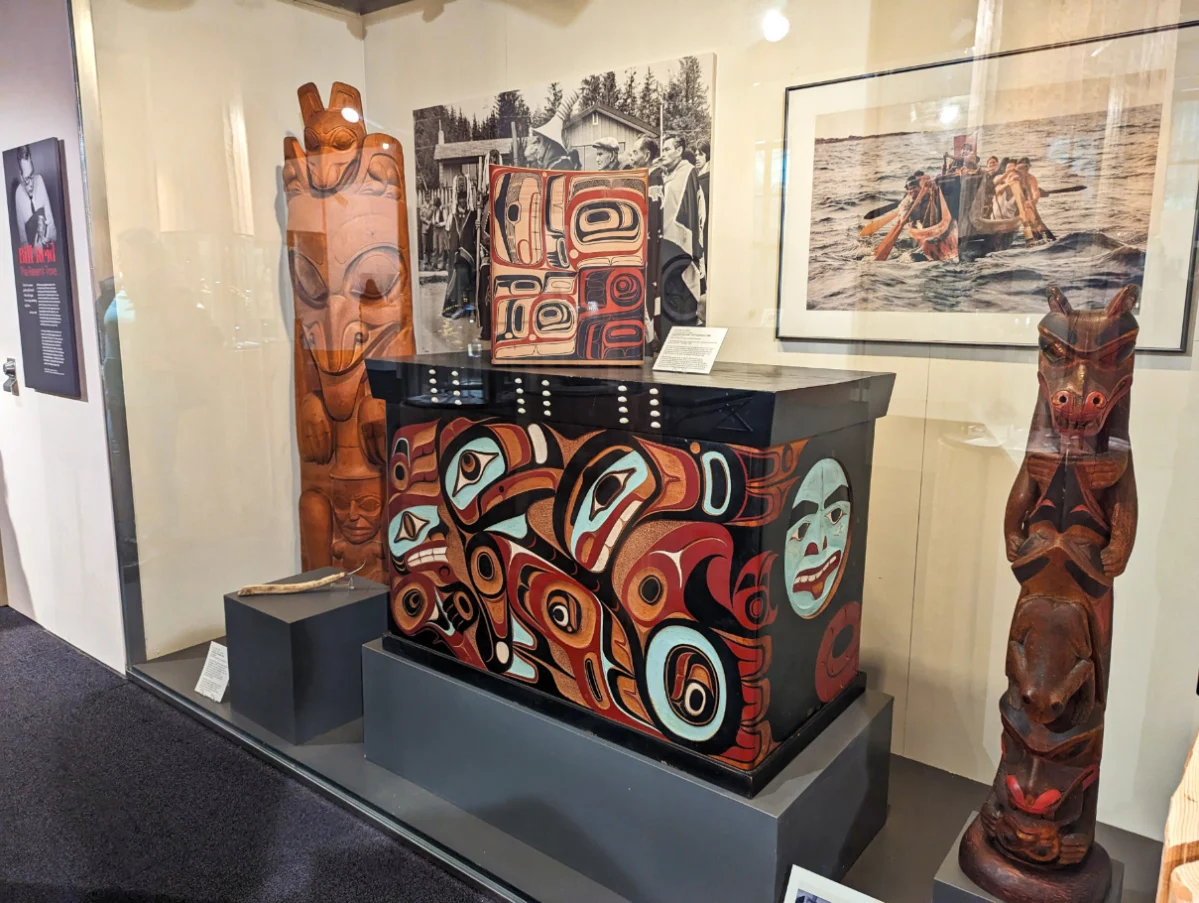 Vancouver Art Gallery
Such a grand building for such an unusual gallery. I was so surprised by the exhibitions in the Vancouver Art Gallery. It's a changing collection of both current works and collections with the goal of storytelling through, not just displaying art.
During my most recent visit there were two very different and unique exhibitions: Alanis Obomsawin and Sherry Boyle – each woman's work was extremely different, one telling the story of the First Nations peoples across Canada (Alanis Obomsawin is an Abenaki woman) and the other telling the story of crossing between realities in life (very fantastical). The Vancouver Art Gallery does an amazing job curating unique exhibitions, for sure.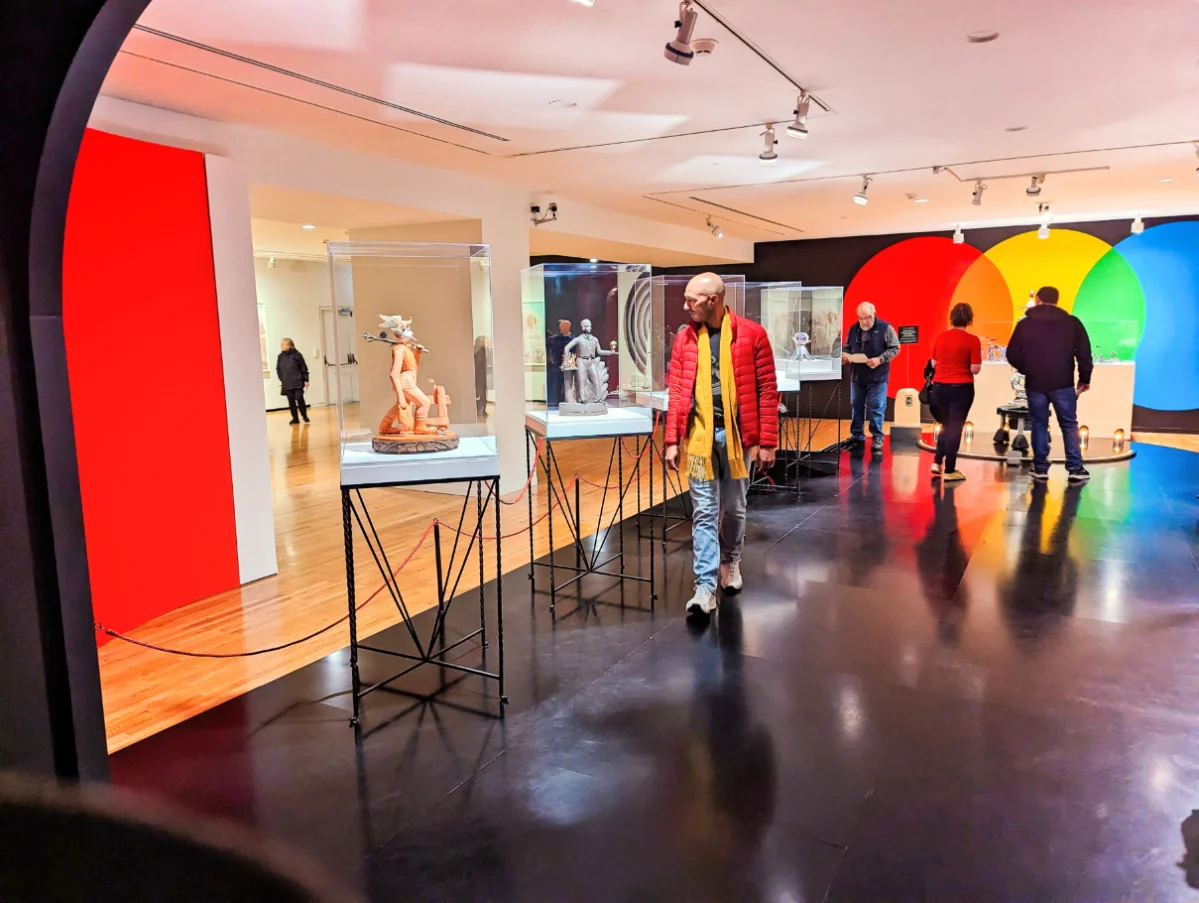 Murals and Street Art in Vancouver
There is no shortage of public art in Vancouver. The street art and murals are everywhere, in every neighborhood. In addition to taking over whole buildings or being subtly placed in covert alleyways, there are First Nations street art pieces decorating lots of different sorts of public works stations and gearboxes. Vancouver is a wonderful place for art!
I mentioned it briefly when talking about biking in Stanley Park, but one of my absolute favorite places to see public art is in the park. The best installation, in my opinion, is the totem pole collection. It's easily accessible by foot, bike or car and showcases a variety of styles from the different coastal nations of British Columbia. And if you're going by the Vancouver Aquarium, there's a large cast totem of an orca in front, as created by Bill Reid from the Haida Nation.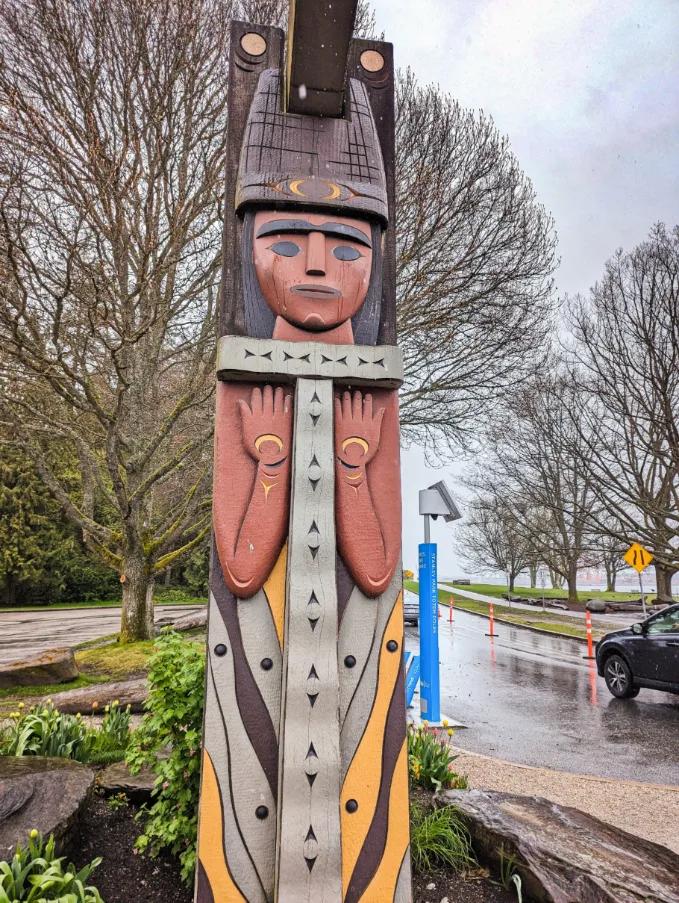 Whale Watching out of Vancouver BC
Having grown up in the Pacific Northwest, people think that we all just go whale watching all the time. Here's the truth: some of us do. Our family loves being on the water and when that includes wildlife, you just can't beat it. We've done our share of whale watching in Vancouver, Victoria, the Olympic Peninsula (WA) and in the San Juan Islands. Seeing orcas, gray whales and humpbacks is such a treat!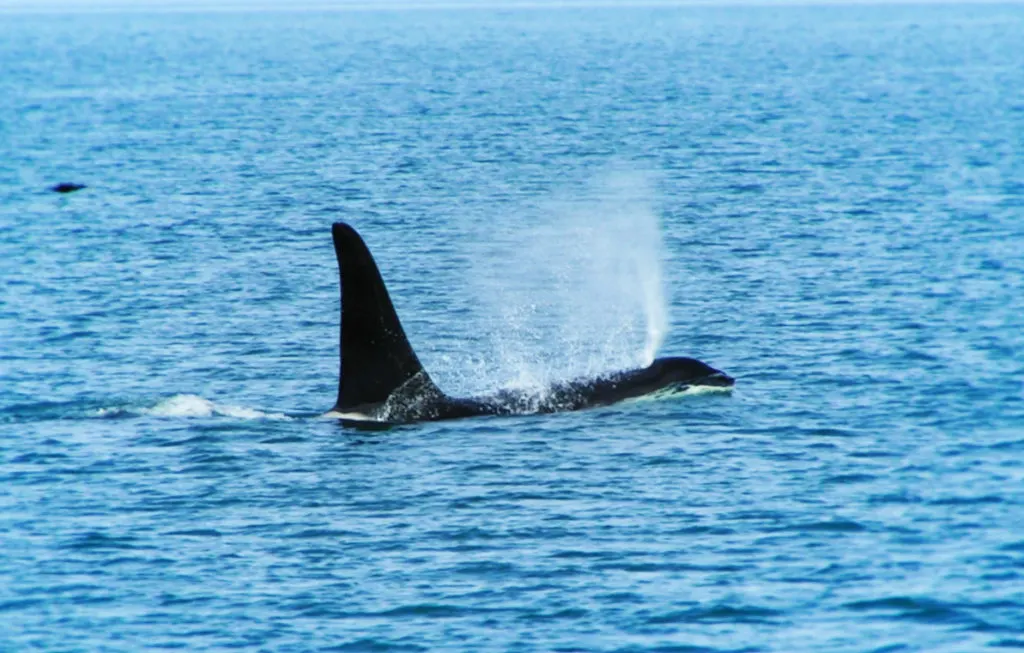 Prince of Whales Catamaran
There are different sorts of boats that do whale watching in Vancouver, and the Price of Whales catamaran is one of my favorites. It's not a catamaran like you go on for snorkeling with manta rays in Hawaii or a booze cruise in Cabo San Lucas, but a large cat, like the Victoria Clipper. The Prince of Whales catamaran is a wonderfully stable boat with both indoor and outdoor spaces. It's a great option if you're going whale watching with kids or people that get sea sick.
Something I really like about the catamarans Prince of Whales uses is the size of the windows if you're seated inside. The floor to ceiling windows give a great view of the water and scenery without being outdoors on a cold, wet day.
Bonus: if you go whale watching with the Prince of Whales, either in Vancouver or Victoria, they have a guarantee that if you don't see whales during your tour, you can provide your confirmation number and tour date for a future trip to go back out. That can be the next day or the next year!
Book this exact tour here! We loved it!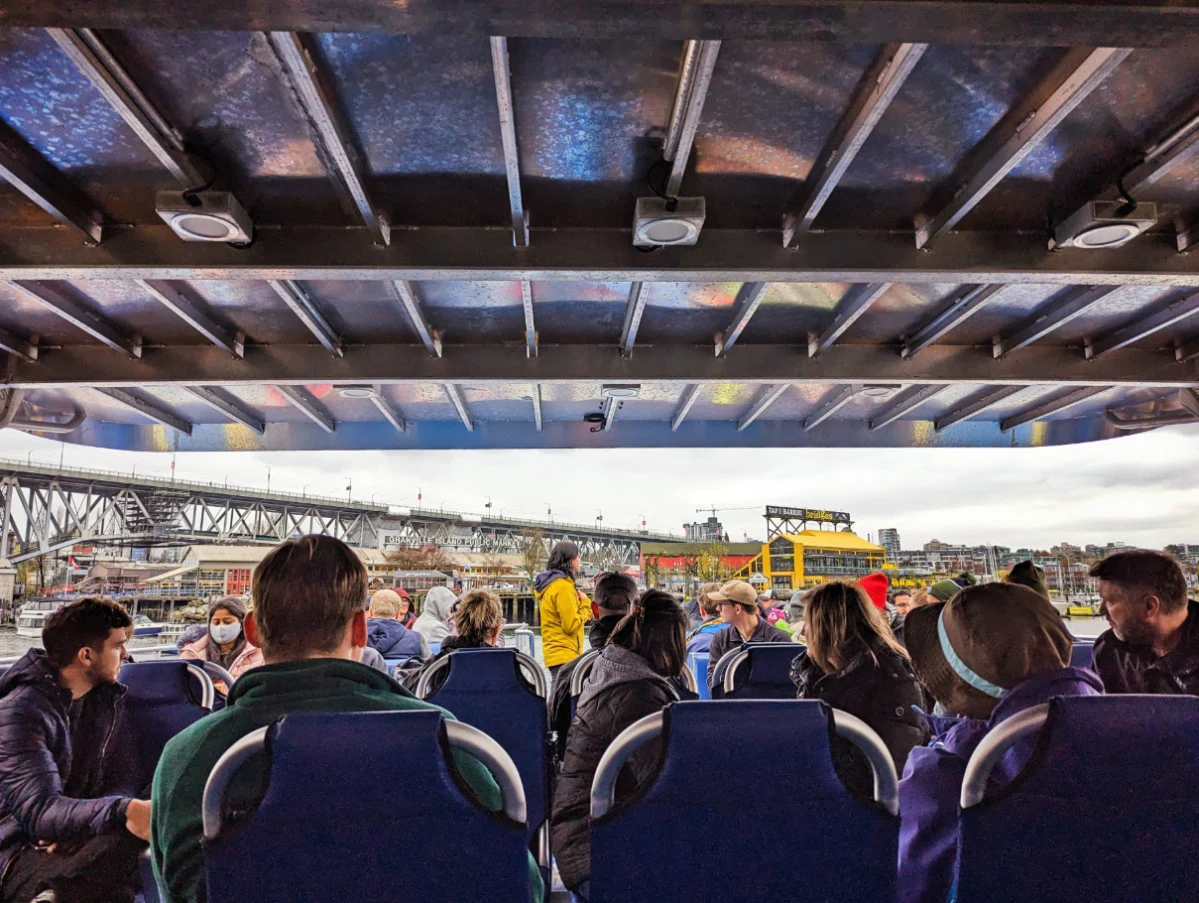 Sewell's Marina Zodiac Safari
This whale watching / wildlife safari is exceptional, and is one of my favorite water tours I've ever done. Going out of West Vancouver's Horseshoe Bay, Sewell's Marina does an awesome boat tour. You're on a zodiac (hard bottomed inflatable boat) blasting across the Howe Sound, watching for all sorts of wildlife, from whales to sea lions, pelagic birds to bald eagles. It's amazing.
The highlight of this trip is actually all of the waterfalls you go to. The zodiac is able to get up close to the many waterfalls that pour into Howe Sound. Don't worry, you're wearing dry suits for the adventure, so you'll stay warm. It's so much fun and a totally unique way to experience the British Columbia coast.
Book this exact tour here! It's amazingly unique and so fun!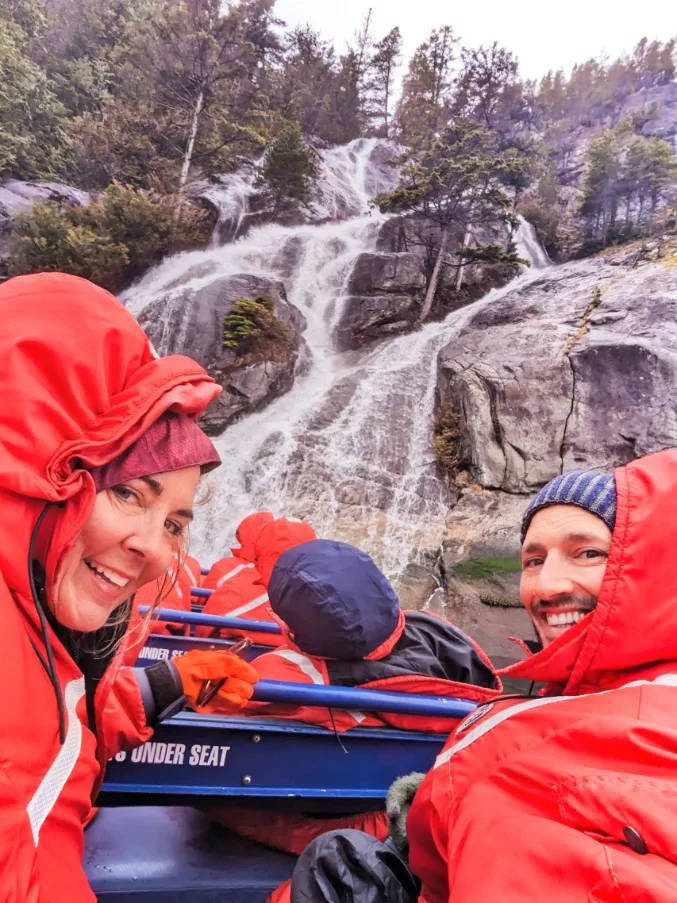 Things to do Near Vancouver
If you get to spend more than a weekend in Vancouver, be sure to explore beyond the city. There are lots of cool things to do in the Vancouver area, including going up to the mountains or crossing over to Vancouver Island. We've got so many ideas to share!
Capilano Suspension Bridge
I mean, this is a given and if I had a nickel for every time I've been… I'd have 45 cents. But really, it's cool and the forest surrounding the Capilano Suspension Bridge is beautiful to wander through. You can visit as part of a guided tour from Vancouver or you can easily drive there yourself, as it's less than 15 minutes from downtown. If you wanted to bike there, you could, but you'll be conquering quite the hill to get up to it.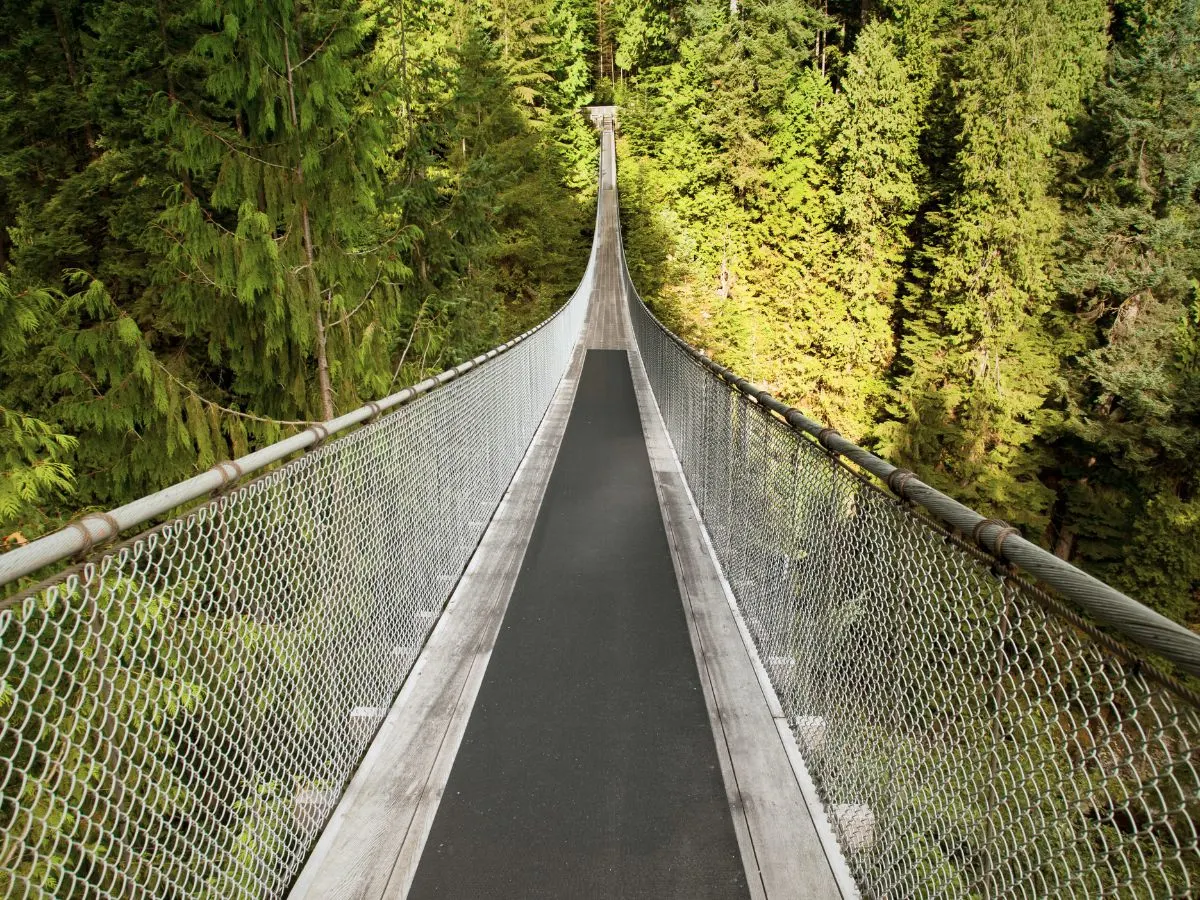 Grouse Mountain Gondola
Another popular thing to do in Vancouver, and it's easy to do if you're just here for a weekend, is the Grouse Mountain Skyride / gondola. This is for sure only good to do on a sunny, clear day as the view is the main attraction, but if you're looking for a fun experience WITH hiking, you can take the gondola up the mountain and then take your time hiking back down. It's cheap if you want to do the gondola just one way, but around $50 CAD if you want to do a round trip. Check out combo tickets w/ Vancouver tours here.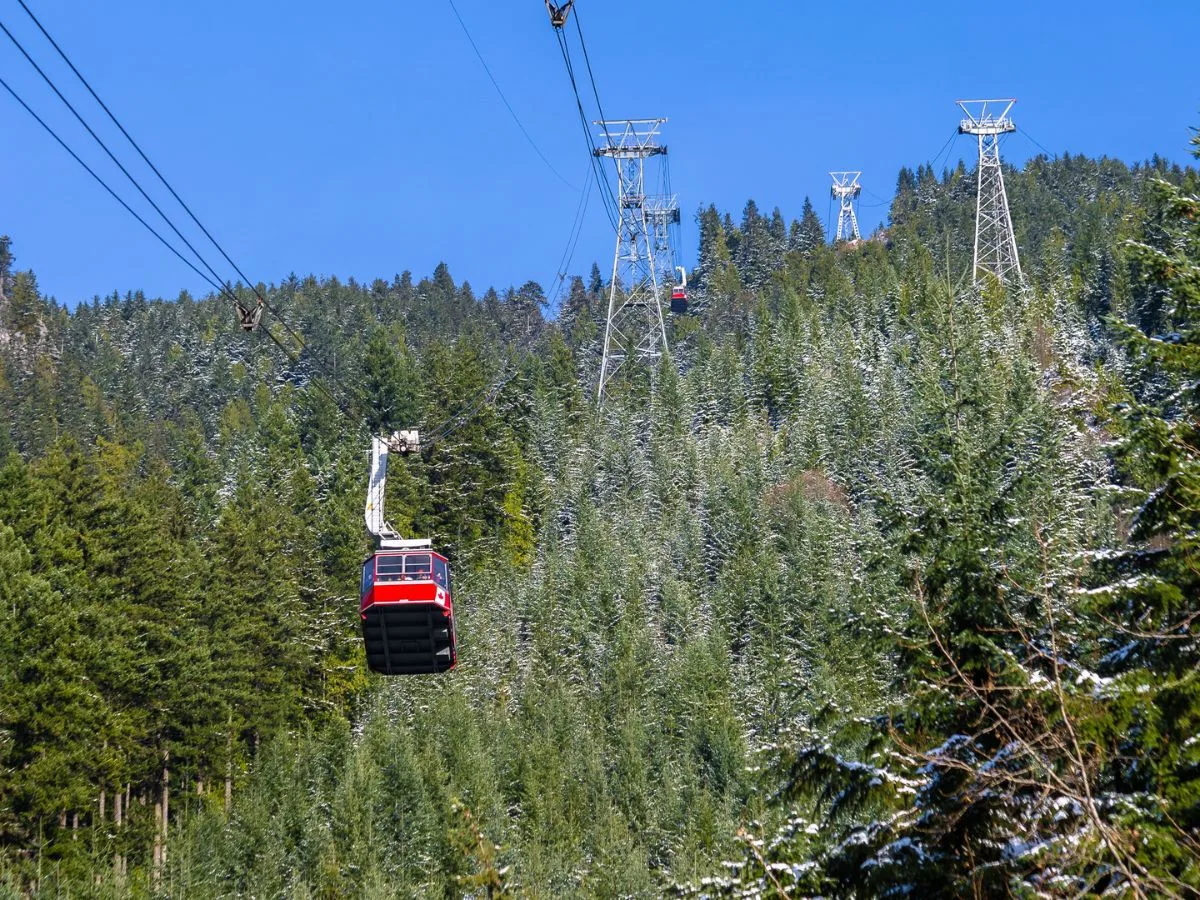 Visit Whistler for the Day
Whistler is famous for being a ski destination, but we're not big skiers so for us it's a good spot for hiking. At about an hour and a half from Vancouver, Whistler is a world away. Hiking and wildlife watching are the best things to do up here in the summer, but there are some great paddling options too on the way up. If you don't have a vehicle when you're on your Vancouver weekend getaway, you can always do either the Whistler Shuttle or do a guided tour.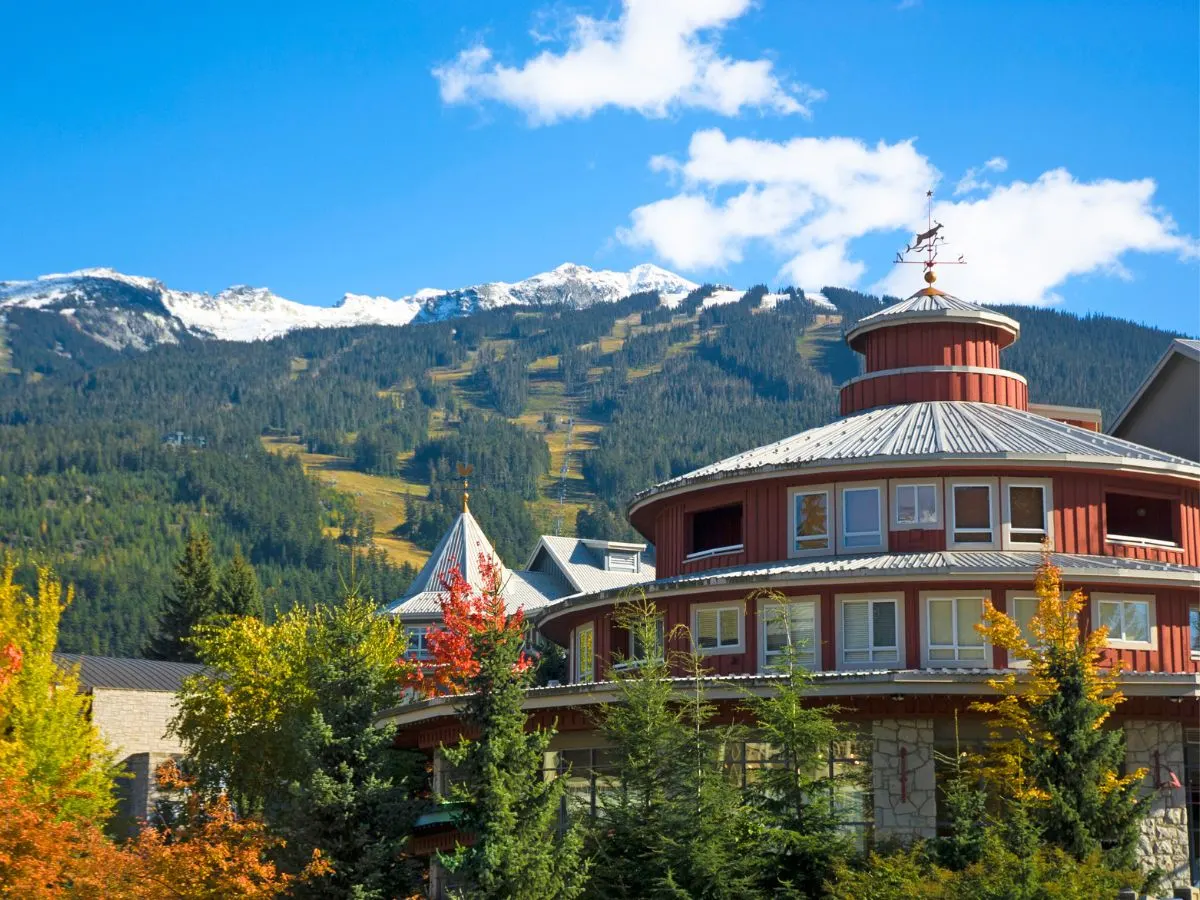 Ferry to Vancouver Island
This is a great idea for a fun thing to do if you have a car when you're visiting Vancouver BC. You can either depart from the Horseshoe Bay ferry terminal or Tsawwassen. Either crossing is over an hour and a half, but if you start your day early you can plan for the crossing and a bit of exploring, or you can just plan to do a few days on Vancouver Island and make your time in British Columbia even more fun and beautiful. If you'd like to walk on for a round trip passage, that's fine too and is a great way to enjoy a very relaxing ride and watch for wildlife in the beautiful Strait of Georgia.
Plan the whole excursion and go by both SEAPLANE and FERRY!!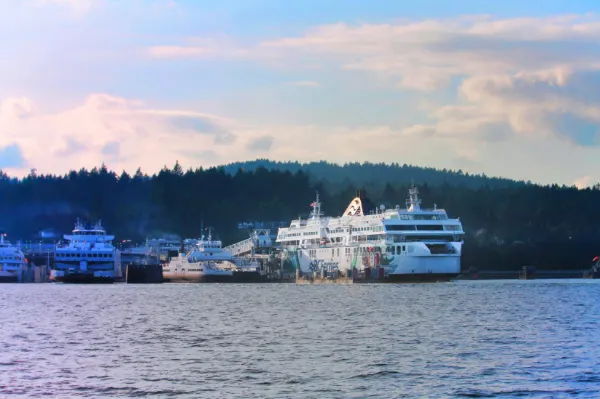 Where to Stay in Vancouver
Having done the weekend trip to Vancouver so many times, we've stayed in lots of different hotels, both nice and not so much. I've picked my favorites and can confidently recommend them. Of course we haven't stayed at every single hotel in Vancouver, so shop around and book the accommodations that are right for you. If you have your own top pick, please leave a comment or send us a note so others can hear your tips!
Top Shelf: Fairmont Hotel Vancouver
I've been spoiled and now just love the luxury and care you get when staging at a Fairmont property. The Fairmont Hotel Vancouver is such a treat to stay at. From wonderful, beautiful hotel rooms in the heart of downtown to a fantastic pool, fitness center, sauna and delicious restaurant (Notch8), it's my top pick for where to stay in Vancouver. Book it here!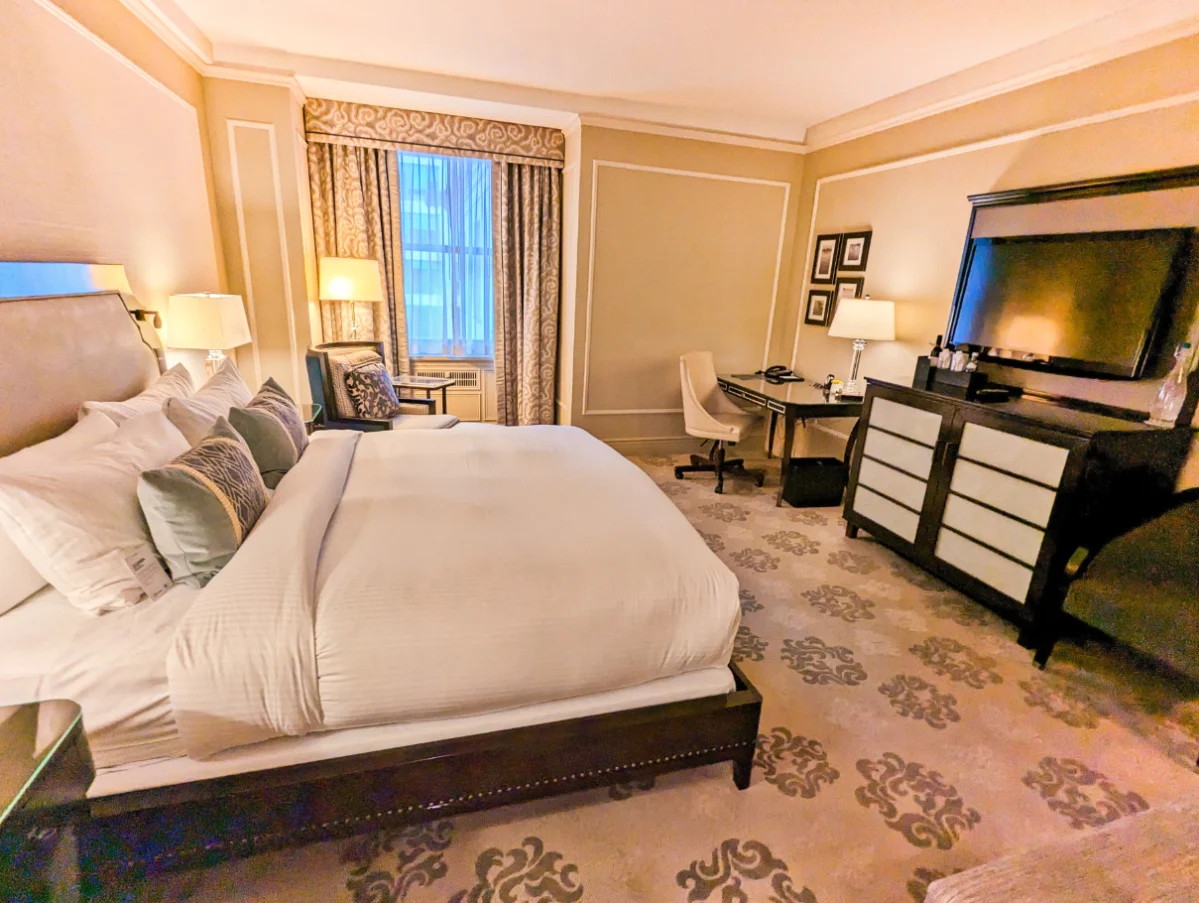 Top Shelf: Westin Bayshore Hotel
Coming in as my second choice, the Westin Bayshore Hotel is another wonderful spot. I love the location on the waterfront, just off the Seawall Path. Between the mountain and water views, large rooms and heavenly beds, an awesome pool just takes the cake if you're there in summer. When it's a warm Vancouver weekend, the Westin Bayshore is awesome. Book it here!
Mid-range: Sheraton Wall Centre
I've stayed here at the Sheraton Wall Centre in downtown Vancouver twice. It's in a great location and is an easy walk to Davie Village. The rooms are spacious and the views are cityscapes, but because of the shape of the hotel and open area around it, you don't feel like you can be seen from everywhere unlike some hotels. I'd happily stay here again. Book it here!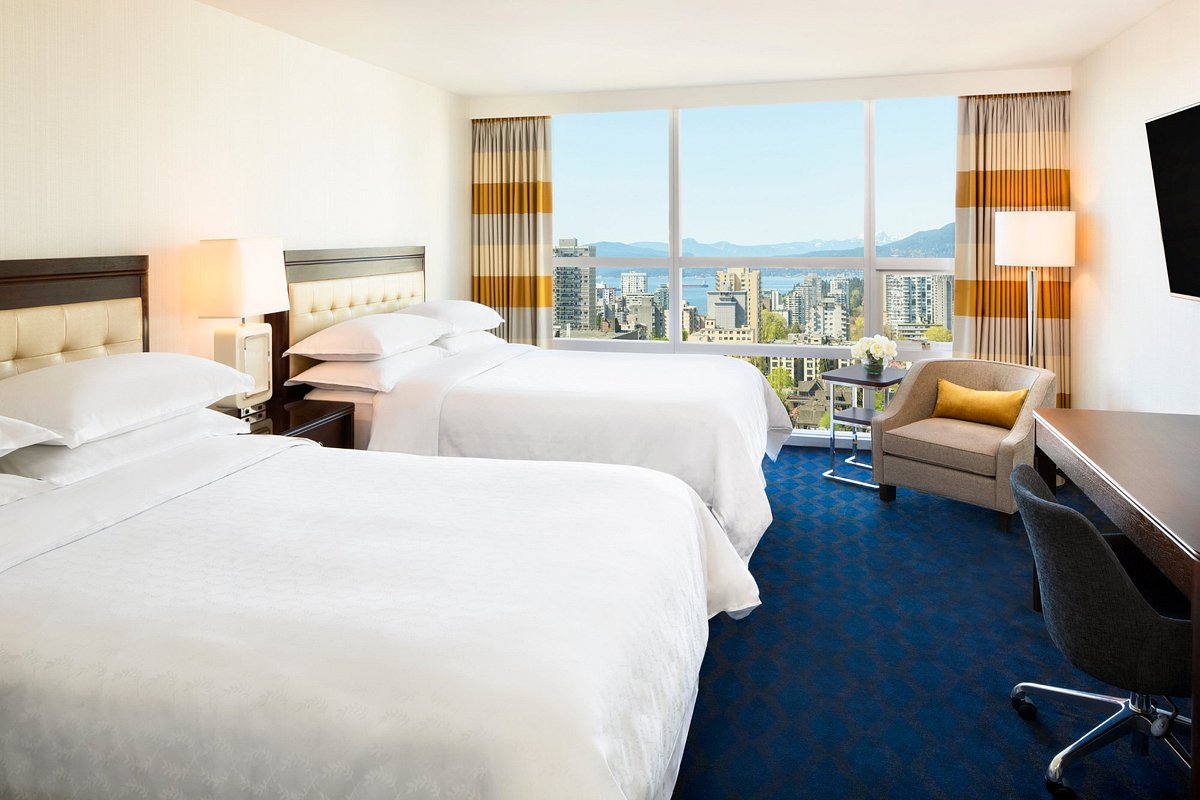 Mid-range: Coast Coal Harbour Hotel
I'm a sucker for a rooftop hot tub. While the outdoor pool and hot tub space here at the Coast Coal Harbour Hotel may not be as picturesque as those of the Mount Royal Hotel in Banff, Alberta, it's still pretty great. I really enjoyed being able to swim and use the hot tub in the rain with a cool city view. The rooms here are also quite nice, the fitness center is great, and the restaurant, Preston's, is pretty good too. Book it here!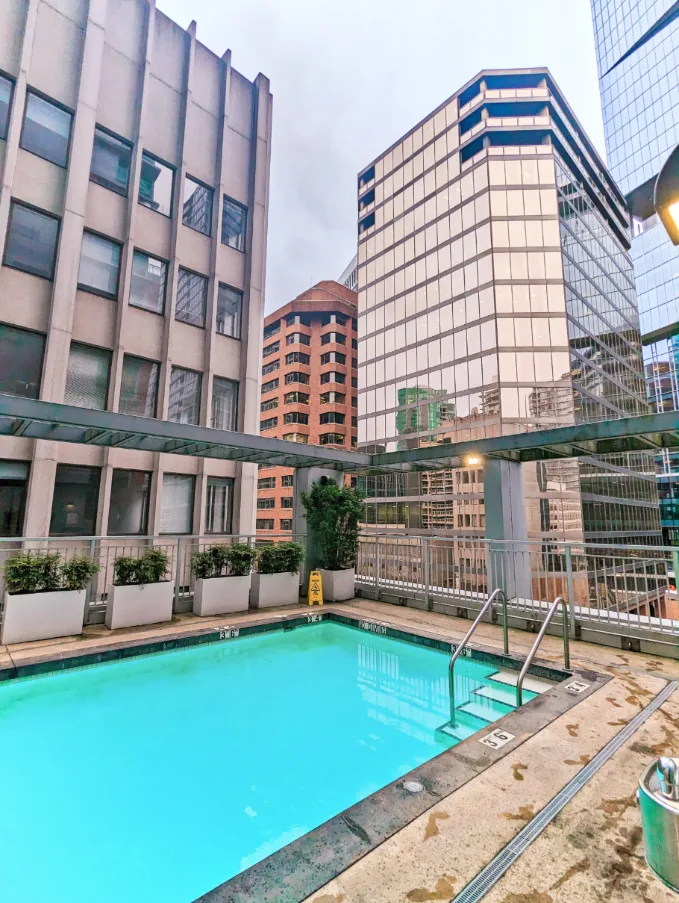 More Vancouver Stays to Consider
For people planning to have longer than a weekend in Vancouver, you may want to look at what sort of short term rentals are available. While every city manages the AirBNB market differently, if you want to go outside of downtown towards Horseshoe Bay or Kitsilano, you may find some great vacation rentals that are ideal for your trip.
If you can't tell that I really love spending time in Vancouver BC, then I have failed. It's one of my favorite cities and is great for a weekend away, a family trip, or as a launch point for epic Canadian travel adventures.
If you have any questions or want to give you own tips, feel free to leave a comment or send us a note. We're always happy to share more and help others plan unforgettable trips!