Once upon a time we wrote this great article about why you shouldn't write off a destination and basically said that you should always give a place a second chance or even just go experience it for the first time despite what others have said. Anacortes, Washington is one of those places. There are so many things to do in Anacortes.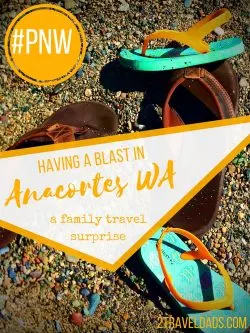 Both Chris and I grew up in Washington, so we've been to more towns, either to visit or just drive through. Until this summer, Anacortes was a drive through town for us. It's the place you go if you're going to catch the ferry boat to the San Juan Islands. It turns out that Anacortes is so much more than that.
The town of Anacortes invited us up for the weekend to #ExperienceAnacortes and get a new take on this old town and we fell in love. It's funny, but as we were just walking around the neighborhood just off downtown, it felt like we were there to check it out and see if we wanted to move there. No kidding. We felt so at home. It's a perfect snapshot of what we want to experience in small town America.
Tip: there is an awesome travel blogger from Anacortes whose blog is "Small Town Washington." Lara knows her towns and she certainly picked an awesome one to call home.
Getting to Anacortes
So, Anacortes falls between Seattle and Bellingham, Washington (or between Seattle and Vancouver BC). What this means for most people is that they'll be on Interstate 5 (I-5) for a good hour or more before getting off and heading west to Anacortes. You'll get to go past La Conner and the tulip fields. It's a beautiful drive from I-5.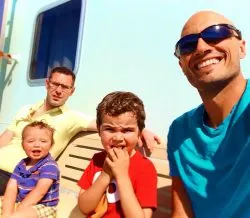 The Olympic Peninsula is also an amazing place to visit. If you're coming from the OP, as we like to call it, you can take the ferry from Port Townsend onto Whidbey Island. It's about an hour's drive across Whidbey Island and then across the Deception Pass bridge, but it's amazingly pretty. Oh, and you can make a stop in Coupeville too, which is where Practical Magic was filmed. It's kind of adorable.
Note: Anacortes is really easy to add onto any Pacific Northwest travel itinerary. It's not too out of the way for wherever your final destination is.
Before we arrived in Anacortes, we had some ideas about what we wanted to do. We wanted to get out on the water, have fun playing outside, have some good food… and change our opinion of what we always thought of as a drive-thru town. We had an amazing weekend and did all of that and more!
Boating on Anacortes' Fidalgo Bay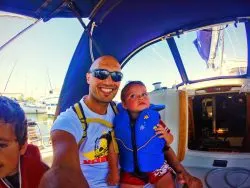 Anacortes is in an interesting place, where it's not exactly on the Pacific Ocean, but it's not in the heart of the Puget Sound. Fidalgo Bay is beautiful, with lots of smaller bays and coves to explore. We love being on the water, but we don't have our own boat. Thank goodness for the Anacortes Yacht Club! (and you should check out two of our boating posts: Family Boating in the PNW and Boating in Glacier NP)
We happen to be in Anacortes on the weekend of the Waterfront Festival. We got to sign up in the morning to go sailing with some local folks. They were very well organized, with lots of captains volunteering their time, providing life jackets and being the most welcoming hosts. It doesn't take much to get us out on the water, but the volunteers and the Anacortes Chamber of Commerce we great about getting everybody excited about boating.
Tip: not every yacht club does this all of the time, but it's always a good thing to research before visiting a seaside town. You can also often walk through the marina and random captains will take you out (sometimes for a fee). Boating is a great activity to add to any vacation or weekend getaway.
Parks in Anacortes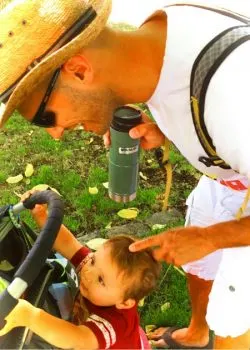 We always try to make time to let the kids run free when we're traveling (peek at our Crescent City or Eureka articles). I think that's one reason that we enjoy family travel: the play time. Anacortes is a great town for parks and getting in some good play time. We enjoyed three different parks during our visit: Causland Park, Washington Park, and Cap Sante Marina/Rotary Park.
Causland Park was a surprise for us. We were staying only a few blocks away at the Majestic Inn and just wanted to find some space away from the busy Farmer's Market and Waterfront Festival. Not being too out of the way but being totally ignored by everybody in town for the weekend, we had lots of shade for sitting and sun for running. There were picnic tables and an amphitheater too, but we didn't get to use them.
Our time at Washington Park in Anacortes was really fun. We checked out the campground for future use and then made our way down to the water. After a nice break and some play time on the playground, we went and got settled on the beach. Oliver (our oldest) quickly made friends with a few other kids and we got to chill and have conversation with other parents. It was the perfect, relaxing way to end a beautiful sunny afternoon on Puget Sound.
Tip: we always advise people to keep beach toys and a picnic blanket in your car and always say that we always are prepared like that… but I'd just removed them from the car the day before we left so were without toys. The tip here is to always double check that you've got your standard family travel gear before you leave.

Note: we will NEVER claim that Puget Sound is warm. The water is almost always shocking at first, but you can get used to it if you choose to.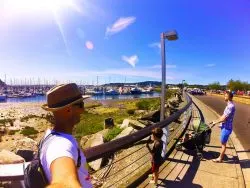 The last park we enjoyed was Rotary Park and the Cap Sante marina. This is where we found the Farmer's Market and the Waterfront festival. The Famers Market was quite comprehensive with everything from produce and flowers to local cheese makers and beverage producers. We went from there directly over to the Anacortes Waterfront Festival which was packed with awesome food, textiles, woodworking, and all kinds of kid activities. We loved the boat building demonstrations and then we even got to build our own boat, thanks to the Fidalgo Bay Rotary Club.
Tip: when you're traveling, to Anacortes or anywhere, check if there are any cool local events to pop in on. It was such a treat to participate the the Anacortes Waterfront Festival!
Car Shows in Anacortes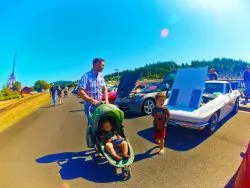 Somehow we came across two separate car show events in the weekend we went to #ExperienceAnacortes. The first was a nifty classic car show at the local bowling alley, San Juan Lanes. There weren't a ton of cars, but the owners were all cool and their cars were beautifully taken care of. It was the first car show the kids had experienced. It was a great treat!
The next day, as part of the Anacortes Waterfront Festival, we got to stroll through a full-on Corvette show. It was pretty cool. Listening to the kids ooh and ahh was adorable. And trying to keep them from rubbing their grubby little hands all over the chrome pieces…was a challenge.
Note: we're not a car family, but going through two car shows in two days was pretty cool and may have planted the car-lover seed in the kids.
Dining around town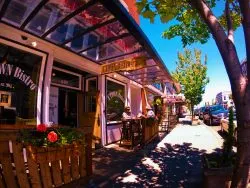 When you live in the Pacific Northwest, it's tough to not get salmon or fish and chips for every meal. When we visited Anacortes, we just went with it and at least one person had fish each time we ate. We'll be sharing more about some great dining options, but here's a quick recap.
Stop 1: San Juan Lanes. I know, you're thinking that it's strange to talk about a diner in a bowling alley, but it was seriously good food. And you know we love our microbrews, so yeah, score!

Stop 2: Brown Lantern Ale House. It's what pub food is supposed to be. And what a real beer establishment should: lot's of local variety and staff that's on top of making sure you've got everything you need.

Stop 3: Bob's Chowder House. Yes, the chowder was tasty, but so were the fish sandwiches and their special sauces.
Like we said, we'll share more options and some more detail in its own article.
Accommodations in Anacortes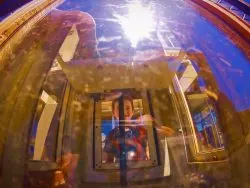 There are plenty of places to spend the night, of course, but we were welcomed by the Majestic Inn and Spa smack dab in downtown and it was great! Being newly renovated and exceptionally beautiful and charming, we felt privileged to get to spend the weekend there. We'll have a review to share in a few days…
Another option is camping. We love to camp. We will be camping at Washington Park in July, so will share the details of the campground and our experience there. Another great option that we've done before is Deception Pass State Park, which has lots of space, nice facilities and is about a half hour from downtown Anacortes. There is lots of hiking and beach combing there, so you can be sure to get your nature fix.
Did we love Anacortes? Yes. Will we go back? Yes, sooner than later. Should you visit? Yes!!! With both the San Juan Islands and La Conner so close, it'd be so easy to add a day or two in Anacortes to your itinerary. It's prefect for family travel and has lot's to offer for a couple's weekend. We had a great time and know that anybody else that's up to #ExerienceAnacortes will too!