We're a family travel blog through and through… except when one of us has to travel for work or something. I had the amazing opportunity to tour the Caribbean aboard Royal Caribbean's Oasis of the Seas and had an awesome time. The trip was totally unplanned so only I could go, but I was welcomed and had an incredible experience. The most amazing of it all was swimming through the caves at Cenotes Dos Ojos.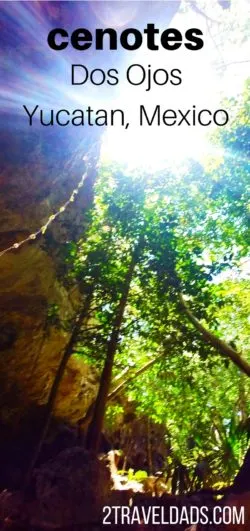 If you're an avid cruiser, you may have your favorite things to do in your ports of call or you may use these port days to try new things and see incredible sights you may not get to experience again. For me, that was Cenotes Dos Ojos, which is an enormous cave system paired with sink-holes and a, wait for it… magical river flowing through them. Magical, for realz.
Check out our video at the end of the article. You can see the amazing color, depth and more! (or watch it here)
First impressions of Cenotes Dos Ojos
Until I got into the water at Cenotes Dos Ojos on the Yucatan Peninsula, I had no idea how incredible swimming through a cave system would be. I, like everybody else, have seen the rivers flowing through these tropical caves when I've watched the BBC's Planet Earth or any other nature show, but it all seemed really distant and unlike anything that I'd ever do in my life. Randomly, I got to travel to Quintana Roo in eastern Mexico and actually got to do it.
I couldn't believe it.
I had my reservations initially, wondering if it was going to be scary or beyond cool or who knows what else. I'm not a person that craves extreme adventures or wandering into the unknown, but for some reason dipping into the river at Cenotes Dos Ojos seemed right up my alley. What made it so amazing, so unforgettable? Everything.
The setting of Cenotes Dos Ojos
After a bumpy, dusty ride down an arid jungle road (arid jungle? Possible? Yes.) we arrived at Cenotes Dos Ojos. Um, there was some landscaping and bathrooms and the likes. I was a bit concerned that I was getting ready to experience a manufactured river ride… and then we walked down the stoney path to a scene straight out of an Indiana Jones movie.
The cave opening was huge. Huge! And there were tree roots dripping from the top of the mouth and wrapping and breaking the stones all around. Once I saw this, I forgot that I was ever skeptical.
I walked over to the rickety old wooden steps that led down the rocks and peered into the water. I've been all over and seen some amazing sights in nature, but never have I ever seen such shockingly clear water. That may seem like a tiny aspect of the whole Cenotes experience, but until you're there you can't understand. So amazing.
Note: at any given time there are more than a few people at Cenotes Dos Ojos, but due to the jagged rocks, roots and terrain, it's as quiet as you'd imagine a tropical hole in the earth would be. #wowfactor.
After a short swim in el Cenote Primero we walked back up the hill and over to another mouth/cavern/cave… cenote I guess, that was shaped like a crescent moon. Again, the area around the cave was a bit landscaped, but it didn't detract from the wild, dark place we were about the head into. More roots dripping off the ledges above, more crystal clear water, tropical birds chirping and blurting at us from all around. Incredible.
The depths of the cenotes/caves
My own experience was unfolding and incredible, leaving me wowed every time I went underwater or popped back up, but the most captivating sight (besides the cenotes themselves) were the scuba divers. I was there with my snorkel and goggles, but others had full equipment for a much more grand adventure. I took a deep breath and dived down. Finding my own place underwater where I was out of the way, I got to watch the pros adjust their equipment, shine their flashlights and then disappear. Completely disappear.
Note: going back to how clear the water is, you can see 50 feet in front of you with a flashlight and it seems whatever you're looking at is right before your eyes. Amazing to ponder and peer through. Now, back to my story.
So, I'm diving down, maybe ten feet under the surface and there are scuba divers another 20+ feet below me. As they slowly made their way to another opening, each with their own light, they each disappeared. There were random holes in the rock where you could see faint lights, but not enough to be sure of what you're looking at. I watched for a few more moments and then surfaced. "Wow." That's all I could think. And then I remembered seeing the movie Sanctum and I snapped back into my own experience.
Being wowed by nature in the Cenotes Dos Ojos
I think the reason I chose to swim through Cenotes Dos Ojos was for the geology factor of it all. A cave AND an underground river: how could I pass that up? Truly I wasn't disappointed. Diving down and swimming between stalagmites with tiny fish darting about, stalactites above and dark depths deep below: it was truly another world.
Just when I thought it was over and I had to scamper back up the rocks, that's when the bats started. That's right! Huge bats, flapping around above me, swooping down or crawling along the ceiling of the cave. There were swallows too, but the bats were the #wowfactor. Have you heard a bat's wings flap? I have. It's the sound of sheets when you're making your bed… but in a cave, in the dark. The bats were not charging me, but fluttering past, just kind of saying "Adios, y hasta luego…" because they knew I'd return for more exploring soon.
My visit to Cenotes Dos Ojos was with a tour group. Our guide was amazing (Cancun Adventures). She was great at communicating the culture of the area, the science of the Cenotes Dos Ojos and in guiding us through the caves. Someday, it'd be amazing to explore more of the caves, or even go deeper into them, but for now I get to have this under my belt as an amazing experience and one that I can't wait to go back to with the rest of my family. I know the kids will really dig on the bats.
Want to pin this for your own Playa del Carmen, Cancun or Tulum adventure? Go for it!!! And if you have a favorite Yucatan cenote to recommend, please do so!