Vacation in Playa del Carmen: kind of a perfect destination
We know how to do a beach day.  I mean, we live at the beach, but what do you do when you're in a beach destination without kids?  And what if it's a beach destination that also has non-beach stuff that is pulling you away from the surf?  Well, here's how to have an amazing time in Playa del Carmen and do more than just the beach.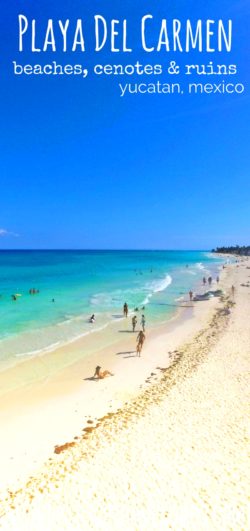 If you're unfamiliar, Playa del Carmen is on Mexico's east coast, on the Caribbean, and part of the Yucatan Peninsula.  It's very different from the west coast or Baja California.  Playa del Carmen still has the huge hotels (and it's close to Cancun, so yeah), but it's also very chill.  It was an awesome Caribbean destination for getting close to nature AND having beach fun.
Travel to Playa del Carmen
Most people who head to the Yucatan Peninsula are venturing to Cancun, but just north of Cancun are Tulum and Playa del Carmen.  So, you need to fly into Cancun to start your vacation at Playa.  You can also fly into Cozumel and then ferry over to Playa del Carmen… but that's extra time and a lot of extra money (most likely, flights aren't cheap)
You can also visit Playa del Carmen as part of a Caribbean cruise.  I came ashore in Playa while experiencing Royal Caribbean's Oasis of the Seas.  A lot of guests chose to stay on the island of Cozumel where we made port, but I jumped ship and took the forty minute ferry ride across to the Yucatan.  I made a wise choice.
Beyond the Beaches of Playa del Carmen
Every destination is more than its beach.  San Diego is missions and amazing food.  The Oregon Coast is lighthouses and hiking.  The Puget Sound is wine country mixed with small towns and nature… and Playa del Carmen is the beach with ruins and astounding nature.
Akumal and sea turtles
Until you've been swimming along and then realize that you've got a sea turtle stalker you haven't lived.  After a short drive to the south out of Playa del Carmen we came to Akumal, or Turtle Cove.  It was beautiful on its own with wonderfully fine sand and perfect small reefs just off the shore.
But then you're snorkeling and OMG there are sea turtles.  I saw my first one here when I was just swimming along and then I looked to my right and a turtle was about ten feet from me.  Even though they are such calm creatures, I knew to stay back and give him space.  It was incredible.
Our guide with Cancun Adventures made sure to really drive home the safety talk and be sure that we are being responsible swimmers.  She told us about distance, respect and our own safety, which I really appreciated.  The opportunity to swim with such beautiful, incredible wildlife was something I just couldn't miss, and to have it handled in a responsible, professional way made me feel good about my decision to spend a day in Akumal.  It was a great excursion out of Playa del Carmen.
Tip:  bring an underwater camera, such as a GoPro for some amazing pictures, but remember to just enjoy seeing these amazing creatures in person.  Step back from your lens for a short time…
Snorkeling in Cenotes Dos Ojos
So, I've since been told that there are other cenotes that are much more grand and fascinating to visit (and I've now researched and seen them), but swimming through the caves at Cenotes Dos Ojos was a really impressive experience. Located between Tulum and Playa del Carmen, it was an easy trip and totally worth leaving the beach for.
A cenote, if you're unfamiliar, is a cave or sinkhole in the earth, with fresh water flowing through.  The Cenotes Dos Ojos are two different ones that are equally beautiful.  From tropical tree roots growing in pilars down to the water to bats flying over head while you swim around the stalactites and stalagmites in the water… It's just an otherworldly experience and one not to be missed.  Oh, and the water was so shockingly clear that looking down through it was like looking through a thin piece of glass.  So perfect. So clear.  So amazing.
Note:  this isn't a great kid activity due to the underwater rock features, but every kid is different and if you check with a tour guide or the site managers at the Cenotes, they may allow kids of a certain age and swimming skill level.
Exploring Tulum and Chichen Itza
Confession:  I didn't go to the ruins, but some of my friends I was traveling with did.  If you're looking for an archaeological site and want to be in the heat with a bunch of other tourists, there are a few options for seeing the Mayan ruins.  There are the ruins at Tulum or Chichen Itza.  Both are cool, historical and fascinating in their own way.
Tip:  check out the Wandering Wagars' travel blog for their account of exploring the ruins of the Yucatan with kids.  They're awesome travelers and are great about sharing their honest stories about their visits.  And if you want a different take, peek at Lili's Travel Plans for what she'd do on the Riviera Maya.
If you opt for Tulum you'll be close to the beach and can cool off after you explore the ruins for a bit.  If you head northwest to Chichen Itza, you'll be landlocked and spending your day there, immersed in ancient Mayan history.  Neither is a bad option at all, but I'm partial to the beach and nature, so for me it was a no-brainer.
Note:  when we head down to Playa del Carmen as a family, we will for sure be visiting the ruins, one or both sites.  Even though it's not a number one choice for our family's interests, it's a bucket list item to cross off.
A perfect beach day in Playa del Carmen
You cannot, I repeat, cannot keep me from the beach.  Finding our way to a beachfront, sand-floored restaurant (the Wah Wah), my group and I enjoyed your standard Mexican buffet… but with carnitas and more varieties of salsa than you can shake a stick at.  Paired with margaritas (because Mexico), it was the perfect way to start a day at the beach.
Being in Playa del Carmen without the kids was both fun and made me sad.  I loved that I was able to swim freely in the waves and enjoy pelicans diving all around me, but I missed having to play dad and sit in the surf and dig holes in the sand just to watch them be filled with water.  That's our favorite family beach activity and the playa of Playa del Carmen was perfect for this.  Next time it'll be all four of us and we'll all be splashing and digging on this sugary sand beach.
Playa del Carmen was a really great Caribbean destination that truly rivaled our standard/favorite of Cabo San Lucas.  We've already talked and started plotting out when we'll head to Playa as a family, but I'll tell you, it can't be soon enough!