We've been to Cabo San Lucas with our kids load of times, like, we've spent the equivalent of three months in Cabo as a family. You could say it's our favorite family destination in Mexico. Since we've done it so much, we've decided it's time we share our best tips for visiting Cabo with kids.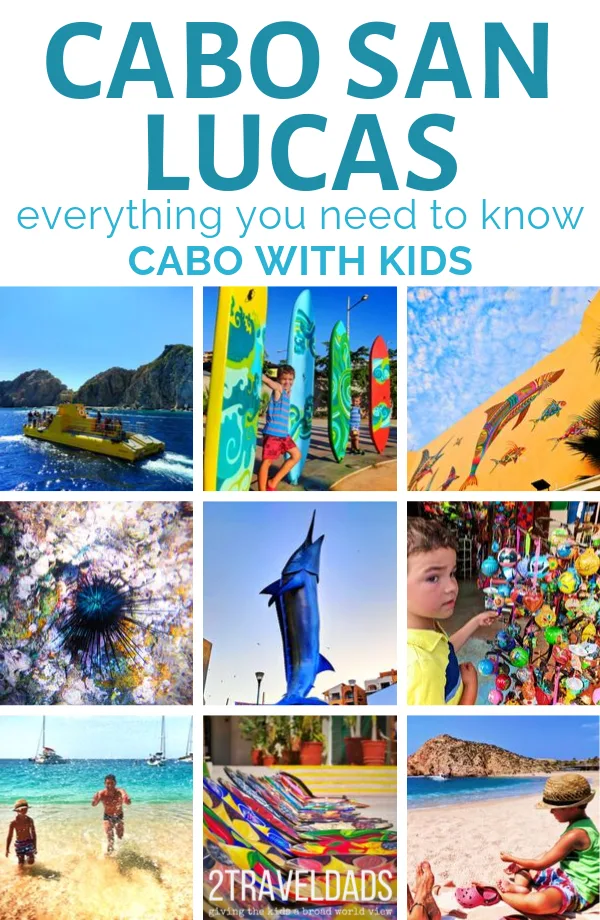 I'll say this right away, Cabo with kids is mostly about relaxation and swimming vs digging into Mexican culture and nature. There are lots of opportunities for that, but Cabo San Lucas really has built itself into a luxury destination more than adventure.
If you're looking for a different adventure, check out our articles about Quintana Roo and touring the Yucatan Peninsula.
How to Get to Cabo San Lucas
For those traveling from the west coast, getting to Cabo San Lucas is pretty easy. There are direct flights from Seattle, San Francisco, Sacramento, Phoenix, Los Angeles and San Diego. Denver and Dallas also offer direct flights, so know that even east coasters should be able to find a good flight.  When flying into Cabo, the airport is SJD (San Jose del Cabo), Los Cabos International Airport. The airport is actually quite nice now (thanks Hurricane O'dele) and as long as you arrive early in the day or in the early evening, customs is pretty fast and smooth.  Thinking about Cancun instead of Cabo? Check out our detailed comparison of Cabo vs Cancun!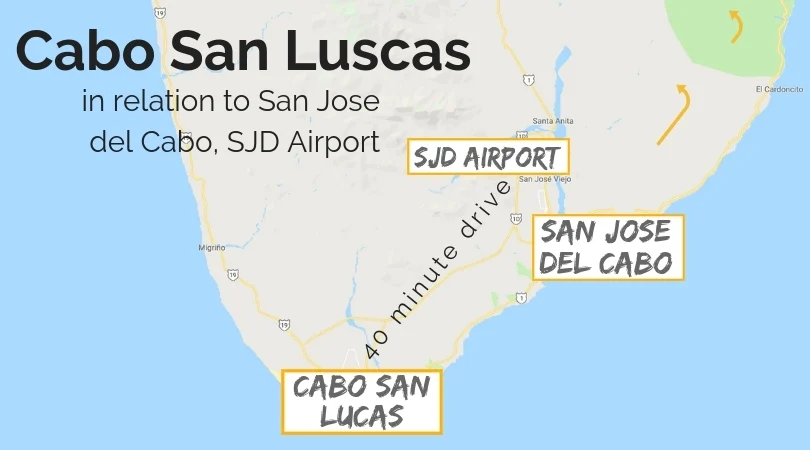 Transportation into Cabo from the Airport (SJD)
We typically pre-arrange our transportation into Cabo San Lucas before we've arrived. We'll either hire a Suburban or something similar that we can book online (check out good options here) or we'll rent a car depending on our overall plan for our time in Cabo.
Tip:  you can pay cash for direct transportation into Cabo San Lucas if you're not renting a car. Have enough cash on hand (about $80 USD for a family) to get into Cabo. Bonus: often there's a beer or two for the adults along the drive.
Taxis are readily available and many will allow a stop at the grocery store if requested. They will give you lots of great information about their favorite things to do in Cabo with kids or where the hot spots are. Use their knowledge to form your vacation plan if you haven't done it yet!
If you choose to do a group shuttle into Cabo, get clarification from the driver WHEN you will get to your hotel. If you are at the end of the line, you may be seeing a three hour tour vs 40 minutes. There are many hotels between the tourist corridor of Cabo and Land's End, so be sure that you're not the last to be dropped off.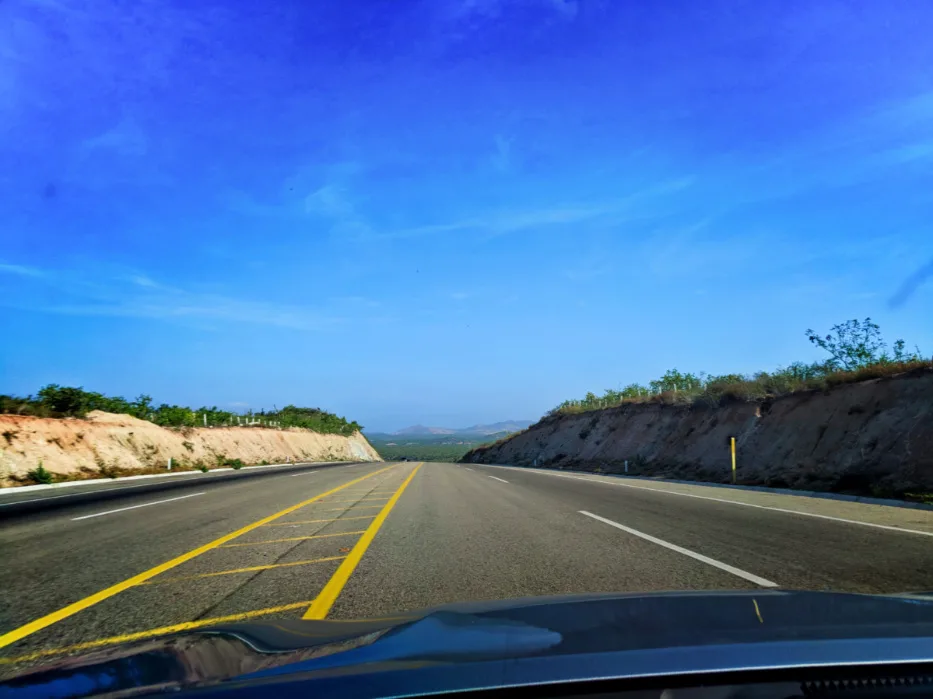 Be Aware of Timeshare Salespeople
Yes, this is actually something I'm going to teach you about right now. When you land in Cabo, in Cancun, Puerto Vallarta, anywhere, there are timeshare sales people everywhere. You might not even realize it, but you're going to come in contact with somebody in your first hour in Mexico trying to sell you a timeshare.
Note:  we love our timeshare. We bought it in 2006 and still use it happily every year. Check out our article on timeshare ownership here.
As you go through customs and exit, you'll see people with clipboards and behind desks. Check out our article about effectively navigating timeshare sales pitches for more information, but know that you can just breeze by this crowd if you want to.  Walk directly through the sales people to either your rental car agency desk if you've already arranged one, or out to the curb to grab a taxi or shuttle.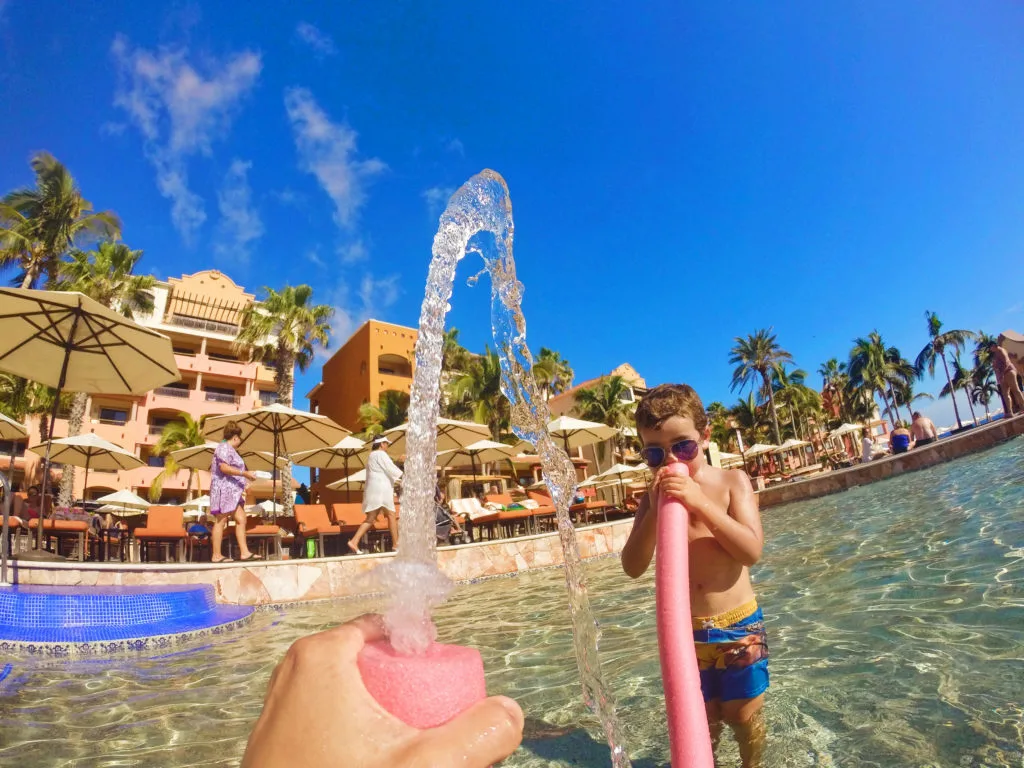 Where to stay in Cabo with kids
As Cabo San Lucas has been our go-to Mexican destination for our family for 13 years, we've stayed several places and have our favorites. Depending on the type of trip you're doing, there are hotels in Cabo to suit your needs.
Cabo San Lucas' Marina Fiesta Resort
Starting with a bit more of the fun, party type hotel, Marina Fiesta even has "party" in its name. Located ON the Cabo San Lucas marina, you are centrally located for restaurants, bars, the docks tours go out of, and you're even close to the main beach area of Cabo.
The rooms of the Marina Fiesta are kid friendly with plenty of space for a family of up to four. Suites are larger and may accommodate for people, but the standard room is large enough for a small family. Bonuses to the rooms are kitchenettes and balconies.
A highlight for us was the swimming pool area. While it's not as grand as most of its neighboring hotels, the pools at the Marina Fiesta are ideal for families of all ages. There is are medium depth areas as well as a kid pool and an actual deep pool. It's actually pretty cool.
The real highlight of staying at the Marina Fiesta in Cabo San Lucas with kids is enjoying the location and how easy activities are when you're there. The neighborhood behind the Marina Fiesta has low-key restaurants you can walk to. The beach is walkable. If you're doing tours, the main tour departure docks are just outside the property gates. The Marina Fiesta has, I think, one of the BEST locations in Cabo San Lucas.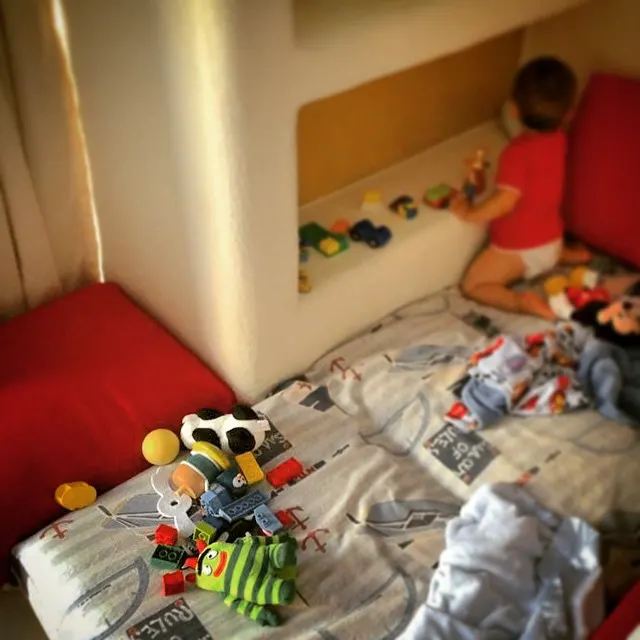 Grand Solmar Land's End with Kids
Formerly the Solmar Suites, the original Cabo San Lucas resort, the newly built up Grand Solmar is really something. The rooms are all ocean facing and quite beautiful. The property is very well maintained at all times, from the room interiors to the desert-scape gardens.  There are several dining options on property, including a sports bar and swim up bars, and the pools are beautiful.
With several infinity pools, hot tubs, a kid pool and endless lounge areas, the Grand Solmar is ideal for a large group trip to Cabo San Lucas, particularly for families of large age differences.
We like staying at the Grand Solmar Cabo San Lucas with kids because it's so calm. The layout of the property allows for many shaded, quiet spaces to relax with kids. Each room having its own outdoor space is also a great benefit.
If you're able to book a GROUND FLOOR room, you'll love having the patio and the direct pool access. Our favorite room type at the Grand Solmar Land's End is the One Bedroom Master Suite on the ground floor… ideally right by the little kid pool / splash pad.
Tip:  when reserving or upon check in, see if you can get a ground level room. While it does compromise the view, the immediate pool access is invaluable. The large patios are also great.
Book Grand Solmar Lands End here (fanciest section)
Book Solmar Resort here (TOP PICK, most family friendly section)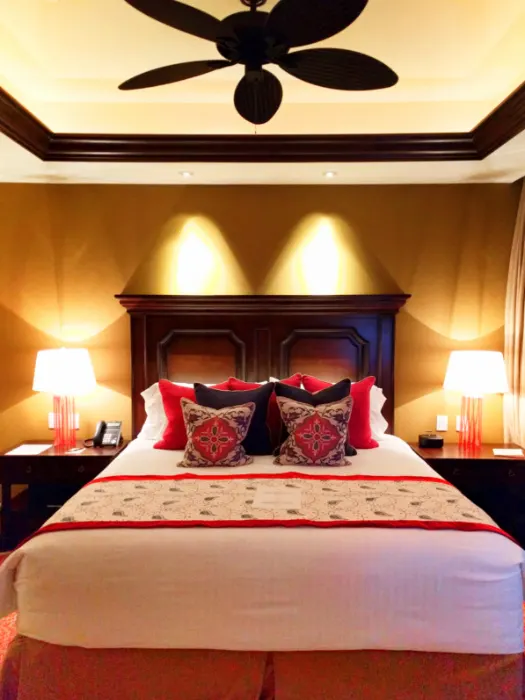 Playa Grande Cabo San Lucas with Kids
The Playa Grande is our favorite hotel/resort in Cabo San Lucas. We love it so much, this is where we bought a timeshare… and we ALWAYS use it. We've never traded to go anywhere else. It feels like home.
Tip:  check out our full article on owning and using timeshares for great family travel experiences.
The Playa Grande's rooms are larger than the Grand Solmar and much more comfortable. When I say comfortable, I mean that the décor and fixtures are more warm and welcoming than the modern style of the Grand Solmar, despite being sister properties. We have stayed in the junior suites, one bedroom master suites, penthouses and presidential suites. We can tell you nearly anything you want to know about Playa Grande in Cabo San Lucas.
The pools are spaced out nicely, providing two dedicated kid pools, two adult only pools and two swim up bars. There are two hot tubs, daily pool volleyball and water aerobics, and nonstop entertainment everywhere.
In addition to being beachfront and chalked full of pools, the Playa Grande has great programs for kids. We have sent the kids to scheduled kid parties, done kids club, and enjoyed many staff led games in the pool area. We also always take advantage of the Mexican ceramics painting on site, recreation games and outdoor dining.
As far as location goes, it is closer to town and the marina than the Grande Solmar, but not as close at Marina Fiesta.
Note:  if you do have any questions about the property or room types at the Playa Grande, please let us know. We are happy to share all the details and make recommendations for everything from booking to dining.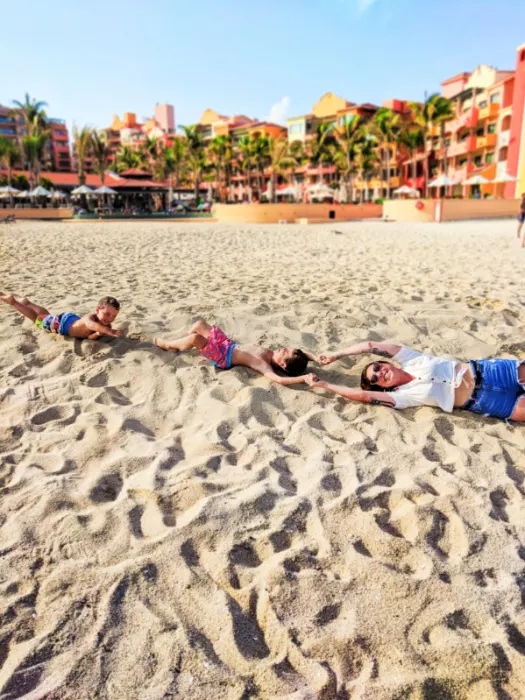 Siesta Suites in downtown Cabo San Lucas
The Siesta Suites is the type of place you book if you want to add on a few extra nights in Cabo or if you would prefer to just be a small hotel vs a giant resort. The office is small and just off the street, with nice staff ready to help. They even have a little area to chill and have a solid wifi signal (which still is a big selling point for Cabo). The rooms at the Siesta Suites are nice, but not luxurious, very clean but not palatial.
Rooms vary from having one queen bed and a single sleeper to two doubles. The views are of the town and the courtyard. For being a few blocks from wild spots like Cabo Wabo, it's actually pretty quiet. The best thing about Siesta Suites is the restaurant below: Salvatore's. That's right, the best Italian food in Mexico is actually this awesome little gem hidden below the Siesta Suites.
Tip: because you have to eat at Salvatore's, check on the nightly specials board when you first get there so you can pick when to dine. My favorite is Chicken Saltimbocca night.  See below for dining recommendations in Cabo.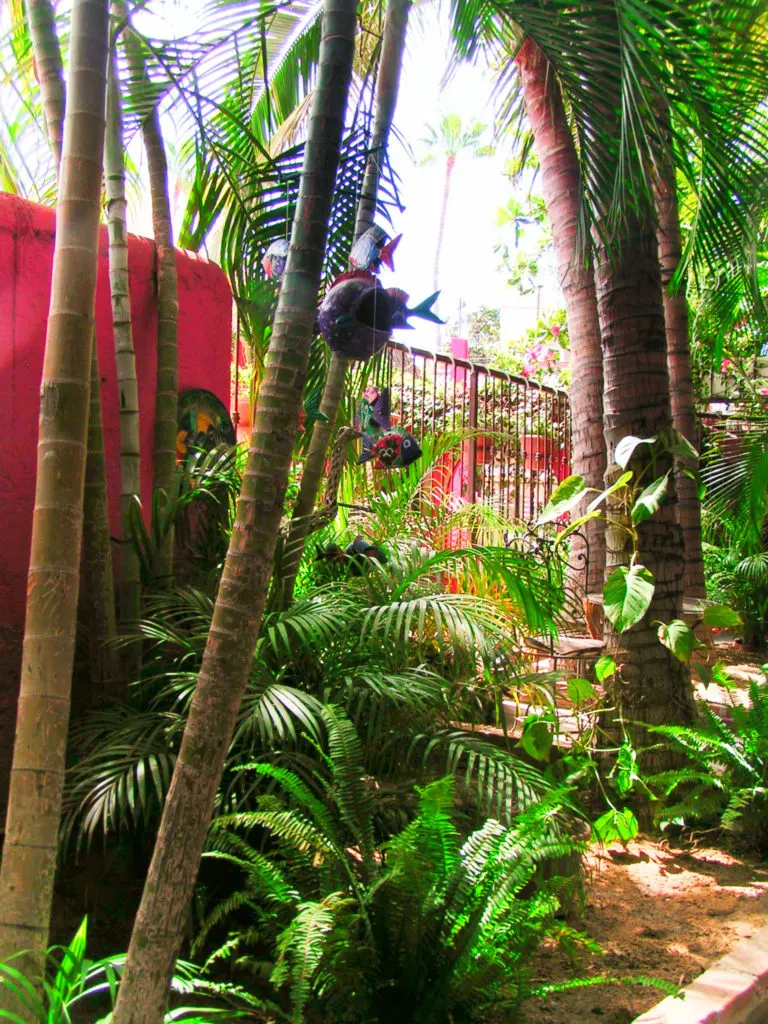 Best things to do in Cabo San Lucas with kids
Cabo San Lucas is still very much a town of parties and beaches, but there is much more than that and Cabo with kids is actually very doable and very fun.  In addition to what we have listed, there are festivals, special cultural events and fishing tournaments. Check out the official Los Cabos events calendar for more details.
Best Beaches in Cabo San Lucas for Kids
Instead of telling you about each and every beach from San Jose to Guerro Negro, I'm just going to direct you to our complete guide to snorkeling in Cabo. It's got maps, notes on the fish and wildlife you'll encounter and tips to make snorkeling with kids fun and safe.
If you would like to only visit the beaches directly in Cabo San Lucas, you actually only have three choices:  Playa Medano, Lovers Beach or the Cannery Beach. Medano is the easiest to access from most of Cabo San Lucas proper, but its waves can be a bit rough and there are quite a few beach vendors strolling the sand. It's not our top pick, but it's still great and is easily accessible.
Lovers Beach is also an option, but again, not our top pic especially with kids. This beach is located almost all the way out by the Arch. It's accessible only by boat or hiking some treacherous rocks. From anywhere in the marina or along Medano Beach you can jump in a water taxi to get out to Lovers Beach. The waves are pretty rough here too as it's so close to Land's End, so swimming isn't recommended. You can walk across the sand to the Pacific side, aka Divorce Beach, but still it's not swimmable.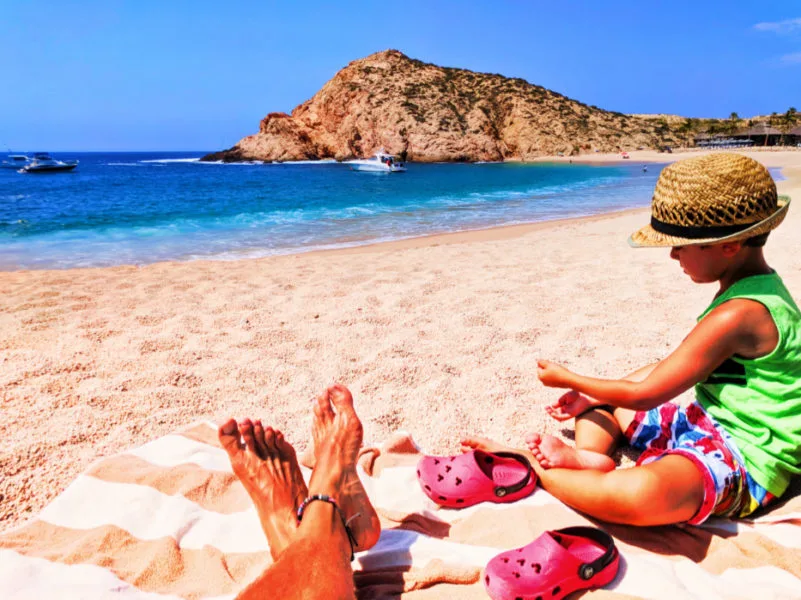 The Best Beach IN Cabo: Cannery Beach
The best beach directly in Cabo San Lucas is the Cannery Beach. It's in an obscure spot, but it's awesome. Located between the marina and Lover's Beach, the Cannery Beach is accessible by walking along the marina and past the naval station. We love it here and it's the perfect beach if you're doing Cabo San Lucas with kids. There are some vendors just off the sand selling some great Mexican street foods, as well as beer and beach toys.
What makes the Cannery Beach our favorite? The waves are always small, which is perfect if you're doing Cabo with kids, and the snorkeling is awesome. There is plenty of space for setting up your family beach spot, there are litter bins available to keep the beach clean, and if you're there mid-week it's very quiet. Even on cruise ship days it's a mellow beach. That's why we love it.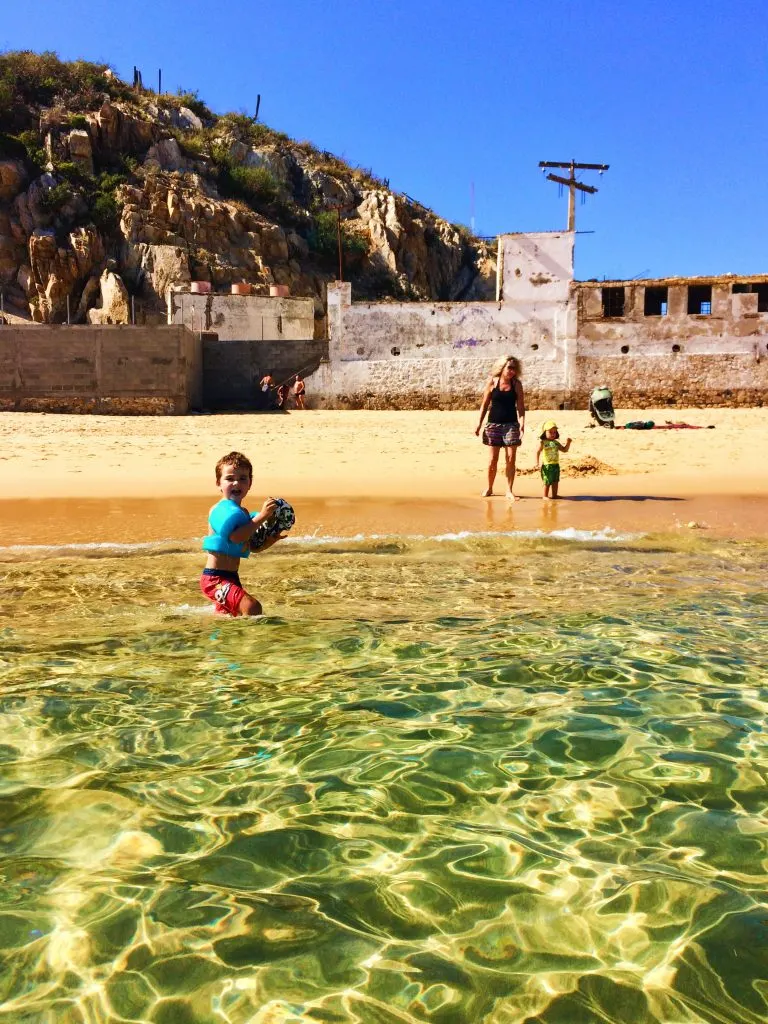 Cabo San Lucas Marina and Downtown with Kids
Cabo San Lucas is a really fun place to go walking and window shopping. We're very careful about the souvenirs we bring home, but something special about doing Cabo with kids is helping them find a memorable, worthwhile souvenir. We like to walk through the shops two or three blocks off the marina and main road for the most interesting art, Mexican toys, instruments and shirts. There are lots of great spots to find tasty snacks, especially churros, and as the sun sets and there's music everywhere!
If you are looking for souvenirs, know that prices are prices. While there is an expected level of bargaining when you're buying something from a roving vendor or even in a store or artisan stall, a lot of sellers have leveled out their prices in recent years to help limit the haggling.
You may talk with older travelers and they might tell you that haggling is part of the fun, but that's not the case everywhere. Use your best judgement and be respectful of the people selling their goods.
Tip:  if you feel that something is overpriced or you just really are set on bargaining, be respectful of the seller and suggest deals, like buying 2 items for 75% of the price tags or requesting something small to be added. Haggling is not an art or a sport, so be kind and smart.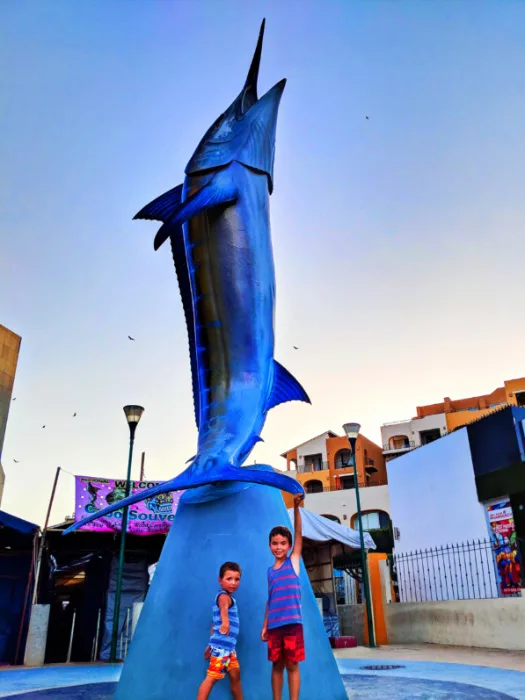 Enjoying Resort time in Cabo San Lucas
I think it's a given that most families heading to Cabo San Lucas will be staying at a larger resort. Even the smaller, more boutique resorts are going to have everything a family needs to relax for a week. If you're like us though, we get antsy after a few days and need to keep busy. We are one of those families that leaves the resort for most dinners and several fun outings over the course of a week, but we'll still have dedicated time meant for relaxation.
When staying at a Cabo San Lucas resort with kids, we like to mix things up and have fun on property in addition to relaxing. Our favorite activities when we're at a resort, especially when we're in Cabo with kids are:
Swimming pool time

Walking the beach looking for shells

Pool volleyball matches

Patio/yard games (corn-hole, ring toss, ping pong…)

And just hanging out
We also do some activities that are specific to our own resort that we always stay at (love our timeshare!). We make time to go to the outdoor painting studio to do our own Mexican ceramic painting, which the kids love to do, and then sometimes we'll do the resort parties, such as the Mexican fiesta.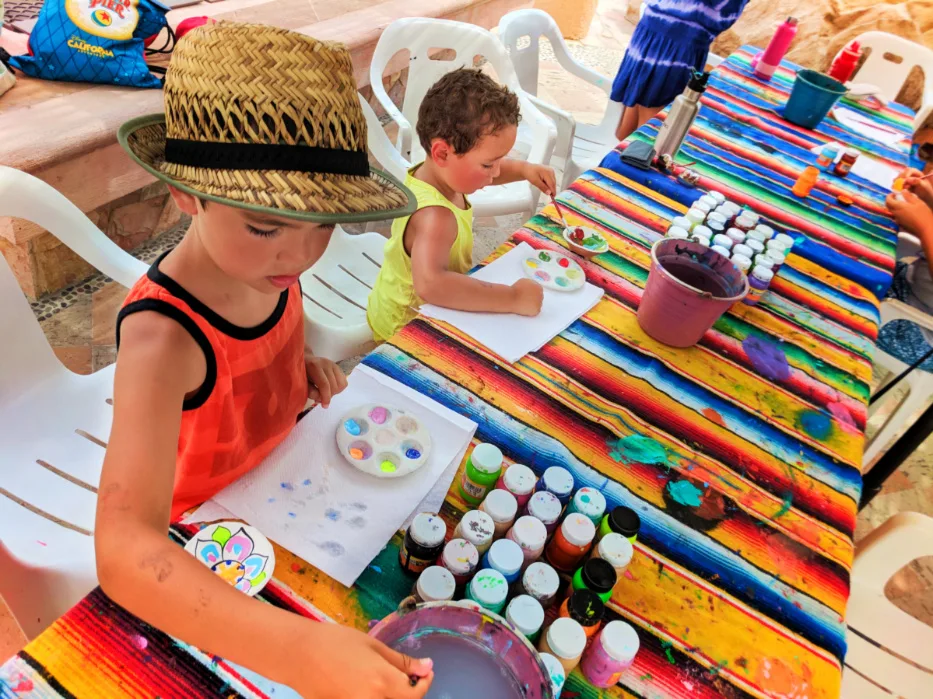 Mexican Resort Kids Club: is it worth it?
Depending on where you are staying there may be a kids club available for bigger kids (usually 4+) We've found this to be worthwhile when they have special event nights, but not for whole day experiences. We like to ensure that our kids are being active and creative, and in the different kids clubs they've been to the leaders always seem to default to videos or video games.
The video issue aside, the kids really enjoy getting to go to kids club. They usually make a few buddies that we end up seeing frequently throughout our stay.
Before you add resort kids club time to your plan, consider the following:
Is kids club included in your resort costs?

What is the time commitment for the different kids club options

?

Are you visiting Cabo San Lucas with kids to spend the whole time as a family or would you all enjoy/benefit from a break

?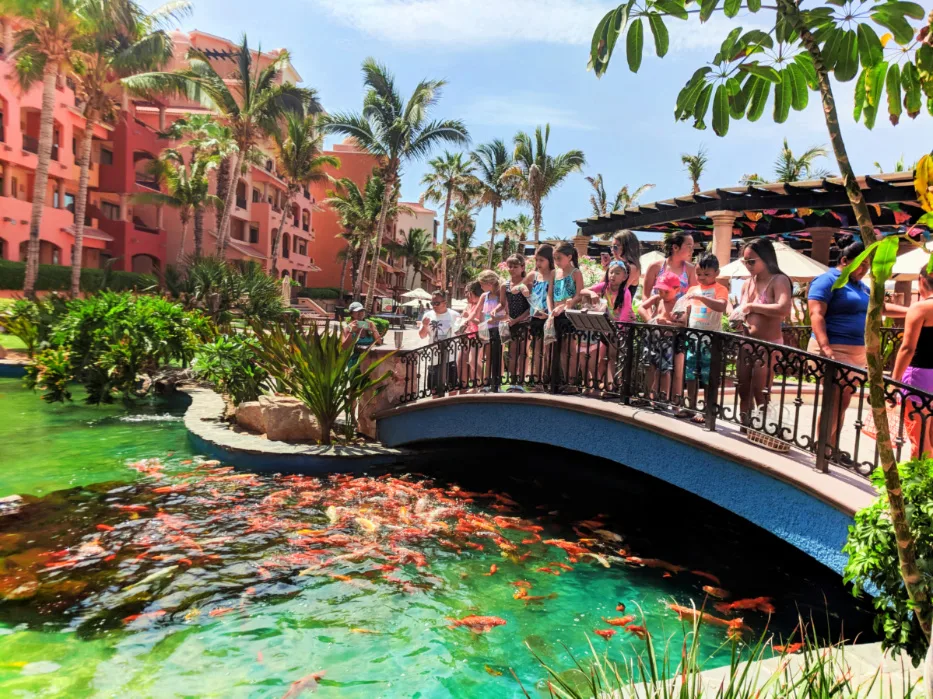 Sun Protection by the Pool
Do you know one of the fastest ways to ruin a trip to Cabo San Lucas with kids? Getting intense sunburns on day one. We're pretty liberal with our kids' sun exposure, but we're also very smart about it, ensuring that it's never for too long and it doesn't get to the point of burning. Families that aren't used to the sun or have really fair skinned kids should be extra cautious visiting a place like Cabo.
Our top tips for keeping kids safe in the sun include:
Hats on at all times

Reef-safe, natural sunblock

Even balance of sun and shade for outdoors times

Water shirts for the fairest skinned kiddos
Check out our full article on sun protection for kids to see what else we recommend instead of lathering your kids with chemicals.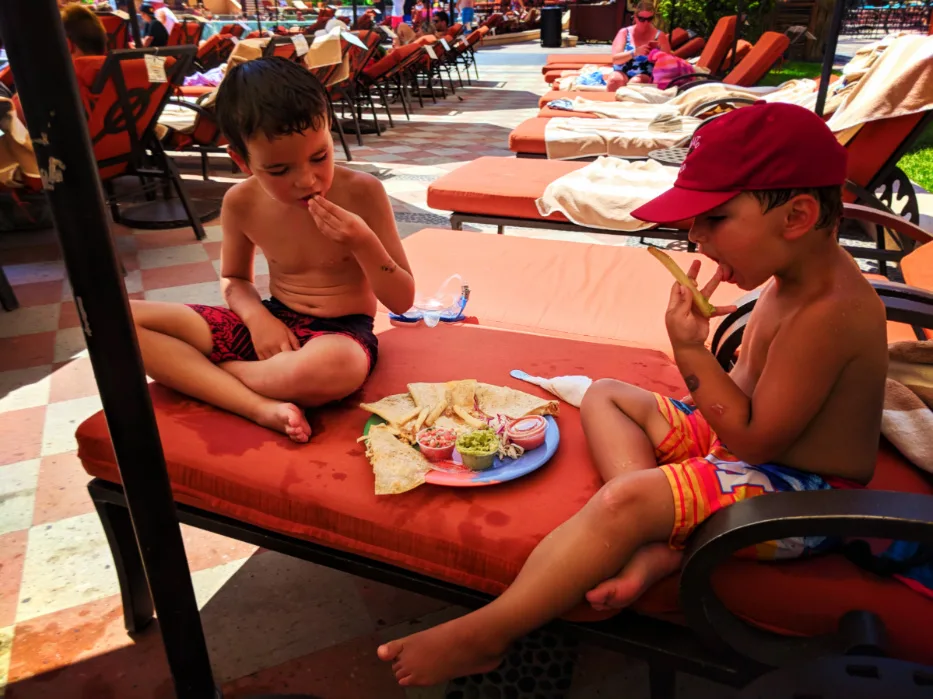 Best Ecotours in Cabo San Lucas
One thing we love about exploring the Los Cabos area with the kids is the abundance of wildlife. It's so easy to share special moments as a family watching whales, dolphins, sea lions and tropical fish. We do this two ways: family time at our favorite Los Cabos beaches and via responsible ecotourism.
There are many tours available as you walk through the marina in Cabo San Lucas, but not all are either worth your time and money or being operated responsibly. If you would like to experience the best of Cabo wildlife, be sure to choose a tour operator that operates sustainably and with an environment-first philosophy. Do your research in advance and book with a guide that is going to help you have a low-impact, respectful experience.
We actually have written a great article about the many types of ecotours in Cabo, from swimming with whale sharks to hiking in the mountains of Los Cabos. We have recommendations for vendors, dates for tours and more. Check it out!
Note: Viator is a great tour hub and does a lot of vetting before adding a tour operator to their database. While they aren't perfect in their selection (Cabo Adventures, cough cough) they have many good options for tours with kids in Cabo.
Here are some recommendations for good ecotours in Cabo San Lucas: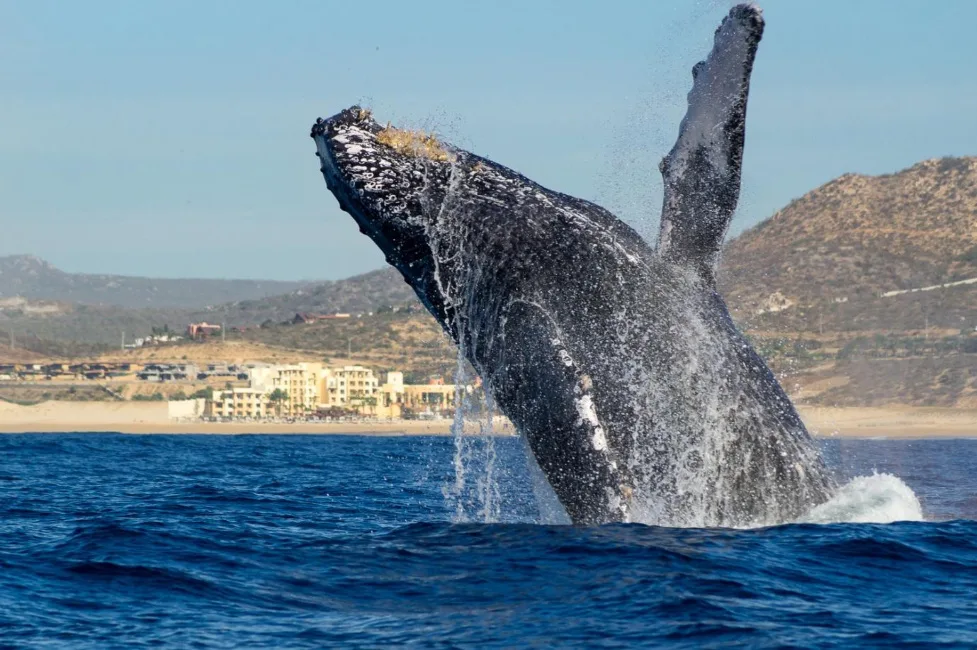 Things to Watch Out For with Wildlife Tourism
Here are the big no-nos to watch for when you're considering tours and activities in Cabo San Lucas (or anywhere). By avoiding these things, you'll be ensuring that you're having a genuine experience that's good for animals, the environment, and humans:
Caged animal photo ops – even ones that say they're for a good cause are often a cover for an inhuman animal tourism operation.

Swimming with dolphins – dolphin tourism is very gray and not all dolphins are rescued and rehabilitated. Many dolphins are still captured in the wild and domesticated.

Avoid tours that aren't explicitly stating what makes them responsible ecotours
By taking an extra moment to consider how a tour is being operated or by researching and booking your tours in advance, you can do a world of good to ensure the next generation has exciting, responsible tourism experiences.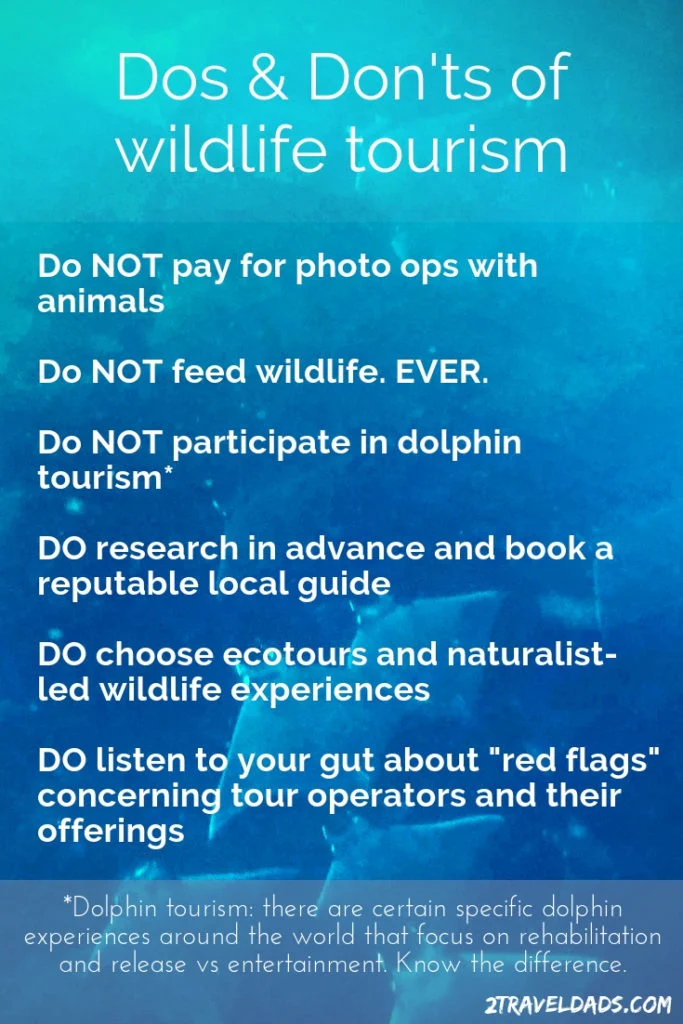 Road Trip from Cabo San Lucas with Kids
We love a good road trip, whether it's a full day or a week. Doing Cabo with kids is a great opportunity to add a short road trip into your travel plan. Baja California Sur is a beautiful state to explore, with some really great cities. Here's our basic plan to spend 1, 2 or 3 days doing a road trip out of Cabo San Lucas that both kids and adults will love.
Tip:  if you want to just follow our route that we do every other year, check out our Baja California Sur road trip plan.
Day trips around Cabo San Lucas
Until you've booked two weeks in Cabo, you don't know how valuable a day trip can be. We often stack up our timeshare weeks (we love our timeshare!) to have more than a week of relaxation, but that can be a bit much when it comes to resort time or just walking around town. Our favorite day trips take us to San Jose del Cabo for exploring the estuary and historic town center, to Todos Santos to check out the Pueblo Magico and get a taste of old Mexico, and to La Paz for a fun Malecon and the most mellow beaches in BCS.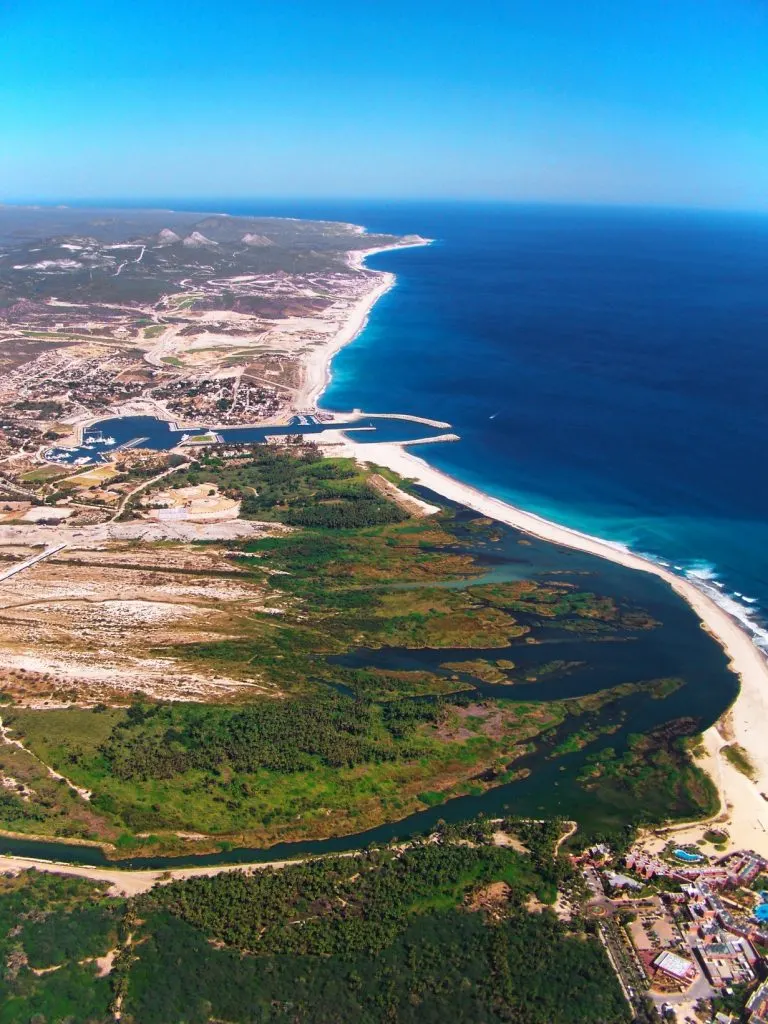 Two day road trip from Cabo San Lucas
Our two day road trip plan takes you up to Todos Santos from Cabo for a fun day at the beach and exploring the town, including the mission and actual Hotel California, and then continuing onto La Paz. While you can do La Paz as a day trip, adding an overnight in the town is the best way to be able to enjoy the sights, the beaches and to get out on the water (whale sharks!). When you're doing exploring La Paz, it's an easy drive back to Cabo San Lucas.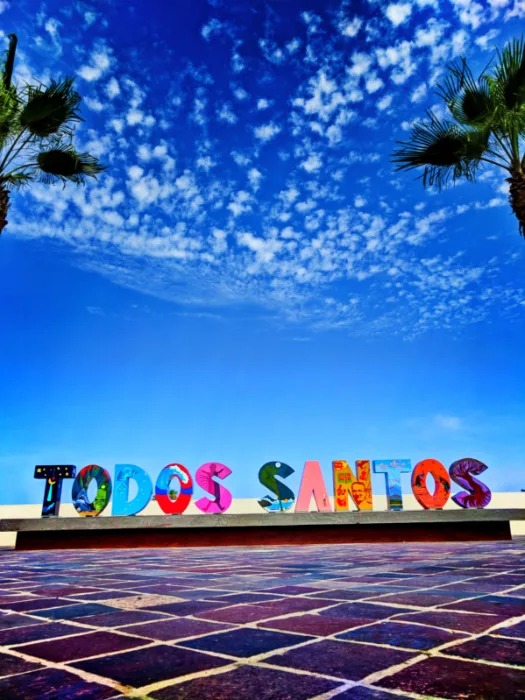 Three Day Baja California Sur Exploration Road Trip
Our three day Cabo road trip plan is everything from the two day plan, but with an additional overnight in either La Paz or to the south at Cabo Pulmo National Park. You'll need to plan for this by booking a guide to explore the National Park, but it'll be well worth it. From Mermaids Lagoon to the reef, Cabo Pulmo is a tropical cove paradise. The largest clam shells scatter the beach, iguanas scurry across the rocks and sand, and the parrot fish are enormous. You'll be so glad to have added this to your trip to Cabo with kids.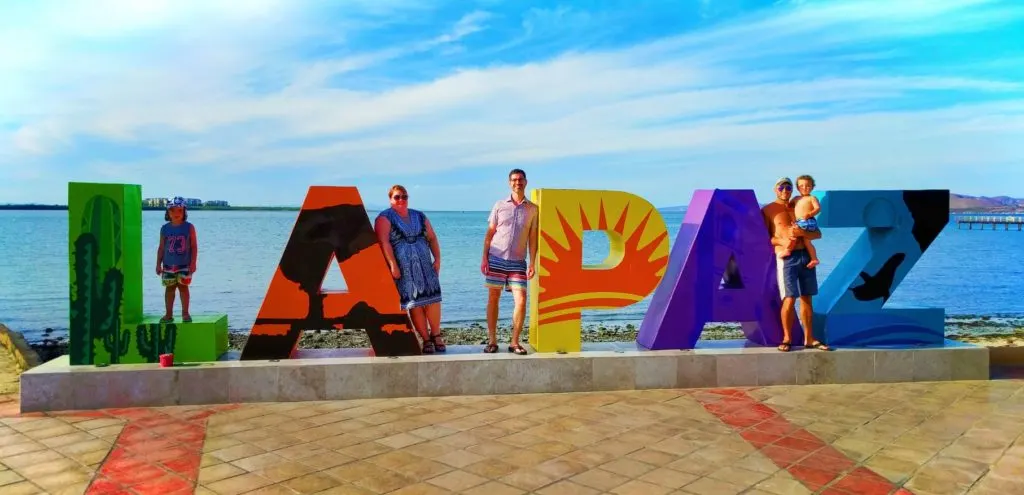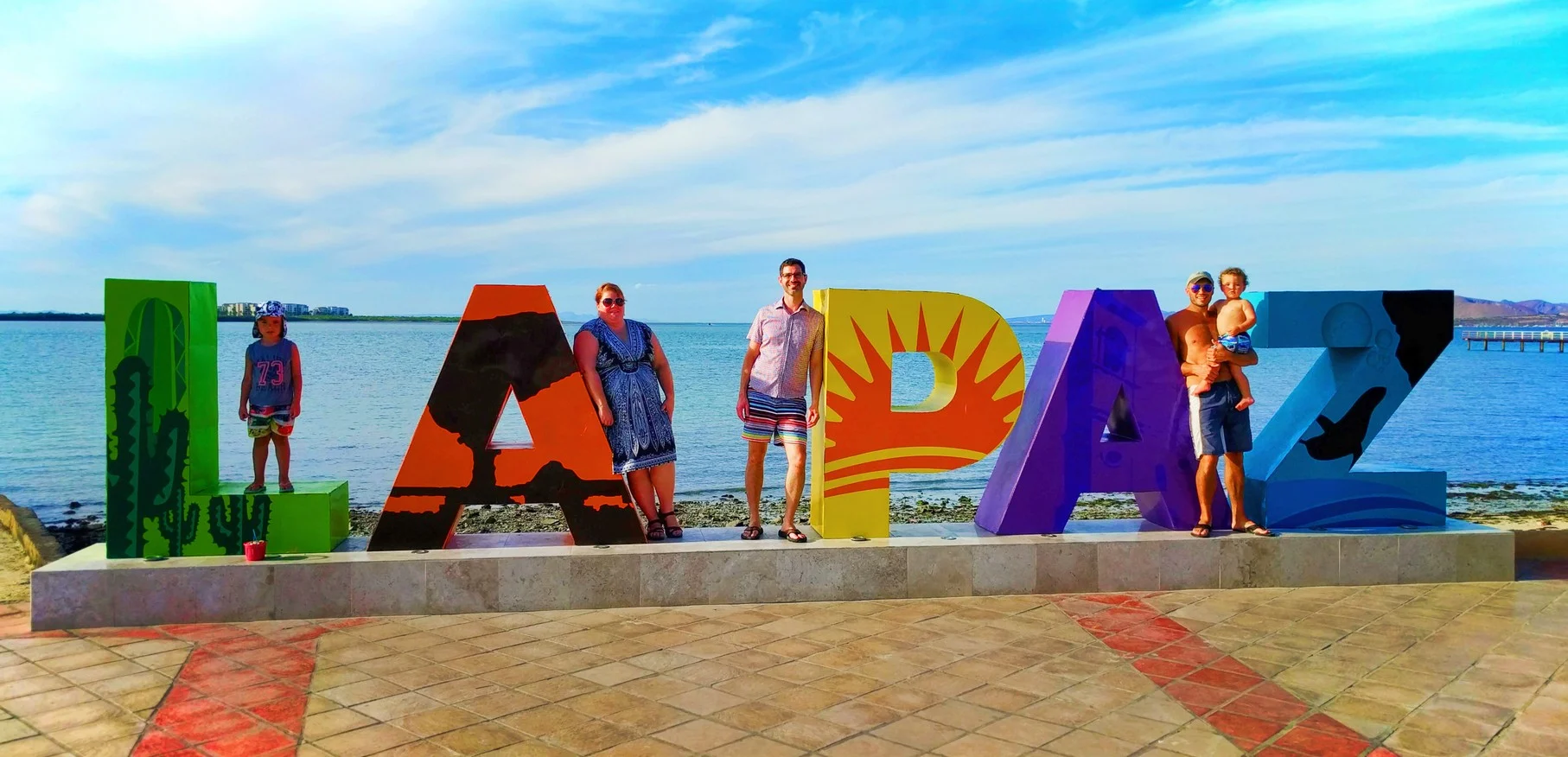 Halloween in Cabo San Lucas with kids
You're thinking right now, "You mean Dia de los Muertos, right?" Nope, we mean Halloween. Somehow we've found ourselves in Cabo San Lucas for Halloween more often than not. Here's how Halloween goes down:
All the local kids dress up and stroll through the tourist areas near the marina with buckets for candy. They traipse around saying "Halloween, Halloween" and the tourists are ready for them with bags and bags of candy. The end.
Because of the strong timeshare presence in Cabo San Lucas, many guests return to Cabo at the same time each year. With that, a lot of the older guests have been handing out candy to the kids wandering through the open-air restaurants for years. It's both hilarious and awesome.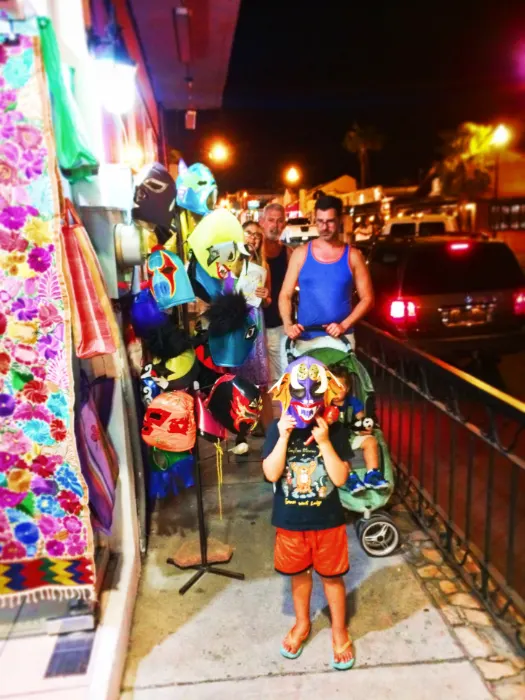 Appreciating Dia de los Muertos in Cabo San Lucas
Even though you don't get the grand parades and colorful festivals in Cabo that you do in San Miguel de Alende or Mexico City, there are still some fun activities to check out if you're in Cabo for Halloween. Primarily, the plaza by the Natural History Museum is the place to be. They set up vendor booths and have all the best traditional sweets and street foods. There is no shortage of sugar skulls when it's Dia de los Muertos in Cabo.
Tip: check the Gringo Gazette or Los Cabos magazine for a schedule of events if you're doing Cabo with kids around Halloween / Dia de Los Muertos.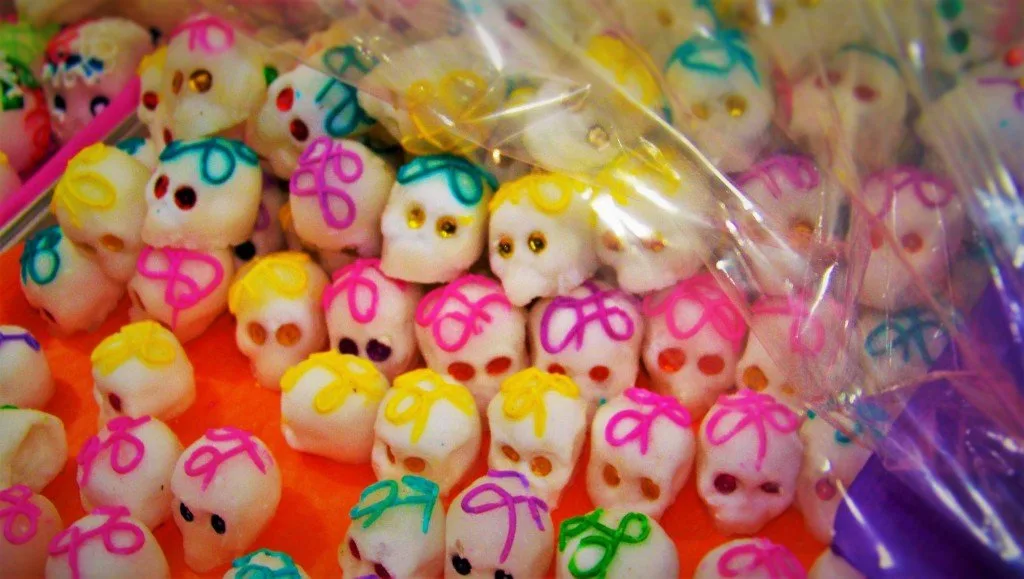 Dining in Cabo with kids
Restaurants in Cabo San Lucas change as fast as the tide rushing past Land's End, but there are some that have been around for years and that we've come to love. When we think about dining in Cabo with kids, we consider places that are great for adults with interesting food, but also that have good options for non-adventurous kids. Our little guys will eat nearly anything, but we've traveled to Cabo with enough friends to know the value of flexible dining.
Easy meals to order in Mexico for kids
We will always advocate for immersing kids in culture, and that includes food, but not every adult feels this way. The following dishes are easy to find and will make nearly every picky eater happy. If these ideas don't help you when dining in Cabo with kids, nothing will.
Quesadilla – can be done with flour or corn tortilla, with meat or just cheese
Tacos de pollo – basic tortilla with simple chicken, fixin's available
Arroz y frijoles – basic rice and beans, can't go wrong
Nachos – many places this is not just chips, but actually nachos loaded with meat and cheese
Grilled fish / a la plancha – very basic locally caught fish is good for any palate, young or old
When it comes to breakfast, we go for huevos rancheros or machaca burritos, but the kids can be less into it. Easy breakfast choices include:
Huevos revueltos – scrambles eggs
Frutas – fruit plates can be loaded with delicious fresh fruit, but know that there may be surprises like guyaba and papaya, which are NOT favorites of our kids
Chilaquiles – our favorite breakfast casserole of eggs, cheese, chips and sauce.
Really, Mexican food is wonderful for families because it's so common in the USA and not too much is unusual to most visitors, but there are some great new dishes and preparations we discover with each visit.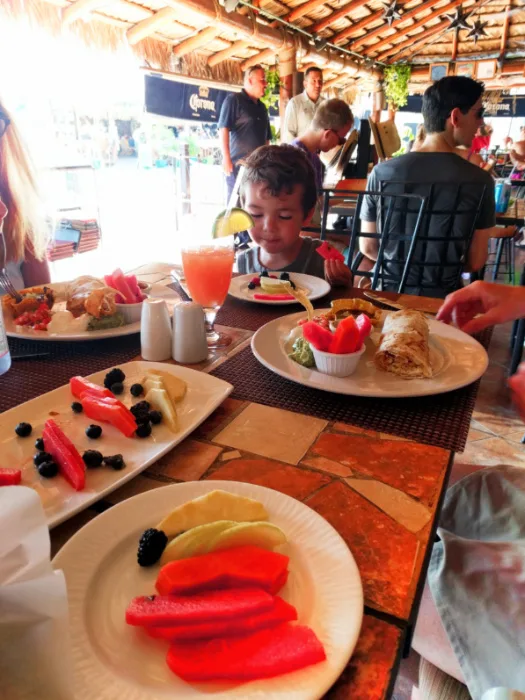 Favorite restaurants in Cabo with kids
Like I said, restaurants come and go, but these ones have been consistent and some of our favorites. We're not super fancy people, so consider our recommendations also a statement about family-budget friendly dining in Cabo.
We are trying new places all the time, so we encourage you to do the same. If you've got a favorite, let us know too!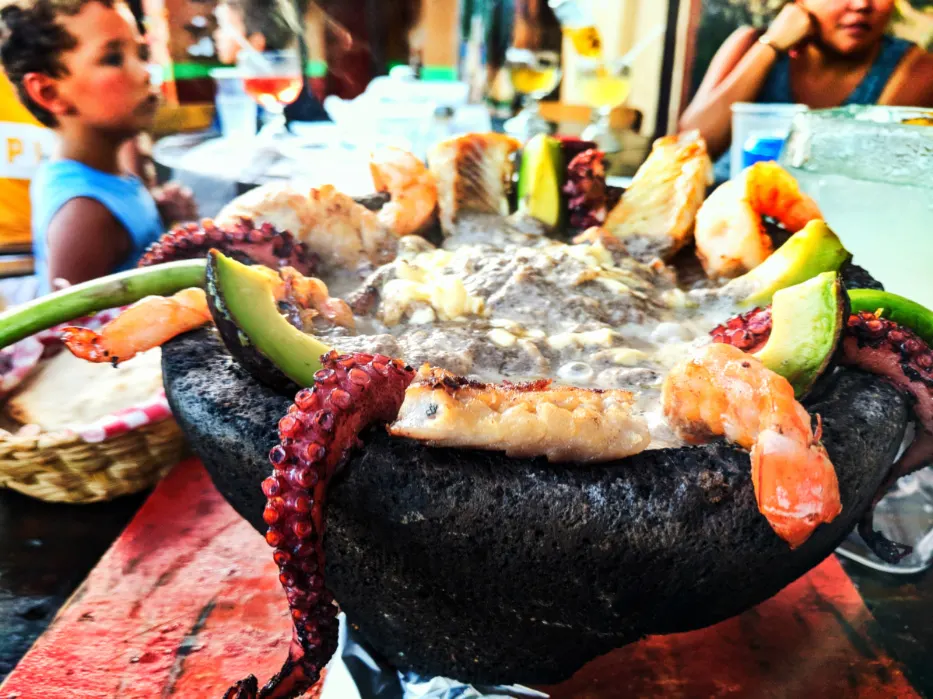 I hope you're ready to plan and book Cabo with kids. It's a complete hoot and is one of the few trips we consistently make. We always come home refreshed and tan. Each time is more relaxing than the last.
If you have any questions about any aspect of visiting Cabo with kids (or without) we're happy to help. We have lots of friends who actually live in Cabo San Lucas as well, so if you need additional recommendations, let us know!
Want to pin this for your own travel planning for Cabo San Lucas? Go for it!!!