The Yucatan Peninsula is full of unique experiences from Mayan ruins and swimming with sea turtles to jumping into enormous natural swimming pools: cenotes. Cenotes are really a highlight to any Mexico vacation or road trip around the Yucatan and we've chosen our favorites, the best cenotes near Cancun and Tulum. You HAVE TO VISIT these spots!
This handy how-to guide is also full of information about what you need to bring for a day in the cenotes, what to expect with the many types of Yucatan cenotes, and our top tips for photographing cenotes and all the fun you can have.
What is a Cenote and How Do I Visit?
The Yucatan cenotes are a type of cave or sinkhole. They are typically formed in the same manner as caves with fresh water percolating through the earth and meeting up with the aquifer, or underground river. This erosion creates small and large holes in the earth's surface and gives access to the beautiful, crystal clear waters of the aquifer just like the many fresh water springs in Florida. They are found near the beaches of the Riviera Maya and all around the Yucatan. You can do Cancun cenotes tours or drive to them on your own, following the Ruta de Cenotes.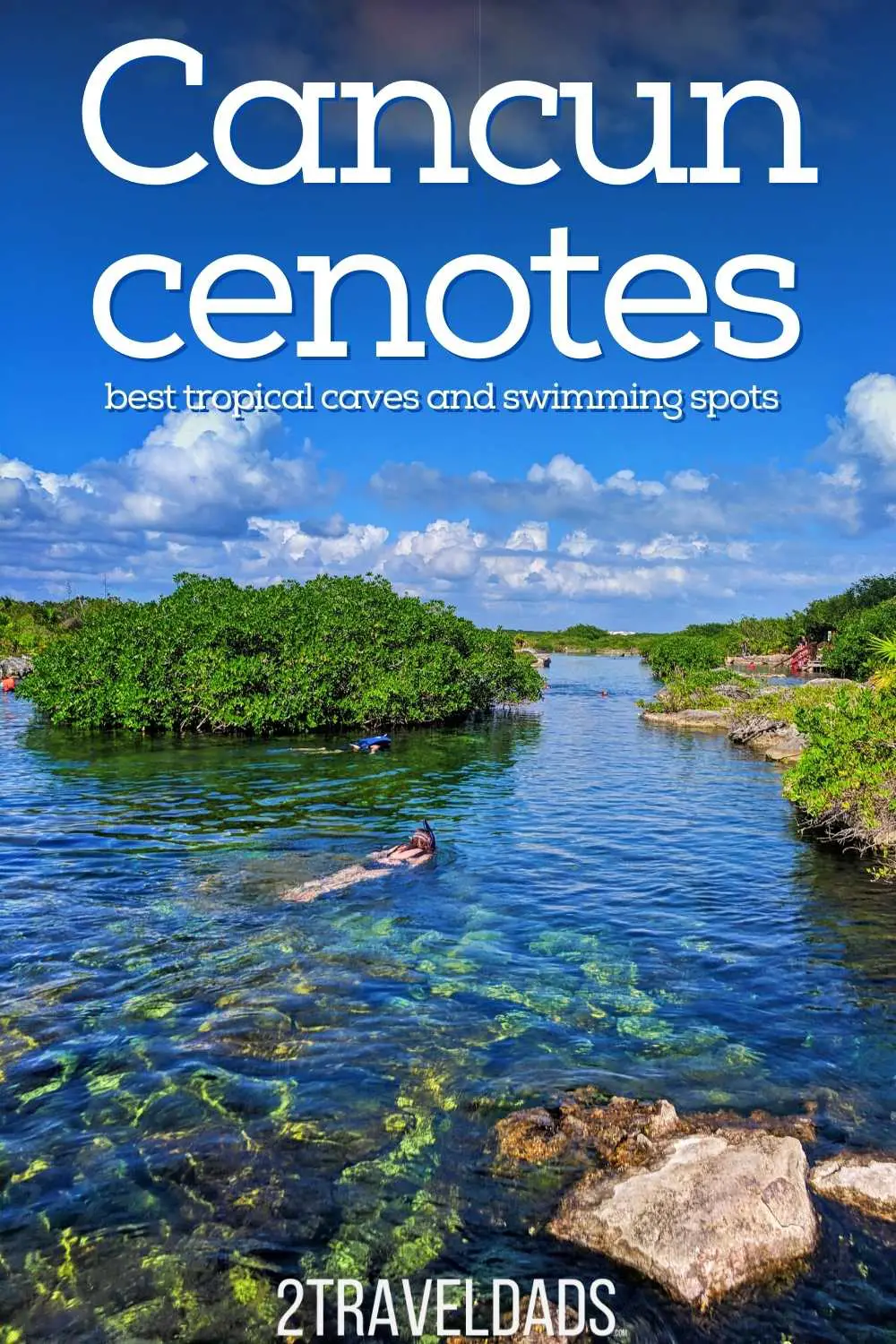 What to Expect at Different Cenotes
Because each cenote is different from the next, you'll have totally varying experiences. The cenotes near Cancun and Playa del Carmen are more built up around the exterior to make it easier for tourists to visit, but then as you go inland you'll find cenotes that are much more rugged and surrounded by jungle. As you approach famous sites like Chichen Itza, the Yucatan cenotes become much more visitor-friendly, such as Cenote Ik Kul (very near Chichen Itza).
One cenote near Playa del Carmen, Cenote Azul, is very open with many different fresh water pools surrounding a large one, yet Cenote Dos Ojos near Tulum are very dark caves with a slow flowing river moving you through the caverns. Some cenotes have fish in them and bats flying overhead and others are just a grand bubbling spring like you might find in Florida.
As you read our reviews and recommendations of cenotes near Cancun and around the Yucatan, take note of factors such as cenote size, darkness, wildlife, and swimming access. This will help you decide which of the many cenotes you want to experience.
Note: if you are easily claustrophobic you need to be cautious in choosing which of the Yucatan cenotes you want to visit, as some are very dark and have narrow passageways.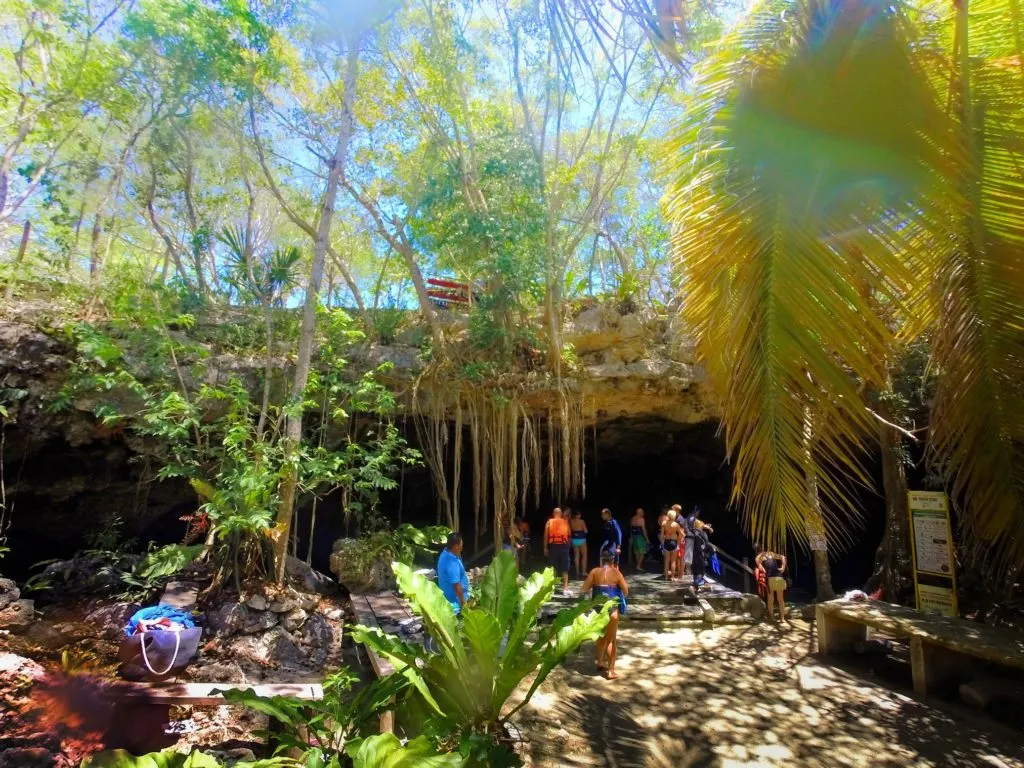 Best Cenotes to visit near Cancun
The following are what we'd consider the best cenotes to visit near Cancun. We've selected these ones for their beauty, intrigue, and diversity. Each of these sites is very different from the last and all are worth visiting and enjoying. The cenote nearest Cancun is Cenote Popol Vuh, but it's not as cool as our top picks for Yucatan cenotes, including sites closer to Tulum.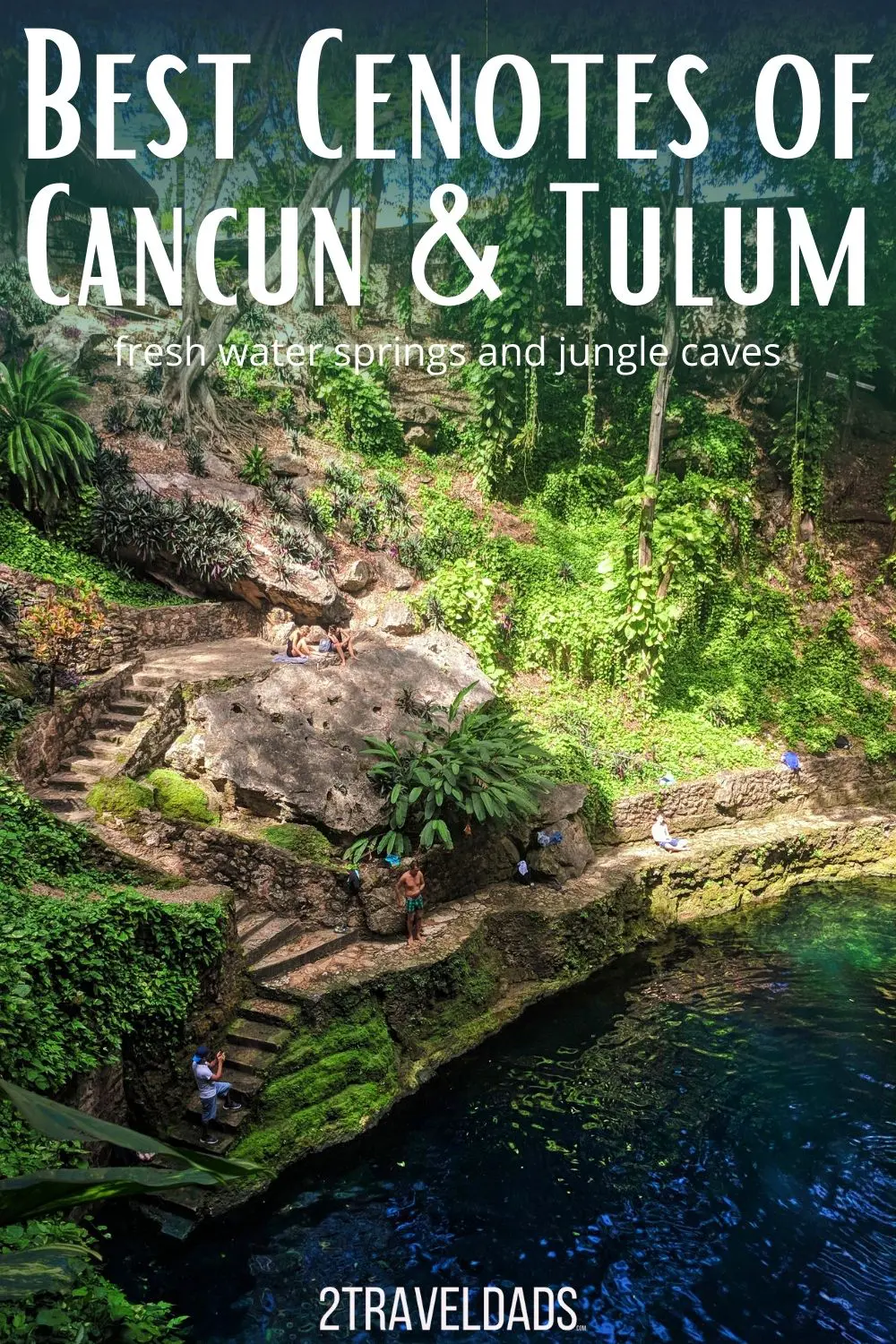 Yucatan Cenotes Map
You could just google "cenotes" when you hit the road on your Yucatan road trip, but it's best to be prepared and have a plan. We've built an easy to use map of Yucatan cenotes that are the easiest to visit. There are several cenotes near Tulum that are just off the highway, but then as you head towards Chichen Itza, they become much more remote. The cenotes included on this map are the most accessible. You may still have to drive down dirt roads in the jungle, but you shouldn't have any problem finding these cave swimming sites. Google Maps link here
Explore the Underground Maze at Cenotes Siete Bocas
After driving inland on the Ruta de Cenotes from Puerto Morelos quite a ways and then down a realllly bad dirt road, I arrived at Cenotes Siete Bocas. It's a collection of seven small cenotes all connected by tunnels with the aquifer flowing through. Cenotes Siete Bocas makes our list of must-visit cenotes near Cancun for two reasons:
The maze of cenotes and going between them through tunnels is a really unusual experience

There's a large cenote with a great cliff for jumping off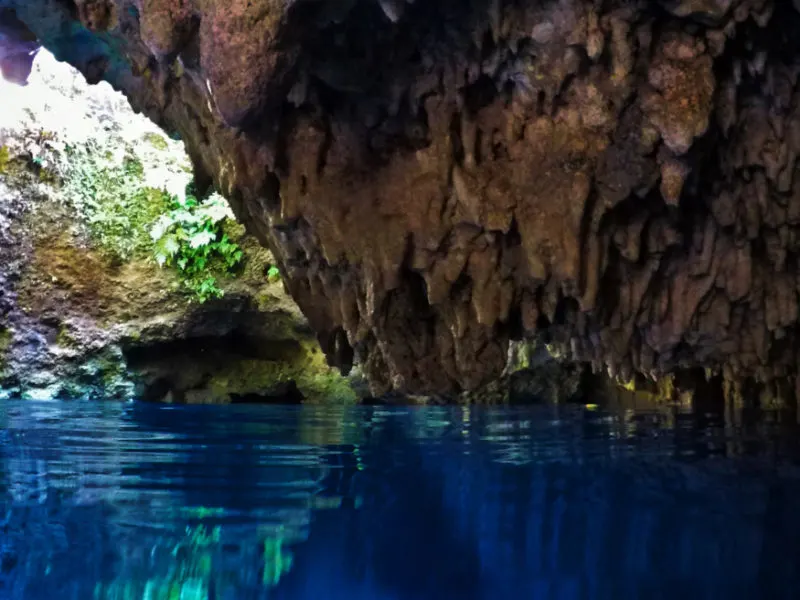 I enjoyed checking out the caves and their formations both above and below water, swimming around in the cool aquifer and even taking a few 20 foot jumps into the largest of the cenotes.
The area above ground is kind of funny, with some landscaping and even a watchtower to climb up into the jungle top, but the highlight is for sure the quiet, dark passageways between the pools.
Note: if you're traveling through the Yucatan visiting cenotes, know that each one has a cost ranging from $5 USD to $25 USD. Some have swings and ziplines, some are just perfect pools in the jungle. ALWAYS BE READY WITH CASH.
Bring: water shoes or good sandals you can wear when you jump in. You may choose to walk above ground from cenote to cenote, and shoes are pleasant in the jungle.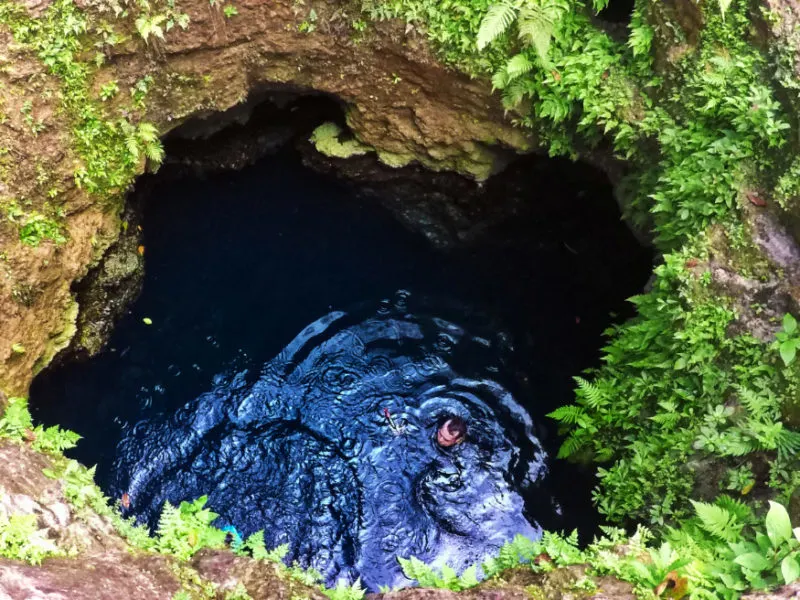 Cliff jumping at Cenote Azul near Tulum
Located just outside of Playa Del Carmen Cenote Azul, the Blue Cenote, is really easy to visit and it would be silly not to. Very different from our first recommendation, but maybe with just as many pool areas, Cenote Azul is a natural spring area straight out of a Grecian mythic scene. Rocks in turquoise pools with tropical fish swimming around, pockets of jungle with colorful birds and iguanas, places to lounge in the sun between dips into the cool water. Perfect.
Cenote Azul has a great jumping cliff where the water is plenty deep for even the most cautious swimmer to feel safe jumping in. Here's how you jump into a cenote safely:
Make sure the area below you is free of swimmers and you have enough space to clear the rock walls as you descend

Cross your arms and legs as you jump to prevent smacking sensitive areas on the water

Quickly get out of the way so the next jumper can go.
Bring: a towel for lounging and a picnic lunch. There are lots of great places to relax around Cenote Azul.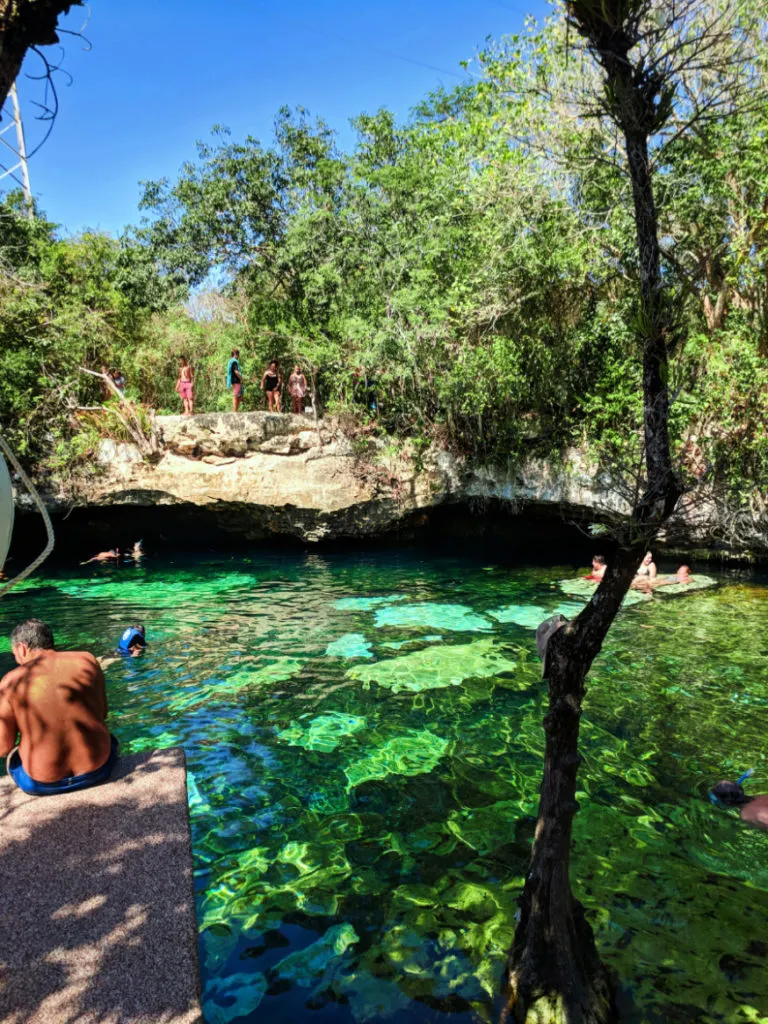 Snorkeling at Cenotes Dos Ojos near Playa del Carmen
Less touristy than Cenote Azul, Cenotes Dos Ojos outside of Playa del Carmen is one of the most incredible sights I've seen near Cancun. Again, it's easily accessible from the main highway, but there are fewer visitors here than other cenotes.
The big draw of Cenotes Dos Ojos is the depth of the water in certain areas paired with the beautiful cave formations. At Dos Ojos you'll find scuba divers in addition to snorkelers as there is access to the larger aquifer that continues on for quite a ways. This is one of the easiest cave diving destinations near Cancun.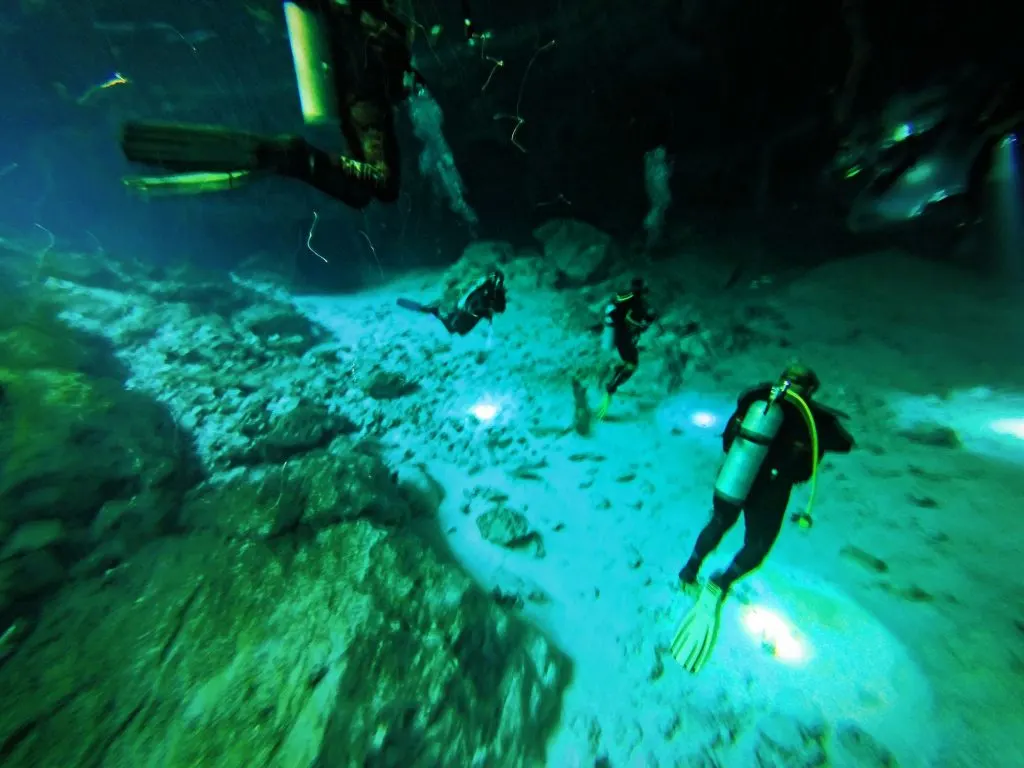 For the average cave snorkeling visitor, the two cenotes offer really beautiful columns, stalactites and stalagmite formations, areas for jumping in, good enough light for exploring underwater but also low enough light for lots of bats! That's right! The bats are really amazing to watch, whether they're crawling across the cave ceiling or flying around catching bugs. They are amazing.
Tip: for snorkeling in Dos Ojos and other cenotes near Cancun, bring an underwater/waterproof flashlight for the best experience. It's not required, but will help you see a lot of the caves as well as could be useful for photography.
Bring: life preserver for easy floating while you explore below the surface.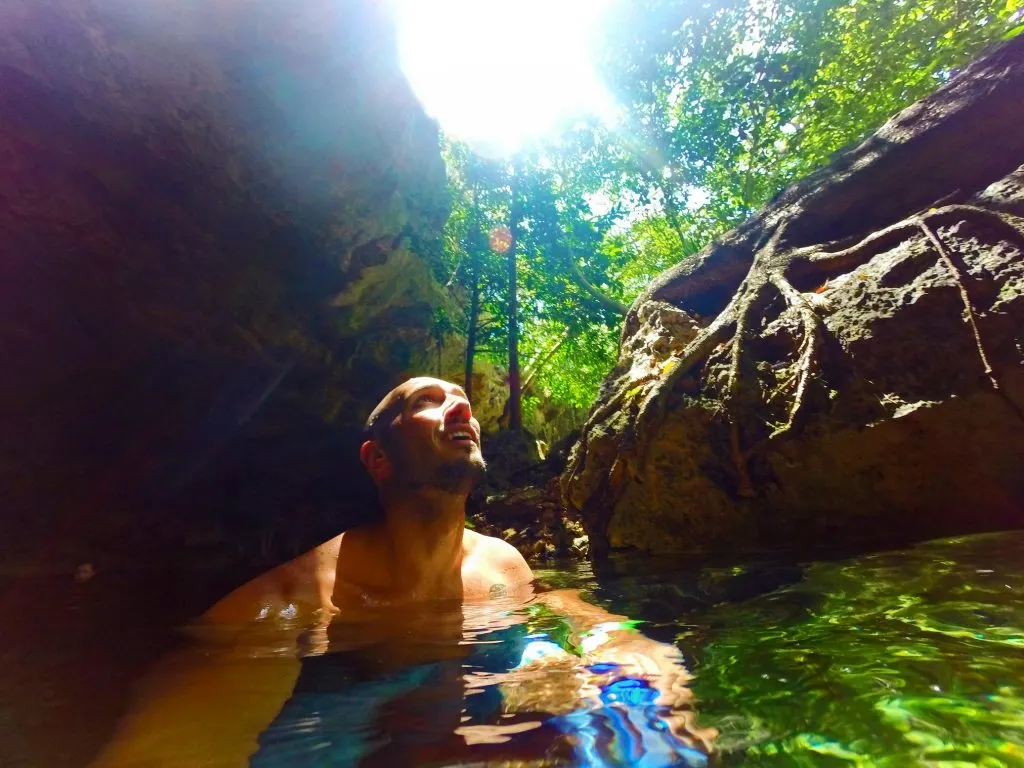 Akumal's Cenote Yal Ku
I went here against the recommendation of several people and I'm so glad I didn't listen. It was totally different from Siete Bocas or Dos Ojos, and this was very easy to add onto a day in Akumal. An open cenote that joins with the lagoon and eventually the bay at Akumal, Cenote Yal Ku is FULL of tropical fish, including the largest parrot fish I've ever seen. A visit here feels more like snorkeling around a reef than a cenote.
Top reasons for snorkeling Cenote Yal Ku:
Fascinating wildlife / colorful fish

Unusual rock formations

Mangroves protruding into the water making mysterious fish habitats
Such a cool experience and a complete contrast to Dos Ojos.
Tip: visiting Cenote Yal Ku is very easy to add to a planned visit to snorkel with sea turtles. It's just around the corner and worth the time.
Bring: snorkel and fins. Since Cenote Yal Ku attaches to the salt water lagoon, you'll want to explore beyond the immediate limestone rocks and mangroves.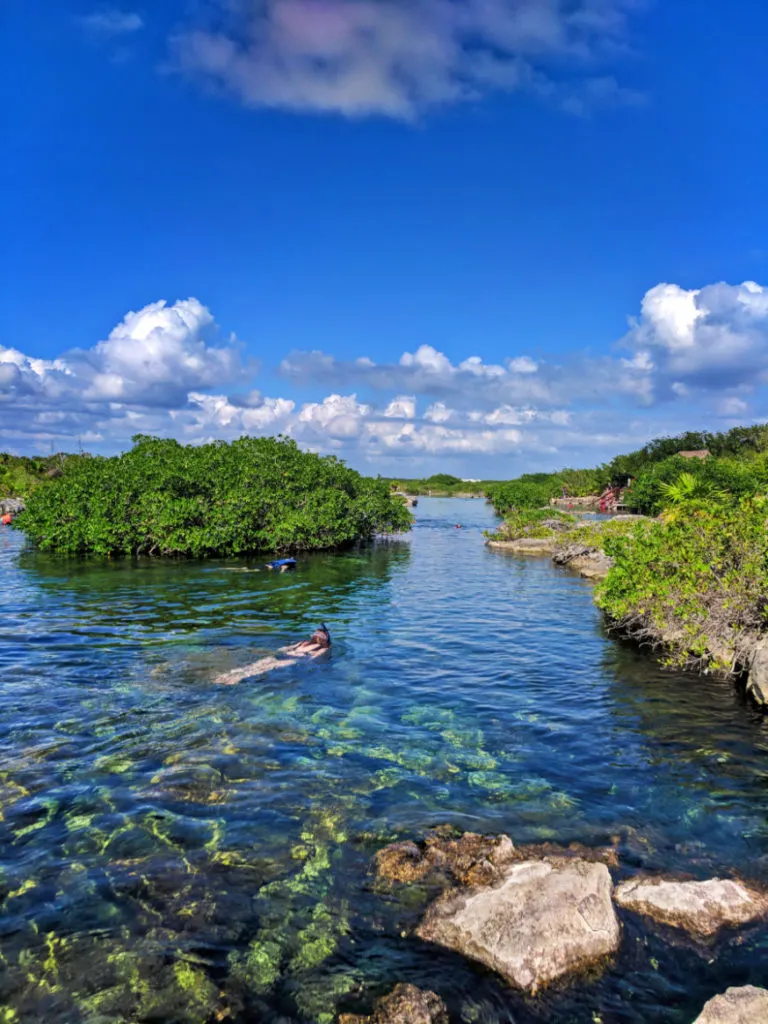 Open Cavern in Valladolid: Cenote Zaci
Right smack in the middle of Valladolid is the largest ceonte that I've ever seen. Cenote Zaci is just three blocks or so from the center of town and it's a world away. Like something right out of Journey to the Center of the Earth it's a sight to behold. The town of Valladolid itself is beautiful and worth exploring on foot, and then you add this incredible cavern and it's Cancun vacation gold.
Note: Valladolid is about two hours from Cancun, but the drive is beautiful and very easy and a well paved, safe road.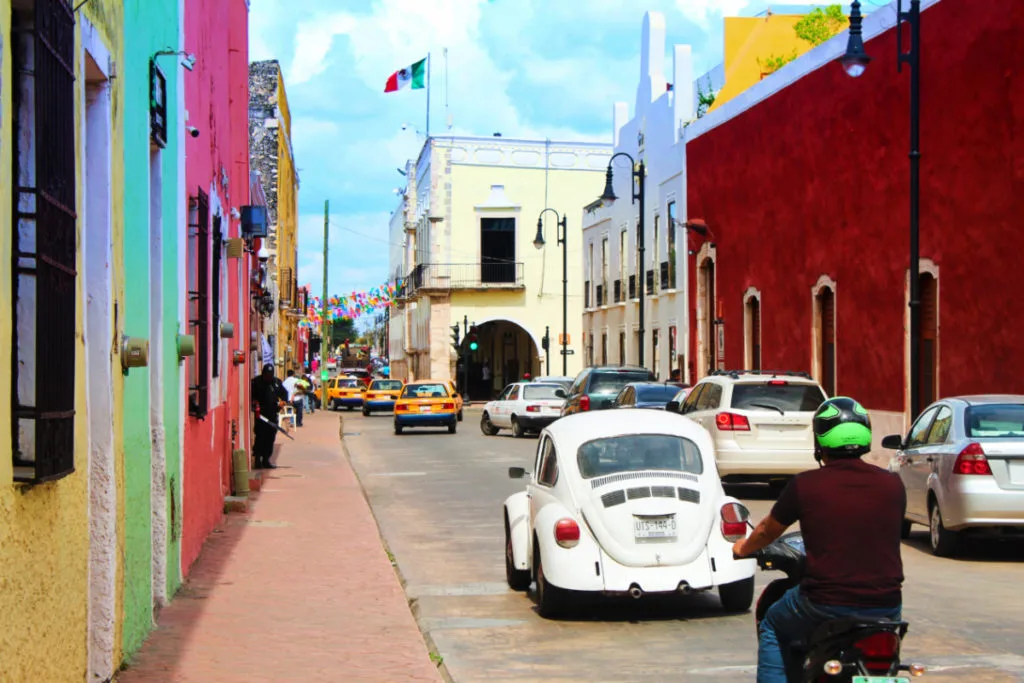 Cenote Zaci has a path that leads all around the cave offering several points to jump off, some being thirty feet high+. If you're going to jump in from one of these, you'll need to swim across the whole pool to get out of the water. #cliffs
After exploring the circumference of the cenote and checking out the stalactites, miniature caves, and bat colonies, I picked my jumping spot and started to really enjoy Cenote Zaci. After a few jumps in, chatting with some French tourists and shooting some cool video it was time for my exit, so I made sure to take the long way out and enjoy the view of the massive cenote for a few extra moments.
Bring: telephoto lens for photographing bats and wide angle camera (a phone will do) for capturing the whole Cenote Zaci sphere.
Tip: if you're heading to Chichen Itza, pay a visit to Cenote Ik Kil, which is also very large and interesting. One of the coolest Yucatan cenotes.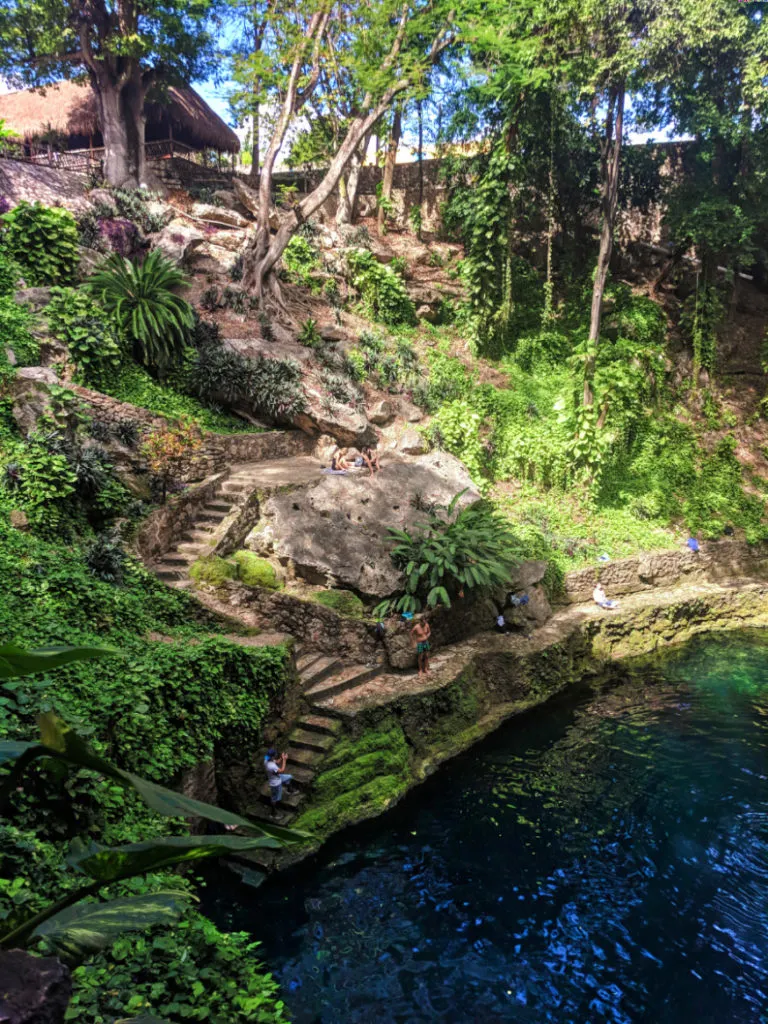 Cenote Yalahua, Yum Balam Preserve on Isla Holbox
Our last stop we strongly recommend is Cenote Yalahau, very near El Cuyo and just across from Isla Holbox. A part of the larger Yum Balam nature preserve, this cenote is in the middle of a mangrove forest just on the edge of the Yucatan Peninsula. The location is more difficult to get to, but the overall Yum Balam Preserve experience makes it worth it. You can book a tour to explore the Preserve and its sites, including cenote Yalahau before arriving.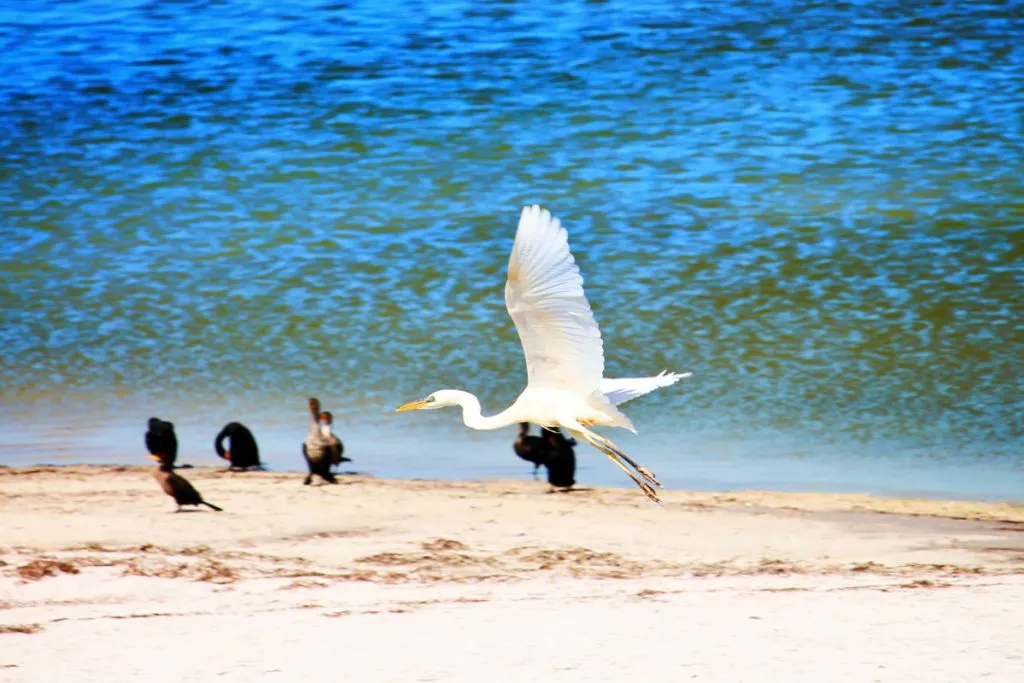 Within the Yum Balam Preseve there are several outposts accessible by boat. Cenote Yalahau is one of them, then there is the bird refuge with observation towers to bring you up to the birds' level, and then there's another island/sandbar area where flamingo congregate. It's the perfect Caribbean collection of nature, and at two hours north, it's near enough Cancun that adding it to your plans if very doable.
Check out our complete Guide to Isla Holbox post for more ideas!
At Cenote Yalahau itself you'll find:
A forest lookout to climb

A cenote to jump into

A very strong spring bubbling in the middle of the cenote

A family run open air kitchen/snack shack

Great boardwalk space for relaxing in the sun or shade
Bring: binoculars for bird watching at the many Yum Balam sites, including the lookout at Cenote Yum Balam.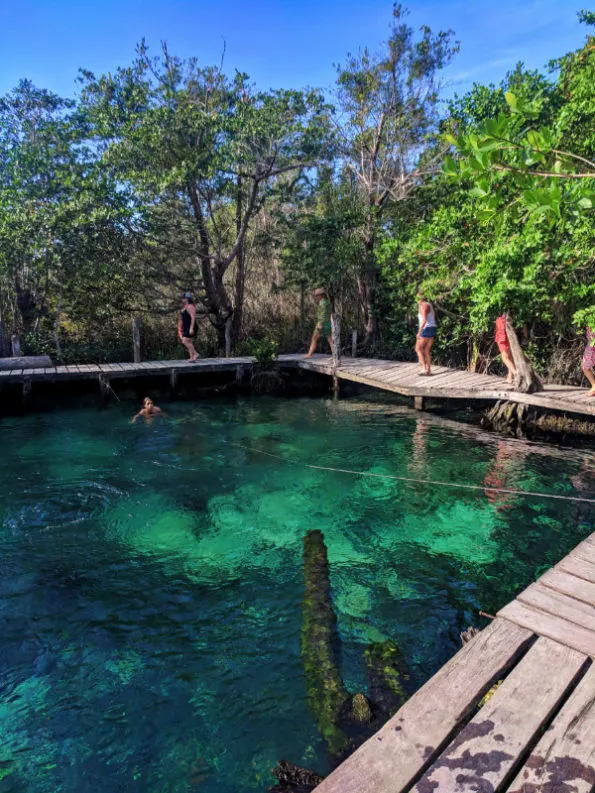 There are many, many more cenotes near Cancun and across the whole of the Yucatan Peninsula. We haven't been to all of them, but have been to many, and these ones here are great, diverse examples of what you can find when you go on a cenote adventure.
If you want to experience even more cenotes that we haven't listed, we recommend traveling on the Ruta de Cenotes out of Puerto Morelos. There are around twenty different sites you can visit, some way off the road and some easily accessible, but each with its own cost.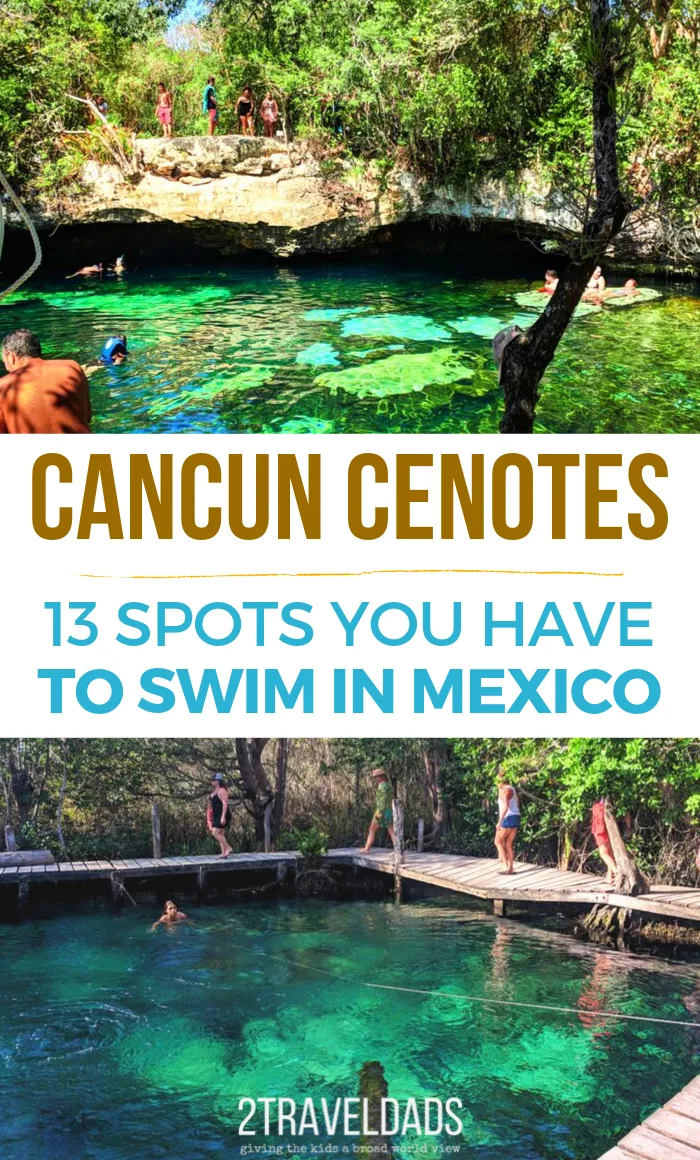 Easy Yucatan Cenotes Road Trip plan
To make things super easy and enjoy the Yucatan's Ruta de Cenotes even more, here is our recommended road trip plan for exploring out of Cancun. The itinerary can be done in reverse as well so you can accommodate stops at Mayan ruins, such as the Coba Archaeological Park.
Things to remember for visiting Cenotes
As you add cenotes to your Cancun vacation or Yucatan road trip, there are several things to keep in mind.
Visiting the more built up cenotes will cost more per person — Cenote Xin Ha (not listed above)

Not every cenote is a perfect turquoise swimming pool — Cenote Siete Bocas is very still, but also very clean despite not being perfectly clear

If you're claustrophobic choose to visit cenotes in bright daylight areas — opt for Cenote Azul or Yal Ku

Cenotes near Cancun are busier during Spring and Fall breaks so head to less popular ones for better experiences — Dos Ojos and Zaci (in Valladolid) receive fewer visitors

Planning a day trip or road trip is a great way to see more of the Yucatan — visit Yum Balam or head to the Coba Ruins for a different Cancun vacation experience
What to Bring When You Visit Cenotes
When it comes to the cenotes near Cancun, you'll find that there are vendors at most of them ready to outfit you for whatever experience you want. You can save money by bringing your own supplies, so here's how to pack for your day at the cenotes:
Snorkel and mask

Towels

Waterproof camera / GoPro *telephone or lowlight camera is good for certain environments

Snacks / water / lunch

Waterproof or underwater flashlight for the darker cenotes

Life preserver – some cenotes provide for free and some don't require use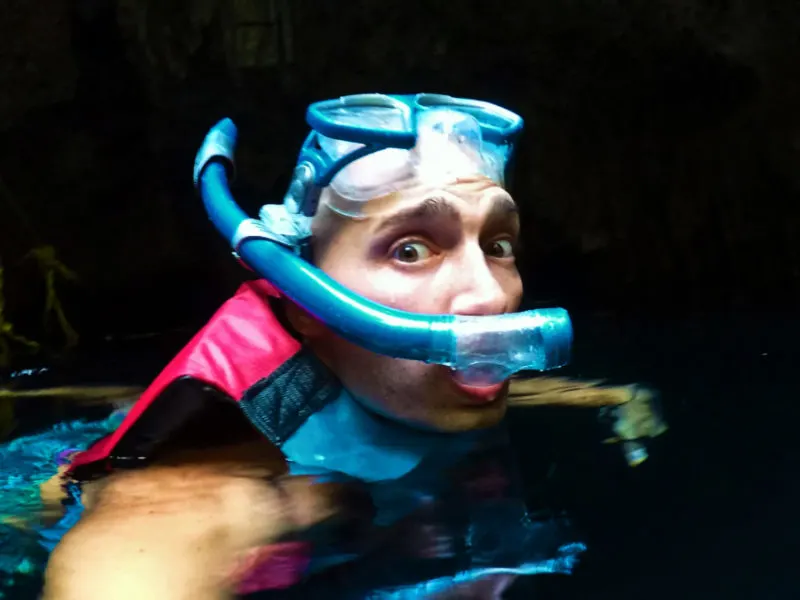 Tips for Photographing Cenotes
There are some really unusual cenotes around the Cancun area, some with very complex lighting. What does this mean for the hobby photographer or vacation goer? It means that you need to be aware of the lighting if you want any of your photos to turn out.
For the best underwater or cavern pictures, we recommend a GoPro or similar waterproof camera that has a setting for low-light photography. For dry photos, a newer camera phone or digital camera with a wide angle lens should be fine to capture great, fascinating shots.
Things to remember:
The coolest shot you can get jumping into a cenote is from the POV of somebody else already in the water

Light distortion underwater can make for very dark, ill-defined shots so try to get underwater shots with light all around above water

The shadows within a cenote will look nearly black if there is a large bright area in your frame

Bats don't photograph well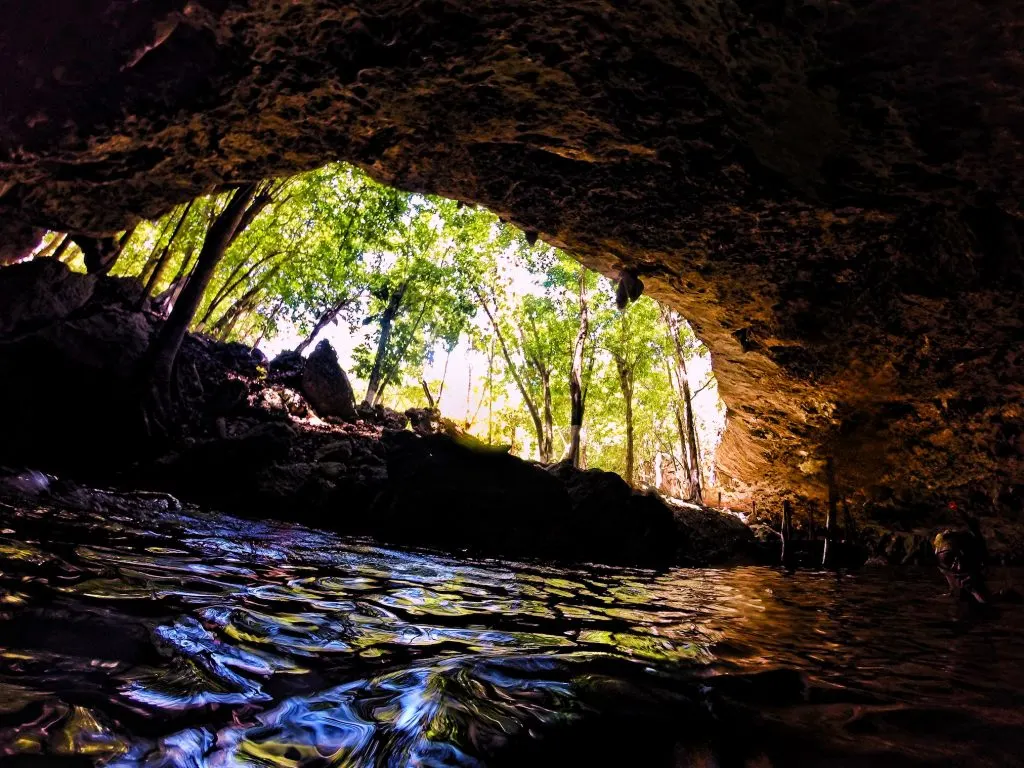 Are you ready to plan your next adventure? We totally are!! If we find more cenotes near Cancun that we think need to be added to this list, we'll update it. And if you have ideas or questions, please leave a comment or send us a note!
Please feel free to pin this article for you own travel planning and research.