When you live in the United States and you think about taking a trip to Europe, your mind darts so quickly from place to place and you start to create an enormous to-do list of sights and experiences you MUST cross off. Venice, Italy is at the top for everybody, I swear, and rightly so. But today you hear stories from everybody who visits of being over-run by tourists and walking through narrow streets in single file lines. Not cool. But we know how to enjoy a stress-free trip to Venice and now you can too.
Known as "la Serenissima", the most serene, Venice is chalked full of history and beauty. It's calm and peaceful in the wee hours, and yet it's crazy and crowded with tourists in the daytime and around famous landmarks. Our method of exploring and tips are sure to help you have a relaxing and unforgettable trip to Venice.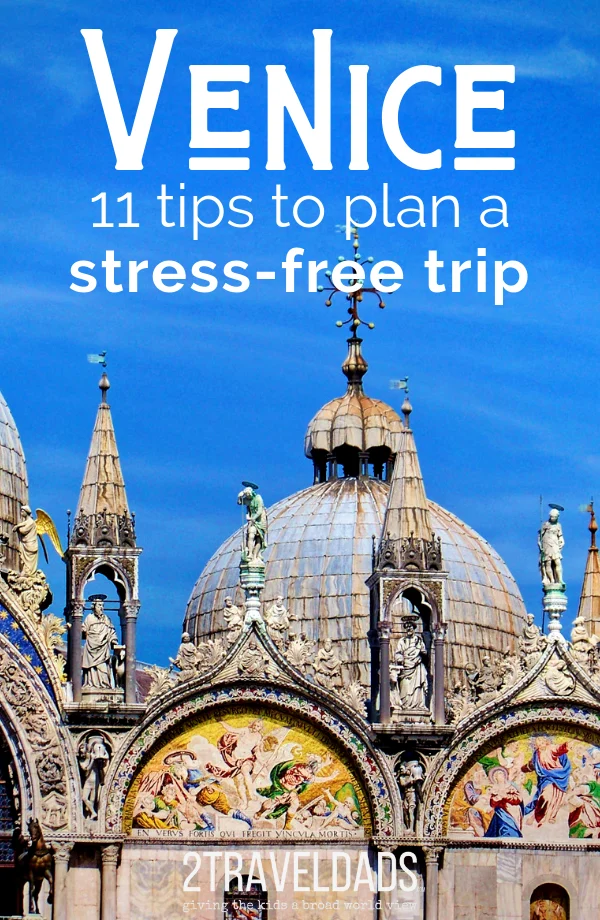 Tips for a Stress-free Trip to Venice
Growing up on the west coast of the USA, the oldest structures we have anywhere are barely 150 years old, so immediately any fascinating architecture must go on the travel list. And then there is art. In the Seattle area we are inundated with local art (subjects of orca whales, boats, produce, modernism…), so the chance to visit every single museum filled with historic pieces in every city cannot be missed. But here's some real talk: if you want to enjoy Venice stress free, let yourself be okay with not visiting every single museum, because there are SO MANY things to do.
Oh, and food. I can't even begin to talk about that, so our friend Kavita will tackle that for us over on her blog. The best food in Venice should be left to the experts. My only thing to say about the food in Venice is that their preparation of seafood is unique in comparison with other places in Italy and at least one meal in Venice needs to be local seafood dishes.
You could say that Venice is a foot traffic nightmare, and you wouldn't be lying, but that doesn't mean it has to cause anxiety. Stress free Venice is all about letting the city lead you to the best experiences for YOU.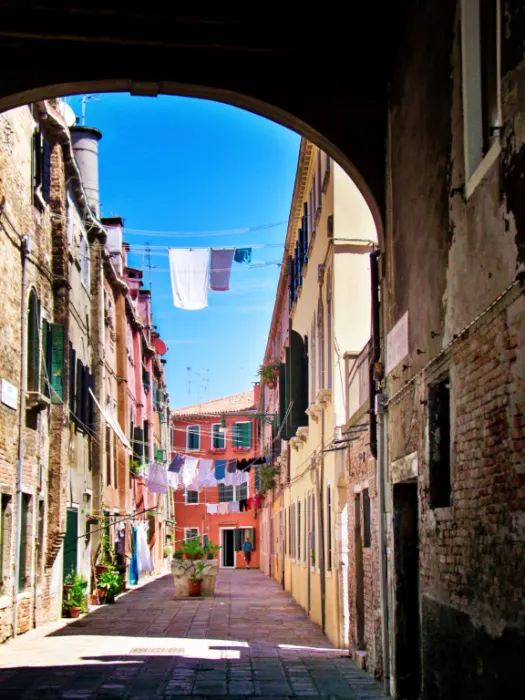 The most intense and stressful trip ever: Paris to Florence
See everything, don't miss any major tourist sites, eat each famous food. This was the approach we took to Paris. It wasn't practical and left us tired. As we headed south we were getting foiled at every turn. In Nice, there was a beach that just had to be swum at and nothing else mattered because we were still tired from Paris.
In Florence, we arrived during a week where everything but the Uffizi was closed. In Pisa, nothing was accessible due to renovations. By the time we got to Venice, we had no choice but to drop all expectations and just see what happened. That was the key to enjoying the magic of Venice.
Stress free Venice is all about magic.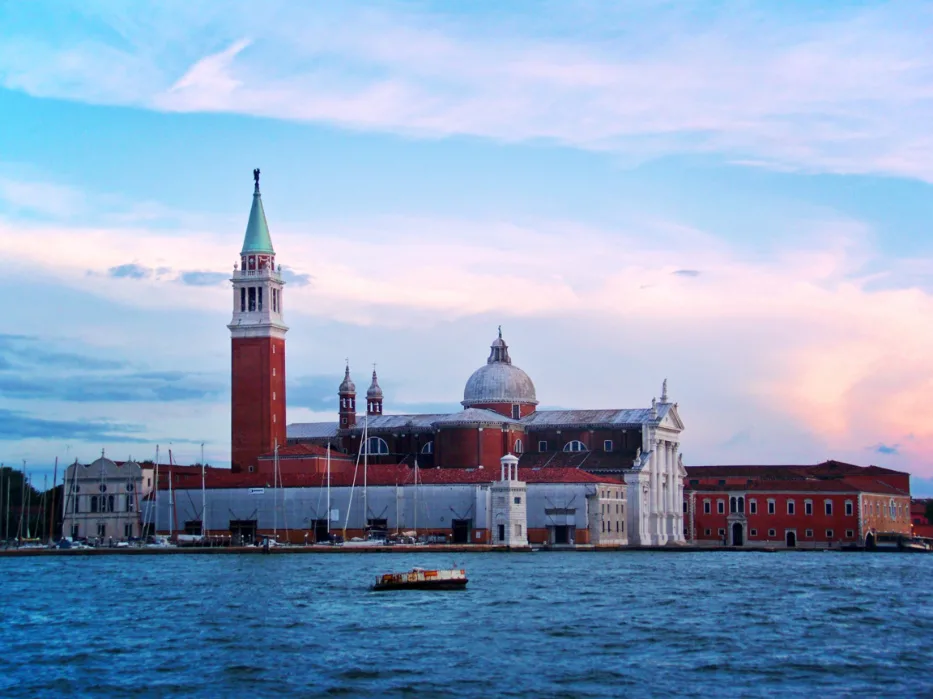 First Impressions on a trip to Venice
It's cliched to say that Venice is magical, but it's true. We arrived in Venice via the train after enjoying Tuscany. First thing we noticed was that the station was less than thrilling and needed an update. As we wandered out, we were already tired and in the mood of "just get us to our hotel." And then we exited Santa Lucia Station, looked up and stopped in our tracks. Until you have arrived in Venice yourself, it's difficult to understand how quickly you're transported into a completely different world.
Boats were zooming by, some just floating by. Tourists were silent, but Venetians were yelling and just going about their lives like we weren't there. Besides the motors on the boats, it was like nothing had been updated in the floating city for hundreds of years. Truly, it was the best first impression of a city that I've ever had.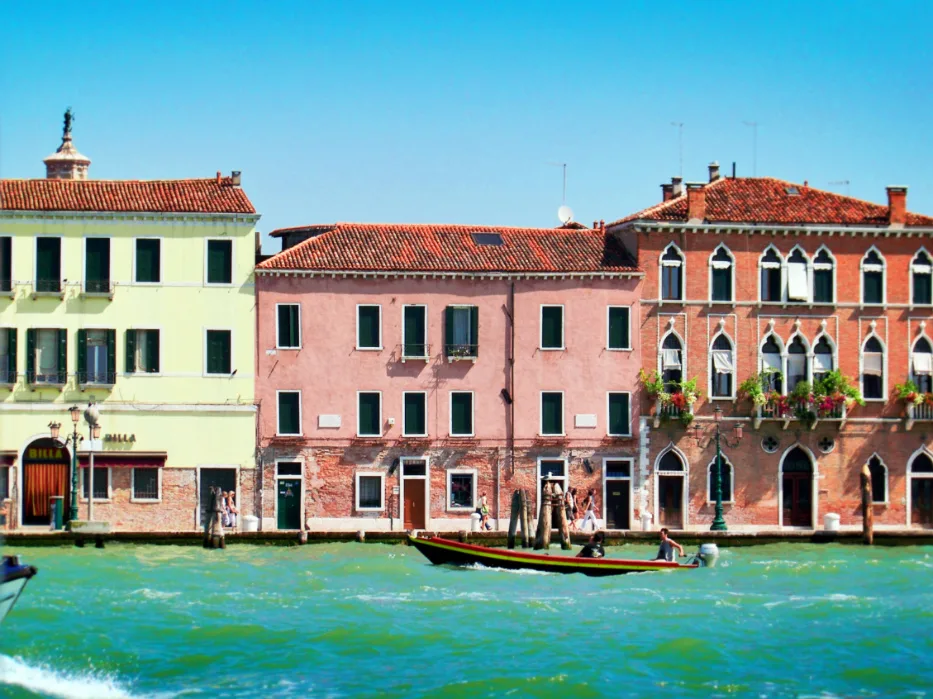 Getting around Venice: Stress-free Transportation
First of all, I think 3 days in Venice is ideal. That gives you time to explore on foot, time to try the many types of water transportation and you'll have plenty of time to relax. After day one, you'll be much more at ease in the city and able to enjoy it even more.
Once we snapped out of it and realized that we had places to be, we figured out the vaporettos (water buses) and made our way down the Grand Canal and across the lagoon to the Lido, one of the outlying islands of Venice. We were able to buy tickets at one of the vaporetto docks, loading them up for multiple rides. This saved us time later because we already had vaporetto fare purchased and could quickly get on the boat.
Tip: the vaporetto system is genius for quick transportation and helps a novice easily navigate the city. Load your vaporetto pass for at least four trips worth of fare to save time and make your trip to Venice stress free.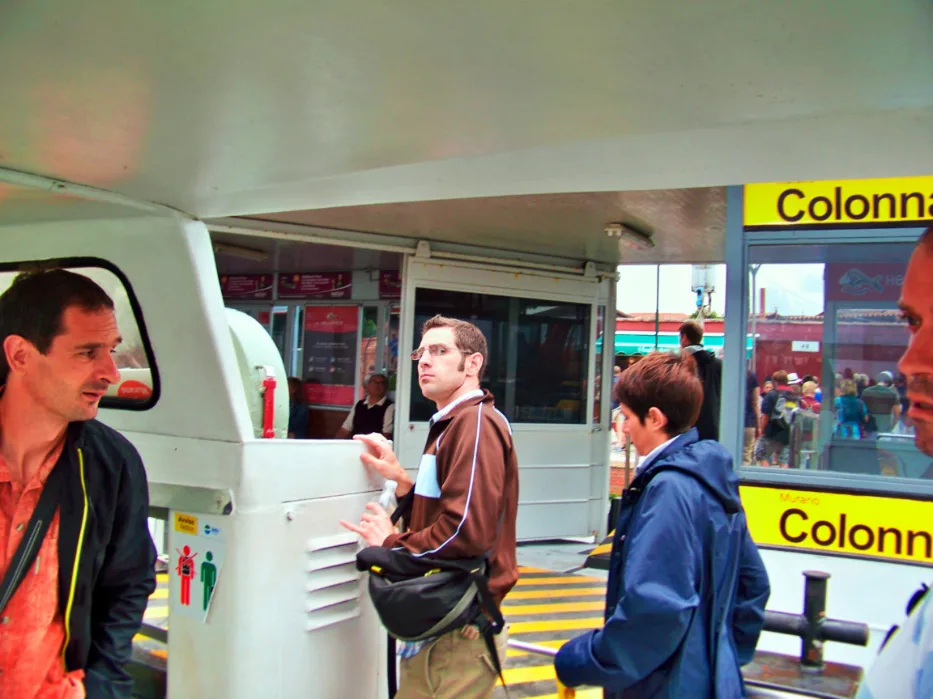 "But what about the gondolas? A trip to Venice isn't complete without a gondola ride." Yeah, go for it. There are hundreds of them and you can do a canal tour on one, sure, but it's going to cost you 80 Euros, and in certain areas, there are so many gondolas that it's a traffic jam.
If you really would like to do a gondola ride, do it very first thing in the morning and begin the ride on the east side of Venice where there are fewer tourist hanging out. Enjoying a quiet gondola ride is possible and would definitely make a trip to Venice complete.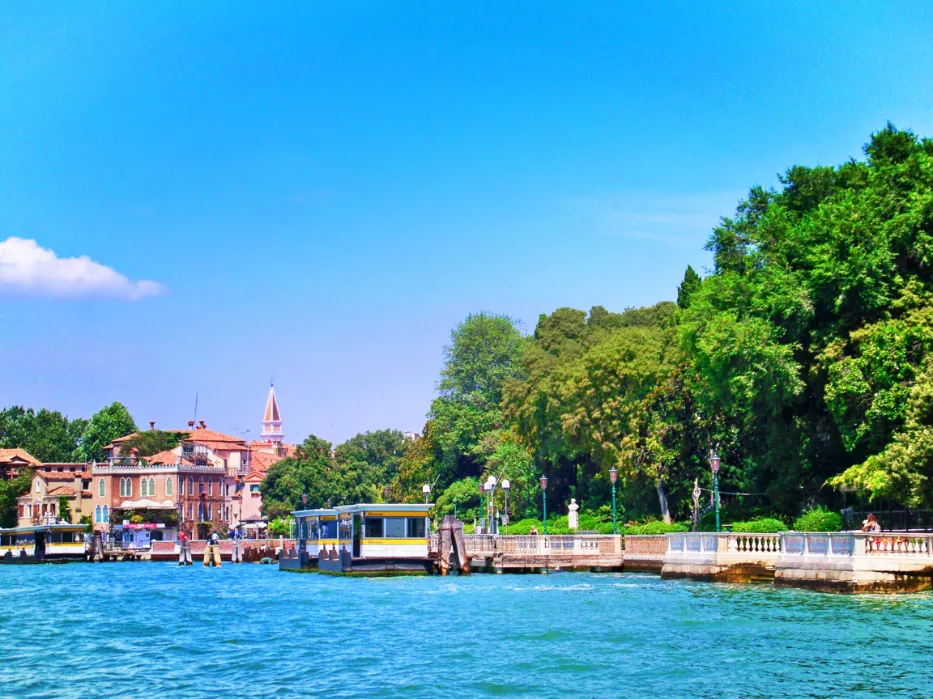 How to navigate the town of Venice
Once we were sufficiently lost in the back alleys of the city, we started noticing old, faded signs pointing us towards "RIALTO". Great! We could just follow the signs! Yeah, no. If there's one thing we learned about finding your way in Venice it's that you should just follow the people, not the signs or any map. Following the people takes you either to a tourist space or local gathering place. If you're following people with backpacks or matching shirts, you're going to find a landmark such as the Naval Academy. It's a beautiful sight to see and photograph, but you can't go in.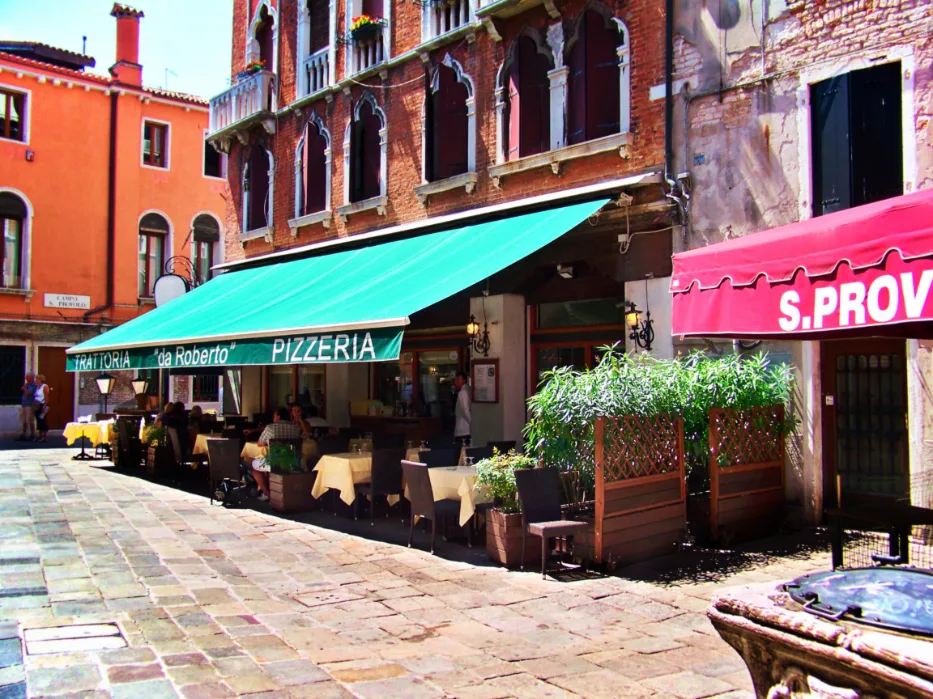 We followed a couple of local folks and landed in a market space full of Venetian treats and some of the best people watching in all of Europe. I have no clue what it was called; it wasn't on any map that I could see, but it was genuinely Venice and was clearly not a tourist spot. Finds like this make a trip to Venice unforgettable.
Tourist tip: the Rialto area, all around near the bridge, does have amazing markets to purchase snacks and more from, but if you're lost or on the other side of the city, ask for directions to a market place. You'll find what you need and probably a perfect café to sit in too. Basically, if you have a destination in the city you're looking for, if you get lost, that's fine, just enjoy where you are.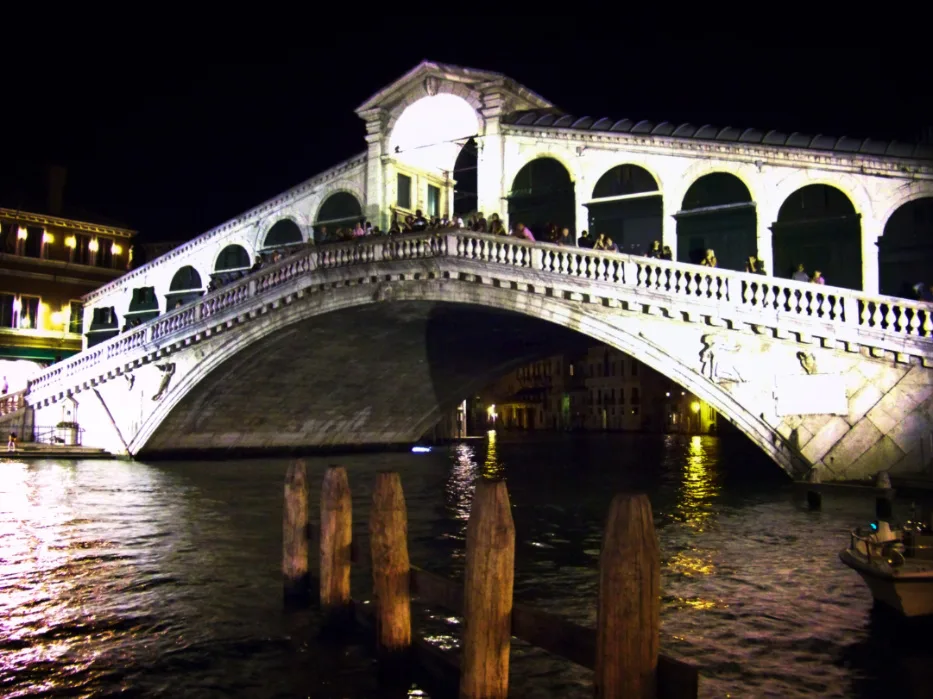 Where to Stay in Venice: Stress-free Lido Accommodations
We chose to stay here because the price was right and it seemed like a good way to experience the non-tourist side of Venice. We were right. Lido is the stress free Venice we needed. Once on the Lido, we saw that it had canals too and residents had boats too, but that the homes and buildings were no older than the 1920s it seemed. There were a few actual streets and there were a few cars here and there, but still not a crazy place. The Lido was a pleasant contrast to the actual city of Venice and we welcomed it.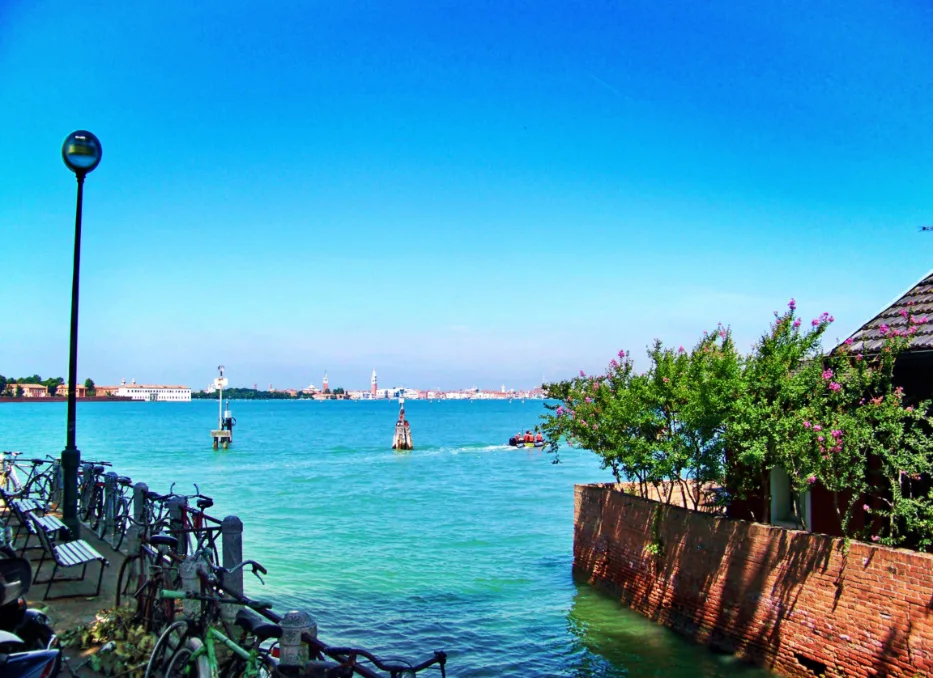 Note: staying on the Lido is not as convenient as being in a pensione in the city, but it afforded us extra spending money and provided easy access to a fantastic swimming beach on the Adriatic Sea.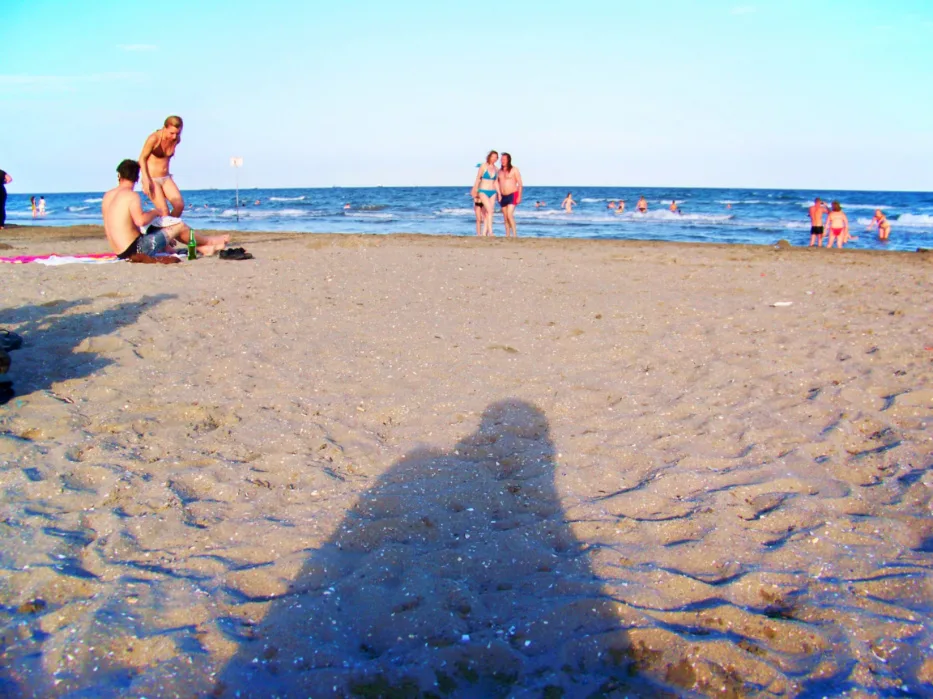 Responsible Places to Stay IN Venice
If you do choose to stay within the main part of the city of Venice, make a responsible lodging decision. What do I mean? With the rise of AirBNB and other rooming apps and programs, it's becoming more and more difficult for Venetians to actually still live in their city. This is the problem across the board in many Italian cities and towns, and even here in our hometown of St Augustine, Florida. What can you do to make life sustainable in places like Venice, Florence, Amalfi and beyond?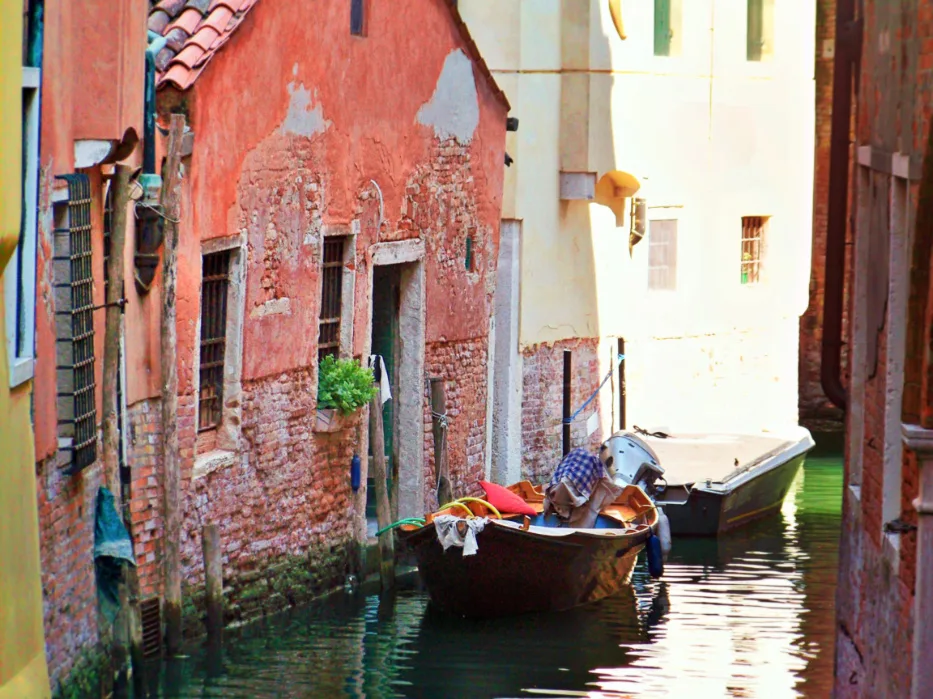 as charming as a cute studio in the middle of Venice is, book a hotel or pensione, not an AirBNB
stay just outside of the city of Venice where you can still have the feel, but not the impact
if you must book at AirBNB (or other such lodging) evaluate the saturation of the market and don't contribute to the problem if it's bad or looks like it's developing into an issue.
reach out to AirBNB or other platforms sharing your concerns to prompt corporate social responsibility re: preserving historic town life
For a more detailed take on the best options for where to stay IN Venice, check out this great article.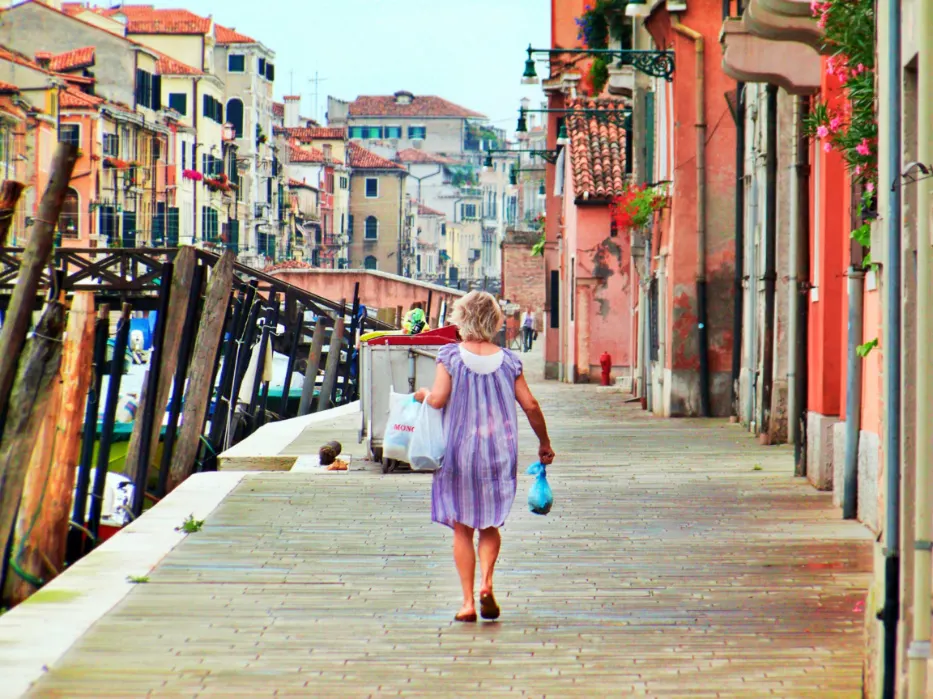 What to see on a trip to Venice
The tourist attractions of Venezia aren't as many as you'd think. There are the big ones of St. Mark's Square and the Doge's Palace, but the real attractions are the city "streets" themselves. While touring St Mark's and the Palace are required sites to visit, the rest of the city is best just being discovered on your trip to Venice. We learned this immediately upon exiting the Doge's Palace…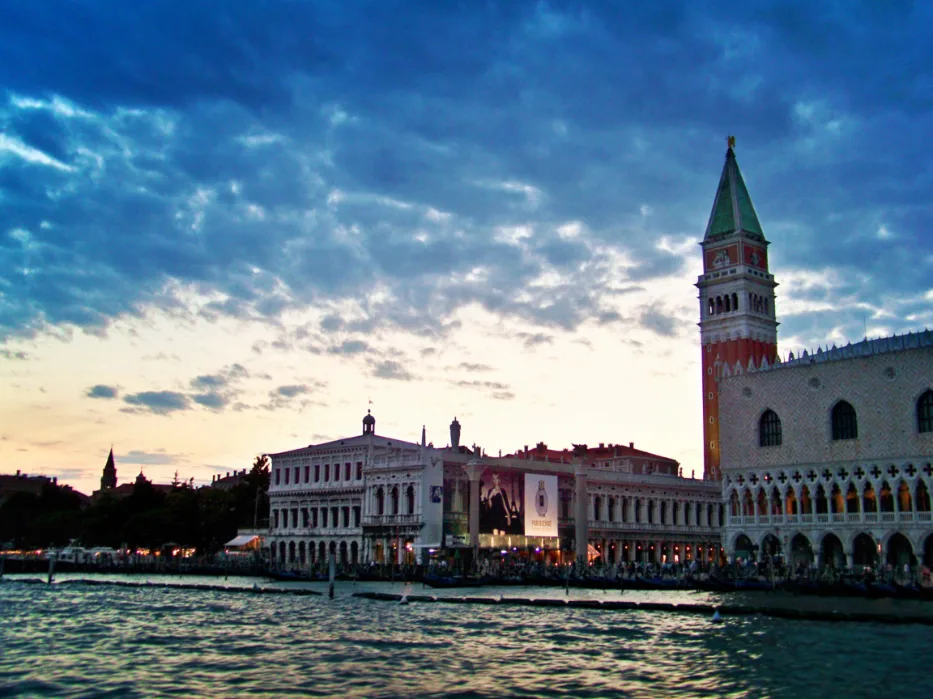 One wrong turn and we were in a maze of old women with laundry and steps that lead into green water. There is no shame in wandering the streets until you find snacks or a spot for wine. There's no shame in using poor Italian to connect with a local and get a recommendation. Wandering is encouraged, just don't invade somebody's front steps or courtyard. Getting off the beaten path in Venice is as easy as making a wrong turn and discovering something new. Maps only help so much…and it's not a lot.
Photo tip: save St Mark's Square and Cathedral for the late afternoon or evening. The light at that time is so very golden as it reflects off the gold leafing and windows of the square. Super early in the morning is also amazing, as it's just a few people setting up cafes for the day and pigeons. Perfect photos to capture on your trip to Venice.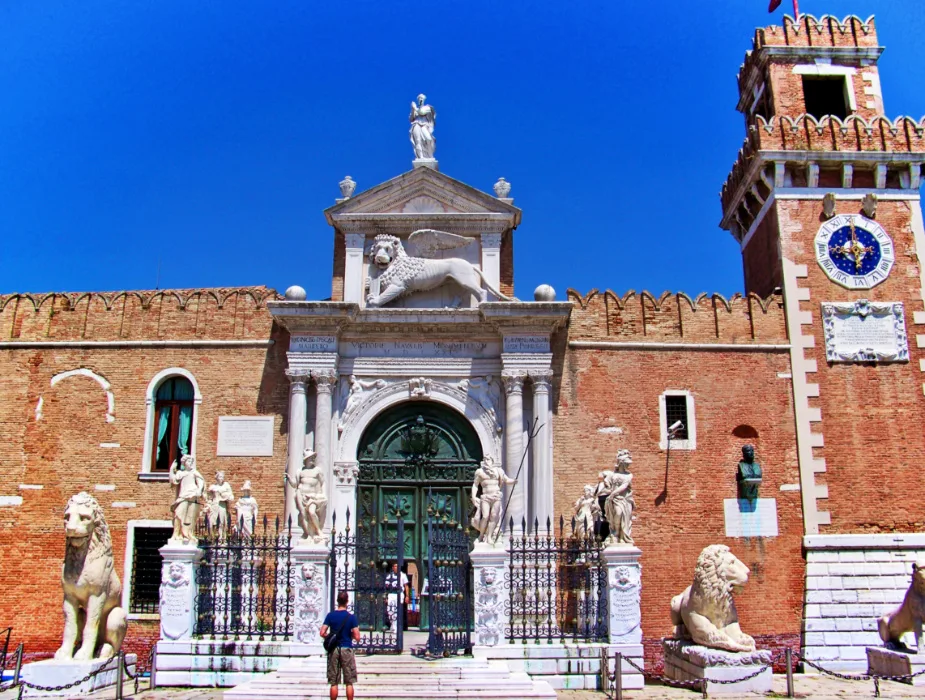 Top Sites in Venice rated
Everybody has an opinion, but I think the ratings below are very helpful as you plan your trip to Venice and the sites you really need to visit. We recommend equal parts planned stops and surprise discoveries, so let your trip to Venice have a little mystery to it.
the Grand Canal
Doge's Palace
St Mark's Square and Basilica
Rialto Bridge and Market
Academia Bridge
Murano and the Glass Blowers – Check out this great day trip around Murano, Burano and more
Lido Beach and the Adriatic
Giudecca and Sta Maria della Salute
The Guggenheim Museum (Giudecca)
Fenice Opera House
Depending on your tastes, you might not be into any of these awesome activities for your trip to Venice, but if you do need ideas, pick a few and enjoy!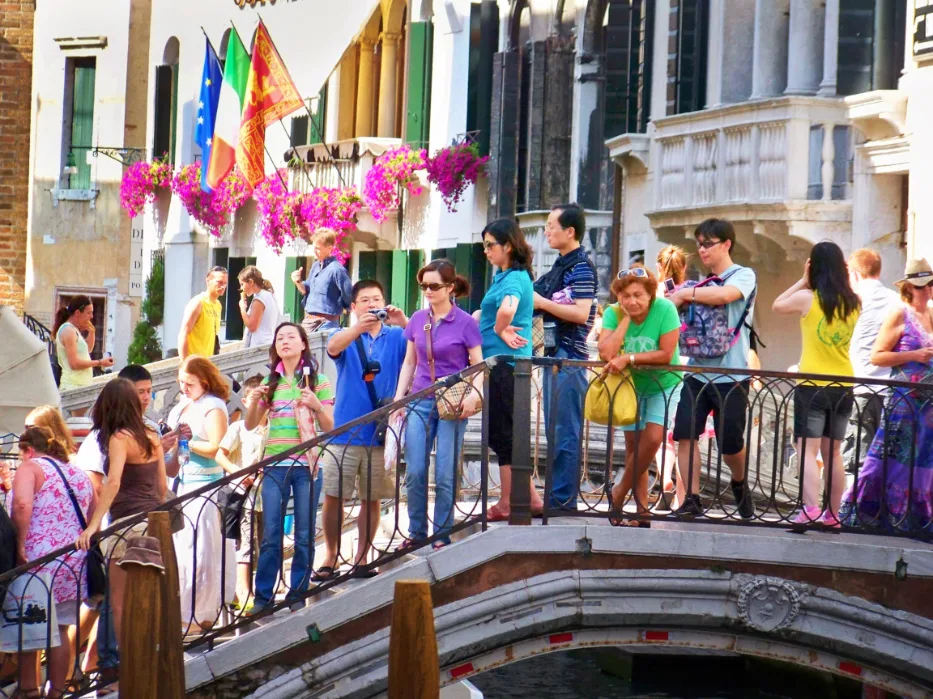 How to experience Venetian Glass
So much glass. It is impossible to visit Venice and not notice the amazing blown, twisted glass everywhere. Of course there are shops to purchase glass and trinkets, but why not venture to where it's made. Besides the main city area, there are several production islands close by. Murano is the home of the glass blowers. It too is all canals and colorful homes, but there aren't grand palazzos around every bend. It's the home of the workers and the feel is much different than the main city.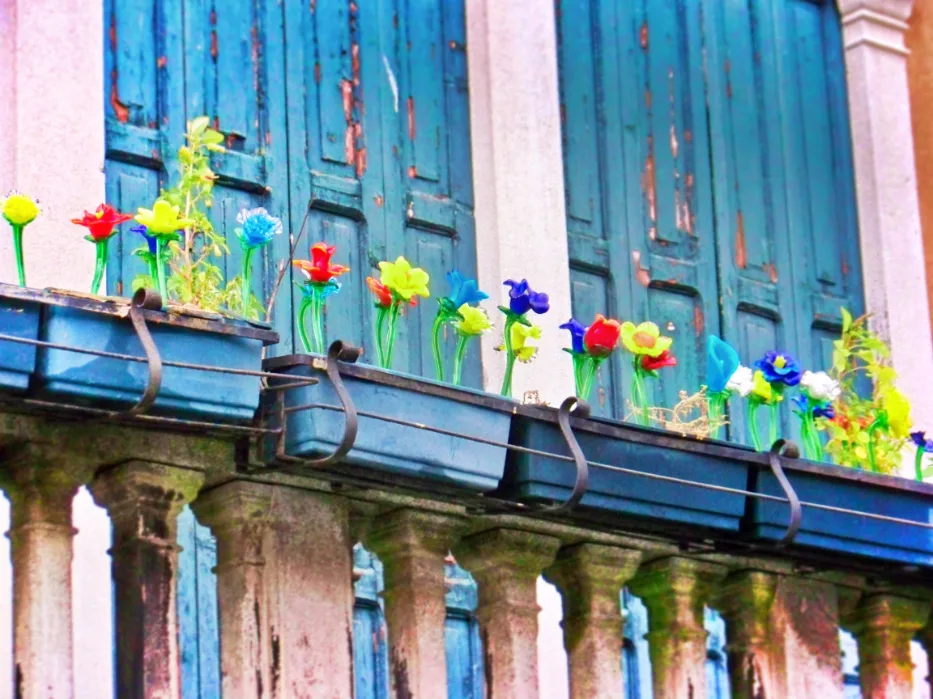 While here, you can watch glass blowers hard at work, you can try your hand at glass blowing (in a very controlled environment) and you can shop for anything glass you could imagine. The glass shops of Murano are very diverse, creating both artsy and practical pieces for all budgets. Is a trip to Venice complete without bringing home some sort of Venetian glass? FYI, most shops can help you ship your purchases too.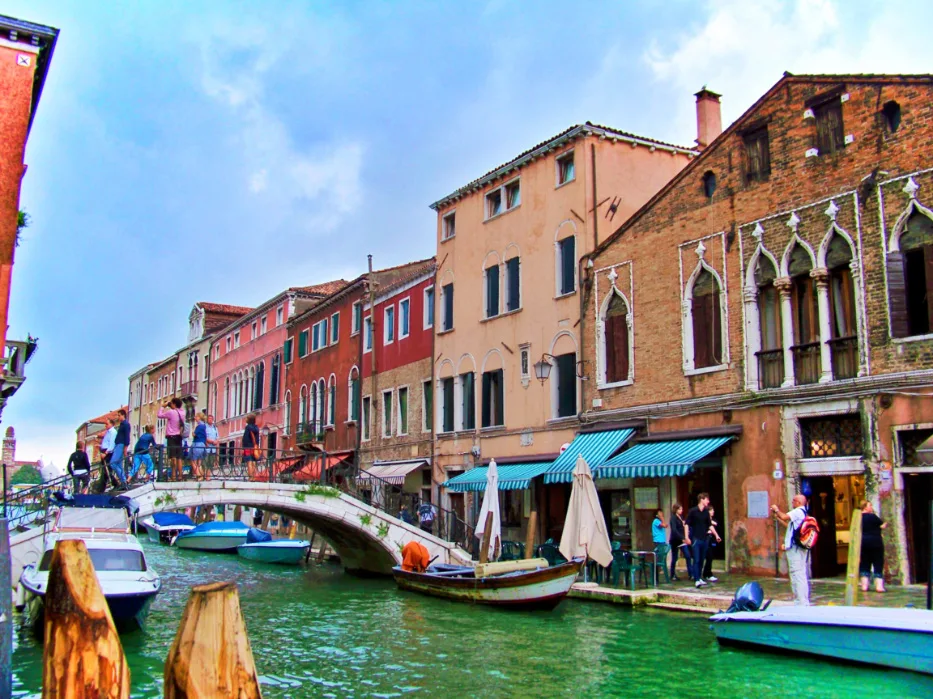 Other islands to add to your trip to Venice
As you know, the entire city of Venice is just a ton of islands, and then there are the outlying islands that are also just more clusters of islands. Checking out the other island communities is a must during your trip to Venice. The vaporetto system will take you to any of the Venetian isles you want to visit, so getting around is super easy.
As we said, Murano is the island of glass blowing. It's full of shops and workshops, it's got low key dining and lots of photo ops. It's a living, working island though, so just like Venice, be wise and courteous about visiting and exploring Murano.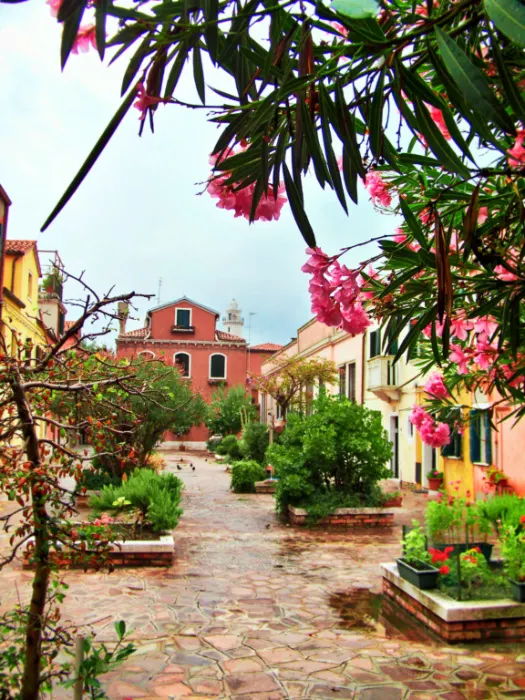 Burano is the island for lace and interesting handiwork. This is also the island community that you see all over Instagram. It's the most colorful of the Venetian islands and is much more our pace than Murano. If you have the chance to spend a half day on one of the outlying islands, make it Burano!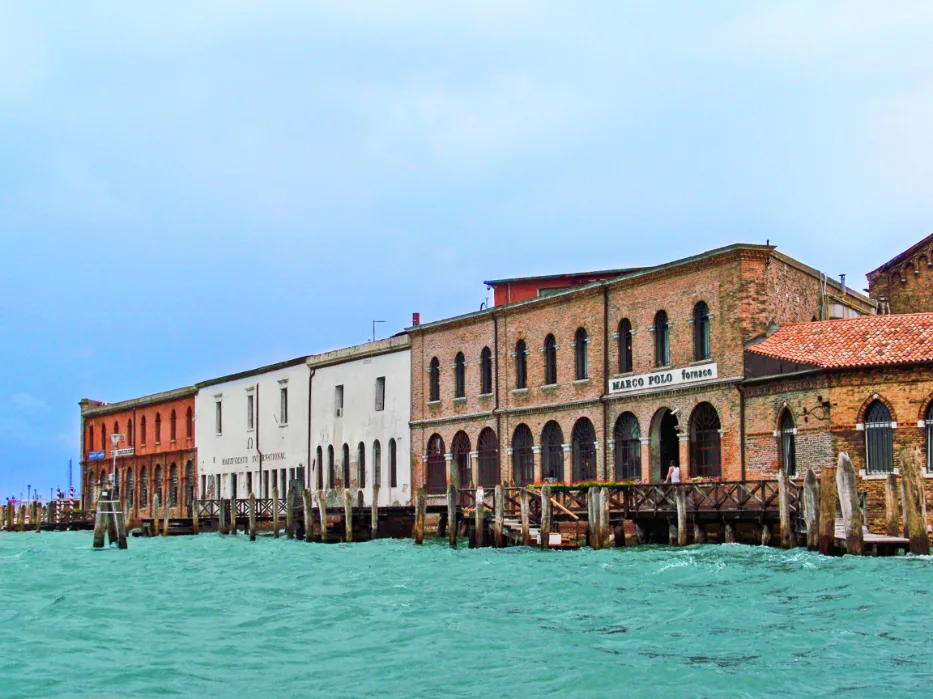 Torcello is the original island with the oldest architecture. There's not a ton going on there, but it has a beautiful old Byzantine cathedral and the fewest number of tourists. Again, it's a living, working island so be a respectful tourist. The last recommendation of the outlying islands to visit is Cimitero. It's amazing… and it a big cemetery. The cemetery island and provides fascinating sights and creepiness and truly the most unique photo ops for your trip to Venice.
To keep it on the cheap, remember that vaporettos are available to all of these islands and are much less expensive than booking private tour boats.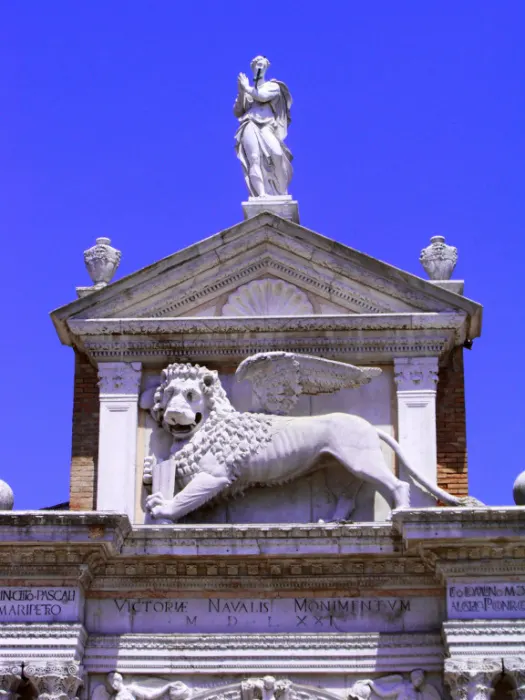 How to get to Venice
he final big thing we learned about planning and having a great stress free trip to Venice is that… it's the most inconveniently located place. True, it's a short train ride from a few northern Italian cities, but if you want to head Venice from anywhere else, the train isn't the way to go.
A train trip to Venice
Despite having Eurail passes, we purchased inexpensive flights back to Paris out of Marco Polo airport (VCE). It was worth it to see Venice from the sky and not have to spend 24 hours on a slow train to nowhere. If you're set on making it a train trip to Venice, the three best cities to travel from, meaning that they're the most direct, are Milan or Florence, Italy, or Ljubljana, Slovenia. All other routes have at least a stopover or a train change… Or a really long day's journey over the Alps.
We took a direct train with no stops from Florence (Santa Maria Novella Station). We saved money by having a second class Eurail pass and taking the regular train for all travel up to our Florence to Venice leg. We booked specific seats with our Eurail passes when we were at the station and that secured out spot on the fast train to Venice.
Booking tip: as soon as you know your departure date and relative itinerary and desired travel times, confirm your seats for your next train trip. There may be additional fees for faster trains or more direct routes, but your general Eurail pass will get you wherever you need to go, just maybe not as fast as you'd like. To maximize your time, pay the extra for the faster trains.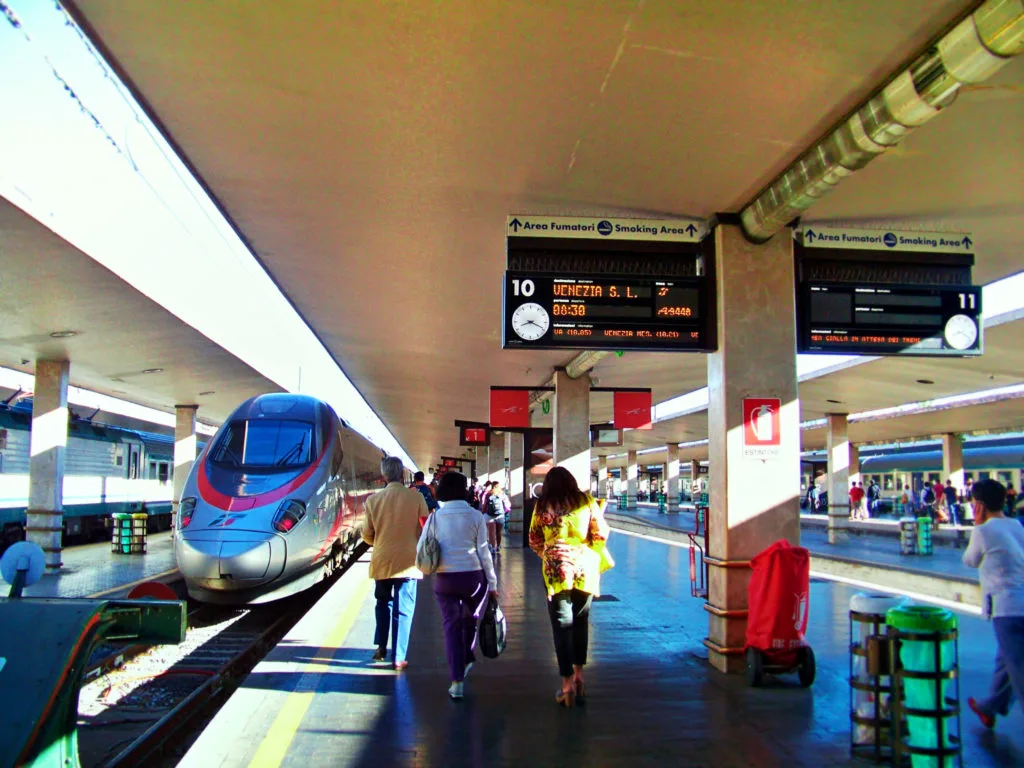 Flying to/from Venice Marco Polo Airport (VCE)
If you're really into having everything figured out in advance, book your flight into and out of VCE as soon as you know you will be taking a trip to Venice. If you know that you'll be visiting Venice but don't want to commit to set dates for everything on your Europe itinerary, you can actually wait until really close to your travel dates and spend the same, or even less sometimes, to book a flight.
Booking tip: EasyJet or Ryan Air provide affordable flights that are bookable same-day or in advance. Take advantage of these if you're pressed for time or budget. You can often get better deals booking regional air over advanced purchase partner airlines of your preferred domestic carriers.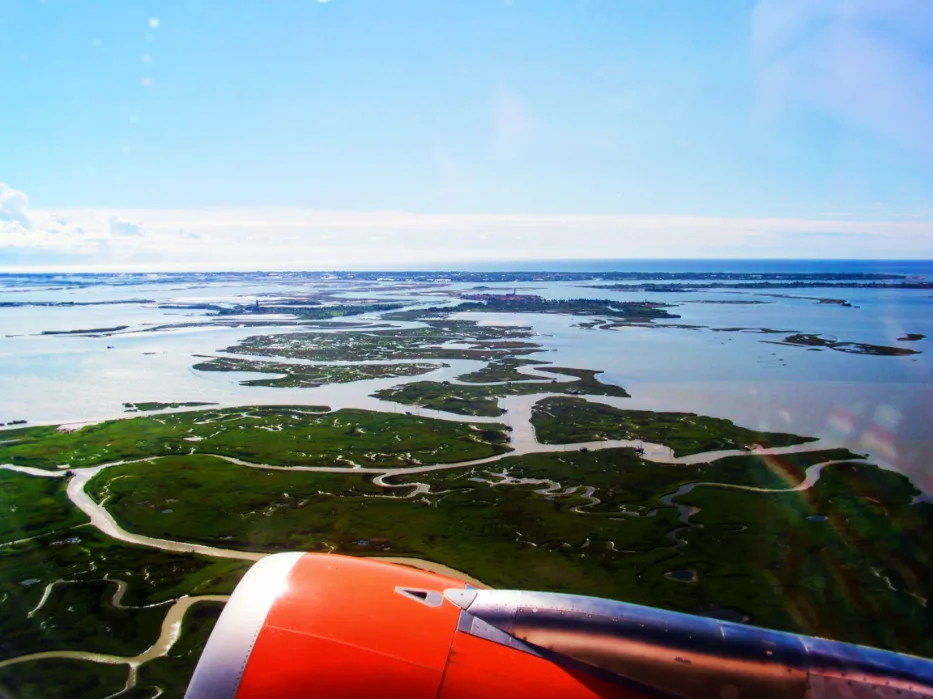 Flying to Venice from the USA is doable if that's where you want to start your trip to Italy or anywhere else. Delta, United and American all have direct flights from the States, but other airlines can get you there too, just with a connection somewhere. And here is where our best travel tips for a booking trip to Venice or anywhere happen:
Using mileage: if you earn and have the most miles on a domestic American airline, such as Alaska Airlines, you can book international tickets through their mileage partners. Flying into London or Frankfurt from nearly any major US city is a really easy mileage ticket to book. From there, you can book a short flight to your primary destination on the cheap, via EasyJet or something local. Huge savings on international travel! Check out our trip to Croatia to see the great stopovers that saved us hundreds of dollars.
Getting excited for a trip to Venice?
Before you venture down the Grand Canal, take some time to watch a movie or two that's set in Venice. Read some books that lead you to or through literary Venice. I'll keep my recommendations short:
Films to watch to inspire your trip to Venice
Summertime – perfect to inspire you to just wander and relax in Venice. She visits Venice on her own (the original female solo traveler) and explores the city, falling in love with it and its people… and there's more to the story, but it's great. One of my favorite classic movies.
Indiana Jones and the Last Crusade – true, only about 1/4 of the movie takes place in Venice, but it's great for getting you in the mood and scoping out the sites you'll want to visit. And you should let it serve to inspire you to dress all vintage for your trip to Venice.
The Tourist – watch it for the sights and mood, not the story line. The movie is fine and interesting enough, but really, seeing Venice portrayed with its moody weather and crumbling buildings is the reason to love the film.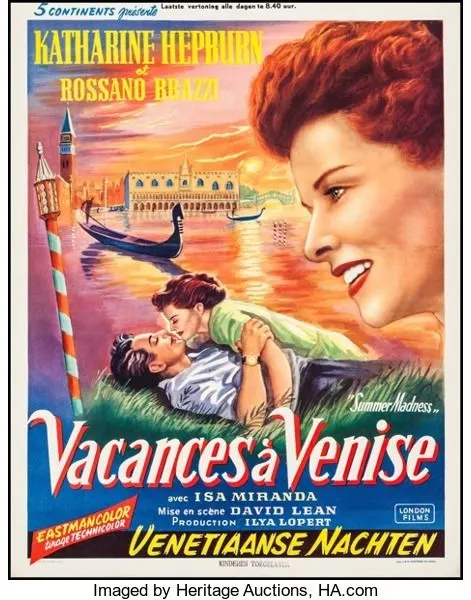 Books to read all about Venice
Venice has long been at the center or art and literature, so there is a ton of literature that mentions it or focuses on Venice. Below are our favorite books to get you excited for a trip to Venice. And check out this great list for even more reading all about Italy.
Venice: Lion City, Garry Wills – a non-fiction about the history of Venice in the 15th and 16th centuries. It's ideal for understanding the history of Venice and its place in world history.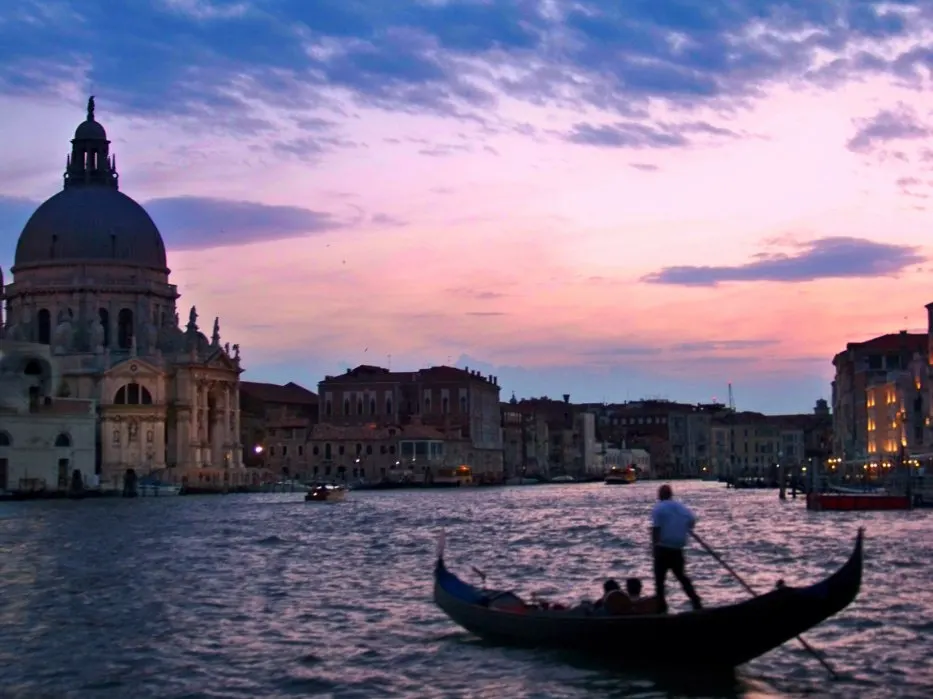 City of Falling Angels, John Berendt – a non-fiction written in a fictional style. It's captivating and makes you feel like you know the city like a good friend. The characters and way you read your way around the city is perfect for inspiring a trip to Venice! – This is actually my favorite book and I've read it several times. John Berendt also wrote Midnight in the Garden of Good and Evil, set in Savannah, Georgia.
Fun anecdote: the book centers around the Fenice Opera House, its demise and reconstruction. One night while walking through Venice, just wandering, we heard La Traviata echoing off every wall and alleyway. We followed the music until it led us to the Fenice. It was just as I imagined and completely sated my literary needs.
For more ideas to read before heading to Venice, check out Rick Steves' list of Venice books. He's a smart guy and the list is pretty comprehensive.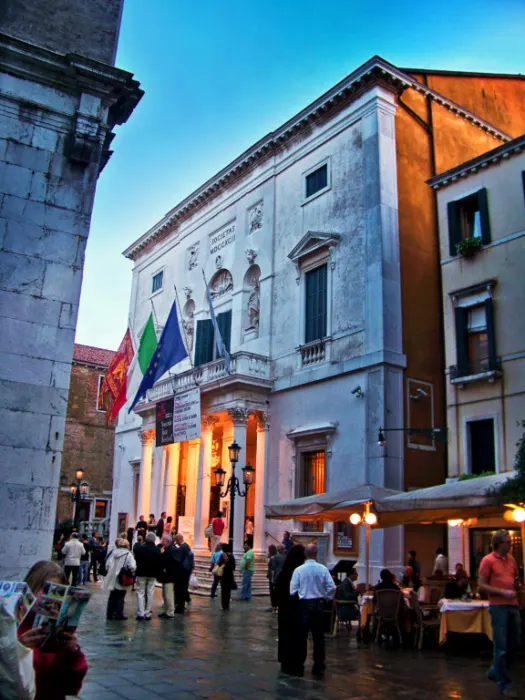 Do you have any more tips to making Venice more enjoyable and relaxing? Feel free to add them in comments or email to share!