It's finally time! We're in Europe and sailing through the Dalmatian Isles of Croatia! I kind of can't believe it.  Follow along as we explore Frankfurt, Germany on a long stopover, Split in Croatia before we set sail, seven different ports of call, Dubrovnik for our Game of Thrones fix and finally Amsterdam. Sailing Croatia is going to be amazing!
Even though we're supposed to have consistent internet over the next ten days, I feel like our updates are going to be spotty. We'll try to keep things updated though, so enjoy our Travel Journal of sailing Croatia and Beyond.
Day by Day Travel Journal of sailing Croatia and Touring Frankfurt and Amsterdam
We started our journey in Seattle, our home base. Due to schedules and flight availability, Chris and I flew separately to Europe. We flew via Thomas Cook Airlines / Condor Air and it wasn't bad. Flying coach is never exciting, particularly when you have a ten hour flight, but the flight crew onboard Condor Air was the friendliest and most attentive I've ever experienced.
How to book cheap flights with mileage and regional airlines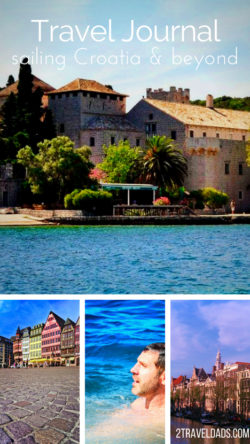 How did we afford our tickets to Croatia from Seattle? Because we each travel so much for work, we were able to book our flights using our Alaska Airlines mileage. To be sure that we could get the best deal without terrible flight schedules, we booked the following itineraries:
Rob – Seattle to Frankfurt (used Alaska Airlines miles) -> 24 hour stopover to explore Frankfurt (used IHG Rewards points for hotel) -> Frankfurt to Split (used Alaska Airlines miles) —> SAILING CROATIA Split to Dubrovnik —> Dubrovnik to Amsterdam (purchased cheap EasyJet ticket) -> 24 hour stopover to explore Amsterdam (used IHG Rewards points for hotel) -> Amsterdam to Seattle (used Alaska Airline miles)
Chris (flew out a day later) – Seattle to Frankfurt (used Alaska Airlines miles) -> Frankfurt to Split (purchased Croatia Air ticket to accommodate schedule, mileage didn't work properly here) —> SAILING CROATIA Split to Dubrovnik —> Dubrovnik to Frankfurt (purchased Croatia Air ticket) -> Frankfurt to Seattle (used Alaska Airline miles)
Seriously, we saved thousands of dollars by booking using miles and supplementing them with cheap regional airline tickets. This is how you can visit cool places like Croatia or Bulgaria without paying through the nose!
Stop 1:  exploring Frankfurt – colorful old world charm
After I landed in Frankfurt I hopped on the S-Bahn to get into the city. It was super easy and dropped me off at the main, old train station, Frankfurt Hauptbahnhof. You know, it reminded me of Gare du Lyon in Paris or the train station in Marseilles. It was full of shops and cafes and an incredible wrought iron atrium platform. Really cool first impression of Frankfurt.
I walked from there to my hotel for the night (remember, just a 24 hour stopover). I booked a night at the Holiday Inn Express using our IHG Rewards Club points, and luckily the location was perfect for my plan.  After taking a shower to wash off airplane germs, I headed out exploring. Ummm, while the S-Bahn was easy from the airport, in the city it was much more difficult for me and I ended up walking everywhere. My struggle came from getting on one train in the wrong direction and then getting on a train that changed routes and I didn't understand German so missed the call to get off the train, and then I was just done.
But I did make it to Römerberg! Römerberg is the Old Town area of Frankfurt. It's centered around the town square and includes a variety of colorful buildings set on narrow, cobblestone streets. It was exactly what I wanted to see on my short stay in Frankfurt. I also checked out the cathedral and wandered through alleyways, just loving the ever-present violin music and the smell of sausages.
Moving on from Römerberg I strolled along the Main (the river running through Frankfurt) and crossed the Eiserner Steg, which is the Frankfurt answer to Paris's Pont des Arts. So many locks and such a beautiful view of the city. Moving through museum row (but not actually visiting any of them 🙁 ) I headed to Sachsenhausen, which is another wonderfully old neighborhood. This was where I sought out my dinner.
The goal was sausages of every kind, but after not speaking German and the servers at Zum Gemalten Haus not speaking English, we settled on speaking Spanish together and the language gap ended up with me having an enormous corned ham steak served with loads of saur kraut and mustard. It was the most delicious mistake I've ever made. Go, Germany! You're winning me over with every minute!
The next morning started with non-stop thunder and lightning turning into a beautiful day. After a run through town and a quick bite, it's off to the airport. Next stop: Split, Croatia!!! Chris will meet me there (I can't wait to see him!)
PS: apparently we will never travel to/from Europe together… because we always go separately and if we do tour together, we fly separately. Good times.
Stop 2: touring Split, Croatia
Flying into Split was a bit too exciting for my taste. I mean, nothing quite like continuous hard banking to the left to get you excited to land. And then landing with a hard bounce that makes people scream and then cheer. Good times.
After landing and doing the easiest customs experience ever, I met up with my buddy Tom and we rode into town together. We both rented apartmans in Old Town Split, so we got to check out each other's accommodations. Both our places were cute, nicer than we could've expected, spacious and ideal for a week in Split, Croatia… but we were only there for one night.
Tom and I explored all of Old Town Split, from the hillside alleyways to the malecon style waterfront. We had beers in the tiniest town squares and gelato as we wandered through Diocletian's Palace. There was lots of prosciutto and wonderful Croatian rose. We climbed the bell tower of the cathedral and petted cats who stalked us as we walked. It was kind of amazing.  Eventually, Chris finally arrived in Split and I felt complete.
Before heading to Marina Kastela to hop on our sailboat for the week, we did a bit more exploring around Old Town Split. We climbed up through a neighborhood on the west side of town to get a view and landed at Cafe Vidilica. Coffee, Orangina and sweeping views of the Adriatric Sea. Gorgeous! We continued to climb until we were up beyond the old Jewish cemetery and made it to St Nicholas Church, built in 1219 A.D. A little more climbing and we were at the hilltop… surrounded by cats. Love Split!
Note: we really needed at least one or two more days in Split. Some of the best beaches in Split were just beyond our reach and we NEED to have some more Croatian beach days.
We easily found our captain, Cap'n Johnny, and first mate Jessica and got set up onboard. Our cabin was plenty spacious enough for Chris and I, and the other passengers were all good too. Having mentally prepared to have no space on the boat, we were all pleasantly surprised.  After some safety talk and a champagne toast… sorry, Croatian sparkling wine… we set sail for Brac!
Tip:  check out the company we're sailing with, the itineraries, and the boats here, Med Sailing Holidays.  Love them!
Stop 3: Milna on the Island of Brac
Any place where your first experience there is jumping off a boat is a good place to me. We dropped anchor just outside of the town of Milna to have a swim before perusing the town. The water here is perfect! It's warm, it's clean, and is it ever so salty. It felt great to finally be swimming and diving and splashing.
Making port in Milna was a great first sailing destination. A tiny town straight out of Game of Thrones, Milna is quite picturesque. There are cats everywhere (hello, it's Croatia) and lot's of quiet outdoor bars and restaurants for relaxing. The big find for us was Mille Naves, the tiniest and cutest winery ever and the only one in the area. Hidden through a nearly secret passage, the winery makes small batches of red wine, white wine, vinegar, olive oil, and soaps. The family has been the winemaker in the town for 365 years and has their skills down.
We met back up with the crew and the other passengers for a nice al fresco dinner just off the water. Gnocchi with steak and truffle sauce hit the spot and then it was off to the boat for relaxation and cribbage. Yeah, Chris and I love to bring our cribbage board when we travel, and like the old people we are, we like to quietly play crib while everybody else is out having a good time. It was so nice to have some "us" time.
The next morning we woke up around 8am (totally shocked how well we slept), made a little coffee and then headed out for a walk along the water. The other boat we're sailing with is a yoga sailing adventure, so we spied on them for a bit and then continued along the shore. As a little tribute to our friend Joanne (she led the Isla Holbox yoga retreat a few months ago) we stood in starfish on the shore while there was a sea star in the shallows below us.
PS: our friend Jo is leading a yoga sailing retreat with this same company in September. You should go!!!
Stops 4, 5 and 6: Hvar and a bunch more little islands
After leaving Milna and the Island of Brac we headed for the tiny islands near the larger Hvar. What awesome little spots! We first stopped at Jerolim, a cute little island with several coves… and each was quite clothing optional. We opted not. 😉 Between the coves there was a nice little island bar, lots of cats, and hillsides covered in rosemary. It was the perfect spot to go full nature and enjoy the sun!
From Jerolim we sailed around to our port for the night at Vinograndice Bay at Pakleni Otoci, also very close to Hvar. Lots of boats were moored there for the night and while we could've just chilled and swam and even eaten dinner there at the cove, the town of Hvar was an island away.
We took a speed boat water taxi from Vinograndice to Hvar (fifteen minutes) and then headed up through the maze of a town. Our goal: climb to the fortress overlooking Hvar. We did it. Fortress Fortica Spanjola is quite epic, including cannons, passageways, and a jail. Chris's big take-away from the jail area: "Even though they were in jail they had an amazing view." Always looking on the bright side, that one…
Wandering the streets of Hvar was really pleasant. It was much larger, louder and livelier than Milna, but still pretty cool. We made our way back to our sailboat and relaxed, playing cribbage and drinking wine… and then having one more nice skinny dip in the bay before going to bed. Ah, Croatia…
Stop 7: Vis – our favorite stop so far
After leaving the Hvar area we sailed off to the Island of Vis. OMG. I can't even begin to express how much we fell in love with this island. Initially we stopped in this small inlet for some swimming and jumping off the old submarine silo, and that was fun and refreshing. The real fun started though when we sailed around the point into the actual town of Vis.
More narrow cobblestone streets, of course, but also there was another fortress and there were churches, and cats, and so much good food.
Some of our group found a nice spot in town to relax and enjoy the afternoon and sunset, others went on an historical tour, but then Chris and I rented bikes for exploring. Best idea ever (thanks, Cap'n Johnny!) and the perfect way to experience the town. Besides riding through town and up to the fortress, St George, we also did some mountain biking in our quest for the perfect beach.
Warning:  once you've gotten to enjoy the freedom of swimming naked it's all you'll ever want to do.
We did find a nice area that we had to climb down to and had a nice twilight swim in the buff. Really, this trip is turning into both the most relaxing and most freeing experience we've ever had. And we're with such great people, both old friends and crew, and it's better than we could've ever expected or hoped.
Stop 8:  paddleboarding in Otok Scedro
If you're like us, you don't do a ton of stand up paddleboarding (SUP) but when you do, you love it. We pulled into the most beautiful, picturesque bay for an afternoon of SUP and a lunch on the water. While our Yoga Sailing Holidays buddy-boat was doing meditation and poses on paddle boards, we were splashing and exploring the shoreline.
It was an ideal stop for some great exercise on a long sailing day. Right now we're actually sailing to Korcula, the hometown of Marco Polo.  We'll send through another journal update after we explore.
Stop 9: Korcula – Marco Polo's neighborhood
Chris and I have divided opinions on Korcula. It's his favorite town we've been to so far, but I'm still in love with Vis. What made Korcula so cool was its city wall and structures and like built within it.
We started our explore by heading to one of the city wall turrets for drinks and to watch the sunset. It was gorgeous and we had an ideal view of the town of Korcula and the straight we sailing in on. From there we found dinner and it was everything Chris wanted it to be. His one goal with dining in Croatia was to experience black truffle in its purest, most intense form and he got to do that. Dining at Filippi on the city wall, we were able to score handmade fettuccine with a thick truffle sauce. Pretty amazing, I will say.
Some more exploring, some more gelato, and then we went off to bed on our boat. Something cool about sailing from port to port is having a hotel with you at all times. When we woke in the morning we did our showers and then sought out breakfast in town, even though Jessica (our hostess, was making some sort of tasty fritter. Croissants, coffee, Orangina and we were good to go. The rest of our time in Korcula was spent just wandering through the maze-like streets scoping out all of the busted Venetian lions everywhere (I don't think they enjoyed being under Venetian rule…).
Overall, Korcula was a beautiful town and one we would happily relocate to. Anybody know a good Croatian real estate agent?
Stop 10:  Polace and Mljet National Park
Even as we arrived we could tell that Polace was a sleepy town. We moored up next to Restaurant Sponga and plotted out our day. First thing we needed was coffee. Sure, we've had coffee on the boat, but we really  wanted iced coffee.
Tip: iced coffee in Europe doesn't mean the same thing as iced coffee in the USA. What was delivered to our table was Nescafe with sweet cream or milk and sugar. Oh, and three ice cubes.
How to order iced coffee in Croatia:  ask for two espresso shots and a cup FULL of ice. Pour it yourself. Done.
Once coffee was done we met up with our other Med Sailing Holidays friends and rented bikes.  Our destination: Mljet National Park. Located just over the hill from our port of Polace we rode 3.5 km down to the national park. What a beautiful place! Within the NP we found a vineyard, a series of brackish lagoons (they call them lakes) and a monastery. We missed the last boat to the monastery for the day so we just swam and looked for giant clams and sea cucumbers.
We rode back to our boat and joined up with more friends for a nice dinner in the marina. Chris finally got to have his black risotto he's been waiting for: squid ink with seafood. He loved it, but I will pass the next time it's offered to me.
Finishing our time in Polace, we had a great breakfast on board our boat, as made by Cap'n Johnny, and then we headed back to Mljet National Park for our boat out to the monastery on St Mary's Island. It was really beautiful and pretty interesting. Even though we couldn't tour the whole monastery (under renovation) it was really neat and had a gorgeous old (1100s) rustic chapel and grounds to tour. To finish we enjoyed some Karlovackos with a view and then a boat tour back. We had a rental car for the few hours, a stylish Fiat Punta, so returned it, hopped onto our boat and sailed away. Next stop is the port of Okuklje on the southeastern end of the same island.
Stop 11: Okuklje and our ideal quiet town
Polace was cute and Miljet National Park was beautiful, but Okuklje was ideal. With only a few little restaurants, a church on the hill and perfect coves for swimming, it couldn't have been more perfect for our last port of call prior to getting into Dubrovnik.
When we arrived we headed right for a hike so that we could get a view of the town before the sun was too low in the sky. We hiked to St Nicholas church high above the town and had sweeping view of the island of Miljet (yes, same island as the day before) and the rest of the Adriatic Sea.
We had a nice swim in a cove before heading back to the boat. There were giant clams, sea cucumbers, red sea stars and loads of fish. Chris even dove down and brought up a few sea urchin shells that we're going to try to bring back.
Know what else we got in Okuklje? We were able to try several types of grappa and liquers… so we bought a few. Wow, grappa is intense stuff. To end out the day we had a huge peka dinner with most of the other sailors. Peka is like a grand Croatian crock pot meal that's cooked on a fire and under a cast iron bell. We had lamb, potatoes, zucchini, egg plant and more. Delicious. And then we sat out and looked at the stars.
Before heading out on our last day of sailing, we had a wonderful poached egg breakfast and one more swim. We loved Okuklje and would return for a few chill days any time. Now, off to Dubrovnik!
Stop 12: Dubrovnik aka King's Landing
It's difficult to separate Dubrovnik from Game of Thrones, for sure. Between a lot of the tourist activities and shops being centered around GOT and having certain scenes from the show in our minds, every turn felt like wandering through King's Landing. There's so much more to Dubrovnik than this though!
We enjoyed the general wandering through the streets (much easier than in Split) and finding new and delicious pastries. I say pastries because those were our favorite finds, the best being the different types of burek. Burek is basically phyllo dough stuffed with any number of things, from beef to cheesy potatoes. Delish!
Our accommodations in Dubrovnik were found through booking.com. We stayed in the Old City, within the walls, just off the main drag, the Stradun. Our landlady was very kind and checked in on us to be sure we had everything we needed and then we checked in on her at the cafe she works at around the corner. Really, we felt so welcome. And the view from our room was awesome!
Our favorite sites and activities around Dubrovnik included strolling the maze of street, walking the full loop of the City Wall, visiting the Red Keep (aka _____ Fortress), going through the Rector's Palace and other museums, and then spending a day out on Lokrum Island.
Lokrum Island was really cool. It's over-run with peacocks and bunnies and there's lots of stuff to do. We hiked up to the old fortress in the middle of the island (awesome views!), visiting the ruins of the monastery, strolled through an olive grove, swam just off the island, and even enjoyed our favorite Croatian beer on draft: Pan Lager. Great activity to break away from the bustling city full of tourists.
And now, it's off to Amsterdam!