We love all things history and nature. And Mexico. Although we spend the most time in Baja California Sur there's something truly unique and wonderful about the Yucatan Peninsula and the state of Quintana Roo. In addition to the pristine waters, wildlife and cenotes, the magical attraction of the Yucatan is the concentration of Mayan ruins, and visiting the Coba Ruins is really a special experience, but you need to know how to visit.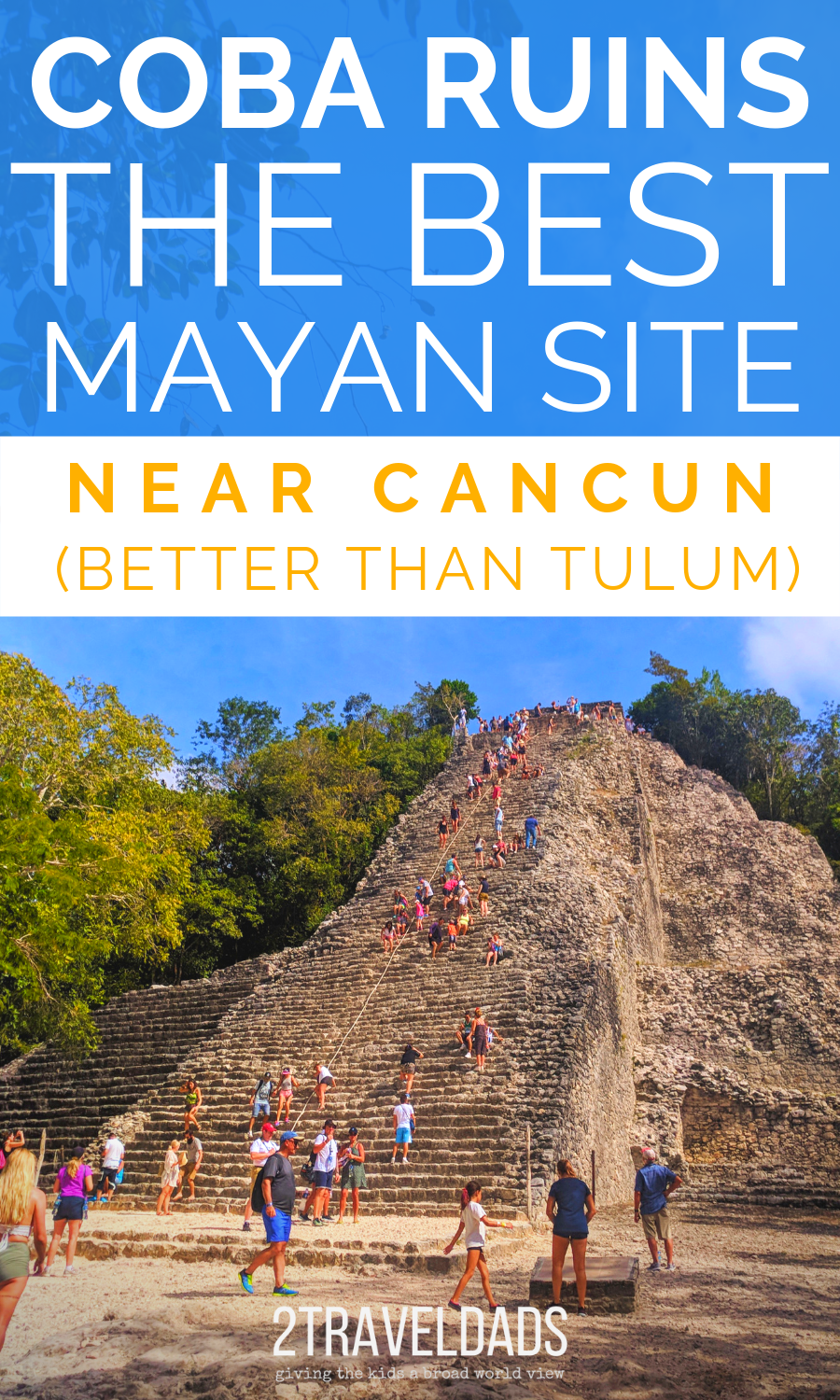 The Coba Ruins are by no means the most famous or most popular ruins on the Yucatan, but they are the most awesome to explore, especially the site called Nohoch Mul, the great pyramid. A visit to the Coba Ruins is a lesson in history, an incredible demonstration in nature, and an intense workout. Of the several sites I've visited for Mayan Ruins on the Yucatan, the Coba Ruins was, hands down, the best.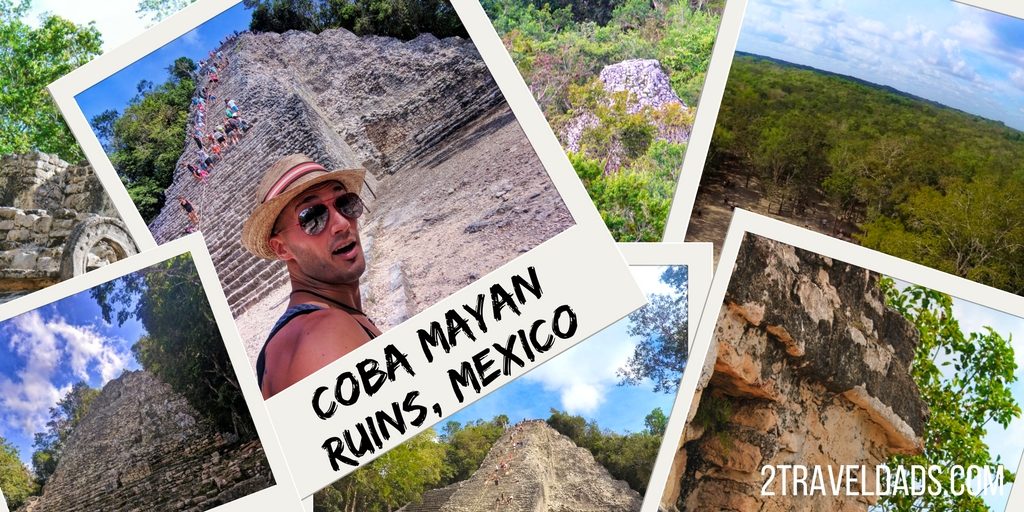 Which is better, Tulum or Coba?
More people visit Tulum which is much more famous than are found visiting the Coba Ruins, but it is not better. In terms of the quality of the site and access to the many ruins, both sites are very similar. Here's a breakdown of the differences:
| | |
| --- | --- |
| Coba Ruins | Tulum Archaeological Site |
| Small to medium crowds | Medium to large crowds |
| Jungle and shade | Exposed w/ ocean view |
| 2:10 travel from Cancun | 1:50 travel from Cancun |
| Loved climbing the great pyramid | Enjoyed sitting on a bench with the turquoise waters, but was never alone |
Ultimately I enjoyed the ruins at Coba much more than visiting Tulum. The remote location allowed for exploring more off the beaten path areas and there were fewer people overall. I also appreciated how undeveloped the area around Coba is. Yes, it's still set up to handle a good number of tourists, but it's not crazy like Tulum.
I think that between the experience at the actual site and the addition sites/natural attractions along the way, Coba is a better use of time than Tulum.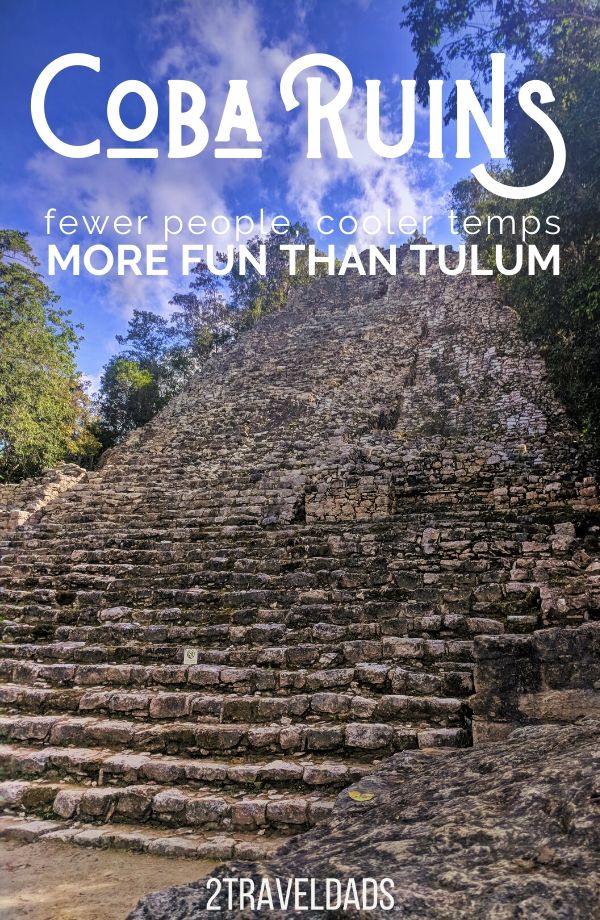 How to get to the Coba Ruins
Most people visiting the Yucatan Peninsula arrive either via a flight into Cancun (CUN) or via a cruise ship. That's how I first visited Quintana Roo, was via the Royal Caribbean Oasis of the Seas. Exploring on my own afforded me much more time to break away from the tourist areas and led me to the best off the beaten path Mayan Ruins on the Yucatan: the Coba Ruins. This is what Mexico is all about.
Nearly two hours from Cancun or an hour from Tulum, visiting the Coba Ruins takes you quite a bit off the beaten path.  They are closer to the town of Valladolid than any other destination… but then Valladolid isn't close to anything. West of Valladolid is Mérida and the Gulf of Mexico, but to the south and north isn't too much else.  I made my visit to the Coba Ruins prior to catching the ferry nearly three hours away for Isla Holbox (check out the Yoga Retreat I did on Holbox!).
Tip: I rented a car from Alamo for my road trip around the Yucatan, but if that's not your style, organized tours are available out of Tulum, Playa del Carmen or Cancun.  We prefer Olympus Tours for our group excursions when in Mexico, but there are lots of options.
For information on booking a tour to Coba Ruins, privately or with a group, CLICK HERE.
Renting a car in Mexico
A few quick notes about renting a car in Mexico, which you probably want to do if you're visiting the Coba ruins or doing any other sort of off the beaten path exploring:
you DO need to get the additional insurance that will be presented to you when you get your car
you DO need to be sure that you've got REALISTIC coverage but
you DON'T need to get the most expensive coverage offered to you unless you know that you're going to be a disaster on the open road.
If you've pre-booked your rental car online, even if you've already selected insurance, it's very unlikely that what you've pre-paid/selected will cover your actual rental needs based on Mexican law. We recommend erroring on the side of caution and being more covered than not. Yes, your credit card provides a level of coverage, as does your own insurance at home (potentially) but you STILL NEED Mexican insurance.
Short Vlog of visiting Coba, Mexico
Check out this short video for a quick view of the Coba ruins and to get some easy tips for how to visit. After you watch, read the rest of the article for more information. 🙂
Visiting Coba Ruins Archaeological Park
The first impressions of the the Coba Ruins are by no means epic.  You arrive in a parking lot which costs a few pesos to park in, you're faced with maybe doing a zip line before or after your visit to the ruins, there are a handful or artisan stands for purchasing Mexican handicrafts, there's a convenience store to buy some water and Takis… and then there's the entry to the park. Don't get too distracted before you're through the entry plaza.
Tip:  if you want, there are plenty of guides, approved by the Archaeological Park, who can take you to several of the sites within the park. You can pay somebody to tell you about everything if you're interested, or you can explore on your own.
The Coba Ruins themselves are actually epic in the "OMG, this place is old and kinda creepy" sort of way, but not in the towering magical pyramids sort of way you might think… until you get to the great pyramid (read below). The Coba Ruins are very scattered and the Archaeological Park is actually really big. It's very helpful to understand HOW to visit Coba before you start exploring the park.
Cost for Entry to the Coba Ruins
Like with Tulum or El Rey, the cost for Coba is minimal and totally worth it. Here's the breakdown for costs at Coba, from tickets to transport:
Item / fare
Cost

(as of Feb 2020)

Entry fee per person

75 Pesos 

Parking near entrance

50 Pesos

Bike rental

50 Pesos

Guided Bicitaxi

100 Pesos (+/-)
These prices are of course subject to change, but in general, you should expect to see these or something very similar. Prices in USD will fluctuate more, so we recommend having plenty of Pesos to make everything easier and more consistent.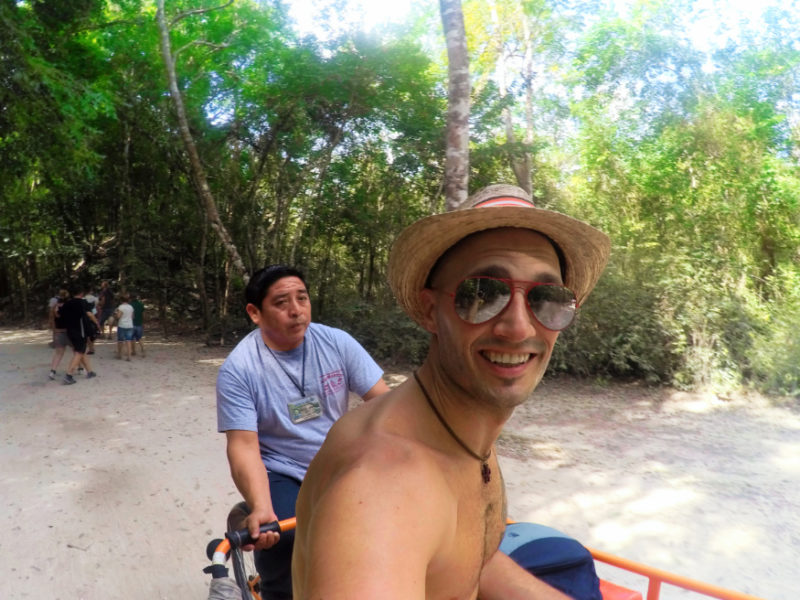 Top sights to see at Coba Ruins
You could spend a whole day checking out each dig site and accessible pyramid, and just wandering through the pathways and tunnels, but you don't need to necessarily.  The minor pyramids are really cool and have some unique characteristics to appreciate. From gravestones to calendar pieces, there are several excavated displays throughout the park, specifically around the smaller pyramids, that are pretty fascinating.
The ball courts are also fun. You can climb some of the staircases built into the ball courts, but cannot access all parts.  Wait. Ball courts? Yep! The ancient Mayans had some awesome sports that required ball courts and sporting goods, for realz. Think Zoo-Zither Car- Zay (that's that roller skate kind of Lacrosse and Croquet) from Dr. Suess. Actually, today it's called the Mesoamerican Ballgame.
Minor sites with Coba Ruins
You'll find a variety of sights within the Coba archaeological park. When you first enter the park you'll get to see an impressive, yet small, pyramid surrounded by more structures and even tunnels you can go through. As you continue on, there are more small pyramids, mounds that haven't been uncovered, and jungle to navigate through. There are more of the same sized pyramids like you first see near the entrance deeper into the park. Depending on how much time you want to spend exploring, you can check out each one, including the surrounding re-creations of work areas and ceremonial displays.
Note:  since Coba is an active archaeological dig site, any of the ruins could be close to tourists on any given day. The grounds are expansive, so if you cannot access the smaller pyramids or courts, just move on. There is plenty to see.
Tip:  arrive as early in the day as you can. Although the Coba Ruins are rather of off the beaten path, they still attract a lot of visitors later in the day.  Also, the temperature early on will make it easier to enjoy the sights.

Tip 2:  be sure you get and use the map provided at the ticket window. This will help you plan your route around the park as well as give you perspective about time and distances.
IDEA for how to visit Coba:  do a full day excursion with a tour guide that includes the Coba site as well as other Yucatan adventures!
The Great Pyramid of the Coba Ruins: Nohoch Mul
This is what brought me to Coba in the first place. A friend had recommended Coba because there is a very tall pyramid that you can actually climb. I didn't even know how to plan a visit on my own when I first heard about being able to climb an ancient Mayan pyramid, but I had to figure it out. I built out my full Yucatan road trip plan around getting to climb the pyramid and had to allot enough time for it.  Thank goodness I researched and mapped out my full itinerary on Google maps, because it made it so I had enough time.
Tip:  to ensure enough time to explore the full Coba Ruins site, including climbing the pyramid, map out everything you want to check out in the middle of the Yucatan and design a full day around it. You can actually do the Coba ruins, a few cenotes, AND Valladolid in one day if you're really staying on schedule.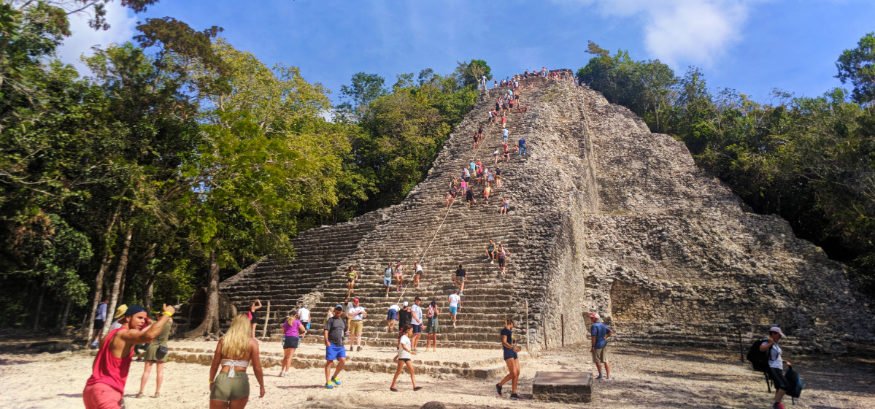 Getting to the great pyramid was kind of a shock/surprise to me, even after researching how to visit Coba. It was at the very end of long winding pathways, about 1.5 miles in (seemed longer), but it was awesome. Towering above the jungle of Coba, the Nohoch Mul pyramid rises to 137 feet tall (42 meters). You may scale it on one side, but it's quite the workout. The stairs are steep and narrow and there's no great spot to stop for a break on the way up.  There is a thick rope you can hold onto in the center of the pathway up, but it's just as easy to climb unassisted with caution.
Once at the top, the view is striking: jungle for as far as the eye can see.  But what's that? What are all of those small green hills? That's right! All around the Coba Ruins are countless other archaeological sites that haven't even been uncovered yet! Hundreds more pyramids, courtyards, structures and unknown history is waiting to be explored, but it's visible from the top of the Great Pyramid, Nohoc Mul.
Tip:  be so extra careful taking pictures or selfies when you're climbing or descending the Great Pyramid. It's hot out, you might be a bit dizzy, and the steps are very narrow.  Don't fall and injure yourself or other travelers.
Getting around the Coba Ruins archaeological park
You've got three options when it comes to getting yourself around the Coba Ruins. Whaattt?? Yeah, believe me, this site is much large than you think.  Options for getting from the entrance of the national park to the great pyramid at the end include:
Walking/hiking – there is a wide path with many sights to see along the way, but it's FAR
Rent a bike – once inside the Coba Ruins Archaeological Zone there are bike rentals. The paths are flat and clear so riding is actually a good and time sensitive option for getting from pyramid to pyramid
Hire a bicitaxi – for a kind of amazing deal, you can hire a bicitaxi to take you from the entrance (or anywhere inside the park) to the Great Pyramid and back again. It's about $10 USD (75 pesos as of Feb 2018) and totally worth it. Bicitaxi can carry two passengers.
Whichever method you choose don't forget to bring plenty of water and a snack. There are no vending services within the park and you'll be thirsty, especially when you climb the Great Pyramid… The most impressive site is the great pyramid, for sure: Nohoch Mul. Gosh, the Coba Ruins are so cool. Love it there!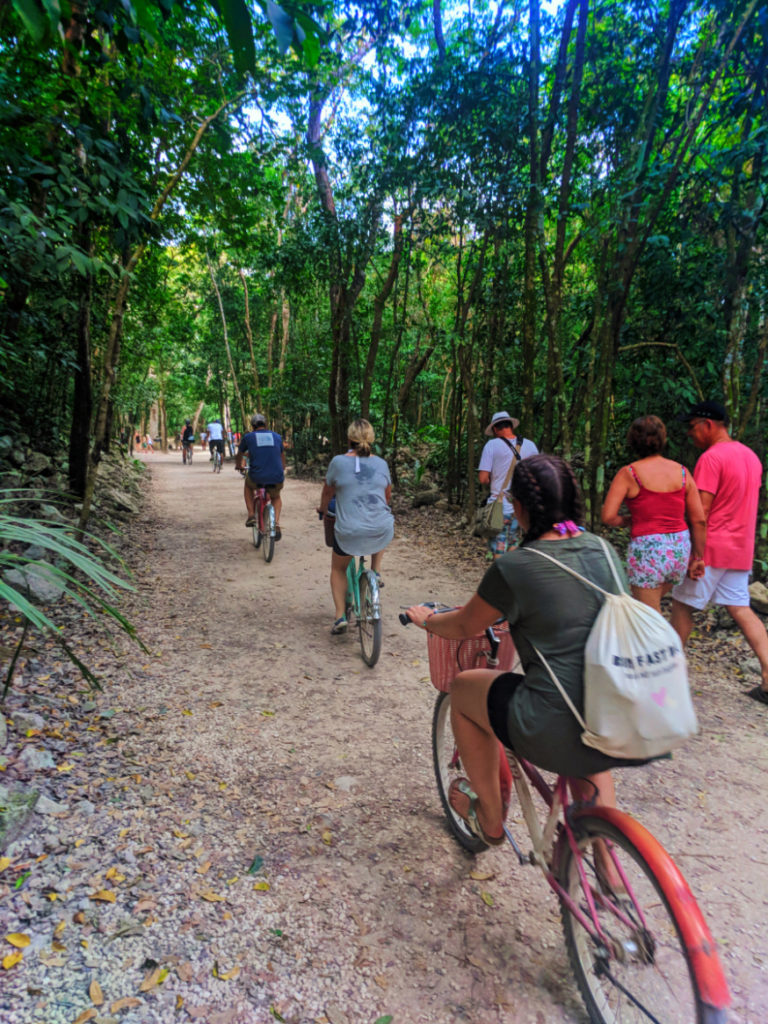 Other activities near Coba
Did somebody say cenotes? The Yucatan is full of cenotes (sinkhole caves) for swimming and having adventures in. Directly around the Coba Ruins are four or five options if cenotes are your thing. Some have zip lines into them and some are very small and hidden in the jungle. Before you stop at any, do your research or ask the person manning the entrance for a preview.
Note: cenotes are usually on privately owned land and there is always a fee for visiting them for any amount of time. Do one or two, but you don't need to visit each one. You'll go broke visiting EVERY cenote on the Yucatan.
Another great spot to visit if you've come all of the way to Coba is the town of Valladolid. It's about twenty-five minutes from the Coba Ruins and is still relatively untouched when it comes to tourists. The town is very colorful and very walkable. In the middle of Valladolid there's actually an enormous cenote that's perfect for jumping into. It's not the best with little kids because of the high jump-offs, but it's really cool to check out with its stalactites and awesome bat population. Also, the town of Valladolid is FULL of Volkswagons. It's the VW Beetle destination you've been looking for.
Check out our Complete Yucatan Road Trip plan for more ideas!
Aren't you totally ready to go visit the Coba Ruins now? Even though this is a lot of information and pictures, there's much more to explore and experience than what's shared here.  If you have any questions or want to share any tips with us or our readers, leave us a comment or send us a note!
Don't forget to pin this for you own travel planning for the Yucatan. The Coba Ruins aren't to be missed…so don't miss them!