When you say Baja California, I think most people are instantly going to think "Off-roading and military car inspections…"  Well, yeah, that's totally possible and I'm sure you'll come across that, but we've had some pretty incredible Baja road trips.  Doing a road trip through Baja California is a really fun and interesting option for either family travel or adventurous adults.  A drive through northern Baja is all about the rugged coast and beautiful valleys, and a Baja California Sur road trip gives you picturesque towns and amazing snorkeling experiences.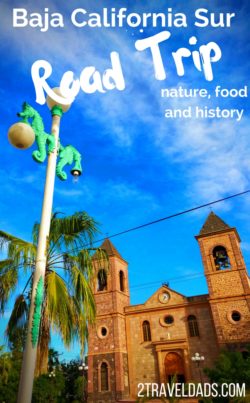 We've got two Baja road trips that we're going to recommend.  Each part of the Baja Peninsula is so different that you're guaranteed totally different experiences.  We'll start with a Baja California Sur road trip for now and you'll see how cool it is!
Renting a car in Mexico
No matter where your Baja California Sur road trip is going to take you you're going to need your own vehicle. This is actually, for me, the most stressful part about going on vacation and wanting to explore the Baja.  Just the act of getting the rental car. When you look online you'll see rental cars for $2 a day or $5 a day, which seems like such a great deal. Once you go to pick up your car no matter what the reservation is that you've made and the insurance you've selected online, the price of all that will be completely different… and so stands the one tricky part of our Baja California Sur road trip.
Example:   We recently rented a car in Cabo San Lucas and we're only planning to have it for 2 days. We found it for $11 a day and selected the insurance that most appropriately fit our needs. Once I got there to pick it up I had to choose the type of car I wanted and then select the type of insurance I wanted which they required to be purchased through the rental agency no matter what you have done online. $11 a day quickly turned into $65 a day. And it's not because I wasn't savvy; it's because that's just how it is no matter what you've pre-arranged or think that you have set up.
Tip:   The best way to get a good deal on a rental car is to tell the agent what your budget is and know that you will be spending anywhere from 15 to 20 USD per day on insurance in addition to the daily rental costs. Do you really need that big fancy car or can you get away with the teeny tiny Chevy-something-rather?.. and it's actually called a Chevy, not a Chevrolet.
Also, know that you should keep your tourist card with you at all times just in case you are stopped and that you should truly follow all posted road signs. Even though a Baja California Sur road trip sounds like a blast and a way to go have a lawless adventure, that's not the case. Follow the speed limit signs even if they seem silly and remember, all of the speed limits are in kilometers per hour (KPH) not miles per hour (MPH).
Starting point:  San Jose del Cabo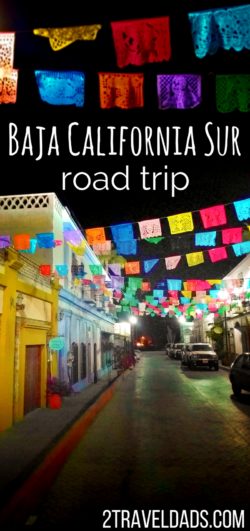 San Jose del Cabo (airport code SJD) is where you will be flying into to start your Baja California Sur road trip. This is a beautiful place to begin because San Jose del Cabo has an amazing collection of beaches, Old Town, resorts if you want to be fancy, and the most beautiful estuary. Even though we usually stay in Cabo San Lucas when we're touring we always make sure that our Baja California Sur road trip takes us into San Jose del Cabo for at least a day or two. It's a great place to visit or to make as a home base if you are only wanting to do day trips around instead of a circular road trip.
The main square of Old Town San Jose del Cabo is beautiful and it's built up perfectly around it for tourists that DON'T want to experience touristy Mexico. There are plenty of artisan shops, galleries, and very down-to-earth Mexican restaurants that will give you that perfect Mexican/Baja feel. Every time we go there we stop into this one furniture store that we would love to ship everything back from because the craftsmanship is so solid and each piece is so beautiful.
Tip:   If you want to buy any large items in Mexico, such as a piece of furniture or art, the  shopkeepers or furniture makers will usually work with you to provide surprisingly inexpensive shipping options. It might take a few weeks to get your piece but you'll be able to bring a beautiful piece of Mexican art home.
The Mission in San Jose del Cabo is a really beautiful one. It's a very active church so you'll need to be extra sensitive to activities at the church but you're welcome to go in and explore as well as photograph within reason (and withing respectful bounds).
Our other favorite activity in SJD: the estuary in San Jose del Cabo is a really unique stop on your Baja California Sur road trip. The lush Mexican jungle that surrounds the river is teeming with life. From the cattle that are wandering through the woods and surrounding fields to tropical birds and pelicans, there's always something to look at. The Estuary Trail is a kid-friendly trail and a stroller does great on it.  Don't miss it.
Tip:  be sure to load on your sunblock or carry an umbrella because there's not much break from the sun along the trail and you'll probably want to chill by the river and bird watch for a while.

Tip 2:  bug spray.  That's all.
Other wonderful things to do in San Jose del Cabo are all centered around the beach. Not far from the many beach access points you'll find the botanical gardens which have hundreds of varieties of cactus as well as many of the resorts of the town.  And if you're looking for an off-the-beaten-path beach, with a car you can access the East Cape beaches, which are wonderfully secluded and have the coolest tidepools around. For more ideas about snorkeling and fun beaches in the area check out our post on snorkel destinations in Baja California Sur (and it has some maps!).
Stop 2:  Cabo San Lucas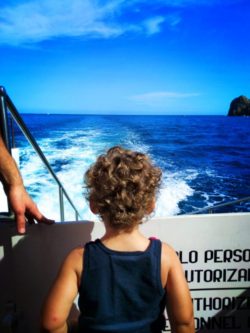 Cabo San Lucas. Of course this is part of the Baja California Sur road trip plan. Famed for being a spring break destination it is so much more than that. Cabo San Lucas is a place to have amazing food and really get in touch with your inner mermaid or merman. Between San Jose del Cabo and Cabo San Lucas there are at least three great beaches for swimming and snorkeling, so you might as well take some time in your itinerary to stop here (maybe even a whole week). This is where we normally stay when we are traveling around Baja California Sur road trip or not.
We love taking advantage of the timeshare we purchased 11 years ago and never miss the chance to explore further within both the Old Town tourist section and up into the neighborhoods and surrounding areas of Cabo San Lucas. It may seem like the only places to stay in Cabo are going to be timeshare properties but there are lots of cute little hotels. Before timeshares took off there were adorable, small boutiques all around the old town area. Siesta Suites and Los Milagros hotels are two adorable and ideal spots to spend a few days in Cabo San Lucas, or there is the Mar de Cortez, which is one of the oldest hotels in the area.
The most common activity you're going to find people doing in Cabo San Lucas is either drinking margaritas or just laying on the beach, but there's so much more to do. Like I said snorkeling is amazing in Cabo San Lucas. We love to do catamaran tours which have proven fun with large groups of friends, as well as smaller tours either on our own in our vehicle or booking through a tour operator.
Tip:  check out CaboSanLucasTours.net for a cool booking company that is readily available if you have questions or needs around your tours and activities.  We've used them for guided tours in Cabo San Lucas, Todos Santos and Cabo Pulmo National Park.
And one of the best parts about exploring Cabo San Lucas on foot actually is finding small, hidden restaurants. It's not like you're going to find bad food once you're up away from the marina so happen into wherever looks like it's going to be a fun dining experience. We have our favorites that we go to but we're always willing to try something new.
Tip:  On our last trip we discovered a really fun restaurant that was nicer than what we normally go to call Maria Jiminez. why don't we pick this random place that was so nice looking? You walked by we saw a lady behind a straw screen making the biggest, fattest sopes we've ever seen.
Stop 3:  Todos Santos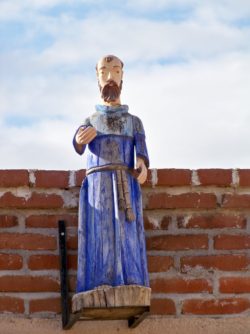 We fell in love with this town 10 years ago and keep on going back. Todos Santos is an essential stop for a day or two on your Baja California Sur road trip. "Todos Santos" means "All Saints." It's not called All Saints because of the awesome girl group from the 90s, but because all the doorways in the old town I have saints above their lintels and the town is dedicated to its Catholic heritage. They are kind of adorable and amazing.
Tip:   All of the wooden Saints above all of the really beautiful doors make for a wonderful activity, whether it be going on a saintly scavenger hunt for photographing all of the different things. Photographing them is tricky because they are so high.
Other things that will draw you into Todos Santos include the beautiful views from up on the hill, the cultural museum, countless delicious food options, and then of course the draw of the Eagles. Yep, the Hotel California is indeed in Todos Santos. If you really want to you can stay at the Hotel California or you can even dine there but there are other places you could stay as well. And you might as well get an expensive drink across the street at the Tequila Sunrise bar. 
And if you are an Eagles fan and know the song Hotel California you know that one of the lyrics talks about hearing the mission bell. The mission in Todos Santos is on a really beautiful Plaza with a gazebo, benches, palm trees and a beautiful church facade. Also on this Plaza is a beautiful Mexican art deco Cinema.  It's a stellar photo stop.
Note:  we rolled through Todsos Santos this last Halloween to discover their Dia de los Muertos celebrations. We got there right at the tail end of the parade but saw countless kids dressed like skeletons dancing in the street. It was adorable and we were bummed we missed it, but it was still fun.  If you're planning on doing your Baja California Sur road trip at the end of October, check out some of our experiences (in this post).
And if you're looking for a nice beach day while you're visiting Todos Santos, Playa Pacifica is about 20 minutes to the South and is gorgeous and unspoiled. You can't swim at it but you can let the waves crash against you and check out the really beautiful tide pools. The reason you can't swim is because the undertow in that spot is so strong, so be smart.
Tip:  to find Playa Pacifica, as you head north out of Cabo San Lucas on the way to Todos Santos, watch on the water-side of the highway for a small, adorable roadside chapel.  There is parking and a dirt road to walk down to the beach.  If you're not paying attention, you'll miss it… like with many sites on any Baja California Sur road trip.
La Paz: the capitol of BCS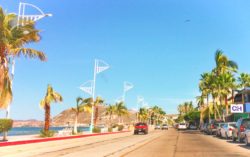 When you continue on your Baja California Sur road trip your next stop after Todos Santos is La Paz, which is the captiol of the state. La Paz is a pretty sprawling city, so it's best to have a map at the ready for getting to the main drag that you're there to see.  The old part of the city and the Malecon are the two most interesting and fun spots to visit within La Paz.  You'll find museums and galleries, as well as local goods ranging from fresh roasted coffee to pottery.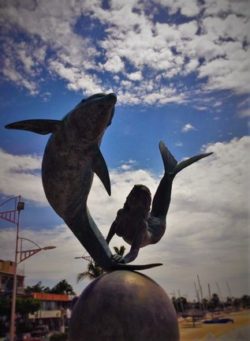 La Paz is kind of the crowning jewel of a Baja California Sur road trip because it's got the city and food directly along the beach.  The Malecon is one of our favorite strolls to take in Mexico (and the estuary trail in San Jose del Cabo).  From start to finish, there are beautiful sculptures placed all along the path with continuous beach access.  On one side of the street you've got ceviche and ice cream and on the other you have this perfect bay on the Sea of Cortez that you can walk directly out into, full of shells and fish.
TipThe Hotel Perla:  stay on the Malecon for a really cool experience.   is where we always have lunch, but it's also a vintage boutique hotel with views of the bay.
Another cool thing about the Sea of Cortez near La Paz is the migration of the whale sharks.  If you can go with a responsible guide who adheres to the rules, you can have an incredible encounter in nature, meeting the largest members of the shark family face to face.
See also:  check out our pal Erin and her blog, The Thrifty Travelista, for more tips to visiting La Paz, including her pics from meeting the whale sharks.
Cabo Pulmo National Park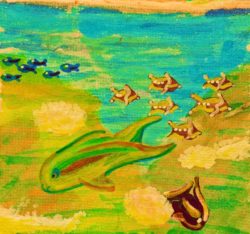 We've made the trek out to Cabo Pulmo National Park twice and each time it's been amazing.  If you don't add Cabo Pulmo to your Baja California Sur road trip you're missing out.  True, the drive to the National Park entrance is on a crazy road through the mountains and then down to the beach, but it's just that perfect touch of off-roading that you need on a Baja road trip.
Once you're down on the Sea of Cortez, it's an incredibly diverse marine experience.  Booking a tour through a registered guide is the way to go for visiting and diving with the sea lions, and then you'll get to visit the Mermaid's Lagoon and see everything you'd want to while snorkeling and then have huge iguanas up on the rocks at the beach, and then there's the actual reef a few hundred yards off shore…  So much to see!
Tip:  if Cabo Pulmo National Park is a main attraction along your Baja California Sur road trip, be sure to plan for a time of year that you can access as much of the park as possible.  Some tours restrict their visits to Cabo Pulmo based on time of year.  Late spring and early summer are great times to visit, but you'll want to wear wet-suits for your time in the water.
This trip is ideal for covering 10 days to two weeks.  You'll have ample opportunity for spending time in nature, getting a good feel for the history of Baja California and you'll get a great tan.  Enjoy your time in Baja California Sur… and then come back to us to plan a road trip around Baja California Norte
Want to pin our itinerary plan for later?  Go for it!