It's been a long time since we've written a hotel review or guide, but we have one that truly warrants such. The Best Western Plus Island Palms Hotel and Marina in San Diego is our new favorite spot and is definitely worthy of it's own blog post.
We enjoyed the property so much we decided to share more than the usual about our accommodations. Finding a family friendly option in a great location that's NOT directly in downtown is tricky in San Diego, so that's why the Island Palms is such a winner.  And you can book it here through Best Western if you like.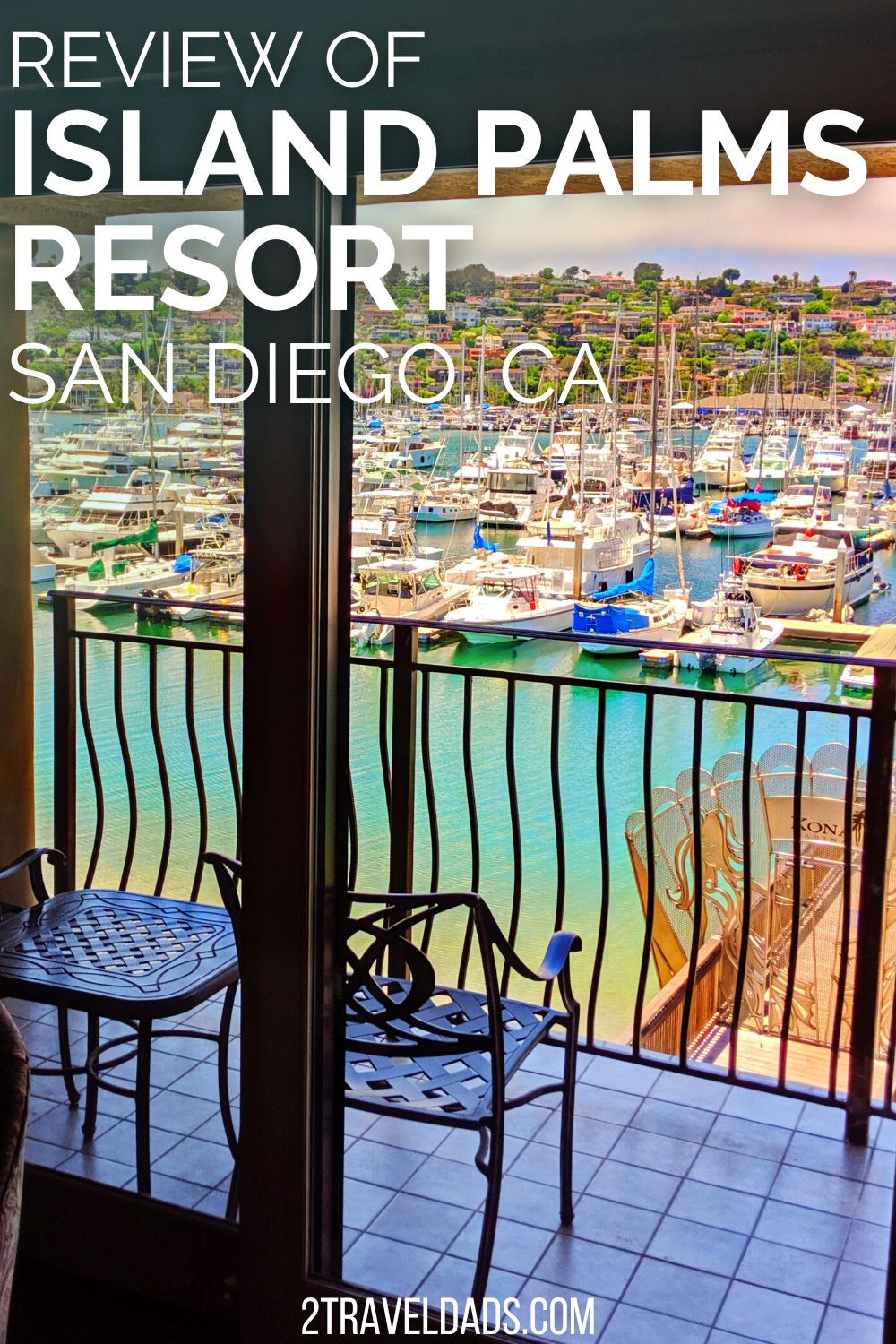 Locale of the BW Plus Island Palms Hotel
Before visiting San Diego, we recommend getting familiar with the layout of the city. The primary areas you'll most likely visit are: 
Downtown – this includes the waterfront and Gaslamp district

Hillcrest –  the gayborhood and Balboa Park

Point Loma – the military area all the way to Cabrillo National Monument

The Beaches – Ocean, Mission, and Pacific Beaches

(check out this guide to San Diego beaches)
Mission Valley – where Mission San Diego de Alcala is located

Coronado –  home of the Del Coronado and Navy Seal base

And La Jolla – think rocky cliffs, fancy homes and art galleries
The Best Western Plus Island Palms Hotel and Marina is located on Shelter Island, a part of the Point Loma area. This nifty little strip of land is man-made and lots of fun. While it may seem like an odd location, it's really ideal if your San Diego vacation includes activities downtown AND at any of the beaches.
Just fifteen minutes to the airport (SAN), the waterfront, and Ocean Beach, we love how convenient it is to get to any of our favorite places nearly any time of day. Major arteries such as Rosecrans, Harbor Drive, and Nimitz Blvd give you easy access to hot spots and beach neighborhoods, as well as a quick route back to the airport.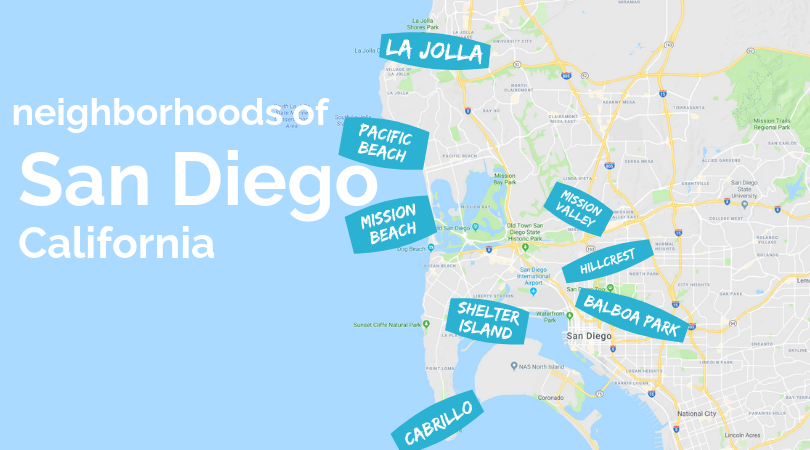 Rooms at the Island Palms Hotel
We actually got to try out two different room types at the Best Western Plus Island Palms Hotel and Marina: the two queen room and the king suite. Both were great for a family of four, offering a separate sitting area and outdoor patio/deck access.  
The king suite is our favorite, as it has much more space than the two queen room, including the ability to lock off or close the door to the living area. This was AMAZING with kids because it allowed us the chance to stay up later and sleep in a bit and not be disturbed. Another bonus of the king suite is the full kitchen. We love to prepare snacks and sometime meals when we travel, so having a kitchen always makes our hotel stays more enjoyable.
Additional room types at the Best Western Plus Island Palms Hotel include adjoining rooms, king rooms, and even a villa if you have the need. Really, it's great for all sorts of travelers, families and singles alike.
Tip:  if you are traveling as a group, call in advance to see about getting your rooms close together. The property is huge and you could end up very far from the others in your group. Or maybe that's what you want.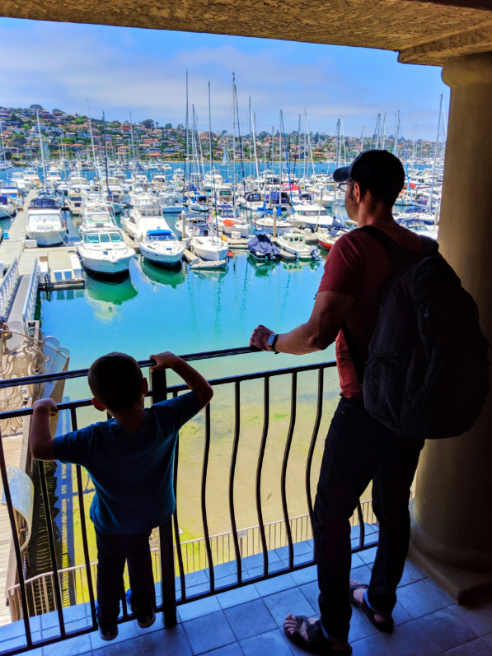 Amenities at the Best Western Plus Island Palms Hotel and Marina
I'll start with the pools because that's what we're always most excited about when we check into a hotel, and the pools at the Island Palms Hotel are awesome. There are two different pools at the hotel, each with their own spa tub area. What makes these particular hotel pools worth talking about? The main pool by the lobby has an actual DEEP END! That's right, in a world where a 4 foot deep pool is the norm, the Best Western Plus Island Palms Hotel has an 8.5 foot deep end!!!! Am I making too big a deal of this?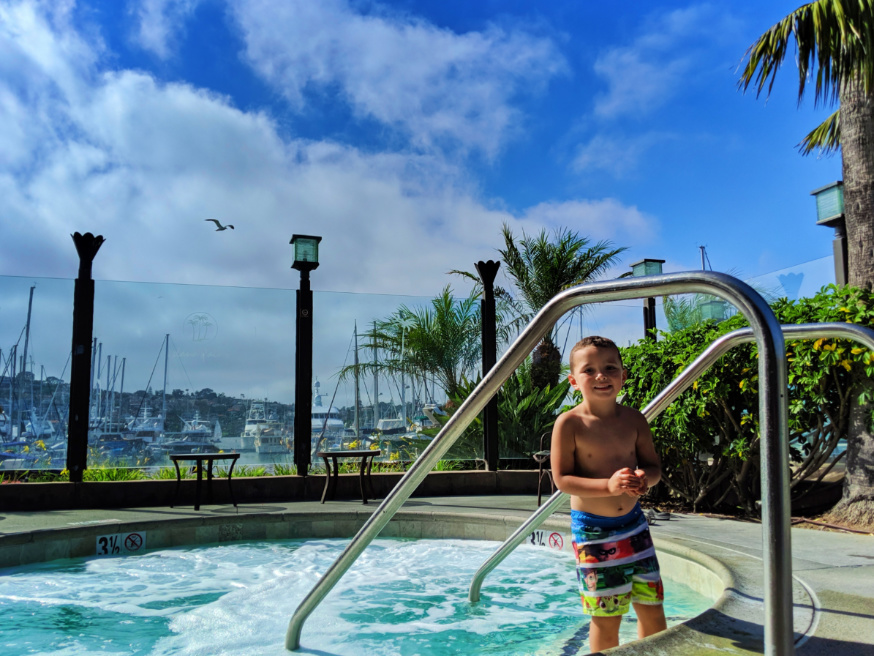 At the marina side pool, closer to the Casa Marina building (each hotel building has a name), there is a very nice swimming pool overlooking the channel and boats, including a hot tub, but that pool is the standard depth. The wonderful thing about this pool area is the outdoor fireplace. Even though San Diego is in Southern California, evenings can be a bit chilly. We really love getting to enjoy the night air in comfort, so spending some time relaxing by the fire was wonderful for us.
Tip: of the two pools, the main lobby pool is the one with poolside service, so if you would like to dine or have drinks at the pool, choose that one!
The BW Plus Island Palms Hotel also has complimentary bike rentals, including kids bikes. It's located directly across the street from a wonderful bay-front bike path and promenade, so spending a morning or evening biking is a great idea!. If you're into tennis, there are courts; if you like to workout on vacation, the Island Palms Hotel has a great fitness center.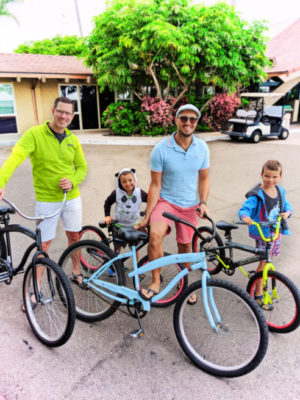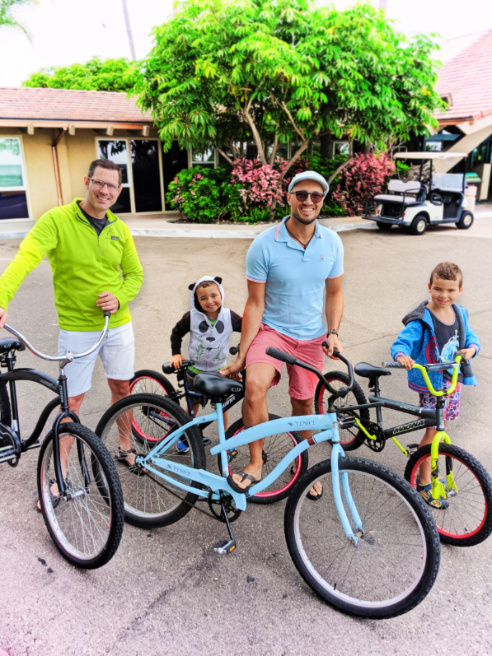 Dining at the Island Palms Hotel
You don't often find us recommending a hotel restaurant. I can count on one hand the number of times we've said "You have to eat at the hotel!" But if you're staying at the Best Western Plus Island Palms Hotel and Marina or if you just want a nice meal on Shelter Island, you need to dine at the Blue Wave Restaurant.
The restaurant does the hotel breakfast, the poolside service, lunch/dinner, and does the late night bar, so there are ample opportunities to check it out. We actually had five different experiences at the Blue Wave Restaurant and the staff was wonderful each time. And the food was great.
For sure, the highlights from the menu are the Aloha Fried Chicken and the Ahi Poke, but the grilled fish sandwich was also a winner. So often hotel dining is nothing to mention, but the quality and service at the Blue Wave is worth calling attention to, so there you have it.
Tip: the hotel has a great cocktail menu too. It's totally not pretentious and absolutely worth a taste. The Bahama Mama (rum), Hornitos Mule (tequila) and standard Old Fashion (Buffalo Jim whiskey) are all totally on-point. And the blue cheese stuffed olive dirty martini was magical.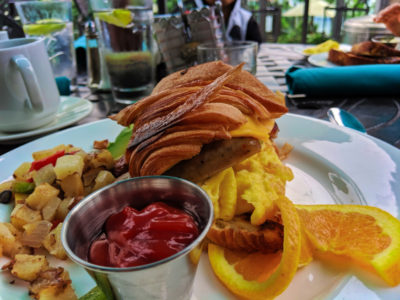 Travel Tips for staying at the Island Palms Hotel
Doing a lot of family travel to hotels, we always prefer to stay somewhere for more than two nights. We find that having three or more days to explore out of a home-base is ideal and allows us time to relax with the kids. The Best Western Plus Island Palms Hotel and Marina is one of those places where three+ days is ideal. We say that you need three+ days at the Island Palms because it's just an awesome hotel and San Diego is full of things to do any time of year.
Before booking your travel, we recommend planning out your must-do activities in advance and then leave some down time to relax or add to your schedule. In our case, since we visit San Diego often, we were sure to have time at the BW Island Palms Hotel to enjoy. This is a great place to end a California Coast road trip.
We mentioned that you can call in advance of checking into the hotel to request to be by your group if you're traveling with others. You can also request to be in a specific location around the property (room type dependent). If you've got kids with you, we recommend to be near the main pool, but if you're on a work trip or couples getaway to San Diego being away from all the action is sometimes nice. Also, lower level rooms have patios vs. decks, so being clear about what sort of outdoor space you would like is important.
Note: like with any hotel anywhere, room requests are subject to availability, but if you don't ask you can't be upset that you don't get the precise sort of accommodations you want.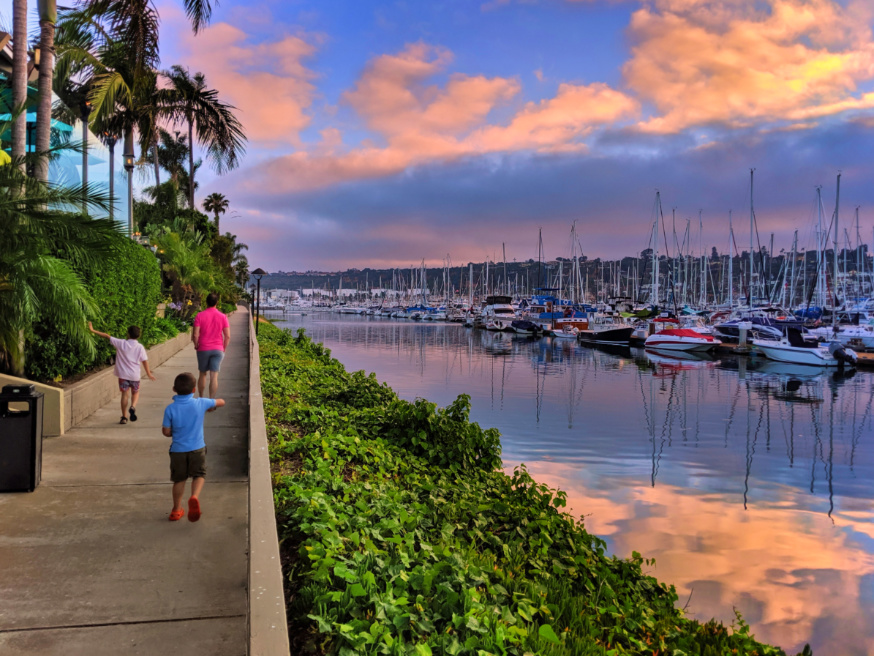 Nearby activities on Shelter Island, San Diego
Shelter Island itself is a wonderful spot. It's kind of a hidden San Diego gem. The Best Western Plus Island Palms Hotel and Marina is located directly across from a wonderful park that runs nearly the length of the island. Here you'll find a weekend market (east end), fire pits and BBQs throughout, public art installations, a fishing pier, bike path, playground, and plenty of parking. If you're cool with swimming in San Diego Bay, there's even a beach (not recommended).
Also on Shelter Island you'll find kayak rentals and boat charters, you know, in the event you need to get out on the water. Shelter Island is one of the best places to kayak in San Diego County. Add to that a cute neighborhood with a few restaurants and cafes and you don't even need to leave the neighborhood. 
Tip:  check the concert schedule for Humphrey's Concerts by the Bay. It's located less than a quarter mile from the BW Plus Island Palms Hotel and they bring in some fun performances.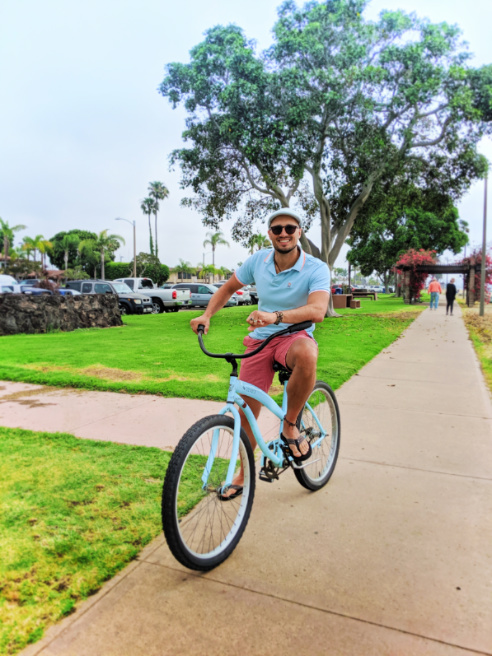 Other San Diego travel ideas
We have a passion for San Diego since it's our home away from home. All of these suggestions are easy activities that are family friendly and within a 25 minute drive of the Island Palms Hotel. These are all fun and wonderfully San Diego:
Cabrillo National Monument – two lighthouses, tide pools and trails

Ocean Beach – awesome neighborhood and great swimming beach

Street Art hunting – Ocean Beach and the areas around Mission Bay are full of art!

San Diego Maritime Museum – a floating museum with a variety of boats and submarines
Mission Beach –  another great swimming beach and fun neighborhood, including Belmont Park

Hillcrest – the gayborhood, it's full of great restaurants and is very LGBT friendly

Balboa Park – every time we visit we find something new, including botanical garden, organ amphitheater, Japanese Garden and more
Old Town San Diego – collection of historic buildings, living history, restaurants and artisans
Pacific Beach – another beach neighborhood and incredible handmade ice cream sandwiches

Coronado – high class dining and beaches, have sunset cocktails at the Hotel del Coronado

La Jolla tide pools – besides Cabrillo, these are the only tide pools in San Diego, great beach-combing

Mission San Diego de Alcala – the oldest mission in California, it's a beatuiful place to visit along El Camino Real
La Jolla Cove and Shores – the cove is home to a sea lion colony *DO NOT APPROACH WILDLIFE, and the Shores is a mile long crescent stretch of beach with facilities
You'll never be bored in San Diego. Check out our San Diego family vacation budget travel tips for some ideas of how to make your stay more affordable and fun.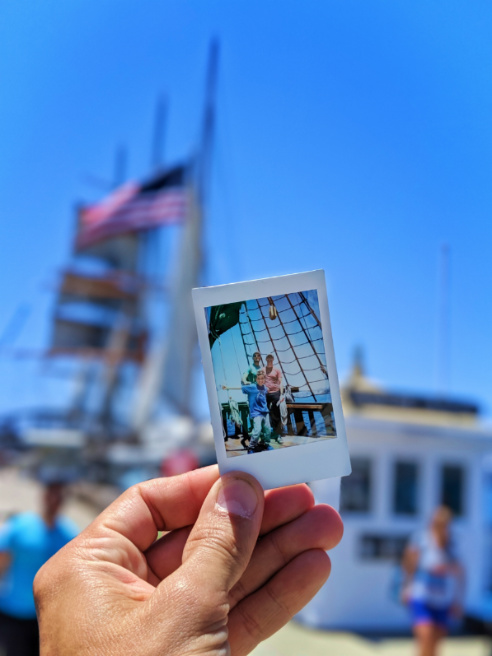 We know you'll love the Best Western Plus Island Palms Hotel and Marina. It's really a welcoming, comfortable, and classy spot. We'd happily return anytime for an easy, peaceful San Diego getaway.
Want to pin this for planning your own San Diego trip? Go for it!!! And don't hesitate to leave a comment or send us a note if you have any questions!