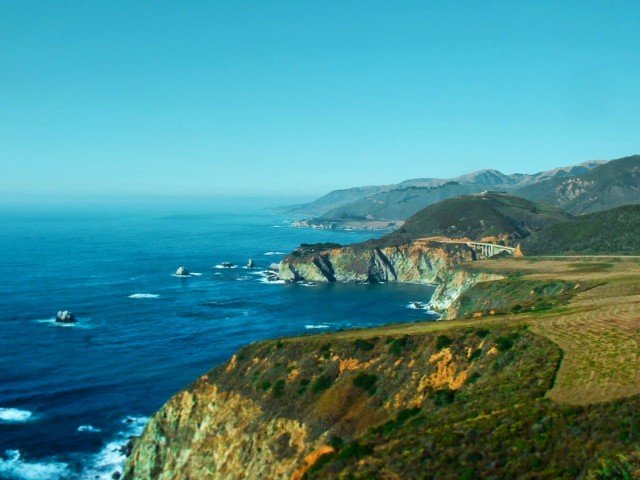 Complete California Coast Road Trip from Tip to Tip
California. That California life is so awesome with all that nature and sunshine. What better way to experience it than by doing a California coast road trip? We're going to start at the northern border, but reverse our plan and you'll have just as amazing of a time.
So you've just crossed the border from Oregon into California. Get ready because your California coast road trip is going to be totally different than what you experienced in Washington and Oregon. You'll understand what we mean as you start down the coast. The beaches and bluffs are quite different, the lighthouses are fewer and farther between and the trees are much bigger. And the architecture. You'll see…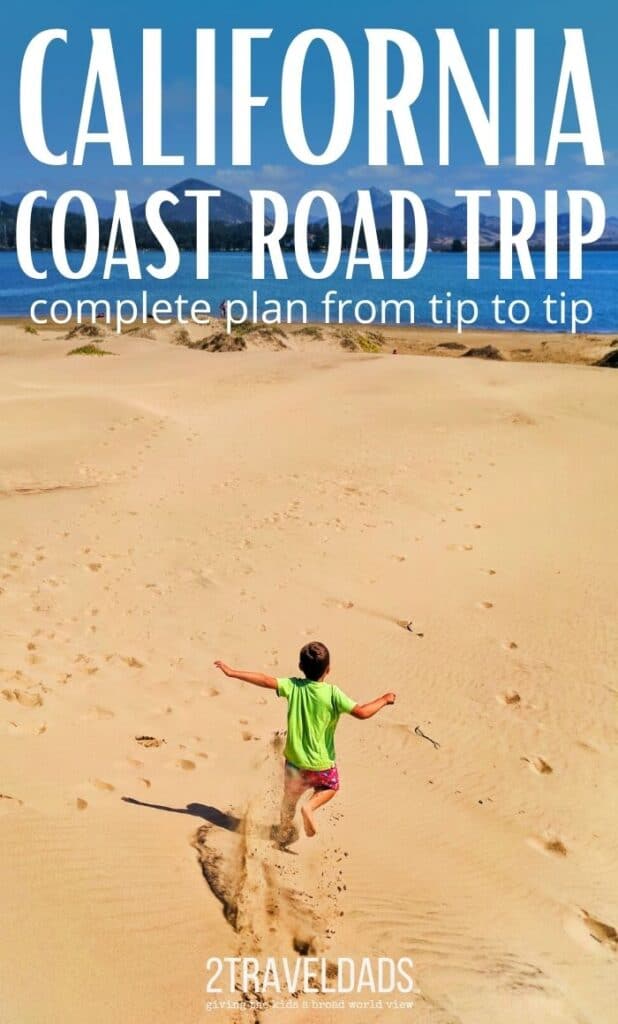 Iconic Northern California
Northern California has such noticeable/memorable sights to behold. So does SoCal, but they're totally different. These stops can easily be hit on the drive and don't require much planning at all.
California Lighthouses not to Miss
There are quite a few lighthouses in Northern California, but your California coast road trip plan doesn't need to include all of them. The prettiest lighthouse in Northern California is for sure the Battery Point Lighthouse in Crescent City. You'll need to get your feet wet to get out to it, but it's worth it. The view, the lighthouse itself, the wildlife you'll see… amazing!
If you want a funny lighthouse hunt, be sure to stop into Trinidad, California and find the light…because it's a hike and is hilariously fun. Oh, and get a mashed potato cone for us when you drive through town. It's too good to not get and you'll have to drive past the Lighthouse Grill if you're in Trinidad.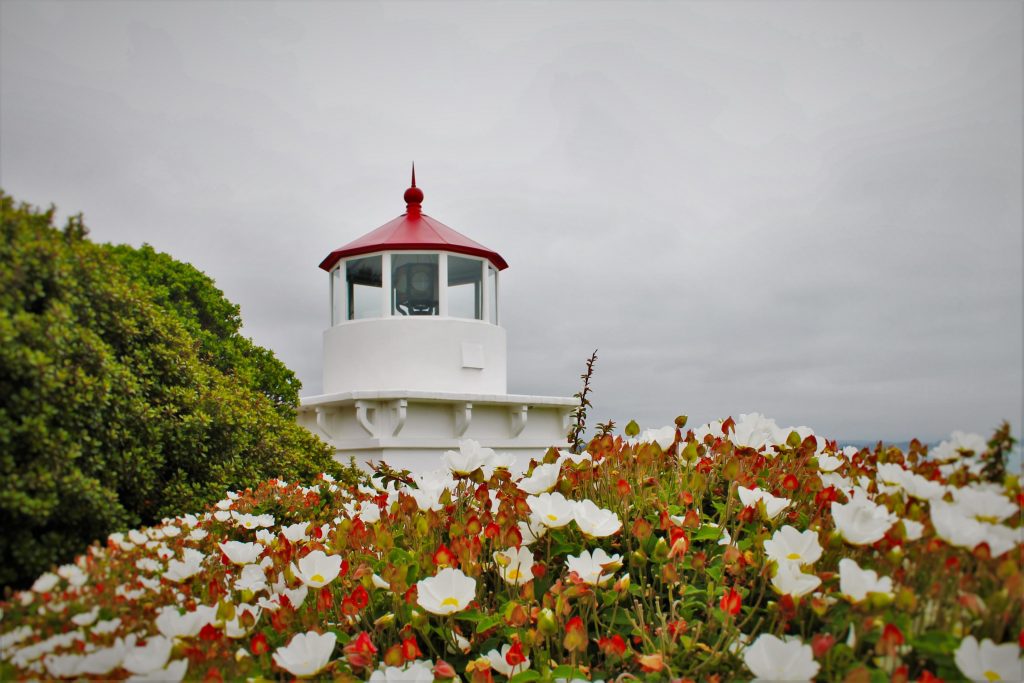 The Point Arena Lighthouse is another fun stop on your road trip. It's about 8 miles off the beaten path, but it's worth it. The Point Arena Lighthouse is very tall and set at the end of a point surrounded by coves and crashing waves. It's the perfectly iconic lighthouse.
Note: the Point Arena Lighthouse does have an admission fee if you want to check out the little museum and climb up the tower. If you're into it, totally do it. Also, lots of great space for kids to run around at Point Arena, but keep an eye that they don't get near the cliffs.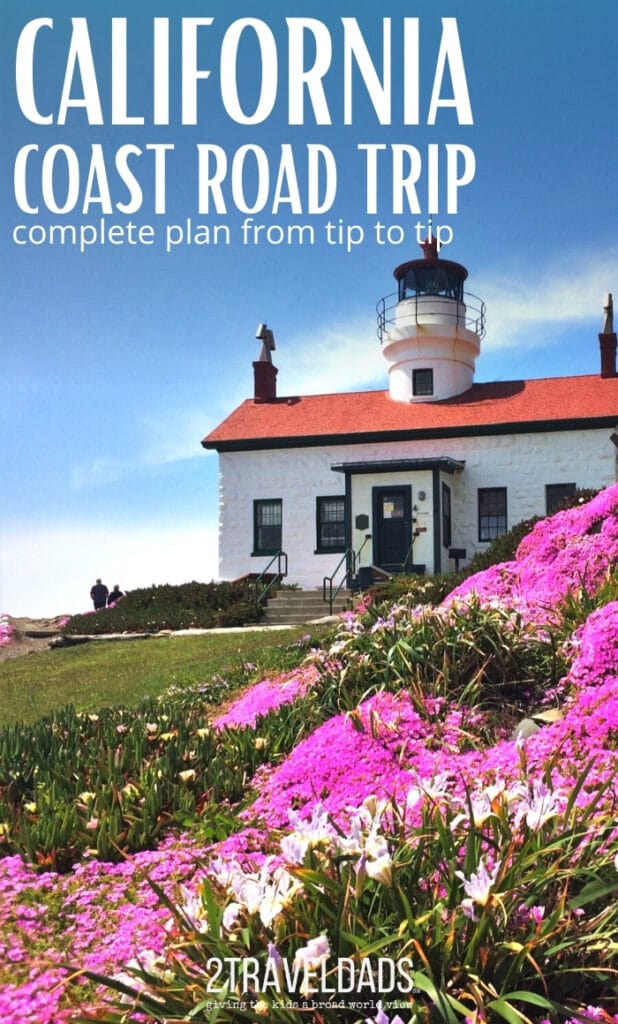 Eureka and the Victorian Mansions
The town of Eureka, California is the gateway to Redwoods National and State Parks, but it's also the home of a beautiful historic neighborhood. Old Town Eureka is awesome! With more than 150 homes and business buildings from the Victorian era, it's full of color and worth a stop, if for nothing else, to take pictures. If you love Victorian mansions, Eureka is the town for you!
Stay: we loved spending several days at the Carter House Inn in Old Town Eureka. The accommodations were perfect for a family of four and it had the feel of a genuinely antique hotel. This is a great home base for exploring the coast and Redwoods National Park.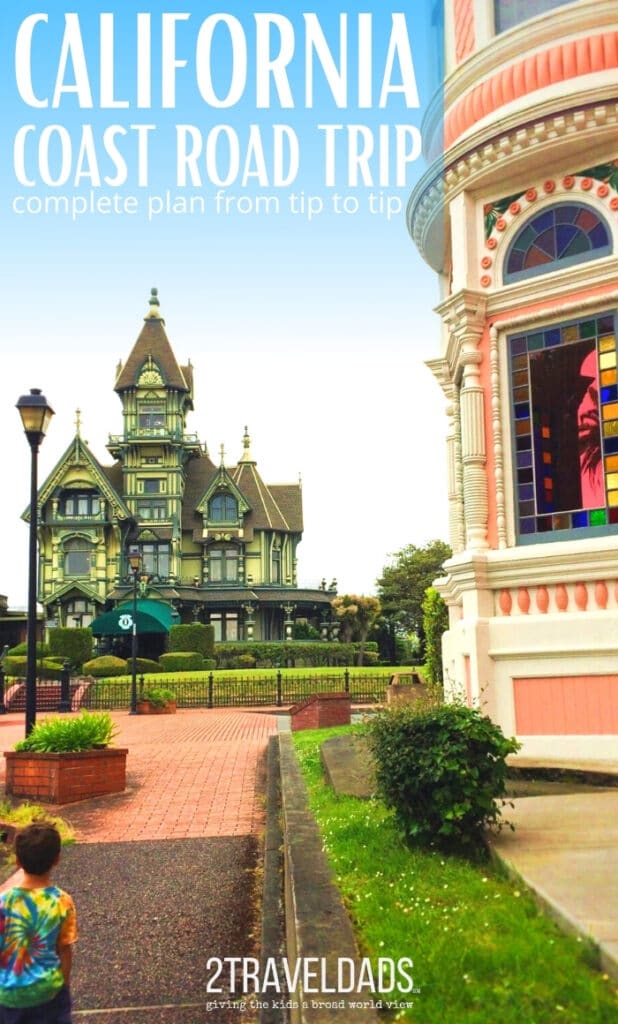 Northern California Redwoods
We say it all of the time. "Find your park!!" Maybe that'll be my next tattoo. The Redwoods of Northern California are epic and awesome. This is where your California coast road trip heads away from the Pacific Ocean for your activities. You'll find that the epicness of these huge trees is totally capitalized on, but it's cool. There are lots of really great conservation efforts at play to counteract the impact tourism may have on the forests. You choose if you're going to do a drive-thru tree or not.
Tip: the Chandelier Tree in Leggett, California is easy to get to and the opening is large enough for most vehicles. We took our minivan through it just fine.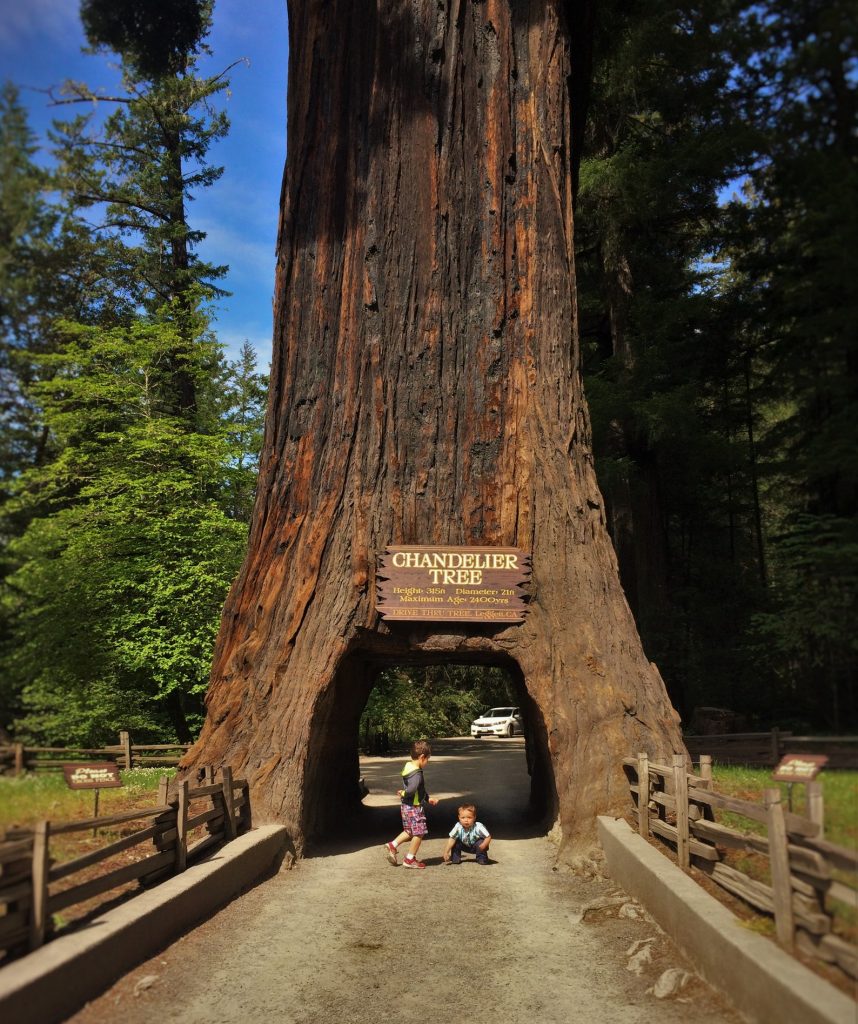 Redwoods National and State Parks are scattered along the coast of Northern California, so if you miss one entrance, drive another few minutes and find another. We loved hiking in the Lady Bird Johnson Grove within Redwoods National Park. It's perfect to do with kids.
If you're unable to make time in the Northern forests, stop into Muir Woods National Monument just north of San Francisco. You'll have to drive past them anyway and the Park isn't huge, so it makes for an easy stop and you'll still get to enjoy the huge redwoods.
Tip: in the summer or on a weekend, watch for the signs for the Muir Woods shuttle from overflow parking. Muir Woods National Monument is very close to San Francisco and the whole Bay Area, so everybody heads there when they can. If you can plan a stop here mid-week, do it!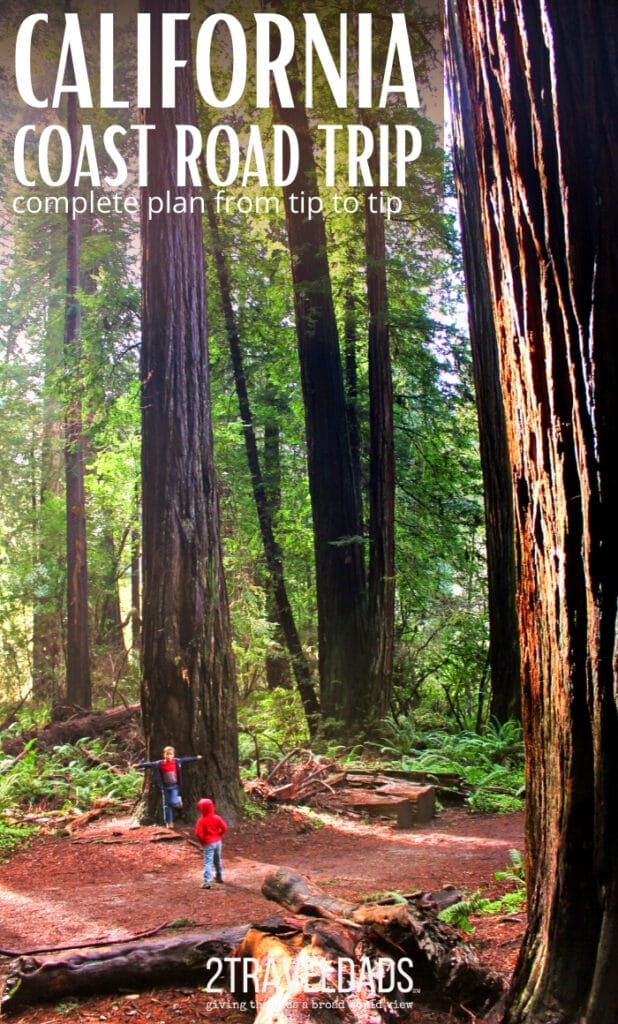 Stopping San Francisco: one day plan
The City by the Bay, San Francisco, is amazing for more reasons than we can say. You cannot do a California coast road trip without driving through SF, so embrace it and fall in love with the city. If you only have a little time and want a truly unique San Francisco experience, head directly to Telegraph Hill to get a great view, visit Coit Tower and watch for the flock of urban parrots!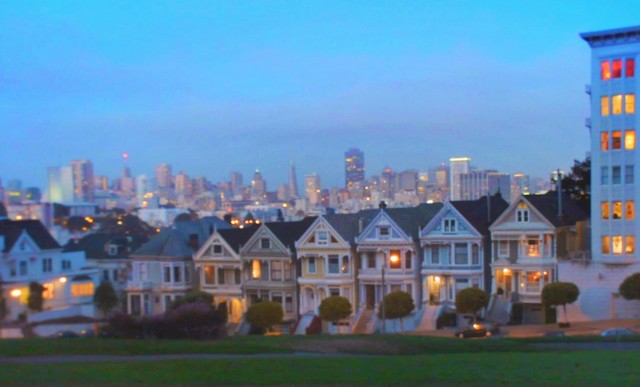 Golden Gate Bridge
Do we need to even explain this? You're going to have to cross the Golden Gate Bridge on your California coast road trip, so be sure that you've carved out appropriate time to make a stop at either end of the Bridge. The south end of the Gold Gate Bridge has the Welcome Center and a fair amount of parking, but the north side offers a totally different view and includes the skyline of San Francisco. It's your call.
Tip: if you want to breeze through the Bay Area, stop on the north side of the Bridge and maybe do lunch down in Sausalito. The town is cute, the view of San Francisco is beautiful and you'll find amazing food.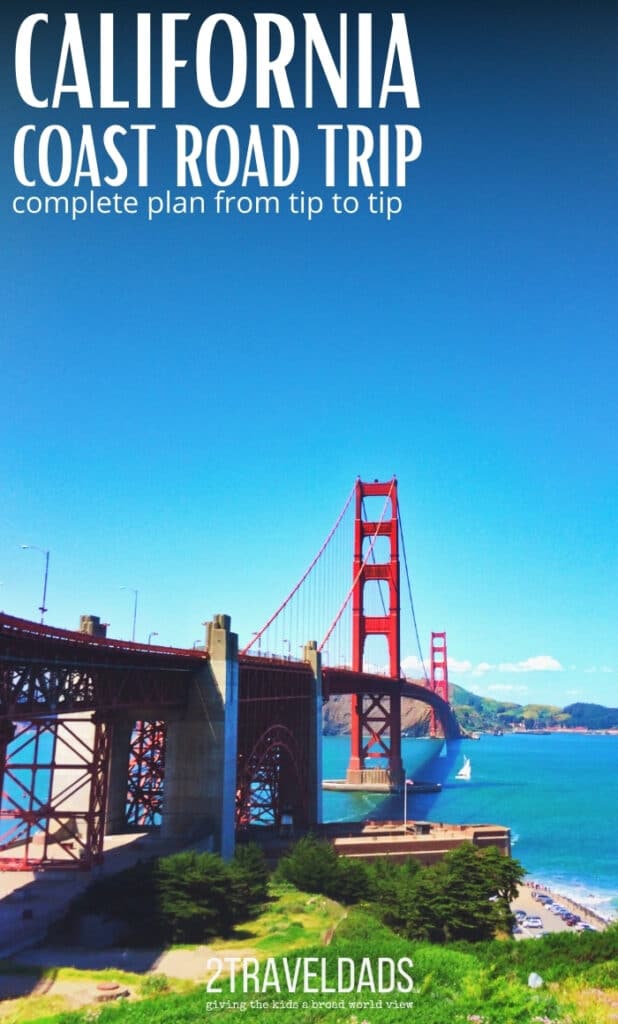 Ride a San Francisco Cable Car
This is so easy. So, our recommended line is the Powell-Mason Cable Car because there is parking at the Pier 39 end of it. You get to see the North Beach neighborhood, buzz past Telegraph Hill and through Chinatown and end in Union Square. It's perfect. The Powell-Hyde line is our second choice simply because parking is a pain. It starts/ends at Ghirardelli Square, takes you up to the top of Lombard Street, across Nob Hill and down to Union Square. Both lines are the coolest and totally worth the wait to do.
Tip: if you're comfortable with it, try to be on the outside standing up. You'll love it and it's just like you're in a movie. Kids can't do it, but adults can. Check out the actual cable car site for details.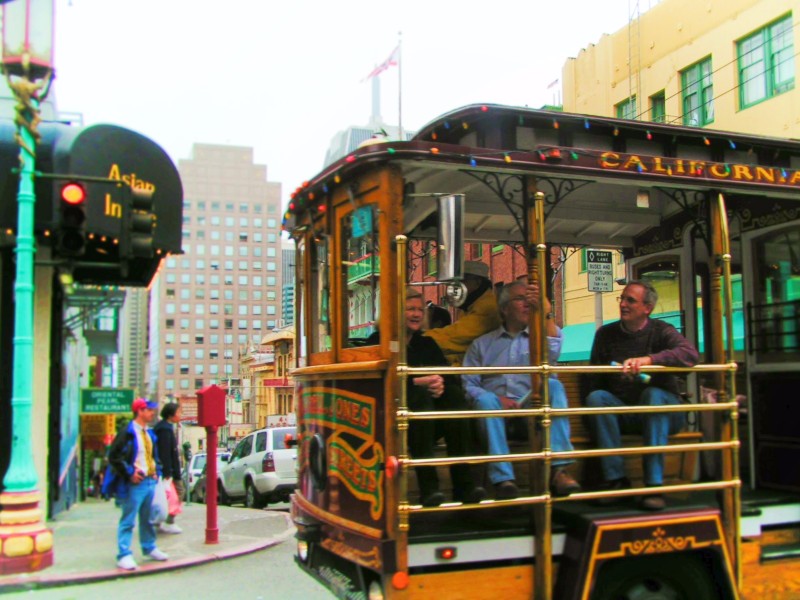 Stop into the Castro
Some people don't know the term "the Castro." Well, if you're a member of the LGBT community you probably have heard it. The Castro neighborhood of San Francisco is where gay rights on the West Coast got a foothold and where Harvey Milk brought the people together. Today, there are several memorial sites dedicated to the LGBT struggle, to those who have lost their lives in the fight for rights or against AIDS, and to the future of the LGBT community.
We haven't taken our kids to the Castro yet because we haven't done a dedicated trip into SF for more than a day recently, but when we do visit, it'll be a happy day for us. They'll notice that there are loads of other families like ours and maybe it'll open a conversation about our lives and how far we've come.
Tip: the Castro is also the primary place to "go out" in San Francisco, so know that if you're looking for beverages and dancing, this is a great spot to start.
Note: if you're visiting the Castro with kids, be prepared for some interesting questions. Nothing is off limits in this awesome neighborhood and kids might see some sights that they don't understand, including very sex-positive imagery.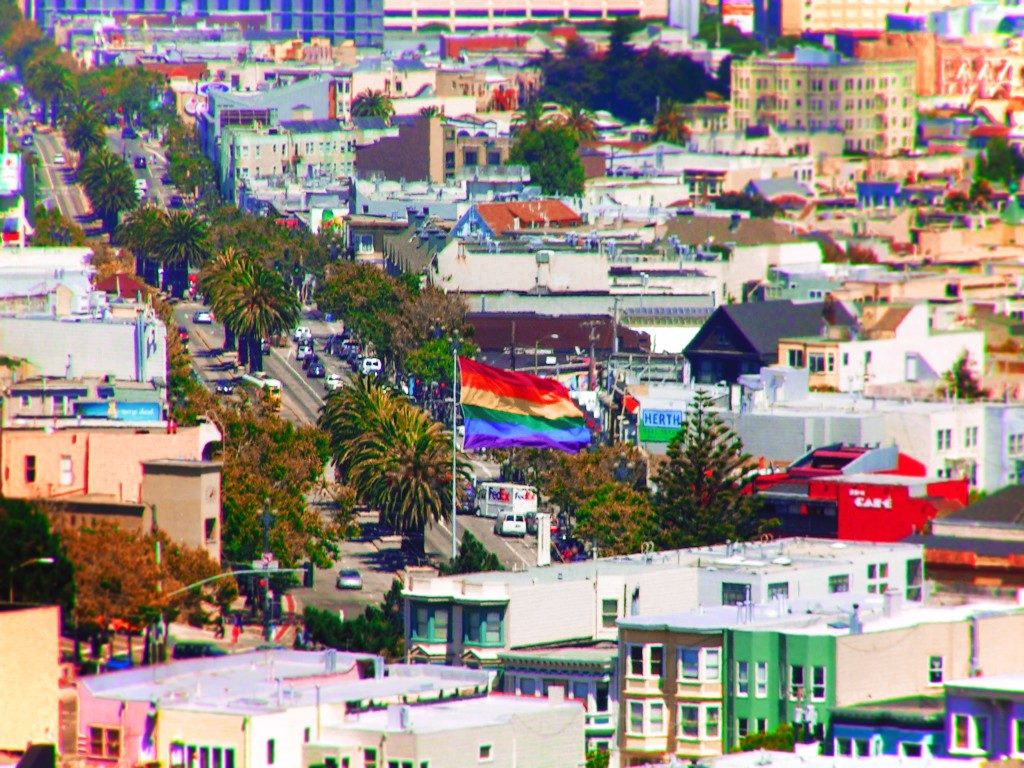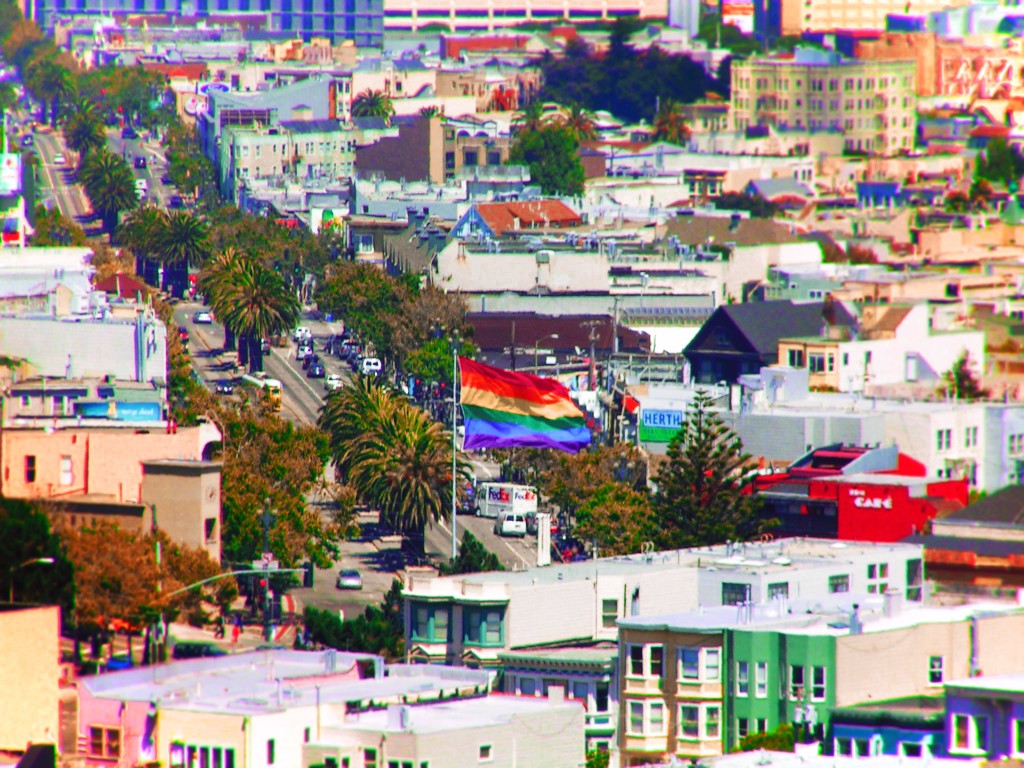 Finding a San Francisco Hotel
San Francisco is a costly city to visit or to live in. Book your SF hotel as soon as you know you'll be visiting. Unlike most cities, SF books out far in advance at very high room rates. It's possible to just drive through or stay south of the city, but due to traffic, if you're on a California Coast road trip, you probably won't want to head north to the city again if you've already passed through.
Driving the Central Coast and Big Sur
From this point in our California coast road trip plan you need to decide what your travel goals are and how much time you want to invest: full coastal experience or just the highlights. Read up, research, decide. Take the 101 or go the coast the whole way?
Santa Cruz and Capitola
When you leave San Francisco, you can head down the Pacific Coast Highway or pop down through San Jose and over the Santa Cruz mountains to the coast. Either way is fine, but the coastal route will take you by the Pigeon Point Lighthouse. There are lots of beaches you can visit and great picnic spots near the lighthouse, so enjoy!
Santa Cruz and Capitola are both adorable towns, and you can have an afternoon out on the vintage Santa Cruz boardwalk (complete with roller coaster) as well as beach time. Even though you could plot a whole trip around lounging on the beach and trying to surf, if you're on a California coast road trip you've got a lot of ground to cover and a few better places to have a home base for a few days.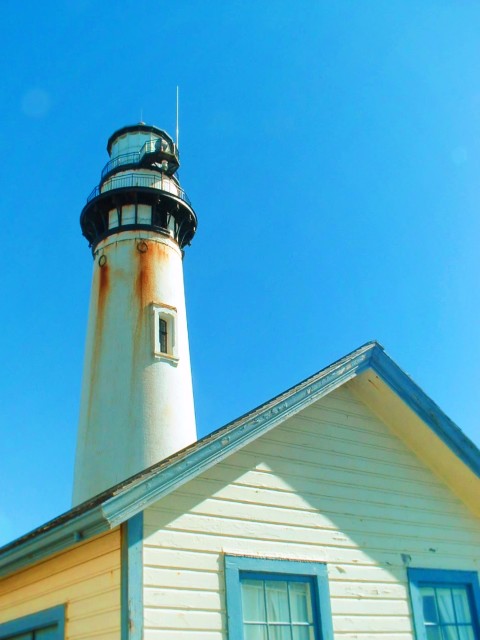 Monterey and the Bay
We breezed through last time due to a schedule we were on, but our friend Sally from Passports and Plates shared her thoughts on how best to experience the area.
Sally's says "The first time I visited Monterey was in 2016, despite living in California for 20 years. It was my first solo road trip, and after spending the weekend there, I remember thinking, "why did it take me this long to visit?!" There is so much to do and see in this small and peaceful city, and it was the perfect destination for a relaxing weekend away. The stunning beaches, charming drives, and of course, the enchanting aquarium, make Monterey a true must-visit city in Central California."
In her own article about the Monterey area Sally recommends the follow sites:
Pinnacles National Park (#FindYourPark!!) – caves and hiking

Cannery Row – truly vintage California coast

Monterey Bay Aquarium – one of the largest and most acclaimed for its conservation efforts

Beaches – duh. Actually, Asilomar State Beach and Pacific Park both get high marks
Stay: between Monterey and Carmel you'll find lots of B&Bs for a fun California coast road trip break… but then camping is an option if you want to head south to Big Sur (reserve in advance anywhere!!)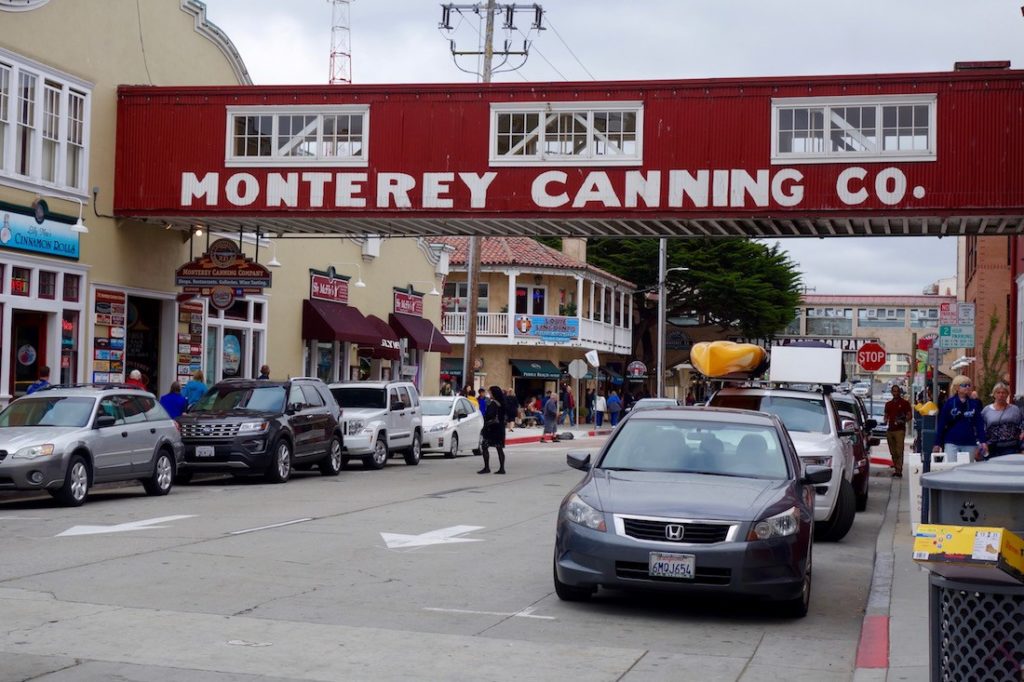 Driving the Big Sur Coast
This is what California coast road trip dreams are made of…
So here's a big disclaimer: this stretch of land will take you the longest of any we've covered, so think about if this is right for your West Coast road trip. It's INCREDIBLE, but it's a long winding highway that can be trimmed off by taking the 101 instead of Highway 1. Just a thought.
Fancy-pants in Carmel
If you want to spend some time catching the incredible aquamarine waters and rocks of the Pacific, out of Monterey head to 17 Mile Drive and jaunt down the coast past Pebble Beach to Carmel by the Sea. Fancy-pants, totally. It's all very beautiful, but not a budget friendly destination on our California coast road trip. Snap your pics and savor the sights. Then go.
Tip: just south of Carmel is a beautiful Carmelite monastery right off the highway. You can easily stop in or pull over to appreciate the beautiful compound. Respect the residents… and then think about taking your vows to get to commune in this amazing place.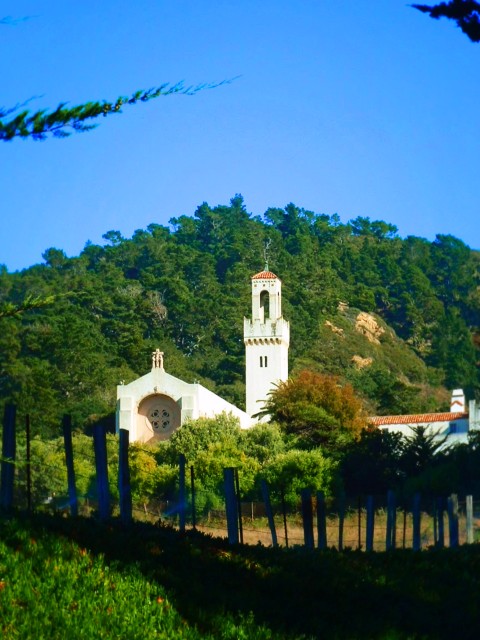 The Big Sur Coast
Okay, we're here now. Hiking in the hills, hiking to the beaches, hiking to waterfalls… That's Big Sur. From Pfeiffer Big Sur State Park to Julia Pfeiffer Burns State Park to the south, the coast and mountains make for the most striking sights.
Great hikes/photo ops (north to south):
Bixby Bridge – photo op of one of the most iconic bridges on the west coast, pull over in a designated area
Pfeiffer Falls – trailhead on Pfeiffer Big Sur Rd, about 2 miles, forest hiking with waterfalls
Big Sur River Gorge – trailhead on Pfeiffer Big Sur Rd – short, river access
McWay Falls – trailhead is clearly marked off the highway – short, all about the view
Note: the State Parks website says in regards to McWay Falls "There is no beach access here. Any attempt to get down to the beach is a citable and arrestable offense."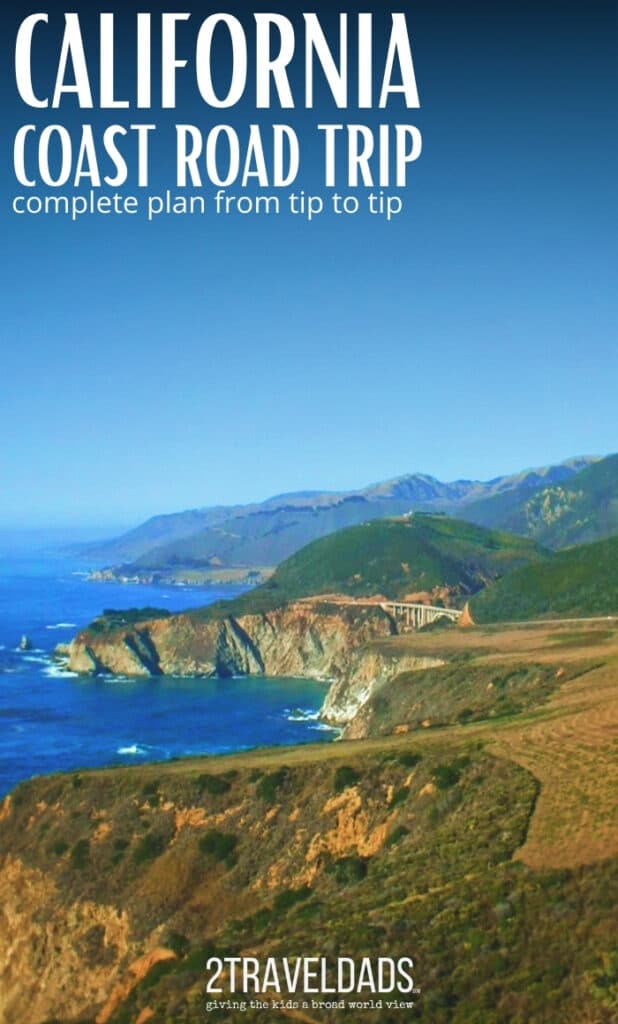 Of course there are more stops, but these are easy to do and worth the time. None of these will put a hitch in your driving day.
Wondering about lighthouses on this rocky coast? Unfortunately the Point Sur Lighthouse suffers from the woes of the coast and may or may not be open for visiting or tours when you're doing your California coast road trip, but it's worth a shot. Check their website for updates, as closures vary due to weather, road conditions and operational issues.
Stay: Julie Pfeiffer Burns State Park has camping, so you'll be able to do more hikes than the small ones we've suggested. Check out Reserve America for camping availability.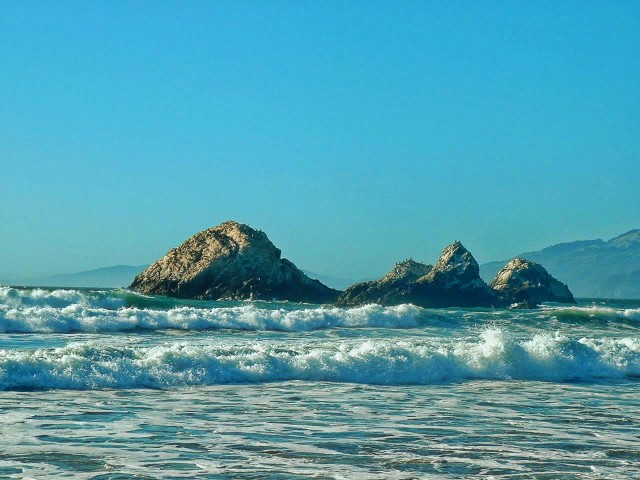 Visiting Hearst Castle
Need we say more? Plan your time here accordingly as the last tour each day is around 3:30 pm and you don't want to miss touring Hearst Castle. We recommend either doing the Grand Rooms or the Upstairs Suites tours. You'll get to see many of the common areas with each tour, but the level of detail with each is different.
Tip: inquire with the visitors center about which is best with kids or for photography (many restrictions)… or for which takes you to the indoor pool (so cool!)
Bonus: if you didn't get to see the Point Sur Lighthouse, make a stop at Piedras Blanca Light. It's suffered damage over the years, but it's really cool and odd with its missing lantern room.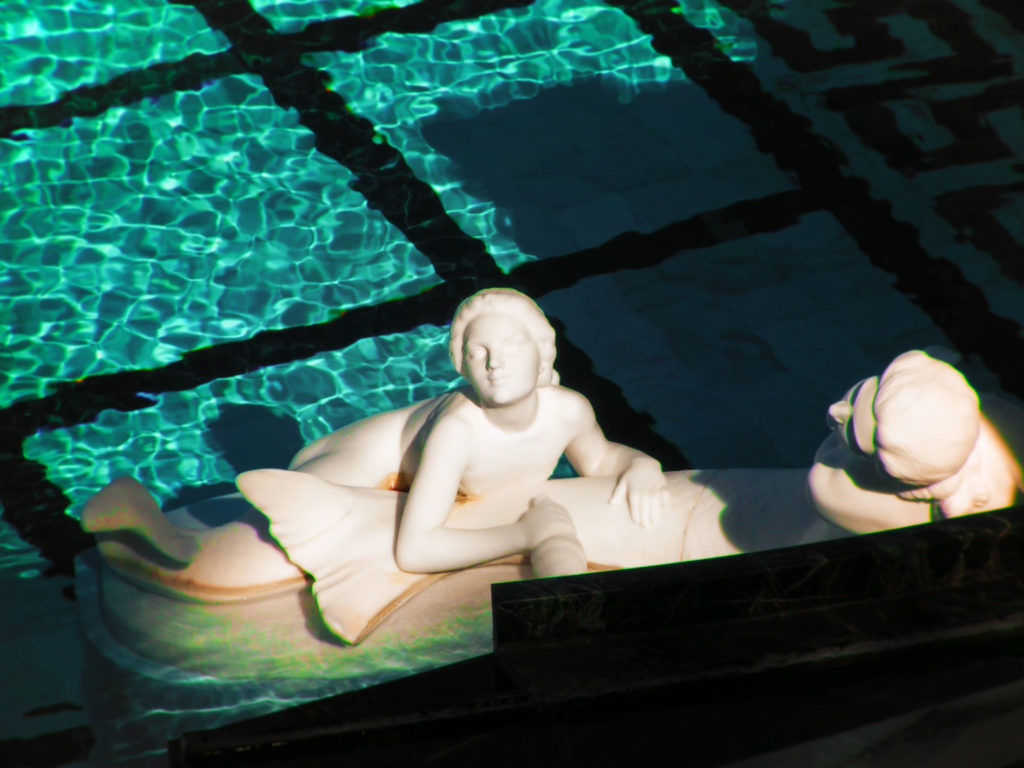 Wine and Beaches: Cambria to Santa Barbara
As you continue south on the California coast road trip, you'll start to pass through really cool towns. First up is Cambria, which is great for wine, watching elephant seals on the beach or hiking the beaches and bluffs (our favorite beach activity). And there's wine because you're in that lovely wine region called the Central Coast. And then there's Morro Bay, which has our hearts for a funny reason: this is where the original Pete's Dragon was filmed (not in Maine). The lighthouse from the film is gone, but this was the place with the beautiful coastline and fog.
Check out our partner site, Paddle Your State, for more California paddling destinations.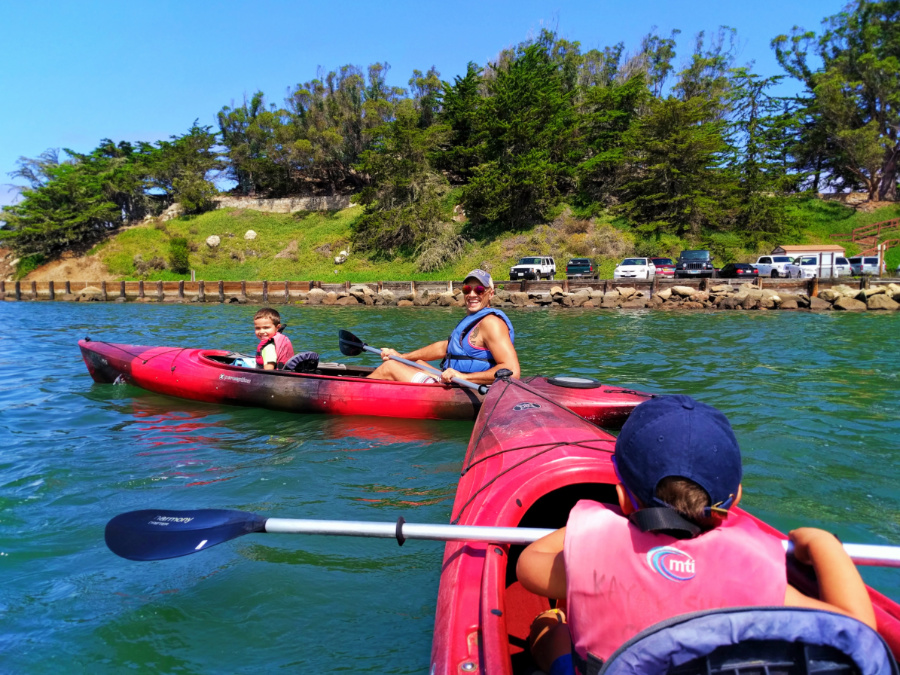 Next to the south is San Luis Obispo: rather large, so it's an easy place to find accommodations if you didn't plan anything. This is where you hit the coast if you opted to take the 101 instead of Highway 1.
Stay: bwah ha ha. You have to try to stay at the Madonna Inn in San Luis Obispo. It's awesomely hilarious and fun. Every room is different, the bar/lounge is exceptionally gaudy, and the men's restroom has a waterfall. If you want to keep it close to the coast though, Morrow Bay has some camping options and less expensive lodging choices.
Continuing on our California coast road trip we head through the Santa Maria Valley (more wine!), Buellton (small town relaxation) and Las Cruces, which is where we find our next lighthouse at Point Conception. You cannot go in the old lighthouse, but you can trek to some great views of it. We recommend spending at least two days in the Santa Maria Valley region because there is so much to do, including lots of California agritourism, the adorable town of Guadalupe, and unlimited outdoor experiences.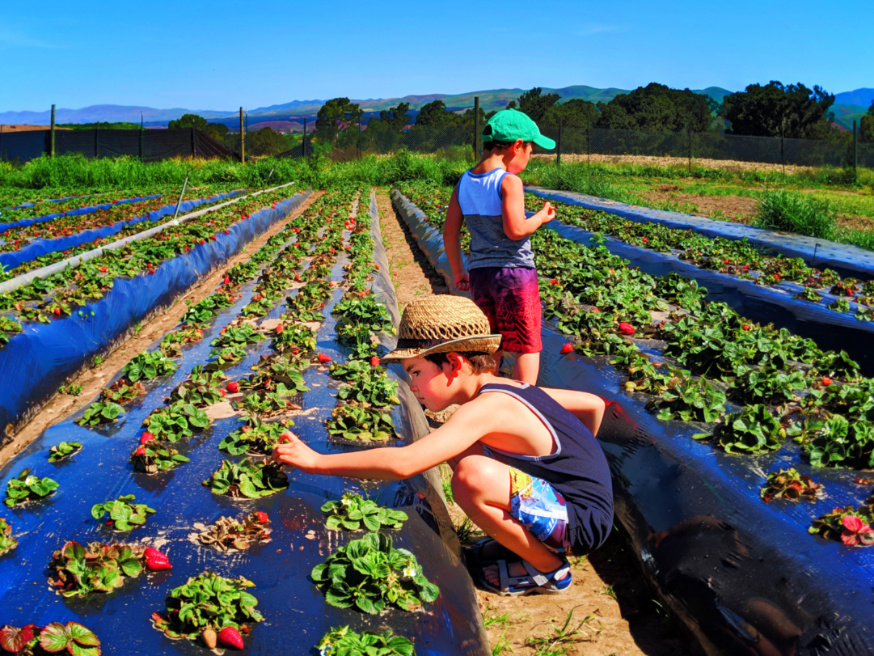 The city of Santa Barbara comes up quickly as you head down the coast. Known for its arts and beautiful landscapes, you can make a stop on your drive for lunch or stay overnight. We recommend a stop as Los Angeles is really close and it'll be more budget friendly to continue south. Check out this article for the best things to do in Santa Barbara! Also, Santa Barbara is along El Camino Real, which is the California missions route. Mission Santa Barbara is a beautiful place to visit as you pass through.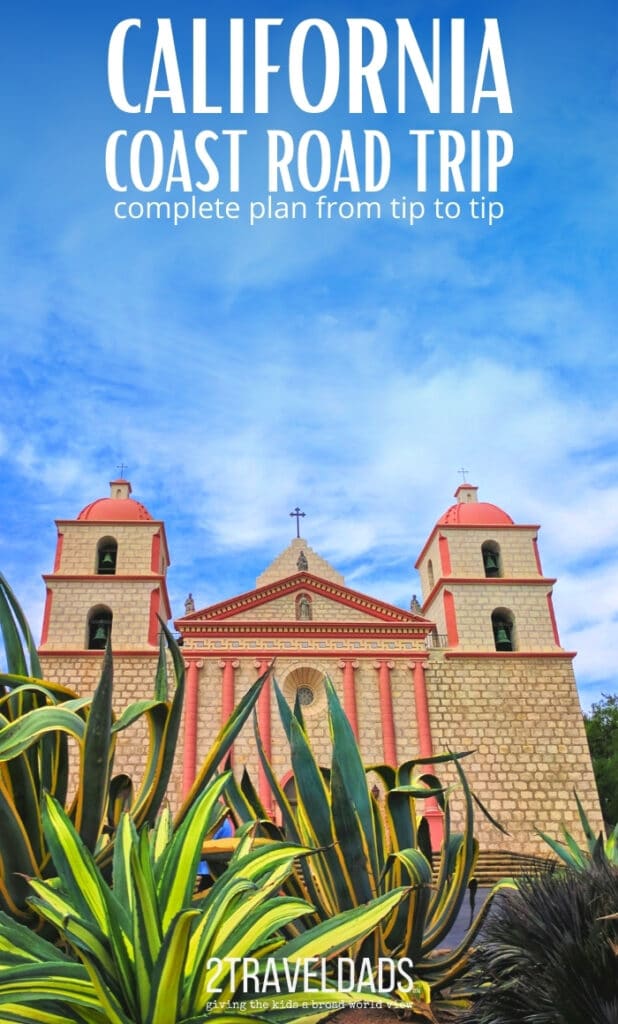 Exploring the Los Angeles and OC Area
We love to visit Los Angeles and Orange County. Yes, they are two different places and no, Disneyland isn't in LA. Depending on your time, spending a few days exploring LA and the OC will give you a blast of SoCal culture and fun.
Fun in Santa Monica and Los Angeles
At this point in your epic California coast road trip you've seen a lot of small beaches and done some great hiking. How about you take a day to visit the Santa Monica Pier and beach. Enjoy the vintage fun of Pacific Park and do some rides. Bring a towell and lay on the beach and go for a swim. You're now truly in Southern California and you need to do the SoCal thing. If you want to keep driving south, go for it. You can't escape the beach though.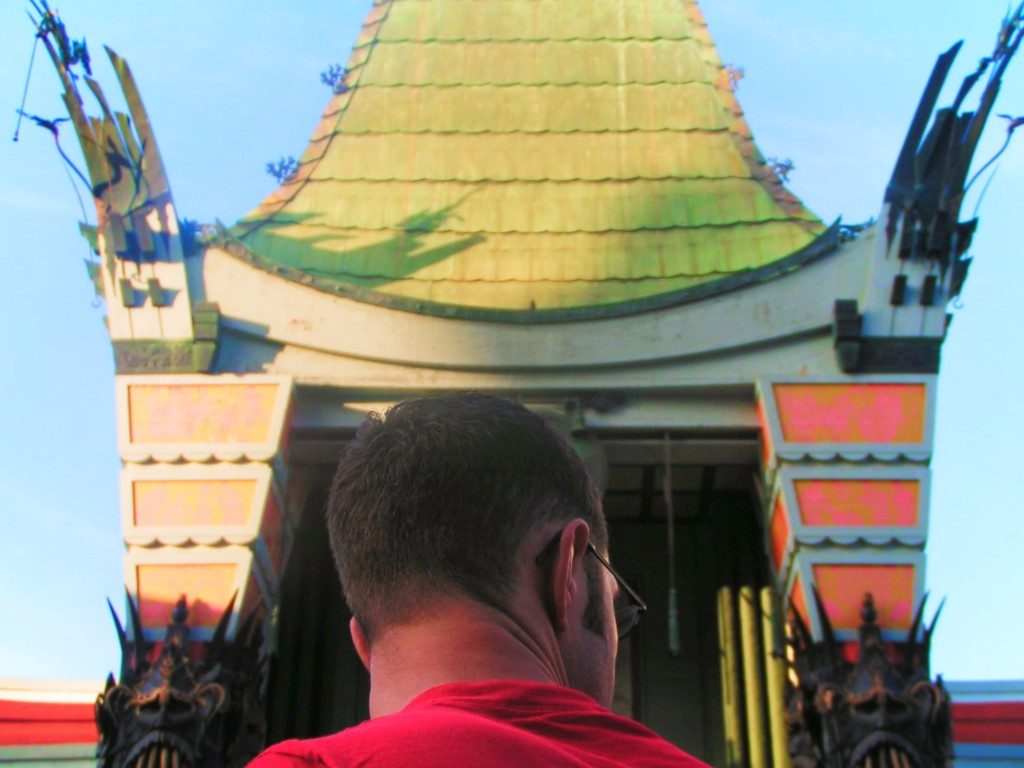 It's always fun to spend a few days in Los Angeles, and you can totally do it on the cheap leveraging all kinds of free activities and touring neighborhoods. Hollywood is, of course, fun to visit because it's so family, but break away from Hollywood Blvd for some other fun stuff, like the markets, LACMA and the La Brea Tar Pits, the Getty… Los Angeles has lots to explore and most for free (except for parking). Oh, and just for the entertainment factor, visit Venice Beach on your way out of town. It's a barrel of laughs.
Stay: AirBNB or even a standard hotel booking site will do fine for your Los Angeles hotel needs. If you've been camping the whole way, you need to head south to Orange County or San Diego County for some State Park options.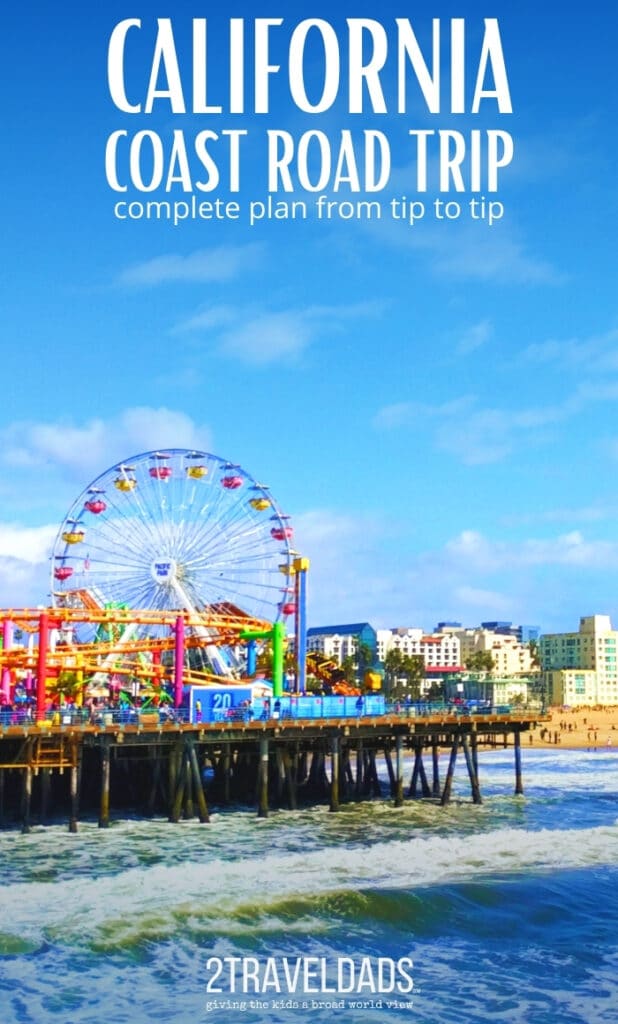 Breezing through Orange County
Unfortunately the OC isn't awesome when you're away from the beach. True, Disneyland is more fun than anything ever (totally biased on this) but Seal and Huntington Beaches are where you'll find relaxation, perfect waves for swimming and bodysurfing, and that awesome SoCal culture you've done this whole California coast road trip to get to.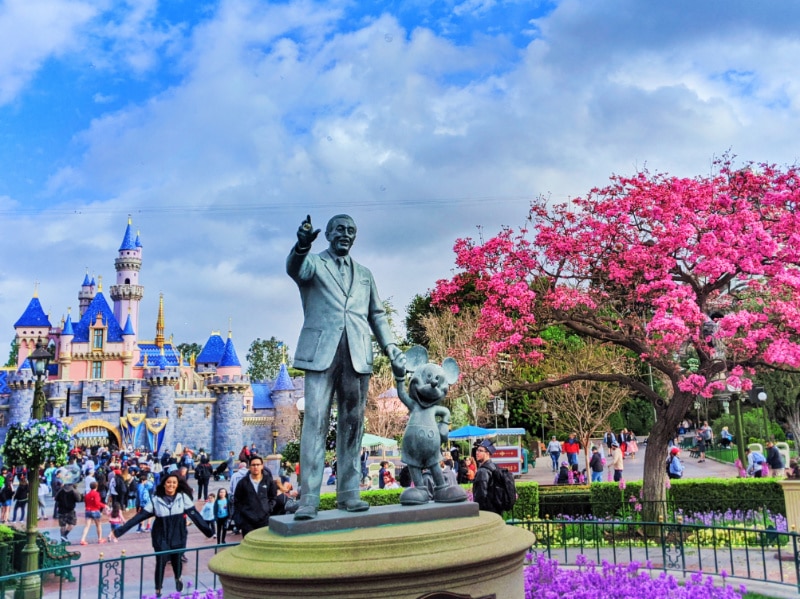 Exploring San Diego County
As a bonus stop, get off the freeway between Orange County and San Diego and hit up the Mission at San Juan Capistrano. It's beautiful from the chapel to the bells to the gardens. And if you're lucky you'll get to see some of the famous swallows (birds) in their mud nests. It's worth the time and will be a nice break from driving.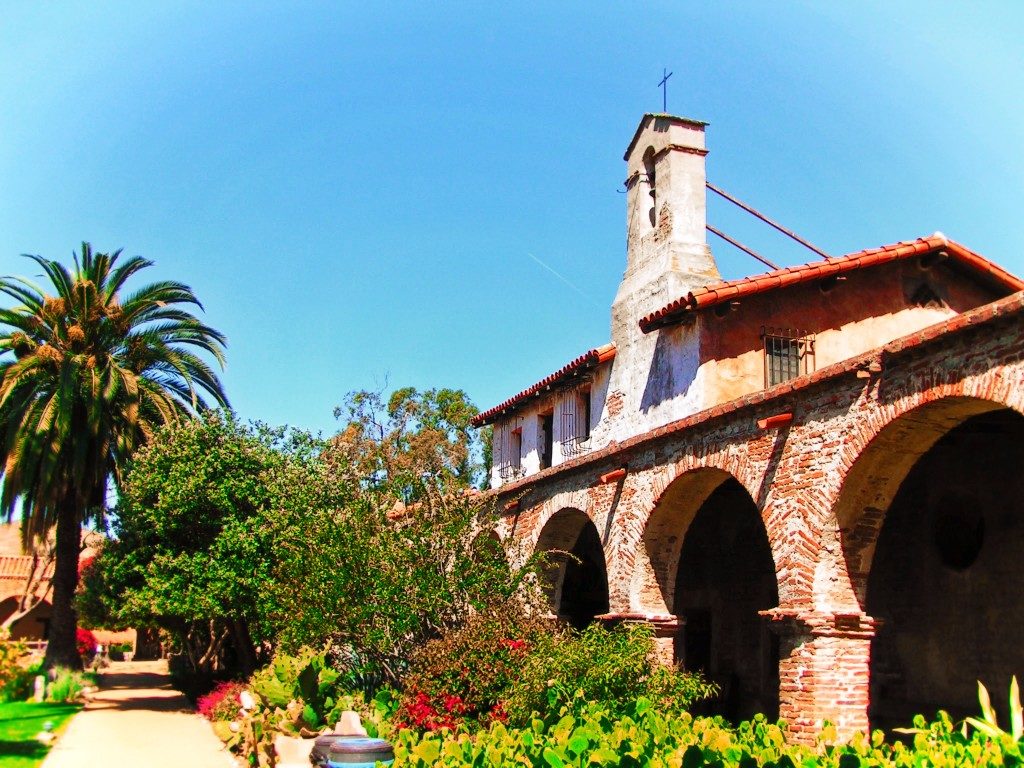 Oceanside is another town worth spending some time in. With an adorable harbor and great restaurants surrounding the waterfront, this is a great place to spend a night. For a really cool experience, check out moonlight kayaking through the City of Oceanside Parks and Rec!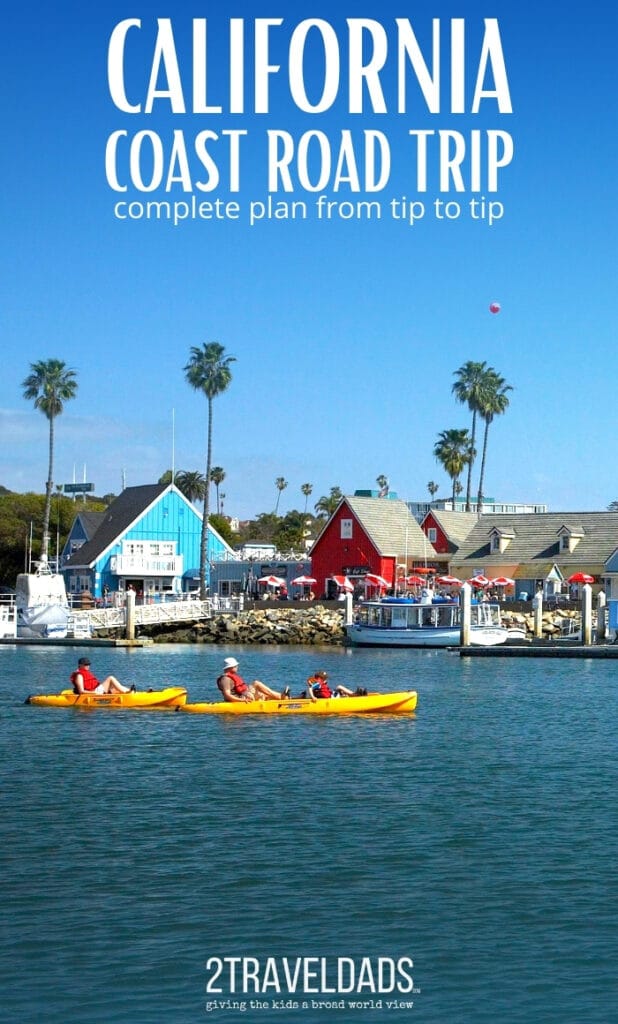 Visiting San Diego: last stop on the California Coast Road Trip
The city of San Diego is a nice one. It has great neighborhoods, just like Los Angeles or San Francisco. Pacific Beach, Mission Beach, Ocean Beach, Coronado… no matter where you go there's the beach. Mission Beach is fun for the roller coaster (because why not hit one more on this trip), but Pacific Beach is the best one for having a fun neighborhood to walk through AND plenty of space to play in the sand and surf.
Check out our complete guide to a Budget Savvy San Diego trip!
If you need to get swanky, spend some time on Coronado Island and have drinks at the Hotel Del Coronado… because if you packed fancy pants you should get to wear them at least once.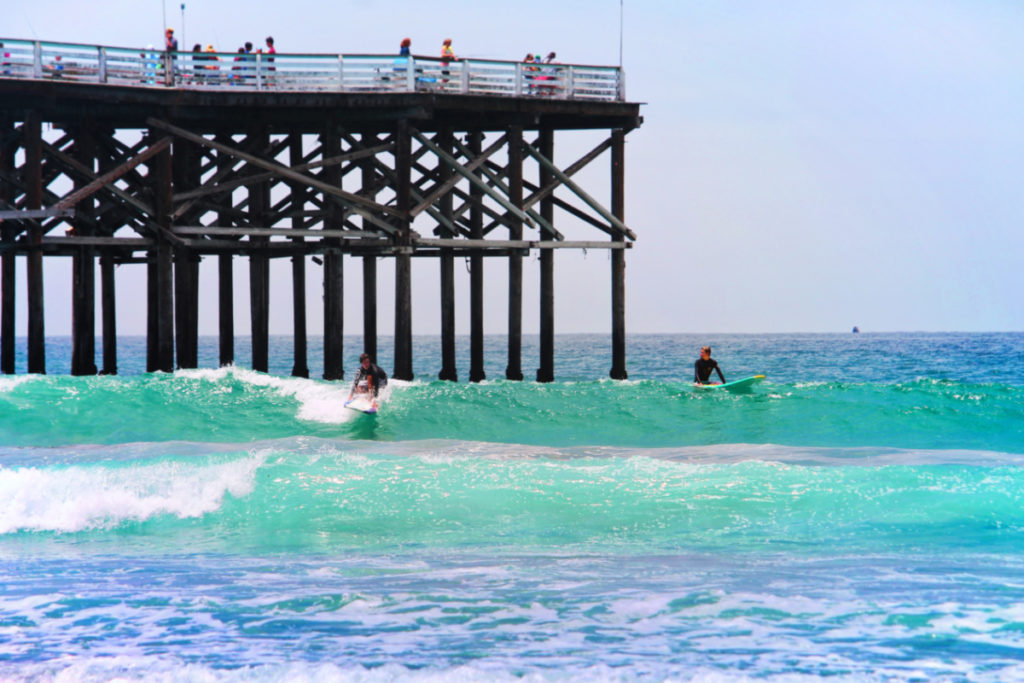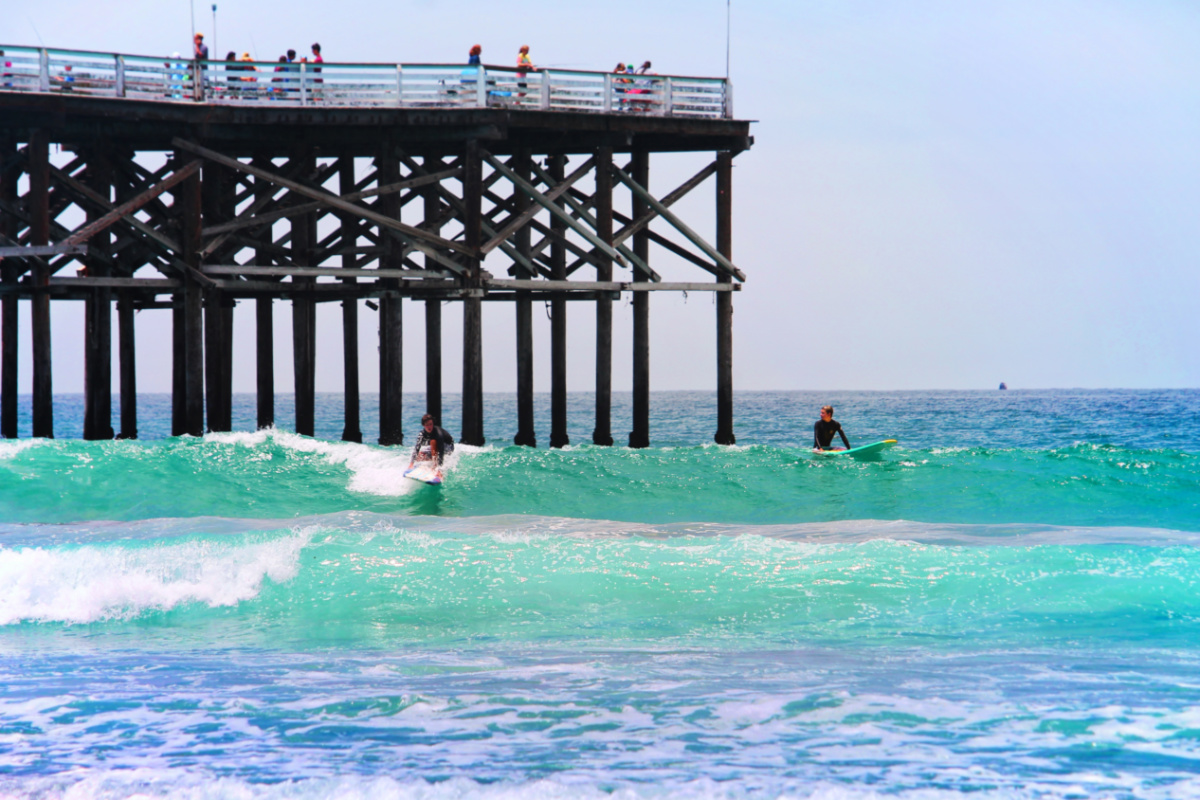 Balboa Park
Balboa Park really is the gem of San Diego though. It's where you'll find the San Diego Zoo (we're NOT telling you to go there), you'll find some really cool museums, and our favorite, the Conservatory. The Balboa Park Conservatory is very different from the one in Seattle or San Francisco. It's huge and has a very different, nearly open-air construction. It's a must-visit.
Balboa Park is also where the San Diego Pride Festival happens. Holding their Pride events in July, this celebration is the most family friendly of all Pride festivals and parades we've been to. Take a look at our complete guide to the San Diego Pride Festival!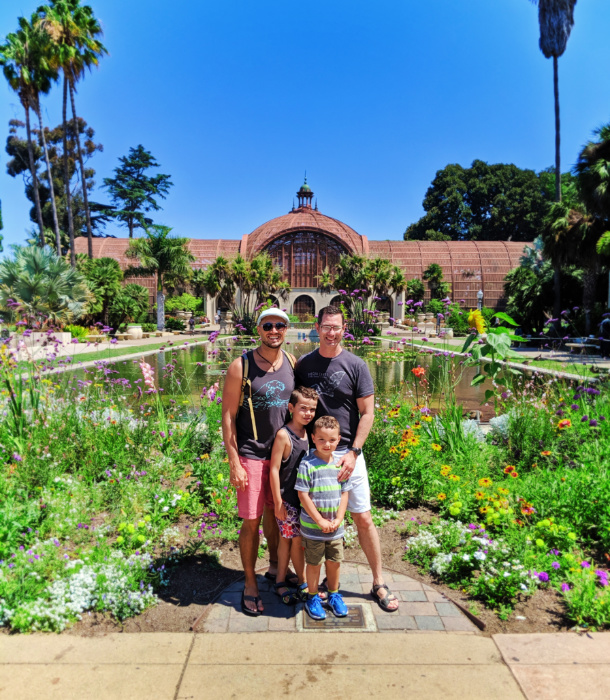 Cabrillo National Monument
We have to finish off the trip by ending at a National Park of some sort. The last place we're going to make you visit is Cabrillo National Monument. Located at the end of Point Loma (not the naval base), you'll find bluff for hiking, tide pools for exploring and two lighthouses. Cabrillo National Monument is a great place for a picnic during your San Diego visit.
Note: your National Parks Pass can get you into Cabrillo National Monument, so be sure you have it when you start your California coast road trip.
Stay: northern San Diego county has a few State Park campgrounds that you can enjoy, or seek out cheap lodging in one of the neighborhood. Hillcrest, the gay-borhood, is a fun place to stay with loads of good food choices.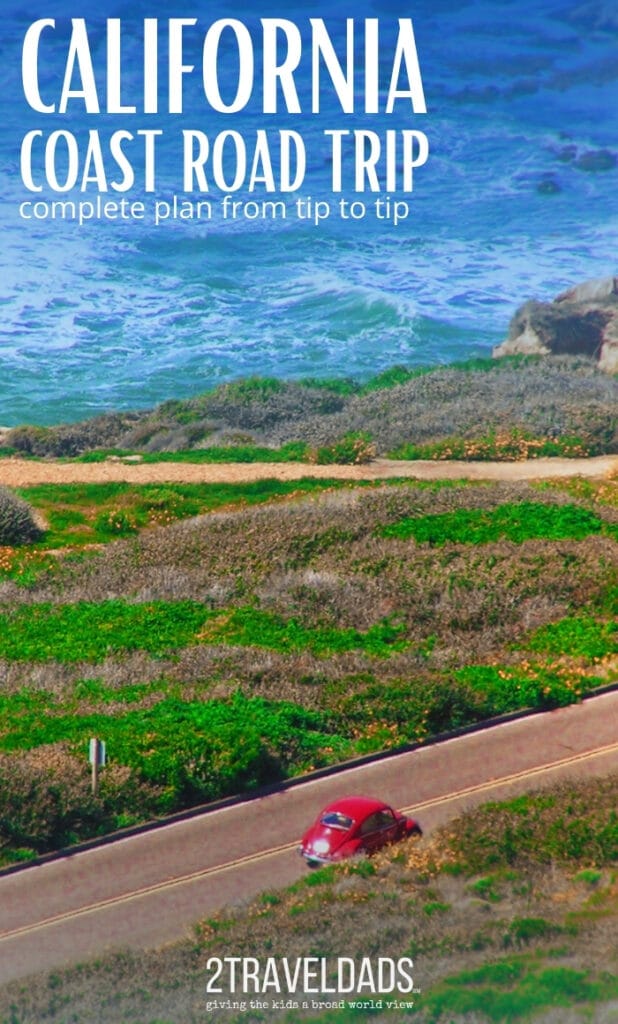 Wow! We made it all of the way down the California coast! Covering nearly 1000 miles of roads, the California coast road trip is amazing. Pair it up with our road trip plan for Washington and Oregon and you've got the vacation of a lifetime!
If you'd like to do a more detailed trip, check out our other itineraries for specific travel plans focusing on smaller sections of the West Coast states:
West Coast Road Trip – Washington and Oregon
West Coast National Parks – the mountains
West Coast National Parks and lighthouses
Puget Sound Family Travel Plan
Do you have a favorite route to travel the coast? We are always looking for new stops, new towns and new hiking destinations. Tell us where to go next!