We're back in Southern California, aka SoCal! What are we doing here? Great question! We've got lots of fun plans in store, from having some fun in Disneyland with the kids to visiting with friends and just relaxing at the beach. Follow along on our summertime in SoCal travel journal to see what's new and exciting in Southern California!
Our Summertime in SoCal itinerary
Of course we're heading to California with a plan, even though it's always fun to just go with the flow when it's summertime in SoCal. Here's what we've got on the docket for five days of sunshine and fun: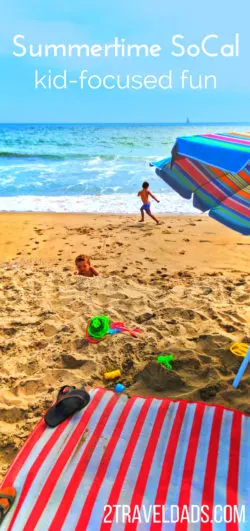 Fly to Los Angeles and head straight to Disneyland! – we're bringing Grampa with us and it'll be his first time. The kids are super excited to show him the ropes and teach him exactly what fun means when you're in the Happiest Place on Earth.
Disney's Pixar Pier Premiere event at Disney's California adventure – the whole Paradise Pier area has been updated and redone to celebrate all things Pixar, so we get a super special preview and get to crash at Disney's Grand Californian Hotel.
Riding with Amtrak to San Diego for a beach filled weekend – we're excited to ride the train down the coast and have a fun experience on the rails with the kids.
Stay at the Hotel Indigo San Diego Gaslamp – woot woot for IHG Rewards points! (we used points for NYC over Christmas too)
Explore San Diego's Beaches and history – from Mission Beach to Mission San Diego, we've got all kinds of adventures planned (and we'll be at Cabrillo National Monument too)!
Follow along on Instagram and Facebook for the most up-to-date fun and tips for doing Disneyland and San Diego this summer!
The Premiere of the Pixar Pier in Disney's California Adventure
After a very long morning of travel we arrived at Disney's Grand Californian Hotel around 11am. They got us checked in and even into our room very swiftly and made sure we were all set for fun in the Parks. Something we love about staying at the Grand Californian is the direct park access into Disney's California Adventure theme park. We got to skip the lines and start having fun immediately.
We grabbed some lunch at the Smoke Jumper in the Condor Flats area of California Adventure before heading over to the fresh, re-imagined Pixar Pier. Everything was so crisp and colorful and perfect! We always loved Paradise Pier for the fun atmosphere and easy place to hang with the kids, but with the transition to the Pixar Pier, it's even better. The characters and subtle theming really do have an impact on the overall feel and it's clear that the updated area is what the Pier was initially meant to be like.
We also got to try all kinds of good treats on the Pixar Pier. Check out the article and video we got to be a part of on the Disney Parks Blog. Love the chili lime corn on the cob (and will proceed to making this at home).
The two best updates at the Pixar Pier are California Screamin' and Ariel's Grotto. Now the Incredicoaster and Lamplight Lounge, both of these long established sites are fresh and impressively Pixar. The Incredicoaster has worked in a new soundtrack, actual characters, created a story, and tied in the Incredibles franchise seamlessly. It was always a fun ride but now it's a top attraction. I'll admit, I'll miss the fun song that played on the old California Screamin', particularly in the hilly, up and down segment. Great improvement though!
And the Lamplight Lounge. Well executed, Disney. Well executed indeed. The former Ariel's Grotto is now a really trendy, borderline industrial with a touch of steampunk bar and restaurant directly on the lagoon in Disney's California Adventure. Animation sketches, props, characters, scenery… it's all worked into the decor of the restaurant in the most tasteful, beautiful way. And the dinner and drink menu was amazing. We tried five different craft cocktails (I'll have to check my notes about which they were) and each was very unique and interesting. Dinner started with deviled eggs and toast, moving onto salmon w/ pancetta and a complex chicken sandwich, finally ending with mini-donuts that we dipped in chocolate, raspberry sauce, and beer. Totally delicious.
Hey, Blue Bayou! The Lamplight Lounge just blew you out of the water. What do you have in store in the next year or two (cuz it's got to be big to compete with this experience…)?
Disneyland with the kids (and Grampa)
Something that is going to sound like the lamest parent thing ever but is actually wonderful is that once you've been to Disneyland a few times with your kids, you are much more relaxed about everything, from what time you enter the Parks to how many rides and attractions you HAVE TO do. This being our third time in Disneyland with both kids (fourth for Oliver) we enjoyed strolling the Parks in a gingerly fashion and waiting for the rides the kids were most excited about. When the kids saw a character they were excited to meet, we waited patiently to meet them.
Also, this was Grampa's first trip to Disneyland ever so we tried to do the things that he would enjoy… but he was so relaxed too he just wanted to have fun experiencing the Parks with us. He's amazing.
Big firsts on this trip for all of us:
meeting Peter Pan and Captain Hook – two totally awesome guys that took lots of time to chat/hang out with the kids
experiencing the Pixar Pier – everything was awesome
Elliott being tall enough for big-kid rides – he did both Splash Mountain AND Thunder Mountain. Brave dude.
It was a ton of fun to get time together in Disneyland and to share it with Grampa. We'll hopefully be back next year as the Parks continue to grow and change, including the addition of Star Wars Land (opening summer 2019). Great fun for all!
Summertime in SoCal travel by train with Amtrak
Train travel is its own adventure. We've enjoyed a few trips via train now, and we definitely prefer to do a day trip vs the over-night. We rode from the Anaheim Amtrak station to Downtown San Diego on the Surfliner and it was pretty great. We'd planned on renting a car at LAX and then driving down after Disneyland, but due to the ridiculous drop fees we chose to travel by train instead.
Tip: if you can avoid rental car drop fees by taking the train, do it! We bought 5 train tickets from Anaheim to San Diego for $120 USD. By not having a car for two days, avoiding LA taxes and avoiding the infamous "drop fee" of returning a car to another location ($280, FYI), we saved a total of $290, aka 30 margaritas or 100 carne asada street tacos.
What made our evening train ride doable with kids was having snacks at the ready, as well as blankies and snuggly friends available, as it was clear they'd be falling asleep on the train. With a slight delay we made it to San Diego on a Friday night in just over two hours. Well worth the cost and the convenience. When we arrived at the vintage Santa Fe station we grabbed our Lyft and headed for our hotel, the Hotel Indigo San Diego Gaslamp. It was good to arrive and fall asleep.
Staying at the Hotel Indigo San Diego Gaslamp
We arrived at the Hotel Indigo San Diego Gaslamp rather late, but they were pretty swift about getting us up to our room. It was very nice with really cool furnishings and a view across the neighborhood. The kids passed out immediately only to wake up nice and early to survey their new domain. They loved the huge bathroom, the floor to ceiling windows and the bonus foyer play-space.
The location of our hotel was great for finding dining options, but not for our daytime activities. Each day we had to grab our car and drive across town to the beaches or site we had planned to visit, but if our itinerary had included a San Diego Padre's game or CominCon, we would've been set! The Gaslamp District really is meant for dining and going out drinking, not for chilling with the family and taking gingerly strolls before bed. Lesson learned but we still enjoyed our hotel.
Cabrillo National Monument, Ocean Beach and Balboa Park
You know when you've made the perfect summer plan and it's totally foiled by weather? Yeah, that was us this weekend. We found some delicious breakfast in the San Diego Gaslamp neighborhood (Lolita's was awesome!) and then headed for Cabrillo National Monument. San Diego's only National Park site, we have enjoyed visiting before and thought the kids would love it too. They did, despite our poopy June-Gloom weather. We got our National Parks Passport stamps and then headed for the lighthouse.
Cabrillo has two lighthouses, but only one that's accessible. We toured it and the kids asked if we could live in a lighthouse (I wish) and then headed for the bluff to watch for whales. No gray whales today, but we did see some really cool tall ships and some vintage WWII war planes flying over (the planes, not the ships). After that we headed to the tidepools hoping to find some cool creatures, but the tide was coming in and our pools were limited. Still fun though.
By the time we left Cabrillo and headed for Ocean Beach, it was just about lunch time. Yeah, um, always look at local calendars before you plan a weekend getaway. San Diego's Ocean Beach neighborhood was home to the OB Street Fair and Chili Cook-off this weekend. A bonus 70k visitors were in the neighborhood and we couldn't find parking anywhere. Absolute craziness. So we tried Mission Beach (also no parking anywhere). Ultimately, we headed for Balboa Park, which is always a good idea.
Balboa Park was a hit! We toured the conservatory and enjoyed the lily ponds, we listened to a short organ concert, did a little inner-city jungle hiking, and wandered through garden mazes. We didn't visit the San Diego Zoo or do the Museum of Natural History (too late in the day), but we had fun just the same. The big win was the San Diego Spanish Art Village in Balboa Park. Again, too late to get to explore everything, but we enjoy some of the public art, a few shops, and the colorful setting. Next time we'll be here much earlier for art fun.
Playing at Mission Beach and the Boardwalk
If nobody ever told you to start your day on the right foot by heading to the beach, nobody's done you any big vacation favors. Summertime in SoCal is all about enjoying the beach and the sites, and unfortunately this means starting early no matter your plans. We were able to score a great parking spot just two blocks from Mission Beach. The easy walk made it an easy sell for the kids and a simple exit when we were done.
We didn't go to Belmont Park, the vintage amusement park just off the beach, because it was totally bonkers on a sunny weekend day, but we did have a great time just playing with the kids in the sand and surf. Our boys are all about beach time, so letting the day focus on just playing and having fun was all that they needed to have their best San Diego vacation day.
We had a great open-air breakfast before the sand and ended our day enjoying one of our favorite gayborhoods: Hillcrest. Hillcrest is right next to Balboa Park and is itself a great afternoon plan. We popped into the Hillcrest Brewing Company for some of the best wood-fired pizzas and really interesting beers. I enjoyed a few of the cucumber ales (I know, weird) and the kids loved their endless pink lemonades.
Tip: never let your kids get bottomless lemonade. You're asking for all kinds of potty issues later. #lessonlearned
Exploring Old Town San Diego
Do you ever go to a tourist destination knowing full well that it's going to be full of tourists but you want to go anyways? Yep, that was us at Old Town San Diego. We actually had a great time walking through some of the museums (so many museums, it's a State Park of them) and several shops… and then eating our way around the original San Diego village. It was pretty great actually.
We were able to score churros, margaritas and more. We loved strolling through Casa de Reyes aka la Fiesta de Reyes. There was live music, artisans all around, great photo ops, well established gardens… It was great even though it was super touristy. Old Town San Diego was an ideal evening activity with the kids and one we'd do again anytime.
Perfect Summertime in SoCal at Pacific Beach
Awgh! Best beach, best sand, best surfing, best fun in San Diego. We once again headed for the beach nice an early, but only after we sneaked a quick trip to Mission San Diego da Alcala. Great start to the day! The first of the California Missions, it's a great addition to any SD itinerary. Enjoying a morning checking out the Mission and gardens was ideal for letting the sun warm up the beach for us, then it was off to Pacific Beach to end our San Diego vacay.
Pacific Beach is great because it's the farthest from downtown San Diego and kind of at the back of everybody's minds. We totally took advantage of this fact and had the beach nearly to ourselves. The kids loved beach combing (tons of shells at Pacific Beach) and watching surfers. We enjoyed being able to both swim and relax on the beach, as the crowds we minimal. San Diego, thank you for the wonderful send-off.
Want to pin this for your own vacation planning for an awesome summertime in SoCal? Go for it!!!