We didn't plan on falling in love with Denver but after several visits it's just happened.  The Mile High City is really family friendly and beautiful, and being smack in the middle of the USA it's pretty easily accessible from nearly anywhere in the States or Canada. Denver with kids is always a good idea, so here's how you can create the perfect trip that is full of kid fun that adults will love too.
Like with any travel plan we make, it's not all encompassing of every single thing that a destination has to offer, but highlights our favorite spots and activities.  So here we go; here's four days worth of fun in Denver with kids.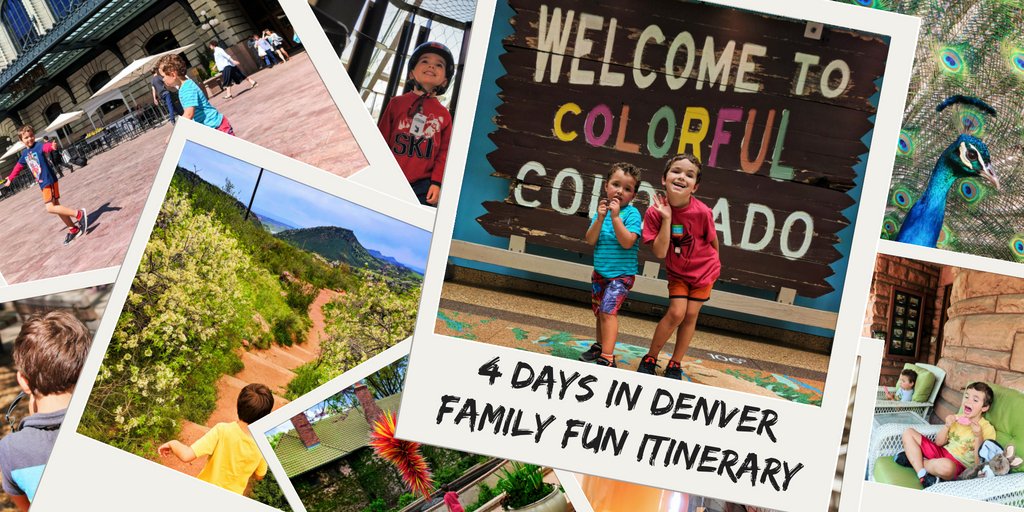 Four Day Itinerary for Denver with Kids
Before you head to Denver, you need to figure out where you're going to stay. Denver isn't short on nice hotels or budget friendly options.  We've stayed a few times and have some solid recommendations. There are also MANY AirBNBs and short term rentals all around the downtown area, so you'll have lots of choices.
The Inverness Hotel, part of the Hilton Family of Hotels, is a very nice property located just outside Denver proper, but it's close enough to be convenient for nearly all of our recommended activities. It's also got a shockingly good hotel restaurant (if you aren't down for exploring Denver's awesome food scene), so for families it's an easy option.
Our most recent visit to Denver with kids brought us to the Capitol Hill Mansion Bed and Breakfast. With guest rooms or varying sizes and layouts, it's got lots of character and charm. A very well maintained historic home in the Capitol Hill neighborhood, it's just a few blocks from the capitol building and the Golden Triangle Cultural District. Book the Capitol Hill Mansion Bed & Breakfast here!
Tip: we were booked into the Bluebell Room which had plenty of space for our family of four, including a private sun room/living area, ideal for when the kids go to bed and the dads want to stay up.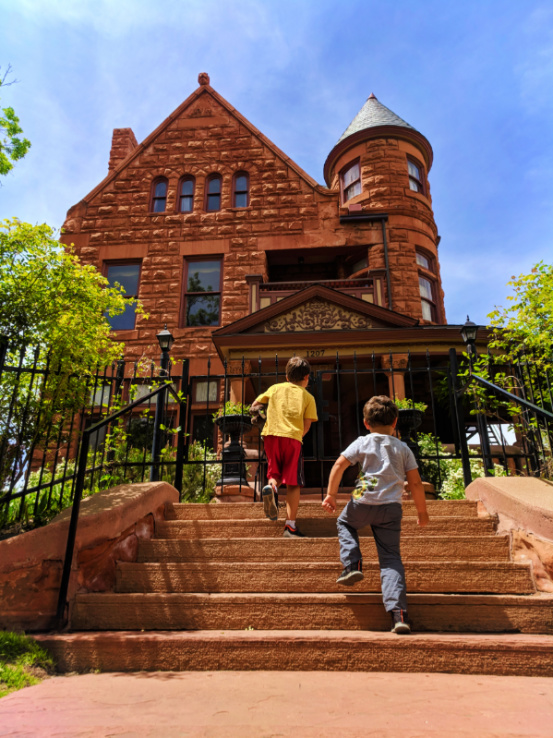 Day 1:  City Park and all its wonders
Every great city has a great park and Denver's City Park is no exception. Home to the Denver Zoo, Denver Museum of Nature & Science and more, it's a full day of fun.
Start at the Denver Museum of Nature & Science
The reason we say to start inside at the Denver Museum of Nature & Science is because depending on the time of year, you might need to let the day get nicer. You be the judge though and if there's foul weather in the afternoon forecast swap up the day's plan.
Once inside, you'll discover some incredible exhibits. The two biggest hits with our kids, remember we're talking about Denver with kids, were the space exploration and dinosaur fossil exhibits. Who doesn't want to learn about the stars and play astronaut for a day? And the collection of dinosaur skeletons is impressive. We've been to the Smithsonian in Washington DC and the Museum of Natural History in New York City and the collection here in Denver surpassed them both.
Also to check out at the Denver Museum of Nature & Science is the geology and rare crystals. You haven't seen a crystal until you've seen some of the huge gems in the collection here.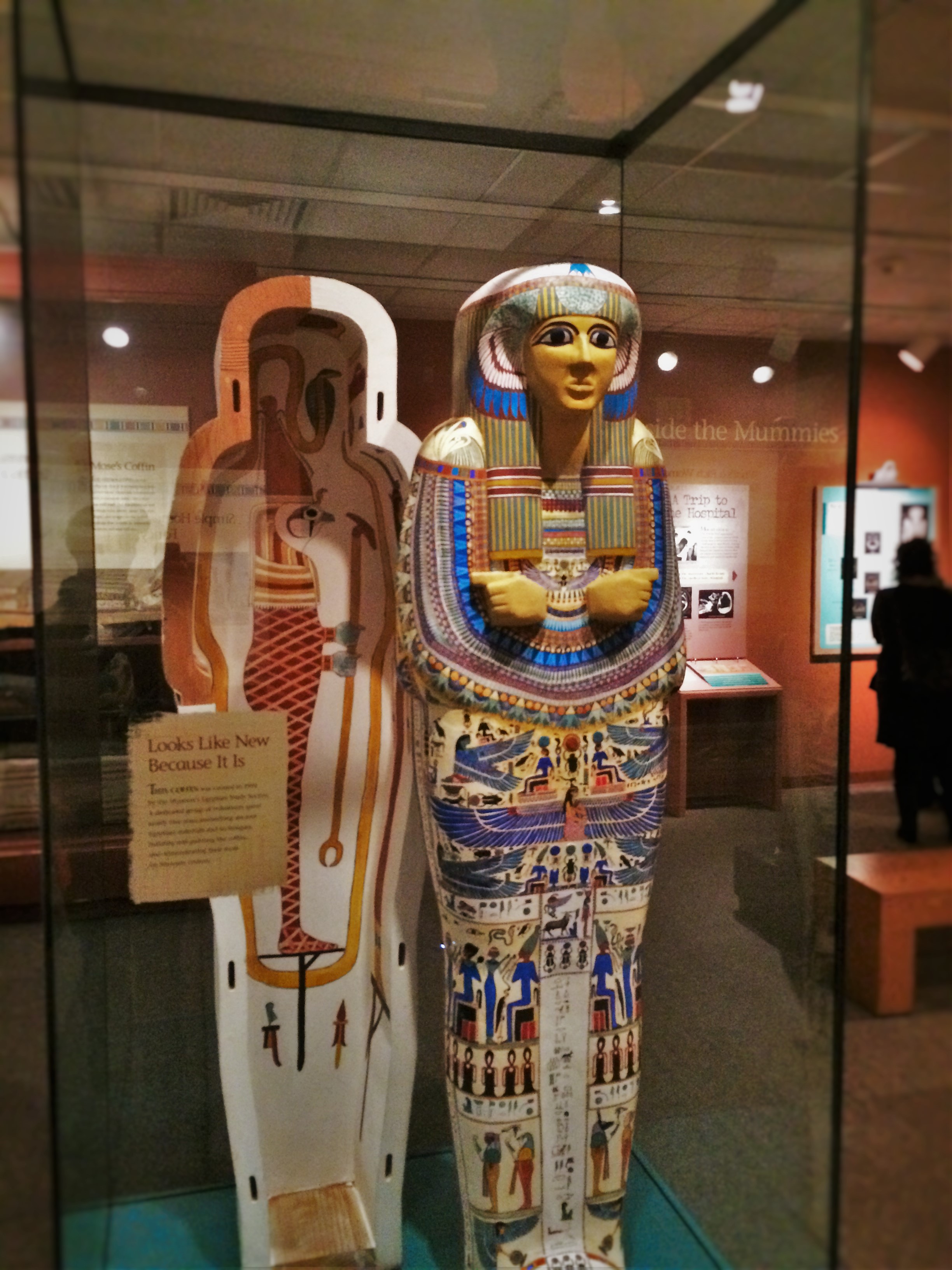 An afternoon at the Denver Zoo
We only recently have started visiting zoos with the kids and we're very careful about which ones we visit. For us to visit a zoo it needs to have a strong conservation program that you don't have to try to discover, but is blatantly visible OR the zoo needs to be a refuge for rescued animals with high standards for taking care of them. The Denver Zoo meets these requirements, particularly with its new tiger exhibit, which is very impressive and for a zoo, gives the tigers more space than we've seen in other zoos, including an awesome catwalk for the tigers to watch over their zoo.
The tropical house at the Denver Zoo is also very cool and well put together. Here you can experience birds, frogs, snakes, vegetation… and lot's of fish and sea creatures. It's like a combo of zoo and aquarium.
There is a lot of staff available throughout the zoo to talk to kids about animals, conservation and rescue, and to inspire young people to be world-conscious.
Parking: there is quite a large parking garage at the Denver Zoo as well as the Museum of Science & Nature. If these are full, there is street parking available in select parts of the park. Pay close attention to parking signs so you don't get towed!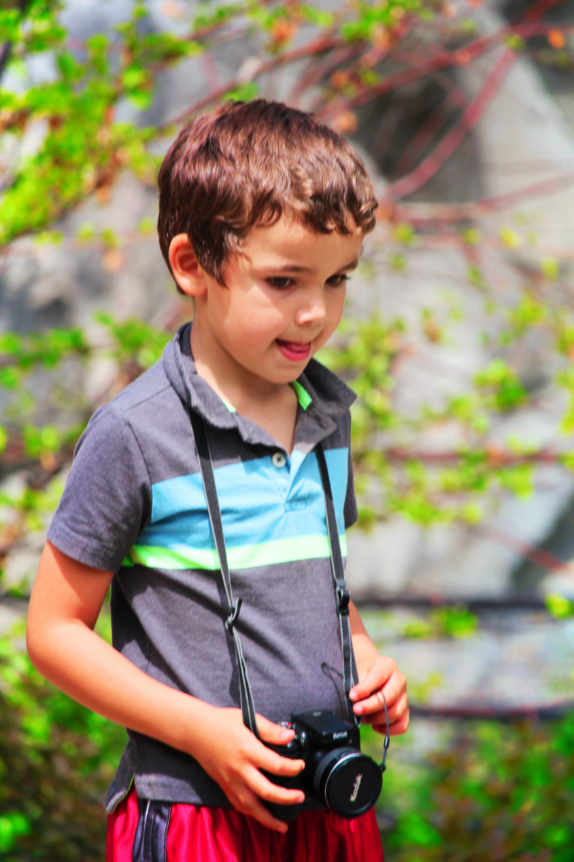 Day 2:  hiking in hills, exploring Red Rocks and more
Can you actually visit Denver with kids without getting them out into nature? I think not. An easy twenty to thirty minute drive outside of downtown Denver you'll find two awesome hiking areas, both are ideal with kids.
Hiking Dinosaur Ridge: fossils and fragments
We totally are dinosaur geeks in our family and we're proud of it! After doing the Museum of Nature & Science, you really do need to get the kids out into the real world where paleontologists actually do their work. Dinosaur Ridge is perfect for this!
With all kinds of fossils from raptor tracks in the rocks to partial dinosaur skeletons embedded in the cliff-side, Dinosaur Ridge is just the coolest, for kids and adults. The hike from the eastern Dinosaur Ridge visitors center to the dig site on the west side is a steady 1.5 miles. There are loads of cool dino-sites and views along the way, so the hike flies by.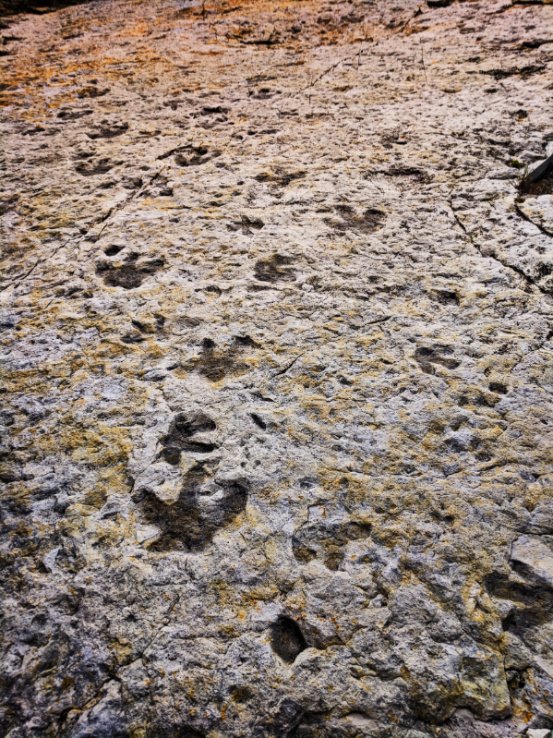 Exploring Red Rocks Park
If you're a big concert goer then you know of Red Rocks for its incredible outdoor amphitheater. It's also an area loaded with hiking trails, both difficult and easy. There are many trail heads throughout Red Rocks Park, so before you head out hiking double check which trail you're doing and be prepared. Things to look for when choosing a hiking trail at Red Rocks Park include:
Trail length / distance

Is the trail a loop? Double check because you don't want to wander forever

Are there notices posted about rattlesnakes or other wildlife?

Do you have enough water? The elevation of Denver really can impact people and drinking twice as much water as you normally would is a great way to combat the elevation sickness some may experience.
Our trail pick: for hiking at Red Rocks Park with kids, we recommend the Trading Post Trail. It's easy to find, there is ample parking, the elevation gains are totally manageable with kids, and you get to experience a variety of the fascinating rock formations Red Rocks is known for. And there are bunnies.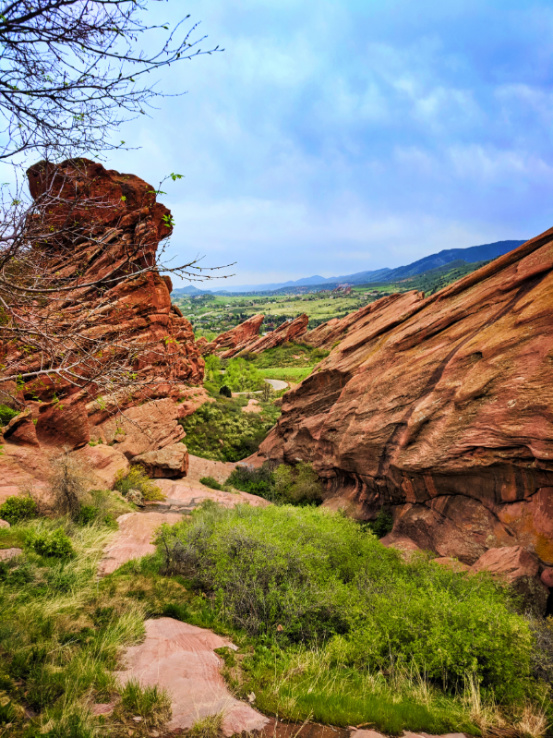 For more awesome day hikes near Denver, check out this great list!
Day 3:  getting cultured downtown Denver with kids
Are our kids the only ones that see a sign for a library and have to go? Well, right smack downtown Denver is the Golden Triangle: a district full of galleries, creative spaces, the public library and several museums. It's pretty great.  And you can't forget about all the amazing placed to eat in Denver. Museums make us hungry and Denver knows how to cook.
The Denver Art Museum with Kids
We don't often visit art museums with the kids because all too often they're arranged in a very scholarly way with a focus on adults appreciating art. That's not entirely the case at the Denver Art Museum.
This is the most family friendly art museum we've ever been to. On the entry level there is an entire art lab set up for kids to create their own pieces, and then as you proceed through the exhibits, there are all kinds of interactive areas for kids to be a part of the art or to try their hands at different mediums, including costuming. Really, the Denver Art Museum is amazing with kids.  Check out this awesome article about Denver Street Art for another dash of culture!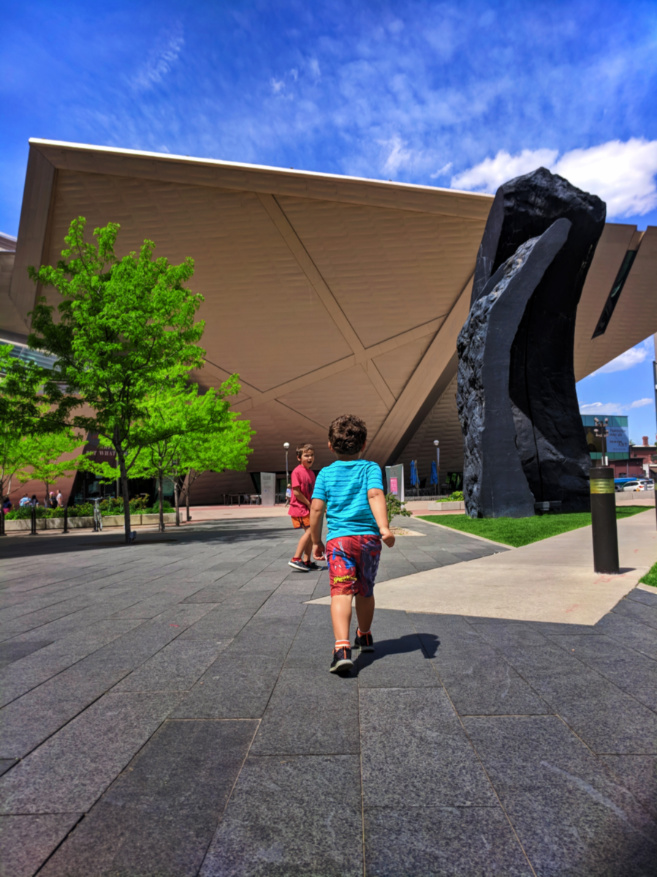 History Colorado
OMG, it's so Colorado. If you haven't yet been to Colorado you'll see what I mean when you get there. Colorado is this incredible blend of the outdoors, wild west history, art, sports and Native American culture. History Colorado pays tribute to each of these unique aspects in a genuine, interactive way.
The kids love the baseball history exhibit, Play Ball!, and getting to dress up in uniforms. I love the 100 pieces of Colorado, Zoom In – the Centennial State in 100 Objects, which showcased John Denver's guitar, Wild Bill's buckskin coat, head dresses and more. And we saw that they were setting up LEGOrado to open up right after we left. Next time…
Parking in the Golden Triangle:  there is a large parking garage adjacent to the Denver Art Museum with really good parking rates. It's easy to park there and traverse all of downtown.
BONUS ACTIVITY:  if you still have time and energy, leave the downtown area and head to the Denver Botanic Gardens. They're beautiful and there's lots of outdoor space and kid friendly exhibits (loved the science pyramid!). Also, there's a children's garden that the kids will never want to leave!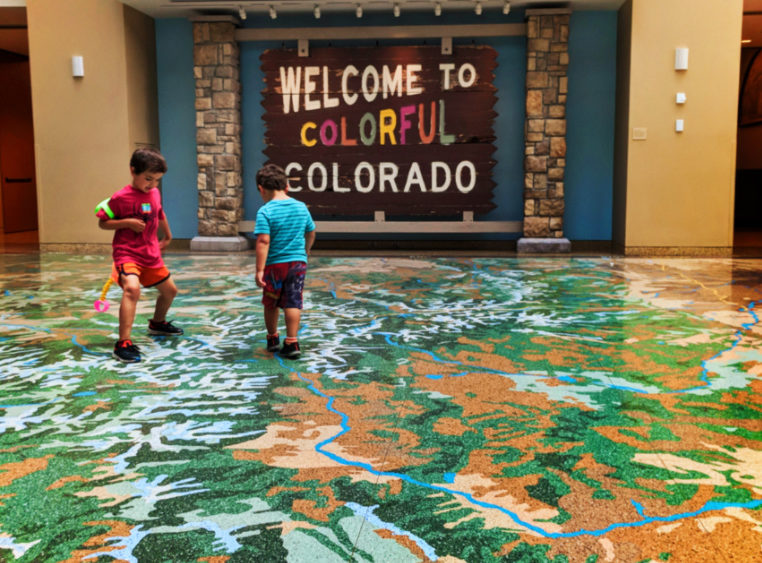 Day 4:  pure kid-fun in and around Denver
Sometimes you need a day that's all about the little ones. Denver with kids is awesome when you look at the options, including insect zoos… cuz yeah. #kids.
The Butterfly Pavilion
Located just outside of Denver in the city of Westminster, the Butterfly Pavilion is one of the coolest butterfly gardens we've ever visited. It's much more than butterflies with an entire insect zoo and aquarium area, including touch tanks. Speaking of touching, I held a tarantula here at the Butterfly Pavilion, so if that's your thing….
The actual butterfly conservatory area was stunning. The plants were well taken care of and the butterflies were everywhere. We could've set up shop in the conservatory and the whole family could've been happy for the whole day.
Note: if you're on the lookout for the best butterfly gardens, check out the Desert Botanical Gardens in Tempe, AZ or the Tennessee Aquarium in Chattanooga, TN. Both have impressive butterfly conservatories that kids (and adults) love.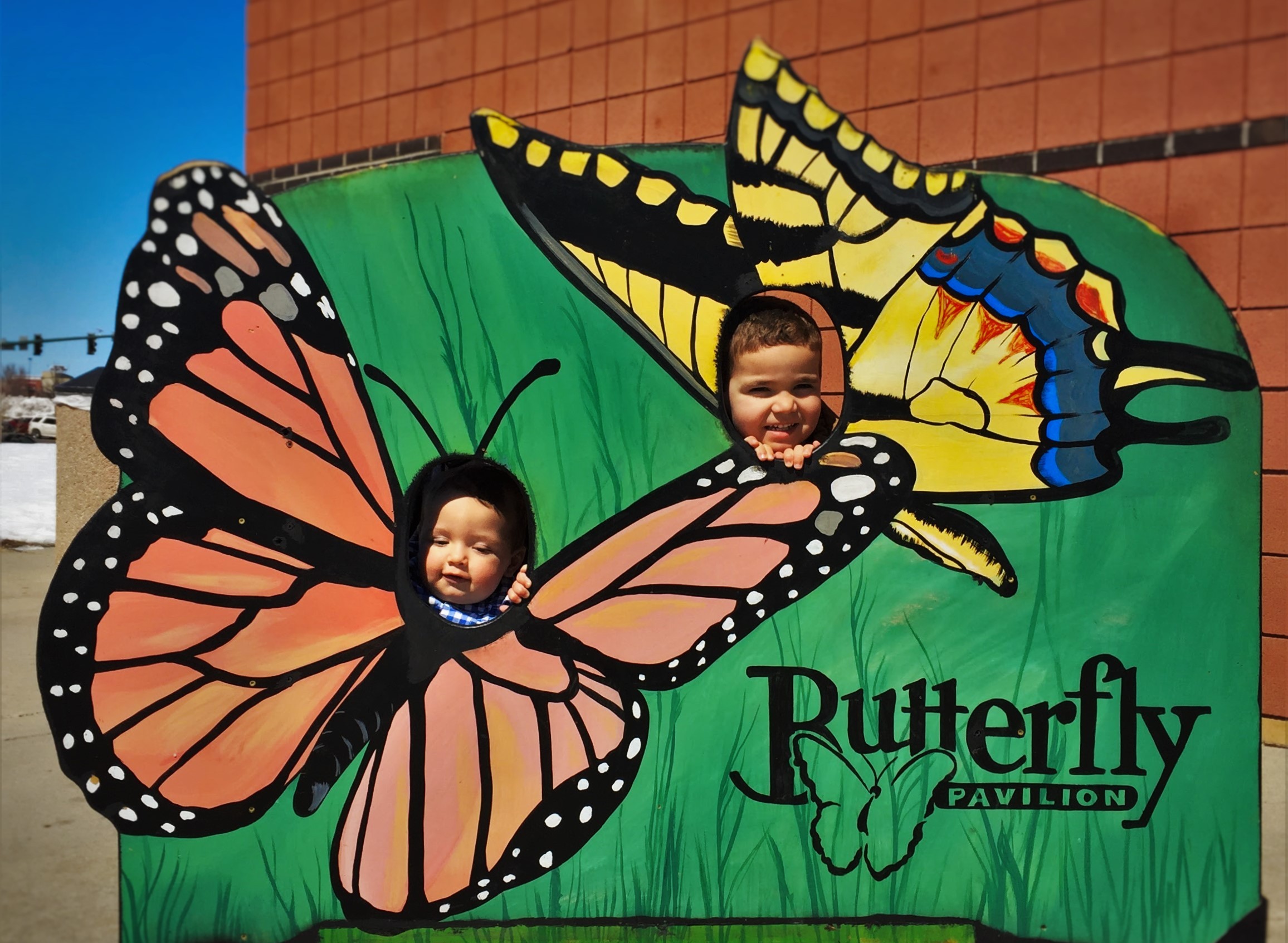 Denver Children's Museum
One of our favorite children's museums ever, the Denver Children's Museum is a must if you're traveling with the family. It's loaded with awesome exhibits for kids and countless cute photo ops. We loved the fire fighting displays, bubble room, and giant rocket climbing structure.  The Denver Children's Museum is huge, so if you're adding this to your day, be sure to allot about two hours.
Tip: if you're doing Denver with kids and any of them don't do well in high-stress / high-stimulation environments, check with the museum about low sensory days or special hours for kids that need that.

Note: our other favorite children's museum is in Madison, WI. It's located right by the Wisconsin capitol building and is tons of fun, particularly for the parents.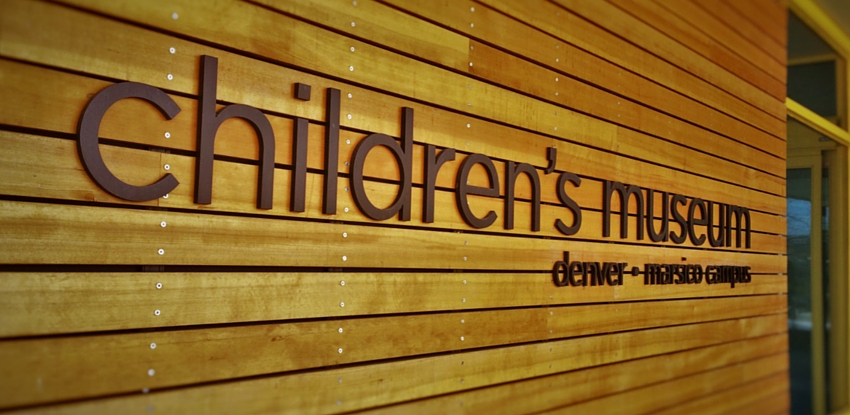 Denver's Downtown Aquarium
Before we ever recommend an aquarium, we like to understand their mission and practices. We haven't deeply researched Denver's Downtown Aquarium, but we did visit it since we were nearby. It was actually awesome to explore with really cool theming for each area. Entering was like getting on board Captain Nemo's Nautilus and then you're in the sea caves and then dock and…
Yes, the Downtown Aquarium has some weird aspects that we don't think are necessary, such as animatronic animals, a mermaid show and tigers, but overall the displays and exhibits were well put together, very informative and had the kids totally captivated.
Tip: if mermaid shows are your thing, you can eat dinner at the Aquarium Restaurant and enjoy the show.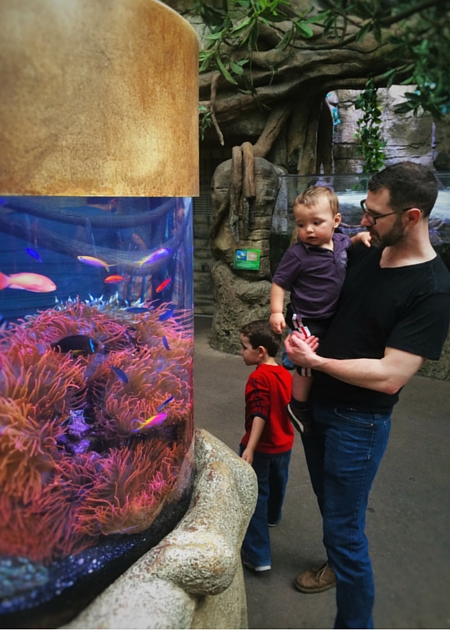 Easy day or weekend trips from Denver include Vail, Aspen, Colorado Springs, Boulder or, our favorite, Estes Park.  A visit to Colorado can be non-stop adventure of every sort. Denver with kids is super easy, as you can see, so if you have additional ideas that you think we need to add to our plan or hit up next time we're there, let us know!  Go have fun!!
Want to pin this for later when you're planning and booking your own trip to Denver with kids? Go for it!!!